Are you confused between Pabbly Connect & Zapier? After reading this post, you'll have a complete idea about which tool is best for you.
Pabbly & Zapier are the two best no-code integration/automation software. I have been using both integration/automation software for myself and my clients.
Whatever you'll learn is based on my real-world experience with Pabbly Connect & Zapier.
Pabbly Connect: Zapier's BEST Alternative?
In the marketplace, there are many Zapier alternatives available. But none of them is close to Zapier.
Some tools are for techie users, such as Make.com (Formerly Integromat). On the other hand, some tools don't integrate with your favorite applications.
At last, I found Pabbly Connect is the only integration/automation software that is Zapier's BEST alternative.
I'll compare Pabby Connect & Zapier pricing plans, pros & cons, and functions.
Zapier
Zapier is the most popular no-code integration/automation platform. But it is expensive.
The good thing is, now, you have the power to choose between Zapier and Pabbly Connect.
Depending on your use cases, you can select the right tools. Or you can use both software like me.
Zapier Pros and Cons
Let's start with the advantages:
Zapier has the largest app integrations.
You can integrate with 5000+ applications using Zapier.
User-friendly interface.
Quality support
Robust platform
Let's talk about Zapier's cons:
High monthly charges
No money-back guarantee on paid plans
High task counts compared to Pabbly Connect
Limited features in the Starter plan (big downside)
Live chat support is available in the company plan
Pabbly Connect Pros and Cons
Let's talk about Pabbly Connect pros:
User-friendly interface (No learning curve)
Affordable pricing plans
Free internal tasks (Workflows will consume fewer tasks, you'll save more)
A 30-day, no-question asked money back
Functions are NOT limited to higher plans (Pocket Friendly)
You get all the functions no matter what plan you choose
2000+ video tutorials (Increasing rapidly)
Active Facebook Group (12K+ members)
Stable platform
Pabbly Connect is constantly improving
Let's talk about Pabbly Connect's cons:
Pabbly integrates with 1000+ applications only. However, they're constantly integrating new applications.
No LIVE chat support.
These are the disadvantages I can think of. However, both platforms can help you automate redundant tasks.
Zapier Integrations
Zapier integrates with a whopping 5000+ applications. Some integrations that are unavailable inside Pabbly Connect are available in Zapier. For example, Systeme.io, Podia, and more.
Make sure you understand your use case clearly, then decide on the software.
Pabbly Connect Integrations
Currently, Pabbly Connect integrates with 1000+ applications. See the list of Pabbly Connect integrations.
You'll find all the major applications, such as:
ConvertKit
Facebook
Gmail
Google
And more
Let's talk about both software pricing.
Zapier Pricing
Zapier offers four paid plans & 1 free plan.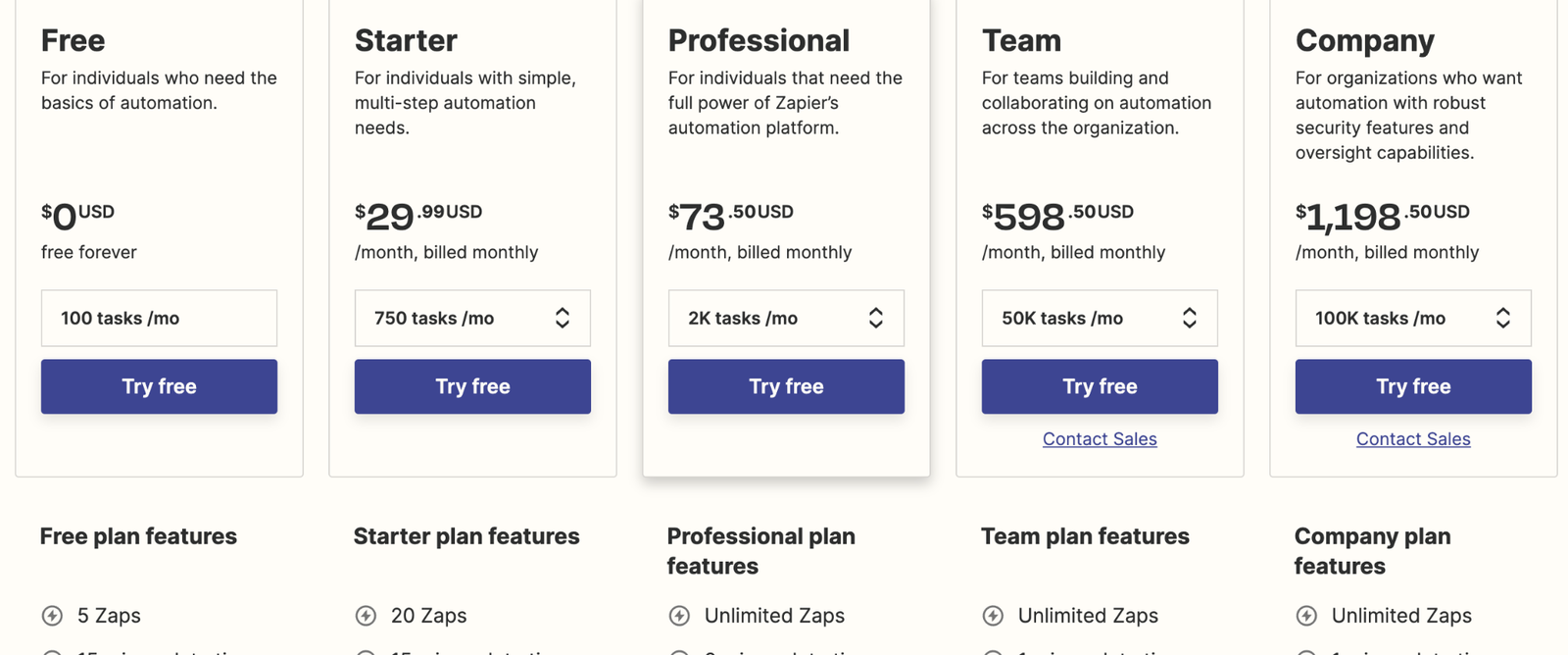 1. Free – You get 100 tasks per month. You get 5 zaps and 15 minutes of update time.
Update time doesn't matter. Because as soon as a trigger happens, Zapier will execute the workflow. It won't delay the execution. Even if they do, it will increase their server costs. 🙂 It's a marketing gimmick.
2. Starter – It costs $29.99/month.
In this plan, you get:
20 Zaps
15 minutes of update time
750 tasks/month
3 premium apps
3. Professional – It will cost you $73.50/month.
In this plan, you get:
Unlimited Zaps
2-minute update time
2K tasks/month
Unlimited premium apps
Filters
Formatter steps
Connections through webhooks
Task auto replay
Duplicate paths
And more
4. Team – It costs $598.50/month
In this plan, you get:
50K tasks/month
Export All Zaps
Folder permissions
Premier support
Shared workspace
Shared app connections
Plus, everything in the Team plan
5. Company – It costs $1,198/month
You get 100K tasks/month
Advanced admin permissions
User provisioning (SCIM)
App restrictions
SAML single sign-on (SSO)
Custom data retention
Account consolidation
Super Admin
Live chat
Plus, everything in the Team plan
I shared Zapier's monthly pricing. If you opt for the annual plan, you'll get 33% off on the plans.
Pabbly Connect Pricing
Pabbly Connect offers four plans. Pabbly Connect also has a FREE plan. All the pricing is monthly. If you opt for the yearly plan, you can save up to 25 percent.
Pabbly Connect monthly plans are affordable. 🙂
1. Free – $0/month
Before opting for a paid plan, you can try out Pabbly Connect Free plan.
You'll get 100 tasks per month
And all the features.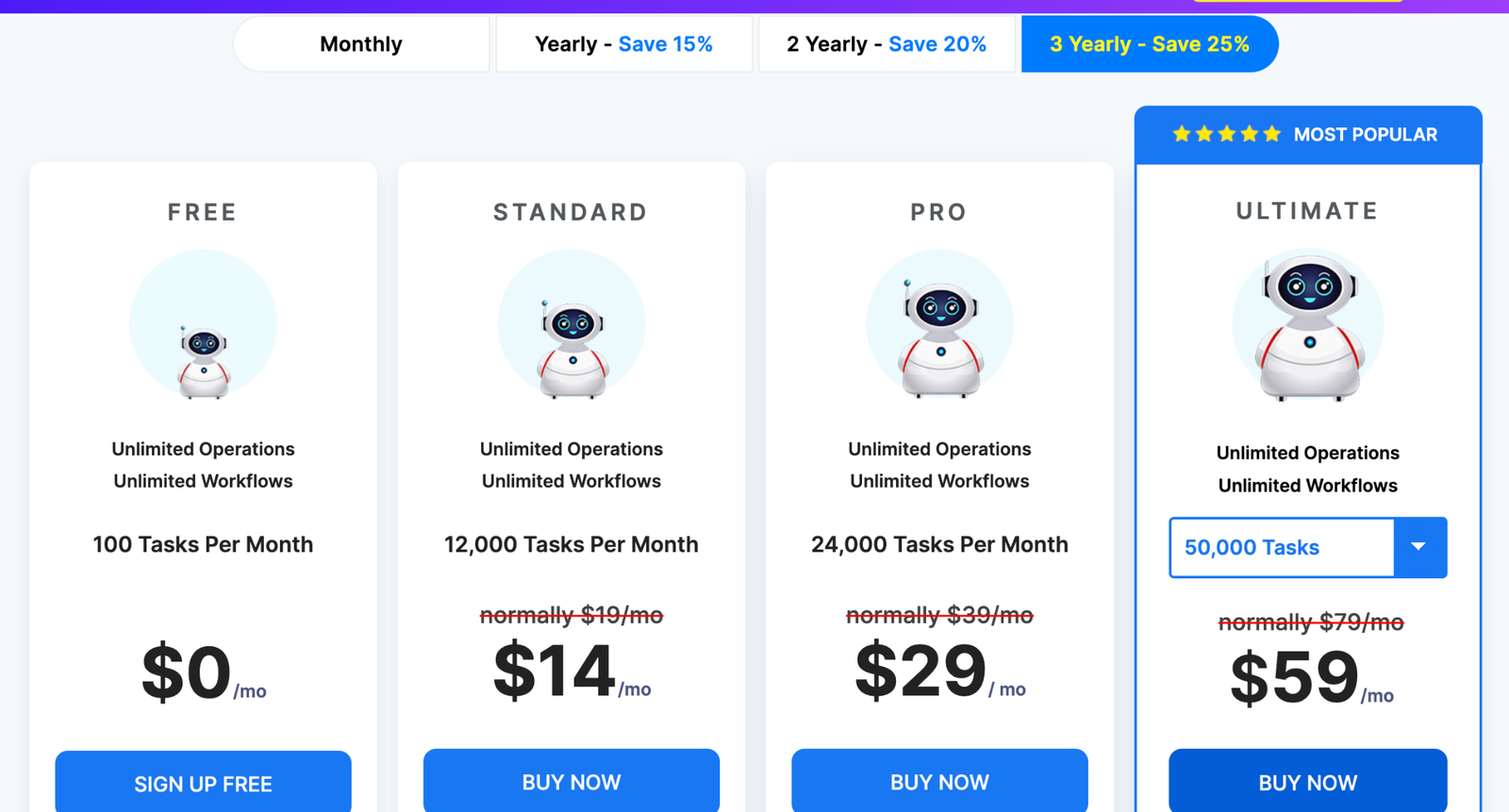 Explore Pabbly Connect Pricing
2. Standard – $19/month
12,000 tasks per month
Unlimited Operations
Unlimited Internal Tasks
Unlimited Automation
Instant Webhook
Iterator
Multi-Step Calls
Formatters
Delaying
Scheduling
Re-execute workflows
Email Parser
Filter
Unlimited Path Routers
Unlimited Premium Apps
Unlimited App Connections
Free Internal Tasks
Two Factor Authentication
Enhanced Security
Folder Management
1000+ App Integrations
Community (12K+ Members)
3. Pro – $39 per month
You'll get 24,000 tasks per month. Plus, all the features.
4. The Ultimate – $79 per month
You get 50,000 tasks per month. It's their most popular plan.
In all the plans of Pabbly Connect, the only difference is the tasks per month. Reset you get all the functions in all the free & paid plans.
Sign up for a FREE Pabbly Connect account.
Pabbly Connect Lifetime Deal
In 2020 Pabbly launched great lifetime deals. Pabbly Connect lifetime deals are still running. However, they are not stackable. That's a big downside for you. However, it's good for existing and current LTD users. 🙂
The Pabbly Connect lifetime deal is currently suitable for small business owners or anyone with limited task usage per month.
The best part is you don't have to pay monthly charges. Pay once and enjoy forever.
I wrote a detailed blog post on Pabbly Connect Lifetime deal. Before grabbing Pabbly Connect LTD, go through the post. 🙂
Which is better, Pabbly Connect or Zapier?
My answer is both tools are BEST. It boils down to your use case. If the apps you want to use are integrated with Pabbly Connect, then why spend extra bucks on Zapier?
Figure out your use cases and choose which software suits you.
Let me give you my example; I need to automate course delivery for my clients. That's a simple automation, right? Both platforms can fulfill this use case. I would go with Pabbly Connect. I'll save a few bucks!
In this scenario, I would consider Pabbly Connect. Plus, Pabbly Connect is improving rapidly.
In some cases, Pabbly Connect has become better than Zapier.
Some of the use cases I can't execute with Zapier. So I'm using both tools. 🙂
Zapier is a decade-old software; it's the BEST in the marketplace. But Zapier is expensive too. Zapier has the most extensive integration with over 5000+ apps you can connect with Zapier.
If you're running on a shoestring budget and want to automate your business? Go for Pabbly Connect. Sign up for a FREE plan, figure out your use case, and then invest.
Key Takeaways – Pabbly Connect Vs Zapier
Since I have been using both software, Pabbly Connect & Zapier, why not write a blog post to help you decide which software is right for you?
In this blog post, I talked about Zapier, and Pabbly Connect pricing, pros, and cons, Pabbly connect LTD, and how to choose the right software.
If you have any questions, drop them in the comments below. I will answer.
I wrote a detailed Pabbly Connect Review. If you're still unsure about Pabbly Connect, you can read it. 🙂