There are many email marketing software most of them are too costly. Pabbly Email marketing tool is affordable.
Today, I'll review Pabbly Email Marketing software. From automation, features, and pricing plans to email deliverability rates (most important).
Let's get started!
Pabbly Email Marketing Review

What is Pabbly Email Marketing?
Pabbly is one of the most feature-rich and affordable email marketing software.
Pabbly built-in Simple Mail Transfer Protocol (SMTP) servers allow you to bulk emails and track them.
You can even connect external SMTP servers such as AWS, Sendgrid, and Mailgun with Pabbly Email Marketing.
So that you can keep your email deliverability rate high. This will help you avoid paying hefty email marketing software bills. 🙂
It's a win-win for you. Your emails will land in your subscriber's primary inbox at a low cost.
Pabbly is a suite of products that includes:
Let's talk about the MOST important topic, which is email deliverability.
No matter how good your email is, if it doesn't reach your subscriber's email inbox, your email marketing efforts will go in vain.
The question is, how is Pabbly Email Deliverability rate?
Pabbly Email Deliverability
Pabbly Email has a feature called Suppression list. This list includes all the unsubscribers, spam/complaints, and bounced emails. These emails will automatically be removed from your next email campaign.
You'll send emails to active subscribers only. That will skyrocket your email deliverability.
With Pabbly Email Marketing, you can connect multiple delivery servers so that your email lands in your subscriber's email inbox, not in the spam folder or promotion tab.
Servers play a major role in emails delivery. If you're using a spammed server, most likely, your emails will land either in the spam/promotion folders.
You can use Pabbly's in-built email server too. But it has a limit of sending 500 emails per day.
Pabbly Team will increase your sending limit depending on your sender's score.
They do this to protect other senders and keep their servers spam free.
If you send genuine emails and get high open rates. Your email-sending limit will be increased.
Pabbly Email ensures that your IP's security, stability, and reputation are unharmed. In other words, you steer clear of the danger of sending mass emails that bounce or wind up in spam.
Pabbly cleans up your most inactive emails and duplicate emails. After that, it eliminates unsubscribed users and spammy emails.
For the first time, if you send emails using Pabbly's in-built server, they manually review the email.
Again, they're doing this to keep their servers spam free. With Pabby Email Marketing, you'll get the highest email deliverability.
Pabbly uses its own email software for sending updates and promotional emails.
Pabbly Email Pros & Cons
Pros
Drag and drop email editor
Automatically remove spam/bounced/unsubscribed emails
Doesn't limit features in lower plans
Affordable pricing plans
Detailed email metrics
Multiple delivery servers
A tonne of instructional videos
Pleasant user interface
30-Day refund policy
Cons
Lacks support for live chat.
Basic automation functions
Doesn't have tagging system
Can't send bulk emails from day 1 with Pabbly Servers
Pabbly Email Automation & Functions
Pabbly email automation is basic. You cannot build advanced email automation with Pabbly Email Marketing.
And, Pabbly Email does not have tagging feature; you cannot segment your subscribers with the tags. Major email service providers such as ActiveCampaign, MailerLite, ConvertKit, and GetResponse all have tagging functions.
With the help of tags, you can effortlessly build advanced email automation.
If you're looking to build advanced automation, then Pabbly Email Marketing is not for you.
Of course, you can build basic automation.
Pabbly Email Marketing Automation Functions
Email. You can send emails.
Delay. You can delay for minutes, hours, days, weeks, months, specific time of day and current day of the week.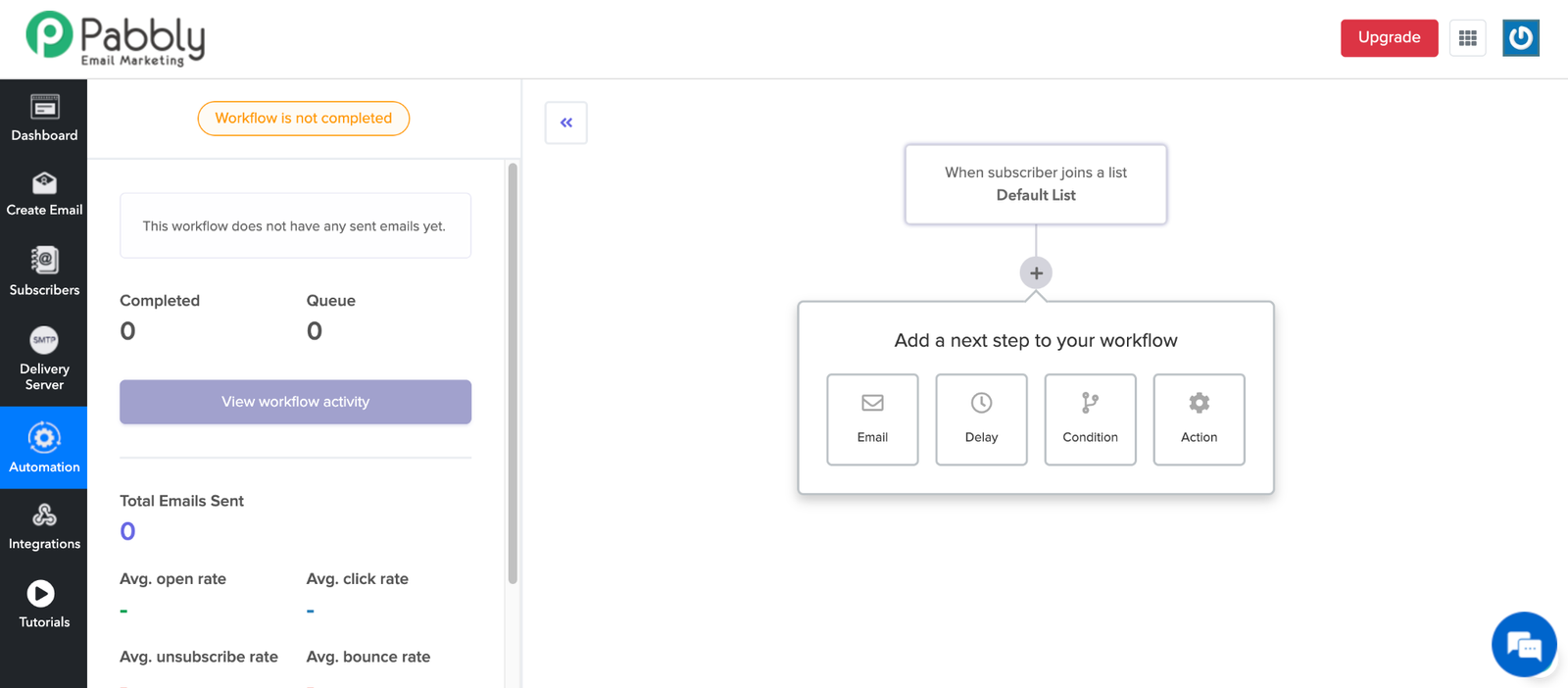 Condition. YES or NO condition. Based on that, you can further build the automation.
Action includes
copy to a list,
update custom field,
move to a list,
remove from a list,
mark as unsubscribed,
move to another step
Segmentation
You can create segmentation based on the following data:
Emails
Name
Phone number
Age
City
Country
Website
And custom field
With the help of segmentation, you can send highly targeted emails. In return, you experience high open rates, more clicks, and sales.
Pabbly Email Analytics
Without accurate data, you can measure your email campaign performance. There's a saying, "You can't improve what you don't measure." – Peter Drucker
Pabbly Email offers you all the helpful email metrics such as
Email sent
Opens
Clicks
Unsubscribes
When it comes to email marketing, these are the KEY metrics you should study to determine your campaign success.
Search/Filter Your Campaigns
This function allows you to search or filter any previous email campaigns.
You can filter campaigns based on:
Sent,
Scheduled,
Automation,
And draft
You can easily send, preview or edit any campaign from the main dashboard.
Automatic Resend
Pabbly Email Marketing has an auto follow-up feature, which will resend emails to non-openers.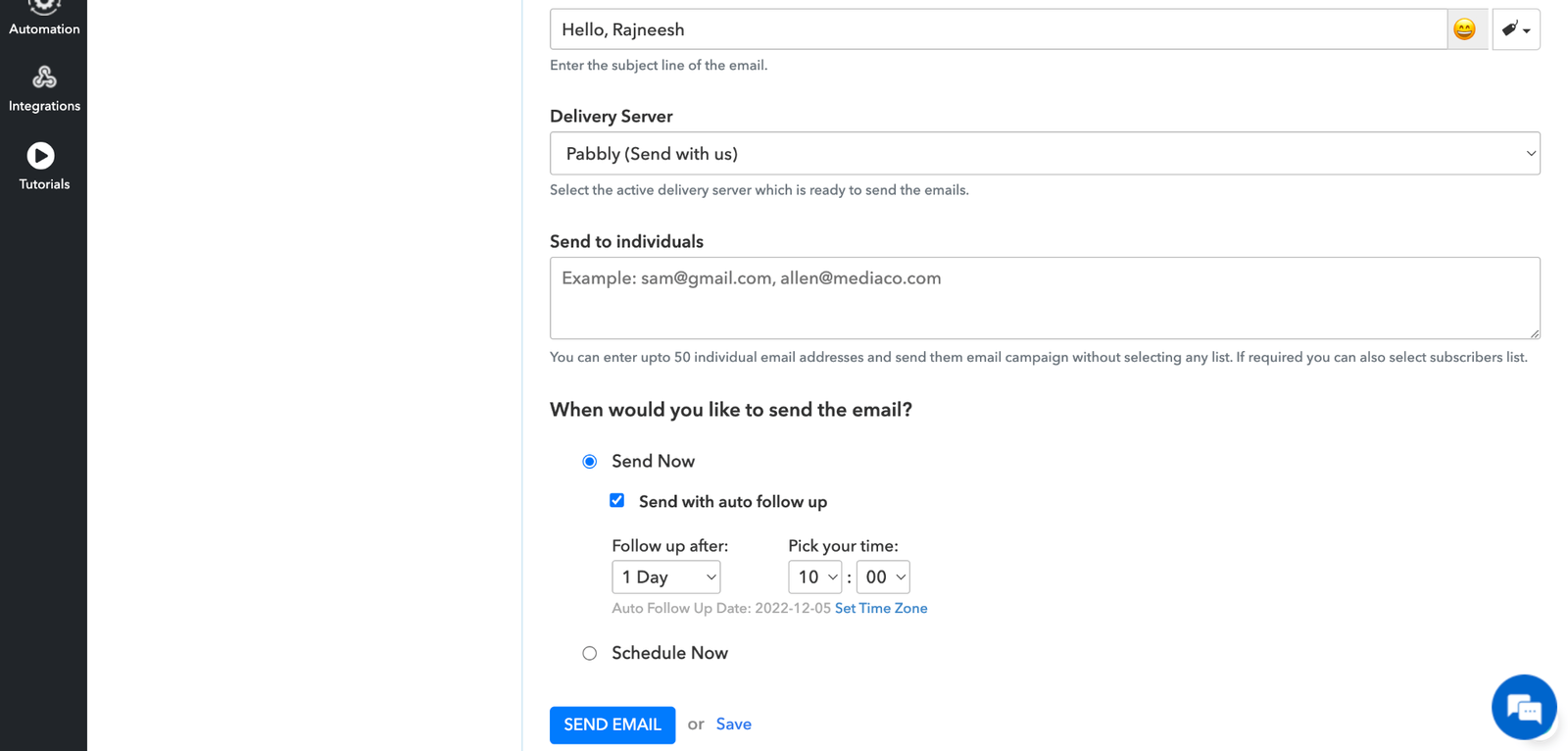 If the auto follow-up is scheduled at the time of sending the campaign. You don't even need to click on resend campaign. 🙂
Delivery Servers
Pabbly Email offers the ability to add multiple delivery servers. Pabbly Email recommends sending emails using Amazon SES because it's cost-effective.
Amazon will only charge you if you send more than 62,000 emails in a given month ($0.10 for every 1,000 emails over). So most of the users don't pay a penny.
Alternatively, you can use Pabbly (Send with us). But it has limitations, your send limit starts at 500 emails/day, and they gradually increase the sending limit.
And you can connect to other delivery servers such as SendGrid, MailGun, and many more.
Don't know what delivery servers are?
Let me explain briefly; email delivery servers are systems that help to send and manage email.
They contain software that can route and deliver emails to people's email inboxes.
Email delivery servers play an essential role in ensuring customer satisfaction by providing timely and accurate delivery of urgent or important emails.
With the help of multiple delivery servers, you can experience a higher email deliverability rate.
What is Email Deliverability?
Email deliverability is the measure of how likely an email will be delivered successfully from a sender's server to the recipient's address.
Many factors can affect email deliverability, and one of the most common reasons emails are not received is due to spam filters.
Spammers create all sorts of content (from gibberish to highly pharmaco-active templates) to try and fool mail servers into flagging their messages as spam.
As a result, your email may never reach its destination or be marked as junk mail, damaging your reputation and reducing your interest in receiving future emails from you.
To avoid this issue, make sure that your message contains accurate contact information (including your domain name), has valid header information including MIME (Multipurpose Internet Mail Extensions) type and uses well-formed language.
Additionally, you can set up DKIM and SPF records to ensure high email deliverability.
You can improve Email deliverability by sending highly useful emails. Send emails to those who're willing to receive them. Don't spam people's email inboxes.
Pabbly Email Pricing Plans
Pabbly email marketing takes pride in its ability to assist companies in saving the bills of their email marketing campaigns by up to 70%.
Pabbly Email is one of the market's most reasonably priced email service providers.
Pabbly Email offers you a 7-Day Free trial (No credit card required)
You can also get custom-tailored to your needs with Pabbly email marketing.
You have the option of paying yearly or monthly.
With annual payments, you get an extra 20% OFF.
All the plan comes with a 30-day, no question asked refund policy.
Pabbly Email Marketing offers four plans (Including a FREE plan):
Let's discuss what you get in each plan.
Free Plan
Pabbly offers a cost-free signup process.
Free for 7 days
You can send unlimited emails to up to 100 subscribers.
Rookie Plan
Monthly cost of $29
Annual fee of $288.
You can send unlimited emails to up to 5,000 subscribers.
On the Rookie plan, you'll get the following features:
Marketing Automation
MX Cleaner
Send Emails To 5,000 Subscribers
SMTP Routing
2X Open Rate
Add Multiple SMTPs
Import Emails
Inbuilt Email Templates
In-built SMTP Included
List Management
Subscription Forms
Email Personalization
Email Tracking
Enhance Lead Capture
Pabbly Email Marketing – Pro Plan
This plan has a $41 monthly fee payable annually
If you pay monthly, it will cost $49/month
Send emails to up to 15,000 subscribers every month.
Plus, all the features of Rookie
Try Pabbly Email Marketing Software for 7 days at no cost.
Advanced Plan (Most Popular)
Of all the Pabbly plans, this one has the highest price.
$83 per month on an annual payment
$99 per month on a monthly bill apply.
Send unlimited emails to up to 50,000 subscribers monthly.
Plus all the features
One of its key advantages is that this plan's pricing changes depending on the size of your email list.
Pabbly Email Support
Pabbly provides email & forum support.
Pabbly support hours:
The turnaround time is 24 hrs (Business Hours – 10.00 AM to 6.00 PM IST, Except Saturday and Sunday). So your kind patience will be highly appreciated!
Pabbly Email Marketing Integrations
Pabbly Email Marketing integrates with
With the help of Pabbly Connect, you can integrate Pabbly Email Marketing to 1000+ applications.
Pabbly Email has an API too. That allows you to connect Pabbly Email Marketing to any third-party software.
You can connect Google Analytics with Pabbly Email Marketing. That will enable you to track the performance of your campaigns.
How Pabbly Email Marketing Works?
Enter your business name and address
Choose the delivery method (Amazon SES or Send with Us)
Create the email
Import your subscribers
Send the campaign
Before you send any campaign, you have to have a custom email. For example, support@yourdomain.com.
I can use support@magicblogging.com (This is my custom email id).
Pabbly will ask you to create 2 CNAME records in your domain DNS.
This step hardly takes 2 minutes. They have detailed instructions on how to do it.
Marketing automation
To increase engagement, send emails in response to specific triggers on automation.
In-built SMTP server
The built-in server of Pabbly has a 98 percent email delivery rate.
List management
You can easily manage your subscriptions using this functionality from a single location.
List Cleaner
This free application removes spammed, bounced, or suspended emails from your list.
Email tracking
To monitor the effectiveness of your email marketing efforts, use this function. Additionally, it aids in analyzing outcomes according to several criteria, such as sent, clicked, opened, and unsubscribed.
SMTP routing
You can send emails simultaneously using several servers thanks to this capability. The goal is to maximize the deliverability rate.
Connect External SMTPs
Connect Pabbly Email Marketing with Amazon SES or any SMTP service providers such as SendGrid, MailGun, and many more.
Sign up for Pabbly Email Marketing.
Pabby Email Marketing FAQs
Is Pabbly email free
No. Pabbly Email Marketing gives you a 7-Day FREE trial, and they have a 30-Day refund policy on all the paid plans.
Does email marketing work?
Absolutely! Right now, nothing is more important than ever. Despite the rising popularity of social media and other messaging services, email is still the most efficient way to communicate with people. It continues to outperform other channels.
Which email marketing software is the best?
ActiveCampaign is one of the best email marketing software right now when it comes to email automation. Pabbly Email Marketing solution is suitable for small businesses who want to do email marketing on a budget.
Is email marketing still worth it in 2022?
Without a doubt, yes. As you can see, there should be no doubt about the continued usefulness of email marketing strategy.
Today, it remains the simplest and most efficient way to reach internet users.
It can significantly increase your sales and customer interaction, build your brand's reputation, and more.
What should be avoided by email marketing?
There are many common email marketing mistakes. Some of them are: working with outdated mailing lists, sending unexpected and useless emails, not warming up your domain, selling too hard, and many more.
Summary: Is Pabbly Email Marketing Solution Right for You?
The Pabbly email marketing review unquestionably demonstrates that the software, with its capabilities and features, makes email marketing simple.
Owners of small and medium-sized businesses utilize the marketing platform to send their subscribers bulk emails.
It boils down to your use case.
What's your goal with email marketing?
Whether you want to do an email broadcast?
Or do you want to build advanced email automation?
Figure out your use case, then choose the software.
For example, if you want to send bulk emails at a low cost and build basic email automation, Pabbly Email marketing solution is a perfect fit for you.
Sign up for Pabbly Email Marketing.
If you have any questions, let me know in the comments below. I will answer!