What if a tool automatically creates a new row in a Google Sheets spreadsheet whenever a new card is added to your Trello board? Wouldn't it be super fun if your new WordPress posts automatically get shared on social media?
Zapier makes it possible! And it's not just WordPress, Google sheets, or Trello — it lets you interlink more than 5000 apps and automate their functions. More than 2.2 million marketers and business owners use Zapier to save time and streamline workflows.
Let's get in deep and explore the potential of Zapier to know how much it can be time-savvy for you. We'll also see if it's an affordable option for you or if you should think of a similar but affordable tool like Pabbly.
Zapier Quick Overview
Zapier is an automation tool that integrates plenty of your productive apps and automates the action eliminating the hassle of switching between apps.
You can interlink the functions of your apps – like if you need to make changes in one particular app based on the action that happens on another app, Zapier will automatically do this job.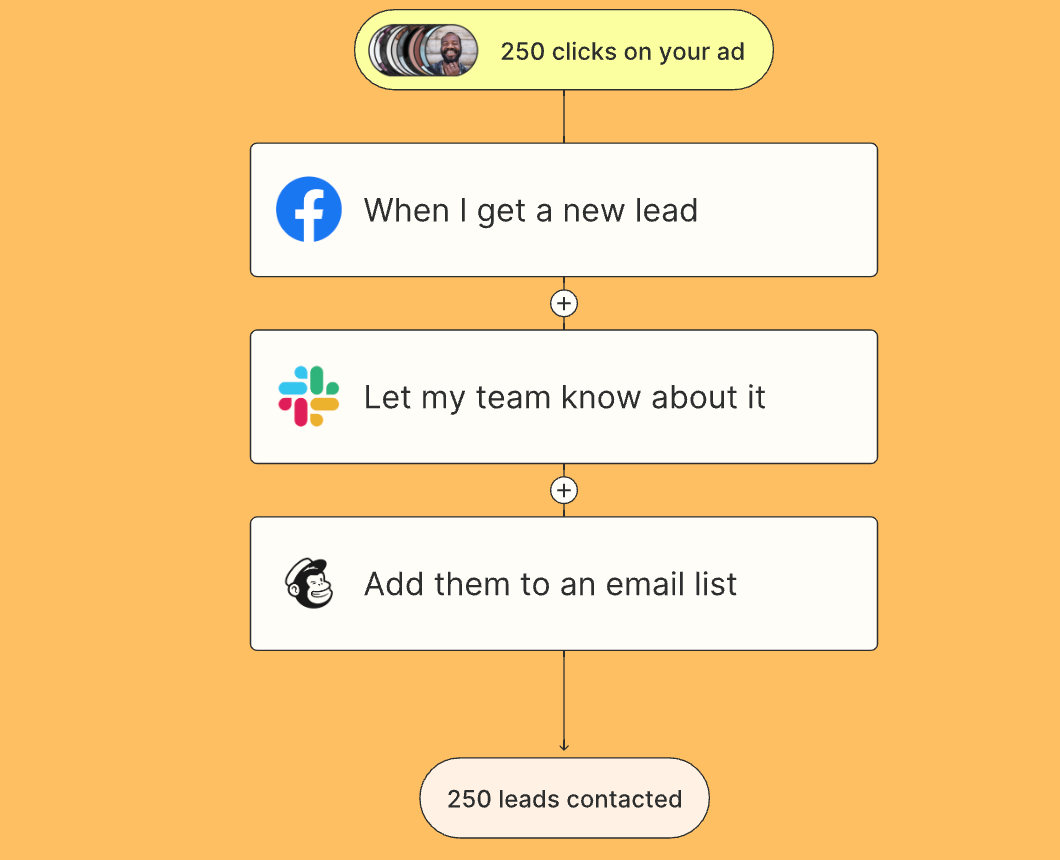 Suppose you're a sales manager and want to streamline your lead management process. With Zapier, you can interlink the functions of your different sales apps to automate the process.
For instance, you can create a workflow that automatically adds new leads from your website to your CRM system.
Zapier Best Functions
Zapier has tons of amazing features to help its users – but I've rounded up some of its best features below.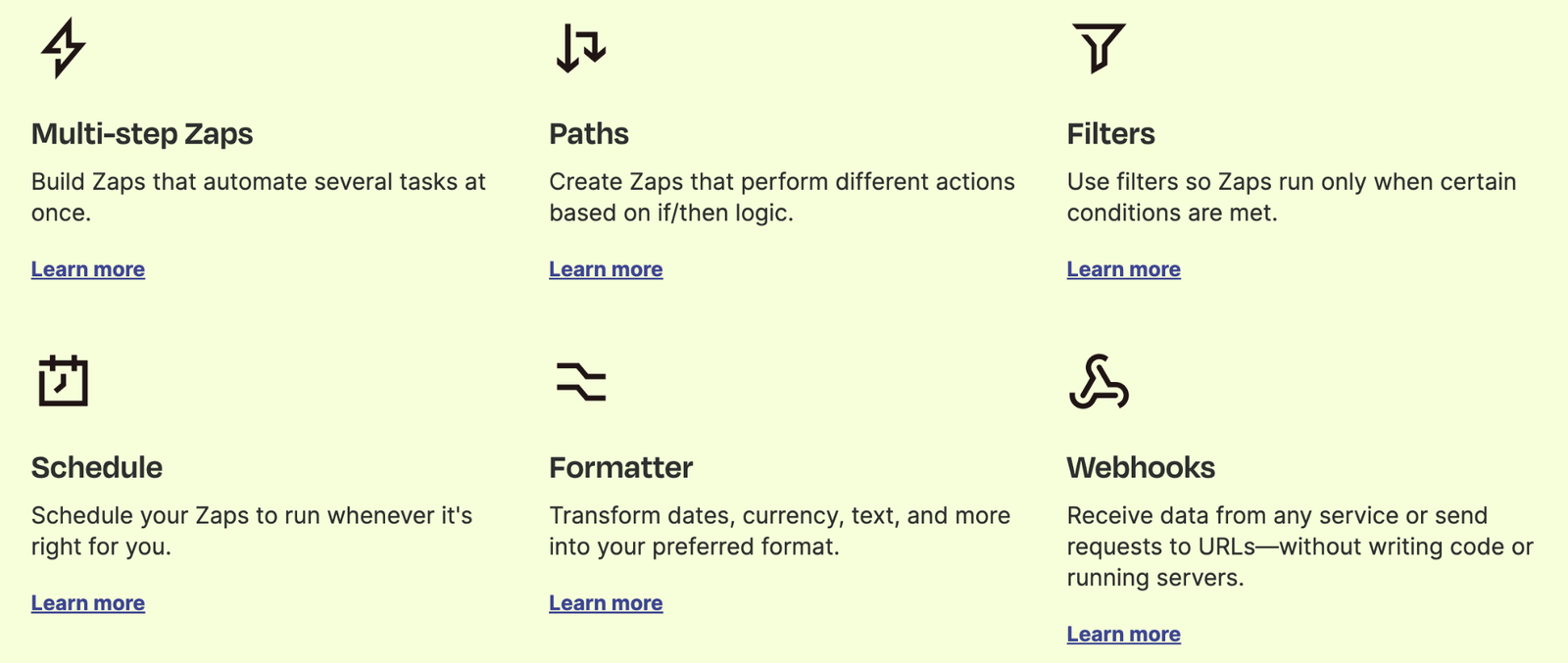 Native Integrations
One of the most noteworthy features of Zapier is its vast array of native integrations. It allows you to connect different applications and automate workflows seamlessly.
Native integrations are directly supported by Zapier rather than relying on third-party integrations. This ensures a more reliable and efficient flow of data across different applications.
Moreover, Zapier offers a wide range of native integrations, with over 750 integrations currently available.
Multi-Step Zaps
In multi-step zaps, you can perform unlimited actions from a single trigger. For instance, your trigger is new Twitter followers; now, you can perform one action to add these followers to a designated Mailchimp list and a second action to send them a welcome email.
However, multistep zap is only available in the paid plans. Free members can only access single-step zaps.
Email Notifications & Alerts
When a task doesn't get completed or fails to happen due to the temporary unavailability of any third-party API or other reason, Zapier sends you email notifications and alerts.
But it's only for the free plan. For paid members, there is a feature called Autoreplay.
Autoreply retries the failed task with increasing intervals of up to 10 hours. In case it still doesn't happen, you get an email alert.
Copy & Paste the Workflow Steps
Copy and paste the workflow steps is the recent feature they added, and it's a no-brainer that eliminates the hassle of mapping and rewriting new zaps every time.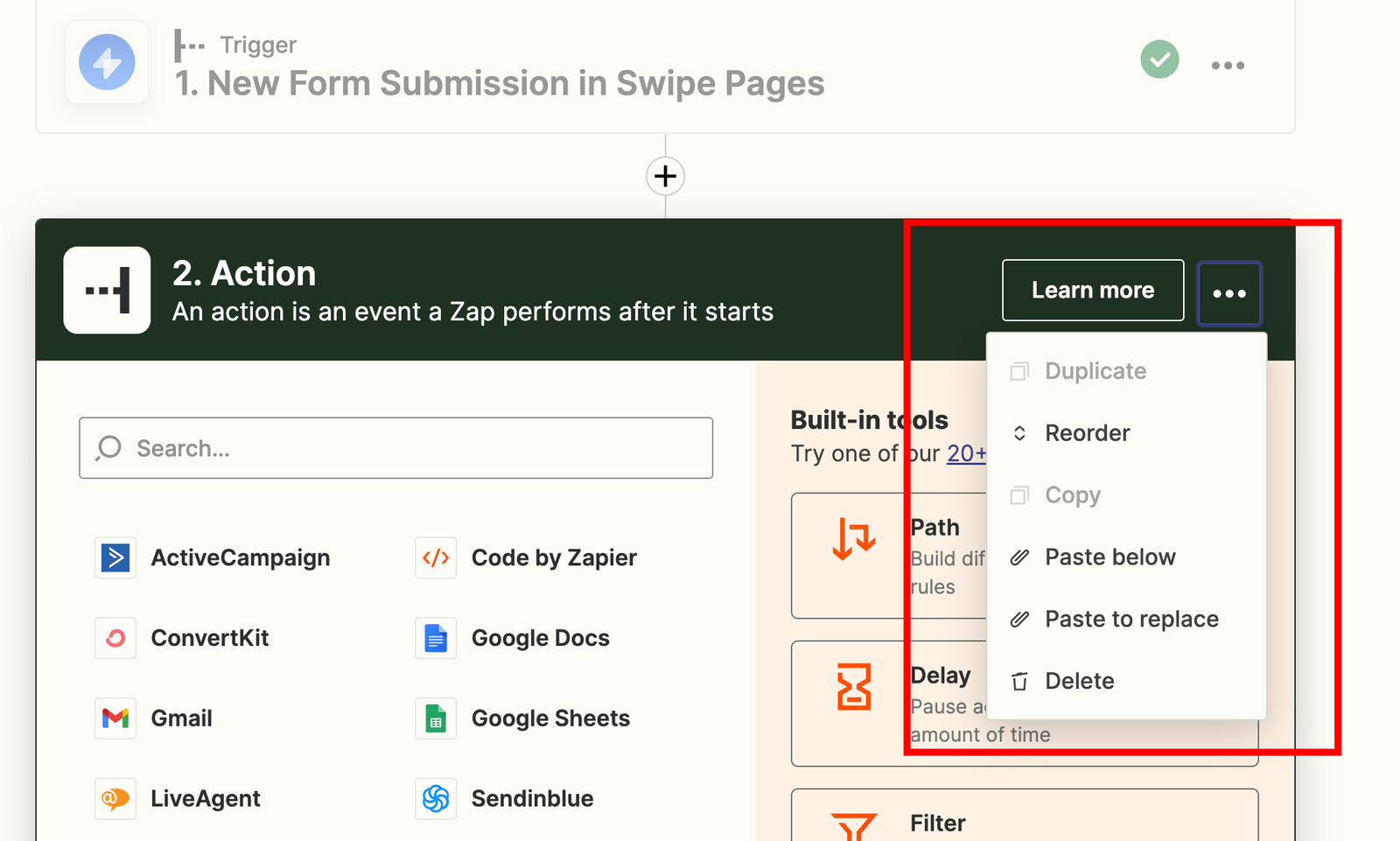 You can just tap on the three dots to copy the zap and replace it with another one or add it under a particular step in the same or different zap.
Zapier Pros & Cons
Pros
Provides unlimited automation
Can perfectly integrate dozens of apps
Provides free plan with 100 tasks/month
Reminds important tasks like a personal assistant
Allows copy-pasting of Zap step to avoid rewriting hassle
Cons
Comparatively more costly with limited tasks per subscription
Account setup and integration are not user-friendly for beginners
Customer service is not reliable
Zapier Pricing: How Much Does It Cost?
Zapier gives you five options to choose from in pricing. Its free plan provides 100 tasks per month with a single-step zap feature. The first paid plan starts at 20 dollars per month.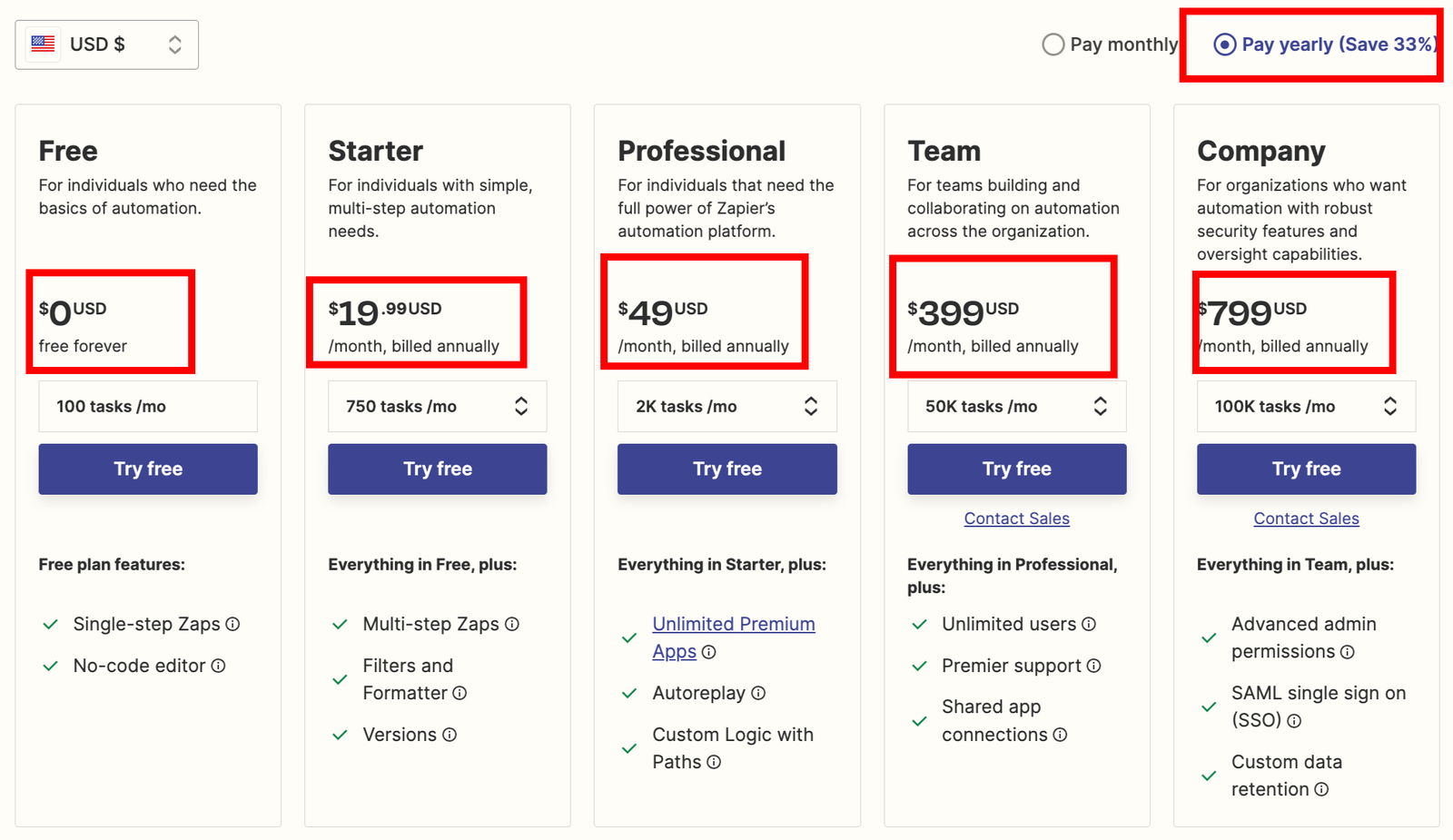 Starter plan costs $19.99 to provide 750 tasks per month and $39 to provide 1500 tasks per month with multi-step zap and filters and formats features but only one user.
Professional plan unlocks at $49, providing 2000 tasks per month, and goes up to 2 million tasks per month at $3389 with 1 user. It lets you access unlimited premium apps and autoplay features.
Team plan starts at $399 with 50,000 tasks per month and goes up to 2 million tasks per month for $3.999. It unlocks unlimited users and shared app connections with all the previous plans' features.
Company plan provides organizations with 100k tasks per month for $799 and goes up to 2 million tasks per month for $4,999. It gives you unlimited permissions to each and every feature.

These plans are yearly. If you buy the monthly plan, it will cost you more. In that case, the Starter plan will cost almost $30/month for 750 tasks. The professional plan will cost $73.50/month for 2K tasks.
Zapier Integration
Zapier lets you integrate more than 5000 apps – here is a list of some apps marketers and business owners frequently use.
It includes:
Gmail
Trello
Slack
Asana
Woocommerce
Salesforce
Quickbooks
Paypal
Hubspot
Google spreadsheets
And more
Zapier Customer Service
You can place your queries to Zapier customer support through a "Contact Us" option on the dashboard. You'll have to provide your company name, email, and query details to contact them.
You can also schedule a time for live interaction, hire an expert or get support from their help articles. Unfortunately, their customer service is not super fast, but they will get back to you and answer your queries.
Zapier Alternatives
Many automation tools can be used as an alternative to Zapier. I'm comparing some popular ones.
1. Pabbly Connect
Pabbly Connect is a hot competitor of Zapier because of its all Zapier-like features but at a very economical price. Pabbly Connects has 1000+ integrations and supports all major apps that Zapier does.
The difference comes in their pricing! Pabbly eliminates the hassle of per-month billings, setting a one-time price for lifetime access. But how much? You will also be amazed, like me, to hear its pricing plans. Besides its free offer, it has three paid plans.
Standard plan costs you a $249 one-time payment for lifetime access. It provides you with 3000 tasks per month compared to 2000 tasks of Zapier for $588. And in a single year, you'll pay twice the one-time payment of Pabbly.
Pro plan accesses you 6000 tasks per month for a one-time payment of $499 compared to a yearly $1068 for 6000 tasks of Zapier.
Ultimate plan unlocks at $699 with 10,000 monthly tasks compared to a yearly $1548 for 10,000 tasks of Zapier.
2. Integrately
Apart from its affordability, Integrately is easier to use than Zapier. I like its drag-and-drop interface that makes it easy to create integrations without needing to write code or hire a developer.
It is much helpful for me as a small business owner – and if you have a medium-sized business and can't afford a dedicated IT team, Intgrately can be a good option for you.
3. KonnectZit
KonnectZit also competes with Zapier in the pricing zone. Unlike Zapier, which offers a free plan with limited features, KonnectZit offers a completely free version with unlimited workflows.
KonnectZit's first paid plan starts at only $10, including unlimited workflows and actions, priority support, and access to advanced features.
Disadvantages of Zapier
Zapier is a great automation platform, but I feel you should consider some of the following disadvantages and limitations before deciding to adopt it.
Complexity for Advanced Workflows: If you're creating complex zaps or workflows, it might be challenging for you without technical expertise – especially if you're a first-time user.
Limited Customization Options: The customization options available for each integration may be limited among its wide range of integrations. You might not configure your workflows to the exact specifications you need – especially if you need a high level of customization.
Zapier FAQs
Frequently asked questions regarding Pabbly connect.
Q: Is Zapier free and Safe?
Yes, Zapier is free to its limited features that provide 100 tasks per month with a one-step zap. It's also a safe and protected automation platform.
Q: What's better than Zapier?
Pabbly Connect is much better and more affordable than Zapier. It provides you with all the features in a one-time payment, which seems a more suitable option than the higher monthly billing of Zapier.
Q: What is Zapier best for?
Zapier is best for integrating multiple apps and automating the workflow across platforms. It eliminates the hassle of manually managing all the productivity apps for small businesses.
Q: Is there something better than Zapier?
Yes, there is a similar automation tool named, Pabbly that is much better and more economical than Zapier.
Q: Who owns Zapier?
Wade Foster owns Zapier. He is also the co-founder and current CEO of Zapier.
Q: Is Zapier a CRM tool?
Zapier is not specifically designed to function as a CRM tool. Instead, it offers a powerful automation platform that seamlessly integrates with third-party applications.
Q: Does Zapier sell data?
Zapier does not sell, rent or share user data with any third-party vendors. They take user privacy seriously and adhere to strict data security policies.
Zapier Review – My Experience & Final Thoughts
My personal experience with Zapier has been amazing. Its Starter and Professional plans worked best for me as a small business owner. But I soon switched to Pabbly due to the expensive rates of Zapier.
If you're a big brand and need high-value apps and customization, then Zapier will be better for you.
Overall, I would recommend using Pabbly which is the best alternative to Zapier. Using Pabbly Connect, you can also save your money with time.
Pabbly Connect is an emerging automation tool that has evolved and is improving rapidly.
I wrote an in-depth review of Pabbly Connect. You can read that guide and then make any decision.
Got any questions? Let me know in the comments below!