"Hurry" is all around — content creators are racing against time to manage everything on their own. But in the sizzling world of business, consistent interaction with your audience is the key to success. The problem is, it's really tough to keep them up to date on tons of different platforms.
Imagine having a central place to manage all your social channels and interact with your audience in a few clicks. That's where Publer steps in – a robust social media management tool that puts all your channels in a single managing hub.
With Publer, you can stay active on all the largest advertising social media platforms and measure the analytics and performance of your posts to recognize your audience better.
Let's make a Publer deep-dive and explore its features, benefits, and everything in between!
What is Publer?
Publer is the ultimate social media scheduling tool that simplifies your social media management. With Publer, you can effortlessly schedule and analyze your social media posts on up to 10 channels simultaneously.
This powerful tool saves you time by automating the scheduling process and allowing you to manage all your social content from its one convenient dashboard.
Things I like About Publer?
Apart from a super breeze user-friendly Interface, I like five incredible features about Publer — and I'm sure you'll like them too.
Post scheduling
Analytic reports
Bulk posting
Team member
Easy-to-use interface
Whether it's Linkedin – with 200 million users in USA, Twitter, Facebook, Instagram, or Pinterest, Publer lets you schedule your content like child's play. You can choose from manual posting, auto-scheduling, or recurring posts to keep your content repeated until a particular time.
But my absolute favorite feature is Publer's stunning auto-scheduling tool that takes care of everything for me. You just need to set the time and date, and Publer will automatically post your content across all your selected platforms, saving you time and effort.
My second favorite feature lets you see post engagements across all your platforms — it gives you deep insights into your audience's likes and dislikes. With this valuable information, you can tailor your content to meet their needs, ensuring maximum engagement every time.
Things I don't like About Publer
Like any tool in your arsenal, there are a few things I don't like about Publer.
Firstly, once you hit that "post" button, you're committed to the content you've shared. If you realize there's a typo or want to make a quick edit, you can't make any changes from Publer.
To make any changes to the Published post, you have to visit the social media and edit the post. It can be a hassle.
Secondly, some of the most awesome features, like hashtag suggestions and the ability to upload videos or gifs, are only available in the Business plan.
While this may be a bummer for those on a budget, the investment is worth it for prominent business owners.
Publer Pricing
Publer has two paid and one free plan. Paid plans are named Professional and Business — and their prices are based on the number of social accounts and additional members.
Free plan lets you connect 3 social accounts with 1 user and 50 scheduled posts for $0/month.
Professional plan unlocks at $14/month with 3 social accounts and 1 team user with unlimited scheduled posts.
Business plan starts at $24/month with 3 accounts and 1 team member with unlimited access to all the features, including analytic reports, hashtag suggestions, recycling evergreen content, and videos.
Prices adjust based on the number of accounts and team members you add or remove — you can tailor your plan to fit your needs and budget.
For instance, if you connect 10 social accounts and 5 additional team members, the Professional plan will be $46/month, and the Business plan will spook up to $78/month with all the bells and whistles.
Based on your needes, you can choose the right plan.
You can even sign up for a FREE trial of paid plans.
Publer offers a 7 & 14-day trial of the professional and Business plan, respectively.
Publer FREE plan
Publer's free plan includes all the essential features you need to rock your social media game. It includes automatic scheduling, link shortening, and access to a built-in photo editor — and of course, Canvas, if you want to get extra creative.
But that's not all. With Publer's free plan, you can post up to 12 times a day on Facebook, 15 times a day on Instagram, and a whopping 150 times a day on Twitter!
That's more than enough to keep your followers engaged and entertained.
Benefits of Publer
Apart from dozens of benefits, I would like to mention the top 3 benefits of Publer.
Fewer efforts in less time: Publer minimizes your efforts and saves time to manually reach and handle separate postings for each of your social accounts.
No need for separate tools: Publer is an all-in-one solution that eliminates the need for separate tools. From searching media content to editing and posting it on multiple platforms, Publer lets you search for media from Unsplash, customize it with Canvas, and fine-tune it with the built-in editing tools.
No need to be time-sensitive: Picture this: You've to share a crucial post at 5 pm, but an emergency meeting or other pressing matter looms in – and you probably miss out on posting.
Mobile Apps: Publer has launched its ISO and Android mobile apps. You can easily view, manage & schedule posts from all your social channels.
AI Assist: Now, you can use AI to generate content within Publer. Give it a prompt, and it will write content in a matter of seconds.
But with Publer's incredible "Recycling" feature, you can reuse your top-performing content. All you have to do is pick the content that you want to recycle, set the date and time, and Publer will do rest of the job.
Publer Integration
Up till this Publer review, it lets you integrate up to 10 social media accounts at once! You can connect your Instagram, LinkedIn, Facebook, Twitter, WordPress, YouTube, Pinterest, TikTok, Google My Business, and Telegram accounts, all in one place!
You can manage their performance regularly — while all keeping your accounts active and your audience engaged.
Publer Customer Support
A happy customer means a thriving business — and the Publer team knows this all too well. They're on it 24/7 – and provide top-notch customer support!
Publer support team is super helpful. A while ago, I was facing an issue when connecting Telegram with Publer. They resolved in a few minutes.
You can contact the Publer support team through Chat or Email.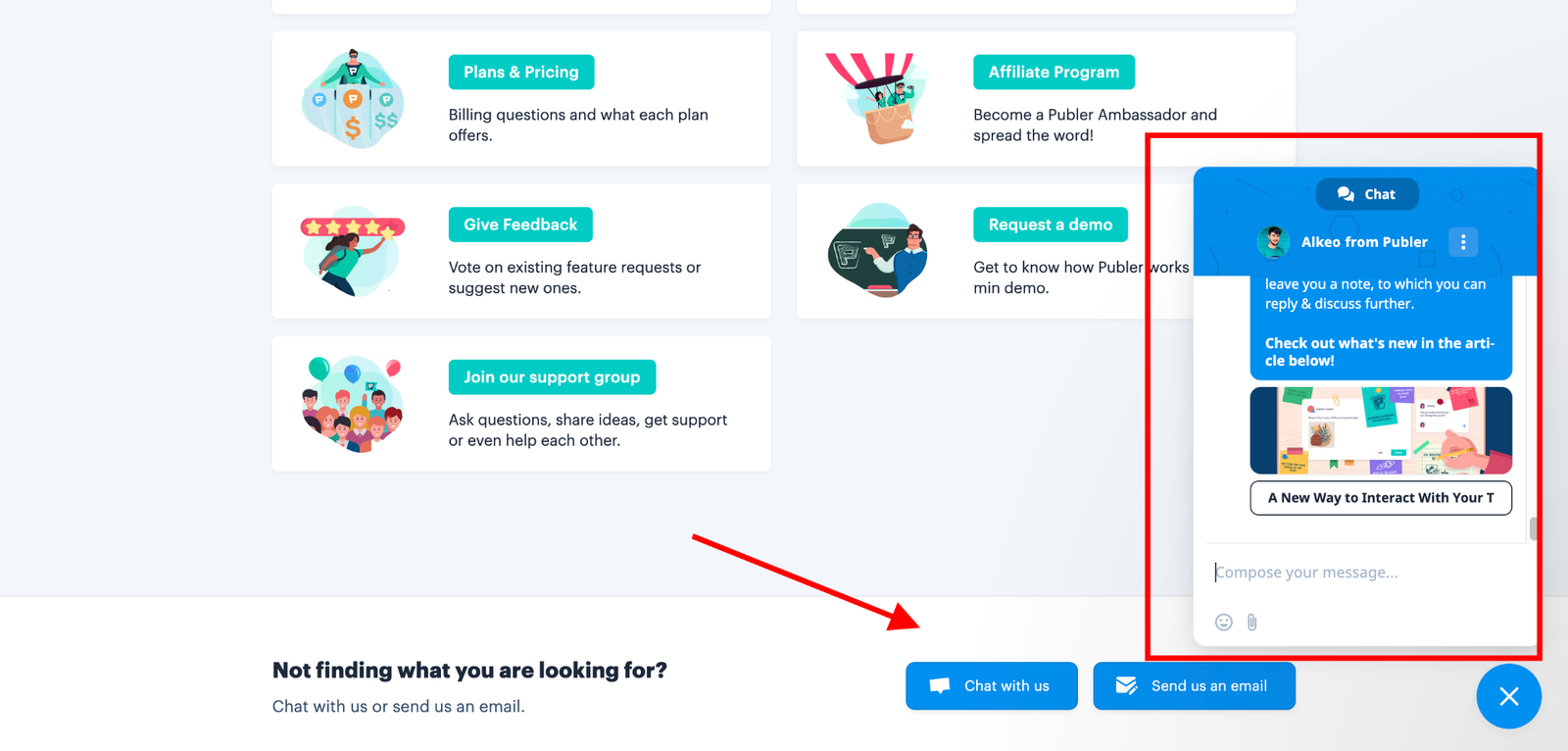 They've got an extensive FAQ section that can cover your many queries. But if you want to chat with a real person, knock them out via email, Facebook Messenger, Twitter, or chat support, and get a lightning-fast response within minutes.
Publer Best Functions
Post Analytics: This feature lets you view metrics such as likes, shares, comments, and clicks on your posts, and use this data to optimize your social media strategy for maximum impact.
Publer sends your analytics report on your email as well. You can download your analytics in PDF format too.
Publer analytics give you a detailed breakdown of how your social media accounts are performing.
Recycling Feature: The feature allows you to automatically repost your top-performing content at specified intervals – and ensures that your followers never miss a beat.
Adding First Comment to Posts: Publer's "add first comment" feature is a game-changer for me. You can command it to add a first comment once your post goes live. It can boost the visibility of your content and encourage more engagement.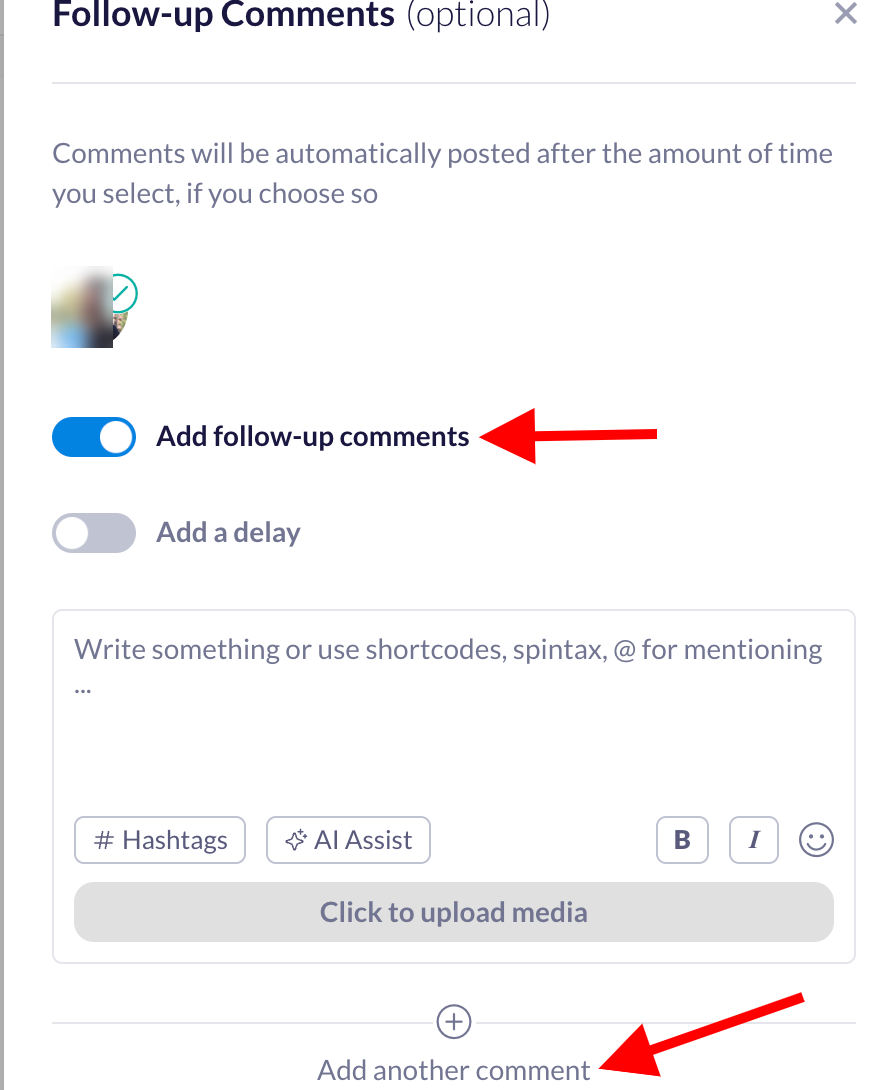 Publer Dashboard Overview
First impressions are everything! Luckily, with Publer, you won't have to worry about a complicated and unfriendly dashboard.
From the moment you sign up – you'll notice how well-organized everything is. Whether you need to create a post, schedule content, or check your analytics, everything is right at your fingertips on their sleek and uncluttered dashboard.
On the left panel, you can see all the important functions such as,
Create
Posts
Media Library
RSS Feeds
Content
Analytics
Then you can see connected channels, editor and on the right side, you can preview the post. Simple and beginner-friendly user interface.
Publer Alternatives
If you're a big-time brand with deep pockets, Hootsuite and Buffer might be calling your name. If you're none of those, there's Publer! Hootsuite doesn't even have a free plan – their first paid plan starts at a whopping $99/month for just 10 social accounts and 1 user.
And while Buffer does have a free plan – it only allows for 10 posts per channel with no auto-scheduling or advanced link-shortening features like Publer's free plan offers. Plus, Buffer's first paid plan starts at $6/month, but limits you to just one social account and one user.
Publer is a win-win situation that accesses amazing features while all being pocket friendly.
Conclusion
Whether you're a digital marketer, blogger, YouTuber, or any kind of content creator, Publer is the all-in-one solution for you. It's easy to use, hassle-free, and won't break the bank.
I would recommend starting it with the free plan — and once you see what Publer can do, you'll want to unlock all its amazing paid features.
Don't waste another minute struggling with social media – switch to Publer today and start making your life easier!
Sign Up for Publer's Free Account
Publer F.A.Qs