Are you tired of Zapier's monthly bills? Zapier's cost keeps on increasing month by month. Wouldn't it be great if you could buy a Zapier alternative for a one-time price?
You could save thousands of dollars that you have spent on Zapier. If you're looking for the Top Zapier alternatives. Then it's your lucky day!
I'm going to reveal 8 Zapier alternatives plus one of the BEST Zapier alternatives is on LTD. This means you buy that tool for a one-time charge and say goodbye to Zapier's monthly bill.
Sounds good? Let's get started.
TL;DR: Get the gist without reading the full article.
Pabbly Connect: Best Overall Zapier Alternative – Similar features, but easier interface and way less expensive. Pabbly Connect has a lifetime deal running. Best for small, medium, and large businesses.
Integrately: Similar to Zapier and Pabbly Connect feature-wise. Integrately comes with a great user interface and has a huge number of ready-made automation, that you can use with a button click. Pricing plans are cheaper than Zapier but not as good as Pabbly Connect.
Make.com (Formerly Integromat): It can get your automation task done but Make doesn't have a great user interface. If you can understand technical terms then Make.com can be a good automation tool for your needs. I would recommend Make.com for technical users.
Konnectzit: Konnectzit is a very new integration software compared to Zapier and Pabbly Connect. It comes with basic features and has a limited number of integrated apps. Pricing plans are affordable and the user interface is easy to use. Good for beginners who are just starting.
n8n.io: Perfect for those who have coding knowledge and looking to automate repetitive tasks. N8n.io cloud plans are expensive than Zapier. N8n.io has desktop and self-hosted options too which are completely FREE but again you would have to set up and it is hassle.
Microsoft Power Automate: With Power Automate you can build advanced automation which requires coding. And Power Automate offers two types of pricing plans: 1) Pay as you go 2) Monthly plans. Power Automate is also recommended for technical users.
IFTTT: IFTTT has a FREE plan with limited features but their paid plans are very affordable. Through a little bit of coding, you can build advanced workflows.
Celigo iPaaS: Celigo iPaaS is for large businesses. Celigo plans start at $600/month and goes up to $2400/month. However, you'll get amazing support and can build advanced and deep integration.
1. Pabbly Connect: A Perfect Zapier Alternative
Summary: Pabbly Connect is a powerful and, in some aspects, better alternative to Zapier. Plus, you don't have to pay the hefty monthly charges like Zapier. Pabbly Connect is perfect for those who want to automate repetitive tasks and save more time. 🙂 You can even ready in-depth comparison between Pabbly Connect Vs Zapier.
Pabbly Connect Advantages
Affordable monthly pricing
Lifetime deal
Easy-to-use interface
Free internal tasks
You get all the features in every plan
Active Facebook community
Pabbly Forum
A large library of automation videos
30-day money-back guarantee
Pabbly Connect Disadvantages
No LIVE support
Some apps are not integrated with Pabbly Connect such as Podia and Systeme.io
Pabbly Connect Prices
Pabbly Connect's monthly plan starts at $19/month, and you get 12,000 tasks/month and all the features. If you go for the yearly plan, you get an extra 15% off. And as you go for higher plans, your tasks/month & charges will change. Simple and straightforward pricing.
Check out Pabbly Connect Pricing.
2. Best for small business owners: Integrately
Summary: Integrately is another alternative of Zapier. Integrately is good for small businesses. If you want to automate your redundant tasks use, Integrately. It can get your job done. Integrately was launched after Pabbly Connect launch. But in terms and features and number of features Pabbly Connect is way ahead than integrately.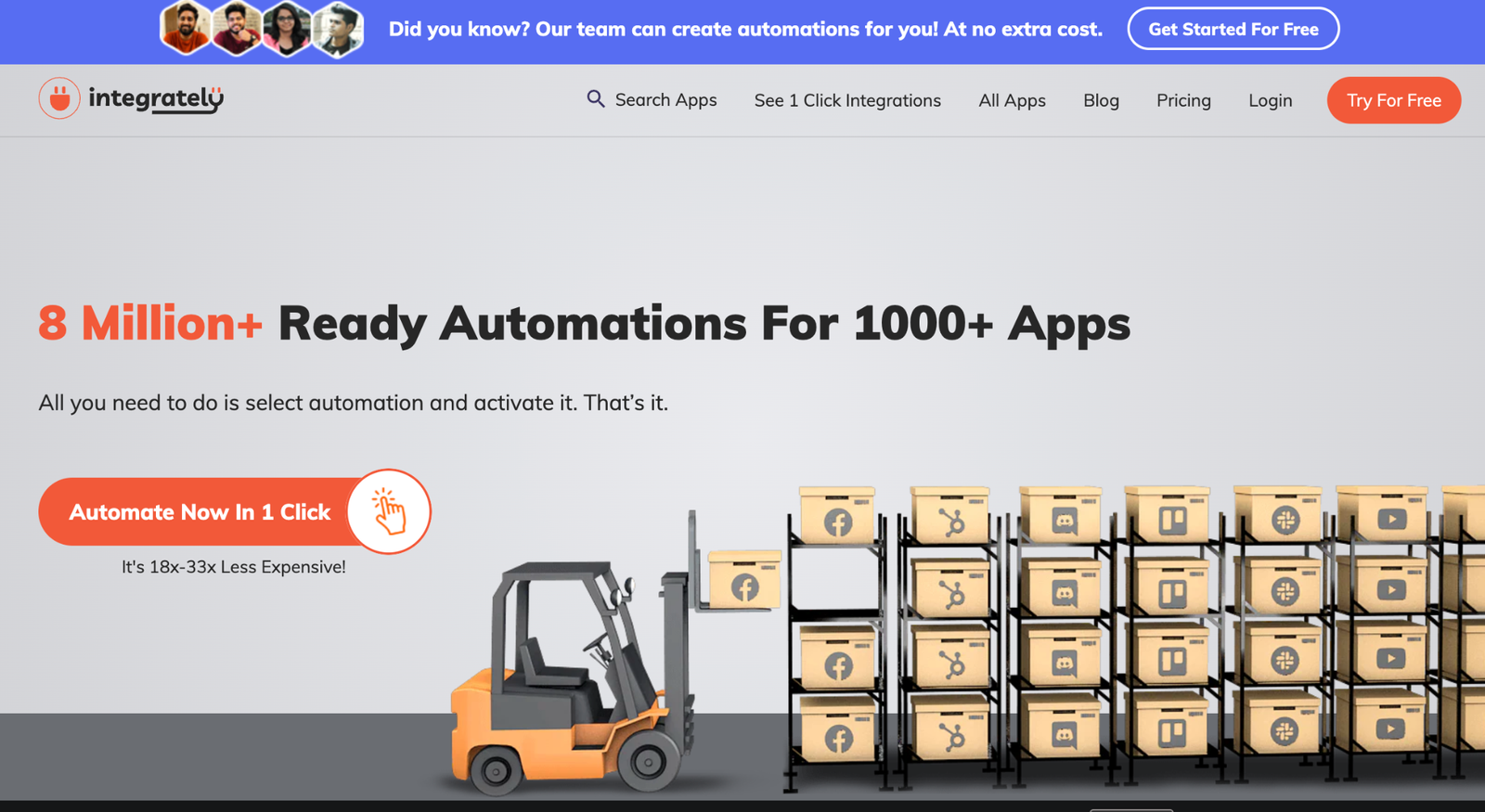 Integrately Advantages
Attractive user interface better than Zapier
Plans start at $30/month for 14,000 tasks/month
Ready-made automation
Integrates with 1000+ apps
14-day free trial
Integrately Disadvantages
No free plan
Pricing is a bit higher than Pabbly Connect
Limited features in the Starter plan
No live chat support
Integrately Prices
Integrately plans start at $29.99/month and you get 14,000/month and some features are missing in this plan like branches, only 3 premium apps, and 20 automation. It seems they're trying to be another Zapier. Their pricing plans feel like that! 🙂 Overall, pricing is still affordable than Zapier.
3. Best for Techy Users: Make.com (Formerly Integromat)
Summary: Make.com (Formerly Integromat) is also a Zapier alternative. Make.com was founded in 2016. They were not actively marketing the software, but Make.com is older than Pabbly connect. Make.com's user interface is not that great. Make is perfect for techy users who have coding knowledge and can understand technical terms.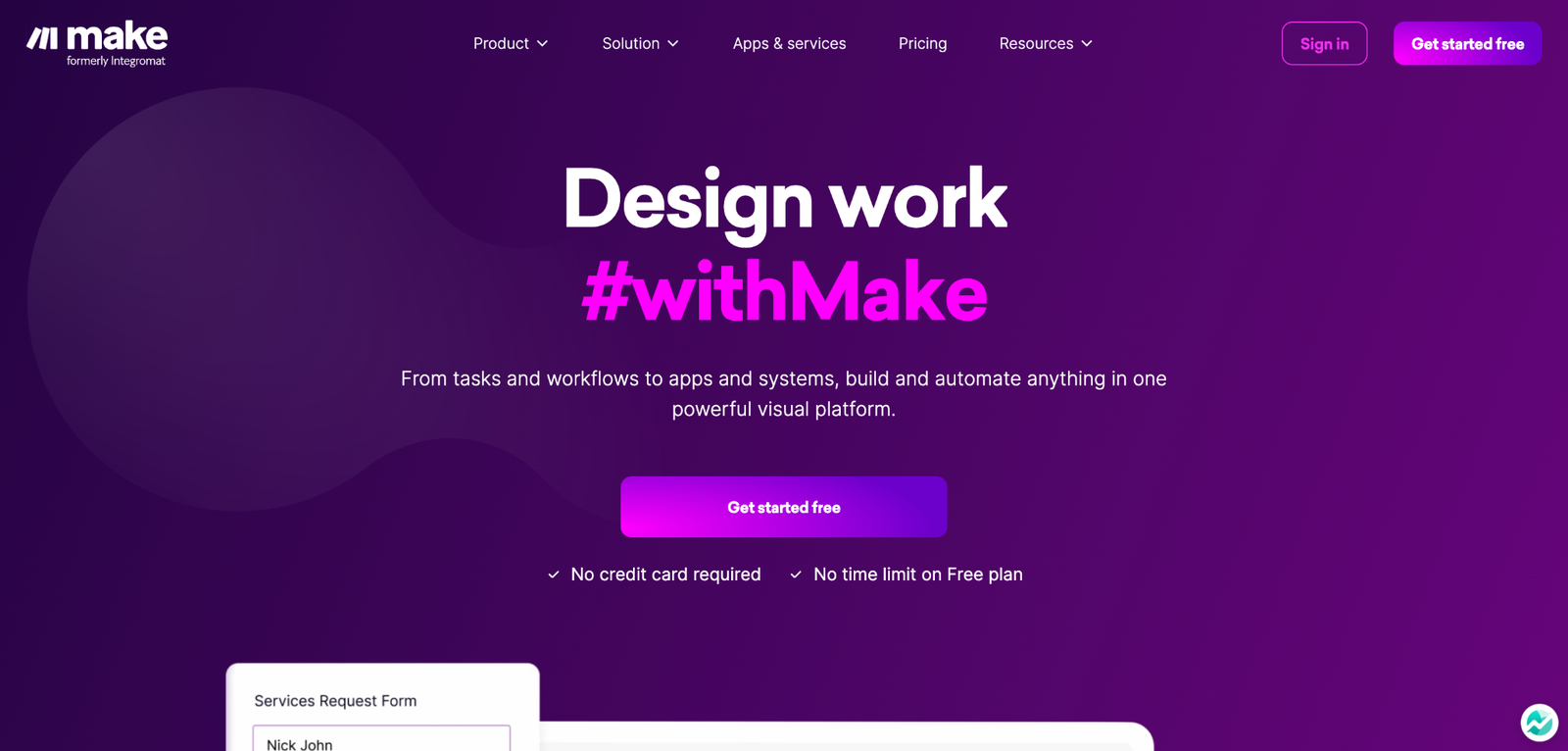 Make.com Advantage
5490 ready made automation templates
Plan starts at $9/month
Free plan is available
Make Academy for resources to learn about automation
Make.com Disadvantages
User interface is not beginner friendly
Features are too technical to understand
Expensive pricing
No money-back guarantee on paid plans
Make.com Prices
Make.com has five plans including a free plan.
1) Free plan – $0/month
2) Core – $9/month for 10,000 ops/month
3) Pro – $16/month for 10k ops/month with additional features like,
Full-text execution log search,
Operations usage flexibility
Custom variables
Priority scenario execution
Scenario Inputs
4) Team – $29/month for 10K ops/month plus extra features such as,
High priority scenario execution
Teams and team roles
Create and share scenario templates
5) Enterprise – Price is not mentioned
You have to contact their support to get the pricing. However, with the Enterprise plan you get the following things:
Access to enterprise apps
Information security compliance support
Company single sign-on (SSO) access control
Operations overage protection
Two-factor authentication
Dedicated customer success manager
Customer support with high priority
4. Good for beginners: Konnectzit.com
Summary: Konnectzit is another Zapier alternative that is good for beginners. It has an easy-to-use interface and provides a wide range of features such as automation, integration, and workflow management. Konnectzit is still very new compared to Pabbly Connect, Integrately and Zapier. So many advanced features are missing!
Konnectzit Advantages
Simple and easy to use interface
Monthly plans start at $12/month with 10,000 tasks per month
Functions are available in all the plans
20% discount on annual plan
Unlimited workflow in every plan
A Free plan with 100 tasks/month
Konnectzit Disadvantages
Konnectzit is very new compared to Zapier, Pabbly Connect.
Less functions
Only 500+ integrated apps
Subaccounts are available in agency plan only
Konnectzit Prices
Konnectzit offers four plans:
1) Free Plan – $0/month with 100 tasks/month
2) Pro Plan – $12/month for 10,000 tasks/month
3) Team Plan – $15/month for 15,000 tasks/month plus you can add two team members
4) Agency Plan – $50/month for 50,000 tasks/month plus additional features such as subaccounts and priority support.
Konnectzit also offers an annual plan which provides a 20% discount.
5. Zapier alternative: n8n.io
Summary: n8n.io is an open-source, low-code workflow automation tool that is a good alternative to Zapier. It allows you to create custom workflows and automate tasks without much coding. n8n.io has integration with over 300+ applications. Plus, n8n.io offers self-hosted & desktop apps which are free and you can use to automate tasks.
n8n.io Advantages
Good for techie users
Free desktop app
n8n.io Disadvantages
Customer support is NOT available in the free plan
A limited number of integrations compared to other tools like Zapier
n8n could pricing plan is more expensive than Pabbly Connect and integrately
No money-back guarantee on paid plans
Limited features
n8n.io Prices
n8n.io offers three pricing plans: Start, Pro, and Power. The Start plan costs €20/month and allows you to create up to 20 workflows with 5000 tasks/month.
The Pro plan starts at euro €50/month, and you get 15,000 tasks/month, and you can create 100 active workflows.
Lastly, the Power plan costs €120/month and you get 60,000 tasks per month, and you can have 200 active workflows.
6. Microsoft Power Automate
Summary: Microsoft Power Automate is an automation tool that allows you to create automated workflows between apps. With Power Automate, users can connect different applications, automate repetitive tasks, and easily create custom workflows.
Microsoft Power Automate Advantages
450+ integrated applications
All the Microsoft apps are integrated
Pay as you go plan
Monthly plan starts at $15/month
25% off in the first year for new Power Automate Customer
Ready to use automation template
Microsoft Power Automate Disadvantages
Learning curve is required
Limited number of integrated applications
Hard to use interface
Microsoft Power Automate Prices
Microsoft Power Automate offers two pricing plans: Pay-As-You-Go and Monthly. The Pay-As-You-Go plan starts at $0.40 per action, while the Monthly plan starts at $15/month for up to 241 connectors with unlimited flows. Microsoft Power Automate charges you based on flow action.
Learn how Microsoft Automate Calculates Tasks
7. For tech users: IFTTT
Summary: IFTTT is also a Zapier alternative and an old automation tool that you can use to create automation. Through IFTTT, you can connect different applications and build automation workflows. IFTTT provides a wide range of triggers, actions, and conditions for creating complex automation.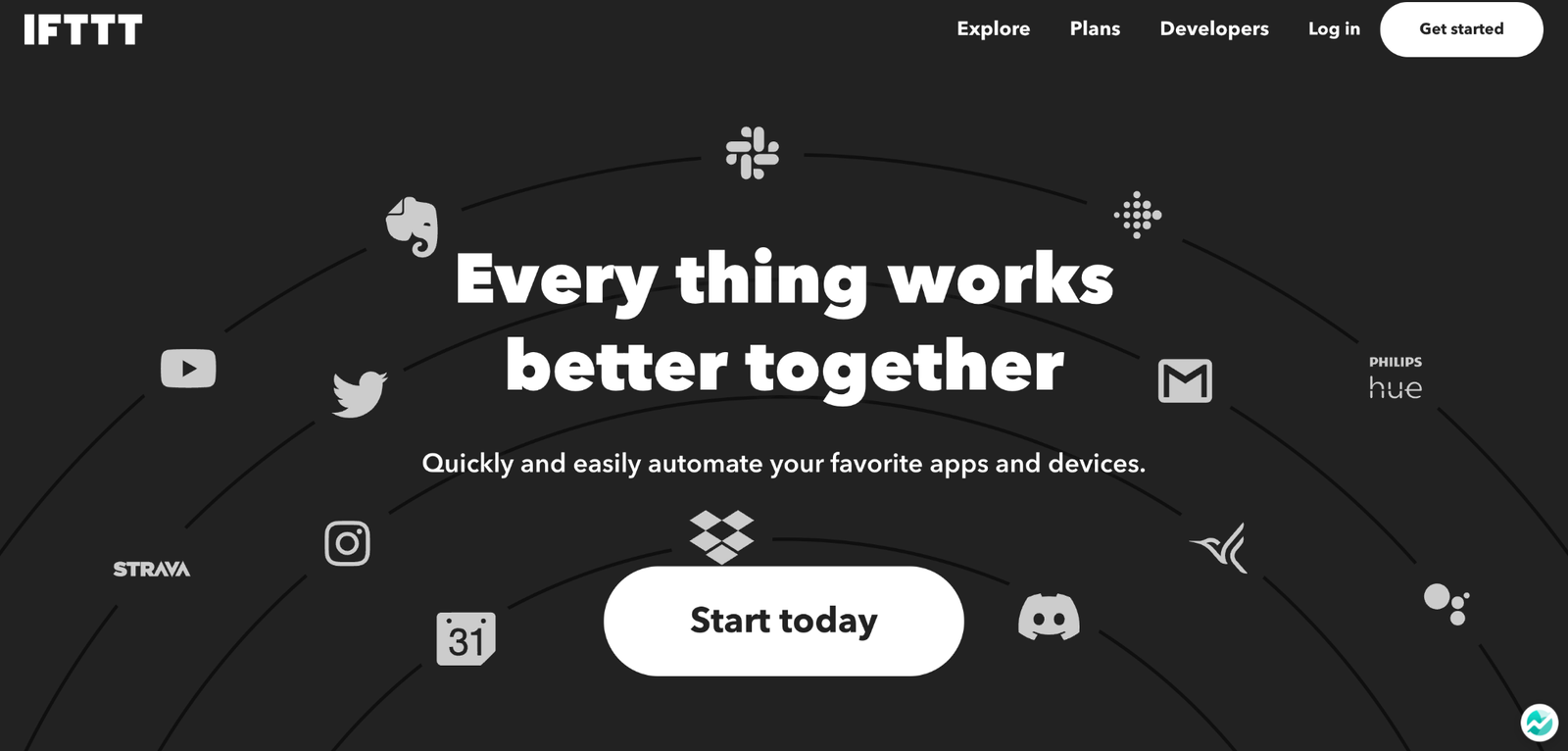 IFTTT Advantages
700+ applications integrated
Affordable pricing plans
Free plan is available
IFTTT Disadvantages
Limited integrations
User interface is not beginner friendly
Coding knowledge is required to use IFTTT effectively
IFTTT Prices
IFTTT offers three pricing plans: Free, Pro and Pro+. The Free plan is free of charge and allows users to create automation with limited applets. The Pro plan starts at $1.99/month and provides access 20 applets and multi-action applets. Lastly, the Pro+ plan starts at $5/month and provides access to unlimited applets and you get developer tools, and connect multiple accounts.
8. Best for Large Businesses: Celigo
Summary: Celigo offers a wide variety of services and one of their services is named as iPaaS which allows you to integrate applications. Celigo integrates with multiple applications, and they have pre-built automation that you can use easily.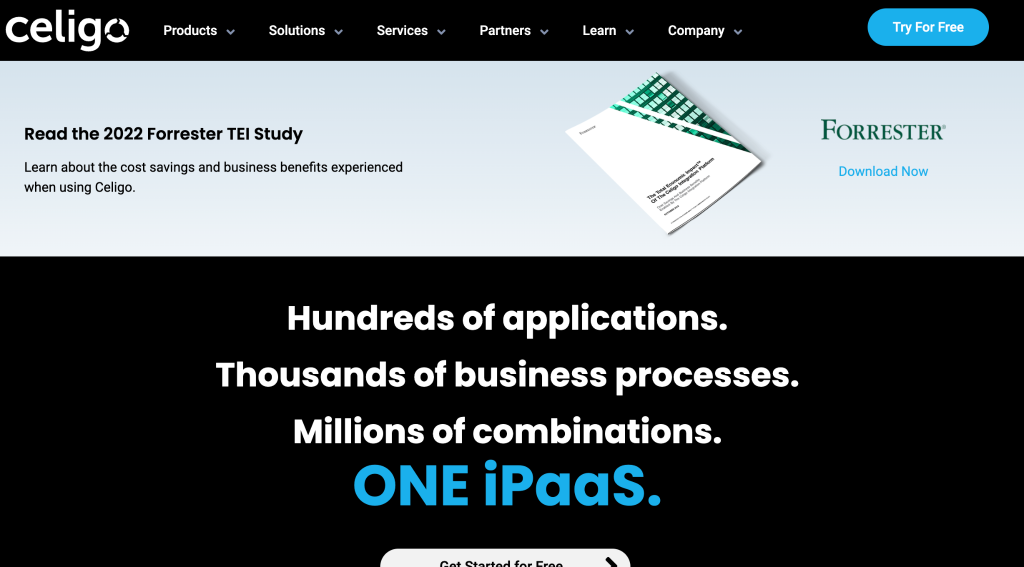 Celigo also provides advanced features, such as the ability to schedule automation to run at specific times or when certain conditions are met. It also supports data loss prevention (DLP) policies which help protect sensitive data from unauthorized access or misuse.
Plus, Celigo integrates with popular platforms such as Salesforce so users can easily monitor their automated workflows within the platform.
Celigo Advantages
Build advanced and deep automation
You can integrate almost any apps
Good for enterprise businesses
Great support
Celigo Disadvantages
Expensive pricing
Plans start at $600/month
Not for beginners
Pricing plans of Celigo
The Starter plan starts at $600/month and provides access to all free edition features + 3 endpoints integrate on-premise apps, support for edi integrations, essential customer success.
The Professional plan starts at $1,200/month. In this plan, you get all standard edition features + 5 endpoints, 2 edi trading partners included, api management.
Then, the Enterprise plan starts at $2,400/month and provides access to all premium edition features + 7 endpoints, 5 edi trading partners included, and preferred customer success.
Top Zapier Alternatives Video
Stop paying Zapier expensive bills when you can get the same thing done at a cheaper price. Explore top Zapier alternatives with pricing, advantages and features.
FAQs: Zapier Alternatives
Question: Is there something better than Zapier?
Answer: YES, Pabbly Connect is better than Zapier. If you had asked this question in 2019, my answer would be Zapier. Back then, no-code integration platforms were available and easy to use as Zapier.
Question: What is an alternative to Zapier?
Answer: Pabbly Connect is by far the BEST Zapier alternative and, in many cases, Pabbly Connect has surpassed Zapier.
Question: Which is better: automate.IO or Zapier?
Answer: Unfortunately, Automate IO has been shut down. So Zapier is better.
Question: Is IFTTT or Zapier better?
Answer: Zapier is way better than IFTTT. There is no comparison between Zapier and IFTTT at all.
Question: Is Power Automate similar to Zapier?
Answer: Yes, it does the same thing but not as easy to use as Zapier. There are many tools that can allow you to integrate two applications but not every platform can make a piece of cake to connect two different applications.
Question: Which is better, Zapier or Integromat?
Answer: In terms of user interface and ease of usage, Zapier is better than Integromat. In pricing, Integromat is better.
Question: Why is Zapier the best?
Answer: Because Zapier started the idea of no-code integration. It's the oldest integration platform and a billion-dollar company.
Question: Is Integromat cheaper than Zapier?
Answer: Yes. Zapier basic plan starts at $29.99/month while Integromat (Now Make) plan starts at $11/month. And there is a huge difference in the number of tasks you get.
Question: How do I automate without Zapier?
Answer: You can integrate without Zapier through APIs. The software which Zapier integrates with has API and documentation. Through that you can integrate applications. If you know coding then you can do it yourself. It's not that hard. Else you have to hire developers.
Question: Is Zapier a no-code tool?
Answer: YES, Zapier is a no-code tool. You can connect two applications without coding. All the coding will be happening in the backend.
Final Thoughts on Top Zapier's Alternative
I've shared 8 Zapier alternatives. If you would ask me what's the 1 tool that you would recommend, it would be Pabbly Connect. I have used Pabbly Connect and Zapier, and if you want to cut your Zapier expensive bills, then Pabbly Connect is the software you need.
But make sure you figure out your use case, then choose the software. You'll get similar features but at an affordable price.
Pabbly Connect has an ongoing lifetime deal. So make sure you check out that if you're a small business owner and have low task usage per month.
Related article: