Can I AI generate realistic-sounding voices? Play.ht claims that you can generate the most realistic-sounding voices through AI.
Today, I will review Play.ht. Then, I will show you examples of Play.ht AI voices, Play.ht free and paid plans, top features, and a short Play.ht dashboard walkthrough.
Let's get started!
What Is Play.ht?
Play.ht is a most realistic-sounding text-to-speech (TTS) software that allows you to convert text into audio in various languages and accents.
Play.ht is designed to create professional-quality audio content for different purposes, such as creating voiceovers for videos, audio versions of written content, and audio for podcasts or other audio-based content.
The software uses artificial intelligence and natural language processing techniques to produce high-quality, realistic audio output that sounds like a human voice.
Play.ht offers a range of customization options, including adjusting the pitch, speed, and tone of the generated audio.
Play.ht offers different emotions that you can use in your audio to make it sound like a natural voice. Isn't it amazing?
What do I like About Play.ht?
Play.ht AI-generated voices almost sound like a natural voice
A wide range of AI voices in multiple languages & accents
Offers the ability to generate ultra-realistic voice
Child voices are also available in English US
You can even clone your own voice
User-friendly interface
FREE 600 words to produce AI voices
Host your podcasts
Audio player widget and button for blog posts
Audio analytics
So far, I discovered that Play.ht is one of the best AI text-to-speech (TTS) software.
What I dislike About Play.ht?
Very few trial words
In the Personal plan, you get standard voices only
Limited amount of words you get in Personal and Professional plans
Monthly pricing can be expensive for beginners
Play.ht Generated Voice Examples
I've generated some AI voices. You can listen to them below:
AI voice details:
Sara
English (US)
Voice ton – Cheerful
AI voice details:
Beth
English (US)
Tone of voice – Neutral
My Favorite Play.ht AI Voices
In English US, my favorite voices are:
In Indian English, my favorite AI voices are:
Unfortunately, English (India) AI voices don't sound like natural voices.
Let's talk about Play.ht pricing details.
Play.ht Pricing & Free Plans
Play.ht Free Plan
Play.ht offers a free plan with limited features. In the free plan, you get 600 words and 3 downloads. The free plan is helpful to get the feel of Play.ht. You can convert any text into speech.
Sign up for Play.ht Free Plan.
Play.ht has two pricing categories:
1) For Individuals
Play.ht offers three plans for Individuals.
1. Personal – $19/month
Play.ht personal plan offers:
20,000 words per month
Standard Voices
Unlimited Previews
Unlimited Downloads
2. Professional – $39/month
50,000 words per month
Everything in Personal
Realistic Voices
Free Audio Previews
Unlimited Projects
Commercial License
3. Premium – $99/month
Unlimited Voice Generation
Clone your own voice(NEW!)
Ultra realistic Voices (beta)
Pronunciations Library
White-labeled Audio Players
When you opt for the annual plan, you get 25% off.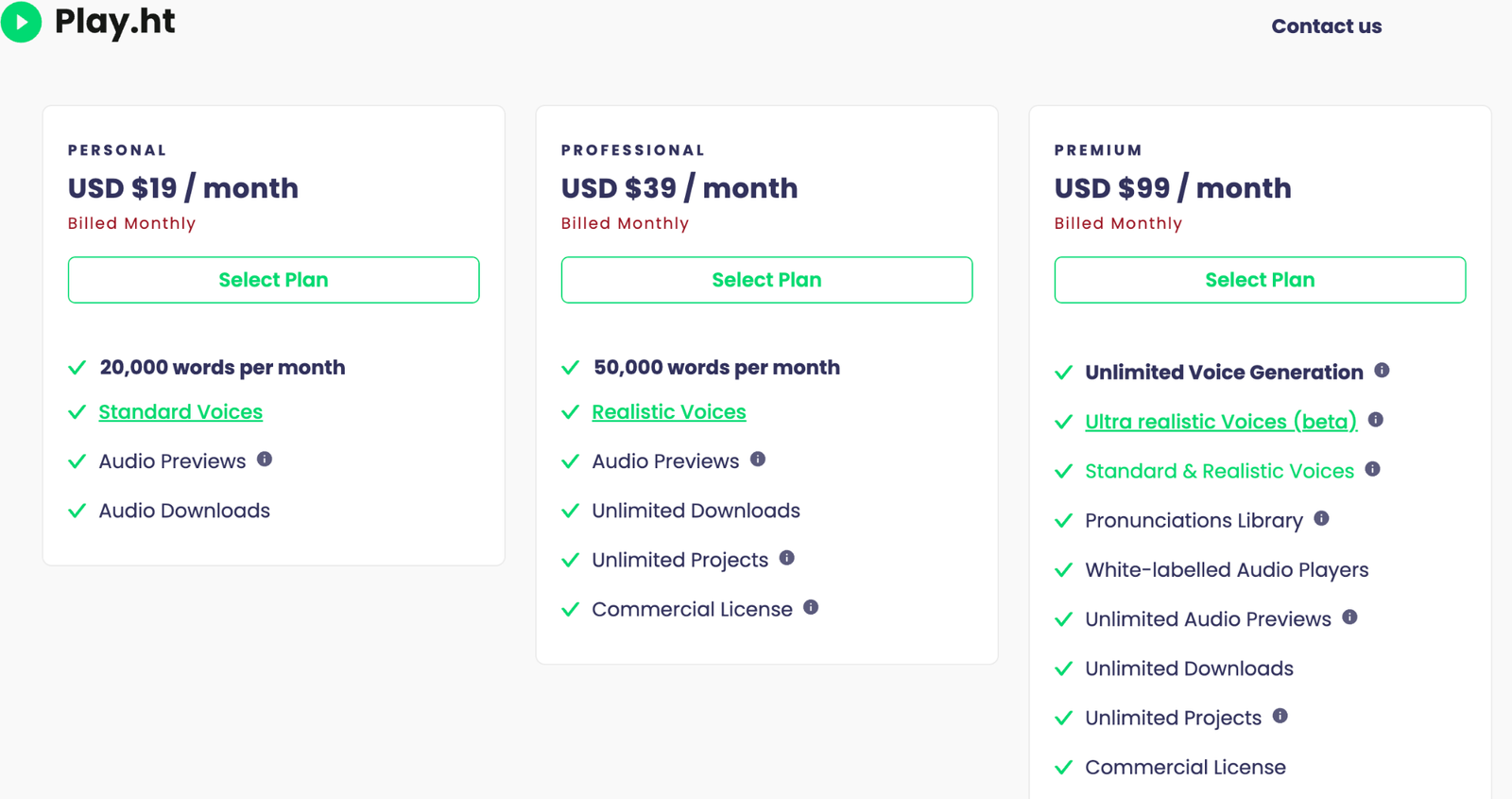 2) For teams and Enterprises
In this category, Play.ht offers two plans:
1. Team – $198/month
In the Team plan, you get the following benefits:
Unlimited Voice Generation
Clone voices for your brand (NEW!)
Standard Voices
Realistic Voices
Ultra realistic Voices (beta)
Unlimited Previews, Downloads & Storage
Unlimited Projects
Pronunciations Library
Commercial License
Centralized Billing
Priority Technical Support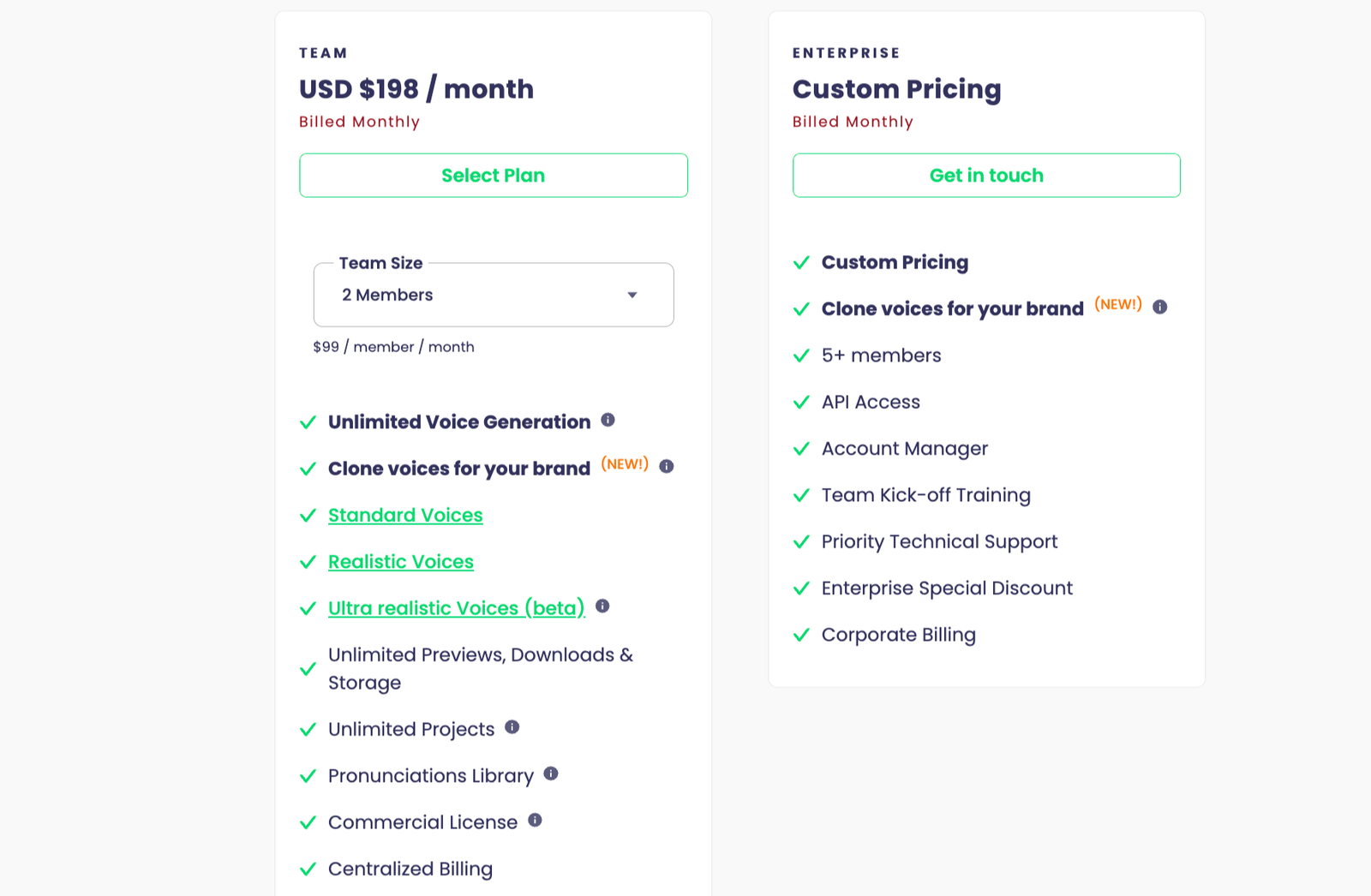 2. Enterprises – Custom Pricing
In Enterprise, plan. you'll get:
Custom Pricing
Clone voices for your brand(NEW!)
5+ members
API Access
Account Manager
Team Kick-off Training
Priority Technical Support
Enterprise Special Discount
Corporate Billing
Play.ht Integrations
WordPress
Play.ht offers a WordPress plug-in that you can use to convert your blog post into audio. So, for example, your blog readers can listen to the audio if they don't want to read the blog post. This simple thing can reduce your blog post bounce rate.
Play.ht API
Through Play.ht API, you can connect any third-party software with Play.ht and generate realistic-sounding AI voices.
Play.ht Top Features
Ultra-realistic voices
Play.ht has three different types of AI voices:
Standard
Premium
Ultra-realistic voices
I recommend you sign up for the FREE plan and test the Play.ht ultra-realistic voices. You'll love it.
Want to give your blog visitors more than text content? Then the Play.ht audio player comes in handy. Convert text content into audio files and embed them in your blog posts.
Podcast hosting
Play.ht allows you to host podcasts. So you can manage all of your audio content-related stuff from a single platform, from voiceovers to podcast hosting.
Large variations of AI voices
Play.ht offers AI voices in 140+ languages. Each language has multiple AI voices, such as female and male voices. If you combine all the voices, the number will go to 300+ voices.
Team function
If you want your team to create AI voices, then the Team feature comes in handy. In addition, you can share access of specific features without sharing your Play.ht account login credentials.
Voice cloning
Descript used to offer voice cloning feature. Now, Play.ht offers voice cloning too.
So how does voice cloning work?
Step 1: You train the AI by reading given texts.
Step 2: Now, AI can convert text into speech in your voice.
Sounds cool? Voice AI has made way more progress!
Play.ht Dashboard Overview
First, you must sign up on Play.ht to get your FREE account.
You'll see the files section in the main dashboard when you log in. From here, you can create audio by clicking the"Create Audio" button.
Plus, you'll see the following options:
Transcribed
Drafts
Ultra-realistic voices
On the bottom right, you'll see the support chat icon.
On the left-hand side, you'll see multiple sections:
Audio Tools
Teams
Accessibility
Settings
Tutorial, Help, & FAQs
On the bottom left side, you can see words remaining, an upgrade button, and what's a new button.
You'll mostly use the "Audio Tools" section to generate and organize audio files.
Play.ht Customer Service
Play.ht offers chat and email support. Play.ht usual response time is 2 hours. Support-wise, Play.ht is good.
Benefits of using Text-To-Speech Software?
Cost-effective – TTS software is an affordable alternative to hiring professional voice actors or recording equipment, making it an affordable option for producing high-quality audio content.
Generate audio instantly – Text-to-Speech software can generate large amounts of audio content, making it an efficient tool for creating podcasts, audiobooks, and other audio-based content.
Multiple accents and languages – You can generate audio in multiple languages and accents through Text-to-speech software. For example, you can generate AI voices with a British or Australian accent. How cool is that? With just a few clicks, you can have professional-quality audio.
Flexibility – You can easily modify the generated audio, making it easy to create audio content that meets your specific needs.
Play.ht Lifetime Deal on Appsumo
Play.ht offered a lifetime deal on Appsumo around May 2022. Unfortunately, I couldn't grab that deal.
On Appsumo Play.ht offered three LTD plans,
You could generate up to 30,000 words/month and 300 GB of storage in multiple plan.
LTD plans started at $79. Multiple plan cost $237, and this deal was stackable.
Which means you can stack up to 10 codes.
For example, if you would have stacked up 10 Play.ht LTD codes, you could generate up to 100,000 words/ month, and it costs $790 a one-time charge.
What do people think of Play.ht?
Here are the reviews.
Personally, I am impressed with Play.ht software. It does what it promises. You won't feel like you're listening to robotic AI voices.
Top 4 Play.ht Alternatives?
1. Descript.com – With Descript, users can transcribe, edit, and align audio files and create and edit scripts for podcasts and other audio projects.
One of the key features of Descript is its ability to transcribe spoken words into written text in real time, using artificial intelligence and machine learning algorithms.
As you edit the script, Descript will edit your audio too. So, in the end, you get no-fluff content.
2. MicMonster.com – MicMonster is similar to Play.ht, which allows it to turn text into audio through AI voices.
With MicMonster, you can generate AI audio files for up to 300 words for FREE. Plus, MicMonster pricing plans are affordable compared to Play.ht.
3. Speechelo.com – Speechelo is another artificial intelligence and natural language processing software to convert written text into spoken words.
The software is designed to create professional-quality voiceovers and audio content without needing expensive recording equipment or hiring voiceover artists.
You can grab Speechelo at a one-time charge.
4. Yepic.ai – Through Yepic.ai, you can generate AI voices with digital avatars.
Yepic has an API that you can use to integrate with external software and generate AI voices. Yepic is best for creating E-learning videos.
Final Thoughts on Play.ht
After listening to Play.ht AI-generated voices, I can say that Play.ht fulfills what they claim.
I can use AI voices in videos, podcasts, and more. Previously, I didn't like using AI-generated voices as they sounded 100% robotic and didn't please the ears.
AI has made great progress. And tools like Play.ht enable small to large enterprises to use AI-powered products.
Play.ht is a good choice for creating high-quality audio content such as voiceovers, podcasts, and audiobooks.
Play.ht offers a FREE plan. You can play with it.
Click Here to Sign up for Play.ht FREE plan!
If you have any questions, let me know in the comments below. I will answer!
Related articles:
Are you looking to create high-quality YouTube scripts, ads, and video sales letter?
Jasper AI can help you. Read more about Jasper AI.