WhatsApp is among the most popular messaging platforms, with over 2 billion active users worldwide.
WhatsApp can be a powerful tool for businesses to reach their target audience.
To advertise effectively on WhatsApp, you must read this guide.
Today, I will share everything about WhatsApp marketing, the dos and don'ts of WhatsApp marketing, the best time to send messages on WhatsApp, and how you can use WhatsApp to increase your sales.
How to advertise effectively on WhatsApp?
To advertise effectively on WhatsApp, remember the following things:
Find your target audience. Identify who your target audience is and what their needs and preferences are. This will help you tailor your marketing messages to their specific interests.
Choose the messaging format. WhatsApp offers different formats for advertising, including text messages, images, and videos. Choose the most effective format for your target audience and your marketing message.
Personalize the messages. Personalized messages are more likely to be engaged with by your target audience. For example, you can include the customer's name in the body of the message.
Leverage automation. You can automate certain things in your WhatsApp marketing, such as sending reminders or updates, which can help save time and ensure consistent messaging.
Track the results. Regularly monitor your WhatsApp marketing campaign results and make necessary adjustments. This will help you optimize your strategy for the highest return on investment (ROI).
WhatsApp is a highly effective tool for advertising and reaching your target audience.
Following the above tips to create a successful WhatsApp marketing strategy to reach your advertising goals. 
Is WhatsApp marketing effective?
Let me ask you a question, is email marketing effective? YES. Therefore, businesses are using it.
At the same time, email marketing doesn't work for many businesses…
Why?
Because they're doing wrong, similarly, WhatsApp is an effective marketing channel if you use it wisely.
If you try to spam people's WhatsApp with your promotional messages, you'll be blocked from WhatsApp.
Of course, the end goal is to sell the products or services, but there are other ways to do it.
I am using WhatsApp & email marketing for my clients. I love email marketing, but the kind of open rates I get on WhatsApp is insane.
WhatsApp marketing costs more money, but it's worth it.
WhatsApp gives us 60-80% open rates consistently. Screenshot of one of my recent campaigns.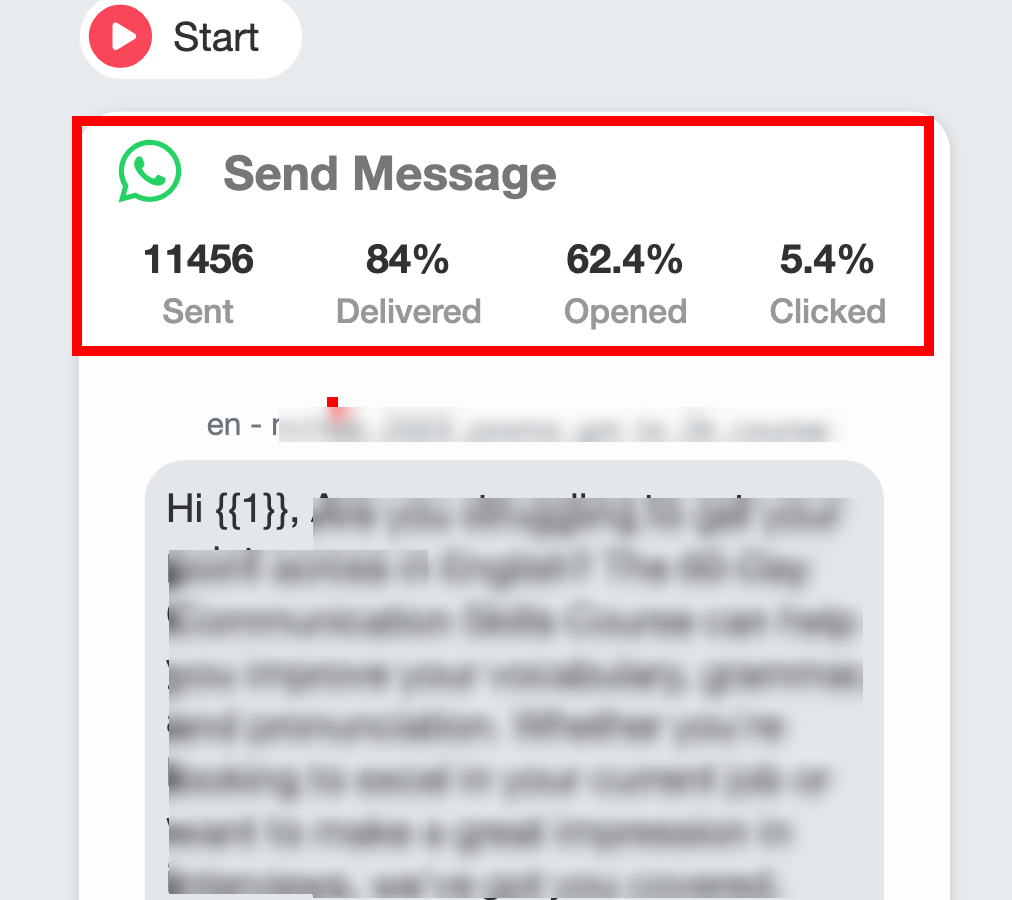 With email, the open rates are 15-30%. See the screenshot of one of my recent email campaigns.
The higher the open rate, the more people see your message and are likely to take action.
You can see the click-through rate (CTR) on both channels. WhatsApp has 5.4% CTR, while email gives 2.6% of CTR.
If I have to conclude, YES, WhatsApp marketing is effective if you do it right!
What is the best time for WhatsApp marketing?
The best time to send WhatsApp messages depends on your target audience. For instance, we send our WhatsApp campaigns in the evening.
At that time, our audience is more active and likelier to see our messages.
Figure out who is your target audience. In our case, these are working professionals, business owners, and students.
You have to test what works for you.
Try sending messages at different times and see when you get the highest engagement.
How to earn money from WhatsApp?
You have to have a product or service to make money from WhatsApp.
If you have an audience, you can promote your services on WhatsApp and make money.
Even if you don't have any product or services, you have an audience on WhatsApp. You can promote affiliate products.
Don't know what affiliate marketing is? Read the following guides!
You can become a freelancer too. You can promote products for your clients and charge a premium fee.
Can WhatsApp be monetized?
WhatsApp is just a messaging platform. Therefore, you can't monetize on WhatsApp. However, you can promote your business on WhatsApp if you have the user's WhatsApp number.
Do businesses pay for WhatsApp?
YES, businesses pay to use WhatsApp business API. WhatsApp charges are based on per conversation. Learn more about WhatsApp API pricing.
What is the difference between WhatsApp Business and WhatsApp Business API?
WhatsApp Business API and WhatsApp Business are two separate applications.
WhatsApp Business is a messaging application for small businesses, while WhatsApp Business API is designed for medium and large-size businesses to reach out to their customers.
The WhatsApp Business app offers various features, such as labels, store, and quick replies, to help businesses communicate with their customers more effectively.
Through WhatsApp Business API, you can build advanced marketing automation on WhatsApp, such as automatic messages when some signs up on your website, develop chatbots, and more.
All these are possible with WhatsApp Business API.
What are the disadvantages of a WhatsApp Business account?
One of the main disadvantages of a WhatsApp Business API account is that it is only available to businesses, not individual users.
And your Business Manager must be verified to get WhatsApp Business API access.
Additionally, the cost of using the WhatsApp Business API can be a barrier for small businesses.
Plus, you get a 24-hour window to converse with customers, which is much less. If the 24-hour window ends, you have to pay again to send messages.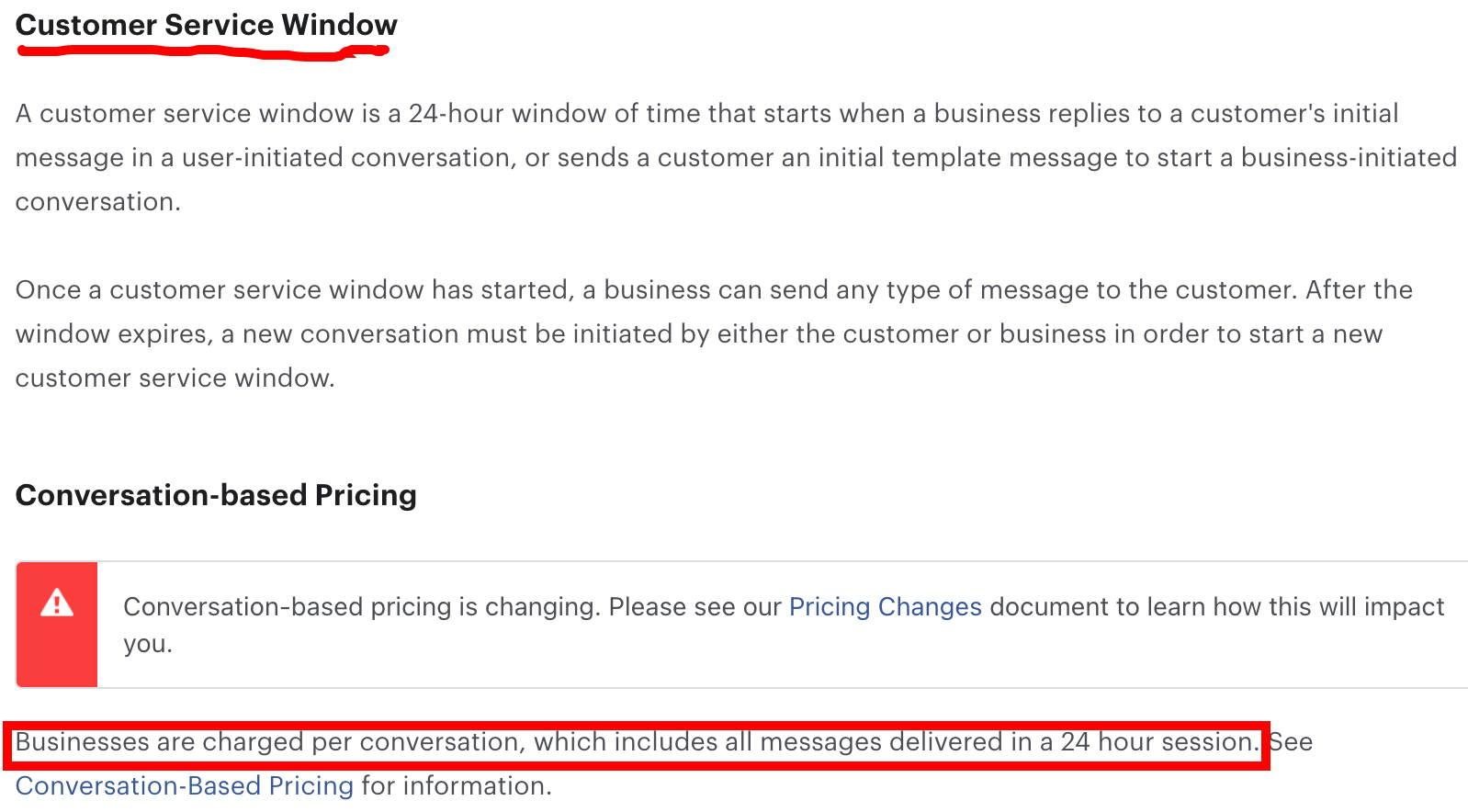 Furthermore, WhatsApp has strict guidelines for the types of messages that businesses can send, which can limit the effectiveness of your marketing efforts.
How Much Does WhatsApp Business API cost?
The cost of the WhatsApp Business API can vary, depending on the size and needs of your business.
WhatsApp uses a conversation pricing model. For every conversation, businesses have to pay.
There's a 24-hour window where you can send unlimited messages, but after that, you have to pay again to initiate the conversation.
WhatsApp Business API is price differences based on country to country.
On average, businesses can expect to pay between $0.005 and $0.03 per message.
See a full list of WhatsApp API charges country-wise.
Best WhatsApp Business API Provider?
There are so many WhatsApp Business API providers. Here are some of the top WhatsApp API providers.
1) 360 Dialog (I'm using currently)
2) Wati
3) Aisensy
Remember, Meta doesn't provide WhatsApp API directly to end customers. Instead, they have WhatsApp Business Solution providers like
360 Dialog, Wait and AiSensy, and through them, Meta gives WhatsApp API access to the end users.
Can I make my own WhatsApp API?
No. You can't make your own WhatsApp API. But you can use unofficial APIs to send bulk WhatsApp Messages.
How to build a WhatsApp Marketing strategy?
You might think building a WhatsApp marketing strategy is hard, but it's not.
Keep a few things in check, and you can build a solid WhatsApp marketing strategy.
1. Find your end goal
It could be engaging your current customers, offering new services, or converting prospects into customers. You must clearly know what you want from your WhatsApp campaign.
2. Craft your messaging
Depending on your goal, you have to create a series of messages, creatives, and videos to accomplish your goal.
3. Launch the campaign to a limited number of users.
In the first go, don't send your campaign to everyone. For example, you have a database of 10,000 users. Then send your new campaign to 1000 users only.
See what's working and what is not. Then, based on the feedback, optimize your campaign.
Then send the optimized campaign to another 1000 users. Again optimize the campaign.
Finally, you can send your campaign to everyone. If you follow this strategy, your campaign will be much more effective.
We are taking a lean approach to build and optimize our campaign. This way, you'll save a lot of money, time, and resources.
There you go. In just three steps, we have built our WhatsApp marketing strategy.
Plus, you can segment the engaged users who didn't buy. So in future campaigns, you can target them first.
What should be avoided in WhatsApp Marketing?
When using WhatsApp for business purposes, several things should be avoided to ensure an effective and professional experience for you and your customers:
Spamming. Avoid sending excessive or irrelevant messages to your customers/prospects, as this can quickly lead to annoyance and a negative perception of your brand.
Privacy violations. Respect your customers' privacy by only sending relevant and necessary messages if they opt-out from your list. Do not send any messages.
Unsolicited messages. Only send messages to customers who have given you explicit permission to do so. Unsolicited messages can result in a negative experience for the customer, and your number might get blocked on WhatsApp.
Automated messages. While automation can be a helpful tool for businesses, be sure to strike a balance between automated and personalized messages. Over Reliance on automated messages can result in a lack of personal touch and a less engaging experience for the customer.
Inappropriate content. Avoid sending inappropriate or offensive messages to your customers. This can harm your brand's reputation and negatively affect your business.
At any cost, avoid the above things. See, WhatsApp is a personal thing for people. So your marketing message should be personal.
Why does WhatsApp not sell ads?
There are many reasons for it; the biggest reason is user experience. WhatsApp has limited space, and in that space, if they put in ads. It will annoy the users.
People started using WhatsApp because it had no ads, it was easy to use and free.
So WhatsApp can't sell ads but charge businesses for sending messages.
WhatsApp is turning into a cash cow for Meta (Formerly Facebook).
What are the pros and cons of WhatsApp Business API?
Pros:
Massive reach. With over 2 billion active users worldwide, WhatsApp provides businesses with a large and diverse audience to reach.
Personalized communication. WhatsApp Business allows businesses to communicate with customers in a personalized and real-time manner, which can help build stronger customer relationships.
Automation. Automated messaging can help businesses save time and improve the efficiency of their communication with customers.
High engagement. Unlike emails, WhatsApp gets super high open rates. So this leads to more engagement and sales for businesses.
Cons:
Cost. WhatsApp Business API charges you per conversation, and it can cost a lot of money to send 100K messages.
Privacy concerns. Businesses have users' phone numbers, and this can create worries for the end users.
Limited ability to target specific groups. On WhatsApp, you can't run ads. However, you can reach those users who have permitted you to send messages. So you can't target everyone on WhatsApp.
Despite the cons, WhatsApp is one of the most effective marketing channels.
Is WhatsApp Good for Sales?
If you're trying to reach your customers through email, most of your emails get lost. Then it's time to use WhatsApp to increase engagement and sales.
To generate sales on WhatsApp, engage with your prospects and then pitch your product or service.
You can segment users based on their engagement level. And send marketing messages to those who have engaged with your previous messages.
Your campaign will be much more effective, and you'll have to pay less to reach the targeted audience.
Conclusion
In this guide, I've shared my best WhatsApp marketing practices. It's time for you to execute. It doesn't matter how much you know if you can't put it into practice; it is as equal as not knowing anything.
If you have any questions, let me know in the comments below. I will answer!
Recommended articles related to WhatsApp Marketing:
WhatsApp Marketing: Definition, Examples, and How to Get Started
Top 10 WhatsApp Marketing Tools + My Toolkit
What is WhatsApp Business API: A Full Guide
4 Ways to Check if A Phone Number is On WhatsApp or Not
Too many articles, huh? You can go through them as per your needs.
If you want to get started with WhatsApp marketing, I recommend you read the first article on WhatsApp marketing.