To grow any kind of online business, having a landing page that converts visitors into customers is essential. Gone are the days when you needed to hire web developers to design the pages.
Nowadays, there are hundreds of drag-and-drop landing page builders.
Today, I will review Landingi page builder. I have been using Landingi for clients, creating hundreds of pages and generating thousands of dollars through the landing pages.
In this guide, you will get to know everything about Landingi, from its features to pricing and pros and cons. I will show you my landing page stats as well.
Landingi Overview
Founder/CEO: Błażej Abel
Product: Drag & Drop landing page & funnel builder
Free Plan: YES
Monthly plan starts at $49/month
GDPR compliant: YES
Refund: YES, 30 Days Money-Back Guarantee
Support: Email Support (One of the best support)
Operating System: Web Application works on any device
Verdict: Highly recommended
Landingi Features & Design Review
Landingi is a software for everyday marketing activities with landing pages. Use the drag & drop editor, 400+ ready-to-use templates, integrations, A/B tests, and pop-ups to create beautiful and converting sales funnels!
Landingi dashboard is simple and easy to use.
Creating landing pages through Landingi is simple.
As soon as you log in.
On the left panel, you'll see most of the functions. Then you can see all of your landing pages,, and you can even categorize your pages.
At the top right side, you can see account-related options such as;
My Profile
Settings
Payments & Billing
Traffic
Payment gateways
Users
Beta features
API tokens
And Log out
At the bottom right side, you can see the support icon. To contact support, fill up the form, and the Landingi team will get back to you via email.
To create a new page, simply click on the "Create New Landing Page" blue color button.
You can even import templates. Or you can start from scratch or choose any template from Landingi's pre-made templates.
Then name your page and click on start editing.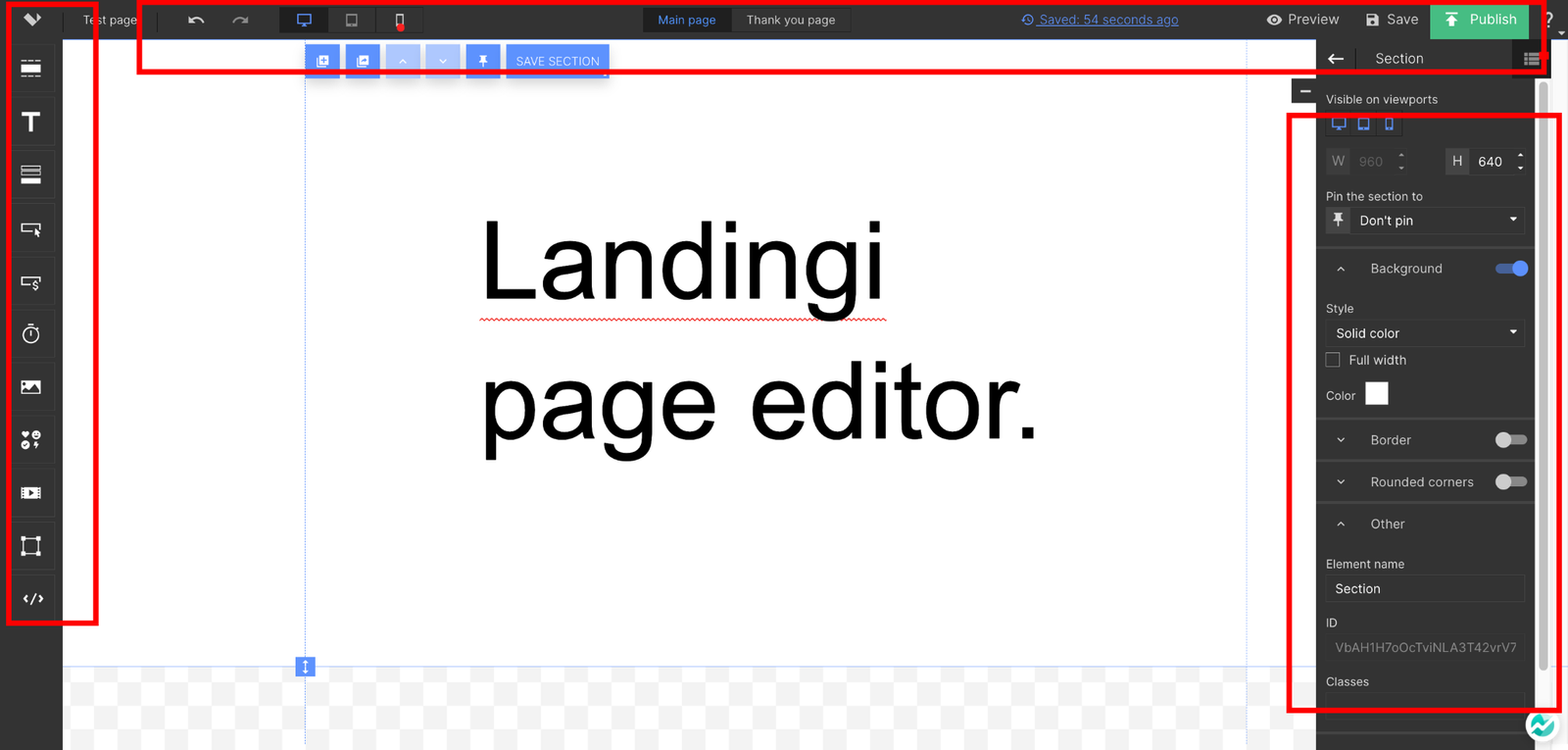 From the left panel, you can add elements to the page. And from the right panel, you can customize the elements.
At the top bar, you have do/undo page changes option, see the pages how it looks on different devices, and preview, save or publish the page.
That's it. I told you Landingi page editor is extremely simple.
Landingi is a mature and affordable page builder.
Things I like about Landingi
Easy to landing page builder
Robust onboarding process for new users with a lot of tutorials
User-friendly support
400+ ready-made templates
Native integrations with popular software
Use custom fonts
Custom domain
Publish your pages directly on your WordPress website
Popup builder works on the third-party website too
Payment integration with PayU, Stripe, and PayPal
Free onboarding session
Manage your leads from Landingi dashboard
Things I don't about Landingi
Can't cancel the trial from dashboard
Too many add-ons
No unlimited visitors
LIVE chat support is not available 24×7
Apart from these things, Landingi is a good software.
I drove thousands of visitors on Landingi pages
As you can see in the screenshot, in the last 90 days, I drove 8,378 visitors.
And this is just one of the pages.
If I show you account level traffic history. Have a look. Every month we are driving a decent amount of traffic.
These are paid traffic, not organic. So we can't afford to have a slow page speed.
So far, I have encountered a single issue with Landingi.
I published a page on the website using Landingi WordPress plugin. That issue happened because of some changes I made in configuring the plug-in.
After that, I never saw any downtime or any kind of issue with Landingi.
Landingi might seem expensive for some users but it is one of the best landing page builders in the market.
Landingi even offers a 14-Day Trial/FREE plan.
Landingi Integrations
Landingi offers native integrations with the following tools:
Facebook Conversion API,
ConvertKit
Creatio
E-goi
Hubspot
LiveSpace
PipeDrive
SalesFlare
SalesForce
SALEManago
YouLead
Zendesk Sell
Landigi integrates with Zapier as well. Through Zapier, you can connect Landingi with 5000+ applications.
Landingi integrates with major CRM, email marketing tools, and e-commerce tools.
Landingi has a webhook option too. That makes it super easy to send data from Landingi to any third-party software.
What Makes Landingi Different?
Many things set Landingi apart from other landing page builders:
Its user-friendly interface.
Landingi support is top-notch.
Pricing plans are affordable too.
Landingi is a mature page builder
Landingi has all the essential features such as WordPress plug-in, pop-up builder, funnels and native integrations with third-party apps, and more.
Landingi Pricing Plans
Landingi has three plans (including a free one):
1. Free plan – $0/month
In this plan, you'll get:
1 published landing page
Unlimited conversions
Data sync once a day
30 days of data retention
Landingi branding
200 unique visitors per month
2. Professional – $49/month
This plan offers:
Unlimited landing pages
Unlimited conversions
5,000 unique visitors per month
Real-time data sync
365 days of data retention
No Landingi branding
All features and integrations
Fast chat and phone support
3. Agency – $149/month
This plan is perfect for freelancers and agencies:
Unlimited landing pages
Two custom domains
Unlimited conversions
50,000 unique visitors per month
Real-time data sync 3 years of data retention
No Landingi branding
All features and integrations
Fast chat and phone support
Unlimited client workspaces
Audit log and advanced permissions
On top of that, Landingi plans come with a 30-Day Money Back Guarantee as well. Since Landingi offers a free plan, you won't need to raise the refund.
Landingi free plan is good for testing the software, and if it's useful for you, upgrade to the paid plan.
Paid plans give much more flexibility.
Landingi professional plan is value for money. In just $49/month you're getting unlimited pages, not page visitors.
Landingi Add-ons
Landingi pricing is affordable for sure. But there are many add-ons but those are not mandatory add-ons, it will be great to have those extra functions.
Landingi has four add-ons:
5,000 unique visitors/month for $5/month
1 additional custom domain slot with SSL $5/month
Subaccount management basic $99/month
Subaccount management premium $199/month
Page Insider basic $49/month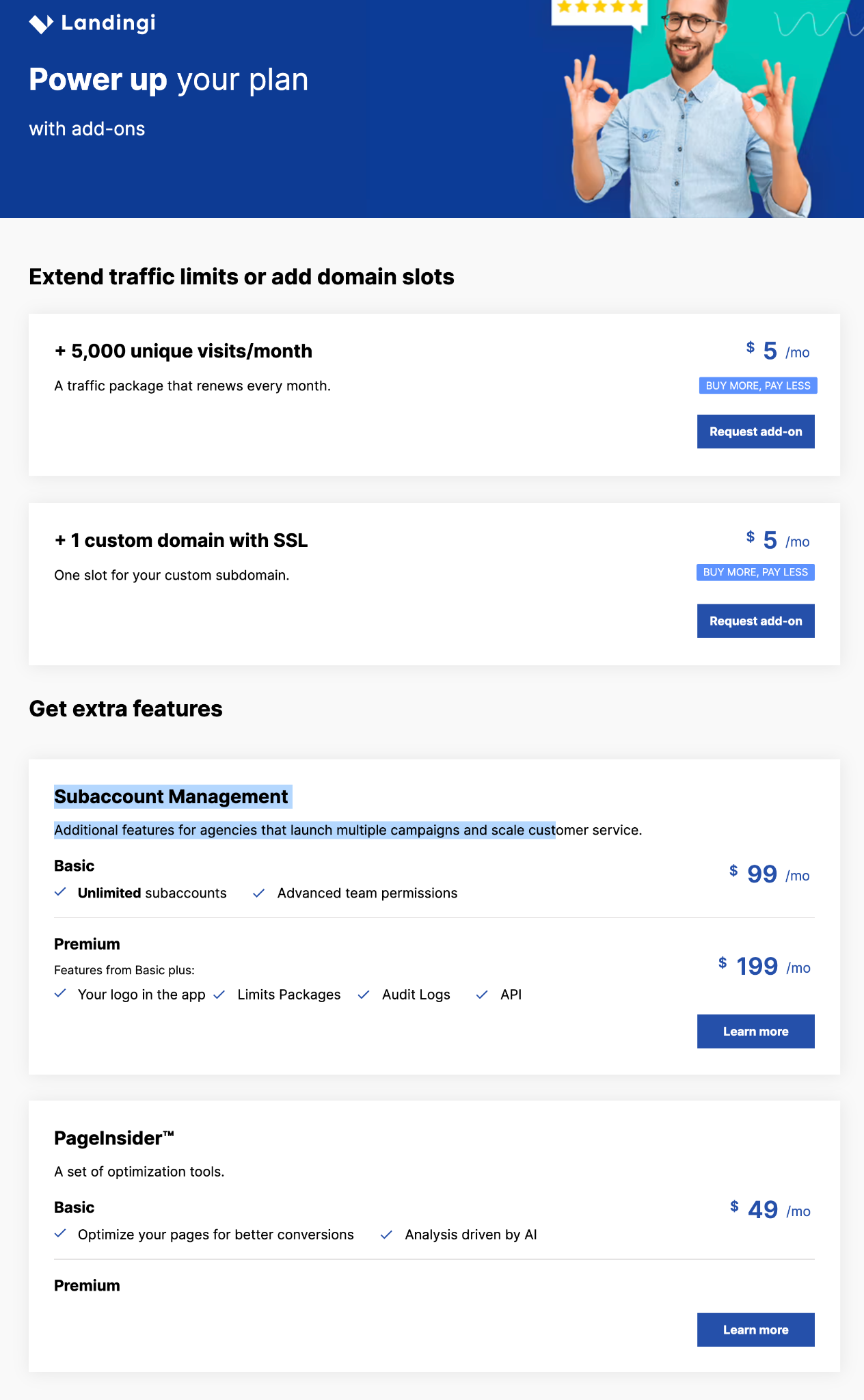 Not all the add-ons are necessary but unique visitors add-on is important because the "Professional plan" offers 5,000 visitors/month. Do you think you'll drive 5000 visitors only?
Let's say, you drive 15,000 visitors/month. You'll have to pay $10/month extra.
The more you use it the more you pay. Which is a good thing. 🙂 Don't you think if you drive more traffic, you'll make more?
Landingi Top Features
Drag-and-drop builder
A vast library of templates
Advanced design customization options
A/B testing
Integrations with popular CRM & autoresponders
User-friendly interface
Form & popup builder
Smart Sections
WordPress Plugin
Cloud hosting
Free digital assets
Analytics and reporting
Free digital assets
Lead management
Should You Go with Landingi?
If you're looking for an easy-to-use platform to create beautiful and high-converting landing pages in minutes, Landingi is an excellent choice.
Landingi offers a wide range of functions and integrations which make it ideal for businesses of all sizes, and its user-friendly interface makes it easy for even beginners to create landing pages.
Landingi is a fully-developed tool and comes with affordable pricing plans.
How to Start Landingi 14-Day Trial?
Landingi offers a 14-Day FREE trial on paid plans. To sign up for the free plan or start the trial, you'll have to enter your credit card details. Then start the trial.
NOTE: Landingi won't charge you until the 14-day trial ends. To verify the card details, your card will be charged 1 dollar, but it will be returned automatically.
Follow the steps below to start the 14-day trial:
Step 1: Click here
This will take you to the pricing page of Landingi. Choose the Free plan.
Step 2: Sign up
You can sign up using your Google account or email. I chose to Sign up with Google.
Then you will see a survey page. You can skip it.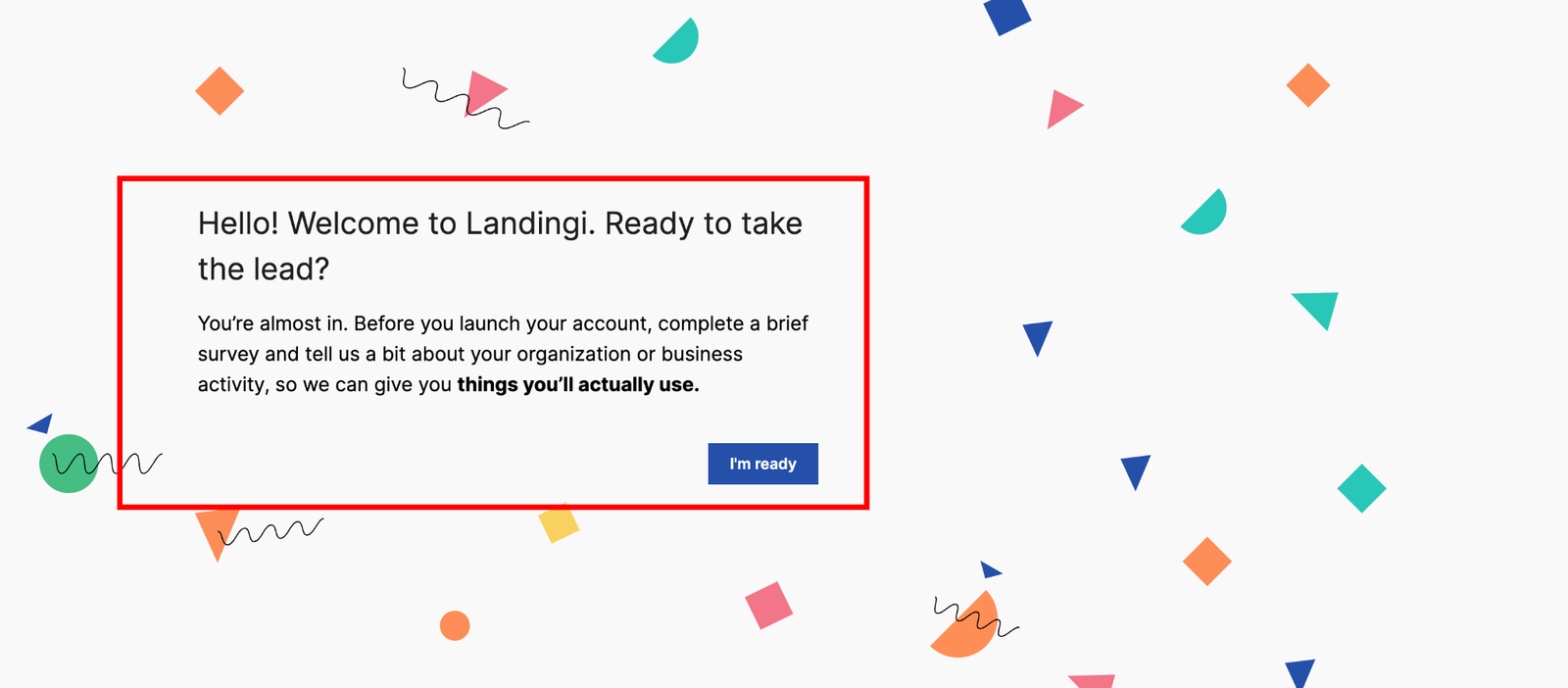 Step 3: Verification
You can either start a 14-day trial or sign up for the FREE plan.
Enter your billing information,
Choose the payment method (credit card or PayPal)
Choose the plan free account and trial
Click on the trial option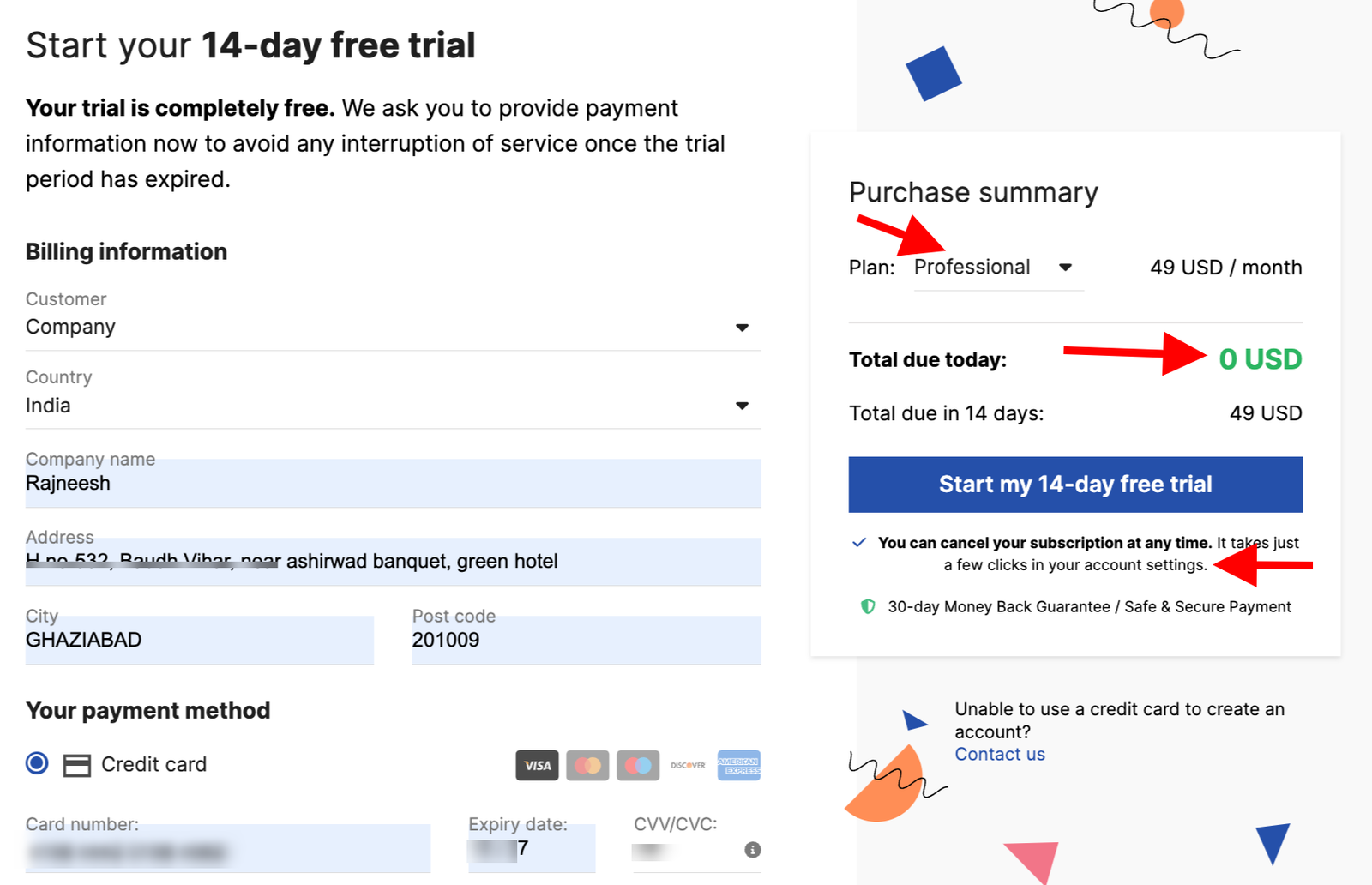 Landingi will verify the card details, and then you'll be redirected to the dashboard.
First-time users will see this kind of dashboard.
When you create your first page, Landingi will give you a checklist. Something like this (see the screenshot below):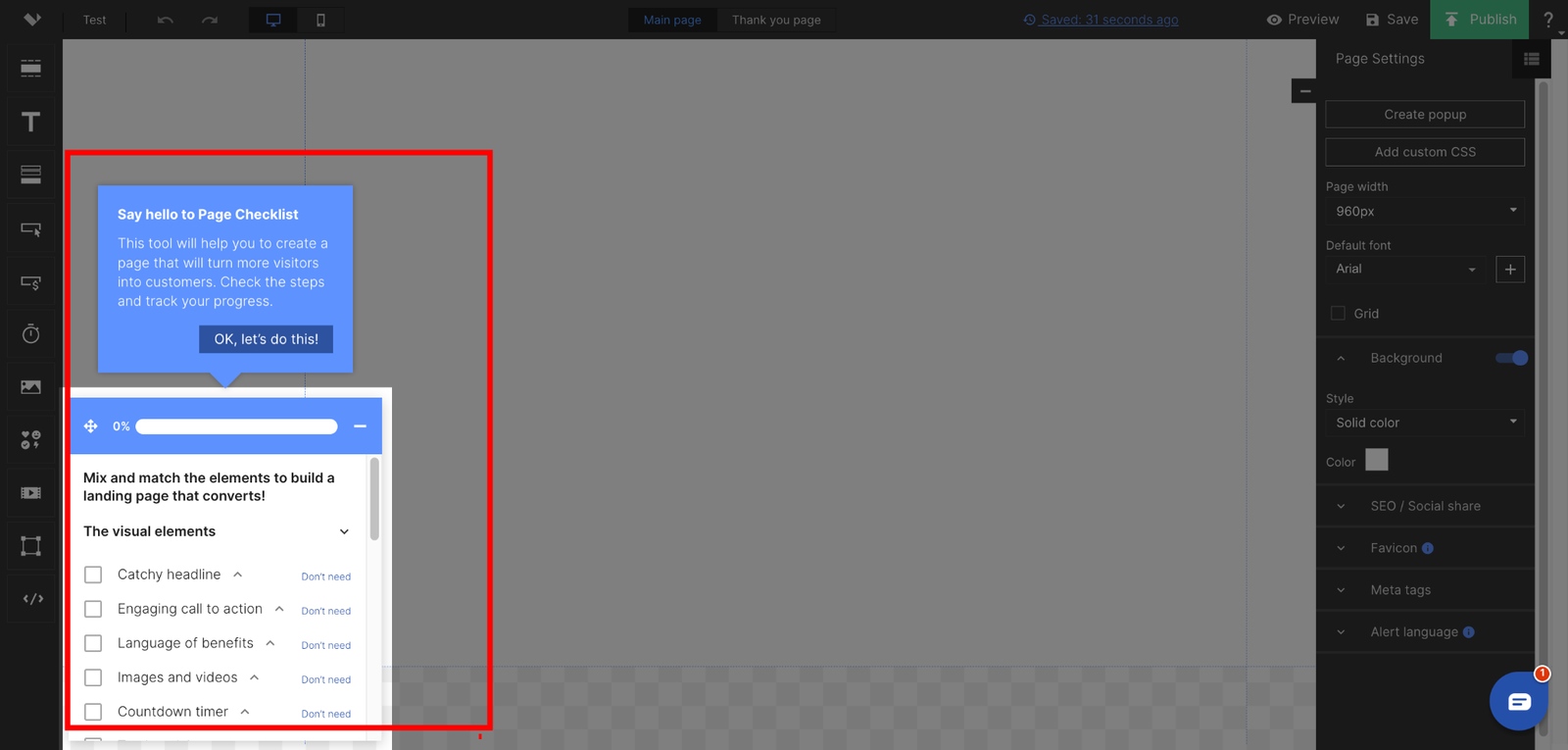 Super helpful for new users. Under each checklist, you'll see the help article and tutorials.
Landingi trial limitations
You can have 1 published page in the trial duration.
You'll have to enter card details, then you can activate the trial.
In case, you choose the FREE plan, you can drive up to 200 unique visitors/month.
How to Cancel Landingi Trial?
Step 1: Click on Your name ar the top right side.
Step 2: Go to "Plans & billings" section
Step 3: Click on Cancel Subscription.
Step 4: Check the confirmation icon, and your subscription/trial will be canceled.
They will ask you two questions and once you're subscription is cancelled. You will the screen like this.
They will give you a discount on the annual plan. If you wish, you can sign up again if the price was too high for you! Else skip the page!
Landingi Alternatives
Here are the Landingi alternatives:
InstaPage
Unbounce
Elementor (WordPress page builder)
ClickFunnels
Systeme.io
LightFunnels
Customer Support
The best thing I love about Landingi is the kind of support they offer. Landingi support is user-friendly and helpful.
Our working hours are from 9 AM to 10 PM Central European Time (CET), Monday to Friday.
During this time, you can expect support from Landingi. Landingi offers email, chat, and phone support.
Our Verdict
Landingi is one of the popular landing page and funnel builders. Landingi offers everything you need to build stylish and high-converting pages.
In this guide, I have shared everything about Landingi, from features to pricing plans and dashboard overview.
Landingi is a value-for-money page builder.
I would highly recommend you at least try out the software.
Landingi even offers a basic free plan.