Are you looking for Pabbly review? I have been using Pabbly software for the past 2 years. I know all the good and bad of Pabbly products. The only Pabbly review you would need to read.
In this guide, I will share everything about Pabbly products, their features, pros and cons, pricing plans, and more.
Let's get started!
What is Pabbly?
Pabbly is an all-in-one business software that provides a suite of useful web-based applications to manage various aspects of a business.
Pabbly offers critical tools such as email marketing, subscription billing, form building, automation, and email verification – all accessible from a single dashboard.
Pabbly suite of products includes:
I will explain each software in detail. Plus, you can read reviews of every software. 🙂
Pabbly Connect: Automation Software
Pabbly Connect is an automation tool offered by Pabbly. It allows you to build workflows between different applications without the need for any coding or technical expertise.
With Pabbly Connect, anyone can integrate various software, such as form builder, email marketing tools, payment gateways, social media platforms, and more.
Pabbly Connect makes it possible to automate redundant tasks and create efficient workflows, which saves time and increases productivity.
Pros of Pabbly Connect
User-friendly interface. Pabbly Connect's interface is intuitive and easy to use; even if you're a non-techie person, you can use Pabbly Connect.
1000+ integrations. Pabbly Connect offers integrations with more than 1000 apps, and the numbers are increasing rapidly.
Robust triggers and actions. The platform provides a wide range of pre-built triggers and actions for each application.
Custom apps. Pabbly Connect allows users to create their own apps that integrate with Pabbly Connect.
Cost-effective pricing. Pabbly Connect's pricing is affordable, the standard plan starts at $19/month, and you get an extra 15% discount when you buy the annual plan.
Free internal tasks. Pabbly Connect doesn't charge for internal tasks (See the screenshot below).
Cons of Pabbly Connect
No mobile application. Pabbly Connect does not currently have a mobile app, which may be inconvenient for users who need to create or manage workflows on the go.
Some integrations are missing. Apps like Podia, Systeme io, and more are still not integrated with Pabbly Connect.
No customer support on weekends. It may be difficult for users who need help during weekends.
Pabbly Connect Pricing
Pabbly Connect offers 4 plans (including free).
Here they are:
Free plan. The free plan allows users to create an unlimited workflow with a limit of 100 tasks per month.
Standard plan. This plan costs $19 per month and offers unlimited workflows, with a limit of 12,000 tasks per month and all the features.
Pro plan. The Pro plan is priced at $39 per month and has unlimited workflows with a limit of 24,000 tasks per month.
The ultimate plan. Cost $79 per month and includes unlimited workflows with a limit of 50,000 tasks per month.
Pabbly Connect's pricing is based on the number of tasks you use. The more tasks you use, the higher the plan you have to buy.
Additionally, Pabbly Connect offers a 15% discount on all plans for annual subscriptions. If you commit for 24 or 36 months, you can get even more discounts
Pabbly Connect's pricing plans are affordable, making them accessible to businesses of all sizes.
Further Reading
Pabbly Connect Review: Is It Safe & Better than Zapier?
Pabbly Email Marketing
Pabbly Email Marketing is a cloud-based app which allows sending bulk emails.
Pabbly email offers a lot of features such as:
Ability to add multiple SMTP servers,
1-click resending option
Easy to use email editor
Segmentation
Automatic cleaning of junk emails
Email automation
And more
Pros of Pabbly Email
Easy-to-use email editor. Pabbly Email Marketing offers a user-friendly drag-and-drop email editor that allows users to create professional-looking emails without any design or technical skills.
Affordable pricing. Pabbly Email Marketing offers competitive pricing plans that cater to businesses of all sizes and budgets, with no additional fees based on the number of emails sent.
Detailed analytics and reporting. The software provides real-time analytics and reporting features that help users track their email campaign performance, including open rates, click-through rates, and conversions.
Seamless integration with third-party apps. Pabbly Email Marketing can be integrated with third-party apps through API or no-code tools like Pabbly Connect.
Cons of Pabbly Email
Limited email templates. While Pabbly Email Marketing offers an easy-to-use email editor but they don't have a lot of pre-built email templates.
No free plan. Unlike some of its competitors, Pabbly Email Marketing does not offer a free plan, although they provide a 7-day free trial without a credit card.
No ability to build high-end automation. Pabbly Email has a very basic email automation builder. You can't build IF/Else based or advanced automation that has a goal.
Functions are not limited to a specific plan. Pabbly Email offers all the functions in every plan whether it's free or paid plans.
Pabbly Email Pricing
Pabbly Email Marketing offers four pricing plans (including a free plan):
Free. Pabbly Email Marketing offers a free plan that allows sending unlimited emails to 100 subscribers. This plan has all the features, but it's activated for 7 days only.
Rookie. The Rookie plan costs $29 per month and allows users to send unlimited emails to up to 5,000 subscribers. Plus all the features.
Pro. This plan is priced at $49 per month. You can send unlimited emails to up to 15,000 subscribers. This plan includes all features of the Rookie plan.
Advanced. This plan costs $99 per month, and you can send unlimited emails to up to 50,000 subscribers. Plus all the features.
Pabbly Email Marketing offers annual subscriptions with discounts of 20%. Try out the software, and if it's the right fit for you, then you can go with the annual plan.
Plus, you've zero risk because Pabbly Email Marketing paid plans come with a whopping 30-day money-back guarantee. However, if you try the software first, then you won't need to raise a refund. As
Further Reading
Pabbly Email Marketing Review: Pros, Cons & Price
Pabbly Subscription Billing
Pabbly Subscription Billing is a cloud-based recurring billing solution with affiliate management feature which allows businesses to manage their subscription-based products or services.
Pabbly Subscription is designed to handle all aspects of billing, including subscription plans, invoicing, payments, and reporting.
With Pabbly Subscription Billing, businesses can create and manage multiple subscription/one-time plans, set up custom billing cycles, and automate billing and invoicing tasks.
Pabbly Subscription Billing supports multiple payment gateways such as PayPal, Stripe, Instamojo, RazorPay, and more.
Pros Subscription Billing
Easy to use. Pabbly Subscription Billing is a user-friendly software that is easy to set up and use, with a simple and intuitive interface.
Drag & Drop checkout page builder. You can create beautiful checkout pages with Pabbly Subscription Billing.
Multiple payment gateways. Pabbly Subscription Billing integrates with 20+ payment gateways.
Flexible pricing. Pabbly Subscription Billing charges are based on the amount of revenue you collect through the platform, and the basic plan starts at $47/month.
Inbuilt Multi-tier Affiliate. A multi-tier affiliate system enables marketers to set up their affiliates in a way that allows parent affiliates to receive a commission for the sales made by their sub-affiliates.
30-day money back policy. Pabbly Subscription Billing comes with a 100%, no-question asked money back guarantee.
0% processing fee. Many billing management software like PayKickStart and Chargebee take processing fees.
Custom domain. You can have your checkout pages under your brand domain.
Detailed reporting. Pabbly Subscriptions billing shows a detailed breakdown of your revenue. How much revenue came from affiliates, what's your daily revenue and more.
Cons Subscription Billing
I couldn't find any cons for this billing software.
No LIVE chat support. Not a big deal but if they provide LIVE chat support, it would be better.
No mobile app. Pabbly Subscription Billing does not offer a mobile app. If they had a mobile app, checking the sales and managing invoices would be much easier. However, their platform is mobile-friendly.
Pabbly Subscription Billing Pricing
Pabbly Subscription Billing offers affordable pricing plans. Here are the pricing plans for Pabbly Subscription Billing:
Basic Plan – $47/month, unlimited affiliates and customers and collect up to $10,000 revenue every month.
Standard Plan – $94/month and you can collect up to $20,000 revenue per month
Pro Plan – $189/month, for up to $100,000/month revenue
Ultimate Plan – $379/month, for unlimited revenue collection.
Did you notice something? You get 2 years of a subscription while you just need to pay for 1 year. 🙂
Each plan includes all features,
Unlimited revenue
Unlimited customers
Multiple Payment Gateway
Unlimited Products and Pages
7 Different Pricing Models
0% Processing Fees
99.9% Uptime
Tax Management
Dunning Management
SSO Client Portal
Single-Tier Affiliate Management
Multi-tier Affiliate Management
Custom Domain
Priority Phone Support
EU VAT Validation
Pabbly Subscription Billing also offers a 14-day free trial, so you can try out the software first then make any purchase decision.
Explore Pabbly Subscription Billing
Further Reading
Pabbly Subscriptions Review & Lifetime Deal
Pabbly Email Verification
Pabbly Email Verification is an email verification service which allows businesses and individuals to verify the validity of their email lists. It uses advanced algorithms to identify and eliminate invalid, inactive, and fake email addresses.
Hence you will have little to no bounce rates and more of your emails will land in the primary folder.
Pros of Email Verification
High Accuracy. Pabbly Email Verification uses multiple levels of verification to ensure the accuracy of the results. Therefore, they don't verify all the emails on the spot.
Pay As You Go Plan. Pabbly Email Verification doesn't charge a monthly recurring fee. It works on a credit system. 1 credit = 1 verified email. The more emails you verify, the more credits you have to buy.
Bulk Verification. The feature supports bulk email verification, which allows users to verify large email lists. It can take up to 24 hours to get the verified list.
Free 100 credits. If you sign up for the first time, you'll get FREE 100 credits to test Pabbly Email Verification tool
LIVE 24×7 Chat Support. You can expect 24×7 LIVE chat support on Pabbly Email Verification software..
Cons of Email Verification
Verification processes take too much time. The time can vary depending on the size of your email list. If you have a big email list, you might have to wait up to 24 hours to get the verified email list.
Can't verify emails in real time. If you want to verify emails on the go then Pabbly Email Verification is for you. They don't have any function to verify email addresses on the spot.
Pabbly Email Verification Pricing
Pabbly Email Verification offers a variety of pricing plans based on the number of email credits required. The pricing plans are as follows:
Basic Plan: $5 for 1,000 email credits
Standard Plan: $15 for 5,000 email credits
Pro Plan: $25 for 10,000 email credits
Ultimate Plan: $37 for 15,000 email credits
Every plan has the following features:
Verify Bulk Emails
Verify Single Email
Credits Never Expire
Email Credits Dashboard
Detailed Reports / Statistics
Drag & Drop Email List
Import Via CSV
Export Selectable Emails
Export / Download All Emails
Email Verification Log
Complaints Removed
Remove Email Deduplication
Detailed Status Codes
Volume Pricing
Remove Invalids
Boost Deliverability
Full Support
Pabbly Email Verification is a reliable and affordable email verification service that can help you maintain the quality of your email lists.
Explore Pabbly Email Verification
Further Reading
Pabbly Email Verification Review (Pros & Cons, Pricing)
Pabbly Form Builder
Pabbly Form Builder is a web-based form-building tool that allows you to create custom forms and surveys for different purposes, such as lead generation, event registration, customer feedback, quizzes and more.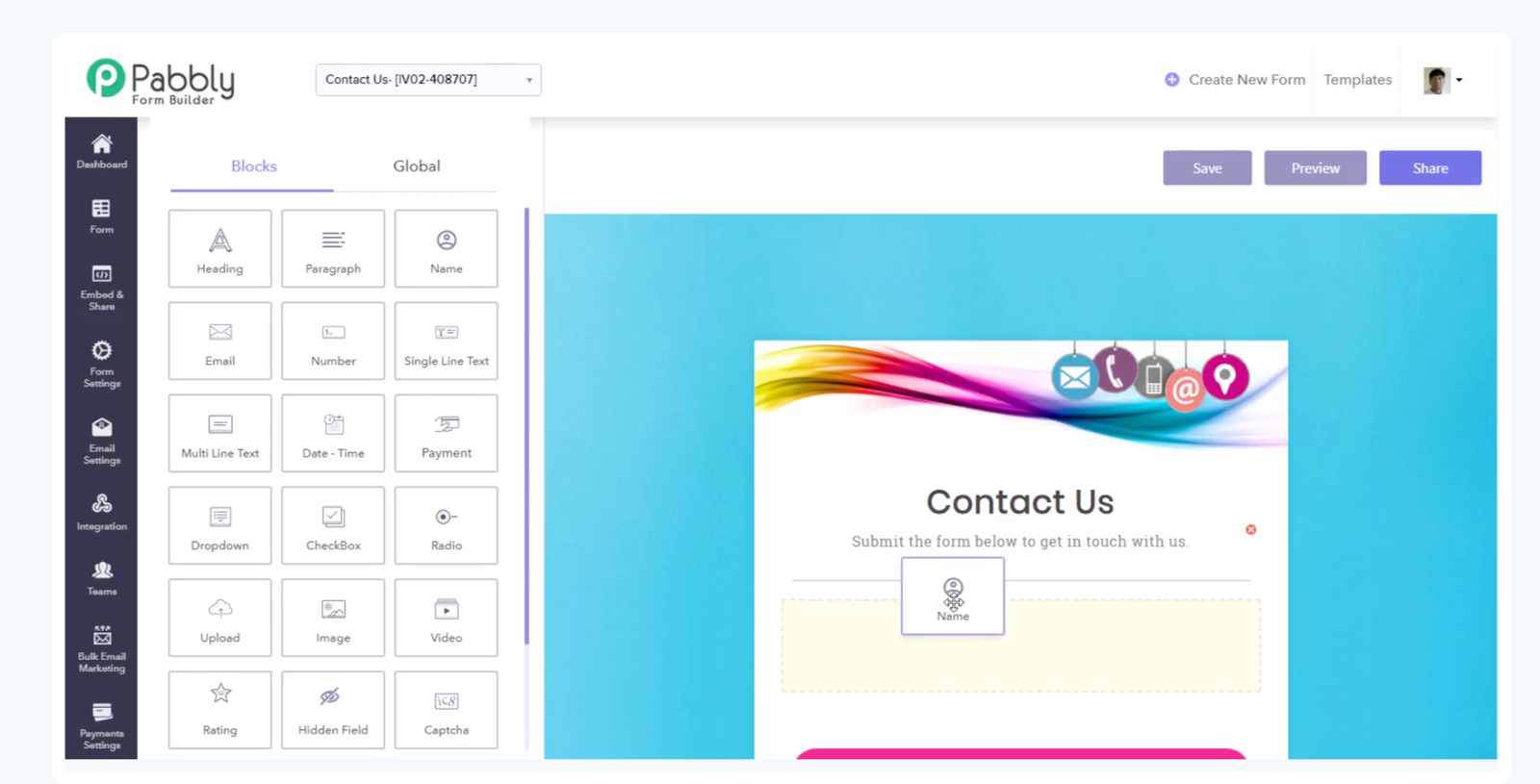 Pabbly Form builder has all the features a form builder must have. You won't have any problem while creating forms in Pabbly Form builder.
Pros of Pabbly Form Builder
User-friendly interface. Pabbly Form Builder is easy to use. The drag-and-drop interface enables everyone to create forms without any coding knowledge.
Customization options. Pabbly form builder provides a wide range of form fields and templates that can be customized to match your brand/design needs.
Integration. Pabbly Form Builder integrates with third-party applications such as Google Sheets, MailChimp, and Pabbly Connect.
Payment integration. You can collect payments from your customers using Pabbly Form Builder's payment gateway integrations with Stripe and PayPal.
Unlimited form submissions. Pabby Form Builder allows you to collect unlimited form submissions even in the basic plan.
Cons of Pabbly Form Builder
Limited form creation. In the basic plan, you can create only 1 form, which is nothing. Of course, you can collect unlimited form submissions but 1 form is not enough.
Limited templates. Pabbly Form Builder doesn't offer many pre-made form templates.
Team Feature is not available in the trial mode.
Pabbly Form Builder is not robust compared to other form builders like BlockSurvey or TypeForm.
Pabbly Form Builder Pricing
Pabbly Form Builder offers four pricing tiers, which are:
Free. The free version is valid for 7 days only. It has all the features, up to 100 submissions, and you can create up 1 form.
Standard plan. This plan costs $15 per month and provides unlimited submissions per month, plus all the features but you can create only 1 form.
Pro. The Pro plan costs $39 per month and offers unlimited submissions and all the functions and you can create up to 3 forms.
Ultimate. This plan costs $99/month and you can create up to 10 forms and all the features are the same.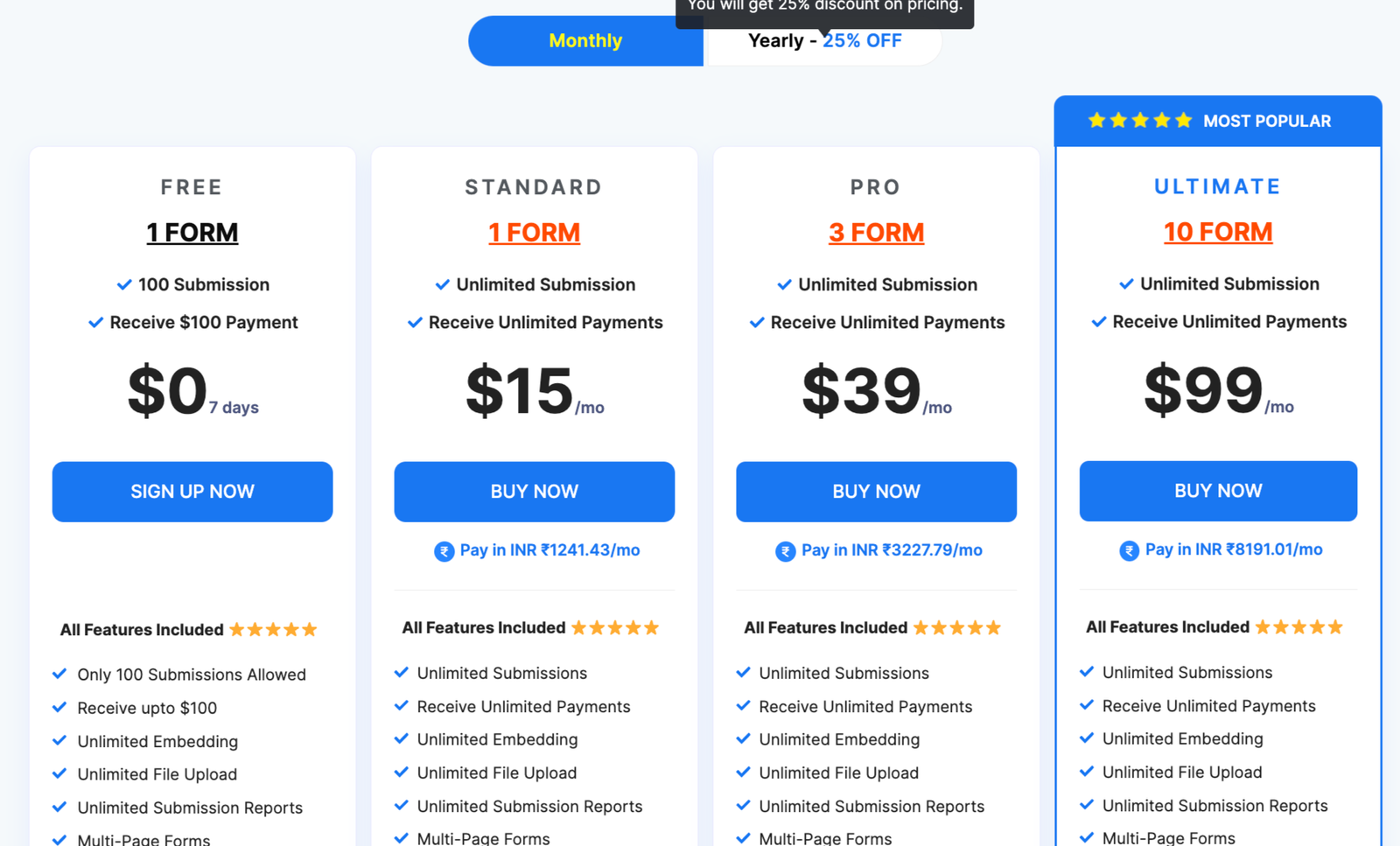 Every paid plan includes the following features:
Unlimited Submissions
Receive Unlimited Payments
Unlimited Embedding
Unlimited File Upload
Unlimited Submission Reports
Multi-Page Forms
Form Themes & Customization
Star Rating
PayPal & Stripe Integration
No Pabbly Branding
Auto-Populate Form Fields
Multiple Form Embedding Types
Conditional Redirect
Form Scheduling
Unlimited Agent/ Multiple Users
Notifications on Multiple Emails
Webhooks
Autoresponder
Automatic Reply
You will get an extra 25% OFF with the annual plan.
Further Reading
Pabbly Form Builder Review: Features, Pros & Cons and Alternatives
How to Get All of This Software Under One Plan?
Look, if you try to buy all five software it will cost you a lot. What if you could get all five Pabbly apps in one plan?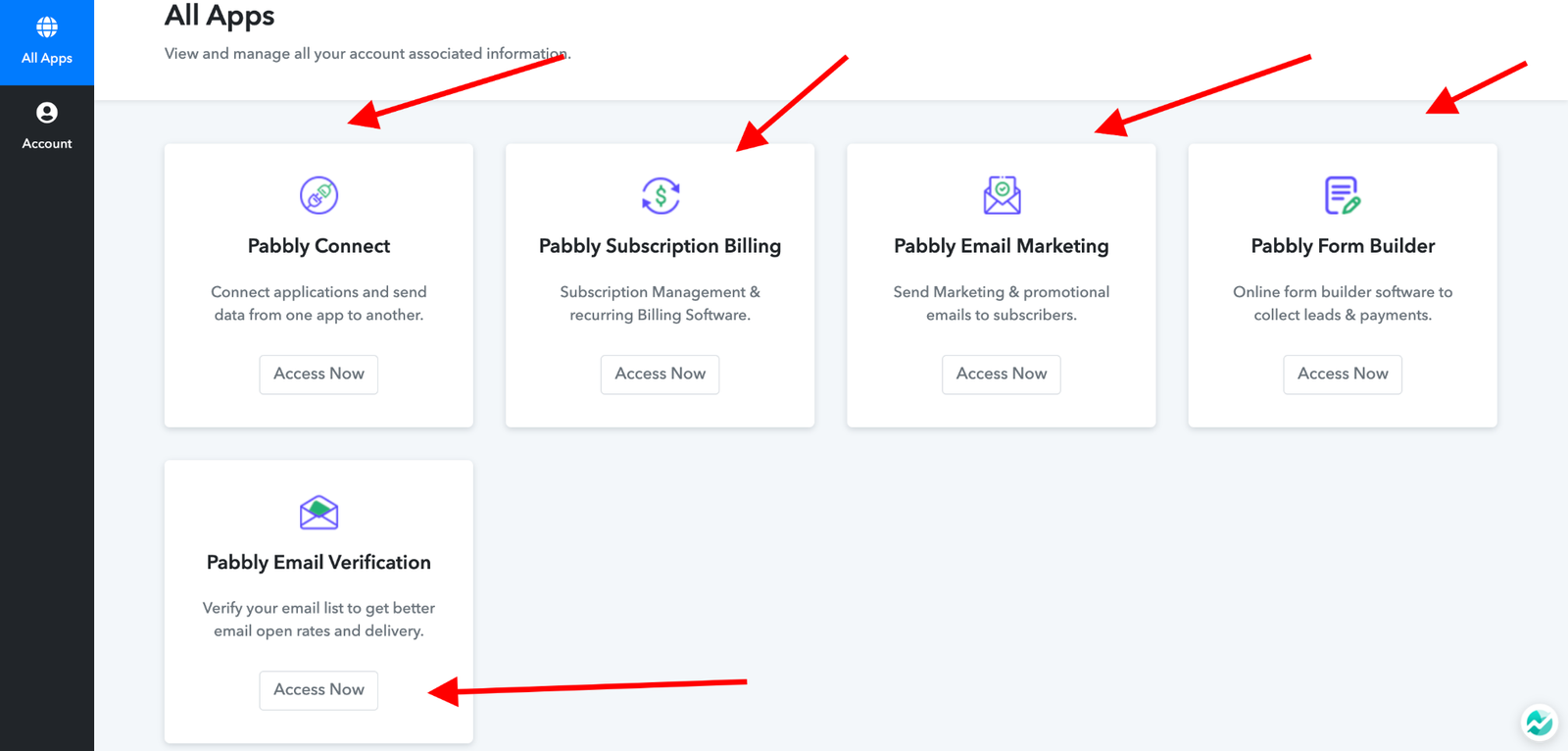 Wouldn't that be great?
It's possible with Pabbly Plus.
Pabbly Plus gives you access to all five Pabbly apps in one plan.
Pabbly Plus basic plan starts at $49 per month and goes up to $199 per month.
If you want to access all five apps, Pabbly Plus is for you!
You can get an additional discount if you buy the Pabbly Plus annual plan, 24 months or 36 months.
FAQs
Is Pabbly Connect Legit?
Yes, Pabbly Connect is legit. Pabbly Connect is also GDPR-compliant software. Plus, I use Pabbly Connect for my client's businesses so far, and everything is going good. I even reviewed Pabbly connect on my blog.
Is Pabbly Free to Use?
No. Pabbly is a paid software. However, you do get free trials.
What is a Pabbly Payment?
Pabbly has a Pabbly Subscription Billing software that integrates with 37+ payment gateways like Stripe, PayPal, and more.
Where is Pabbly Located?
Pabbly headquarter is located in Bopal, Madhya Pradesh, India.
How Much Does Pabbly Connect Cost?
Pabbly Connect monthly price starts at $19/month and you get 12,000 tasks/month and all the features. If you go with the annual plan, you can get extra 15% OFF.
How do I Connect my WhatsApp to Pabbly?
To connect WhatsApp to Pabbly Connect, follow the steps below:
Step 1: Get your business manager verified.
Step 2: Sign up on Facebook App Developers platform.
Step 3: Generate a permanent Token
Step 4: Use that token to integrate WhatsApp with Pabbly Connect.
Click here to watch the step-by-step video!
The Bottom Line
If you're looking for all-in-one software to manage your business. Pabbly suite of products will be useful for you.
Pabbly has got,
Automation software,
Email marketing solution,
Email verification,
Form builder,
Billing management solution
All these software are essential to run an online business. We discussed Pabbly Plus.
Pabbly Plus allows you to access all the software under one payment plan.
I would highly recommend you try Pabbly apps. They are useful and affordable. You will love it.
If you have any questions, let me know in the comments below. I will answer.