Are you curious to know what WebinarKit White Label is? Yes! You're at the right place. In this guide, I will share everything you need to know about WebinarKit White Label.
Let's get started!
What's WebinarKit White Label?
WebinarKit is a software that allows you to run recorded and live webinars. WebinarKit has all the functions to help you create, promote, and host webinars effectively.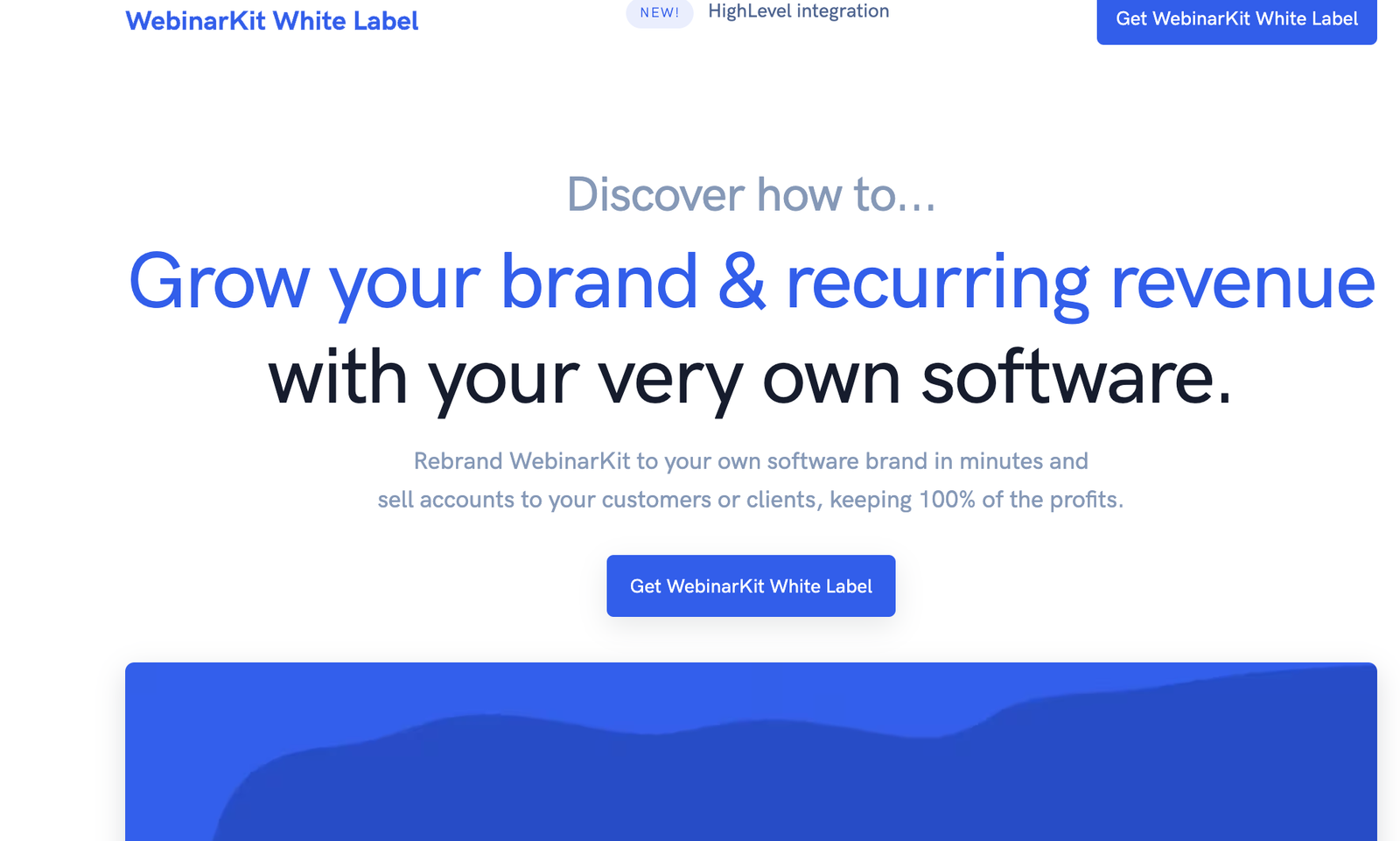 Now, WebinarKit is offering the White Label feature of the same software.
The term "white label" refers to a product or service that is created by one company but can be rebranded and sold by another company as if it were their own.
WebinarKit Key Features
When you know the potential of WebinarKit, then you can understand the benefits of WebinarKit's White label. If you're already familiar with the features of WebinarKit, feel free to skip this section.
With WebinarKit, you can:
Run automated webinars that look like LIVE webinars
Host LIVE webinars just like Zoom
Show offers Call to Action automatically
Automated email and SMS reminders
In-built registration, thank you, and replay pages
Host videos on the WebinarKit server
Run unlimited live and automated webinars
You can host up to 1000 people at a time
NOTE: WebinarKit (Automated) and Webinarkit LIVE are not included in the same pricing plan. You can get WebinarKit or LIVE as per your requirements.
But WebinarKit White Label offers both LIVE and automated webinars. I will discuss more about it in a moment.
WebinarKit Agency Vs. WebinarKit White Label?
WebinarKit Agency and WebinarKit White Label are two separate offerings provided by the WebinarKit platform.
While they both cater to the webinar hosting needs of businesses, there are key differences between WebinarKit Agency and White Label.
Let's explore each option:
WebinarKit Agency
WebinarKit Agency is designed for businesses or individuals who want to offer webinar services to clients as part of their business model. It provides features and tools to manage and host webinars for clients.
Here are some key aspects of WebinarKit Agency:
Multi-client Management
Client Collaboration
Reporting and Analytics
Subaccounts function
WebinarKit White Label
WebinarKit White Label, on the other hand, focuses on customization and rebranding of the WebinarKit platform.
It allows businesses to present webinars under their own brand name and design.
Here are the key aspects of WebinarKit White Label:
Brand Customization
Domain customization
Comes with WebinarKit Automated and LIVE function
Host unlimited webinars
Sell the software with your branding and keep all the profits.
The Benefits of WebinarKit White Label?
You can have your own SaaS product.
Your SaaS product can build a list for you then you can promote relevant affiliate offers too.
You have a fixed monthly cost to run this business
You don't have to manage the team, maintain the software, or do development
You can build your brand
You can generate an unlimited amount of revenue
WebinarKit White Label can complement your service business
Cons of WebinarKit White Label
Little to no control over the software
You're dependent on a third-party company to fulfill the service
If anything happens to WebinarKit, then you're out of business
Who can use WebinarKit White Label?
Agency owners
Coaches and consultants
Bloggers
Or anyone who wants to have their own SaaS product but doesn't want to invest thousands of dollars into software development.
Using White Label software is the best way to start a SaaS business. You won't have any liabilities even if your business doesn't take off.
WebinarKit White Label Pricing?
Currently, WebinarKit has two pricing plans for White Label products:
1. $197/month for 50 accounts
2. $247/month for unlimited accounts
If you buy the WebinarKit White Label annual plan, you get an extra 15% off.
To start, a $197 plan is enough, and if you gain traction, you can buy an unlimited plan too.
Annual Plans Pricing
Start your minimum viable SaaS business.
What if you want to add more sub accounts? Let's say you're on the basic plan of WebinarKit white label; that plan allows you to have only 50 subaccounts.
You'll have to pay extra for additional subaccounts. Here are the pricing plans: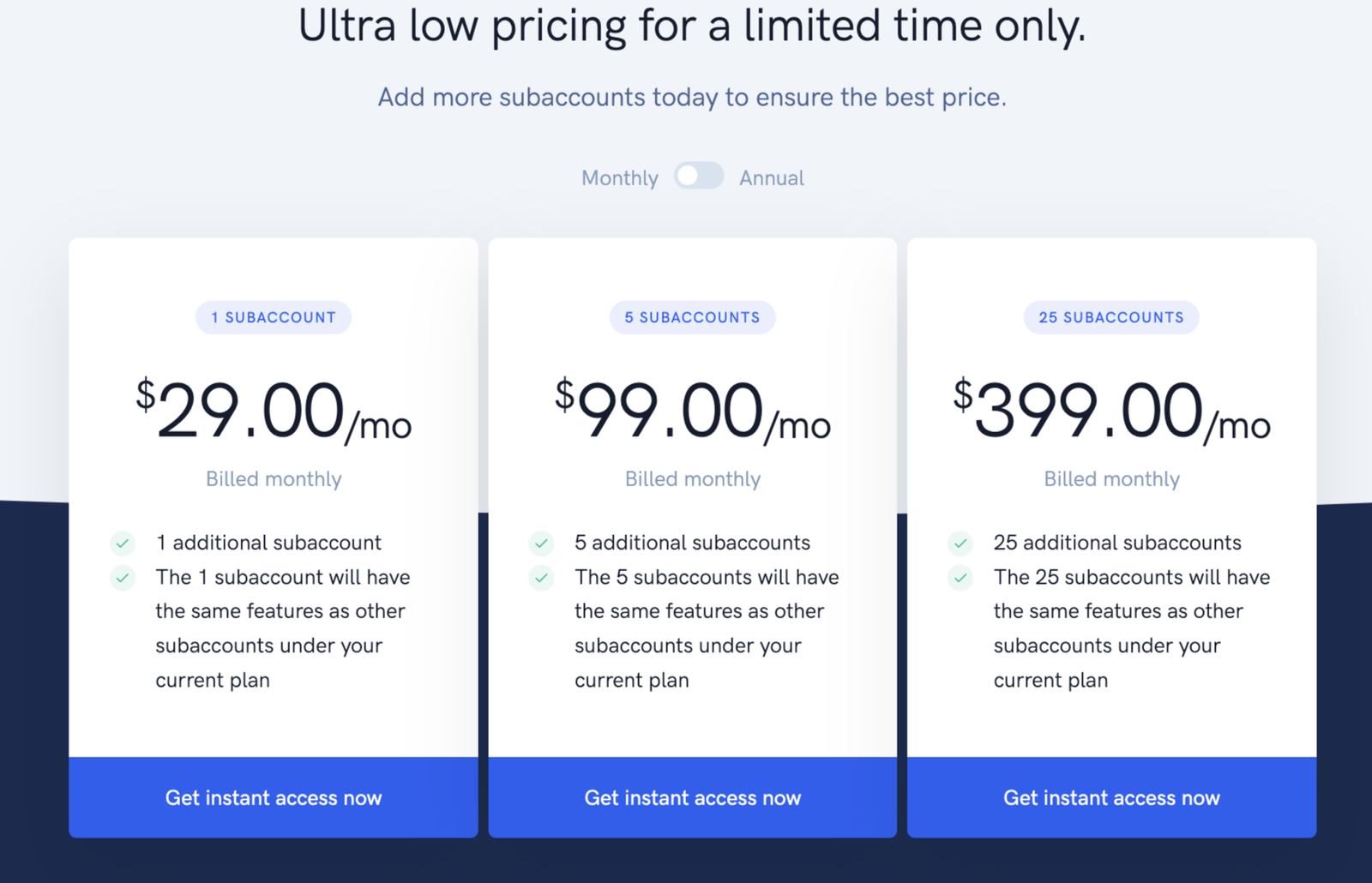 If you can hit 50 clients for your WebinarKit software, I recommend buying a WebinarKit White Label unlimited account. You can add as many users as you can.
NOTE: Before committing to higher plans, test everything and see if you can remain profitable. Once you're profitable, then invest more time, energy, and money.
How to Sign Up for WebinarKit White Label
If you are not sure how things will work? The best way is to try the product yourself. WebinarKit offers a 7-day trial for $1.
This low-cost 7-day trial will clarify how to build a business using WebinarKit White Label.
Step 1: Click Here
Step 2: Click on get started for $1
Step 3: Enter your billing details and complete the payment
You can make payments through a credit card or PayPal.
You'll be redirected to a "Thank you page." See the screenshot below.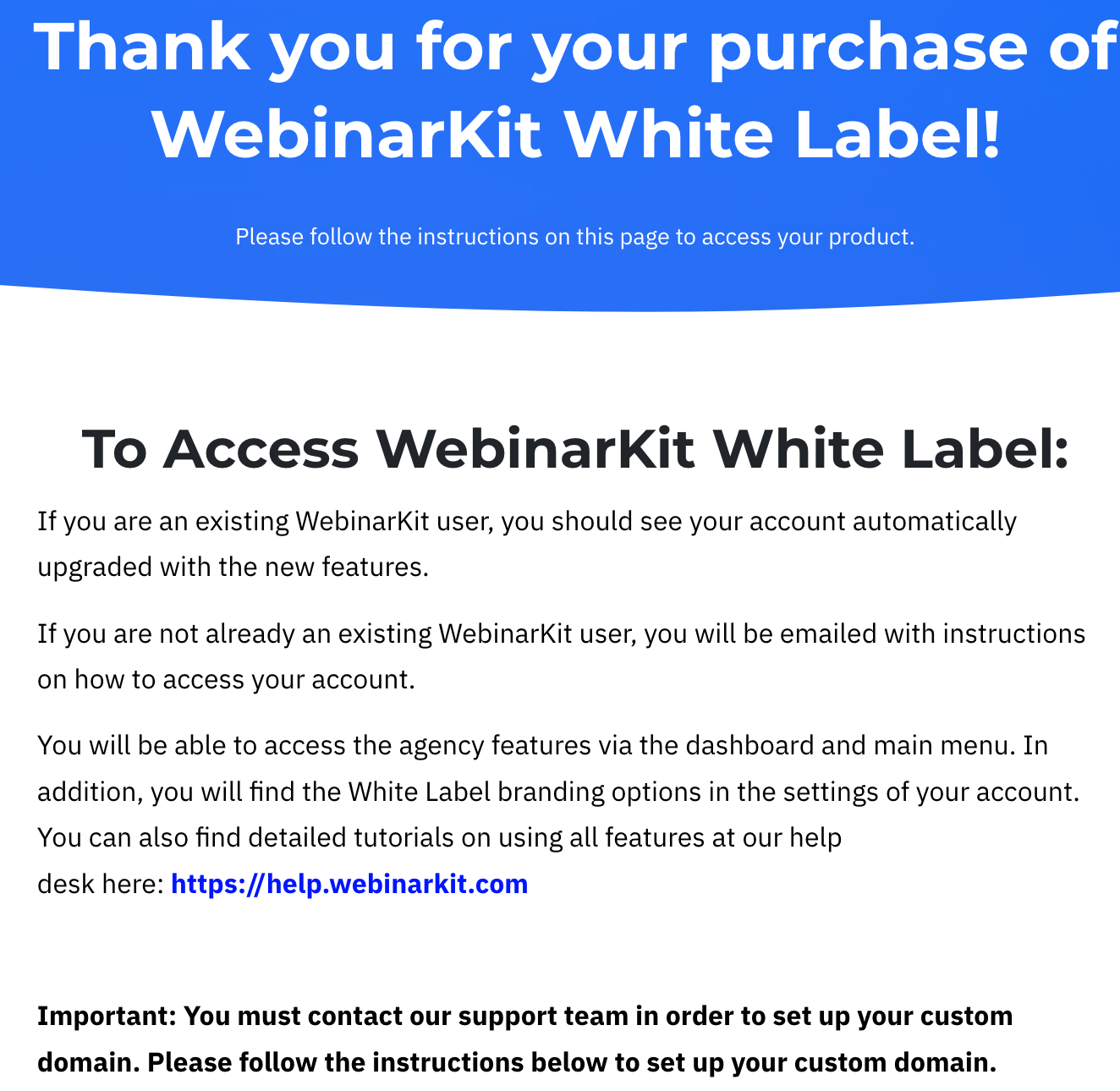 You'll receive two emails like this one (See the screenshot):
1) Payment invoice email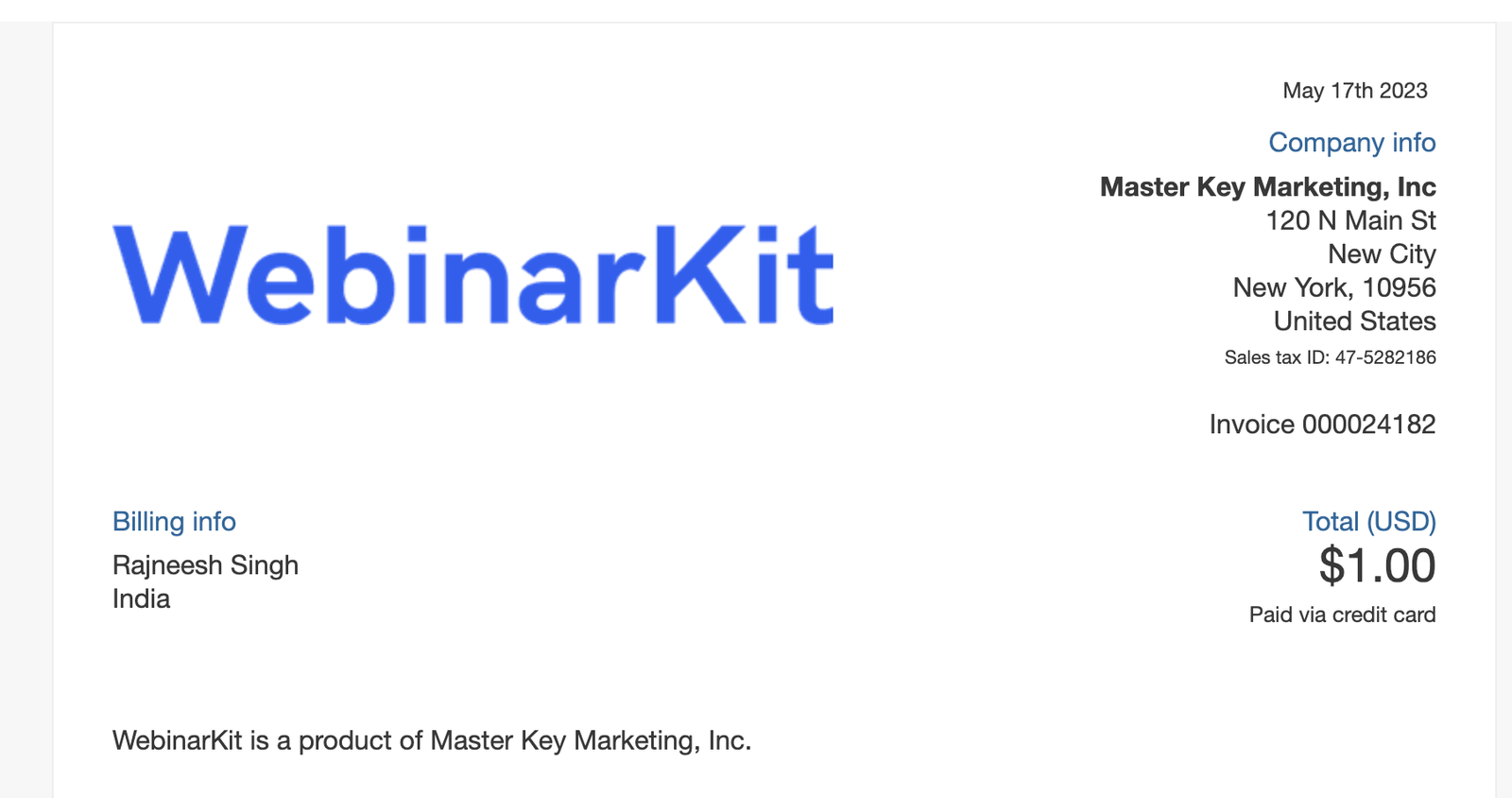 2) Login credentials email. Login to your WebinarKit account, and you can start adding sub accounts.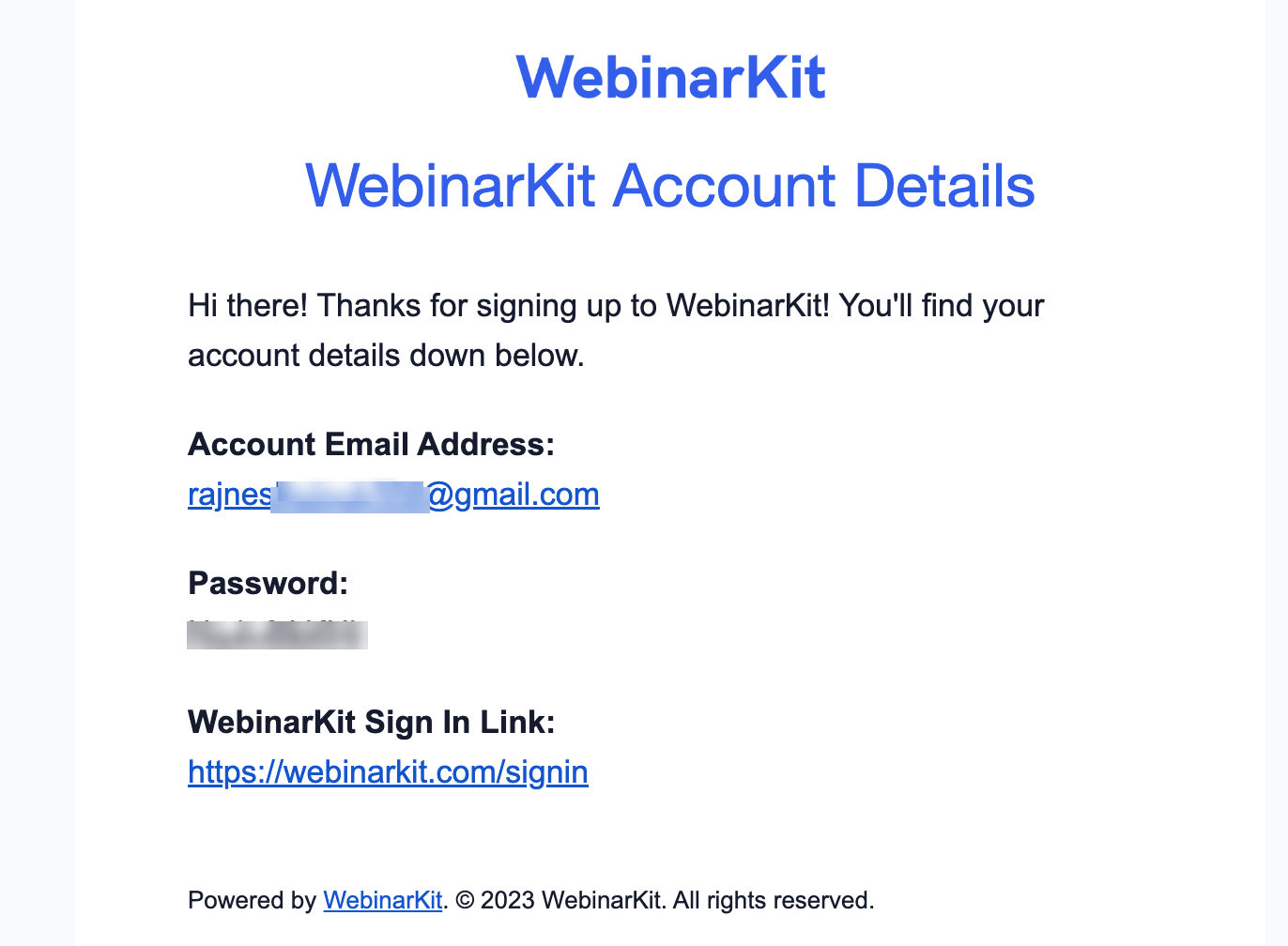 And White Label pricing is not extremely high considering the value WebinarKit offers.
Some of the Webinar software costs $200 – $300/month.
But here, you get unlimited accounts for just $208/month, which is great!
Try WebinarKit White Label for 7 Days
WebinarKit White Label Dashboard Overview
You'll see the following interface type when you log in for the first time.

This is your normal account; once you click Subaccounts, you can add new users.
Right now, I am on the 50 subaccounts plan.
To add a new subaccount, click on the blue color button and enter the name, email, password, role for the subaccount, and access.
In the access level, you can give just automated webinar access, LIVE Webinar access, or both software access.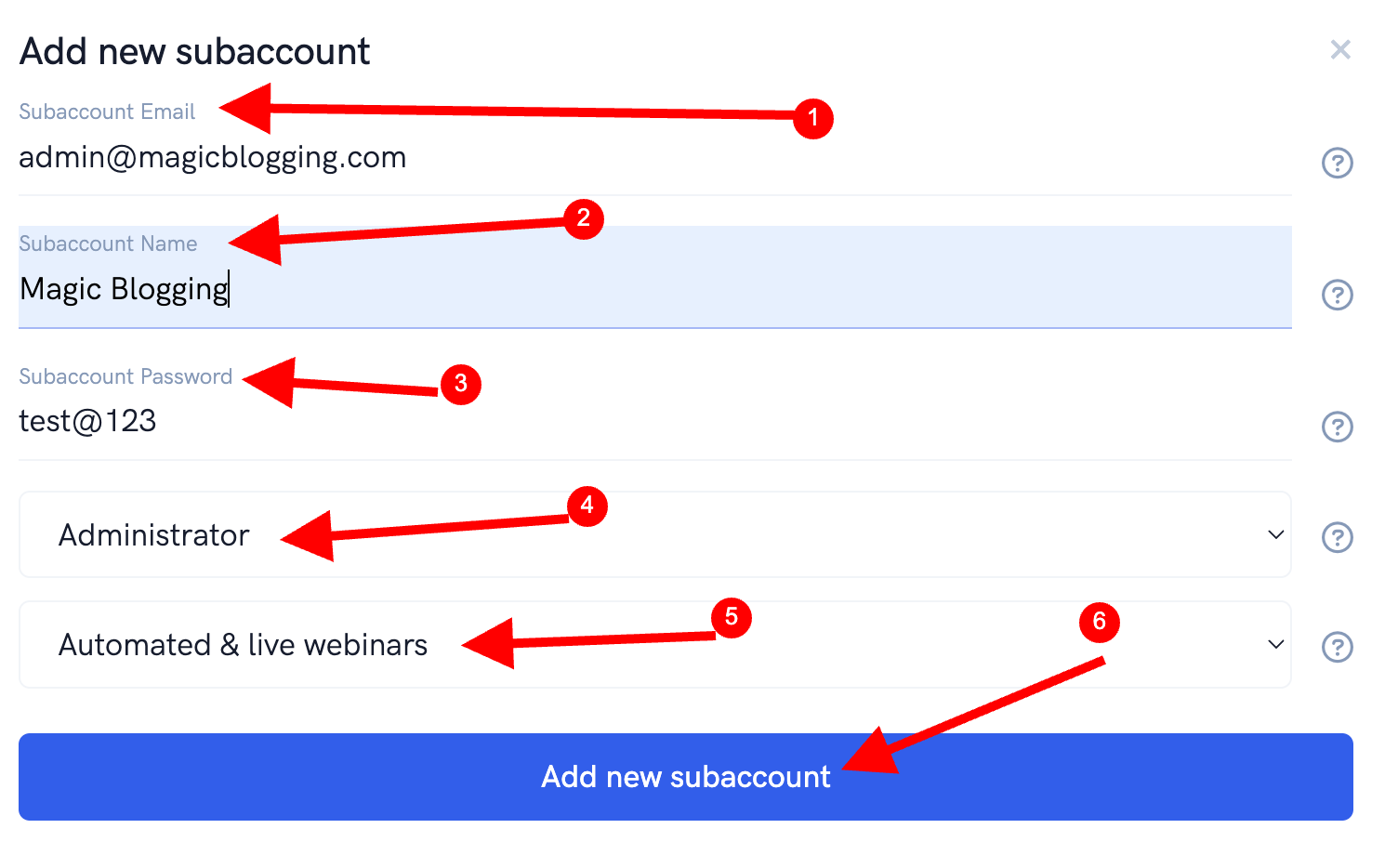 Once you have added the subaccount, you can see the following interface type.
You can see all the sub accounts here.
The access for sub accounts users is the same as if someone buys WebinarKit.
If you want, you can rebrand everything to your name. So your customers won't see. You are using WebinarKit software to fulfill the software.
Or you can use the software as it is with Webinarkit branding!
I think it's a great opportunity to build your SaaS business. It's very similar to Amazon's FBA business model.
Many sellers list White-labeled products on Amazon. Someone else manufactures the product, labels the seller's brand name, and sells the products.
To succeed in this type of business, your marketing efforts make or break your business.
Since you don't have to focus time and energy on product creation, you can focus on creating better marketing campaigns, providing better support, and building a loyal audience.
That's what makes your product succeed in today's market.
Is WebinarKit White Label Worth It?
100%, WebinarKit White Label is worth it.
There are two reasons:
1. Affordability. If you can get 20 people to pay you $30/month for WebinarKit LIVE and Automated, you'll make $600 in revenue. And you have a fixed cost of $197, but still, you're in profit.
Other Webinar companies charge hundreds of dollars for LIVE webinars only, and then if you want to use automated webinars, you'll have to pay even more.
$30/month is a no-brainer deal for end customers.
2. Unlimited accounts. WebinarKit White Label doesn't hold any feature. It has everything like full domain customization, unlimited webinars, and WebinarKit and WebinarKit LIVE. I mean, it's a no-brainer deal. If you market the software well, you can generate decent monthly revenue.
In my opinion, WebinarKit White Label is worth every penny.
Recommended Guide: WebinarKit Review
How to Make Money with WebinarKit White Label?
You must have a solid marketing strategy to make money with WebinarKit white label.
You might be thinking, how to develop a marketing strategy?
Let's simplify things; you need to know from where you'll generate the traffic, convert the traffic into paying customers and retain the users.
Just focus on three key things:
1) Traffic
2) Conversion
3) Retaining
Figure out these things, and nobody can stop you from making money.
Or if you already have an audience in a marketing niche or make money online, they will find WebinarKit extremely useful.
You can make your product stand out by offering Automated webinar and LIVE webinar features in the same pricing plans.
Right now, in the market, companies are charging separately for automated webinars and LIVE webinars.
When customers see better value-for-money software, you'll buy from you.
In White Label business, it is super easy to be profitable because you have a fixed monthly cost. Apart from that, your marketing efforts. If you go organic, you can make even more profits.
I highly recommend using organic traffic because paid ads are expensive and will eat your profit margins.
In a nutshell, to make money with WebinarKit Label,
Develop a sample marketing plan.
Decided which marketing method you'll use, whether it's paid or organic
Set your key performance indicators (KPIs)
Make your customers use the product and make money because you'll make money when they make money.
Create educational content around the product.
You can even onboard coaches and consultants and charge them a premium fee to run the webinars.
You can easily cover the cost of your WebinarKit White Label. After that, the more customers you add up, your profit increases.
Conclusion
WebinarKit is simple and easy-to-use software. Even a non-techie person can use it. And, WebinarKit has all the functionalities you need to run a successfully automated or LIVE webinar.
WebinarKit White Label pricing plans are affordable too.
And, WebinarKit offers a 7-day trial as well for $1. Try everything first before you commit to paid plans.
Recommended guides: