Are you an aspiring course creator or a seasoned online educator looking for an alternative to Podia?
You may have encountered some limitations or specific requirements that Podia doesn't quite meet.
For example, Podia's email marketing function is not advanced; overall, the platform could be more customizable.
Podia's pricing has also increased, and their pricing plans look similar to Teachable.
It's also worth noting that Podia doesn't have Android and iOS apps.
In this guide, I'll share the top 9 alternatives to Podia, their pros, cons, key functions, pricing plans, and my final thoughts on each.
Whether you need better marketing features, more customization options, or affordable pricing plans, I will present you with the best alternatives to Podia that fulfill your unique needs.
So let's dive in and explore the best online course platforms!
1. Teachable – One of the most popular course hosting platforms with an intuitive interface and highly customizable options.
Teachable is the go-to online course platform for beginners and expert course creators who want an easy-to-use course hosting platform with an intuitive interface.
With Teachable, you can effortlessly build and customize your courses and use multimedia elements to enhance your students' learning experience.
Teachable offers advanced functions like drip content, quizzes, and certificates, allowing you to deliver courses over time.
Moreover, Teachable provides marketing tools such as integrated email marketing, affiliate programs, coupons, and order bumps.
Its extensive feature set and ease of use make it an ideal choice for serious course creators.
Pros
– User-friendly interface for easy course creation with customization options.
– Essential marketing tools to drive course sales and boost profits.
– Advanced functions like drip content and quizzes for a seamless learning experience.
– Integrated email marketing, live group coaching, and affiliate programs to reach customers effortlessly.
– iOS app available for students.
– Free plan available for testing courses.
Cons
– Pricing is higher compared to some alternatives.
– Basic plan incurs a 5% transaction fee.
– Basic plan limits you to publishing only 5 courses at a time.
Bottom line
Teachable is one of the best online course platforms, offering an intuitive interface, robust marketing tools, and advanced features.
It is the perfect choice for serious course creators looking for a user-friendly platform to build and sell their courses effectively.
2. LearnWorlds – A value-for-money course platform that offers an interactive learning experience.
LearnWorlds stands out for its emphasis on creating an interactive learning experience and its numerous features.
LearnWorlds offers gamification elements like badges, points, and certificates to engage learners and enhance their motivation.
It also incorporates interactive features such as discussion boards and communities, fostering collaboration among course participants.
Creators can customize their course content and structure using the platform's drag-and-drop editor and multimedia features.
LearnWorlds provides various marketing tools, integrations, and white-label options for websites and mobile apps to help you create a unique brand presence.
Although LearnWorlds' pricing is slightly higher, its focus on interactivity and engagement makes it ideal for creators aiming to deliver dynamic and interactive courses.
Pros
– Gamification elements like badges and certificates to enhance learner motivation.
– Social learning features, including discussion boards and groups.
– Highly customizable platform for course content and structure.
– Marketing tools, integrations, and white-label options for branding.
Cons
– Pricing is higher compared to some alternatives.
– White-Labeling and iOS & Android apps available in the Learning Center plan.
Bottom line
LearnWorlds offers an excellent platform for course creators who want interaction and engagement.
With gamification elements, social learning features, assignment builders, and live classes, LearnWorlds enables creators to deliver a unique learning experience.
Start a 30-Day Free Trial. No Credit Card Required!
3. Systeme.io – Affordable, Simple, Yet Powerful Course Hosting & Funnel Builder Platform
Systeme.io is an all-in-one online business platform that offers a range of tools to help entrepreneurs and small businesses create and manage their online presence.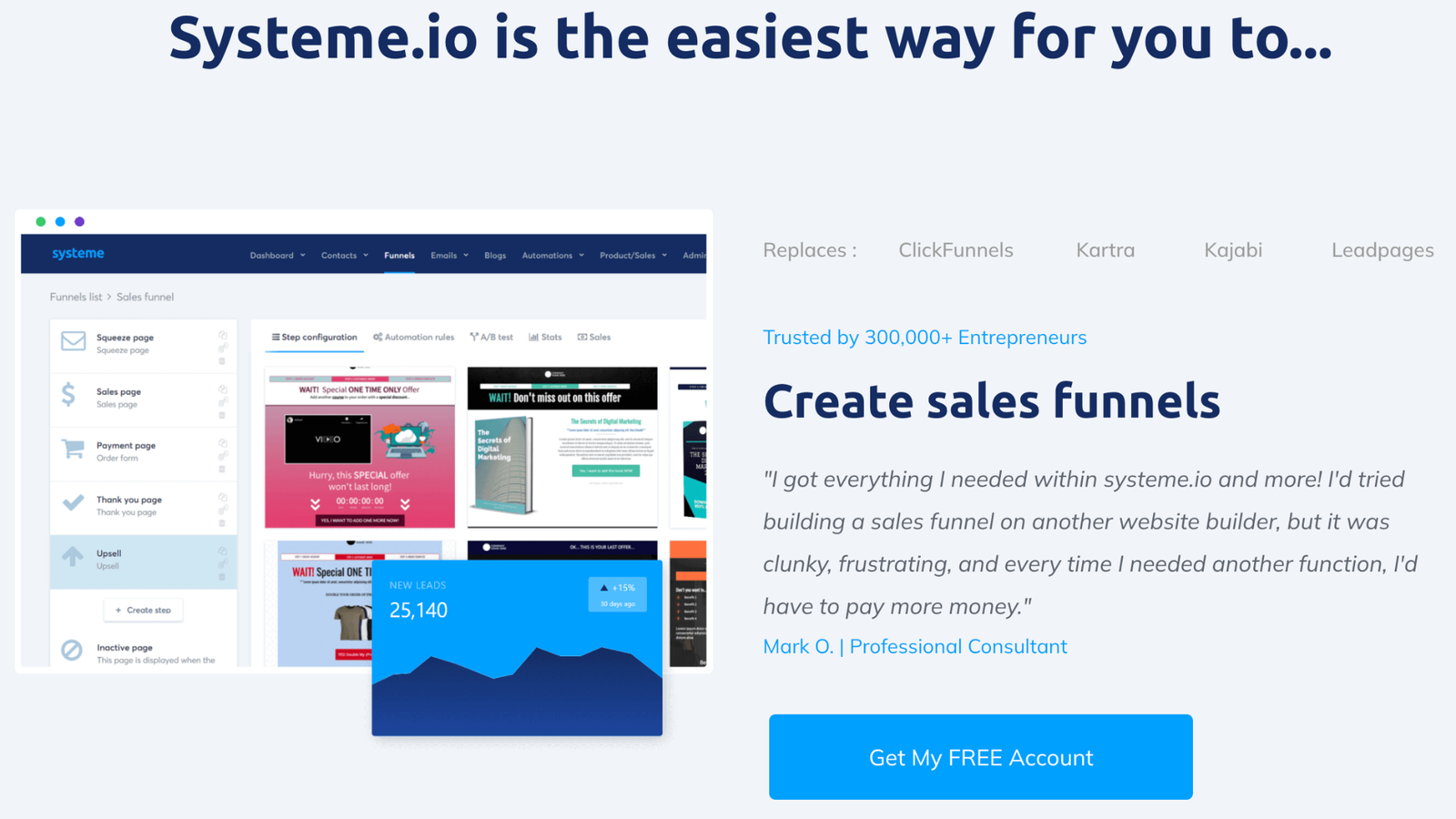 Systeme.io features:
1. Sales Funnel Builder. Systeme.io offers a user-friendly drag-and-drop sales funnel builder that allows anyone to create compelling sales funnels for their products or services. You can easily customize your funnels with various components such as landing pages, opt-in forms, upsells, down sells, and order bumps.
2. Email Marketing. With Systeme.io, you can build and manage email marketing campaigns to engage with your audience. The platform provides advanced email marketing automation, and its email deliverability rate is exceptionally high.
3. Affiliate Program Management. Systeme.io provides tools to create and manage affiliate programs for your products or services. It allows you to recruit and track affiliates, set commission rates, and automate payouts. So turn your customers into brand advocates and drive sales on autopilot.
4. Automated (Evergreen) Webinar. With Systeme.io, you can run automated webinar funnels to educate, engage, and sell your products or services. Please note that the Evergreen webinar feature is only included in the Webinar and Unlimited plans.
Pros
– All-in-one solution. No need to buy multiple tools. Get Systeme.io and run your entire online business from a single platform.
– User-friendly interface. Systeme.io is popular because it's extremely easy to use. The Systeme.io team has simplified everything, allowing you to focus on the most important things.
– Affordable pricing plans. You can host unlimited email contacts, funnels, blogs, courses, webinars, community members, and email campaigns for just $97 per month. And if you buy the annual plan, you save an extra 30%. There's also a free plan available with limited features.
Cons
– Systeme.io doesn't have a mobile application.
– Free migration is included in the "Unlimited plan" only.
– No live chat support.
Bottomline
Systeme.io is an easy-to-use all-in-one platform that offers a suite of features to help entrepreneurs and small businesses establish and run their online coaching businesses without spending thousands of dollars on software.
You don't need to learn all the bells and whistles of the software.
Systeme.io's user-friendly interface, integrated tools, and all-in-one functionality simplify managing different aspects of an online business, such as;
sales funnels,
email marketing,
A/B testing, membership sites,
communities,
affiliate programs,
and evergreen webinars.
It's perfect if you want reliable, all-in-one software to manage your coaching business while keeping the software costs low. Your search ends at Systeme.io.
Create a FREE account on Systeme.io!
4. New Zenler – A Comprehensive Platform for Course Creation, Marketing, and Coaching
New Zenler is an all-in-one platform like Systeme.io but with more advanced functions that provide course creators with a complete solution for course creation, marketing, and coaching.
With New Zenler, you can build and customize your courses using the drag-and-drop course editor, which supports various multimedia formats such as PDFs, audio files, and embeds.
New Zenler also provides advanced marketing features, including email campaigns, sales funnels, and affiliate management, to help you effectively promote and sell your courses.
Additionally, New Zenler offers coaching and community features, allowing you to engage with your students and provide personalized support.
Did I mention that New Zenler has a mobile app for learners? Yes, you heard it right. Your students can download the New Zenler learning app, log in to their portal, and start learning.
You can send push notifications, invite them to live classes, and give them access to new courses. So it's super helpful, right?
New Zenler's all-in-one nature makes it a good choice for creators and coaches who want a unified platform for their course creation and marketing needs.
Pros
– All-in-one platform that offers course creation, email marketing, affiliate marketing, and coaching.
– Mobile app for students.
– Funnels and advanced email automation functions are available.
– Weekly live sessions to help you understand the New Zenler platform.
– Integrations with major payment gateways like Stripe, PayPal, and RazorPay.
– Blog builder.
Cons
– No ability to rebrand the app.
– Requires intensive training to learn how to use the software.
– The price might be higher for beginner coaches and creators.
Bottomline
Once you have New Zenler, you don't need any other software to run your coaching business.
It offers everything under one dashboard, such as coaching, mobile apps, email marketing, funnel builder, course builder, affiliate program, and more.
You don't even need to buy any hosting or use Zoom.
You can sign up for a FREE trial and see if New Zenler is the perfect tool for your business.
5. Graphy – Host and Sell Online Courses without Monthly Charges
Graphy is a web-based learning management software (LMS) for selling and hosting courses.
With Graphy, you can host your courses, build communities and websites, and even launch your membership site.
You get marketing tools like an affiliate management system, coupons, and discount codes.
Graphy has Android and iOS mobile applications too. You can rebrand those applications and send push notifications, market your other courses, share important updates, and more.
You can build SEO-friendly websites on Graphy. You can run most of your online business from Graphy.
And here's the best part: Graphy doesn't charge a monthly fee for all these advanced functions. They only charge a one-time setup fee and 10% per transaction.
Graphy is a perfect LMS for those who don't want to invest any upfront money in buying tools.
You pay a one-time low-cost setup fee and start using the platform. When you get customers, then only pay.
If you don't want to pay 10% per sale, you can buy their plan by paying Rs. 19,999 ($241) + taxes per year and get access to every feature.
Pros
– Whitelabel Android and iOS mobile apps.
– No monthly charges.
– Integration with major payment gateways like Stripe, RazorPay, and Instamojo.
– 100% secure platform. No piracy of your courses.
– Host unlimited courses and students.
– Unlimited live classes.
– Live chat support.
– Reward and gamification system.
– In-built affiliate tracking marketing to let your customers promote your courses.
Cons
– No feature to add students manually to your courses. If someone buys through the Graphy platform, then they can access the course.
– No email marketing function.
– Basic community features.
Bottomline
Graphy is a great tool for beginners or anyone who wants to start with minimum cost.
It offers mobile apps, live classes function, the ability to host unlimited courses and students, integration with payment gateways, and an affiliate tracking system.
6. Learnyst – Empowering Educators with a Versatile Online Teaching Platform
Learnyst is an excellent online platform that empowers educators to create and deliver engaging online courses.
With Learnyst, educators can easily build, customize, and host their courses using a user-friendly interface.
Learnyst supports various content formats, such as videos, presentations, and quizzes, allowing for interactive and dynamic learning experiences.
Learnyst offers features like conducting live classes, automatically issuing course certificates, embedding videos, and providing offline course access through mobile apps.
The platform also offers native mobile apps for Android and iOS, enabling learners to access their courses on the go.
When it comes to monetization, Learnyst provides multiple revenue models for educators.
For example, you can sell your courses individually, offer subscription-based access, or create bundled course packages.
Pros
– Branded mobile Android and iOS apps.
– Offline course access through mobile apps.
– Simple and easy-to-use interface.
– Marketing tools like push notifications and emails to reach your customer base.
– Automatic issuance of certificates.
– No transaction fees.
Cons
– Pricing might be expensive for starters.
– Some additional features may require higher-tier pricing plans.
– Learnyst doesn't have an advanced email marketing system.
– Email and chat support are available only in professional and premium plans.
Bottomline
Learnyst is a versatile online teaching platform offering various features to empower educators.
It provides branded mobile apps, offline course access, an easy-to-use interface, and different monetization options.
While pricing might concern some, Learnyst offers a free plan with limited functions, allowing you to try out the platform.
Customized apps are also available at an additional cost.
So explore Learnyst today and see if it meets your teaching needs.
7. Skool.com – Simple yet Powerful Course Hosting & Community Platform
Skool.com is a new learning management software that combines course hosting with community-building tools.
It aims to create an amazing learning experience by integrating courses and communities on the same platform.
Skool.com offers a simple interface that is beginner-friendly and easy to use. They also provide an iOS mobile application for added convenience.
Pros
– Extremely beginner-friendly interface for effortless course creation and community building.
– Courses are organized in classrooms, and videos can be hosted on platforms like Vimeo and YouTube and embedded on Skool.com.
– Create leaderboards to motivate active participation or incentivize the purchase of higher-level courses.
– Calendar function for booking calls with prospects and managing everything from one dashboard.
– One pricing plan includes everything.
– 14-day free trial.
– Create unlimited courses and host unlimited members.
Cons
– Skool.com is still improving, and some essential features are unavailable.
– Limited customization options.
– The $99/month pricing can be expensive for starters.
– Limited to creating one group.
Bottomline
Having a simple and easy-to-use tool allows you to focus more on what matters and produce remarkable results.
On the other hand, complex tools can consume your time, leaving less room for essential tasks and potentially impacting your business.
Skool.com offers a straightforward, affordable, and user-friendly platform that may be a perfect fit for you.
Try Skool.com for free with their 14-day trial to ensure it meets your needs before committing.
8. Kartra – The all-in-one platform to host, sell, manage, and market your courses
Kartra is a robust all-in-one marketing platform that supports entrepreneurs, coaches, and businesses in achieving their online marketing goals.
It offers a seamless solution for managing and growing your online business.
One of the standout features of Kartra is its powerful sales funnel builder, which allows you to create highly optimized sales funnels with ease.
For example, you can create landing pages, manage affiliates, set up check-out pages, manage membership sites, build surveys and quizzes, host videos, track analytics, provide help desk ticketing, book meetings, and run advanced email campaigns.
Kartra integrates smoothly with popular email service providers and third-party apps like Zapier and Pabbly Connect.
Its intuitive and user-friendly interface makes it accessible to users of all levels, eliminating the need for coding or design skills.
The platform provides customizable templates and drag-and-drop functionality, making it easy to create professional-looking pages and campaigns.
Pros
– Powerful sales funnel builder for increased conversions.
– Advanced email marketing system with automation and segmentation features.
– Comprehensive suite of features, including membership site management, helpdesk, and affiliate tracking.
– Intuitive and user-friendly interface for easy navigation and customization.
– All-in-one platform eliminates the need for multiple software subscriptions.
– 30-Day money-back guarantee.
Cons
– Pricing plans may be higher for small businesses or solopreneurs.
– Learning curve for beginners who are new to marketing automation platforms.
Bottomline
Kartra is an all-in-one marketing platform offering comprehensive tools to manage and grow your online presence.
Whether you're looking to create high-converting sales funnels, automate email marketing, manage memberships, or track analytics, Kartra provides a seamless solution.
While the pricing plans may be more suited for established businesses or marketers with larger budgets, the platform's robust features and user-friendly interface make it a valuable asset for online business success.
Plus, using an all-in-one tool like Kartra can save money compared to purchasing multiple separate tools.
9. Mighty Networks – Build communities and host courses
Mighty Networks is a powerful platform enabling creators to build branded communities and host online courses.
With its focus on fostering engagement and connection, Mighty Networks provides a unique space for like-minded individuals to come together and learn from each other.
One of the standout features of Mighty Networks is its ability to create vibrant and interactive communities.
Creators can customize their networks with their branding, colors, and themes, giving them a unique identity.
The platform offers various engagement tools such as discussions, polls, events, and direct messaging, encouraging community members to connect, share ideas, and collaborate.
Mighty Networks also provides a robust online course creation and delivery system.
Creators can design and deliver comprehensive online courses with multimedia content, quizzes, assignments, and progress tracking.
The platform supports self-paced and scheduled courses, giving creators flexibility in structuring their learning experiences.
Mighty Networks prioritizes the user experience, providing a clean and intuitive interface that is easy to navigate for both creators and members.
In addition, the mobile app enhances accessibility, allowing community members to engage on the go.
Pros
– Customizable communities with branding options for a unique identity.
– Robust online course creation and delivery system.
– Engagement tools like discussions, polls, and events to foster interaction.
– Monetization options with built-in payment processing.
– Clean and intuitive interface with a mobile app for seamless accessibility.
Cons
– Limited integrations compared to some other platforms.
– Advanced customization options may require technical expertise.
– Branded Apps & Websites are included in the MightyPro plan only.
– Most of the features are limited to the Business plan only.
Bottomline
Mighty Networks is a great platform that empowers creators to build engaged communities and host online courses. However, the pricing can be quite high.
The base plan offers little value, and the business plan costs $119/month ($99/month with an annual plan). If you want to have your own branded apps, you'll need the MightyPro subscription, but the pricing for MightyPro is not mentioned; maybe it can range from $5000 to $20,000.
Mighty Networks offers a 14-day free trial, so you can try it and see if it suits your needs before committing.
Which Course Platform Is Best for Me?
Choosing the best course platform depends on your needs, goals, and budget.
To determine the platform that is best for you, consider the following factors:
1. Course Features. Consider the features you need for your courses, such as multimedia, quizzes, assignments, or drip content. Look for platforms that offer these specific features.
2. Customization Options. Think about how much control you want over the design and branding of your course platform. Some platforms allow extensive customization, while others have limited options.
3. Marketing and Monetization. If marketing and monetization are essential, look for platforms with robust marketing tools like email marketing, sales funnels, affiliate management, and payment processing. Ensure the platform supports your desired pricing model.
4. User Experience. Look for platforms with user-friendly interfaces, drag-and-drop functionality, and easy course creation. You want a platform that is easy to use for both you and your students.
5. Integrations. Check if the platform integrates with other tools and services you use, such as email marketing software or payment gateways.
6. Budget Evaluate the pricing plans of different platforms and find one that fits your budget. Some platforms offer free or low-cost options, while others have higher tiers with additional features and support.
Carefully analyze all these factors, and you can find the course platform that best suits your needs and goals.
Then, read reviews, compare features side by side, and take advantage of free trials or demos to get a hands-on experience with the platforms you are considering.
My recommendation is always to go for simple and easy-to-use platforms. Those platforms won't cost you a fortune; you can build a great business.
The more you keep things simple, the faster you can scale your business. And don't forget to build communities.
It can give you great leverage in the long term.
When choosing a platform, ask the following questions:
Is this platform easy to use for me and my customers?
Do they have community-building features?
Are their pricing plans affordable?
Do they have great marketing tools like email marketing, push notifications, etc.?
Do they offer a free trial?
I hope you'll use these questions to find your perfect Podia alternative.
Frequently Asked Questions (FAQ Section)
What is better than Podia?
Many platforms like Systeme.io, New Zenler, Teachable, and Skool.com are better than Podia.
Which is better, Podia or Teachable?
Teachable is more flexible than Podia. Although Teachable's pricing is higher than Podia, the user interface and customization options of Teachable are better.
Which e-learning platform is best?
Teachable and Skool.com are the best e-learning platforms.
Does Podia take a percentage of sales?
Yes, Podia charges 8% per transaction if you're on their FREE plan. However, if you upgrade to any paid plan of Podia, they won't charge you a per transaction fee.
Can I build a website with Podia?
Yes, you can build websites on Podia. However, remember that Podia's website builder is not highly customizable like WordPress or Systeme.io.
Is Podia an LMS?
Yes, Podia is a learning management system (LMS) that allows you to host, market, and sell your courses and coaching services.
Does Podia have a CRM?
Podia doesn't have a customer relationship management (CRM), but they do have a basic email marketing system.
Can I sell services on Podia?
Yes, you can sell your services on Podia. For example, you can sell paid webinars, coaching, eBooks, downloadables, and online courses on Podia.
Conclusion
Podia is a great LMS, but there are even better learning management solutions with more advanced features like apps, offline course access, built-in marketing tools, etc.
I have shared the 9 BEST Podia alternatives with better features, pricing, and customization options in this guide.
I have also shared some of the BEST all-in-one tools. If you ask for my recommendations, I will pick three LMS platforms:
1. Systeme.io – It's an affordable, easy-to-use, and reliable all-in-one platform.
2. Skool.com – It's a highly easy-to-use and simple platform with a community-focused approach, offering only one plan with unlimited access.
3. New Zenler – It has many features like a funnel builder, email marketing solution, built-in affiliate tracking system, mobile apps, website builders, and live classes.
There's a learning curve to using New Zenler, but it's a great platform at an affordable price.
I would choose any platform from the above list.
Let me know if you have any questions in the comments below.
Happy course creation!