Are you looking for WebinarKit Review?
In this blog post, I'm going to share my experience of using WebinarKit software.
I will share everything you need to know about WebinarKit. I'll reveal my own stats of webinar registration, conversion rate and much more.
WebinarKit Review
Final Verdict
We tested WebinatKit and we found WebinarKit software is good for beginners who are just starting out with automated webinar funnels. WebinarKit is loaded with so many features. WebinarKit pricing is affordable. The user interface is simple and clean. You can set up your automated webinars in less than 30 minutes. WebinarKit has an in-built video hosting system if you buy WebinarKit Pro (Upsell). They provide email support. Check out the WebinarKit Here!
Use the special coupon: 300OFF
Apply the discount code at the time of checkout, and you'll get $100 OFF your purchase. If the LTD price is $399, if you apply the coupon code, you can get it at $299.
Click Here to Sign Up!
What is WebinarKit Software?
WebinarKit helps you in creating like-live webinars. You can automate your highest-converting webinar and make profits on autopilot.
WebinarKit is trusted by over 10,000 businesses (they claim). WebinarKit is running ads on Facebook continuously. I get to see WebinarKit ads many times on Facebook.
With the help of WebinarKit, you can create unlimited automated webinars, make more passive income.
The best thing is, WebinarKit comes with a one-time price. That means, no need to pay recurring charges like EverWebinar, WebinarFule, and WebinarNinja.
But, there are some disadvantages you might face with WebinarKit. I'll tell you in today's WebinarKit review guide.
Let's get started!
Things I like about WebinarKit
I have tested WebinarKit and created some automated webinars. In this guide, I will share the results that I've got using WebinarKit software.
Easy to use interface
WebinarKit UX/UX is pretty simple and smooth. Unlike other automated webinar platforms, the user interface looks cluttered. However, with WebinarKit, you can easily set up your webinars in less than 10 minutes if you have your marketing materials ready, it's that simple. 🙂 Can't believe me? Stay tuned with me.
Pages load extremely fast
WebinarKit registration, thank you and webinar replay pages load blazing fast. WebinarKit supports almost every browser you can think of, be it Chrome (I use it), Safari, Brave, and many others.
Embeddable registration form on third-party sites
Don't want to use the WebinarKit page editor? This feature allows you to embed registration forms on your website just like EverWebinar.
However, they have recently released this feature. So I tested but I didn't like it. They could make the form a little better.
WebinarKit host your videos on their server
Yes, you heard it right. WebinarKit supports third-party video hosting services like Vimeo Plus (not Vimeo Pro) and YouTube.
NOTE: This feature doesn't come in the base plan. You have to purchase WebinarKit Pro to host your videos on their server.
Schedule your webinars
Webinarkit allows you to schedule your webinars. Let's say, you want to run webinars every Saturday at 2:00 PM. Set the time and save it.
Detailed analytics
WebinarKit provides detailed reporting on how many users saw your webinar, what's the average view duration, etc.
Having the right data can help you in optimizing your webinar for maximum sales and profits.
Tracking scripts
You can put Facebook Pixel and Google Analytics tracking code on WebinarKit registration, thank you, and replay pages. Later you can remarket them using Facebook or Google ads.
Deep integration with Zapier
WebinarKit integrates with Zapier & major autoresponders, and WebinarKit passes all the data. Earlier WebinarKit wasn't passing essential data in Zapier.
I am glad WebinarKit is improving day by day! I have to change my reviews. 🙂
With deep integration, you can build advanced email automation and more!
Things I don't like about WebinarKit
So far, I've talked about the good things about WebinarKit. But, there are a few things which I hate.
Here they are:
Too many add-ons! Why?
WebinarKit base plan is super affordable. Therefore, they have added so many add-ons. Right now, they have a total of 5 add-ons including WebinarKit live.
There are two essential add-ons without that you can't use WebinarKit effectively. The upgrade is WebinarKit Pro.
I'll explain WebinarKit upgrades later in this guide.
Basic automated email system
WebinarKit has an automated email system. When I purchased WebinarKit they didn't have this functionality.
It's good to see WebinarKit consistently pushing new updates, but WebinarKit's automated email system is basic.
You can't add unlimited emails in the pre & post-webinar sequence. While other tools like EverWebinar, WebinarFuel allows you to add unlimited emails.
Now, you can edit the from email & name and reply to email. You can customize everything in the sequence.
WebinarKit provides pre-made triggers like when a user signups, send an email. Those who have not attended the webinar send an email.
WebinarKit has a simple page editor. It allows you to create Registration, Thank you, and Webinar Replay pages. These pages will get your job done. You can customize the text, add images, videos and change the color, etc.
Here are some examples of pages I created using WebinarKit.
Registration page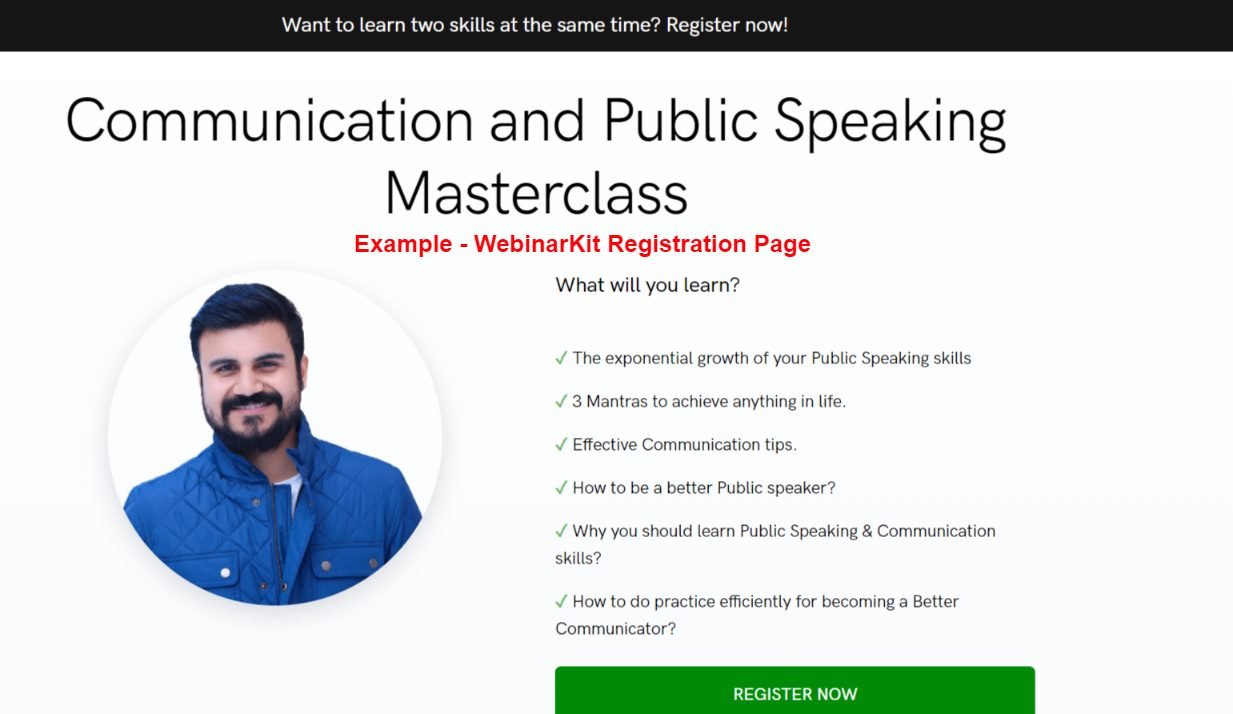 Watchroom page

Replay page
WebinarKit Review Video
WebinarKit is no more cheap software.
Currently, WebinarKit pricing is $43/month or $129/year or $399 one-time payment. (Pricing is subject to change, however, at this time of writing WebinarKit review, WebinarKit LTD costs $399).
Use the special coupon: 300OFF
Apply the discount code at the time of checkout, and you'll get $100 OFF your purchase. If the LTD price is $399, if you apply the coupon code, you can get it at $299.
Click Here to Sign Up!
If you don't want to spend upfront $399, then WebinarKit monthly or yearly plan would be suitable for you.
Plus, you must have WebinarKit add-ons to use the software effectively.
Here's what you'll get with WebinarKit Lifetime deal:
Automated (evergreen) webinars
Like-live, just-in-time, ongoing series webinars
Unlimited webinars, registrants & attendees
Full webinar funnel builder
All page hosting included
Fully brandable webinar funnels
Live chat and questions box
Conversion boosting offers
Simple yet powerful analytic
Automatic email reminders
Advanced remarketing segmentation
Autoresponder integrations
WebinarKit is a mature tool now. You can pay $399 one-time or $43/month or $129/year and you'll get unlimited webinars and attendees. This is for WebinarKit automated.
Is WebinarKit worth it?
Yes. Even if you're advanced users who want to build deep webinar funnel. WebinarKit can be a good option for you.
However, there are certain things you'll have to consider:
For example, you can't build a highly personalized pre and post-webinar email sequence using WebinarKit.
Basic page builder, you can't expect a lot of things with WebinarKit in-built page editor.
Don't expect loads of features like EverWebinar or other webinar automation tools.
Overall it's good software for beginners, and if you have a tight budget for marketing. You can go with WebinarKit.
What's inside WebinarKit?
In this section, I'll be explaining the different features that WebinarKit offers.
Things you'll see in the WebinarKit dashboard.
WebinarKit dashboard is super simple.
When you log in inside the WebinarKit, you see all of your webinars. A filter for active and inactive webinars. Besides that, there's a button for creating new webinars.
In the header of the dashboard, there's a help center link, affiliate program and a menu bar.
Menu bar has a dashboard, media, settings and sign out option. Super basic!
In the media section, you can find all the uploaded videos if you have bought WebinarKit pro.
Webinar Details
To create a new webinar, click the "New Webinar" button. Then you have to choose the file/video that you want to use for the automated webinar.
Then, in the "Details" section,
Name your webinar (for internal purposes), write the webinar title
Set the webinar duration
Upload a brand image (optional)
Webinar Presenter
Here you can add the basic details about the webinar host. You can even create a new webinar host.
Schedule your webinar
Choose when you want your automated webinars to run. Choose the right time zone. It's super important. Make sure you do it properly.
You can run your webinars every 15 minutes or a specific time of the day or just on any specific day. You can set up all the things here. Once you're done, hit save and click Next.
Build registration, thank you, and replay pages
Now, you have to build the three basic registration pages, a thank you page and a replay page. It's super simple. All you have to do is change the text, colors and add the necessary details, hit save.
Webinar settings
Inside Webinar LIVE settings, you can control whether you want to show the email questions box or not.
Choose whether you want Webinar chat enabled or disabled.
You can even redirect your attendees once the webinar is over.
Webinar Offer Settings
Here you have to give the details about the course/product you're selling.
Give your offer,
A headline
Description
Pricing
Set the offer call to action 1
Offer link 1 (put in the checkout link)
You can put up to 3 calls to action.
Set the time when you want your offers to show up. Choose the offer start time and end time.
For scarcity, you can toggle on "Offer webinar countdown."
Webinar Poll Settings
If you want to run a poll during the webinar, click on the "Add poll" button.
Give the poll title, question
Set the poll start time and end time in minutes and seconds
Add poll option
Hit the "Add poll" button.
Webinar Handout Settings
If you have promised something at the beginning of your automated webinar, you can provide that thing here.
Provide all the details such as headline, description, call to action, URL start and end time.
If you toggle off this section if you don't have anything to give. 🙂
Webinar Chat Simulator
If you have bought their chat simulator add-on, you'll see this option too. Personally, I don't like to add fake chats. But if you want to make your automated webinar like a real one you can use Webinar Chat Simulator.
Webinar Label Customization Settings
Here you can name all the fields as per your requirement. I don't think you would need to customize labels.
Email/Webinar notifications
It's the final step of the automated webinar funnel setup.
Set the email webinar notifications. You can change the sender name, email title and copy. WebinarKit email editor is also simple, you can add only text and links.
WebinarKit has a limited number of email reminders. All you need do is write the emails and toggle on each email that you want to send.
For beginners, it's very useful. As you don't have to manually set each email and when it'll be sent out.
I feel WebinarKit email reminders are too basic for advanced users like me.
Set up your scripts
You can place scripts on different pages such as registration, thank you, and replay pages.
If you have a Google tracking id or Facebook pixel, place it on your pages.
WebinarKit Integrations
WebinarKit integrates with major autoresponders.
Here's is the list:
ActiveCampaign
Aweber
ConstantContact
ConvertKit
Drip
Getresponse
MailChimp
MailerLite
SendFox
SendInBlue
Sendlane
Zapier (automation tool that connects multiple apps without code)
As you can see WebinarKit has almost every autoresponder integrated. All the integrations are super basic. You can just pass the data (name, email and phone number) from WebinarKit to your autoresponder.
Build Automated Webinars in less than 10 minutes?
Build automated webinars in just 5 simple steps.
Step 1: Upload the video file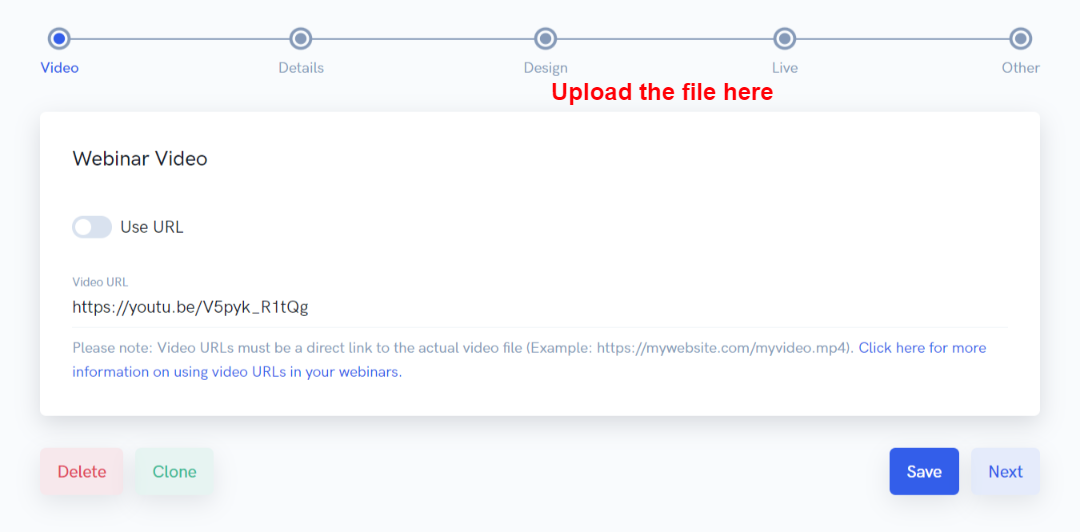 Step 2: Provide the Webinar details
Step 3: Set up the essential pages like registration, thank you and replay pages
Step 4: Set your offer details like title, description, call to action and handouts.
Step 5: Set up follow up emails and tracking script
Done. Your webinar is ready to convert visitors into customers 24×7.
Webinar Analytics
Once your automated webinar is live. You can view the analytics.
Inside Analytics, you can see the following things:
Webinar dropout times
Traffic: how many people came to the registration page, how many of them signed up, how many attended the webinar and replay.
You can see the conversion rate of the registration page, webinar attendance rate and replay attendance rate.
Engagement – This is super important. You can track what's the average time users spend on the webinar and replay. That'll help you to optimize the webinar for higher engagement.
Track how many people clicked on your Offer in the webinar and replay
You can see webinar registrants' details such as name, email, phone number and status of the registrant such as webinar attended or not, webinar view percentage, offer clicked and webinar registration date and more.
You can export "Registrants details" in CSV format.
Do I need to pay extra for any add-ons?
Yes, you'll have to pay extra for add-ons. As I said at the beginning of this post, WebinarKit has too many upsells/add-ons.
Use the special coupon: 300OFF
Apply the discount code at the time of checkout, and you'll get $100 OFF your purchase. If the LTD price is $399, if you apply the coupon code, you can get it at $299.
Click Here to Sign Up!
Here I'll briefly mention all the WebinarKit add-ons. 🙂 Let's begin!
To buy WebinarKit pro, you must first own WebinarKit.
WebinarKit is priced at $399 one-time payment or $49/month. During a special offer, you can see a reduction in price. For example, you might see WebinarKit price at $349 or $307.
Here's what you'll get with WebinarKit Pro:
Built-in video hosting
Engagement boosting polls
Registration page templates
Embeddable registration forms
One-click replay pages
Automated handouts
WebinarKit comes with a 14-day money-back guarantee. If you don't feel like WebinarKit is value for money, you can ask for a refund within 14 days.
In my opinion, WebinarKit pro is worth every penny because of two reasons:
In-built hosting
Embeddable registration forms
Supercharge engagement
Automate your chatbox
Drive more sales
Create a "live" experience
Sell on autopilot
Boost attendee satisfaction
WebinarKit Agency is useful if you want to sell automated webinar webinars as a service. You can create a separate account for clients. You can add up to 25 agency accounts used.
Usually, WebinarKit Agency costs $199 one-time payment. During a special offer, you can get an extra $20 OFF.
When I started using WebinarKit they did not have any feature to go live. Now, they've made the platform better.
Here's what you get with WebinarKit live:
WebinarKit Live Upgrade
Unlimited LIVE webinars
Lowest founder's Monthly/Yearly Pricing
Unlimited support
WebinarKit LIVE plan starts $38.22/month. I wrote a detailed article on WebinarKit Live pricing. Click here to read.
WebinarKit LIVE agency has a similar feature to the WebinarKit agency plan.
What you get with WebinarKit LIVE Agency:
WebinarKit LIVE agency
Create up to 25 WebinarKit Live accounts
Use WebinarKit LIVE accounts for your own webinars or as a client accounts
Unlimited support
Up to 1000 attendees + Multiple presenters 4
WebinarKit LIVE Agency's basic plan costs $149.25/month, and if you go with an annual plan, then the basic plan will cost you $124.81/month.
WebinarKit Custom Domain
It's weird that WebinarKit will charge you $13.33/month (If you buy an annual package) else it will cost you $16/month just for a custom domain.
I mean who will pay monthly charges just for a custom domain. It's crazy!
Here's what you get with WebinarKit Custom Domain:
Use the entire WebinarKit software with your own custom domain
Maximize your branding for registrants and attendees
Remove WebinarKit branding on registration, thank you, watch room, and replay pages
Frequently Asked Questions about WebinarKit Software
What is WebinarKit?
WebinatKit allows you to build automated webinar funnels that feel like a live webinar. Additionally, you can go live using WebinarKit if you purchase their add-ons. In this post, we have talked about the WebinarKit pricing plan, upsells, and how to build automated webinars.
Does WebinarKit work on all devices and browsers?
Yes, I have personally tested WebinarKit in Chrome browser and firefox. WebinarKit pages loaded smoothly.
How do I get started with WebinarKit?
First, you have to sign up for WebinarKit. Click here to Sign up for the WebinarKit.
What is the best way to create a registration page using WebinarKit?
Creating registration pages is super easy. Change the text, and colors, add the essential information.
Who is Stefan Ciancio?
A former mechanical engineer, I found myself yearning for a life of more freedom. I fired my boss in 2015 and began working for myself.
I went from struggling to sell courses, coaching, agency services and software to selling 7 figures worth thanks to the power of webinars. Webinars transformed my business, so I wanted to figure out how I could help it transform other businesses as well… and soon, I co-founded WebinarKit with a friend who had the same vision… to create an all in one tool that lets others transform their businesses through webinars.
Now I run WebinarKit, and help others explore their own business with webinars too!
Credit: https://stefanciancio.com/
My experience with WebinarKit software
Initially when I heard about WebinarKit. I was excited about it. I built a funnel and sent a broadcast to our email list and we got 3 sales. 🙂
It was a good experience using WebinarKit. Though, now we have more advanced requirements so we're not using WebinarKit anymore.
What are the benefits of automated webinar funnels?
There are many advantages of having an automated webinar funnel in your business.
You'll make consistent sales.
You can focus on other important things that matter to you.
You're adding value in people's lives and making profits too.
Automated webinar funnels don't require any human intervention once it's live.
The automated webinar is a win-win situation for everyone.
Conclusion
WebinarKit is a very stable software and comes with an intuitive user interface that allows you to build automated webinars in minutes.
In today's WebinarKit review, we discussed the following things:
What's WebinarKit?
Pros and cons of WebinarKit
Pricing of WebinarKit
We also discussed WebinarKit Live and WebinarKit Live Agency.
WebinarKit live costs you monthly charges. I have explained about WebinarKit custom domain as well and its pricing.
I hope you found this WebinarKit review useful. If you liked this post feel free to share your thoughts in the comments below!
Use the special coupon: 300OFF
Apply the discount code at the time of checkout, and you'll get $100 OFF your purchase. If the LTD price is $399, if you apply the coupon code, you can get it at $299.
Click Here to Sign Up!
If you have got questions? Let me know in the comments, I'll answer.
My latest blog post, you can read here!