There are hundreds of funnel builders and landing page builders in the marketplace.
FlexiFunnels is another drag & drop funnel and landing page builder software. In this guide, I'll share my honest review of the new funnel builder called FlexiFunnels.
What is FlexiFunnels?
FlexiFunnels is India's first funnel builder software. FlexiFunnels is perfect for those people who want to build funnels without any prior knowledge of coding.
Since FlexiFunnels is a funnel builder, you don't have to juggle between multiple tools.
You'll get everything in one place to run your online business hassle-free.
I help clients to set up their coaching business and I know how many tools I have. Using all the tools and managing it is a time-consuming process.
Having everything in one place can help you focus on the most important things that matter to you. Especially when you don't have money and resources to build a big team. 🙂 That's where these funnel builders come in handy.
Literally, you can run your entire online business using funnel builders. You may need 2-3 other tools max but when you're getting started these funnel builders will provide you everything.
How's FlexiFunnels different from ClickFunnels?
Both software are funnel builders. The main difference is, ClickFunnels is already a well-established software. ClickFunnels is a 100 Million dollar company and it has over 100k paying customers.
On the other hand, FlexiFunnels is very new in the market. However, there is a downside of ClickFunnels, it is not affordable for beginners.
FlexiFunnel is new to the market, it may give you some early bird discounts. I saw the FlexiFunnels roadmap, they have already made a lot of features live and some of them are in the development phase.
I feel that FlexiFunnels would be a game-changer in India because it has RazorPay & Instamojo payment integration which ClickFunnels doesn't have. 🙂
If you're doing business in India FlexiFunnels would be a great funnel builder.
If you see ClickFunnels and other SaaS giants they all are international SaaS companies and they don't have any native integration with RazorPay & Instamojo.
With FlexiFunnels you can add "One-click" upsells, just like ClickFunnels.
Pros of FlexiFunnels
Blazing-fast page speed:
I did a small test with FlexiFunnels. The results were crazy. Look at the page speed of this page which is made using FlexiFunnels.
Speed test is done using PageSpeed Insights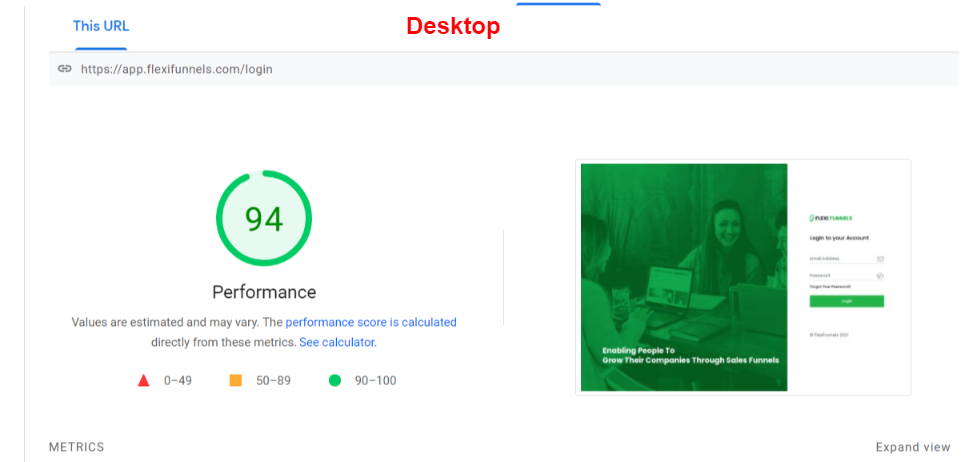 Page speed impacts your conversion rate & user experience. The faster your page loads the more conversion you can expect.
Direct payment integration with Instamojo & RazorPay
At this point, there was no funnel builder that integrated with Indian payment gateways. Now, we have got FlexiFunnels. You can create multiple funnels such as webinar funnels, one-click upsell, and you can collect payments on the same page and provide them access to whatever product/course you're selling.
Custom domain functionality
You can use your own custom domain with FlexiFunnels. Your customers will feel like it is your website. You can easily map out your domain.
Create your own Membership
You can create a members area for your users. There is a drip feature as well so your users won't be overwhelmed by seeing the amount of content you have for them. 🙂
Analytics
FlexiFunnels has a detailed reporting system of how much revenue is collected by the platform. But, some features are still in development mode. Hope they'll make it LIVE soon.
LIVE chat support
Got stuck anywhere while setting up your funnel? FlexiFunnels has live chat support. You can get your questions answered within minutes.
Popups
Collect more leads using behavior-based Popups. Just by using Popups, you can increase your lead conversion rate by 20%. For example, when a user tries to leave your site a popup will appear.
Collect their details in exchange for a free report, ebook, checklist whatever that your audience will feel valuable. 🙂 Later you can nurture them via emails and pitch your offer.
Daily Countdown timer
This timer will count down to a specific time each day. That means your countdown timer will reset every day. This is something new I am seeing in FlexiFunnels only.
Default checkout page & Thank you page
Recently FlexiFunnels made adding the "Default page & thank you page" feature live.
Cons of FlexiFunnels software
FlexiFunnels is very NEW
As I said, there are many well-established funnel builder software like ClickFunnels, Unbounce, Instapage, etc. Plus when a tool is new it misses a lot of functionality which will improve over time.
Sustainability
Imagine if you set up your whole online business using a funnel builder which is new and that funnel builder couldn't sustain in the market.
Your business might be at risk. This is another disadvantage you may face with new funnel builders.
Surely over time, these things will not be an issue. At least, in the beginning, you have to consider every aspect of the software.
Useful Features of FlexiFunnels
Beginner-friendly interface
With FlexiFunnels you can effortlessly build a high-converting sales funnel.
FlexiFunnels user interface is clutter-free that allows you to design pages in no time.
FlexiFunnels integration
Whether your business is based in India, USA, or any other country.
FlexiFunnels integrate with famous payment gateways like Instamojo (India), Stripe, PayPal, and RazorPay (India).
FlexiFunnels integrates with major webinar software and autoresponders like GoToWebinar, ActiveCampaign, Aweber, Getresponse, etc.
Drip feed feature in membership
Don't want your users to go through your course all at once? A drip-feed function would be useful for you. So your users can complete one lesson every day.
Index and Non-index pages
Don't want your sales pages to be indexed in Google search results now it is possible. You can easily set up which page you want to be indexed.
There are so many features loaded in FlexiFunnels. I have picked the best features. I hope in the coming months FlexiFunnels releases more features. If they do, I'll update them here! 🙂
Payment Integrations
Right now FlexiFunnels has four payment integrations:
Instamojo – Instamojo is for Indian users.
RazorPay – RazorPay as well is for Indian users.
Stripe – Yes, now you can integrate FlexiFunnels with Stripe payment gateway.
PayPal – PayPal is for the international market.
Should you buy FlexiFunnels?
Here's my suggestion, "You should give a shot to FlexiFunnels and try out whether it fulfills your business needs or not.
FlexiFunnels is loaded with a lot of good features. And, the founder of FlexiFunnels is a well-known marketer in India.
We can expect the software will get the job done better than any other tool out there.
Conclusion
In this FlexiFunnels Review guide, I talked about what is FlexiFunnels, how FlexiFunnels is different from ClickFunnels, and other important things such as FlexiFunnels best features, payment integrations, page speed, etc.
If you're considering buying FlexiFunnels, you should try it and see whether FlexiFunnels is suitable for your unique business needs or not.
I am confident that FlexiFunnels will be a game-changer in the future.
Frequently Asked Questions (FAQs) About FlexiFunnels
What's FlexiFunnels?
FlexiFunnels is India's first funnel builder software. You can run an entire online business using FleixFunnels.
FlexiFunnels Affiliate Program
Yes, FlexiFunnels has an affiliate program.
FlexiFunnels login
Click here and this hyperlinked text will redirect you to the FlexiFunnels login area.
Who is the founder of FlexiFunnels?
Mr. Saurabh Bhatnaghar is the founder of FlexiFunnels. He's a well-known marketer in India. He has generated over $3 Million dollars in revenue (INR 20cr) online. Saurabh had done multiple successful launches such as MarketPresso, Timeline Domination, AdsCrisp, and many more software.
FlexiFunnels Pricing
FlexiFunnels is India's first funnel builder. So the price is affordable. It can be anywhere from ₹2,500 – ₹15,000 per month depending on the plan.
Should you go with FlexiFunnels software?
If I were in your place, I'd definitely give it a try. I would sign up for the FlexiFunnels Free trial and test out the platform. If I like the software, I'll go for it. 🙂
FlexiFunnels Roadmap
I saw their roadmap, they've planned a lot of features such as webhooks, detailed reporting, menu bar, Zoom integration, and many other features.
You can have a look at FlexiFunnels roadmap here: https://feedback.flexifunnels.com/roadmap
Thank you so much for reading. If you've got questions about FlexiFunnels, ask in the comments below. I'll answer it.
Looking for a WordPress page builder? Elementor is the BEST page builder for WordPress. Read my new blog post here!