There are hundreds of funnel builders and landing page builders in the marketplace.
FlexiFunnels is another drag & drop funnel and landing page builder software. In this guide, I'll share my honest review of the new funnel builder called FlexiFunnels.
FlexiFunnels Review
Final Verdict
FlexiFunnels is more than a funnel builder. It's an all-in-one software for online business owners. FlexiFunnels replaces almost 10 software. With FlexiFunnels, you can create sales pages, courses and membership areas, checkout pages, sell and manage your online business from one place.
FlexiFunnels is India's first funnel builder software. FlexiFunnels is perfect for those people who want to build funnels without any prior knowledge of coding.
Since FlexiFunnels is a funnel builder, you don't have to juggle between multiple tools.
You'll get everything in one place to run your online business hassle-free.
I help clients to set up their coaching business and I know how many tools I have. Using all the tools and managing it is a time-consuming process.
Having everything in one place can help you focus on the most important things that matter to you. Especially when you don't have money and resources to build a big team. 🙂 That's where these funnel builders come in handy.
Literally, you can run your entire online business using funnel builders. You may need 2-3 other tools max but when you're getting started these funnel builders will provide you everything.
How's FlexiFunnels different from ClickFunnels?
Both software are funnel builders. The main difference is, ClickFunnels is already a well-established software. ClickFunnels is a 100 Million dollar company and it has over 100k paying customers.
On the other hand, FlexiFunnels is very new in the market. However, there is a downside of ClickFunnels, it is not affordable for beginners.
FlexiFunnel is new to the market, it may give you some early bird discounts. I saw the FlexiFunnels roadmap, they have already made a lot of features live and some of them are in the development phase.
I feel that FlexiFunnels would be a game-changer in India because it has RazorPay & Instamojo payment integration which ClickFunnels doesn't have. 🙂
If you're doing business in India FlexiFunnels would be a great funnel builder.
If you see ClickFunnels and other SaaS giants they all are international SaaS companies and they don't have any native integration with RazorPay & Instamojo.
With FlexiFunnels you can add "One-click" upsells, just like ClickFunnels.
Pros of FlexiFunnels
Blazing-fast page speed
I did a small test with FlexiFunnels. The results were crazy. Look at the page speed of this page which is made using FlexiFunnels.
Speed test is done using PageSpeed Insights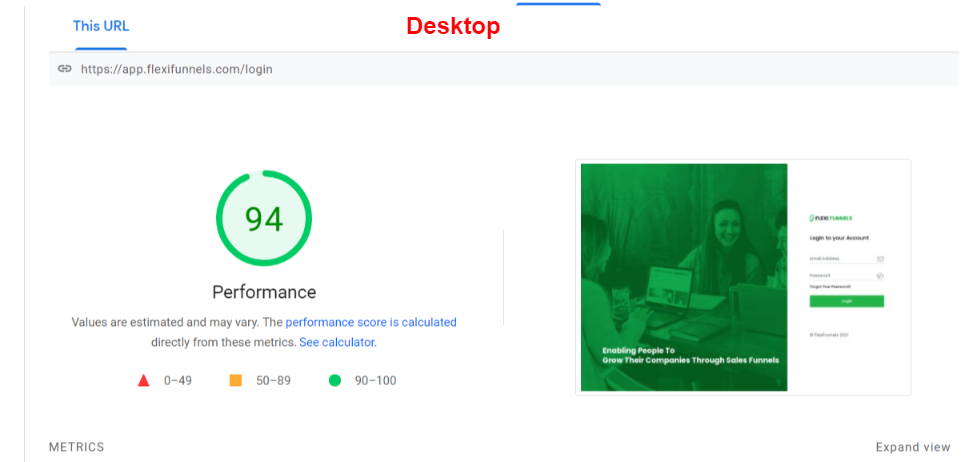 Page speed impacts your conversion rate & user experience. The faster your page loads the more conversion you can expect.
Drag & Drop Landing page builder
FlexiFunnels landing page builder allows to create any page such as,
A lead generation page,
Webinar registration page,
Replay page
Sales page,
Local business page
Product page
Or ANY kind of page that you can think of with a simple drag & drop ease.
Inside FlexiFunnels page builder, you get all kinds of customization. The detailing of all the elements is great and gives you options to create any kind of page.
SEO-optimized pages
FlexiFunnels allows you to create SEO-friendly pages. You can optimize all the pages for search engine traffic.
Lazy Load
Got too many elements and images on your page? You can turn on Lazy load option. This will load the elements as the reader goes through the page. It helps to load the page faster.
Direct payment integration with Instamojo & RazorPay
At this point, there was no funnel builder that integrated with Indian payment gateways. Now, we have got FlexiFunnels.
You can create multiple funnels such as webinar funnels, one-click upsell, and you can collect payments on the same page and provide them access to whatever product/course you're selling.
Custom domain functionality
You can use your own custom domain with FlexiFunnels. Your customers will feel like it is your website. You can easily map out your domain.
Create your own Courses & Memberships
If you are a course creator, this feature comes in handy for you. You can host your courses right inside FlexiFunnels.
One more thing is that the paid courses hosted on FlexiFunnels are 100% secure. Which means the videos can't be downloaded.
Plus, there are more security features that ensure your course piracy cannot happen.
That's a big thing if you are even a bit aware of how big a thing course piracy is. It will save & make you a lot of money as a course creator.
And, you can turn on the drip feed function. So users can complete one lesson at a time and take action. 🙂
They won't be overwhelmed by the amount of knowledge you have given them. 🙂
Analytics
FlexiFunnels has a detailed reporting system of how much revenue is collected by the platform. One single panel for all your sales reporting. So you can analyze the data and make an informed decision.
But, some features are still in development mode. Hope they'll make it LIVE soon.
LIVE chat support
Got stuck anywhere while setting up your funnel? FlexiFunnels has live chat support. You can get your questions answered within minutes.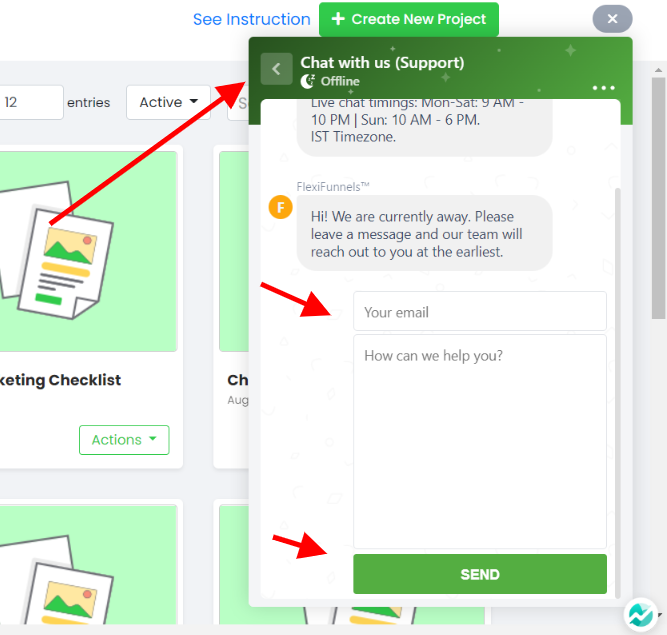 Popups
Collect more leads using behavior-based Popups. Just by using Popups, you can increase your lead conversion rate by 20%. For example, when a user tries to leave your site a popup will appear.
Collect their details in exchange for a free report, ebook, checklist whatever that your audience will feel valuable. 🙂 Later you can nurture them via emails and pitch your offer.
Daily Countdown timer
This timer will count down to a specific time each day. That means your countdown timer will reset every day. This is something new I am seeing in FlexiFunnels only.
Default checkout page & Thank you page
Recently FlexiFunnels made adding the "Default page & thank you page" feature live.
300+ done-for-you templates
FlexiFunnels offers you template for almost everything. For example, lead generation, webinar registration, sales page, etc.
Mentorship by Saurabh Bhatnagar
When you buy FlexiFunnels, you get Saurabh Bhatnagar's all of his training material for absolutely free along with the group guidance from him.
So you can learn how to build highly-profitable funnels. See, having the right tool is one thing and using the tool is another thing.
The good thing is that you'll get both things if you sign up for FlexiFunnels.
Easy to use Funnel Builder
If you have been in & around the online marketing world now, you must be knowing that "Funnels" helps you generate the maximum amount of profits online.
With FlexiFunnels you can create funnel logics. For example, lead generation – sales funnel – Upsells – Downsells – and any kind of logic that you like Creating a funnel immediately explodes up your profit margins.
I have seen results like DOUBLING or TRIPLING the amount of profits because of a good funnel.
Cons of FlexiFunnels software
FlexiFunnels is very NEW
As I said, there are many well-established funnel builder software like ClickFunnels, Unbounce, Instapage, etc. Plus when a tool is new it misses a lot of functionality which will improve over time.
Sustainability
Imagine if you set up your whole online business using a funnel builder which is new and that funnel builder couldn't sustain in the market.
Your business might be at risk. This is another disadvantage you may face with new funnel builders.
Surely over time, these things will not be an issue. At least, in the beginning, you have to consider every aspect of the software.
Slow backend
I have tested FlexiFunnels, and I can tell you that FlexiFunnels backend is slow. Everything loads a bit slow compared to other page builders like SwipePages and Unbounce.
The good thing, all the published pages load fast. But I don't why the backend is a bit slow. Hopefully, they improve it in the future.
No video hosting
FlexiFunnels doesn't allow you to host videos on their server. While FlexiFunnels allows you to build courses and membership areas.
Nonetheless, you have to host your course lessons on third-party video hosting services like Vimeo, Wisita, AWS etc.
Useful Features of FlexiFunnels
Beginner-friendly interface
With FlexiFunnels you can effortlessly build a high-converting sales funnel.
FlexiFunnels user interface is clutter-free that allows you to design pages in no time.
FlexiFunnels integration
Whether your business is based in India, the USA, or any other country.
FlexiFunnels integrate with famous payment gateways like Instamojo (India), Stripe, PayPal, and RazorPay (India).
FlexiFunnels integrates with major webinar software and autoresponders like GoToWebinar, Zoom, ActiveCampaign, Aweber, Getresponse, etc.
Drip feed feature in membership
Don't want your users to go through your course all at once? A drip-feed function would be useful for you. So your users can complete one lesson every day.
Index and Non-index pages
Don't want your sales pages to be indexed in Google search results now it is possible. You can easily set up which page you want to be indexed.
There are so many features loaded in FlexiFunnels. I have picked the best features. I hope in the coming months FlexiFunnels releases more features. If they do, I'll update them here! 🙂
Payment Integrations
Right now FlexiFunnels has four payment integrations:
Should you buy FlexiFunnels?
Here's my suggestion, "You should give a shot to FlexiFunnels and try out whether it fulfills your business needs or not.
FlexiFunnels is loaded with a lot of good features. And, the founder of FlexiFunnels is a well-known marketer in India.
We can expect the software will get the job done better than any other tool out there.
FlexiFunnels Demo Training
It's 34-minute training. That explains you everything FlexiFunnels. By the end of this FlexiFunnels training, you'll have a complete idea on how to use FlexiFunnels.
Who can use FexiFunnels?
I would say FlexiFunnels is a perfect fit for ANYONE who wants to earn or grow their profits online.
Local businesses,
Coaches and consultants,
Network marketers,
Affiliates,
Digital product creators,
Authors,
Entrepreneurs,
Digital marketers
Or anybody who wants to scale their business online.
They need FlexiFunnels. As you might know, Funnels are highly responsible for 10Xing the profit of any online business.
FlexiFunnels makes it so easy to create profit-producing funnels. That's why anybody doing any form of business online needs FlexiFunnels.
Plus, you have already seen the amount of cost "FlexiFunnels" saves you by not using 10 different products & using just one single "FlexiFunnels" software.
Frequently Asked Questions (FAQs) About FlexiFunnels
What's FlexiFunnels?
FlexiFunnels is India's first funnel builder software. You can run an entire online business using FleixFunnels. You can learn more about FlexiFunnels here.
FlexiFunnels Affiliate Program
Yes, FlexiFunnels has an affiliate program. Here's how you can become an affiliate of FlexiFunnels.
FlexiFunnels login
Click here and this hyperlinked text will redirect you to the FlexiFunnels login area.
Who is the founder of FlexiFunnels?
Mr. Saurabh Bhatnaghar is the founder of FlexiFunnels. He's a well-known marketer in India. He has generated over $3 Million dollars in revenue (INR 20cr) online. Saurabh had done multiple successful launches such as MarketPresso, Timeline Domination, AdsCrisp, and many more software.
FlexiFunnels Pricing
FlexiFunnels is India's first funnel builder. So the price is affordable. It can be anywhere from ₹2,500 – ₹15,000 per month depending on the plan.
Should you go with FlexiFunnels software?
If I were in your place, I'd definitely give it a try. I would sign up for the FlexiFunnels Free trial and test out the platform. If I like the software, I'll go for it. 🙂
Conclusion: FlexiFunnels Review
To summarize,
With FlexiFunnels you get:
Super fast speed
Drag & drop landing page builder
High converting checkout pages (Make more profits)
Integrated payment methods
India's first Funnel builder
Advanced integrations
Inbuilt fully secure course membership area
Centralized leads & sales reporting
Advanced Analytics
High level mentoring
Commercial rights
Passive earning opportunity (Automatic affiliate access)
Plus, I talked about,
What is FlexiFunnels?
How FlexiFunnels is different from ClickFunnels?
And other important things such as FlexiFunnels best features, payment integrations, page speed, etc.
If you're considering buying FlexiFunnels, you should try it and see whether FlexiFunnels is suitable for your unique business needs or not.
I am confident that FlexiFunnels will be a game-changer in the future.
I saw FlexiFunnels roadmap. They've planned a lot of features such as webhooks, detailed reporting, menu bar, Zoom integration, and many other features.
Thank you so much for reading. If you've got questions about FlexiFunnels, ask in the comments below. I'll answer it.
Recommend posts, you would like to read:
What is FlexiFunnels and FlexiFunnels Launch Date
Best WordPress Page Builder: Elementor Review
Everything You need to Know About FlexiFunnels Affiliate Program