Unable to decide on the best webinar software for your business? We have got your back as we dive into a head-to-head comparison of two leading webinar hosting platforms: WebinarJam vs. Demio.
Whether you are a course creator or a coach, choosing the right webinar hosting platform to connect with your audience is crucial. Or else, you might fail at conducting a successful webinar if you use not-so-good software.
In this guide, we'll explore different aspects of these two best webinar hosting platforms such as:
Features
Pricing
Ease of Use
Integration
So, let's dive in and evaluate both webinar hosting softwares and uncover which is the perfect fit for your business's success.
An introduction to WebinarJam Vs. Demio
WebinarJam and Demio: both of them are competent webinar hosting platforms that most business owners use nowadays.
Here's a brief introduction to both software:
WebinarJam
Being a cloud-based platform, WebinarJam helps you share your webinars and online presentations with up to 5,000 people simultaneously. Moreover, this software allows more than one host to conduct the webinars.
And with that, this webinar hosting software also carries different tools for things like reporting, customization, analytics, etc. If we talk about WebinarJam's compatibility, it is best for course creators, coaches, influencers, large companies, and digital marketers.
Demio
Demio is another webinar hosting software. It enables you to conduct live and automated webinars online. It is a handy tool and doesn't require your audience to download it to attend your webinars.
And it also comes off with a bunch of marketing analytical features. Anybody who is a coach, course creator, or entrepreneur can use this tool without any hassles.
WebinarJam Vs. Demio: A full comparison (four factors)
To help you decide on the best webinar hosting software, we have compared the features of both software. Continue reading to skim through them and make your decision.
Features
WebinarJam and Demio are two popular webinar platforms offering similar features but some differences.
Here's a comparison of their key features:
| | | |
| --- | --- | --- |
| Features | WebinarJam | Demio |
| User Interface | WebinarJam provides a user-friendly interface with easy navigation and setup. It offers a simple drag-and-drop system for creating webinars. | Demio also has a user-friendly interface, making it easy to set up and navigate through the platform. |
| Live Webinars | WebinarJam offers robust live chat features, polls, and the ability to bring multiple presenters on-screen simultaneously. | Demio also supports live chat, polls, and screen sharing, but it doesn't offer the multi-presenter feature. |
| Automated Webinars | WebinarJam excels in automated webinars, enabling pre-recorded presentations to be scheduled and played at specific times. It offers advanced features like simulated live chat and integrated payment gateways. | Demio also supports automated webinars but with fewer customization options compared to WebinarJam. |
| Attendee Engagement | WebinarJam provides interactive features like handouts, offers, and calls to action during live sessions, enhancing attendee engagement. It offers an attendee spotlight and the ability to bring attendees on-screen | Demio offers engagement features such as polls, handouts, and private chat options. |
Pricing
The followings are the pricing and plans of both software:
WebinarJam Pricing and Plans
Webinarjam has four plans, and they are: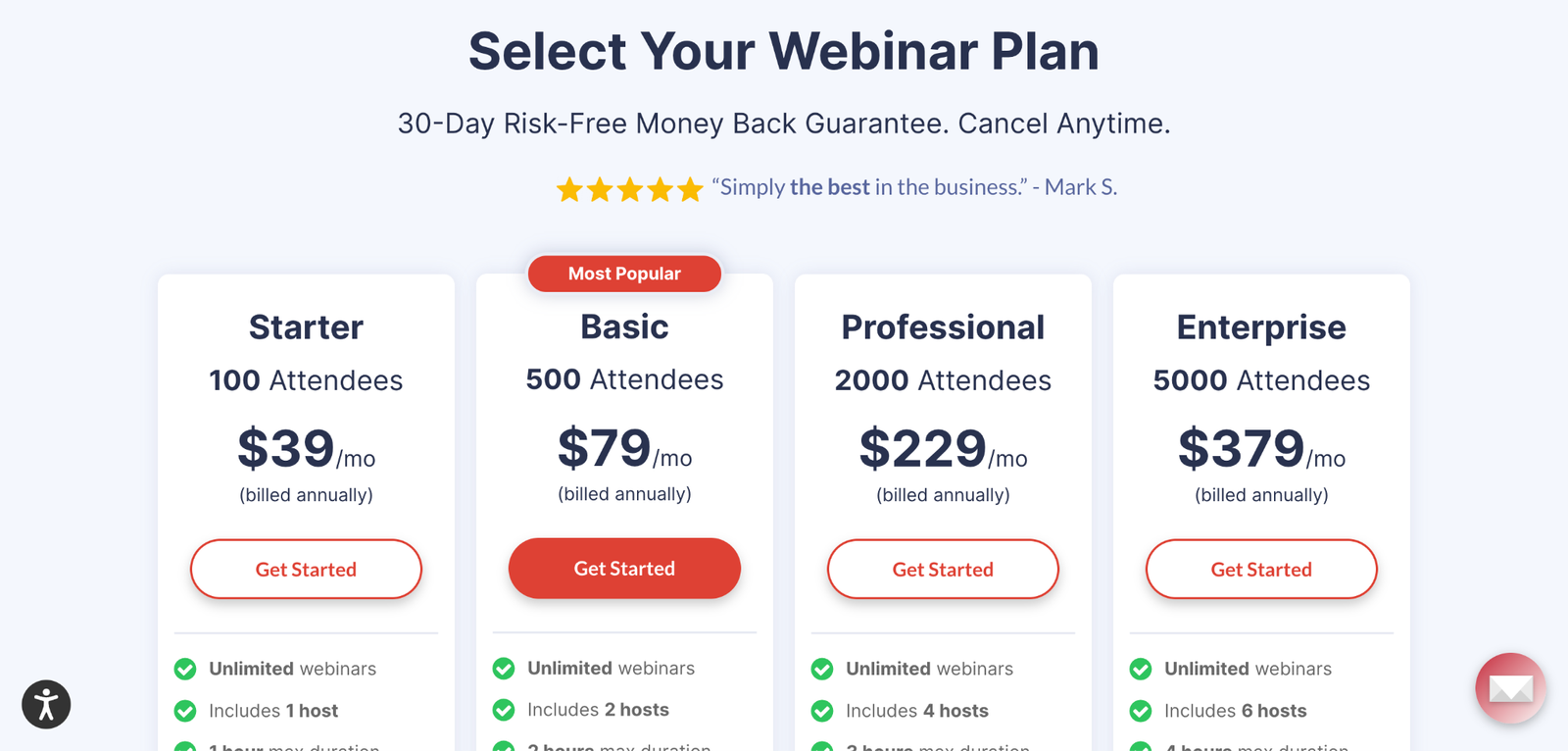 Starter – Price: $39/month, 100 attendees, one host, and one-hour maximum time with unlimited webinars.
Basic – Price: $79/month, 500 attendees, two hosts, and two hours maximum time.
Professional – Price: $229/month, four hosts, 2000 attendees, three hours maximum time, always-on live room, and panic button.
Enterprise – Price: $379/month, six hosts, 5000 attendees, four hours maximum time, panic button, always-on live room, and a control center.
Demio Pricing and Plans
Demio has three plans, and they are:
Starter: Comes at $499/yr. It is Ideal for small business owners or solo entrepreneurs and can easily accommodate up to 50 attendees.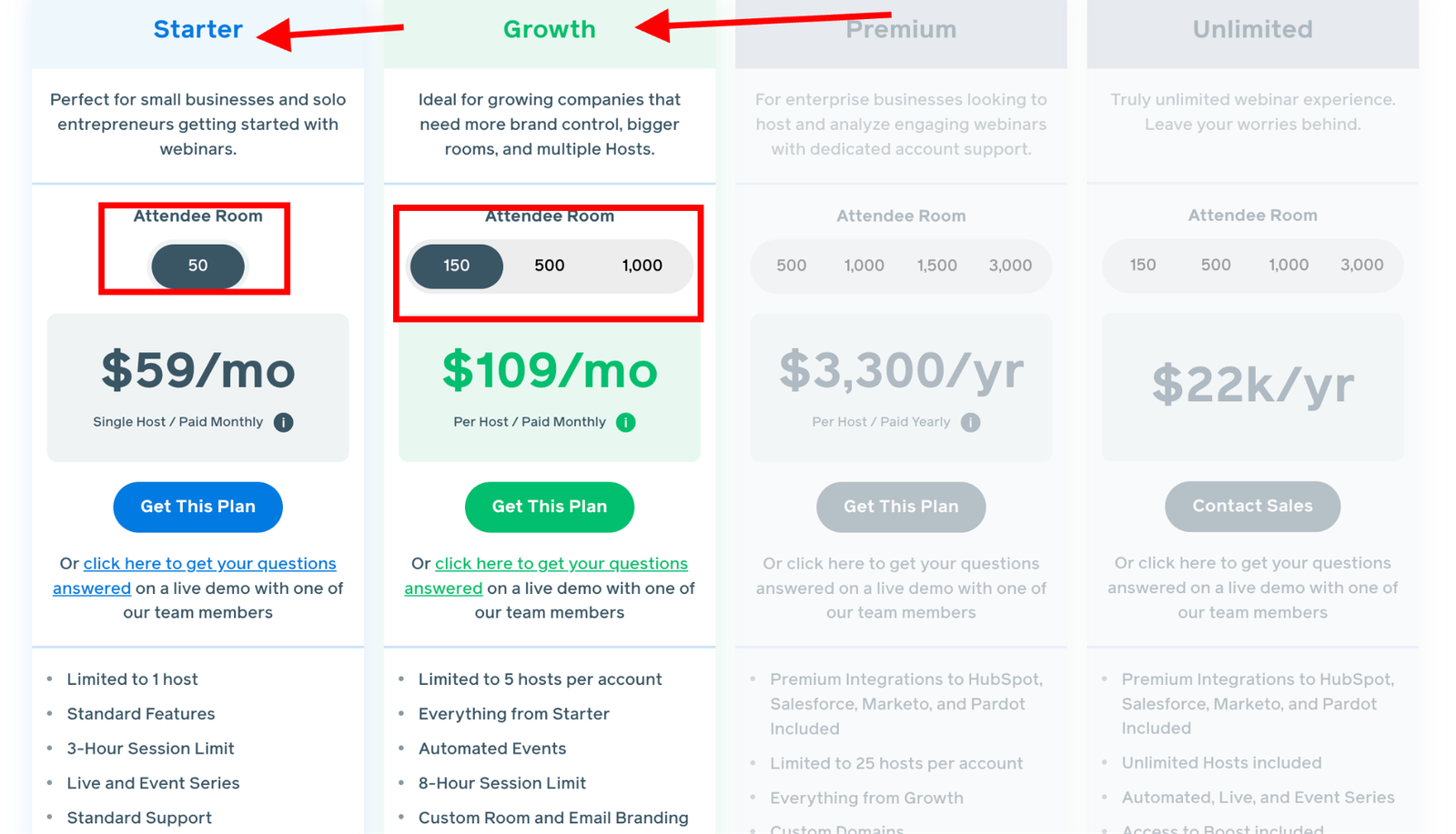 Growth: Comes at $899/yr. It allows you to do automated events, custom branding, and a ton of other tools. It also has a maximum of 150 attendees.
Premium: Starts at $3300/yr. This payment plan allows you to support 500-3,000 attendees with unlimited hosts. Moreover, it also offers priority support to its host along with integration with Marketo.
Ease of use
Both WebinarJam and Demio are known for their ease of use. WebinarJam offers a straightforward and simple setup process and intuitive controls.
It also offers a user-friendly dashboard that enables users to create and manage webinars quickly. Moreover, the drag-and-drop functionality of WebinarJam further simplifies the process of designing engaging webinar presentations.
Similarly, Demio provides a clean and intuitive interface that makes it easy for users to create and launch webinars without having any technical expertise.
Integration
WebinarJam and Demio are powerful webinar platforms that offer seamless integrations.
It integrates seamlessly with several marketing tools and platforms, including email marketing services, CRMs, and payment gateways. Some of the names are Zapier, Hubspot CRM, and ActiveCampaign.
Whereas Demio is also no less than WebinarJam. It also has seamless integrations with various marketing tools such as Zapier, Gmail, MailChimp, etc.
WebinarJam Vs. Demio: Which service should you choose?
Choosing between WebinarJam and Demio depends on your specific needs and priorities.
WebinarJam provides robust broadcasting capabilities, interactive tools, and marketing features, making it suitable for large-scale webinars.
On the other hand, Demio focuses on simplicity, user-friendliness, and automated event management, making it ideal for smaller, more streamlined webinars.
Demio's integrations with marketing tools and lead nurturing features make it a strong choice for businesses focused on lead generation and conversion.
You can consider things like webinar scale, interactivity needs, automation requirements, and ease of use to determine which service aligns best with your objectives.
Conclusion
In summary, WebinarJam is well-suited for users who require advanced live and automated webinar features. At the same time, Demio is a solid choice for users who prioritize ease of use and simplicity.
Both platforms offer reliable webinar solutions, so the choice depends on specific requirements and preferences.