EmailOctopus is trusted by more than 50,000 customers and delivers over 19 billion emails a year. When that many email marketers are taking advantage of it, why would you sit back and miss the opportunity?
Email marketing doesn't have to be expensive or complicated. With EmailOctopus, you can design stunning emails, send them to your target audience, and measure your results with powerful analytics.
In this EmailOctopus review, I'll explain how it is a simple, reliable, and affordable way to grow your email list and engage your subscribers. Are you ready to begin?
What is EmailOctopus?
EmailOctopus is a service that allows you to send emails to your subscribers for a more economical price than many other email marketing services.
It offers a drag-and-drop email builder, powerful analytics, and bounce-tracking features.
With EmailOctopus, you can create custom email campaigns, segment your list, and grow your audience with customizable forms and landing pages.
EmailOctopus Pros and Cons
Pros
Affordable pricing
Easy-to-use email editor
Powerful analytics and reports
Flexible and scalable platform
Tagging system to segment your subscribers
Powerful segmentation features
Cons
Limited features in terms of automation
Requires Amazon SES account if you want to send unlimited emails
EmailOctopus logo on emails in free plans
No 24×7 live chat support
My Experience with EmailOctopus?
I am using ActiveCampaign but looking for another autoresponder, as my list was growing rapidly. So after a bit of research, I found EmailOctopus.
I have been using EmailOctopus for over 2 months, and so far, everything is great. I am very happy with it.
I sent a few campaigns and got good open rates. As you can see in the screenshot.
It is a great email marketing tool for bloggers like me who want to grow their audience and traffic without breaking the bank.
EmailOctopus integrates with Amazon SES, which is a reliable and cost-effective email delivery service. I use it to send high volumes of emails without worrying about deliverability or spam issues.
I can easily get access to powerful analytics and reports that show me how my emails are performing in terms of open rates, click rates, bounce rates, and unsubscribe rates.

With EmailOctopus, I can create beautiful and engaging emails that match my blog's style and personality.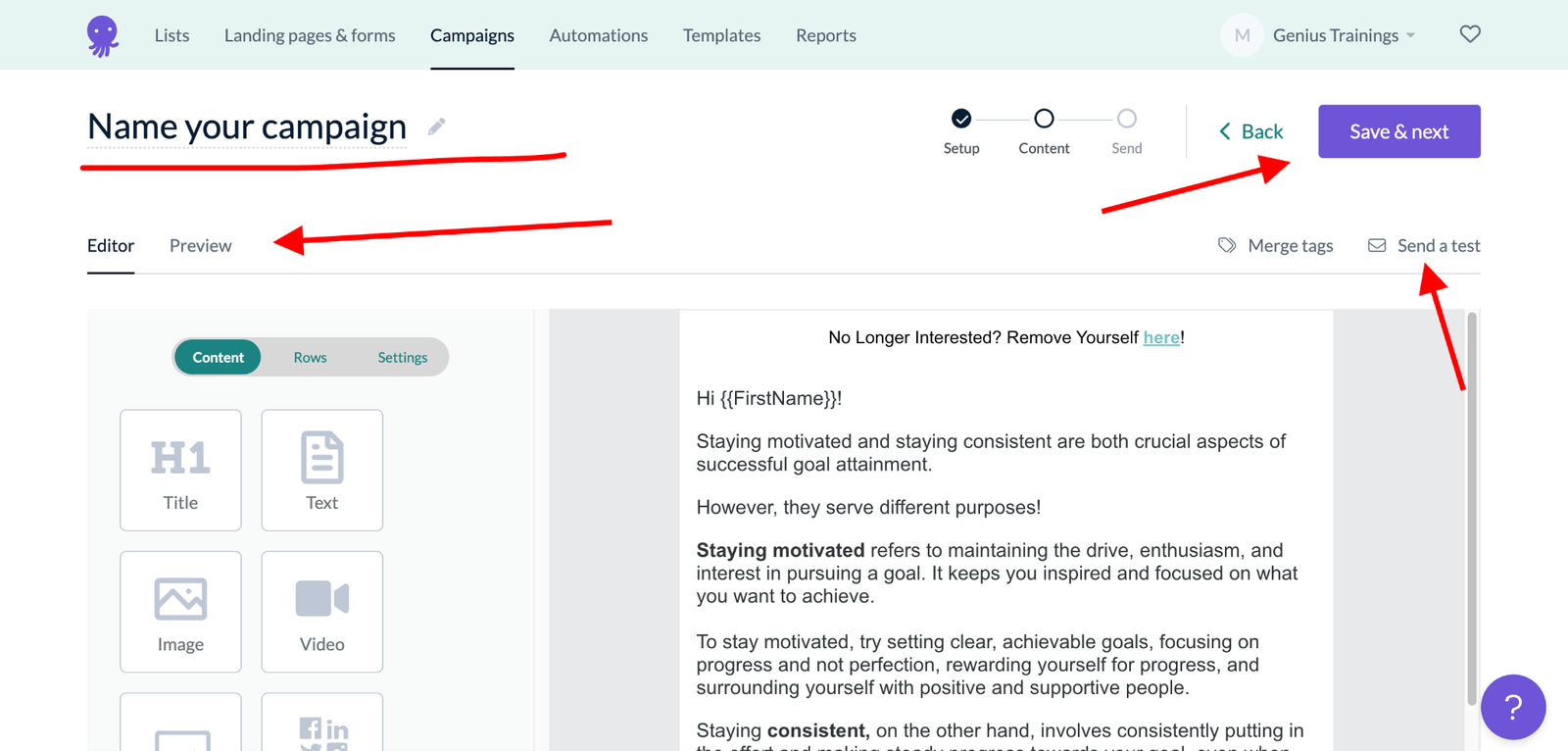 It makes it super easy for me to add images, videos, emojis, and more to make my emails more interesting.
When I tailored my emails with EmailOctopus, it increased my engagement and conversions on my blog. I sent a campaign to 2,375 subscribers and I got 19.79% open rates. Which is good!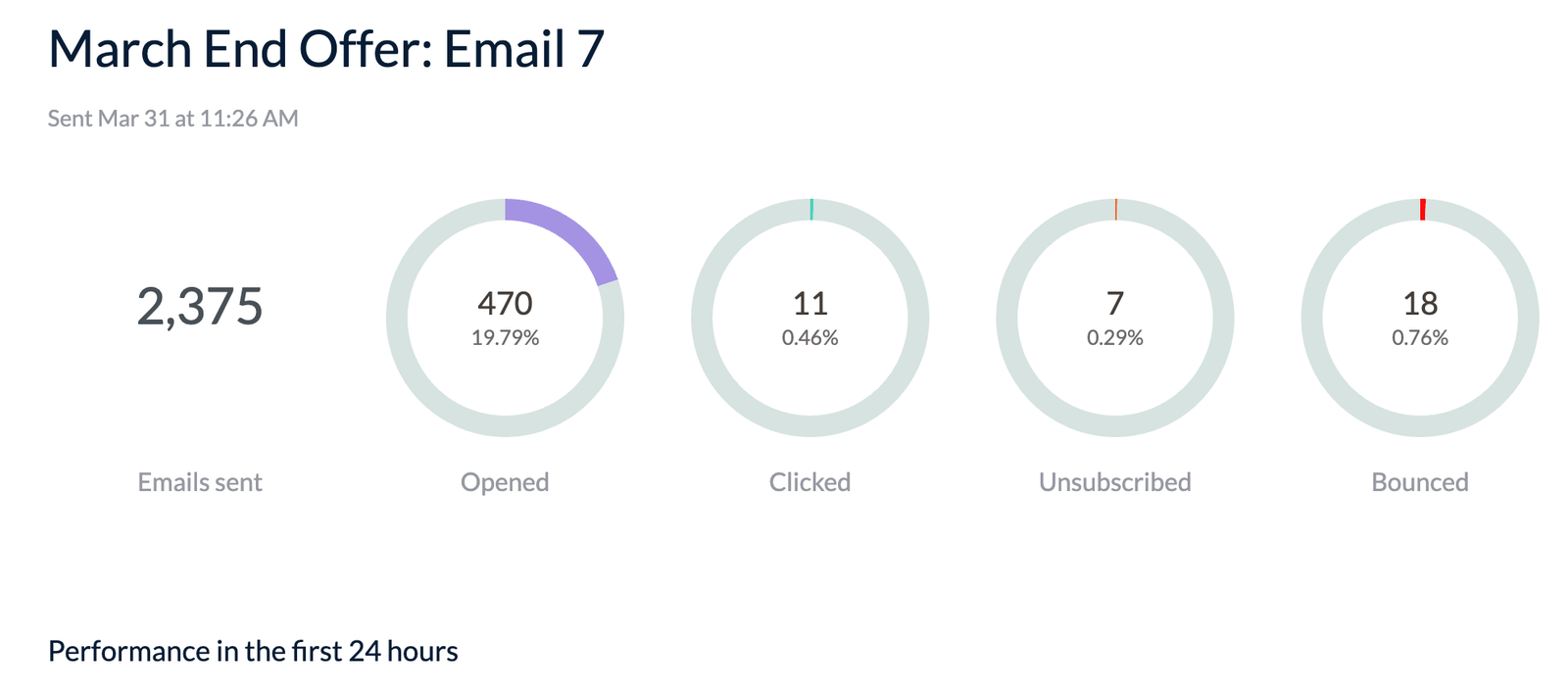 And, these are not super active subscribers. But still got good email open rates.
This feature gives you an easy way to create content that suits subscribers' interests and preferences.
EmailOctopus is one of the most affordable email marketing tools on the market. I started with a free plan but later upgraded to a paid plan when I needed more features or contacts.
EmailOctopus Pricing Plans
EmailOctopus offers two different pricing plans – and you can choose the one that fits your budget and needs.
Here is a brief explanation of each plan:
Starter is a free plan that lets you send up to 10,000 emails to a list of up to 2,500 subscribers each month. You can create up to 3 landing pages and forms with 1 user. In the free plan, your emails will have EmailOctopus branding or logo on them.
Pro plan starts at $8 per month for 500 subscribers and 10000 emails – where you can send logo-free emails. It unlocks reports available forever, unlimited landing pages and forms, unlimited users, priority support, and more features.
EmaiOctopus offers another price which is EmailOctopus Connect. If you sign up for this plan, you'll need to have an Amazon SES account, because all the emails will be sent through the Amazon SES server.
SES stands for Simple Email Service.
If You're An Amazon SES user, you can get the pro plan at $7 per month and can send unlimited emails.
Amazon SES is pretty cheap, and if your account is new, then for the next 12 months, you can send up to 60,000 emails per month without any cost!
After that, for every 1000 emails, you'll pay $0.10 cents. If you send 10,000 emails, it will cost you $1 only.
NOTE: Amazon SES doesn't approve everyone. Before you sign up for an EmailOctopus Connect account, ensure you have an approved AWS account.
Click here to explore EmailOctopus Pricing Plans
EmailOctopus Integrations
EmailOctopus integrations have been a great way to enhance my email marketing experience. You can integrate EmailOctopus with more than 47 apps that can help you with various aspects of email marketing.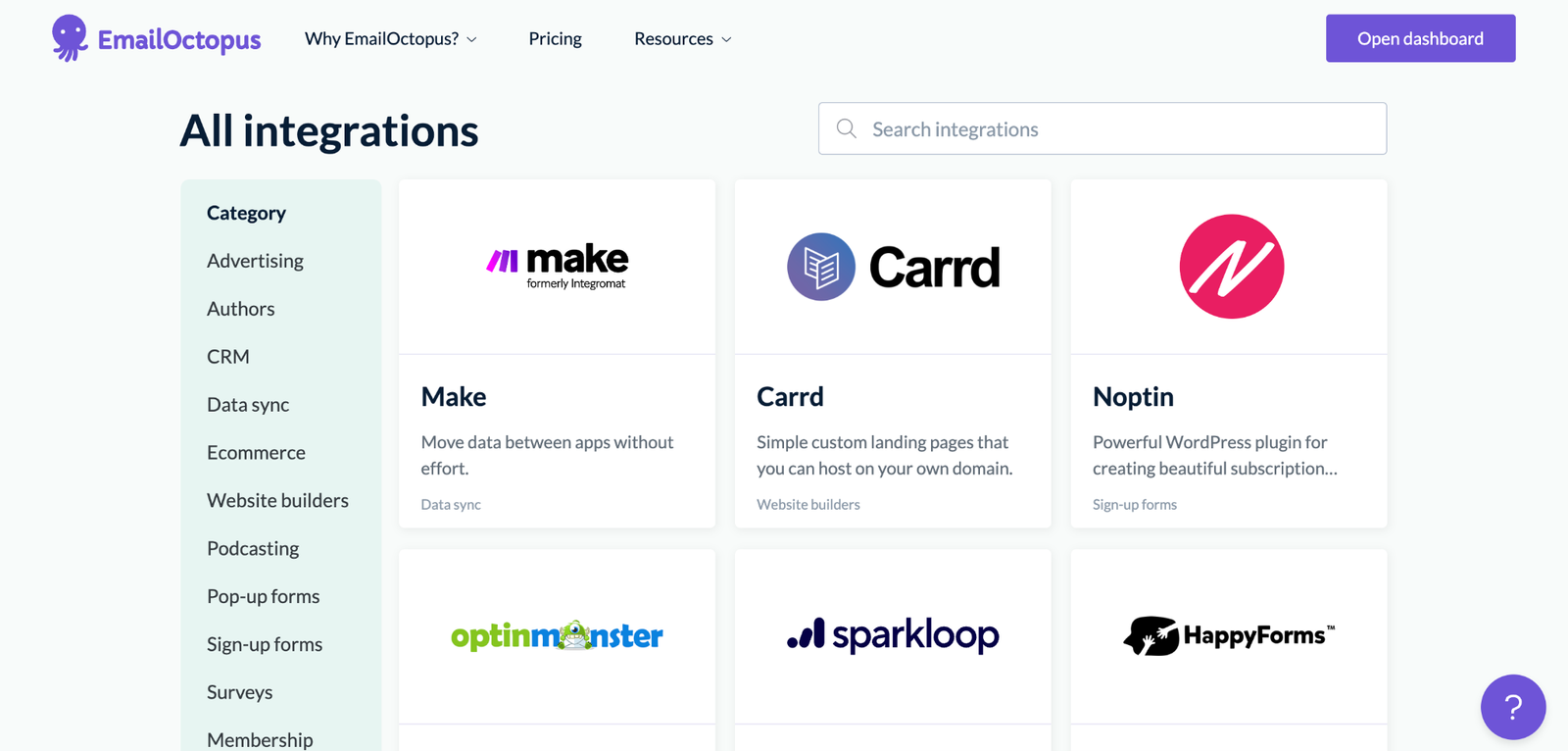 I can't name all of them here, but some prominent ones are WordPress, Pabbly Connect, Zapier, Shopify, Carrd, Noptin, OptinMonster, and Integrately.
If you integrate it with Zapier, it means you sync data between EmailOctopus and the other 5,000 apps connected to Zapier.
EmailOctopus Alternatives
1. MailerLite
MailerLite is a top alternative to EmailOctopus. It lets you send up to 12,000 emails per month to a list of up to 1,000 subscribers for free. You can also access some features such as landing pages, pop-ups, and surveys on the free plan.
Compared to EmailOCtopus, MailerLite provides you with an AB testing facility. You can test different versions of your emails like subject lines, sender names, content, and delivery times, and see which one performs better.
MailerLite's paid version unlocks at $10 per month for up 1,000 – that EmailOctopus offers in its free plan.
The paid plan increases based on your subscribers' list and goes up to $1,881 per month for 1 million subscribers. Most email marketing tools charge you based on the number of subscribers you have.
MailerLite offers some advanced features that EmailOctopus does not, such as,
automation workflows,
segmentation groups,
video blocks,
and RSS campaigns.
If you don't have a large number of subscribers and want to test your email versions using AB testing, MailerLite might be a good option for you.
2. ActiveCampaign
If you deal with e-commerce businesses and can also afford expensive tools, I'd recommend going for ActiveCampaign.
ActiveCampaign is more than just an email marketing tool. It is a platform that helps you create personalized customer experiences across all channels and through the entire customer lifecycle.
ActiveCampaign allows you to connect and align your sales, marketing, and service teams with a unified view of your customers.
It outperforms EmailOctopus with some features such as,
e-commerce personalization,
conversational marketing,
and attribution software,
Powerful automation builder.
ActiveCampaign has four pricing plans that depend on the features and contacts you need. The Lite plan (basic) starts at $39 per month for 1000 contacts. If you go with the annual plan, the same plan will cost $29/month.
3. GetResponse
If you love automated campaigns and keep your subscribers engaged and happy on every occasion, GetResponse is your marketing tool.
I would suggest this tool for its automated campaigns that trigger based on your subscribers' behavior and preferences.
It lets you send birthday emails, split automation, contact tagging and scoring, and more.
GetResponse allows you to send unlimited emails per month to a list of up to 500 subscribers for free. You can also access some features such as landing pages, forms, surveys, and webinars on the free plan.
GetResponse is not very costly and has three pricing plans that depend on the features and contacts you need. You can pay as little as $19 per month for 1000 subscribers or as much as $79 per month for 10,000 subscribers.
Marketing automation plan gives more features such as automation builder, webinars, and e-commerce tools. If you buy a Marketing Automation plan and host 10,000 subscribers, you'll end up paying $114/month. If you buy the annual plan, it will cost you $93.48/month.
How to Sign Up on EmailOctopus?
Signing up on EmailOctopus is a piece of cake. You can do it in a few minutes and start sending your first campaign right away. Here are the steps you need to follow:
Click here to visit the EmailOctopus website and click on the "Get Started" button under the "Start for Free Today" label when you scroll down on the website.
Enter your email address and password.
Activate your account through a verification link sent to your email.
You will be taken to a page where you can choose your plan.
Now, you will be asked to enter some information about yourself and your business, such as your name, company name, website, and address.
Then you will be prompted to create your first list of subscribers. You can name your list, add a description and import your existing contacts from a file or another service.
You're ready to create your first campaign and send it to your subscribers.
EmailOctopus Customer Service
You can always reach out to the friendly and helpful customer service of EmailOctopus to get immediate answers to your queries. They have options of emails, live chat, and FAQs to assist you in the quick and best way possible.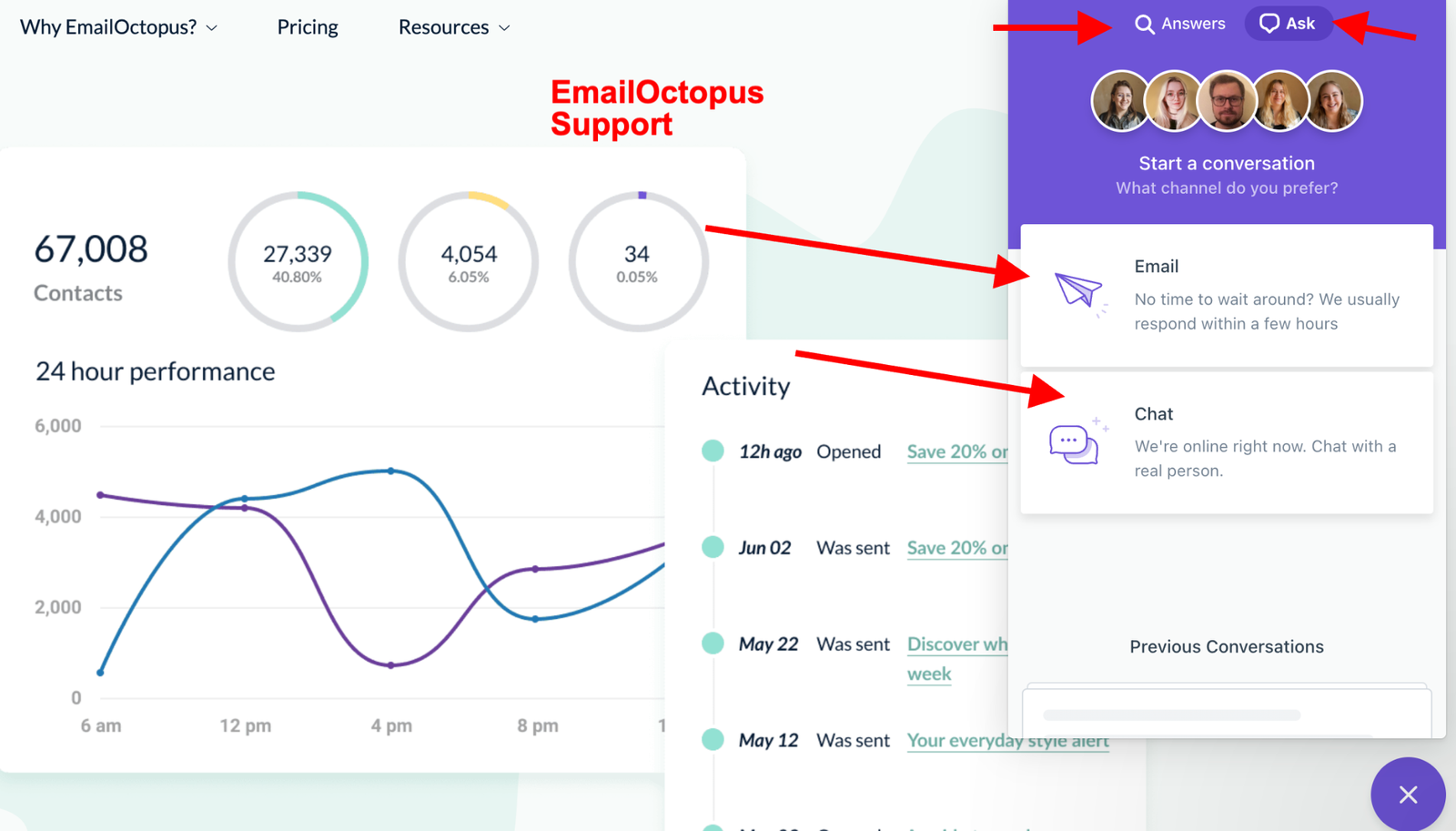 You can find a "Question Mark" icon at the bottom right corner; click on that to read FAQs. And for live chat and email, click the "ask button" right to the FAQ answers.
Final Thoughts on EmailOctopus,
And that's a wrap up! I've given you a glimpse of EmailOctopus, its pros and cons, and how it compares to other tools in the same niche today. It can help you grow your audience and reach with email marketing like never before.
Why wait? You can sign up for free today and launch your first campaign in minutes.
EmailOctopus is the perfect choice for you if you're looking for an affordable and best software to take your email marketing game to the next level.
You can send unlimited emails even in the FREE plan if you sign up for the EmailOctopus Connect plan. But you do need to have an approved AWS account.
Last but not least, if you have any questions about EmailOctopus, drop your comments below. I will answer!
Thank you so much!