Either you're an experienced webinar host who's looking to upgrade their live event streaming skills, or a total newbie trying to get your feet wet in the world of online events, you're probably already familiar with the popular webinar platform Demio.
After all, it has an excellent feature set that helps you easily create amazing online events.
But Demio might not be enough for those who are more ambitious in their goals and want to explore something that can take your webinars to the next level.
You need something special, something different…something better! That's where Demio alternatives come into play.
Here, we'll take a look at some of the best and most popular alternatives to Demio when it comes to hosting live events or pre-recorded webinars.
We'll also discuss what features they offer and how they stack up against Demio regarding ease of use, value for money, and customer service.
So let's get started!
1. WebinarKit LIVE
Pricing: Paid plan starts at $36.75 per month with a 7-day trial for $1.
Best For: Educators and trainers, Course creators, Coaches
Unique Features: Insanely powerful and affordable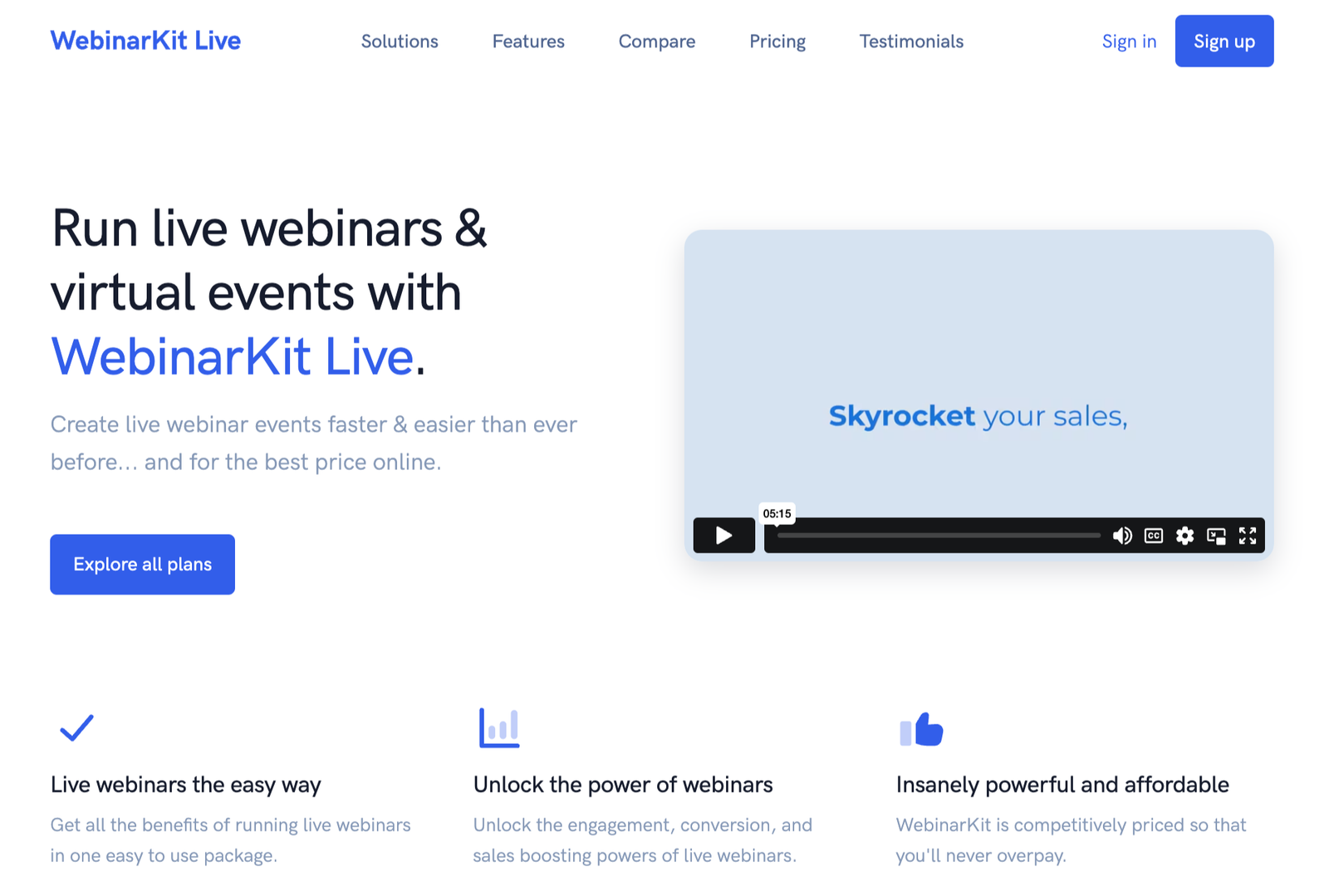 About the tool
WebinarKit LIVE lets you unlock the engagement, conversion, and sales-boosting powers of live webinars. It is an incredible Demio alternative that makes everything super easy and fast.
WebinarKit LIVE can run fully live webinars with a simple, worry-free experience for both you and your audience. It comes with all the essential marketing tools you need to see better results.
WebinarKit LIVE Key Features
WebinarKit Live can give a detailed reporting of each user who signs up for your webinar.
It helps you share or hide your webcam while sharing your computer screen, slide deck, or pre-recorded audio/video.
It has fast and mobile-friendly loading pages with embeddable registration forms.
You can stream your live webinar to other platforms such as Facebook, YouTube, and Twitch to reach a wider audience and increase your visibility.
Guide: WebinarKit LIVE Review
Pricing
It offers 3 pricing plans with a 7-day trial for $1 each. If you bill monthly, it charges: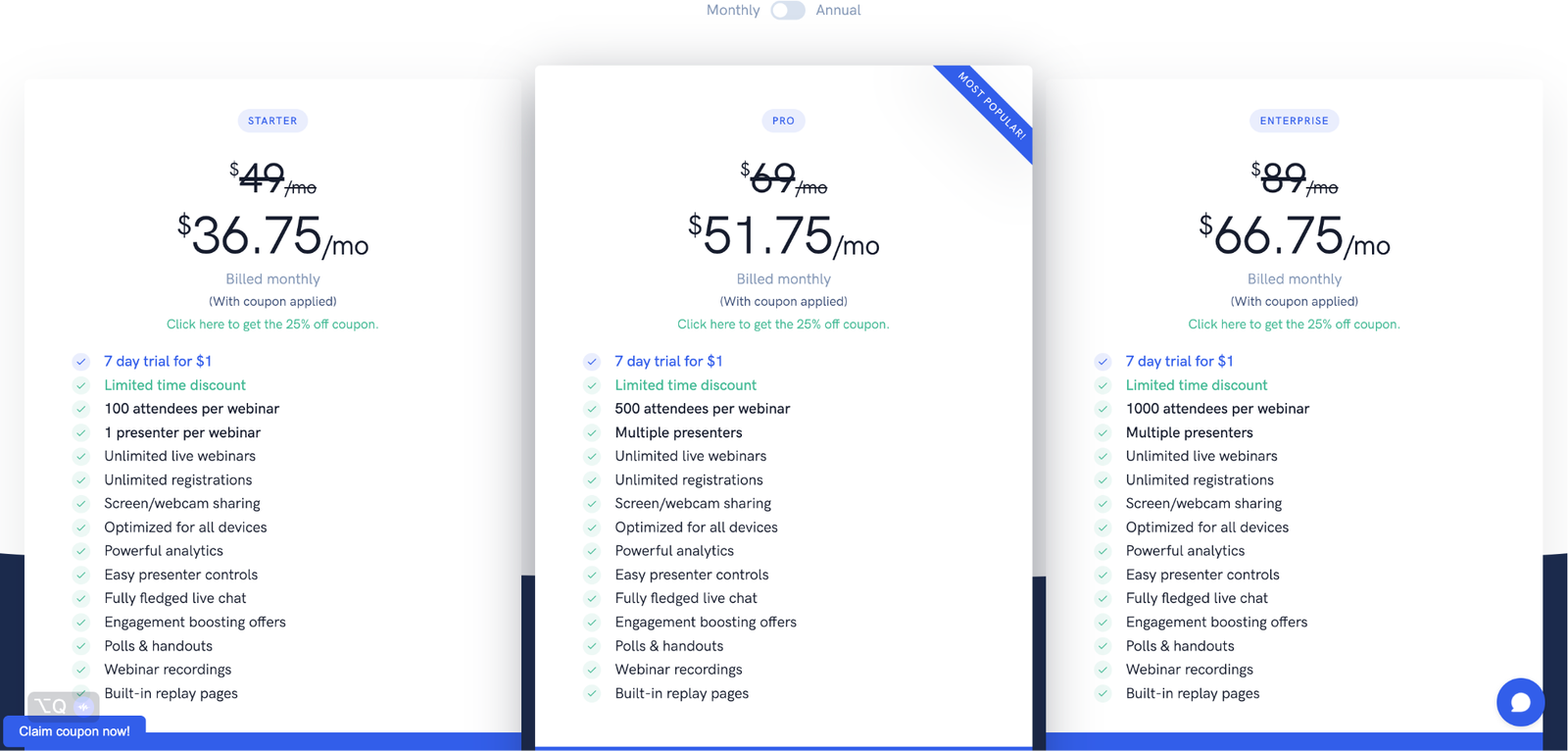 Starter Plan: $36.75 per month
Pro Plan: $51.75 per month
Enterprise Plan: $66.75 per month
2. EasyWebinar
Pricing: It unlocks at $99 per month, and you can try it for free
Best For: Entrepreneur, Creator, Business Owner
Unique Features: Ability to host both live and automated webinars with the same platform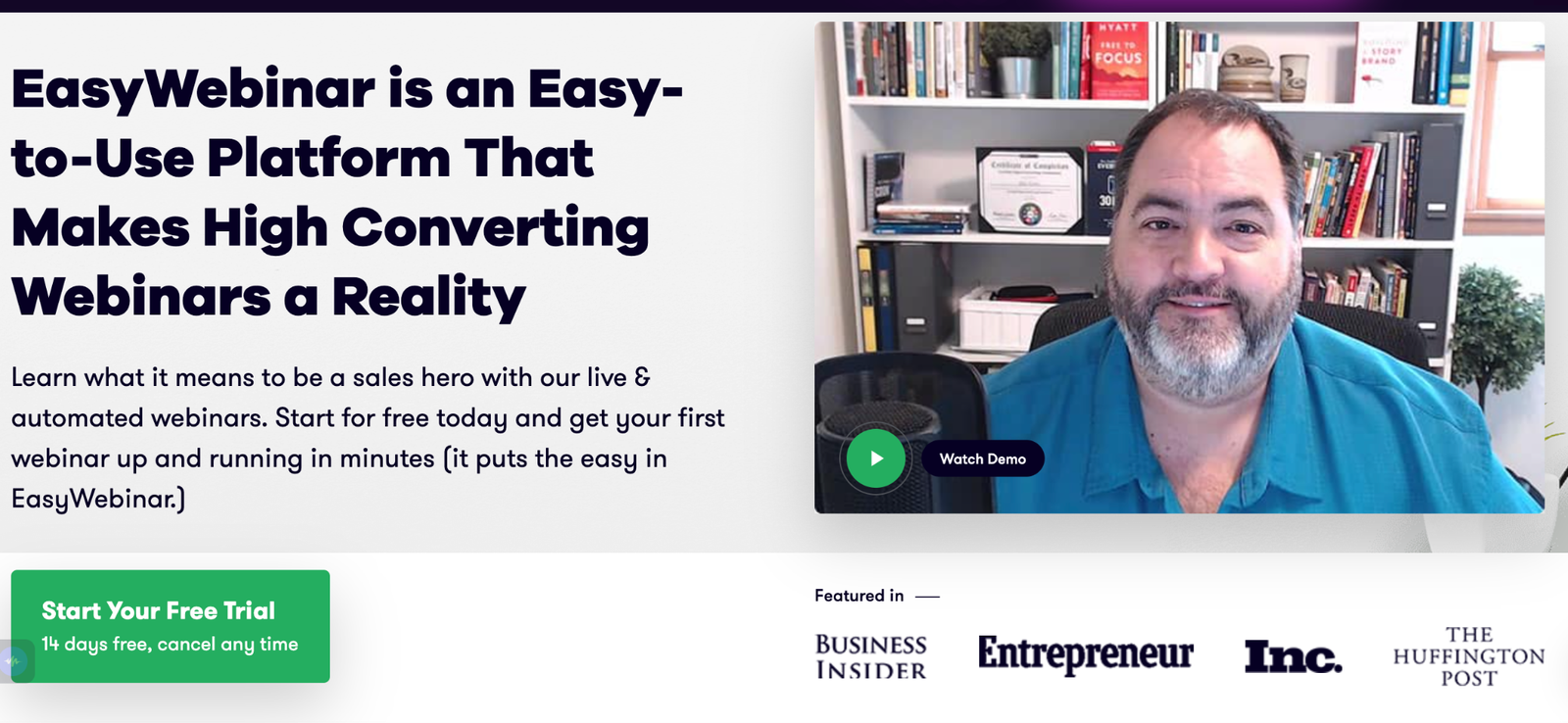 About the tool
EasyWebinar is an easy-to-use platform that makes high-converting webinars a reality. It offers both live and automated webinars. EasyWebinar offers a 14-day free trial.
It can be used to generate leads, grow your email list, onboard new customers, sell physical and digital products, demonstrate your product or software, build your credibility in your industry, and more.
EasyWebinar teaches a 5-step process for creating a successful webinar campaign.
EasyWebinar offers action-based analytics to bring the most qualified leads to the forefront.
It has received positive reviews for its ease of use and fast customer service.
EasyWebinar Key Features
EasyWebinar features a 5-step process for creating successful webinar campaigns: With this, you can follow a simple and proven framework to plan, create, promote, host, and follow up on your webinars.
It offers action-based analytics to identify the most qualified leads to track and measure the behavior and actions of your attendees.
You can use it for various purposes and goals like lead generation, email list growth, customer onboarding, product sales and demonstrations, and credibility building.
Pricing
It offers three pricing plans and unlocks additional features with each one. It gives you two months free with annual billing, but If you pay monthly:
Standard Plan costs $99 per month
Pro Plan unlocks at $199 per month
Enterprise Plan starts at $499 per month
3. ClickMeeting
Pricing: First paid plan costs $30 per month
Best For: Course Creators, Small Business Owners
Unique Features: It displays a button that opens a URL and performs a specific action, such as buying.
About the tool
Hosting more than 20 lakh events, ClickMeeting is a web-based platform that enables you to run online events that engage your attendees.
You can choose from webinars, workshops, training, or conferences and use ClickMeeting's tools to set them up, invite participants, present your material, get feedback, and record your sessions.
ClickMeeting Key Features
Webinar monetization feature of ClickMarketing lets you sell access to your online courses and training sessions, and transform your expertise into a primary or additional revenue source.
The automation feature helps you record and reuse your webinar content to make it work for you longer. You can schedule automated or on-demand webinars and send follow-up messages and invitations.
With the help of breakout rooms, you can create up to 20 dedicated spaces for virtual classrooms and training sessions.
You can stream your events live on Facebook or YouTube to reach a wider audience and increase your social media presence2.
Pricing
ClickMeeting provides one free and three paid plans with personalized features. You can save up to 20% on annual billing, but if you pay monthly:
Live plan costs $30 per month
Automated Plan charges $45 per month
Custom Plan that depends on your requirements.
4. BigMarker
Pricing: You can request a quote and negotiate
Best For: Virtual event organizers, Online content creators
Unique Features: end-to-end webinar solution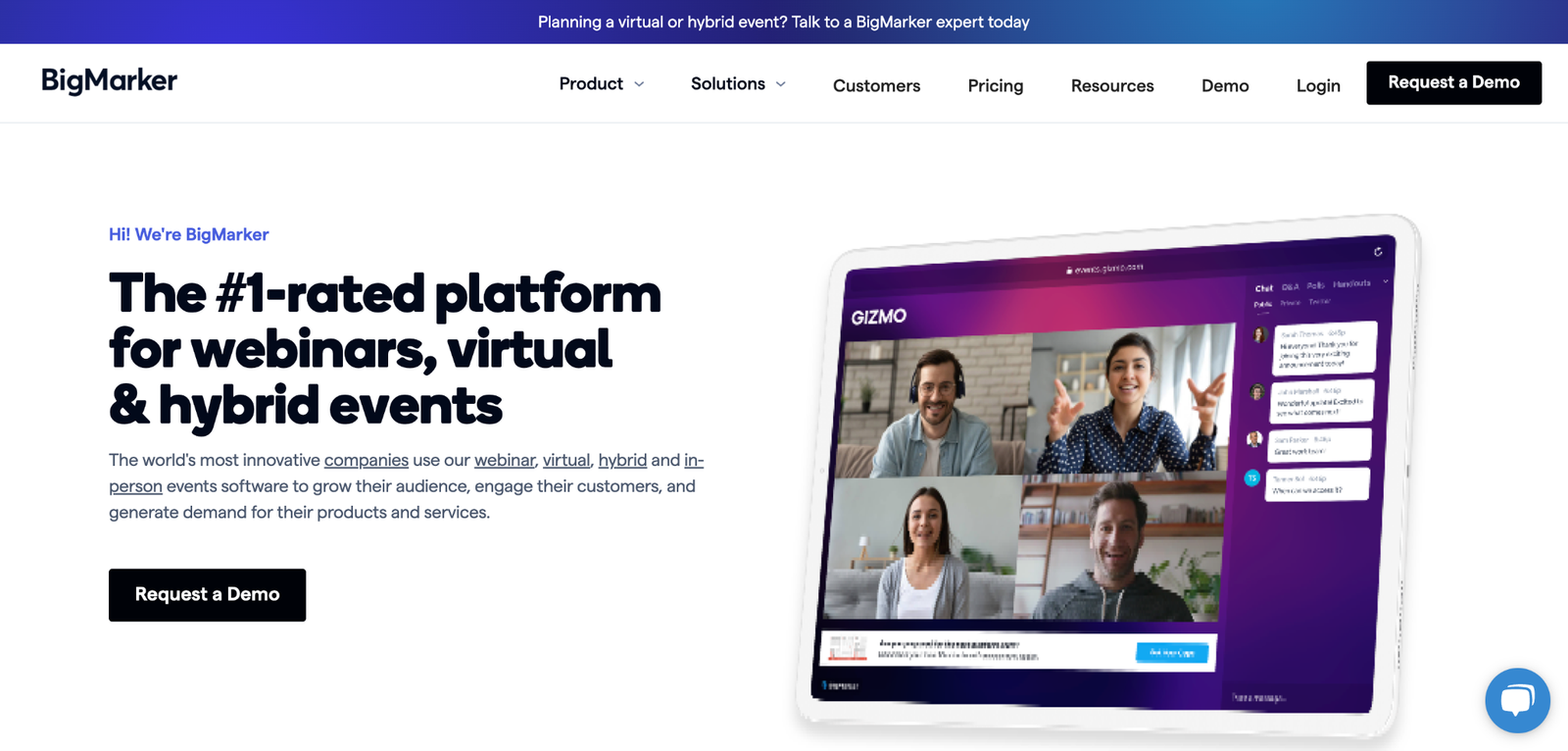 About the tool
Trusted by millions of events, BigMarker is a no-download webinar software combining modern marketing technology and interactive features.
I added BigMarker as a Demio alternative because it is hosted yearly by some of the world's most innovative companies, such as CNBC, Freshworks, Harvard, Netflix, and Airbnb.
Its automated webinars, live chat, polls, whiteboard features, and integration with marketing and CRM tools make it better than Demio.
BigMarker Webinar Tool Key Features
BigMarker is the most customizable platform for webinars and virtual and hybrid events.
BigMarker provides everything you need to design, build, and execute any kind of impactful webinar with ticketing, networking, and sponsors built-in.
BigMarker features interactive streams, polls, quizzes, handouts, chat, and Q&A facilities.
BigMarker integrates with your CRM and other tools to connect your data back to your workflows and measure your ROI.
Pricing
BigMarker offers a remarkable and distinctive way of setting its pricing plans. They display their three plans with features and invite the user to "Request a Quote" and name their price for the plan.
5. WebinarNinja
Pricing: First paid plan starts from $29
Best For: Coaches and creators who want to teach and sell through webinars.
Unique Feature: Its CourseNinja feature allows you to create and sell online courses.
About the tool
With over 30,000 users, WebinarNinja is an all-in-one live webinar that supports live, automated, series, and hybrid webinars to suit your different needs and goals.
It is a favorite tool for coaches, creators, and freelancers to create, host, and share webinars with no worries.
WebinarNinja brings you built-in tools from email marketing to paid webinars and customization that you can use to grow your audience.
One of the amazing features of WebinarNinja is that it lets you create your first webinar in 10 seconds.
WebinarNinja Key Features
It brings you four types of webinars: real-time live webinars, automated webinars, series of multiple webinars on one topic, and hybrid webinars with live interaction for the best of both worlds.
It has a built-in email and landing page to help you easily boost your marketing game.
You can integrate it with all your favorite CRM and email software and use its analytics feature to track the records of all your customers.
Offers: Create attractive, pre-packaged, high-converting sales offers to embed into your presentations.
Pricing
WebinarNinja gives you a 14-day free trial with each of its three paid plans:
Basic Plan costs you $29 per month with 50 attendees.
Pro Plan starts at $99 per month with 100 live attendees.
Business Plan unlocks at $199 per month and lets you connect 100 attendees each month.
6. eWebinar
Pricing: Level 1 plan starts at $99 per month
Best For: B2B buyers who want to automate their webinars
Unique Features: It's around-the-clock scheduling. This means that you can set up a recurring schedule in your attendee's timezone so they can watch your webinar on their schedule.

About the tool
With eWebinar, you can turn any video or webinar into a lively and interactive event that runs by itself. Engage with your attendees, answer their questions, and collect their feedback in real-time.
eWebinar is easy to set up and use. You can upload any video, webinar, presentation, or training into eWebinar, set a recurring schedule, and go live in 10 minutes.
eWebinar Features
eWebinar features automated webinars to let you turn any video, webinar, presentation, or training into an automated webinar that runs on a recurring schedule or on demand.
You can add pre-populated questions, polls, downloads, tips, and offers that show up at the perfect time during your eWebinar.
It lets you deliver a pro-quality presentation that looks and feels world-class. You can also customize the design and branding of your eWebinar.
You can host as many attendees and sessions as you want without extra cost or hassle.
Pricing
Level 1: $99 per month with up to 1 active webinar
Level 2: $199 per month with 2-5 active webinars
Level 3: $299/month with 6 – 15 active webinars
7. Get Response Webinar
Pricing: Starts at $59/month
Best For: building your marketing list through interactive web-based seminars.
Unique Features: create on-demand webinars that your audience can watch anytime they want

Brands like IKEA, Hilton, and Unicef trust Get Response Webinar, which has more than 350,000 customers across 183 countries. Its popularity and wide range of audiences make it a good alternative to Demio.
You can create beautiful newsletters, capture more leads, host engaging webinars, and automate your marketing with one platform.
It helps you build your audience and increase your sales with powerful marketing tools that work together.
Get Response Webinar Tool Features
Get Response is a web-based platform that creates and hosts live and on-demand webinars.
It integrates email marketing with landing pages, invites, reminders, and follow-ups to ease your business.
It has in-built interactive tools for sharing content, collecting feedback, and promoting offers for your audience.
It also includes analytics and insights for tracking and optimizing webinar performance.
Pricing
Get Response Webinar is included with their email marketing plans. And webinar function is included in the marketing automation plan.
The Marketing Automation plan starts at $59/month for 1000 subscribers.
You can host only LIVE webinars for up to 100 attendees. Check out the screenshot below!
When you go with the 12-month plan, you get 18% off.
Final Thoughts on Demio Alternatives
There's no one-size-fits-all when choosing the best webinar platform for your business, but Demio is one of the most popular options.
Its features make it an ideal choice for businesses in various industries and all sizes.
From its customizable registration pages, analytics and insights, and reliable streaming capabilities, Demio hits all the right notes when it comes to hosting successful webinars.
If you're still considering alternatives, WebinarKit Live will give you a similar experience as Demio.
If you have any questions, let me know in the comments below. I will answer!