Are you considering switching from WebinarJam due to its complexity or unsatisfactory features? Perhaps you're overwhelmed by the numerous alternative options available.
Don't fret; we've got you covered! This guide will help you navigate through the maze of alternatives and select the perfect fit for your business.
But before we delve into the top WebinarJam alternatives, let's examine why people are seeking them in the first place. 
Why Look for a Webinarjam Alternative?
Although WebinarJam is a versatile tool providing users with various features, it is not everyone's cup of tea. Here are a few reasons why you might need to look for the WebinarJam alternatives:
WebinarJam is expensive compared to the other software's providing the same features but at a more user-friendly cost.
WebinarJam is complex and is not a beginner-friendly platform.
Users have also reported technical issues occurring during webinars.
It does not integrate with every marketing platform.
Customization features are limited.
Best WebinarJam Alternatives 
| Tool | Best For | Highlights | Free Plan | Starting Price |
| --- | --- | --- | --- | --- |
| WebinarKit LIVE | Best for marketing features | Integrates with third-party email platforms for managing the contacts | No | starting from $36.75/month |
| WebinarNinja | Best for lead generation | High-converting and interactive landing pages, Webinar finder | 14 days free trial | starting from $29/month |
| BigMarker | Best automation features | Post-scheduling feature, pop-up feature for productivity | No | basic to Enterprise, get a quote |
| EasyWebinar | Best for beginners | Easy to understand, pre-created funnels for leads | No | start from $99/month |
| Zoom | Best platform for every kind of video stream | Offers storage for webinars, interactive chat rooms | Free | $149/year/user |
| LIVEWebinar | Best affordable webinar software | Allows you to monetize your hard work and tools for personally customizing the meeting rooms | Offers free plan | starting from $14.42/month |
| ClickMeeting | Best tool for educators | Features for better engagement with students allow you to conduct online quizzes and polls. | free 30 days plan | pricing starts from $45/month |
| WebinarGeek | Best GDPR-compliant software | No need for additional plug-ins, and a user-friendly interface | 14-days free trial | starts from €49/month |
| Demio | Best for email integration | Compatible with other marketing tools, help in tracking the webinar performance | No free plan | starting price is $59/month |
WebinarKit LIVE
Rating from (G2): 4.8 out of 5 stars
Best WebinarJam alternative for Marketers to automate campaigns. I have written an in-depth review of WebinarKit LIVE.
With its amazing and top-notch tools for marketers, this webinar tool will be your best friend.
Key Features
Due to its compatibility with all the top email marketing programs like Mail chimp, you can easily create email marketing campaigns.
It provides you with various customizable landing page templates to personalize them.
The clean and minimalistic user interface makes it very easy to use.
The best thing about this software is the detailed reporting and analytics about your webinars.
Pricing
It provides three monthly and annual plans: starter, pro, and Enterprise.
Monthly plans start from $36.75/month. You can start with $1 for a 7-day trial.
WebinarNinja
Rating from (G2): 3 out of 5 stars
Best WebinarJam alternative for solopreneurs and agency owners
Want to maximize the productivity of your audience and degenerate more leads? Then WebinarNinja's built-in lead generation features can help you.
Key Features
You can easily build up your brand with an array of high-converting landing pages and a variety of webinars.
You can take advantage of four different types of webinars( Live, hybrid, automated, and series) to maximize your audience.
Its webinar finder feature places your webinar in front of millions of other users, increasing your exposure to the world.
You can access the Webinar Ninja Academy, which can help you understand the webinars and how to improve your performance.
Pricing
WebinarNinja does allow you a 14-day free trial, but after that, you have to upgrade.
They also offer monthly and annual plans starting from $29/month to $24/month.
BigMarker
Rating from (G2): 4.7 out of 5 stars
Best WebinarJam alternative for Content Creators who like automation
As a content creator, you would know how small manual tasks can take up much time. So why not automate it all with the BigMarker?
Key Features
Termed as the best-automated webinar software, BigMarker offers you an array of features that takes the major load off your shoulder.
You can schedule your post and customize handouts and CTA for lead generation.
You can set a pop-up window inside the webinar to know if your attendees are paying attention.
It lets you host multiple video sessions and even promote them on various platforms. You can even monetize your sessions.
Pricing
BigMarker offers you plans from basic to Enterprise, but you need to contact them to learn about the pricing.
EasyWebinar
Rating from (G2): 3.8 out of 5 stars
Best WebinarJam alternative for New creators, influencers and instructors.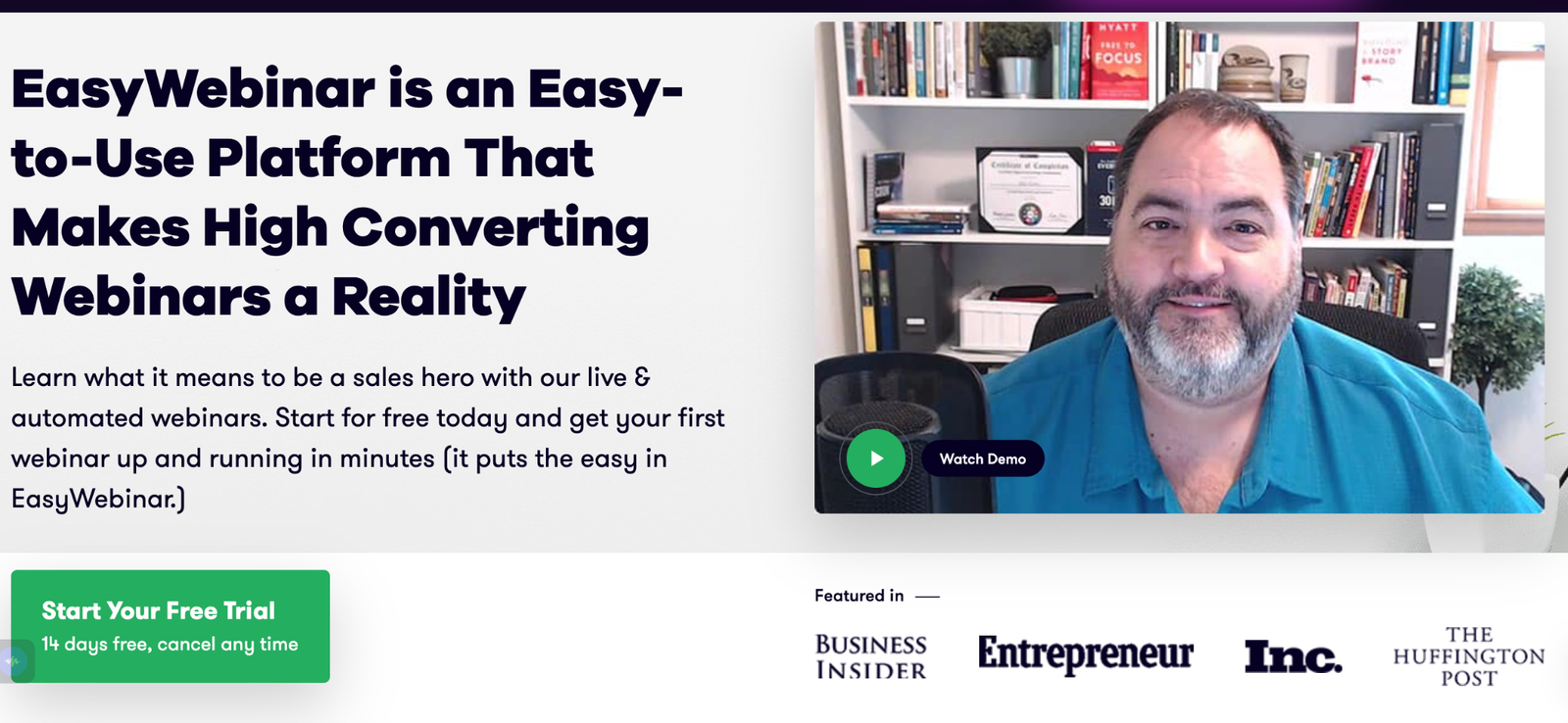 New to this webinar and streaming world? Then you need something easy to operate, EasyWebinar is your best choice.
Key Features
This tool makes everything extremely easy. From setting up to launching the webinar and meetings, you can do all this with a few clicks.
This one is very easy to understand and doesn't have any complex functions that require prior learning.
With this software, you can even live stream your webinars on Facebook and YouTube.
HD video quality without interruptions and the pre-created funnels for generating leads are among its best features.
Pricing
EasyWebinar offers you both monthly and annual price plans. Monthly plans start from $99/month, whereas annual plans start from $83/month.
Zoom
Rating from (G2): 4.5 out of 5 stars
Best WebinarJam alternative for: Business owners
Who doesn't know about Zoom? The world's most famous platform for conducting all kinds of meetings and the first choice of everyone for conducting webinars.
Key Features
This one has one unique feature called the public chat that allows everyone in the meeting to interact with each other.
Moreover, the private chat section also allows 1:1 interaction with the attendee.
The smartphone app allows you to conduct meetings sitting anywhere.
It gives you the opportunity to save all your meetings as it offers you 1 GB of storage space. Easily integrate with every type of app for better productivity.
Pricing
It's a free app and allows you to have a 45-minute session through your free plan. If you want top-tier functions, you must go for premium plans. The annual plan starts from $149/year/user.
LIVEWebinar
Rating from (G2): 4.4 out of 5 stars
Best WebinarJam alternative for For influencers with an international audience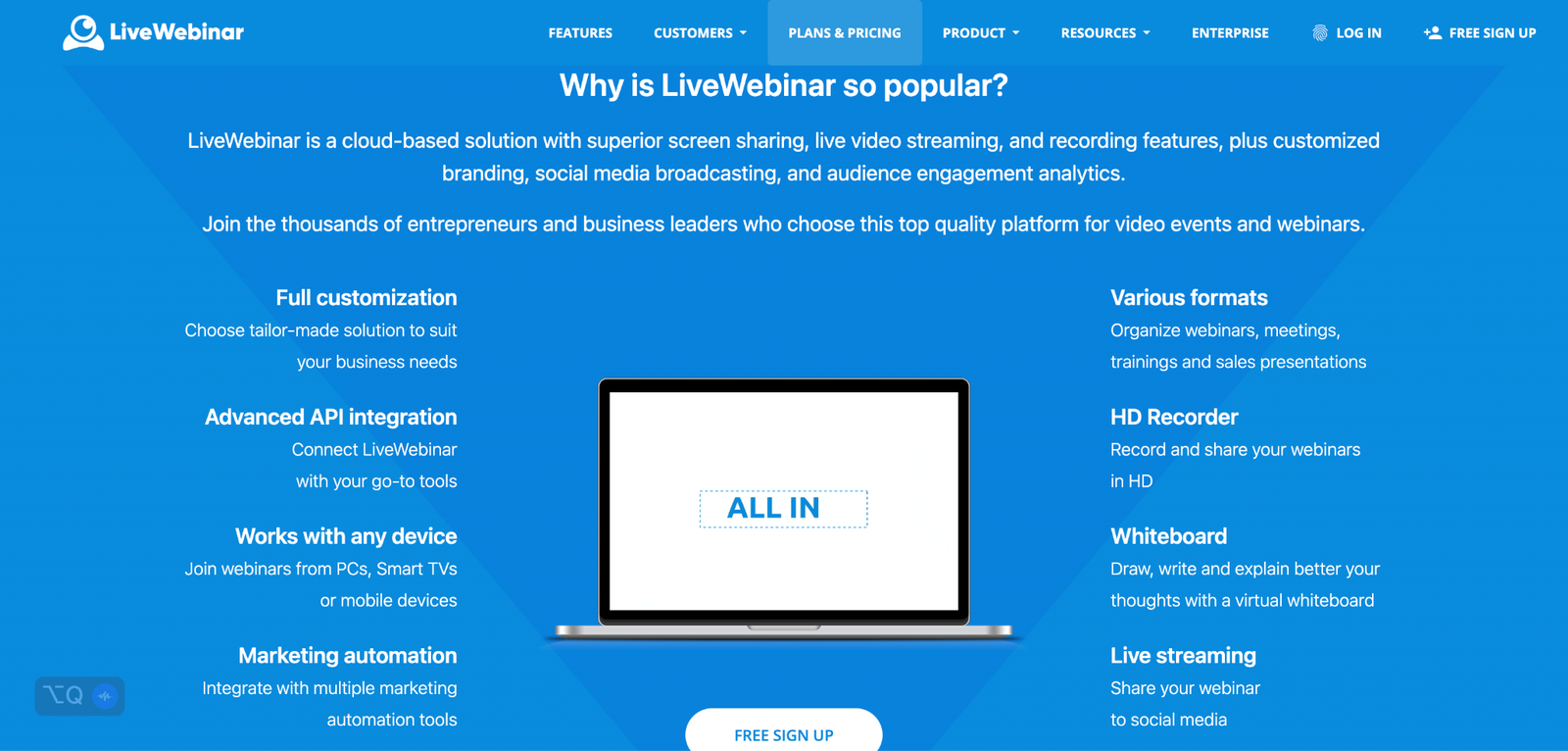 For the creators and the social influencers who have a massive amount of international audience. LIVEWebinar is your next best friend for hosting webinars.
Key Features
Ease of use, personalization tools, engaging user interface, and affordability are all the features of LIVEWebinar.
No need for extra plug-ins, and setting up a meeting room is the easiest task with this one. You can even monetize your webinars.
The built-in personalization tools allow you to customize your meeting room according to your liking.
The best part is that you can host international webinars due to its built-in translators and language interpreter.
Pricing
This software offers you a free plan but has very limited features. For pricing, it offers three yearly plans from $14.42/month to $220/month. Monthly plans are also available.
ClickMeeting
Rating from (G2): 4.1 out of 5 stars
Best WebinarJam alternative for Instructors and educators to teach
For our dear teachers and coaches out there, If you are looking for something that can help you teach effectively. Then ClickMeeting is the best option.
Key Features
Due to the presence of built-in features like whiteboards and quizzes, you can easily teach your students.
You get various features to build customized invites and even set up a registration page for your audience.
You can analyze your performance by gathering opinions from your listeners and also with the help of detailed statistics that this tool provides.
Another unique feature of this software is the ability to create product demos so that you can teach your students effectively.
Pricing
ClickMeeting offers its customers a free 30-day plan. After that, you can upgrade accordingly. The pricing starts from $45/month for a monthly automated plan. It's the most popular one.
WebinarGeek
Rating from (G2): 4.5 out of 5 stars
Best WebinarJam alternative for European coaches and creators
For the creator residing in Europe, WebinarGeek is the best software for streaming. As it has various features that can help you better understand your international audience.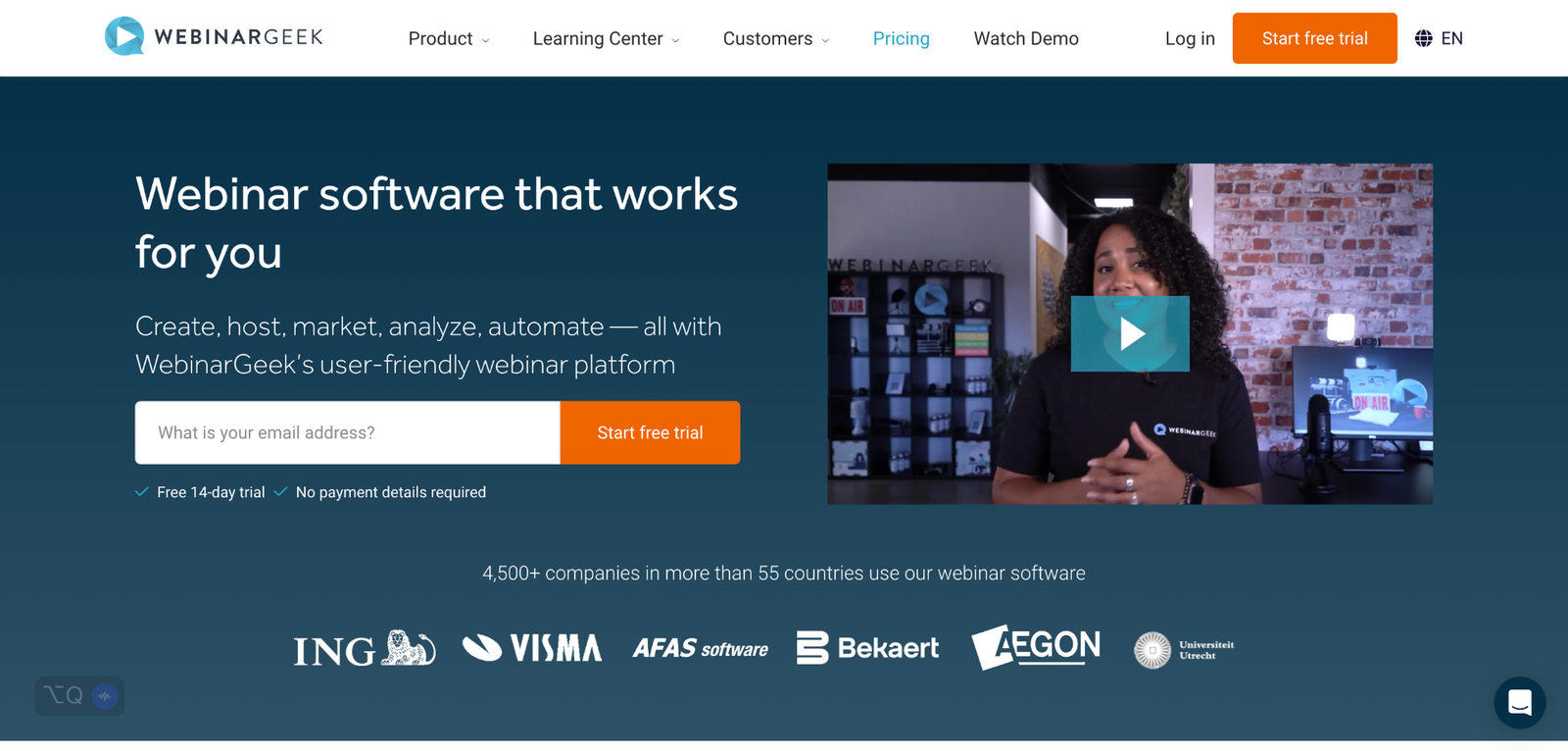 Key Features
Due to its high-quality feature and ease of use, you can operate it easily.
No need to install additional software or plug-ins
This software provides various built-in features like quizzes, polls, chat, and other interactive buttons to better understand your audience.
Lastly, it has a built-in feature of automatically recording the webinars to repurpose later.
Pricing
It does allow you a 14-day free trial. Also, the price of the monthly basic plan is €49/month, whereas the premium plan unlocks at €79/month.
Demio
Rating from (G2): 4.7 out of 5 stars
Best WebinarJam alternative for creators focused on email marketing
Looking for a webinar tool that also provides you with business promotion tools? Then you need a software like Demio.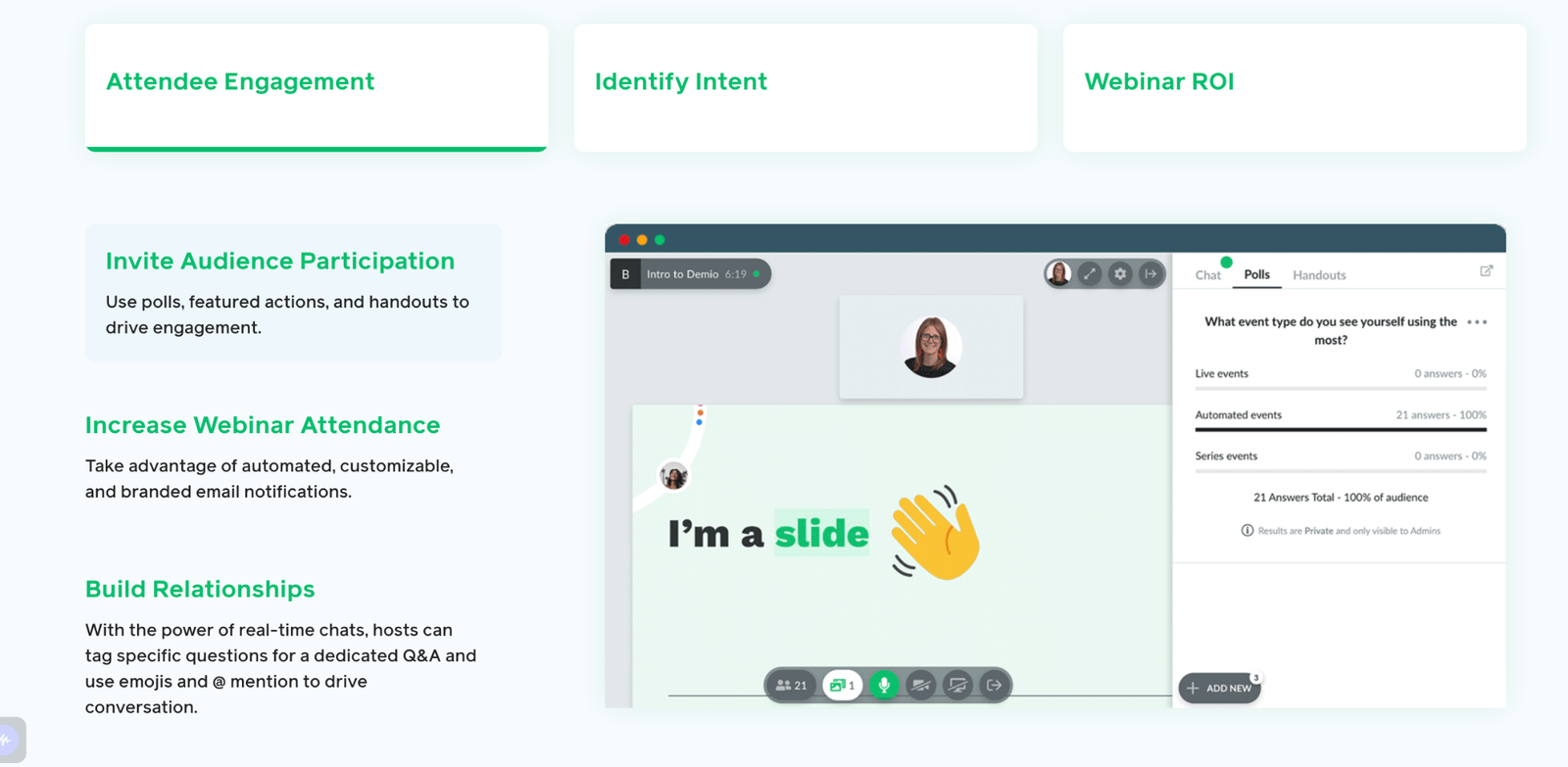 Key Features
A very handy tool for creators, coaches, and marketers that allows you to conduct high-quality webinars.
The built-in features provide you the opportunity to understand the performance of your webinars.
This tool can easily work with all the other marketing tools to help you boost your productivity.
The best part about this tool is that you do not need to download the app, as you can easily conduct online webinars.
Pricing
Demio offers you both monthly and annual plans. The starting price of the monthly plan is $59/month. In contrast, the growth plan starts from $109/month.
Wrap-up: WebinarJam Alternatives
Now that's a wrap. WebinarJam is a good webinar conductor, but if you want a tool with more features.
Then you can try some of the best WebinarJam alternatives mentioned in the list.
Although all the tools mentioned above have their charms, our number one recommendation would be the WebninarKit LIVE.
With its amazing features, there is no doubt you will secure leads even faster now.
If you have any questions, let me know in the comments below!