Are you a YouTube creator looking to grow your YouTube channel
If so, you won't want to miss out on the ultimate YouTube tool – TubeBuddy.
Today, I will review TubeBuddy.
This guide has everything you need to know about TubeBuddy, from its powerful features and benefits to its pricing options and efficient usage tips.
Get ready to discover how TubeBuddy's unique features set it apart from other tools in the market.
Whether it's keyword optimization, bulk editing, A/B testing, or finding the best publishing time, TubeBuddy can help you.
Let's get started!
Why Should You Trust Me/This Review?
I run a YouTube channel called "Creative Thinkable." It's an experimental venture I began when I was completely new to the world of internet marketing & making money online, with no idea that I could actually build a channel and generate income from it.
I managed to grow the Creative Thinkable channel to over 20,000 subscribers using a single, straightforward strategy: creating videos around low-competition keywords—those that people commonly search for.
This is where TubeBuddy comes in, making keyword research far more efficient and saving a good amount of time.
Furthermore, I've subscribed to the TubeBuddy Legend package for a 30-day period. I've attached a screenshot as evidence.
I've thoroughly put TubeBuddy to the test, and now I'm crafting a review about my experience with it.
Stay tuned for more! I've conducted some A/B tests and I will share the results in this blog.
I'll also be discussing whether signing up for TubeBuddy's paid plan is worth it or if the free version is enough.
What is TubeBuddy?
TubeBuddy is an essential tool for YouTube creators, giving features to optimize and grow their channels. With keyword research, tag suggestions, and bulk editing tools, TubeBuddy helps improve video rankings and reach the right audience.
TubeBuddy provides channel analytics and alerts to track channel performance, helping YouTube creators increase subscribers and views.
TubeBuddy offers different pricing options, such as a free version with powerful features, making it a must-have for all YouTube creators.
Benefits of Using TubeBuddy for YouTube Channel Growth
TubeBuddy provides several benefits for YouTube channel growth.
Video Optimization – TubeBuddy helps you optimize video titles, descriptions, and tags for better visibility in search results.
Keyword Research – Keyword suggestions and analytics enable effective audience targeting. Thumbnail creation and A/B testing capabilities increase click-through rates.
Schedule and Analytics – From TubeBuddy dashboard you can schedule uploads and streamline content creation. TubeBuddy also has data on competitor performance and growth strategies.
All of these features make TubeBuddy a powerful & useful tool for beginner YouTube creators.
TubeBuddy Pricing: Is It Worth the Investment?
TubeBuddy offers 2 pricing plans to suit different needs and budgets.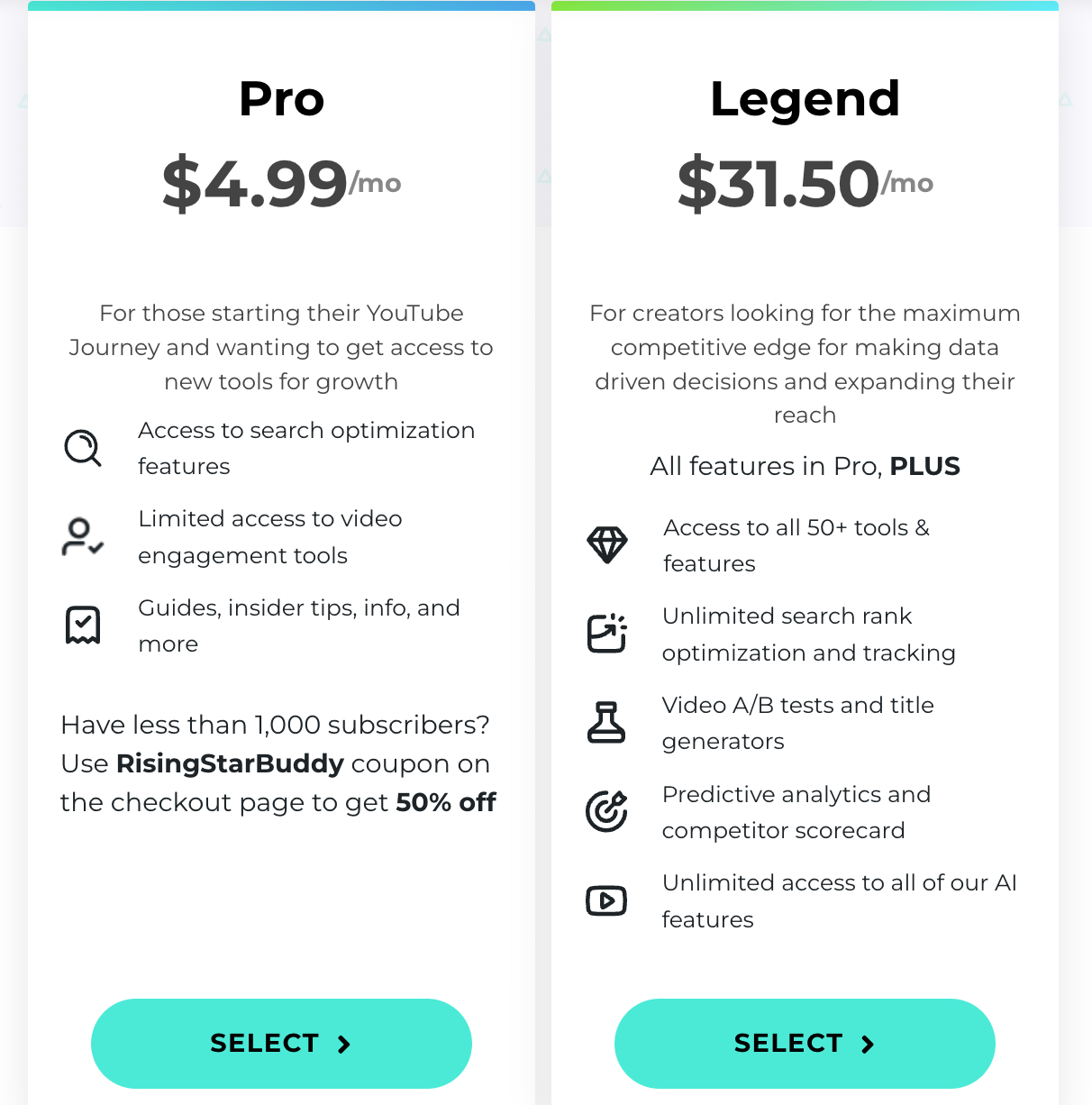 Pro plan – $4.99/month or $47.88/year
The TubeBuddy Pro plan is ideal for beginners. It provides you with all the necessary tools, including search optimization features, video engagement tools, guides, insider tips, and more, to foster the growth of your YouTube channel.
If your channel has fewer than 1000 subscribers, you can also enjoy a 50% discount.
For the Legend plan – priced at $31.50 per month or $302.40 per year – it's tailored to creators who seek the ultimate competitive advantage for data-driven decision-making and expanding their reach.
Within this plan, you gain access to all the features of the Pro plan, plus the following additions:
Access to all 50+ tools & features
Unlimited search rank optimization and tracking
Video A/B tests and title generators
Predictive analytics and competitor scorecard
Unlimited access to all AI features
Both the Free and Pro plans come with limitations. To truly harness TubeBuddy's full potential, I highly recommend the Legend Plan.
And here's a little extra for you: if you use my coupon code: magicblogging you'll receive an instant 20% discount.
Yes, you heard it right.
So, if you decide to invest in TubeBuddy, remember to apply my coupon code, "magicblogging," and enjoy 20% off your purchase.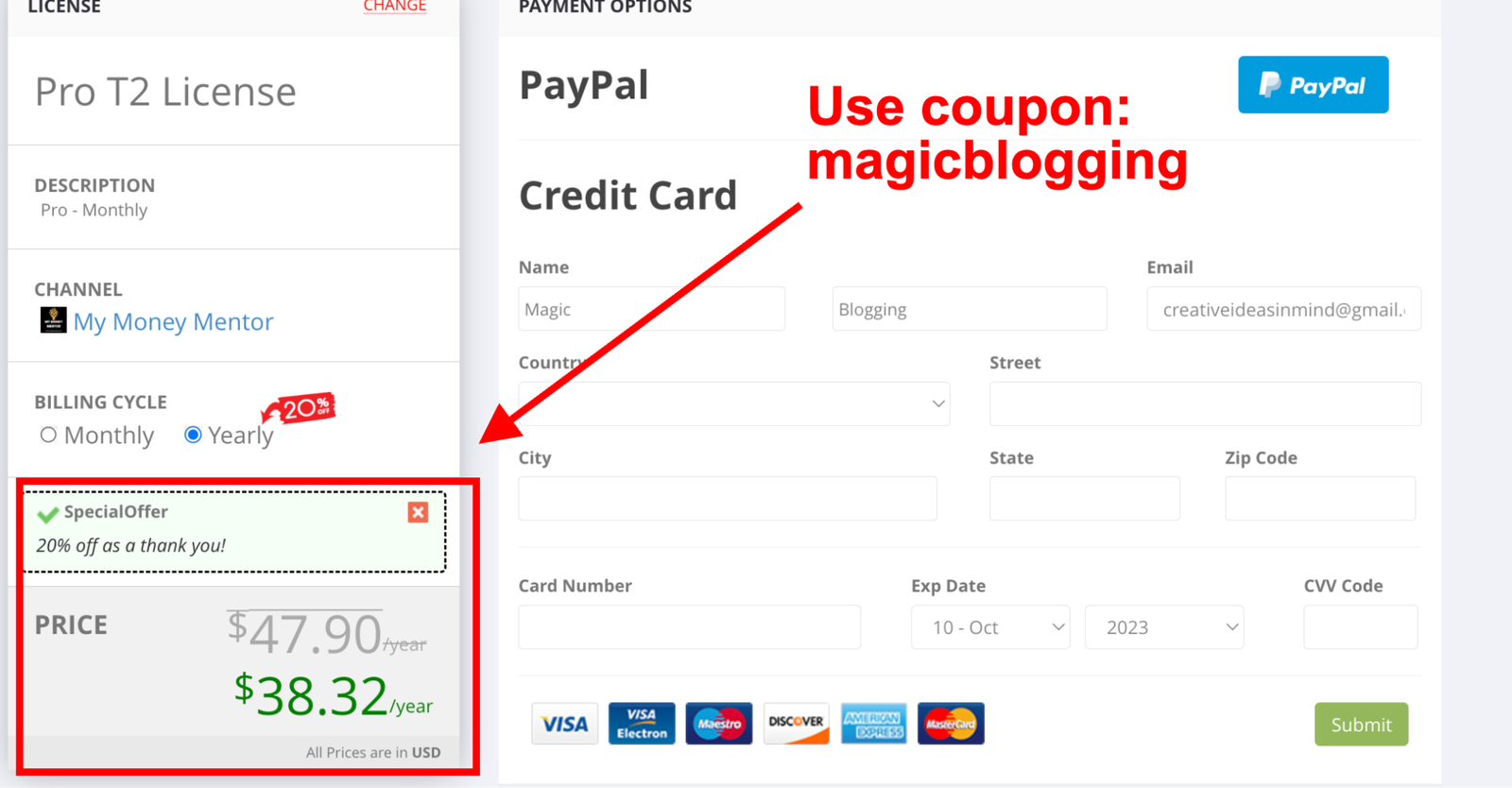 You'll receive a 20% discount on any monthly or annual plan.
If making a larger investment isn't feasible for you right now, consider beginning with a Pro plan. You can always upgrade as your channel gains traction.
Opting for the TubeBuddy free plan is also a viable choice. There's no rush to purchase a paid plan immediately.
Put the tool to the test.
Thoroughly utilize the free plan, and if you find it advantageous, then consider upgrading to a paid plan.
Are you ready to get started? Click here to sign up for TubeBuddy's Free Plan.
Exploring TubeBuddy's Best Features
TubeBuddy offers powerful tools to enhance the YouTube creators experience. It helps find the best keywords for search optimization and provides video optimization suggestions for titles, tags, and descriptions.
Comparing channel performance with competitors provides valuable growth insights. Search ranking tracking, you can track specific keywords too. Backs and export allows you to download all the metadata of your videos in CSV format.
Bulk processing saves time by making changes to multiple videos at once. Comment filters and canned responses facilitate effective audience engagement.
YouTube SEO Tools
TubeBuddy's YouTube SEO tools allows you to optimize videos for search visibility. Features like keyword research, tag suggestions, and video optimization recommendations increase the reach of videos.
Analyzing competition strategies, tracking video rankings, and monitoring audience engagement are key features. TubeBuddy's SEO tools drive organic traffic to YouTube channels.
In-depth Analytics
TubeBuddy's in-depth analytics offer cool insights into YouTube channel performance.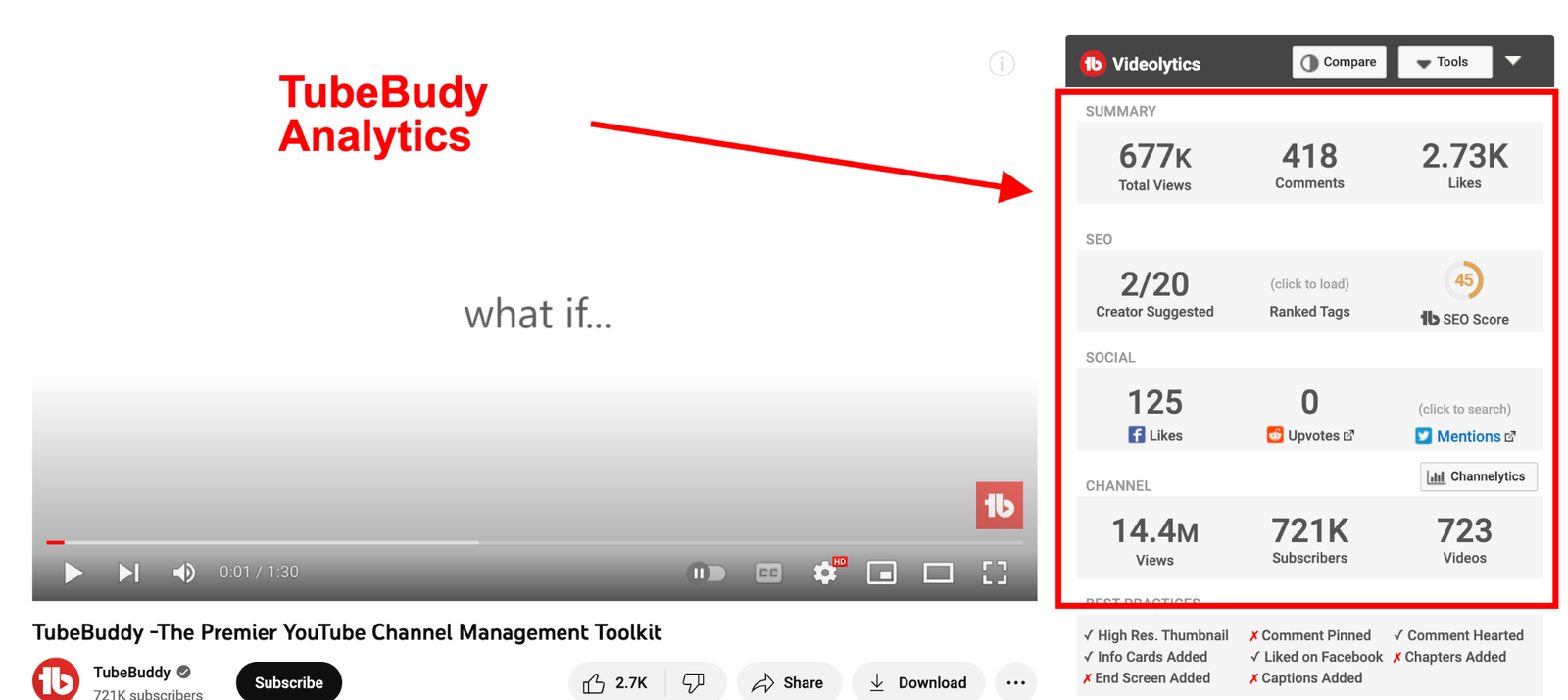 Track video views, engagement metrics, and audience demographics helps identify trends and optimize content strategy.
Data-driven decisions based on TubeBuddy's analytics measure marketing success and track channel progress over time, leading to growth and success.
Advanced Productivity Tools
TubeBuddy's advanced productivity tools enhance YouTube workflow. Bulk processing and video duplication save time and effort.
The advanced search tool finds the best keywords and video tags for maximum reach.
The thumbnail generator creates eye-catching thumbnails. Scheduling feature automates video uploads for consistent content delivery.
What Makes TubeBuddy Stand Out?
TubeBuddy stands out with its extensive features designed to optimize and grow YouTube channels. Keyword research, custom thumbnails, A/B testing, and video optimization make it unique among other tools.
Apart from features, TubeBuddy is an easy to use platform.
And all of these features come at an affordable pricing.
To use it, just install the TubeBuddy Chrome extension in your browser. Sign in and you can start using TubeBuddy. It will work with your YouTube studio dashboard.
Member Perks and Extras
TubeBuddy offers exclusive perks and extras to its members. You'll receive exclusive discounts on tools such as video editing, sound and graphic creation etc.
Some of the tools are free inside Members Perks.
AudioHero
TuberTools
Make YouTube Your Business
TubeBuddy Mobile App
TubeBuddy Certification
TubeBuddy gives you a certificate when you reach a milestone. These are digital certificates. You can download them. Let me show you my certificate.
I received this when I reached the milestone of 500 uploads on YouTube. These rewards keep coming as you achieve various milestones.
For instance, you might hit your first 100 subscribers or even reach 1000 subscribers.
How to Choose the Right TubeBuddy Plan?
Know the features and benefits of each plan, consider your budget and specific needs, and read user reviews (like this one) and testimonials.
Most importantly, sign up for a free trial or install TubeBuddy chrome extension. It's FREE.
You can test TubeBuddy before committing to a plan, and plans can be upgraded or downgraded anytime.
How to Efficiently Use TubeBuddy
The best way is to watch Tutorials on TubeBuddy YouTube channel. They have a tonne of YouTube tutorials from how to use TubeBuddy to video production, scripting and what not?
You have the option to install the browser extension, giving you direct access to both YouTube studio and TubeBuddy features.
With just a bit of training, you can understand the functionalities of TubeBuddy and begin using it to its fullest potential. TubeBuddy has over 10 web tools designed to assist in the growth of your YouTube channels.
Moreover, TubeBuddy offers additional resources including videos, blog posts, courses, and more. These resources offer detailed training on effectively expanding your presence on YouTube.
The Drawbacks of TubeBuddy
While TubeBuddy has a lot of features, certain ones are exclusively accessible through the paid version, and the interface might appear overwhelming for those who are new to it.
TubeBuddy's effectiveness could potentially be less effective for niche or smaller YouTube channels.
Within the free TubeBuddy plan, the allocation of tags and keyword search volume is limited.
Beyond these points, I couldn't identify many drawbacks in TubeBuddy.
TubeBuddy Alternatives: Comparing with VidIQ
TubeBuddy and VidIQ are powerful YouTube tools with different features.
Here is a table comparing TubeBuddy & VidIQ features and pricing:
| Features | TubeBuddy | VidIQ |
| --- | --- | --- |
| Pricing | Pro starts at $3.99/mo or Legend starts at $25.20/mo | Pro starts at $7.50/mo and Boost starts at $39/mo.  |
| Customer Support | Email Support | Email & Chat |
| Keyword Research | Offers keywords competition, volume and suggest keywords | Offers keyword research and search volume |
| Browser Extension | Chrome & FireFox | Chrome, Firefox & Edge |
| Tags | Offers tag suggestions and tag explorer | Provides tag suggestions and research |
| SEO Recommendations | YES | Provides optimization suggestions and tips |
| A/B Testing | Yes, thumbnails, title, description. | YES |
| Competitor Analysis | YES | YES |
| Social Media Integration | YES, Facebook, Twitter, Patreon & More | No |
| Video Analytics | Yes | Yes |
| Rank Tracking | YES | No |
| Collaboration | No | No |
| Affiliate Program | YES (Recurring Commission) | YES (Recurring Commission) |
| Tutorials | YES | YES |
How Many Channels Can You Manage per License?
TubeBuddy allows 1 license per YouTube channel. If you want more licenses you can get 50% off for other channels.
Is TubeBuddy Safe for Your YouTube Channel?
TubeBuddy is safe for YouTube channels, approved and recommended by YouTube itself. Always review privacy policies of third-party tools before using it.
TubeBuddy Keyword Explorer and Video Optimization
If you're starting out, target low competitive keywords. Of course, these keywords will have low search volume but the competition will be low.
Your videos will have a chance to rank on these keywords and start generating views.
The question is, how to find the low competition keywords?
Keyword Explorer helps find relevant keywords for videos, offering data on search volume, competition, and tags.
For example, I put in a keyword "VidIQ review."
As seen in the screenshot, it's providing relevant keyword suggestions. Upon entering a "VidIQ review," the tool displays both the search volume and competition associated with it.
"Poor" shows that achieving a high ranking for this keyword is difficult. A higher score assigned to a keyword indicates its relative ease for ranking.
You'll be able to see the monthly search volume for the term "VidIQ review."
You can also view the highest-ranking videos on that particular keyword.
The TubeBuddy Keyword Explorer feature tailors its keyword suggestions according to your channel's authority.
Combined with video optimization features, TubeBuddy enhances video performance and channel growth.
Best Practices for Keyword Exploration
Use Keyword Explorer to find relevant keywords with data on search volume and competition.
Keyword Score helps identify the best keywords for increasing visibility. Analyzing competitors' videos provides insights into target keywords, refining keyword strategy, and experimenting with different keywords to drive traffic and engagement.
Tips for Video Optimization
TubeBuddy optimizes YouTube videos with keyword research, video optimization tools, and analytics.
Optimize title, description, and tags to enhance search visibility and performance.
You can promote other relevant videos in every video.
Save with TubeBuddy's Bulk Processing Tools
TubeBuddy's bulk processing tools make YouTube channel management easy. You can optimize video metadata and tags.
Bulk editing features allow you to update title, tags, visibility, ad settings, descriptions and much more in all the videos on go.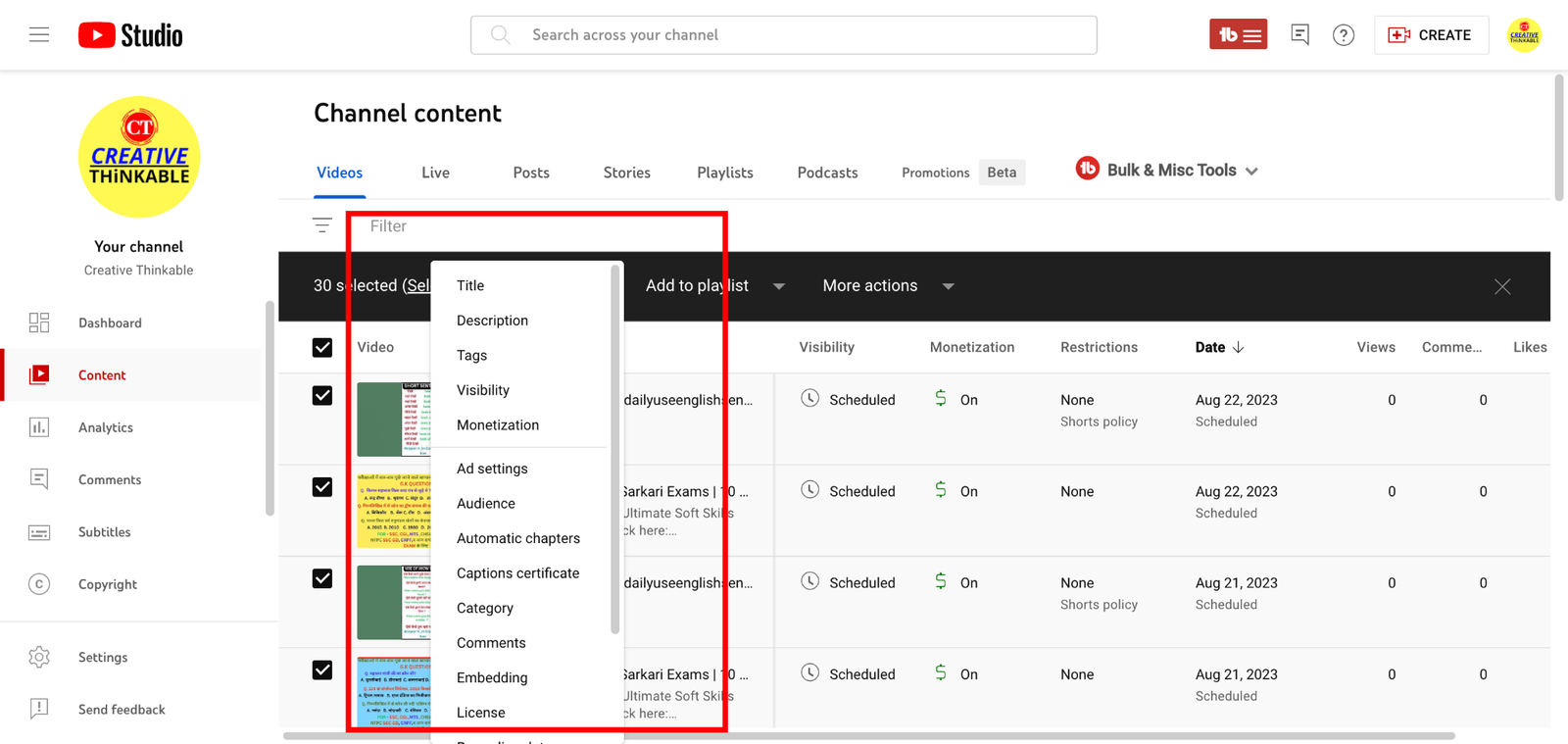 Bulk processing saves time on updating description, tags, title and changing video settings manually.
TubeBuddy's A/B Testing: Does It Really Work?
TubeBuddy's A/B testing feature will help you test video elements like titles, thumbnails, and descriptions for optimization. I have seen positive results from using TubeBuddy's A/B testing feature.
You can run multiple A/B tests at a time. I ran Thumbnails A/B testing.
As you can see, the last A/B test has a higher CTR.
You get a detailed report outlining your A/B testing results. The screenshot provided showcases my Thumbnail A/B testing report.
A/B testing is an exceptional feature. On YouTube, the Click-Through Rate (CTR) holds value. A higher CTR directly correlates to increased viewership on your videos.
Enhancing your video content to yield a higher CTR will consequently result in a greater number of views. I conducted A/B tests for a span of just 3 days.
Can TubeBuddy Help Identify the Best Time to Publish?
TubeBuddy analyzes channel data to recommend the best time to publish YouTube videos, maximizing reach and visibility.
How can you view the ideal publishing time?
Simply click on "Best Time to Publish."
Now, this action will direct you to the analytics tab. As you scroll down, you'll come across the information regarding the optimal time for publishing on your channel.
The optimal time for publishing content on my channel is 1:00 PM on Saturdays, and on a daily basis, it's 3:00 PM.
Despite this, I've been publishing at 11:00 AM. It's certainly worth experimenting with this timing.
Is TubeBuddy a Good Fit for You?
TubeBuddy is an ideal choice for YouTube creators aiming to optimize their channels for more reach.
It provides 11 valuable tools for keyword research, video optimization, and analytics, all of these tools help you in video optimization.
Is TubeBuddy the Ultimate Tool for YouTube Success?
TubeBuddy's video optimization, keyword research, and audience engagement features render it a powerful asset for achieving success on YouTube.
Nevertheless, it remains a tool— which gives you statistics and metrics. The true leverage lies in using these insights to enhance your videos, finding low-competition keywords, and producing valuable and captivating content.
Simply purchasing a TubeBuddy subscription won't guarantee the success of your channel. Effort and dedication are equally essential.
Conclusion
TubeBuddy is a powerful tool for optimizing and growing YouTube channels. From keyword research to bulk processing and A/B testing, TubeBuddy gives invaluable insights into both your videos and channel.
This is certainly worth considering for those aiming for significant YouTube success. To tangibly experience its impact, creators can also explore its features.
You always have the option to utilize TubeBuddy's free plan or install the TubeBuddy Chrome extension.
If you opt for TubeBuddy's paid plan, remember to use the coupon code "magicblogging." Do not use " " while applying the code.
By doing so, you'll get a 20% discount on all paid plans of TubeBuddy.
Thank you for staying until the conclusion.
Have queries? You can drop them in the comments section below.
I would be happy to provide answers to your questions about TubeBuddy or growing a YouTube channel from scratch.