Are you looking for a feature loaded email marketing tool that simplifies your campaigns, offers beautiful templates, and automates your email campaigns?
Podia Email tool can be your go-to solution for email marketing.
With Podia's user-friendly interface and powerful segmentation features, Podia makes email marketing more easier than ever before.
In today's guide, I will review the different aspects of Podia Email Marketing, from email deliverability to automation and segmentation tools. You will also learn how to create broadcast and automated email campaigns inside Podia Email Marketing tool.

I will show you my email open rates and I will talk about the pricing too. And in the end, I will share my final thoughts about Podia Email Marketing… Should you get it or not?
So let's get started!
Is Podia an Email Marketing Platform?
No, Podia is an all-in-one platform for hosting and selling your courses and coaching services.
Previously, Podia had a basic email marketing tool that allowed you to send emails and create simple automated campaigns.
Recently, Podia has revamped its email marketing tool, adding a plethora of useful features such as segmentation, automated emails, tags, and more.
Email marketing is just one of the many features offered by Podia.
Features of Podia Email Marketing
Podia's email marketing doesn't offer as many features as platforms like ActiveCampaign and MailerLite.
While Podia Email may have limited features, they can still prove to be quite useful. If you're in search of a straightforward yet advanced email marketing tool, you'll find Podia Email appealing.
Podia provides two types of emails:
1. Broadcast Emails – As the name suggests, you can send broadcast emails to your subscribers.
2. Campaign Emails – You can create automated campaigns that send a series of emails to your subscribers. These campaigns can be evergreen or one-time, depending on your promotional strategies.
Podia's Segmentation Tool:
Podia's segmentation feature allows you to categorize your email list into precise groups according to specific criteria.
With a range of segmentation options such as product purchases and email engagement, Podia Email Marketing tool provides the flexibility required to connect with your audience more effectively.
When you send hyper targeted emails, you can enhance the efficiency of your email marketing campaigns.
Using segmentation effectively can lead to improved email open rates, click-through rates, and ultimately, increased sales.
You can segment subscribers based on the following parameters:
Affiliates
Email Activity
Email Address
Has products
Last active
Member
Name
Signed up
Spent
Subscription
Tagged
Waitlisted
My preferred segmentation parameters revolve around email activity and tagging.
With regards to Email Activity, you can create complex segmentations, such as:
Emails opened.
Links not clicked.
Links clicked.
Emails not opened.
You have the option to select a specific campaign or broadcast, and the flexibility to apply multiple filters as well. I'm genuinely impressed with the user-friendly nature of Podia Email.
What's truly remarkable is that these features are incredibly easy to use, even for individuals who aren't tech-savvy.
In comparison, ActiveCampaign offers all these functions, but its user interface falls short. Navigating it can be challenging.
On the other hand, Podia provides similar features with an intuitive interface that makes the process seamless.
Podia Email Campaigns
This feature enables the creation of automated email campaigns, giving you the ability to build numerous campaigns. Within each campaign, you can set entry conditions, exit conditions, and add as many emails as needed.
You can use tags as entrance conditions for the campaign, that option is available.
Alternatively, you have the option to use diverse conditions such as:
– Product sign-ups.
– Product waitlists.
– Community memberships.
– Tag associations.
– Audience additions.
All of these elements can serve as entry conditions for your campaign.
Podia Analytics
Engaging in email marketing without access to detailed analytics is unlikely to yield substantial benefits.
Podia Email presents an extensive email marketing dashboard designed specifically for your email campaigns and broadcasts.
Regardless of the type of emails you send, you'll have detailed reports about your sent emails.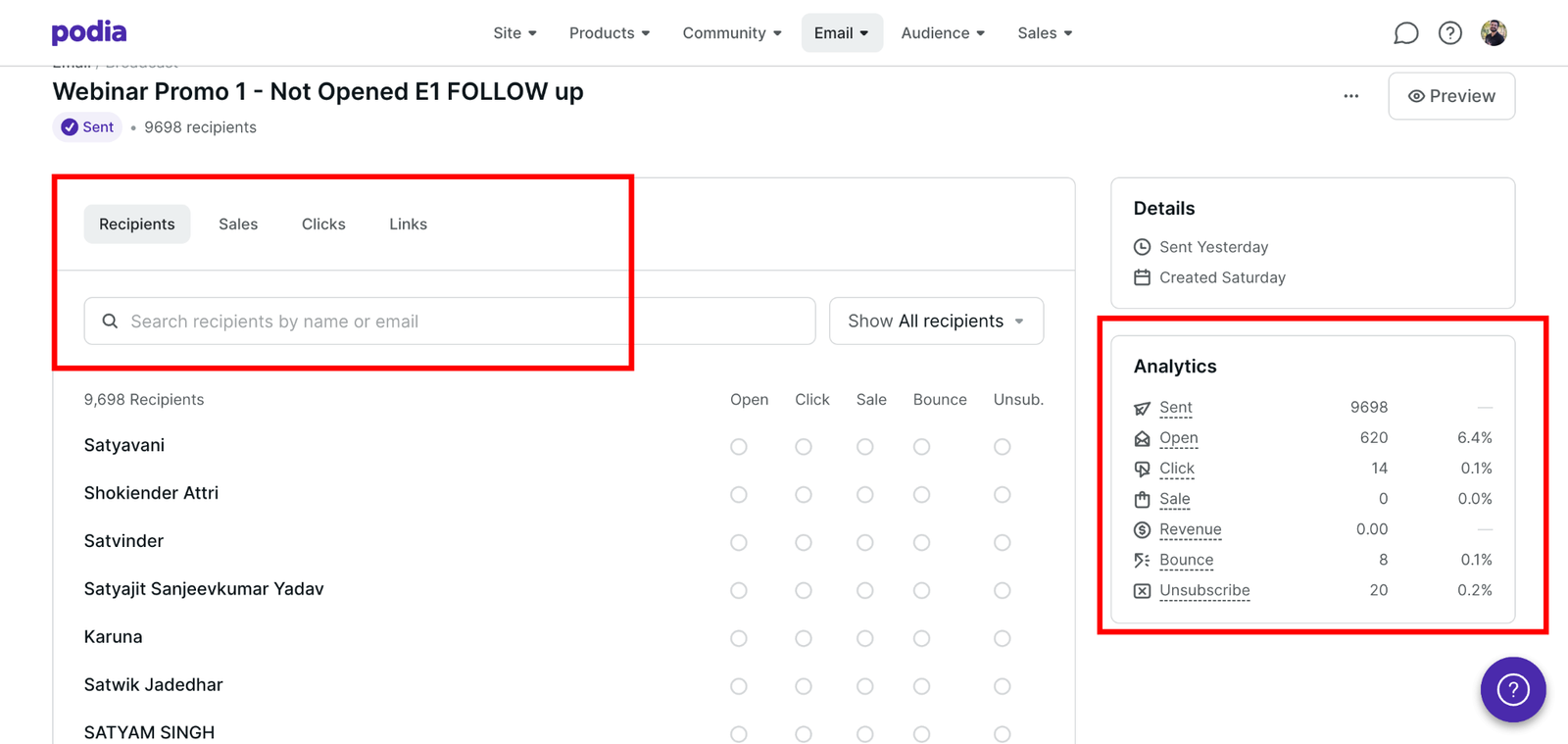 As demonstrated in the screenshot, the broadcast report from my recent activity is visible.
Within the analytics section, the following metrics are readily available:
– Emails sent
– Opens
– Clicks
– Sales
– Revenue
– Bounces
– Unsubscribes
Furthermore, you have the capability to identify individuals who interacted with your emails and links and determine which specific links got the highest click-through rates.
Podia Email Editor
You have the ability to craft visually appealing emails, using images, buttons, dividing lines, and even tagging users on link clicks.
Fonts, backgrounds, button styles, and other customization options are available.
The Podia Email Editor has all the necessary features at your disposal.
Sending out campaigns or scheduling them is easily possible.
You can use pre-designed templates or use your previously created campaigns.
You can create your own template from scratch, according to your preferences using the Podia Email editor.
Additionally, you have the option to test your emails before sending them to your recipients. Podia offers a "send test" function for this purpose.
Create a FREE Account on Podia
Podia Email Marketing Pricing
As of the time of creating this guide, Podia Email is available for as low as $9 per month, for up to 500 subscribers.
Look at the Podia Email Pricing screenshot.
The pricing structure scales with the number of subscribers you have.
You can send an unlimited number of emails to your subscribers, with all the features Podia Email Marketing offers.
The pricing is straightforward, and the product is great.
Podia's Email Deliverability
When it comes to email marketing, email deliverability is key. What if your emails aren't reaching your subscribers' inboxes? What's the point of sending emails?
I'm delighted to say that Podia's email deliverability is awesome.
Let me show you some email marketing stats:
I achieved an impressive 18.8% open rate with a total of 110,000 emails sent. The industry average open rate stands at 15%.
And if I show you the open rates for segmented campaigns:
As you can see in the screenshot, the open rate stands at a remarkable 57.4%, which is truly exceptional.
In terms of email deliverability, Podia surpasses ActiveCampaign.
As of now, Podia's email deliverability remains notably high. It remains to be seen whether Podia sustains this level of email deliverability in the long run.
Here are the email open rates for a selection of recent campaigns:
These are the results from my past 7 campaigns, and you can easily observe the corresponding open rates.
Sign Up For Podia Email Today!
Podia Email Marketing Interface
The user interface plays a significant role in determining how effectively you can use a software.
Even if a software boasts world-class features, a subpar user interface can undermine its functionality.
Luckily, the interface of Podia Email is exceptionally user-friendly.
There's no need for any training or lengthy tutorial sessions to grasp its usage.
Everything is streamlined and straightforward. Upon signing up, you can begin using the platform.
How Reliable is Podia's Automation?
Podia's automation is undeniably reliable. You can place your trust in Podia's automated emails.
Utilizing automated email sequences, you can seamlessly captivate and nurture your subscribers.
Podia's automated emails empower you to establish drip campaigns, recover abandoned carts, and initiate product launch sequences.
Optimize your efficiency, save valuable time, and enhance your sales potential by harnessing the power of Podia's automation.
Podia Email Free Plan
Starting your journey with Podia's free option offers a multitude of advantages that are particularly useful for creators.
A standout benefit is the availability of a free plan by Podia. This lets you start building your email list without worrying about initial costs.
Within this free plan, you can manage up to 100 contacts while enjoying the liberty to send an unlimited number of emails every month.
In addition, Podia's intuitive email editor gives you with customizable templates, simplifying the creation of visually pleasing emails that align with your brand.
Moreover, Podia integrates with well-known email marketing tools like Mailchimp, ActiveCampaign, and ConvertKit, giving you the flexibility to customize your email marketing strategy to your preferences.
Don't want to use Podia Email, the platform allows the use of external autoresponders as an alternative.
Is Podia A Comprehensive Email Marketing Solution?
It depends on your needs. Certain features are still absent within Podia, such as A/B testing, goal functions, and if/else conditions, among others.
Podia's Email Marketing represents a substantially enhanced iteration of their preceding email software.
If you're looking for an email marketing tool that strikes a balance between features and simplicity, Podia Email is a solid choice. You won't be disappointed.
Getting Started with Podia Email: A Step-by-Step Guide
To get started with Podia, the first step is to create an account by signing up and setting up your profile.
Once you have done that, you can import your email lists by the audience tab and then import.
Afterward, you can begin creating email campaigns or broadcasts.
I have already mentioned Podia Email pricing. It starts at as low as $9/month and as your subscribe base grows and you can upgrade to higher plans.
To analyze the results of your campaigns, you can use Podia's analytics/
Don't forget to follow best practices for creating successful email campaigns to achieve optimal results with Podia Email.
Is Podia Worth the Investment for Email Marketing?
Absolutely. If you host your online courses and coaching services on Podia, it's worth upgrading for Podia Email too.
You can manage your entire online business from a single software. When everything is in single software, everything becomes much easier to manage.
Podia's email marketing platform is great and offers a high email deliverability rate.
You can add tags and create segments to achieve even higher email open rates and deliverability. In my opinion the Podia Email Marketing tool is worth every penny.
With reasonable pricing compared to other platforms, customizable templates, and automation features, Podia can save time and improve efficiency.
Conclusion
To sum up, Podia Email Marketing is an all-in-one platform that simplifies and streamlines your email marketing efforts.
Through Podia Email, you can send segmented broadcasts, create automated campaigns, and measure your campaign results.
You can even create beautiful templates and use tags to segment your subscribers.
The Podia email editor has all the functions you need to design beautiful emails.
Moreover, Podia boasts high email deliverability rates. I've shared my email analytics with you.
Podia charges based on the number of subscribers. The more subscribers you have, the more you'll pay.
The Podia Email base plan starts at $9/month for 500 subscribers and goes up to $400/month for 100k email subscribers.
Furthermore, Podia offers a FREE plan that allows you to send unlimited emails to 100 subscribers. Yes, all the plans come with unlimited emails.
Podia stands out as a user-friendly and cost-effective solution. So why wait? You can take advantage of Podia's Email Marketing feature and start maximizing your email marketing success today.
Click Here to Sign Up for Podia Email.
When you click the link above, it will take you to Podia's pricing page. If you scroll down, you will find Podia Email Marketing pricing.
You can choose that option and sign up. You can even sign up for the FREE plan, try the platform, and then decide. It's up to you!
I hope you found this Podia Email Marketing guide useful. If you have any questions, feel free to drop them in the comments below. I'll be happy to answer!
Further Reading:
Podia Review: After Using 24 Months: Should You Use?