Are you looking for an honest and detailed review of Lovo AI?
In this guide, I will dive deep into Lovo features, user interface, pricing structure, and customer support.
I will also explore what sets Lovo AI apart from other text-to-speech software and discuss its suitability for individuals and businesses.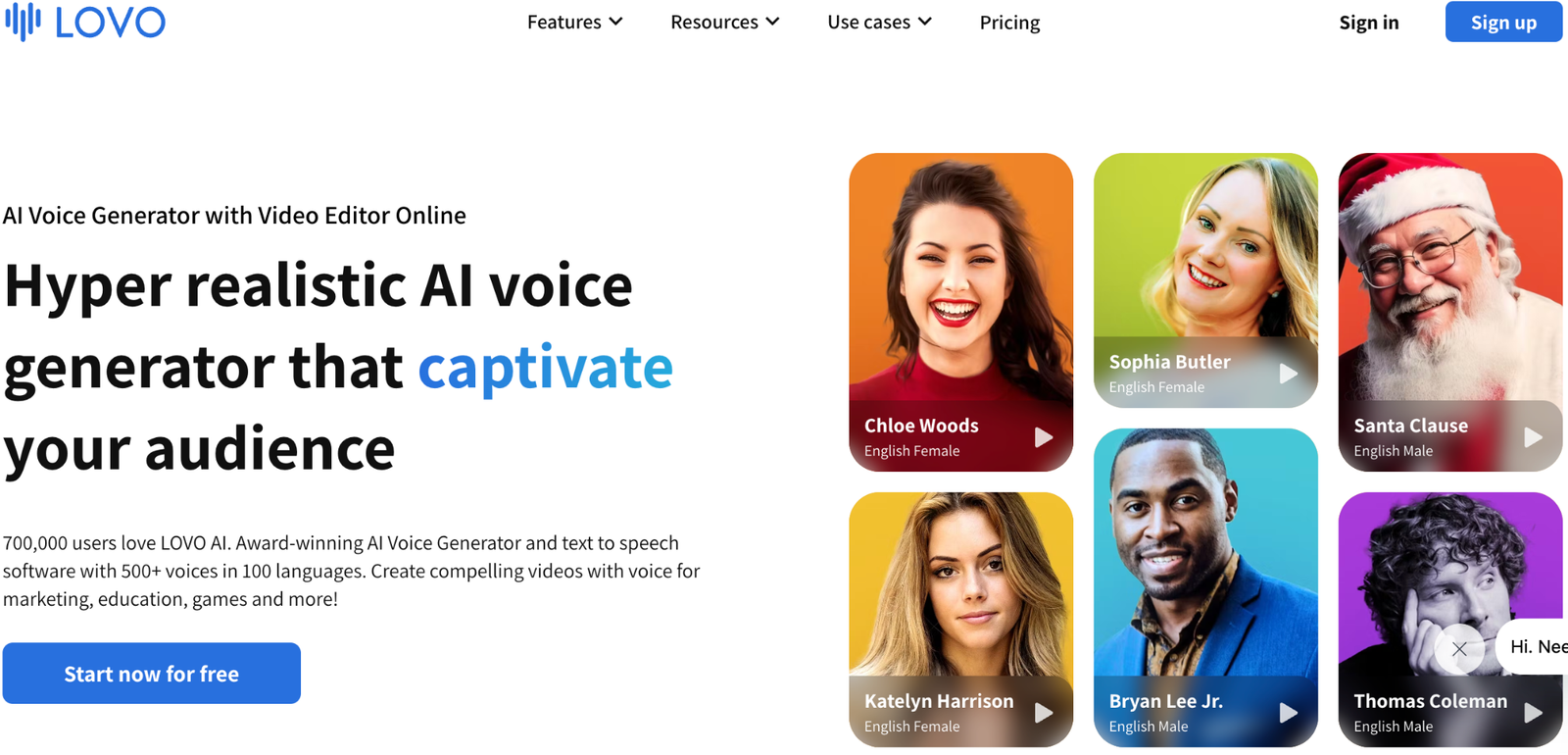 My goal is to provide you with all the information you need to make an informed decision.
Let's find out if Lovo AI is the right choice for your needs!
Why Should You Trust This Lovo Review?
I have tested the software and generated the following AI voices. Check out the screenshot of the software.
Audio Generated Using Lovo AI: https://genny.lovo.ai/share/e91729c4-e849-481c-a574-c239cb162b4a
Lovo dashboard.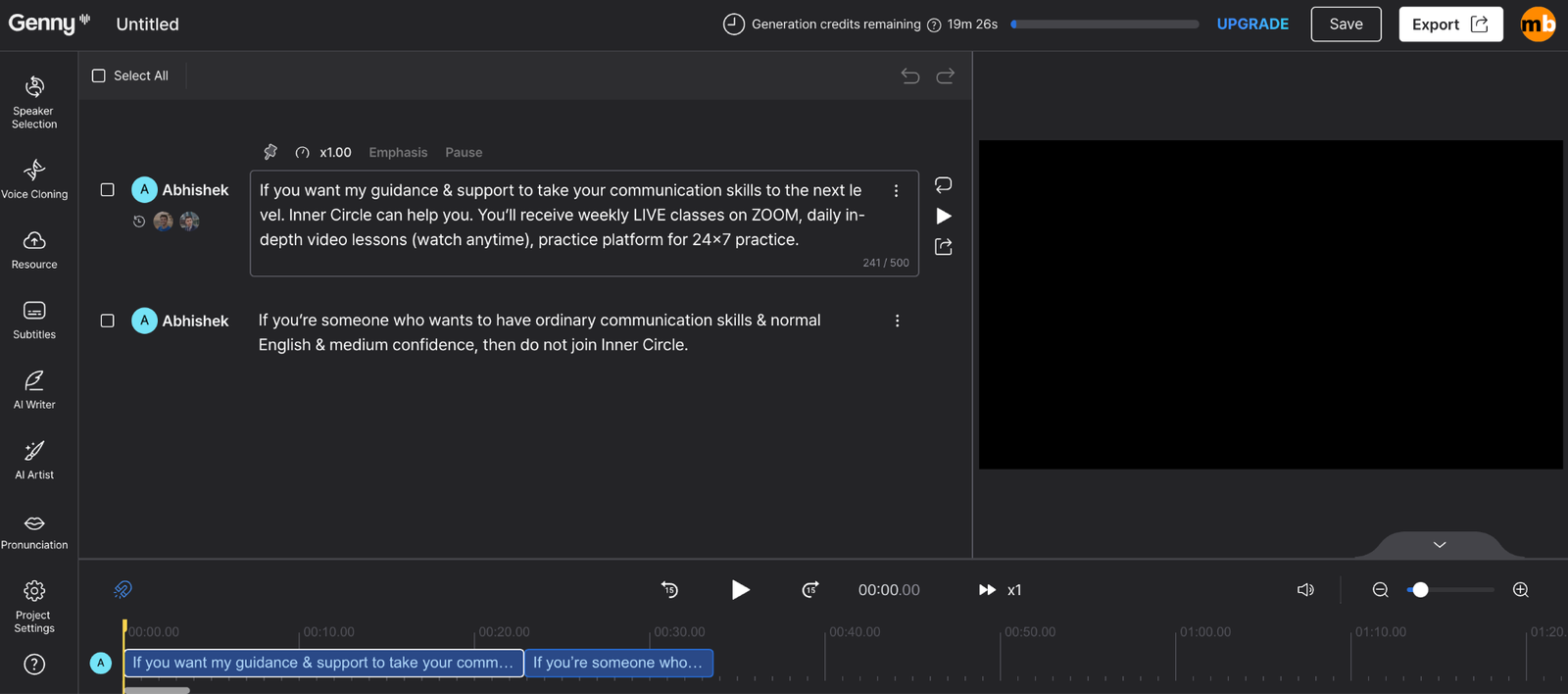 If you want an honest review of Lovo AI, you're in the right spot.
You're about to read the honest review about Lovo based on my experience of using it.
What is Lovo AI?
Lovo AI is an advanced artificial intelligence (AI) speech platform that is useful for voice overs, video narration, and podcasting.
You can generate high-quality, human-like voices in different languages just by entering texts.
To get the most out of Lovo AI, you can follow tips and tricks to optimize your voice projects.
The Founder of Lovo AI
A team of AI and NLP experts founded Lovo AI to revolutionize the voiceover industry.
Tom Lee is the co-founder of LOVO AI.
From its inception, Lovo AI has focused on developing cutting-edge AI solutions for generating voice from text.
The Purpose and Vision of Lovo AI
Lovo AI is looking to change the voiceover industry through advanced AI technology. Its purpose is to provide users with high-quality, realistic voice overs.
Lovo AI envisions a future where voiceover production is faster, more affordable, and accessible to everyone.
What Makes Lovo AI Unique?
Lovo AI stands out with its advanced artificial intelligence technology, generating realistic and natural-sounding voices. You can use multiple AI voices to generate your audio.
Lovo AI has a lot of voice options, making it easy to find the perfect fit.
Whether you're a beginner or professional, Lovo AI's user-friendly tools for voiceover creation and editing are accessible to all.
Lovo's Features
Lovo AI offers a range of specialized voice models for different industries and use cases.
Voice cloning – Personalized voice cloning enables users to create customized voice recordings that closely resemble their own.
Easy-to-use interface – The intuitive interface simplifies the process of generating high-quality voiceovers.
AI Voices – It also offers support for multiple languages and advanced editing capabilities.
AI Writer – You have the ability to generate scripts for your upcoming audio projects and transform them into captivating content.
AI Artist – You can produce images for your videos or audio projects directly within the platform, eliminating the need for external software. Complete all tasks from a single platform.
Lovo AI Generated Voices?
Listen to voices generated by Lovo.
https://genny.lovo.ai/share/970662ea-2532-4d45-b10f-56bb94a6a0a5
The Pricing Structure of Lovo AI
Lovo AI has different pricing plans.
The pricing structure is based on the number of words generated or minutes of audio processed.
You can choose between monthly and annual subscriptions, with higher tiers offering extra features and benefits.
This allows users to select a plan that best suits their usage requirements and budget constraints.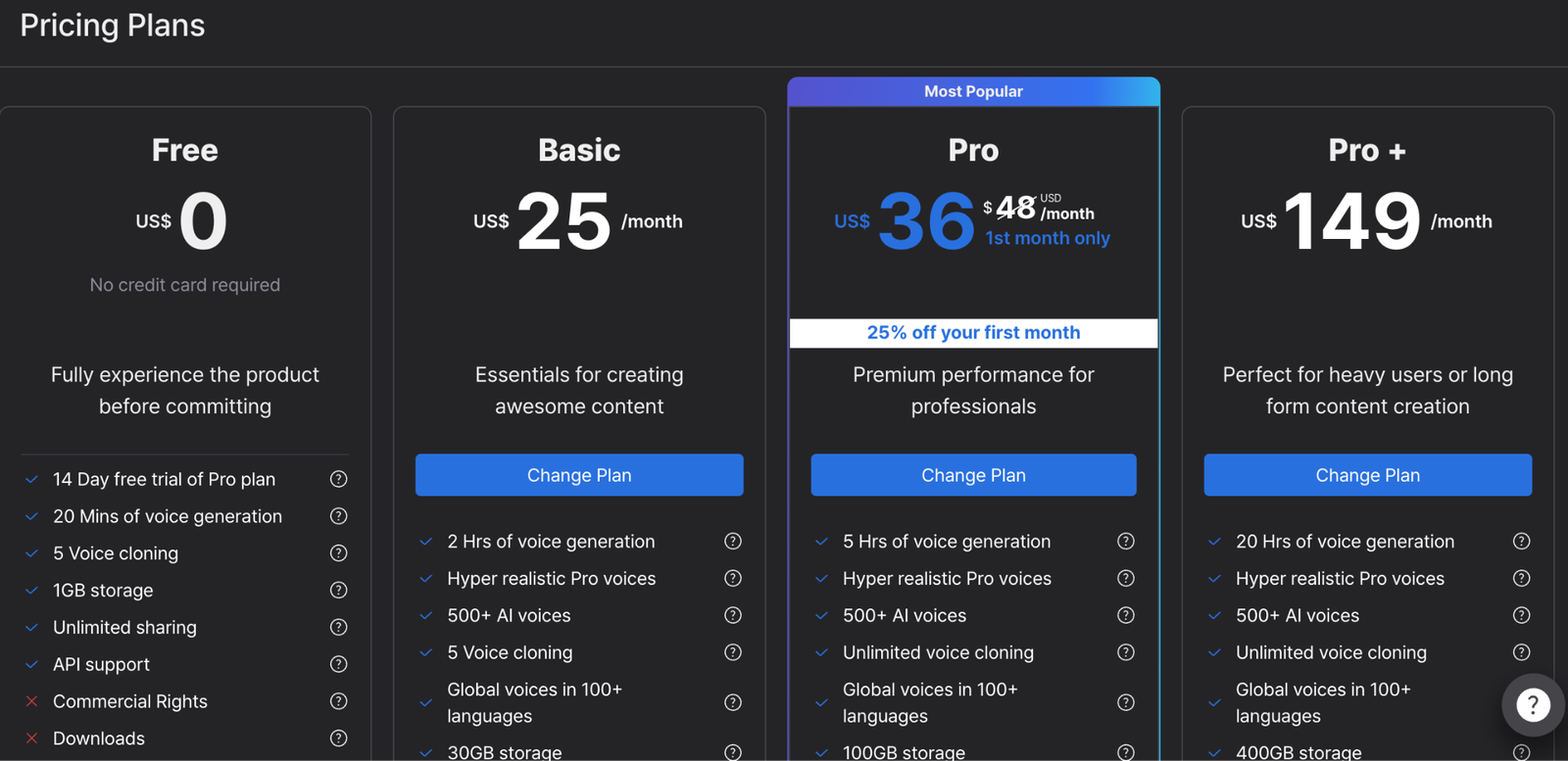 Lovo has four pricing plans, including a FREE one:
1. Free – 0$/month
2. Basic – $25/month
3. Pro – $36/month
4. Pro+ – $149/month
With annual billing you can save up to 50% on Lovo.
Is Lovo AI Worth the Investment?
Considering its ability to create audio from text, the versatility in voices and languages, and the user-friendly interface, Lovo AI can be a valuable investment for your businesses.
However, smaller businesses or individuals with limited budgets may find the cost of Lovo AI to be a challenge.
The Working Principle behind Lovo AI
Lovo AI uses advanced artificial intelligence algorithms and machine learning techniques to power its platform.
Using deep learning models, Lovo AI can analyze and comprehend speech patterns and emotions, resulting in the generation of incredibly accurate and natural-sounding voice overs.
You have full control over the tone, accent, and style of the generated voice overs.
The Pros and Cons of Lovo AI
Pros:
– More realistic voices
– Use multiple voices in a single audio
– Robust platform
– Generate up to 20 minutes of audio for FREE
– Ability to clone your own voice
– In-built AI writer
– In-built AI Artist
– Pronunciation Editor
– Simultaneous editing of AI voice and videos
– Diverse AI voices available in different languages
– Generate voices in various tones
Cons:
– Price might be expensive for beginners
– Base plan offers 2 hours of voice generation
– No LIVE chat support
– Some training might be needed to use LOVO AI effectively
Despite these drawbacks, I find LOVO AI to be an excellent AI voice generator with a wide range of functions.
Who is Lovo AI Suitable For?
Lovo AI is a good text to voice tool for a lot of users such as;
Content creators, marketers, businesses, and individuals can enhance their audio and video content with Lovo AI.
Whether you're a beginner or an experienced user, Lovo AI's user-friendly interface and customizable options make it accessible to all.
Lovo AI for Individuals
Lovo AI offers a convenient and efficient solution for individuals looking to enhance their personal projects or creative endeavors.
With its user-friendly interface and human-like voices, Lovo AI is ideal for individuals who value simplicity and professional-sounding content.
Lovo AI for Businesses
Lovo has an enterprise plan too. To know more about it, you can contact Lovo support team, they will help you. However, on the Pro+ plan, you get 20 hours of audio generation which is a good amount. If your requirement is more than that, for Lovo's Enterprise plan.

How does Lovo AI Compare with Similar Products?
Let's be honest – Lovo isn't the only text-to-speech generator out there. There are hundreds of other software options that perform the same function.
So, the question is, what sets Lovo AI apart?
– AI writer. It enables you to create scripts and seamlessly transform them into audio.
– AI Artist. This feature empowers you to generate images for use in your videos.
– Multiple voices. Enhance your content's appeal by incorporating various AI voices.
– You can input specific word pronunciations.
– The interface is user-friendly.
– You can edit both audio and your entire video project within the Lovo platform.
Moreover, Lovo offers a more budget-friendly pricing structure compared to its competitors.
With its high-quality voice overs and natural-sounding voices, Lovo AI proves to be an excellent option for beginners and individuals seeking a straightforward yet effective voiceover solution.
Lovo AI vs Other Text to Speech Software
Lovo AI distinguishes itself from other text-to-speech software in mnay ways.
Firstly, it offers a diverse range of natural-sounding voices, giving you with ample AI voice options.
Lovo allows you to create subtitles for your video as well.
Plus, Lovo AI provides editing features, making it easy for users to fine-tune their audio output.
Lovo is not just another text to speech software. It does more than that. It will help you create content or the final product that you're looking for.
LOVO is a cloud-based platform that ensures fast and reliable performance, even for large-scale projects.
The Competitive Edge of Lovo AI
I don't think LOVO has any competitive edge. The features they have can be copied. And all the text-to-speech (TTS) software uses the same AI model. They just fine tune the AI, offer support, add a beautiful interface and present it to you.
Lovo Alternatives?
Are you looking for alternatives to Lovo AI?
There are many options, you can consider:
Descript – Descript offers powerful audio and video editing capabilities, while Otter.ai provides real-time transcription and collaboration features. If you're after a simple speech-to-text tool, Speechnotes is a user-friendly option.
Otter.ai – They offer 100+ languages and you can generate up to 50 hours of audio in the base plan which costs $9.99/month. Super affordable.
Play.ht AI – It is advanced text-to-speech AI software. You get so many AI voices, you can change the tone of those voices. You can even clone your voice. You can use Play.ht to host your podcast audio files. It's great software. You must check it out.
Comparable Products to Lovo AI
| | | |
| --- | --- | --- |
| Features | LOVO AI | Play.ht AI |
| Voice Quality | Realistic and natural | High-quality voices |
| AI Writer | YES | NO |
| AI Artist | YES | NO |
| Multiple Voices | YES | YES |
| Voice Cloning | YES | YES |
| Languages | Multi-language support | Multi-language support |
| Pricing | Plan starts at $25/mo | Plan starts at $9/mo |
| Editing | Yes, possible | Limited-editing |
| Ease of use | Yes, intuitive interface | Yes, user-friendly |
| Free Trial | 14-day free trial | Generate 2500 words of AI voice/mo for free |
| Customer Support | Satisfactory, priority in the pro plan | LIVE chat & email support |
Making the Right Choice: Lovo AI or its Alternatives?
When deciding between Lovo AI and its alternatives, think about your needs and budget.
Lovo AI offers a user-friendly interface and diverse voice-over options.
Alternatives like Descript, Speechelo, and Voicely should be researched and compared in terms of features, pricing, and customer reviews before making a decision.
Is Lovo AI's Customer Support Satisfactory?
Lovo AI's customer support is okay. In the free plan, you don't get any support. If you sign up for Pro plan, you will receive priority support from Lovo.
They do not provide LIVE chat support.
Lovo has a lot of tutorials. You can explore that if you want support.
After all, Should You GO for Lovo AI?
Lovo is one of the best text-to-speech platforms. You can sign up for their free trial as well. Test the software and if you find it useful, the go for paid options.
From my end, you should use Lovo AI for your next audio project. Lovo offers loads of functions, you will LOVE the LOVO. 🙂
Lovo's BASIC plan is not that great, if you're going for a paid plan, consider Pro plan.
You can generate more hours of audio, you will get priority support and extra features such as 100GB of storage, unlimited voice cloning and more.
Conclusion
So, to wrap things up, Lovo AI is really cool because it can make voices that sound just like people.
You can use it to make your videos and podcasts sound great. The price is different depending on what you need, so keep that in mind.
There are other tools like Descript and Otter.ai, but Play.HT is a good choice too. Before you choose, think about what you need and what fits your budget.
You can try Lovo AI for free for 14 days. No credit card required.
See if you like it!
And also, check out our review of Play.HT.
Give Lovo AI a shot and make your audio projects even better!
Just sign up and try it out.