Are you planning to buy Teachable basic plan which costs $39 per month?
Yes, then this "Teachable review" is for you. You'll learn ins and outs of Teachable.
In today's Teachable review, you'll learn the following things:
Teachable is right for you if you are….
Pricing of Teachable: What Teachable doesn't tell you on their website?
Teachable features
What did I like about Teachable?
What I didn't like about Teachable?
Pros and cons of Teachable
What others have to say about Teachable?
Support
User-friendly interface and Affiliate System?
Best alternatives of Teachable
Conclusion
Let's get started!
Is Teachable good for you?
I have worked with a lot of online course creators. I understand what the end customers want while going through the course.
Whatever I am going to talk about is based on my experience.
If you're already getting a good amount of sales, for example, you enroll 500 to 1000 users every month in your course, then Teachable is a good solution for you. You must for Teachable right now!
Why?
Because you've to purchase the $99/month Teachable (annual) plan (I'll talk more on this later).
If you're making at least 10 times more than your learning management system (LMS) charge, then it makes sense to use Teachable.
On the other hand, if you're starting and thinking of selling online courses and looking for the Teachable basic plan, then you need to read this post.
In the next section, you'll get to know why Teachable's basic plan is USELESS if you want to enroll 1000s of customers in your course.
In Teachable's basic plan, you do not get Zapier integration. Let's say you want to automate your course delivery.
You want to enroll 500 users every month in your course. You won't be able to enroll all the students manually.
Ultimately, you have to buy the $99 annual plan if you want to use Zapier integration. So in that way, the Teachable basic plan is useless.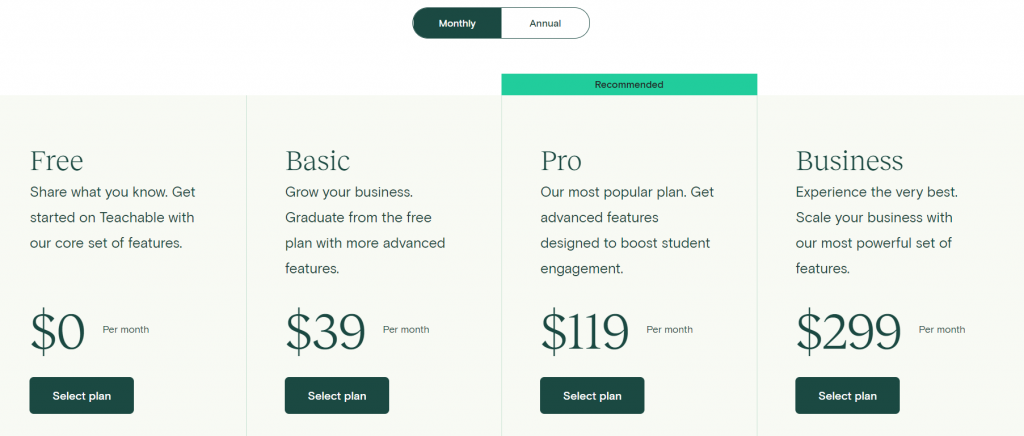 Therefore, I left using the Teachable basic plan.
The teachable monthly plan starts at $39 per month.
Pro plan starts with $99 per month if you go for the annual plan.
All Teachable plans come with unlimited students and courses which is great!
However, in the marketplace, there are a lot of Learning Management Systems (LMS) company give unlimited students and course benefits such as Podia, Thinkific, and New Zenler.
Smooth learning experience
Teachable uses Wistia for hosting their videos. Wistia is the best platform for hosting videos securely. Wistia has a cool feature; suppose you're watching the a course on how to set up a WordPress blog, and suddenly you remember an urgent work.
You closed your window. After finishing the work, you started again watching the video. But you do not know exactly where you left watching the video?
That's where Wisita comes into the role; they give you two options: start watching the video from where you left or start from the beginning.
Teachable works in all browsers.
No matter what browser your customer is using, the learning experience will be smoother and engaging for your customers.
Custom domain
You can rebrand your Teachable school by using a custom domain. Almost in every LMS, adding the custom domain functionality is given.
Dip course content
You want your students to go through only one video per day. You can do it with Teachable drip feed feature.
Basic quizzes
Do you want to know how much your users learned from your course? Leverage quizzes functionality. Build interesting quizzes with Teachable quizzes feature.
Direct integration with 3rd party applications
Teachable does not have a lot of integration with 3rd party apps.
Right now, Teachable integrates with ConvertKit, Google Analytics, MailChimp, Sumo, and Facebook.
You can integrate Teachable with more than 500 applications using Pabbly or Zapier automation tools.
Integrated Affiliate Marketing
You want your users to promote your course and earn commissions on each sale. Teachable has an in-built affiliate tracking system. Now you have the power to turn your customers into advocates.
For Indian users, integrated affiliate functionality is not beneficial as most Indians use Instamojo and RazorPay for collecting payments.
Both payment gateways do not have direct integration with Teachable at the time of writing this blog post.
If you're outside of India, Teachable integrated affiliate feature is excellent for you.
Adding custom code ability.
You can add your Facebook pixel and Google Analytics tracking code in your Teachable school. Later you can use the pixel data for remarketing purposes.
5-admin Level users
You can add up to 5 primary owners, owners, and authors in the pro plan.
This feature is useful when you co-created a course.
Now you'll discover what I liked about Teachable and what I didn't like.
What I liked about Teachable?
Teachable pricing: It's really good that by paying $99/month, you can give your users the best learning experience.
You'll have the power to create multiple schools with a single Teachable account. You can host your courses in various niches.
User-friendly interface for your students.
Teachable has an iOS app too.
A lot of customization options are available. You'll get the functionality to edit your school theme at the code level.
Teachable is a stable platform. You can count on it for hosting all your courses.
What I didn't like about Teachable!
Teachable pricing is not beginner-friendly.
Teachable monthly PRO plan start with $120/month, which is a good amount.
In the basic plan, Automation functionality is missing. That clearly shows Teachable wants us to buy the PRO plan or business plan. I feel the basic plan is just for marketing purposes.
Android application is not available.
Teachable haven't upgraded their software. They're not pushing new updates.
In the basic plan, you will have to pay 5% per transaction fee.
Support is not top-notch nor customer-friendly.
There are a lot of negative reviews available about Teachable on Trustpilot.
Not integrating new applications.
You can upload a 2GB maximum file size in one go. Let's say your video file size is 3GB; you cannot upload bigger files of more than 2GB. Either you have to split the video or compress the video.
There's a learning curve to understand Teachable back-end interface fully.
Overall, as of now, Teachable is a good choice if you can afford their pro plan.
If you compare Teachable with Kajabi and Thinkific, you'll find Teachable pricing is much more affordable. 🙂 
Best alternatives of Teachable?
No doubt Teachable is the best LMS.
However, when you are getting started we always look for affordable pricing plans that fulfil our requirements.
After researching a bit I found Podia is the best solution for small businesses. 
I have written an in-depth post reviewing Podia (Teachable's BEST alternative).
Click here to read the blog post!
Just like Teachable, Podia gives you unlimited courses and hosting benefits.
I found Podia is best and their pricing is much more affordable than Teachable.
For starters Podia Mover plan is great.
You'll get Zapier integration in the Mover plan. You can integrate your LMS with a lot of different applications.
Plus, Podia customer support is awesome and user-friendly.
Podia has direct integration with a lot of software such as ConvertKit, MailChimp, MailerLite, Active campaign and a few others.
Podia interface is intuitive, and you can set up your courses within hours.
Conclusion
Before choosing any LMS first determine your requirements.
Then do your own research and see which LMS company is able to fulfil your requirements in a cost-effective way.
For my client Podia was the best solution. 
If you liked this Teachable Review, please leave a comment below and share what you think about this review. Was this helpful for you?
If you've decided to go with Teachable Pro plan then you would need Zapier, right?
Zapier allows you to automate redundant tasks. However, Zapier plan is a bit expensive.
Therefore, I found an alternative of Zapier. It's powerful like Zapier and in some cases better than Zapier. The tool name is Pabbly connect.
Pabbly pricing is gorgeous too.
Check out Pabbly Connect review here!
Cheers,
Rajneesh