Important Details about the course
The entire course length: 20+ hours
Course completion certificate: Yes
Support: Facebook community and email
Money-back guarantee: No
Looking to join the 77 Days Facebook Ad course?
But not sure whether you should join the course or not?
Nowadays, every third person is selling Facebook Ad courses ranging from ₹499 to ₹29,000.
It becomes essential for you to do a bit of research before you invest your hard-earned money.
In today's 77 Days Facebook Ad course review, you'll learn:
What's the 77 Facebook Ad Course?
By reading the name, you might guess what this course is all about.
77 days Facebook Ad course teaches you how to grow and scale any business using Facebook advertising.
The creator of this course is Gaurav Madaan. He is a well-known marketer in India. So far, he has helped 50000+ people. Gaurav is a very down-to-earth person.
I have joined Gaurav's almost every course. His training is 100% practical, and if implemented, you'll reap excellent results.
I'll share the RESULTS that I generated after completing the 77 Days Facebook Ad course.
77 Days Facebook marketing course is comprehensive and affordable, too.
You'll get each and every detail about the course in today's review guide.
Stay tuned!
Why Should You Invest in this training?
If you do NOT want to waste your precious time learning from Google and YouTube. This training is exactly for you.
There's nothing wrong learning from YouTube and Google. It's just that it takes more time, and too many distractions and less effective content are available.
The problem with YouTube & Google are:
You can't clear your doubts.
You don't get step-by-step training.
You get to see a lot of ads.
And most importantly, you get incomplete information if you just learn the internet.
The benefit is, you don't have to pay anything to learn. Google and YouTube are good to learn the basics.
If you want to make your learning journey comfortable & want to learn advanced tactics.
I would recommend, enroll in a good course, complete the training, implement the learnings, and clear your doubts in the community.
Another benefit I could say, you'll get the latest strategy & updated information when you join a good course.
The digital marketing landscape is changing rapidly. If you don't upgrade your knowledge, soon you'll be outdated.
Don't be afraid to invest on your self-education. Initially, I was reluctant to invest in this course though it was just ₹777/-.
After generating the results, now I am not afraid to invest upon my self-education.
My RESULTS with the 77 Facebook Ad Course
I purchased this course on 14th November 2019. At that time, the course was priced at ₹777/- This was an early bird offer; somehow I grabbed it.
I was hesitant to buy the course because I didn't have any products or services to sell.
Plus, I had a bad experience with Facebook Ad; I tried to run Facebook Ad without learning.
In the beginning, I casually watched the training. I didn't put my learnings into practice.
After a couple of months, I ran Facebook Ads for free just to get hands-on experience.
Then in mid-2020, I got a client and started running ads for him.
The Ads were profitable. So far, I have spent over 30 lakhs on Facebook ads. The best thing is, I learned a lot.
My mentor says, "Learning is not doing." There's a huge difference between learning and doing.
Start implementing your learnings.
This is just one ad account. Campaign names are hidden to maintain client privacy.
If you learn Facebook Ad, you can easily charge ₹20,000 to ₹1,00,000 lakh rupees per month if you generate results for your clients.
Generating good results is easy when you learn from a credible teacher like Gaurav Madaan.
If you have your own product or service, run ads for yourself. You'll make more profits.
Facebook ad is super easy to learn. Anybody can learn it even if you have no prior experience.
When I started, I had zero experience with Facebook ads. Now, I am good at running Facebook ads.
What You'll Discover in 77 Days Facebook Ad Course
Let me give you a sneak peek of what you'll learn in this training:
Facebook Ad
Instagram Ad
WhatsApp Marketing
Facebook Messenger Marketing
How to make money by running ads for other businesses?
Curriculum of 77 Days Facebook Ad Course
Basics:
✔ Module 1 – Psychology Behind Ad
✔ Module 2 – Basics of Facebook (Page, Profile, Groups)
✔ Module 3 – Facebook Ad Policies
✔ Module 4 – Account Structure (Part 1)
✔ Module 5 – GST with Ad
✔ Module 6 – Account Structure (Part 2)
✔ Module 7 – Credit Cards and Free Flights
✔ Module 8 – What are Landing Pages
✔ Module 9 – Must-have things for your Landing Pages
✔ Module 10 – Traffic Temperature (Cold, Warm and Hot)
✔ Module 11 – Understanding Campaign Structure and Objectives
✔ Module 12 – Campaign Dissection
Targeting:
✔ Module 13 – Interest Targeting
✔ Module 14 – Layering
✔ Module 15 – Finding Hidden Profitable Interests without Paid Tools using Ad API
✔ Module 16 – Behaviour Targeting
✔ Module 17 – Using Audience Insights Tool for Targeting
Placements and Instagram Ad:
✔ Module 18 – Language and Ad Placements
✔ Module 19 – Optimisation and Spending Controls
✔ Module 20 – Ad Dissection
Ad Copy:
✔ Module 21 – Ad Copy Building Blocks
✔ Module 22 – Parts of Good Ad Copy (Hook, Story, and Offer)
✔ Module 23 – Cold Audience Ad Copy Frameworks (AIDA, PAS, HSO)
✔ Module 24 – Warm Audience Ad Copy
✔ Module 25 – Hot Audience Ad Copy
Ad Creatives:
✔ Module 26 – Essential Tools for Ad Creatives
✔ Module 27 – Tools I use to Create Ad Creatives and Find HQ Pattern Interrupt Images
✔ Module 28 – Creating Ad Creatives in Photoshop
✔ Module 29 – Creating Seamless Carousel Ad
✔ Module 30 – Instant Experience Ad
Pixels:
✔ Module 31 – Pixels and Setup
✔ Module 32 – Troubleshooting Pixel
✔ Module 33 – Custom Conversions
✔ Module 34 – Overcoming Pixel Inefficiencies
✔ Module 35 – Attribution and its Importance for Conversion Paths
Remarketing:
✔ Module 36 – Audiences
✔ Module 37 – Remarketing
✔ Module 38 – Remarketing Concept 1: Scarcity and Urgency
✔ Module 39 – Remarketing Concept 2: Logic
✔ Module 40 – Remarketing Concept 3: Authority
✔ Module 41 – Remarketing Concept 4: Story Based
✔ Module 42 – Remarketing Concept 5: Social Proof
✔ Module 43 – Remarketing Concept 6: Application of the Product
✔ Module 44 – Leveraging Influencers
✔ Module 45 – Remarketing Concept 7: Exclusive Remarketing Discount
Lookalikes:
✔ Module 46 – Lookalike Audiences
✔ Module 47 – Creating a Campaign with Lookalike audiences
✔ Module 48 – Value-Based Lookalike Audiences
✔ Module 49 – Loyal Buyers Audience
Optimizations and Dashboards:
✔ Module 50 – Metrics and Columns
✔ Module 51 – Creating your Custom Reporting Dashboards
✔ Module 52 – True Optimisations for your Campaign
Messenger Marketing:
✔ Module 53 – Introduction to Messenger Marketing
✔ Module 54 – Messenger Marketing Tools
✔ Module 55 – Messenger Automation Part 1
✔ Module 56 – Messenger Automation Part 2
✔ Module 57 – Running a Messenger Ad
✔ Module 58 – Building your Messenger Subscribers
✔ Module 59 – Messenger Broadcasts (Monetising your Messenger Subscribers)
✔ Module 60 – Messenger Segmentation and Tags
✔ Module 61 – Handling Negative Comments
Scaling your Campaigns:
✔ Module 62 – Scaling a Business Framework
✔ Module 63 – Scaling with Audience Expansion
✔ Module 64 – Adet Scaling
✔ Module 65 – CBO Scaling and Surfing
✔ Module 66 – Scaling with New Ad Account
✔ Module 67 – Scaling with Zero Targeting and Sniper Method
Rules:
✔ Module 68 – Automated Rules
How to Get Clients?
✔ Module 69 – How to Charge Clients
✔ Module 70 – Getting Clients via Linkedin Content Method
✔ Module 71 – Getting Clients via Pixel Checker Method
✔ Module 72 – Getting Clients via Landing Page Method
✔ Module 73 – Getting Clients via Marketplace method
✔ Module 74 – Getting Clients via Local Business Workshop Method
✔ Module 75 – Getting Clients by Freelancer/Upwork Method
✔ Module 76 – Whatsapp Marketing
✔ Module 77 – What Next?
Feedback from the previous students
I have shown you my RESULTS. Now, I am excited to show you other people's results as well.
To generate any kind of results, you have to take action. If you don't take action, you will not see results, it is as simple as that.
So be ready to take action. In a moment, I'll tell you how you can use this for maximum benefit.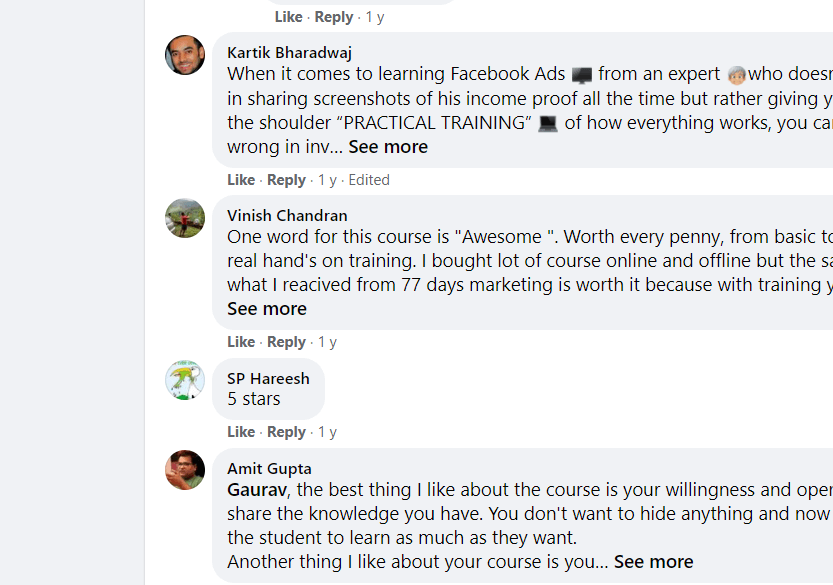 How to Purchase the 77 Days Facebook Ad Course?
Currently, the price of this course is ₹1,999
Plus, you have to pay the convenience (payment processor) fee of ₹121.49
The total you'll pay is ₹ 2,120.49/-
Click the green color button above,
Enter your name, email, and phone number.
Complete your payment using debit card/ credit card / UPI / Netbanking or wallet.
Upon completion of payment, you'll receive login credentials on your email address.

NOTE: Make sure you enter a valid email address. In some cases, course access email might land in the spam/promotions folder. Ensure you check that too.
For any doubts, you can email him or ask your question in the group.
Support email address: gm@gauravmadaan.com
How to use the course for MAXIMUM benefits?
Buying the course is the easiest thing anybody can do.
The actual game starts when you watch the training and apply your learning.
That's where you get solid RESULTS.
Applying your learning requires immediate action. It's not like, if you learn and don't do anything, you'll get results.
If you want results, take massive action.
I am going to share what my mentor told me how to use any course for maximum benefit.
Step 1: Go through the course without implementing anything. Just learn, that's it.
Step 2: Watch the 2-3 modules and start implementing. Learn and implement.
Step 3: Repeat the same process with videos.
One thing I see in newbies is that I don't have money to spend on Facebook ads.
I was in the exact situation in 2020; what I did, I started working for FREE.
Yes, I didn't ask for payment. I just wanted to gain hands-on experience.
Once I have generated the results. I was able to charge. You need the courage to do this.
When you don't have experience, work for FREE to get experience, then charge.
I worked 6 months day in and day out without any payment with all the dedication.
And it started paying off. Consistent action will bring massive results even if it's a small action; it must come daily.
WHO should buy this course?
This course is helpful for,
Students: Want to learn a skill that you can use for growing any business? Facebook Advertising is for you. Facebook ad is super easy to learn. You can get paid a good amount of money every month if you learn Facebook advertising and bring revenue for other businesses.
Working professionals: If you're looking to switch your career, learning Facebook advertising can be fruitful for you. It is a high-paying job as well if you have 2-3 years of experience.
Entrepreneurs: You can boost your lead and sales using Facebook ads quickly.
Housewives: Looking to generate income without going to the office, then this is for you. You can work part-time and generate full-time income. All you have to do is, learn the right skills and have the proper approach. You're good to serve almost any business and bring quick revenue using Facebook advertising.
Conclusion
In this post, I shared my review of the 77 Days Facebook Ad course by Gaurav Madaan. I shared my RESULTS.
I shared what you'll learn, the course price, and how to use the course for maximum benefit.
I am optimistic that you will apply the lessons which you have got from this post.
I am looking forward to seeing your success stories. 77 Days Facebook Ad course is self-guided. You can learn anytime, anywhere.
Did you find the 77 Days Facebook Ad Course review helpful? Let me know in the comments!
And, if you've got questions about the training? You can ask in the comments. I'll answer.
Don't have a website? Read our new blog post on how much it cost to build a website in India.