Are you confused between SiteGround, Bluehost, A2 Hosting and HostGator?
Which hosting you should choose for your website or blog?
There are tons of web hosting out there. They promise that we have top-class support and 99.9% uptime.
Today, you'll get to know about the reality of these web hostings when you start using it.
Without using any web hosting, you can't say XYZ Hosting is bad or ABC Hosting is good.
However, this post is all about "SiteGround web hosting review" and a little bit of comparison with other web hosting providers.
However, my entire focus will be on sharing my unique review about SiteGround Web Hosting.
You'll get to know about Unbiased Review of Siteground.
Let's get started.
SiteGround web Hosting UX
When I started using SiteGround, one of the best things I liked about SiteGround is that their User Experience is different from other web hosting providers.
I mean the User interface is so easy to understand & simple that anyone can use it.
Even for a non-techie person setting up a WordPress site will be a piece of cake.
SiteGround is the best choice for you if you want a simple neat & clean cPanel.
I have used many web hostings but all of the user interfaces are almost similar.
You can do a lot of things in just one click in SiteGround hosting, whether you want to install a new WordPress site or you require to enable SSL certificate on your site. Any changes in your site settings you can effortlessly do with the help of a few clicks.
I never saw such an interface that SiteGround provides. You'll get that experience when you use SiteGround hosting.
And you can customize your cPanel colour according to your ease. I have tried and it was a mind-boggling experience. Below you can see the image.
Sounds interesting?
This is just starting. I have so many things to explain you regarding SiteGround web hosting.
Of course, I have some cons of SiteGround hosting which you'll get to know about later in this article.
But before that let's explore SiteGround a little bit more.
SiteGround support
Without any doubt, Siteground delivers what they promise to their users.
Siteground support is incredible. I encountered some technical issues while Migrating my site.
I contacted their support & in a few minutes, they solved the issue.
Siteground supports "Live chat" and "toll-free calling".
One of the most important aspects of any hosting provider is their support.
If any hosting provider support is not up to the mark it means that the hosting provider is not serving up to the mark.
I loved the kind of support SiteGround gives. When you pay the extra money and you get 24×7 instant support.
Instant support gives you Premium feel that every dime you spend on SiteGround web hosting is worth it.
SiteGround uptime & speed
Nowadays uptime & site loading speed matters a lot. It can affect your ranking too.
I'll give you a brief overview of how it can affect your rankings.
Let's suppose your competitors have better hosting than you and their site loads faster than your site.
Then Google will give higher rankings of your competitor's site, not yours.
After using SiteGround web hosting
At this time, I haven't optimized that site properly.
But yes, as you can see the loading time of AforAbhishek.com is 3.8 second without optimizing.
Moreover, I am using Elementor on this site. You might have heard that Elementor makes your site a little bit heavy.
There's no doubt, SiteGround can be the best web hosting for your blog or website.
Siteground provides quality web hosting service.
Let's talk about SiteGround uptime.
SiteGround claims that they provide 99.9% uptime. And that's true.
I talked to some friends, they use SiteGround on their site and they gave me very positive feedback about SiteGround uptime.
At this time, I haven't monitored the uptime of AforAbhishek.com site.
However, in the near future, I would update about that too.
But yeah, it looks like SiteGround is giving 99.9% uptime.
Best hosting on this planet at an Affordable Price?
If I talk about SiteGround web hosting is incredible. However, when it comes to pricing it's a bit expensive especially when you are looking to renew your SiteGround service.
For the first time, you get a 60% discount and after that, there's no discount.
However, I want to mention one thing, you can't compromise with web hosting.
Right now, whatever hosting you are using if it does not provide quality service then you need to switch your web hosting provider right now.
Slow web hosting providers can hurt your business growth.
And for the first year if you can make your site "Profitable then you don't need to worry about your web hosting renewal.
Because you'll get much more ROI than you spend on a quality web hosting server.
I'd say SiteGround justifies the pricing. You'll be getting industry-best support and incredible service.
My dear friend, if you want Premium web hosting you need to pay a little bit extra.
This is the first time I fell in love with SiteGround web hosting. I really liked it. You would like it too. I am pretty sure. Just give it a try.
What World's Top Bloggers Say About SiteGround web hosting?
Let me compare SiteGround pricing with other web hosting service providers.
SiteGround is giving three pricing plans and there is no change in pricing no matter whether you buy SiteGround service for 12 months, 36 months. It will remain the same as the pricing you're seeing right now.
Bluehost pricing plan is a little bit tricky & disappointing. Let me explain why?
They show their long-term pricing on the home page. When you fill the checkout form there, you'll get an option to choose your hosting duration.
If you buy Basic hosting for 12 months it will cost you 4.95 dollars per month.
The longer plan you choose the extra discount hosting you get with Bluehost. As you can see, all the pricing options in the 12 months plan.
Here's the reality of Bluehost web hosting
In the below image you can see the site speed of eComBusinessTalk.com. This site is hosted on BlueHost server and let me tell you eComBusinessTalk is not fully optimized.

You can see that site speed.
In the beginning, I showed a site which is hosted on a SiteGround server. That site was not optimized too but still, their site speed was really good compared to Bluehost.
You can differentiate which is the best hosting provider. What's more important for you is quality or money?
While SiteGround doesn't play pricing tricks. They have a simple pricing plan & best service at an affordable price. SiteGround service justifies its pricing.
Therefore, my first choice is SiteGround. SiteGround web hosting is featured on WordPress official recommendation too.

WordPress has featured only three web hosting, from those three-web hosting SiteGround is one of them.
HostGator Pricing Plans
HostGator is another web hosting service provider. It also has pricing plan tricks like Bluehost.
If you lock your offer for a longer period of time, you'll get more discount.
In the below image you can see the pricing plan of HostGator.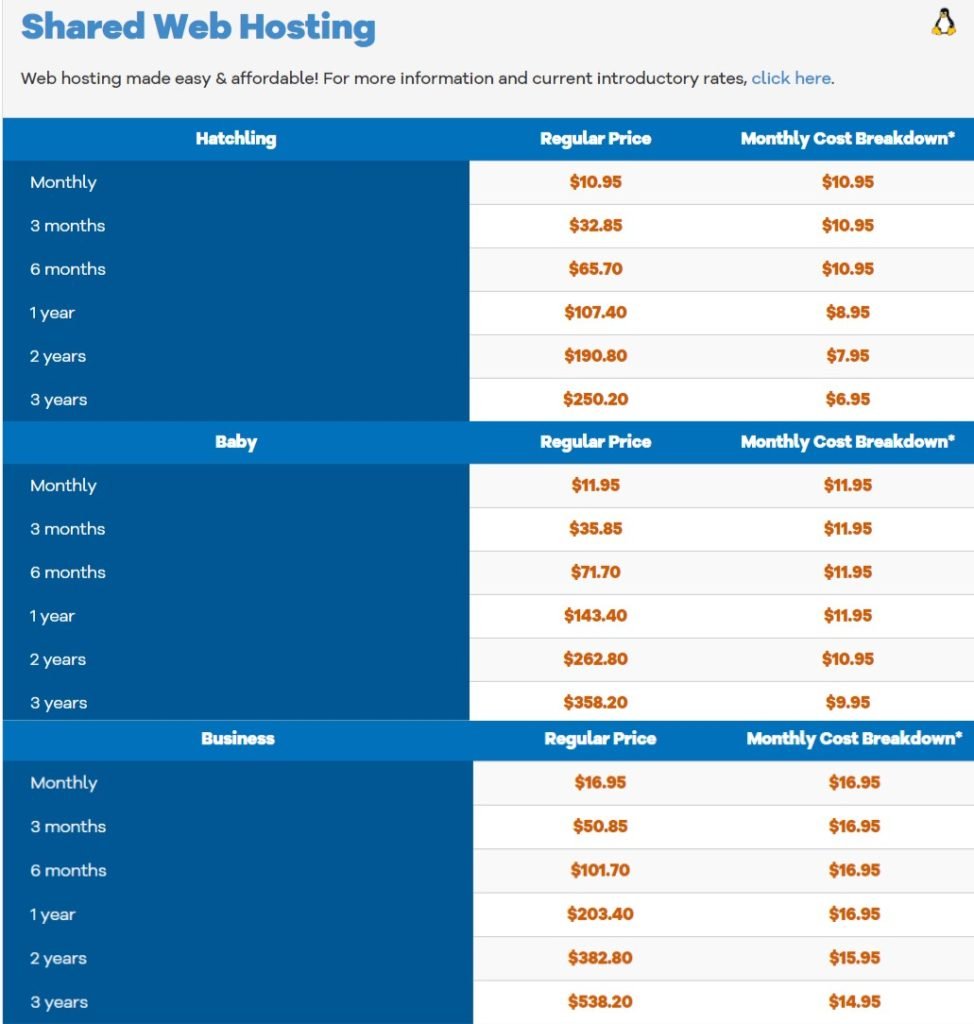 What nobody tells you about SiteGround
There no doubt SiteGround is best and very few & genuine people recommend SiteGround hosting.
Because SiteGround provides less commission compared to Hostgator, Bluehost and A2Hosting.
Those bloggers who want more profit they would recommend you to go with Bluehost and Hostgator etc.
The reason is they want more profits in each sale.
But I don't want more profits. I want to recommend those web hosting which is best.
And my vote goes to SiteGround hosting. I used it and I have shared the experience with you.
And I have shown you real-life case studies why SiteGround is best while other web hostings are not up to the mark.
I am not saying that other web hostings are bad, and don't go with those web hosts.
However, I found SiteGround is the best option for you. SiteGround provides quality service at an affordable price.
And believe me that, once you buy SiteGround hosting you don't need to switch to another web hosting. If your blog or site is generating enough profits.
If you have quality web hosting then I am sure it will be easier for you to make your site profitable as soon as possible.
You don't need to spend more time talking to a customer rep.
You can focus on creating high-quality content for your readers. These all things are possible If choose to go with SIteGround web hosting.
I know SiteGround renewal is a bit expensive. But if you lock yourself in a 3 years plan of SiteGround web hosting.
Then you will be locked at a discounted price. It means for three years you won't need to worry about your service being renewable.
You can focus on making your blog/site profitable.
Are you a beginner? Should you go with SiteGround or not?
If you're totally a beginner and you want to run only one blog you can opt for the SiteGround basic plan which starts form 3.95 dollars per month.

And if you just invest 2 dollars extra you will get the access of unlimited sites. Which means you can host more than one website by just spending a little bit extra money.
However, you should go with a SiteGround "Grow big plan" only when you have multiple sites.
If you're a beginner I'd recommend you to go with the Start-up plan.
Initially focus on just one site makes it super profitable then you can always start a new website and upgrade your web hosting plan according to your needs.
My bonuses
If you are about to Buy SiteGround Web Hosting or for that matter any web hosting. You can use my affiliate link.
By this way, you can support this blog indirectly to create more useful content for you by using my affiliate link for purchase.
I'll give you a bonus if you use my affiliate link in buying any hosting.
Here is the bonuses list:
You'll get Premium GeneratePress theme
Elementor Premium plugin
eBook on copywriting – This will help you to write profitable content for your site
Access to my amazing Facebook community.
You'll have my Premium support in case you encounter any problem while setting up your website
The total value of 297 dollars you would get. If you decide to buy any hosting from my affiliate link.
If you use my affiliate link you won't need to pay any kind of extra money.
Once you have bought hosting using my affiliate link. Send me a receipt of purchase at support@magicblogging.com so that I can verify your purchase and provide you all the bonuses that I promised.
Isn't a cool opportunity to help each other to grow in their life.
I don't believe in competition; I believe in collaboration.
Let's grow together.
Pros & Cons of SiteGround hosting
Pros
Best hosting service on the earth
Simple pricing plan, no tricks in their pricing plan
Super easy to use Interface
24×7 live support via Chat & Phone call
Hassle-free WordPress installation
Cons
High renewal rates
Less flexible plan
Set-up fee if you buy one-month hosting
I don't have much cons regarding SiteGround web hosting. SiteGround hosting is a flawless web hosting provider.
How to buy SiteGround hosting?
Click here and this link will redirect you on their pricing plans page.
Step: 1 Choose your plan
Step: 2 Enter your domain if you have an existing one. Else you can register a new domain. I already have my domain name. I'll click on the proceed button!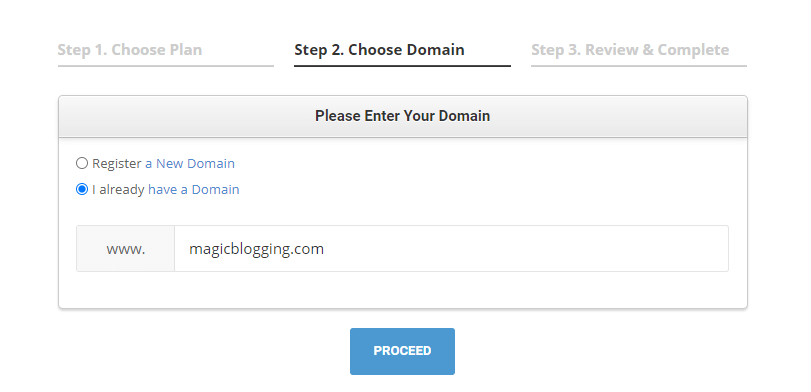 Step: 3 On this page, you need to fill out all the information and choose your hosting duration
Step: 4 Please don't add an SG scanner. You don't need that. I'd say go with a long-term plan such as a 12 months or 36 months plan.
Step: 5 Click on Pay Now. You're done!
Once your payment is successful, you'll receive a mail in which you have your name servers' details.
Wow, it is super easy to buy hosting from SiteGround.
Don't forget to claim your bonuses if you have bought hosting from my unique link.
Alright. By this we have come to at the end of our discussion. You must read the conclusion.
Conclusion
If I were in your place, I would go with SiteGround hosting. I believe in quality service.
My dear friend, cheap service is expensive. You'll end up wasting more time on useless things.
And if you choose to go with quality service even though it's a bit expensive than others it will be worth it in the long-term.
This can give you consistent Return on Investment (ROI): As you know hosting is an essential part of your blog/website.
You should not compromise in terms of hosting. You can compromise with themes and plugins but not with hosting.
Hosting is like the fuel of your blog. Without good quality fuel, you cannot ride smoothly.
Same goes with web hosting without quality hosting you can run your blog smoothly.
Here's the link to buy SiteGround hosting.
Once you have done with the purchase process. Send me your purchase receipt at this email address support@magicblogging.com
So that I can send you all the cool bonuses valued at $ 297. It's a Golden deal you should not miss out.
Bonuses are available for the first 100 people only. Ensure you take action now!
Cheers,
Rajneesh Singh