Dear reader,
If you are looking to join the Digital Deepak internship program, then you must read this guide. 
See, everything has its pros and cons. Isn't it?
In this guide, you will get to know about the following things:
How was my experience with Digital Deepak Internship?
What is the structure of the internship?
What are the things you'll learn in this program?
Who should join this internship and who shouldn't?
And the fee of the internship.
Let's get started. 
Digital Deepak Internship Program has been closed. They are not accepting new participants. Hopefully, Deepak sir will open the program again. Still, if you want to know about my experience with the Digital Deepak internship program, you can read this guide!
Career Update
After completing my internship in 2020, I did some freelancing gigs and then joined a startup to handle their marketing department. My key role is to bring sales through digital marketing channels like Facebook ads, emails, and more. I joined that startup in July 2020, and I am still working with them.
Since then, I have learned a lot. From struggling to making money online and now making lakhs of rupees. Things have changed. The Digital marketing career allowed me to support my family, and I am doing what I love. I can work from anywhere.
Recently I got Macbook Air M1. I was hesitant to share this, but who knows, it might motivate you to take a leap of faith and build your career in digital marketing.
You'll get everything you want if you stay consistent and do the necessary work. The things that were difficult for me in 2020 now effortless for me.
Nowadays, I am focusing on my blog. I have started working on my YouTube channel too.
It's not about which courses or programs you join. It's about the work you do. You can learn things from YouTube and Google. If you implement, you'll get results. "Do the Work," and your work will give you everything you want.
My experience with Digital Deepak Internship
I was a part of Digital Deepak Internship Program Batch 2, and in this program, I learned many things from basic to advanced level stuff of Digital Marketing. 

My experience with DD Internship was very positive. However, I'd like to mention some of the things which I didn't like.
See, I had experience in Digital Marketing so completing this internship was a piece of cake for me.
However, at some point, I felt I couldn't complete the assignment on time. It wasn't because there was a lack of time, it is because I took extra time to do irrelevant stuff. 
Pro tip: If you want to complete each and every assignment on time, just follow what Deepak Kanakaraju says, especially if you're a complete newbie in Digital Marketing. 
Do you want to know where I felt I couldn't complete the assignment?
It was an assignment for running Google & Facebook ads. However, I completed the assignment at the old deadline.
Here's the whole story.
A lot of people were asking a deadline extension for assignment number six because fellow interns were also facing some difficulty in completing assignment number six. 
What happened with me in assignment number six I had to run Google ads and Facebook ads. 
Running a Facebook ad was easier for me because I had some experience in how to run Facebook ads. 
On the other hand, I never touched Google ads, and my first two Google ads campaigns didn't run. 
Because in Google ads, your landing page should be detailed and relevant to the ad you want to run. 
In the first attempt, unfortunately, I picked up a keyword that had too much competition. It was really hard to compete/run ads on that keyword, then I decided to try in a different niche. It also failed. 
Then the third time, I ran Google ads for Digital Deepak Internship Program, and my ads started running, and I submitted the assignment by the old deadline. 
Sometimes things don't go as we expect. You should try it in a smart way. Eventually, things will start falling into place.
Now coming back to the topic, by and large, my experience with Digital Internship was very positive. 
A brief overview of what are the challenges other interns face. Since I am from a Digital marketing background, most of the assignments were easy for me. 
On the other hand, a large number of interns were from a non-digital marketing background.
And they were facing difficulty in completing assignments.
However, all assignments were pretty simple, and I know whenever we try to do something new, it's a little bit challenging for us. 
And that's the whole point of doing a Digital Deepak Internship.
The Internship is designed in such a way that you gotta take action. Generally, what we do is we take a course, and we watch it, then don't take any action. In the end, we don't get results. 
If you use a bit of common sense and beware of what other interns are doing, you can complete all assignments effortlessly. 
You can ask for help from your fellow interns. That's the best thing I liked about you will put in a Facebook group where you can ask all your doubts regarding assignments.
After every live webinar, there's a Q&A session that happens for those who have doubts regarding the particular assignment. That's the one thing I like about Digital Deepak Internship. 
And I published an article on my blog about what I learned from the first internship class of DigitalDeepak. You can read that.
What you'll learn in this Digital Deepak Internship Program
The structure is pretty simple yet powerful because it motivates people to take action.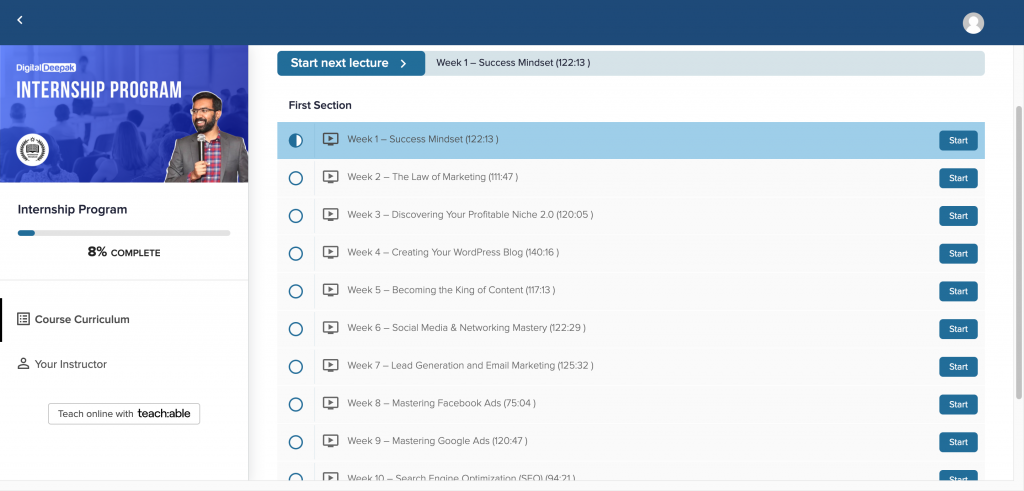 After 2-3 batches, they don't conduct LIVE classes. Instead, they provide you high-quality video training. Which you can watch anytime, and they conduct weekly Q&A classes. There you can clear your doubts!
You get 12 in-depth and high-quality video lessons:
Week 1: Success Mindset
Week 2: The Law of Marketing
Week 3: Discovering your Profitable Niche
Week 4: Creating Your WordPress Blog
Week 5: Become the King of Content
Week 6: Social Media & Networking Mastery
Week 7: Lead Generation and Email Marketing
Week 8: Mastering Facebook Ads
Week 9: Mastering Google Ads
Week 10: Search Engine Optimization (SEO)
Week 11: Deep Marketing Automation
Week 12: The Natural Sales Method
When I joined, there were 7 live webinars you'll get to attend once you join the Internship Program. 
In the first session, you'll learn marketing basics. You will learn about funnels, the basics of economics, market research, and other general principles of business. 
The session duration will be around 90 minutes long. Above I just gave you a brief idea of what are the things you will receive from the session first.
There are so many things you can learn in a single session, and most importantly, you'll get to know about the mindset you need to have to start your digital marketing career. 
I feel that having the right mindset is the keystone of your success.
In the second session, you'll get to know about the importance of a customer avatar and how to create a customer avatar for your business?  You'll learn how to do surveys. Each session will be around 90 minutes or more. 
In session third, this is my favorite subject. You'll learn about the Copywriting & Sales page. You'll learn how to create a sales page for your target customer. What's copywriting and seven principles of influence. 
In session fourth, you will learn how to build a self-hosted WordPress website. And in my opinion, having a website is like having your own property on the internet. You'll learn each & everything about how to set up your self-hosted WordPress blog from scratch.
In session fifth, you will learn about lead generation & automation. You would learn how to use automation tools such as Zapier. You'll learn how to create marketing automation via email & phone. 
In session sixth, you will learn how to run Google ads & Facebook ads. You will learn how to run different kinds of ad campaigns, such as traffic campaigns, brand awareness, and lead generation ads. 
In session seventh, you'll learn about advanced digital marketing, such as integrated digital marketing, split testing, and conversion rate optimization.  
However, in batch two, session seven was about creating your first digital/info product and bringing at least one sale. That was our assignment number seven in batch 2. 
I'd say creating your first info product can be a game-changer for you in digital marketing. Because in online business, you can make the most profit by selling your own products. 
For some of my fellow interns, this assignment wasn't easier. However, that's why you joined the Internship, where you can learn, implement, and grow. 
Who should join this internship?
If you are a working professional and want to switch your career, then this internship is exclusively for you. 
Let me tell you, there are many working professionals who joined this internship, such as,
Civil Engineers,
Small business owners,
Software engineers
Housewives
Students  
Student: You learn a new skill in Digital Marketing, and getting a job in Digital marketing is huge. And digital marketing is considered one of the most in-demand skills. Digital is the hottest career; if you learn 2-3 skills and become really good at it, you can earn a decent amount every month. 🙂
Business owners: Having more customers is the most important thing in any business. And you can acquire more customers by using Digital Marketing strategies.
Professionals: As I said you want to switch your career, then Digital Marketing is the best option for you. And Digital Marketing can help you to land a high-paying job too. 
Entrepreneurs: The best way to increase your customer database and test your new product idea is to take your business online and use the latest digital marketing strategies to grow your business exponentially.
Digital Marketing gives you an opportunity to learn, work and make profits. And in the shortest period of time, you can literally change your career and be the master of your own life. 
If you want to make your career in Digital Marketing, you just need to have Passion. 
That's it.
Else everything can be figured out.
But if you don't have passion, then I'd not recommend you to come & learn digital Marketing if you come in digital marketing for a shake of money. Then it's not going to work for you.
Of course, everyone needs money however, initially, you have to put lots of effort into learning, implementing, and growing your online business. 
If you can cross that phase, I promise you, you'll become a successful digital marketer.
Who Should Not Join this Program?
If you don't have a Passion for digital marketing, then it's not for you. 
If you're looking for instant income without putting any effort then please don't join this Program. 
And if you're already making tons of money through digital marketing, then you don't need to enroll in this Digital Marketing Internship Program. 
Fee of Internship
Actually, the fee depends on which batch you are about to join. I can't reveal the exact fee amount because it might create confusion if you're looking to join the future Internship Batch.
One thing I can reveal is that the fee will be around Rs. 15,000-20,000.
Note: The fee amount might change this is just to give you an idea.
Here's the best part of this internship, you can earn back all the investment that you made by completing all assignments.
And let me tell you, the assignment completion rate is very high. In my batch 2, the first assignment completion rate was around 89% which is insane.
You don't need to worry about assignment completion. Nobody on this planet provides this kind of opportunity to learn, earn, and grow.
In this program, you are getting an education almost FREE. If you are committed to earning back your money by completing all assignments, then there's no cost for you to enroll in this Internship Program. 
So, I don't think there's any problem with enrolling in this program. Ultimately, you're going to get back all the money that you invested in Digital Deepak Internship Program. 
And guess what? I am a student, and I didn't have money to enroll in. So, I told my parents about this Digital Marketing Internship, and the program fee is Rs. xxxxx (sorry for hiding the fee amount), and I can earn back all the investment that will be made. 
Initially, I hesitated to ask for money to join the Digital Marketing Internship. When I told my parents that I could get back my money, my parents instantly gave me money to enroll in the program. 
It's not Money that can stop you; it is your mindset that can stop you from doing anything. 
If a student can join this Internship Program, then why can't you. If you're a professional or business owner, then it's easier for you to join this Program.   
You need to know this: Testimonials
If you're still on the fence about whether you should make this investment or not, then don't take my word. 
You can see what my fellow interns are saying about the Program.
I have shared everything about the Program and what are the benefits you'll get from this Internship Program. 
Now, you are in a position to make a decision about whether this Internship is for you or not? 
I can show you the right path and what are the challenges you will encounter while walking on that path. The choice is yours!
Processing of joining Digital Deepak Internship Program
In the beginning, I said Digital Deepak Internship Program has been closed. Right now, they are not enrolling new participants!
If you are curious to know about the joining process, then stay with me.
You register for the launch webinar
In the webinar, you get all the details about the Internship Program
You deposit the fee
And you're enrolled
In a single batch, they take around 500 participants. Once the batch is full, you can't join Digital Deepak Internship Program. You'll have to wait for the next batch.
That was the process of joining the Digital Deepak Internship Program.
When I joined the program, Deepak sir promised to give us a hard copy of The Edge of Sanity book and a welcome kit.
In the welcome kit, there was a pen, a key chain, a small diary, and a letter from Deepak sir.
I am not sure about future batches; they offered a welcome kit and book. Still, I am grateful that I took the decision to join the program. I am really happy!
Conclusion
I have done 7+ Paid courses, and I never saw this kind of opportunity where you can learn, earn, and grow your digital marketing expertise. 
The way this whole Digital Deepak Internship Program is structured will take you from a newbie to a pro-level digital marketer. 
As I have shared all the pros & cons of this Digital Deepak Internship program. 
Learn, earn, and turn yourself into a professional digital marketer.
And I would say one of the best opportunities to get the basics done of Digital marketing.
Because digital marketing is such a vast field, and you'll be lost if you don't have someone who has more than 10 years of experience in digital marketing. 
Rest depends on you; you're the best judge. 
Cheers,
Rajneesh Singh