Are you looking to start your blog with less budget? I know when it comes to blogging you need to invest some money in order to just get started.
Today, you're going to experience how I started my blog with less budget. What are the things you should consider when you have a shoestring budget for your blog?
I am going to give you some strategies on how to make your blog profitable.
Is blogging with less budget really possible?
I have so many things to talk about when it comes to starting a blog with less budget or very minimal investment.
Let's get started.
Blogging with Less Budget Is It possible?
I want to ask you a question: what's the definition of "Less budget" for you?
Because everyone has a different opinion about less budget. For some people, less budget could be ₹6,000, 4000 or 3,000.
On the other hand, for some people, a smaller budget could be ₹1,000, 1500 or 2000.
Let me tell you my definition of less budget, whenever you start something new you can always cut the cost down the cost to start anything.
Instead of investing money, you can invest time or you can try alternative ways to start that thing.
Similarly happens with the blog. When you're starting a blog, you can cut down the cost of starting a blog by not investing in Premium themes and Plugins etc.
And most of the tools provide many features at no cost. You can leverage that too.
Today, you'll get to know about how you can save money one Premium themes and plugins and tools that are necessary to start a blog.
I'd say if you want to start a blog with a very low budget like ₹1000, 2000 or 3000 then you might not be able to make your blog profitable and good looking.
By the way, at this time if you don't have money to start your blog with good hosting and a brandable domain name.
Then you can start affiliate marketing. I have written an in-depth article on affiliate marketing you can read that.
Starting a blog is another thing I have the technique to start a Self-hosted WordPress blog with less than 1000 Rupees.
This article is for those people who have at least 7855 Rupees for starting a blog. In that way, you can start blogging with less budget.
You don't need to spend Rs. 10,000+ on creating your blog.
However, turning an ordinary blog into a money-making website then my dear friend you need to invest a little bit of money on must-have things for a Money-making blog.
I want to ask you, what's your goal?
Starting a self-hosted WordPress blog
Or a "Profitable" self-hosted WordPress blog
In the next section, I am going to talk about must-have things in order to start your blog with less budget.
Must-Have Things When You Start a Blog with Less Budget
Only two things you require to start a Profitable blog, not an ordinary hobby blog.
A good brandable domain name
A good hosting with the fast loading speed
Domain Name
I always prefer that when it comes to buying a domain name Buy from Hostinger.com. Especially when you are starting a blog with less budget.
You can find the cheapest domains on Hostinger.com and when it comes to renewal of your domain name Hostinger is best.
If I talk about GoDaddy they provide cheaper domains for the first year after that they charge too much in the renewal of domain names.
Your Action Step:
Go ahead and get your domain name at the cheapest price from Hostinger.
Buying Steps:
Click here, you'll be redirected to the Hostinger Domain Search page.
Type you desired domain in the 'Search box' and check whether it's available or not.
If you're not able to come up with available domains with (dot)com extension. You can use the Shopify Name Generator tool.
Type your seed keyword and Shopify Name Generator will suggest you so many good Names.
Else you can name your blog like, [Your name] + [Your blogging niche].
Example – my name is Rajneesh and my blog niche is Digital marketing. I could come up with RajneeshDigital.com, you can use your creativity to come up with a good Domain name.
Ensure you choose a brandable domain name. Never ever include any numbers in your Domain name.
Like, 101ProductivityHacks.com, 99ProductvityTips.com
Avoid using numbers in Domain names.
One more thing, always choose a short and sweet name so that people can easily remember your site name.
Once you've come up with a good, brandable name, click on the "Add to cart" button.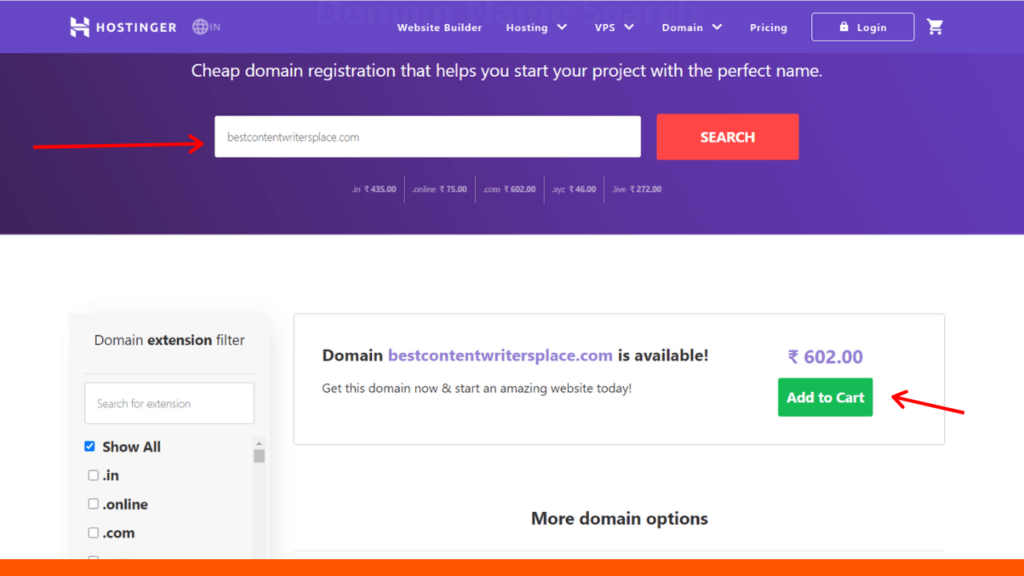 Then choose your Domain registration duration, click on 'Checkout now'.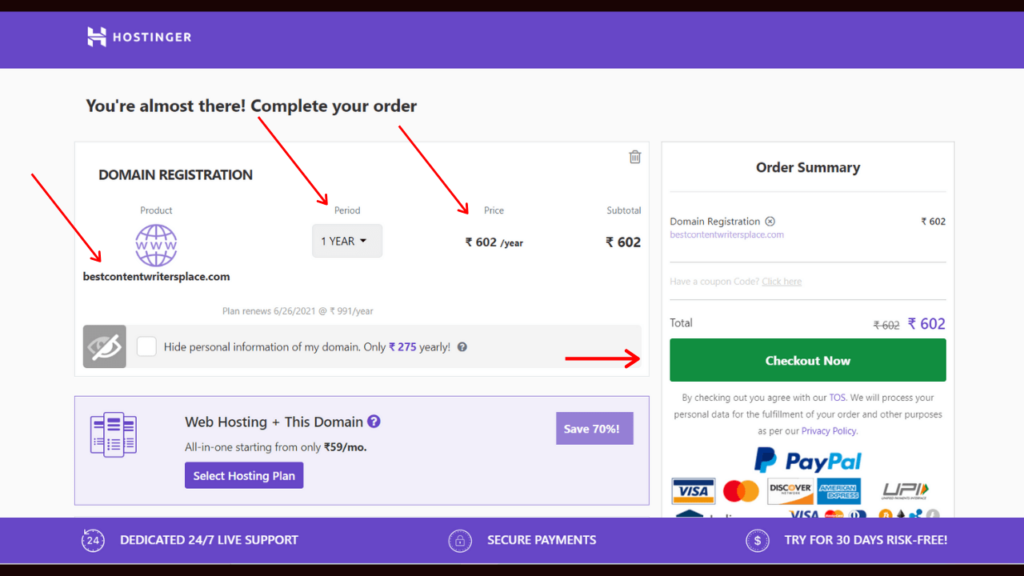 After that choose your Payment method. Hostinger provides so many payment options. Choose any one and pay the amount.
After successful payment, you would receive an email like the below image, you have to verify your Hostinger account. Follow the email instructions.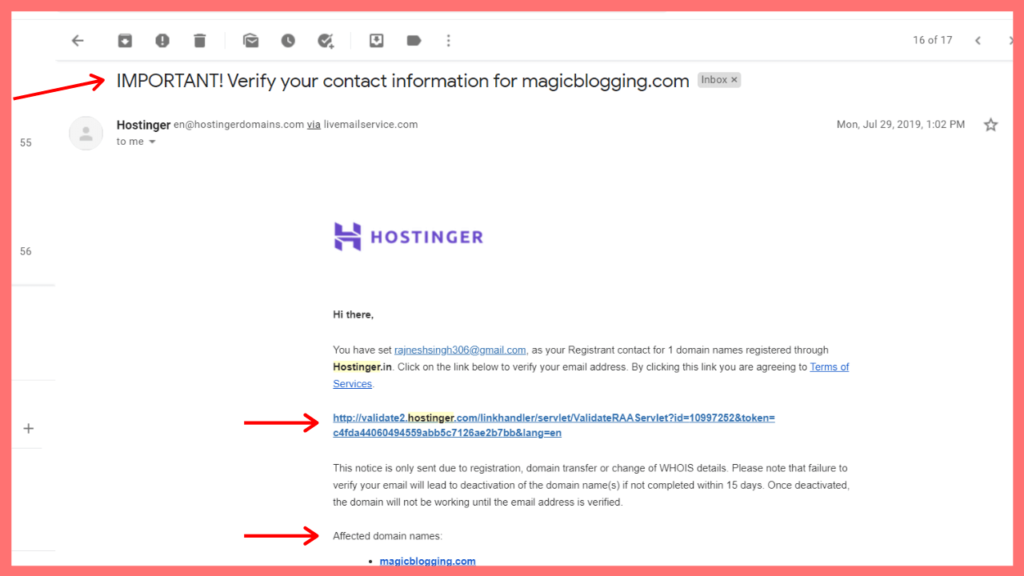 You're done with the Domain registration part. Let's move on to the hosting part.
Hosting
You can buy hosting that has good site loading speed, great uptime and robust support.
I recommend you to go with SiteGround Hosting which I use for my client's blog. It's an affordable hosting with good site speed and great uptime.
You can find tons of hosting providers but when you use it then you'll get to know about the actuality of hosting companies.
Only a few companies are providing best quality service such as A2Hosting, SiteGround and Bluehost.
I'd suggest you go with the above companies only.
My Favourite is SiteGround Hosting.
Let me tell you when it comes to starting a "Profitable" blog, never ever use any bad hosting server.
Slow Hosting server can affect your article search rankings on Google, you can lose conversions and people trust too.
I mean nobody would like to wait to load your site. Even you would not wait when any site is taking too much time to load.
Hosting is like a fuel for your blog. When you have a quality hosting you can turn your site into a money-making site by leaps and bounds.
Example – When you eat high energy food, you get more energy. You are able to do more work in less time. All because of the kind of food you ate.
The same goes with the blog. If you don't have a good hosting provider you cannot turn your ordinary blog into a profitable money-making site.
Go with SiteGround hosting at a discounted price.
My Bonuses That Would Help You to Start Your Blog in Less Budget
My bonus is conditional if you purchase SiteGround hosting with my affiliate link you're eligible to get the following bonuses:
Premium GeneratePress theme (worth $49.95)
Elementor Premium Plugin (worth $49/year)
eBook on Copywriting that would help you to write engaging content (worth $10)
FREE Productivity course (worth $27)
The process of getting all bonuses:
Step 1: Purchase SiteGround hosting from my unique affiliate link.
Step 2: Once you bought the hosting, send me your "purchase receipt screenshot" at support@magicblogging.com
Step 3: Within 24 Hours I'll send you all the bonuses via email after verifying your purchase.
Pretty simple, isn't it?
Let's grow together. I believe in collaboration, not competition.
You can help me indirectly in growing MagicBlogging blog and I can provide you what you need to make your blog up & running.
Sounds fair?
Yes, so go ahead, get your hosting at a discounted price. Once you bought the hosting with my affiliate link don't forget to grab your bonuses.
SiteGround Hosting Buying Process
Click here (Affiliate link), you'll be redirected on a page where you can choose your hosting plan.
I'd suggest you go with a Start-up plan. If you have only one site to host.
After choosing your hosting plan. Move on to the next step.
On step 2 you need to put your domain name. Since you've already bought a domain name. Click on I already have a domain name. Enter your domain name, click on Proceed.
On the 3rd step, you need to enter your account information, payment details and select your hosting period, please lock your hosting duration for 12 months or 36 months.
Because for the first year, you get the discount, after that there's no discount. It's better to lock your hosting plan for a longer duration.
Then click on Pay Now.
Once your payment is successfully completed. You would receive an email like the below image.
Inside that email, you have your Nameservers and login URL of your cPanel.
Point your Nameservers on your domain name
Step 1: Login your Domain registrar and go in Manage domain. Inside the Manage domain, you can see Update Nameservers option.
Step 2: Copy and paste the Nameservers that you received from SiteGround via email.
Step 3: Click on Update.
Note: It will take up to 24 hours in resolving your Nameservers on your domain name.
After 24 hours, log on to your hosting cPanel and install WordPress on your domain.
WordPress Installation Process
Step 1: Login into your hosting cPanel and click on WordPress, on the left-hand side.
Step 2: Inside drop-down menu, click on Install and Manage.
Step 3: Select the WordPress option. Leave the Installation path empty. Ensure you uncheck WordPress starter on the left-hand side.
Step 4: In admin info create your username, strong password and put your email, click on Install button.
Once your WordPress has successfully installed. Inside the Manage installation section, you can see the Actions tab, below the Actions tab, click on the Arrow icon button.
If you click on that icon it will redirect you in your WordPress dashboard. From your WordPress dashboard, you can manage your site.
Now, you need to install essential plugins, themes and post content. Customizing your WordPress site is another thing, I'll discuss in another blog article.
Today, my main focus is to help you in starting your blog.
In the next section, I have something cool for you.
Things you should know when you're starting a blog in less budget
All these things will be based on my personal experience.
When you're starting any blog, you need to put consistent effort and you need to constantly learn new things.
Five things you must do when you're starting your blog with a minimal budget.
Quality content – Content would make your site profitable. If your content is not compelling enough to read, you're not going to make money from your blog.
In blogging or digital marketing, everything revolves around content. Without content, you cannot drive traffic and sales.
Ensure you create high-quality content. Because content can make or break your blogging journey.
Patience – Let me tell you blogging is not a get rich quick scheme. Your blog cannot be profitable in a day or two. You need to give at least 3 -6 months to earn money from your blog.
You should know that with having a long-term goal about your blog then you can earn a decent amount of money in 3-12 months.
Strategies – You have to learn new SEO strategies and how to make your blog profitable constantly. You have to implement proven strategies then you can grow your blog.
Networking – You have to do networking with those people who are in your same space. Networking will help you to create authority in your niche. You can apply for guest posting on other bloggers' blogs.
Networking plays an important role in building backlinks and authority of your blog.
Promotion – I see many bloggers who are just starting their blog. They don't focus on the Promotion of their content.
Drill this down in your mind. When you start any blog, you'll not get any traffic from SEO. In that case, you need to drive traffic from different social media sites such as YouTube, Facebook, and Pinterest etc.
What makes any blog profitable?
Your content makes your blog profitable. There are two types of content money-making article or complete information article.
If you consistently publish informational articles on your blog, you're not going to make any money. You need to make the balance between informational articles and money-making articles.
You should prepare your content strategically, not any type of random content. You have to analyse your competitor's blog and find out how you can replicate their strategies on your blog.
Content is the heart of any blog. Your content should be unique, useful, relevant and fresh content.
Conclusion
Today, you have learned how you can start your blog with less budget. I have discussed what are the things you need to know when you start a blog with no/less budget. I talked about the bonuses I am giving you.
What makes a blog profitable?
Five things you must know if you're going to start a blog with a low budget.
I hope you found this article helpful. If you liked the article do let me know your thoughts in the comments. I will reply to your comments!
Thanks
Rajneesh Singh