Are you spending hours thinking of content ideas for your blog or website? In this guide, I'll review Scalenut.
Not sure if it's the right tool for your content marketing needs?
Keep reading because I'll explain everything about Scalenut here: its main features, pricing plans, pros and cons, and a comparison with other similar tools available.
Without further ado, let's begin.
Personal Experience with Scalenut
I recently started using Scalenut mainly because of their Article Writer feature, which has made creating long-form blog content much easier.
Initially, the output quality wasn't that great, so I was not using Scalenut.
Let me be honest: Scalenut isn't the best choice for generating marketing copies; it doesn't deliver high-quality marketing content.
However, if your goal is to produce long-form content, Scalenut could be beneficial.
I also used Scalenut's Article Writer to produce this piece of content. Although I made many edits, it still saved me considerable time.
How does Scalenut's Article Writer work?
1. Click the Article Writer button.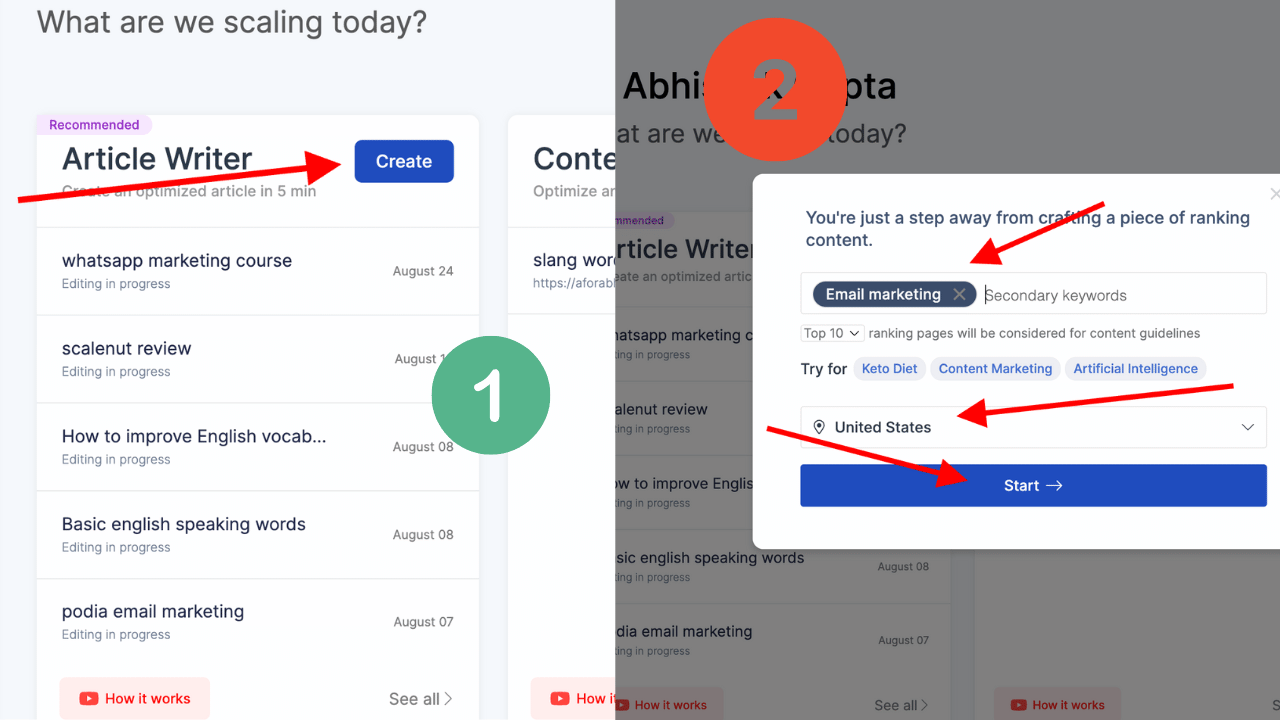 2. Enter a keyword, choose the country, and click "Start."
3. Scalenut suggests related keywords as you type.
4. Provide a brief overview of the article's subject, like this post about a WhatsApp marketing course.
5. Select a writing tone or set one if needed.
6. Click "Create Title."
7. Scalenut proposes blog post titles; pick one.
8. Scalenut generates an outline, which you can edit now or later.
9. Generate Writing Points; Scalenut starts writing content.
10. After creating all the writing points, you can "Export" them to the Scalenut editor.
11. The Scalenut editor is similar to the Surfer editor, with an SEO score meter on the right and content editing on the left.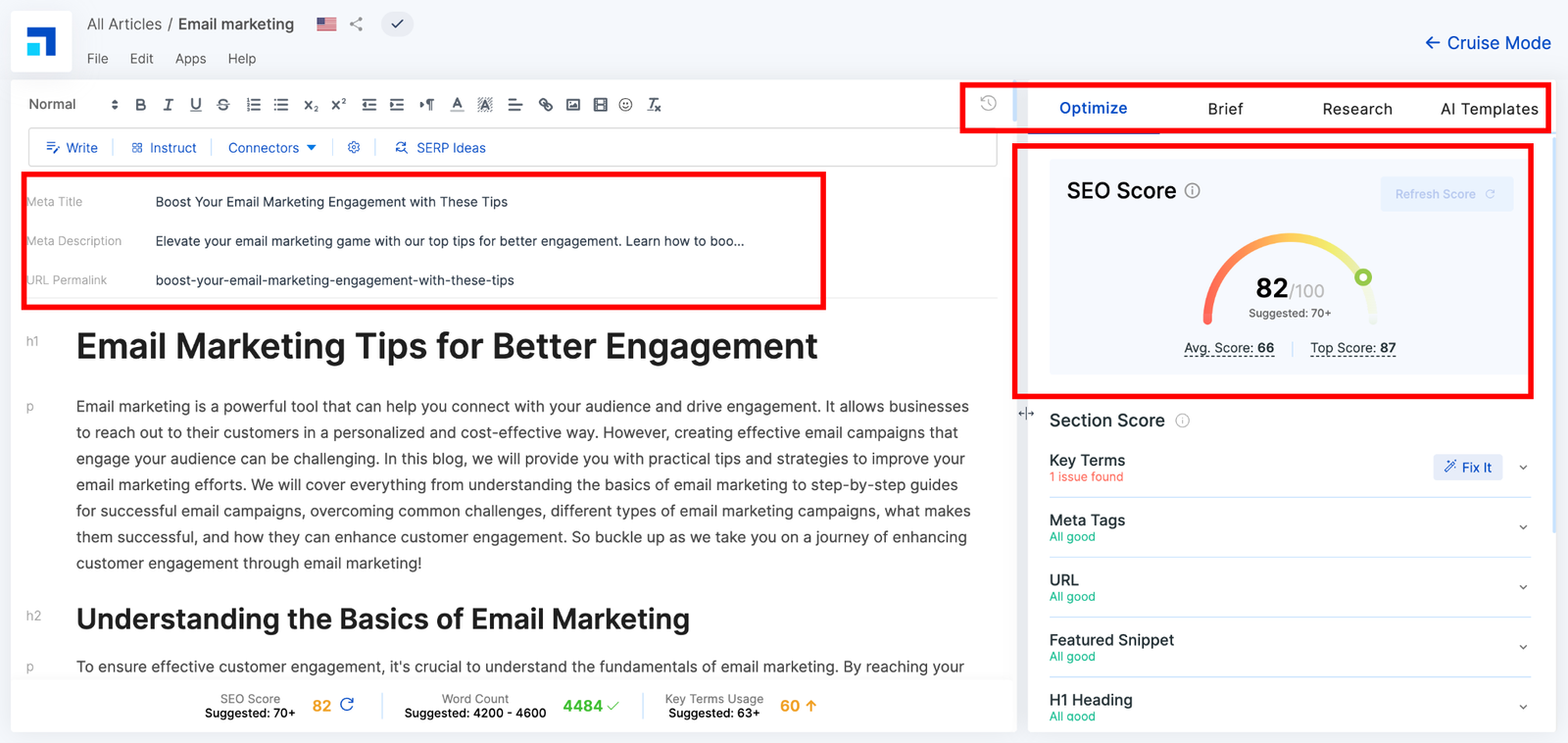 12. You can see meta details like title, description, and permalink URL at the editor's top.
13. Suggestions regarding SEO score, word count, and key term usage appear, aiding your content optimization.
14. Once your content is edited, you can directly Publish it on your WordPress blog.
15. Scalenut offers many tools to enhance your content.
Note that AI-written content often requires substantial changes before it can be published.
What is Scalenut: A Quick Overview
Scalenut is a content generation platform powered by AI. It allows you to write various types of content like blog posts, social media posts, and ads. Using Scalenut, you can easily create content, saving you time and effort. The platform uses AI writing and NLP technology to ensure top-notch content is generated.
You can connect Scalenut with other tools such as WordPress, SemRush, and Copyscape. This simplifies researching keywords, crafting content, and publishing it on your website.
Whether you need assistance with product descriptions, blog posts, or email campaigns, Scalenut AI can be of great help.
How Does Scalenut Work?
Scalenut uses advanced AI technology and NLP algorithms to analyze the top 10 results from Google SERPs. It then examines your inputs, grasps the context, and uses its language generation models to create engaging content. Scalenut relies on OpenAI's large language models to generate content.
Key Features of Scalenut
Scalenut offers more than just content writing for websites. It extends its features to various tasks. For instance, you can enhance your current blog posts using Scalenut or even establish topical authority through its assistance. Now, let's see the valuable features that Scalenut has.
Cruise Mode and its Benefits
Scalenut's Cruise Mode offers a user-friendly interface that effortlessly generates SEO-optimized content of medium quality, saving you time and effort.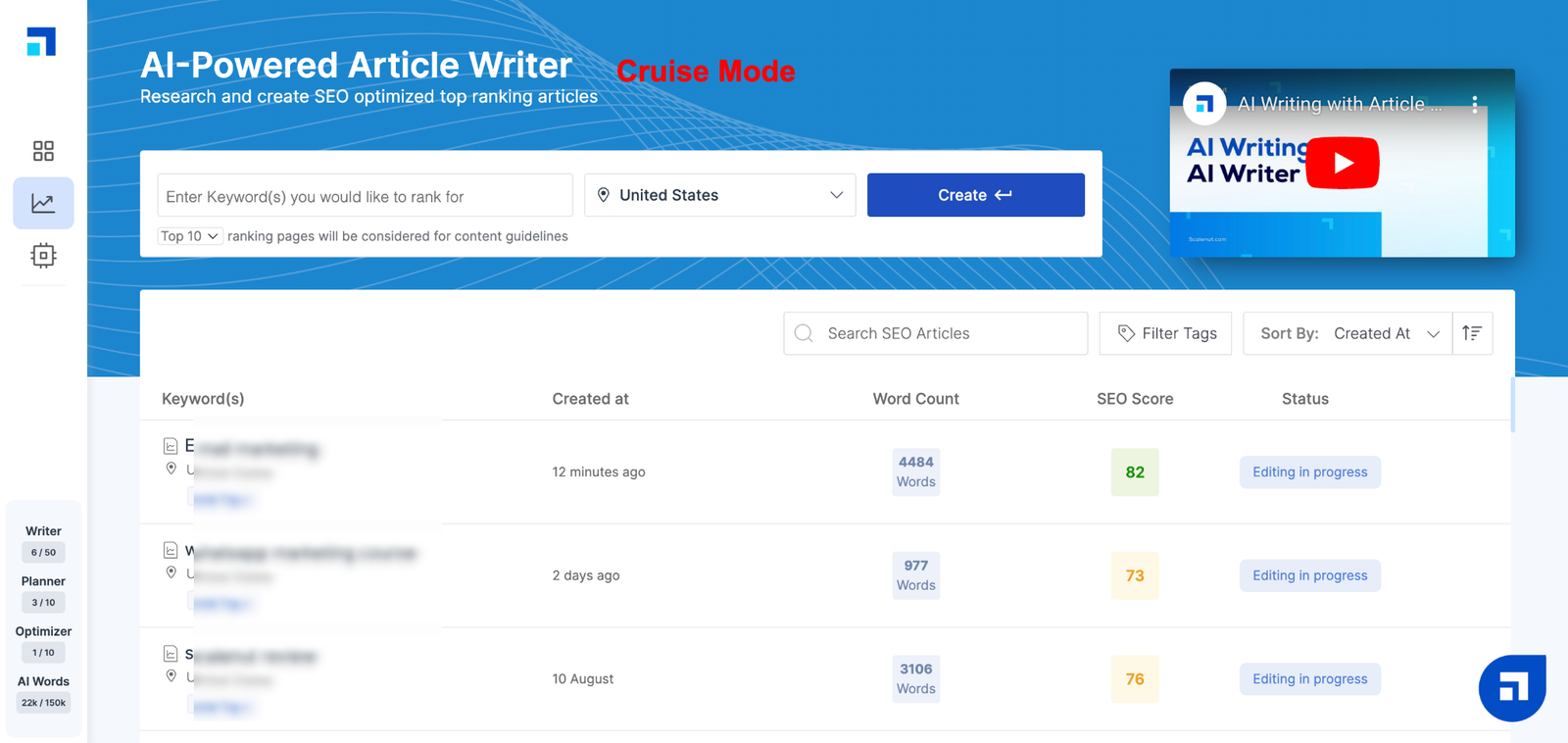 Did you notice I used the term "medium-quality" because AI can't produce content of the highest quality?
To achieve high-quality content, significant editing is still required even after AI generation. Hence, I've referred to it as medium-quality. 🙂
However, it's undeniable that AI writing tools like Scalenut have significantly reduced writing time. With Scalenut, you only need to input a keyword and select a title, and it will create the entire content for you. This gives you a foundation to build upon and removes writer's block.
You can edit and publish content directly from the Scalenut dashboard. The Cruise mode in Scalenut has streamlined the process of creating blog posts, making it simpler and more efficient.
SEO Tools: An Insight
Simply creating content isn't sufficient; you also need effective SEO tools. Scalenut provides SEO tools that enable you to generate high-quality content and optimize it for SEO purposes.
The Power of SEO Score in Scalenut
Scalenut's SEO score is a robust tool that examines and assesses your content's quality. It gives tips on how to optimize your content for search engines, leading to better visibility and higher website rankings. This tool assists you in using pertinent keywords and optimizing meta tags, thereby boosting the overall SEO effectiveness of your content. Scalenut's AI-driven platform lets you maximize this feature, ensuring that your content is finely optimized and gains prominence in the competitive online market.
Content Optimizer
The Scalenut Content Optimiser feature lives up to its name by allowing you to enhance your current content.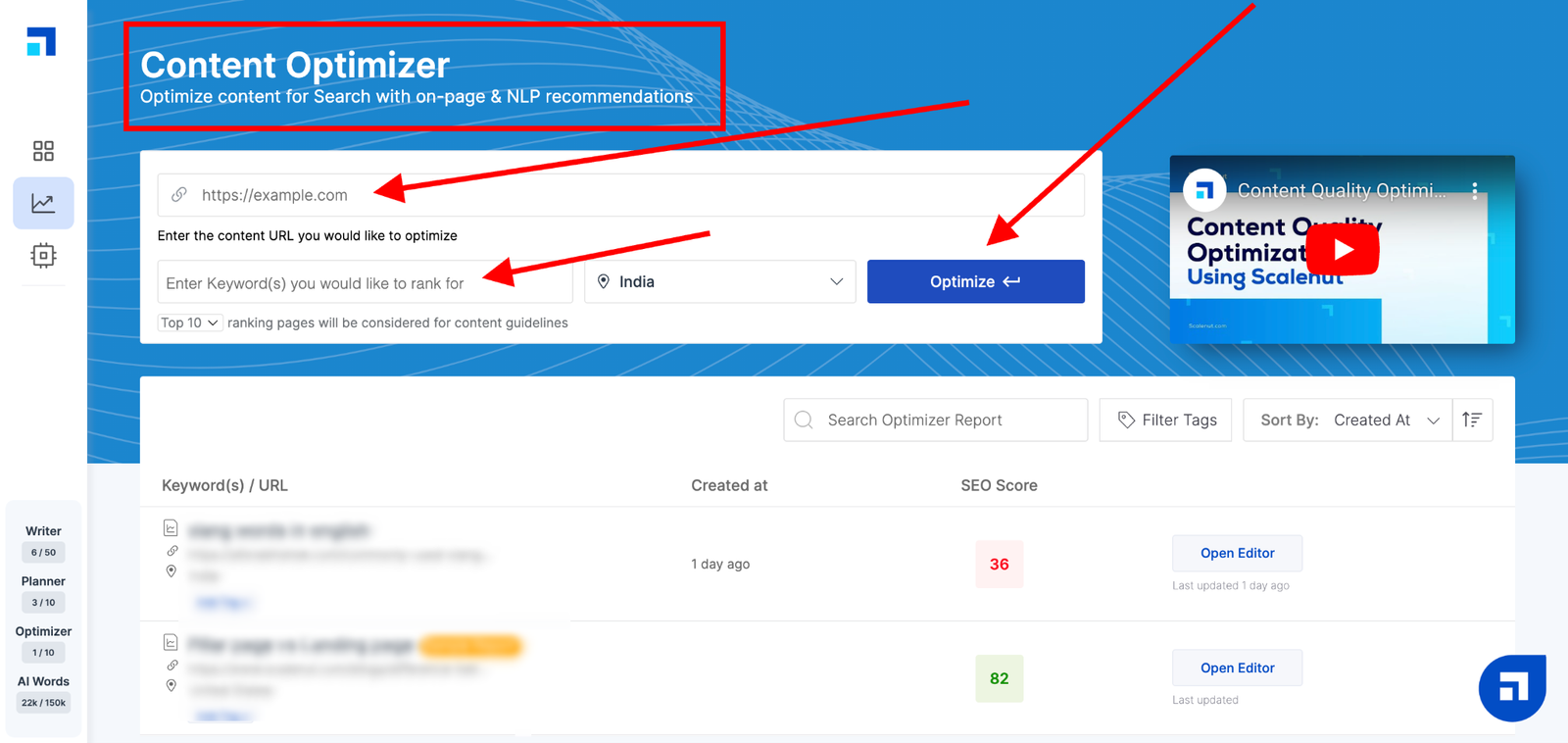 Here's how it works:
Step 1: Go to the Content Optimiser tab.
Step 2: Input the URL of your existing blog post.
Step 3: Enter the keyword you want to rank for.
Step 4: Click "Start."
Scalenut will provide suggestions on enhancing your existing content to improve its ranking for the specified keyword in a matter of seconds.
Scalenut shows an SEO score, where a higher score means, a greater likelihood of your content ranking well.
Your SEO score will improve once you address the highlighted issues in your content. Consequently, your content stands a better chance of ranking for your chosen keyword.
Keyword Planner in Scalenut
The Keyword Planner is a crucial tool within Scalenut, providing many advantages for an effective content strategy. It helps you in finding relevant keywords to optimize your content and boost your search engine rankings.
1. Click on the Keyword Planner.
2. Enter your chosen keyword.
3. Choose the desired target country.
Within a short span, Scalenut will generate a cluster of keyword ideas. These ideas come with insights regarding keyword competition and search volume.
This information helps you to target specific audiences and boost organic traffic.
With the help of Keyword Planner, you can efficiently conduct keyword research, thereby strengthening your overall content strategy.
Once you've selected your keywords, you can proceed to create content based on them.
Scalenut's AI Templates
Scalenut's AI templates provide ready-made structures for various types of content, making it easy to craft polished and organized material for different platforms.
These templates act as a starting point for your writing tasks.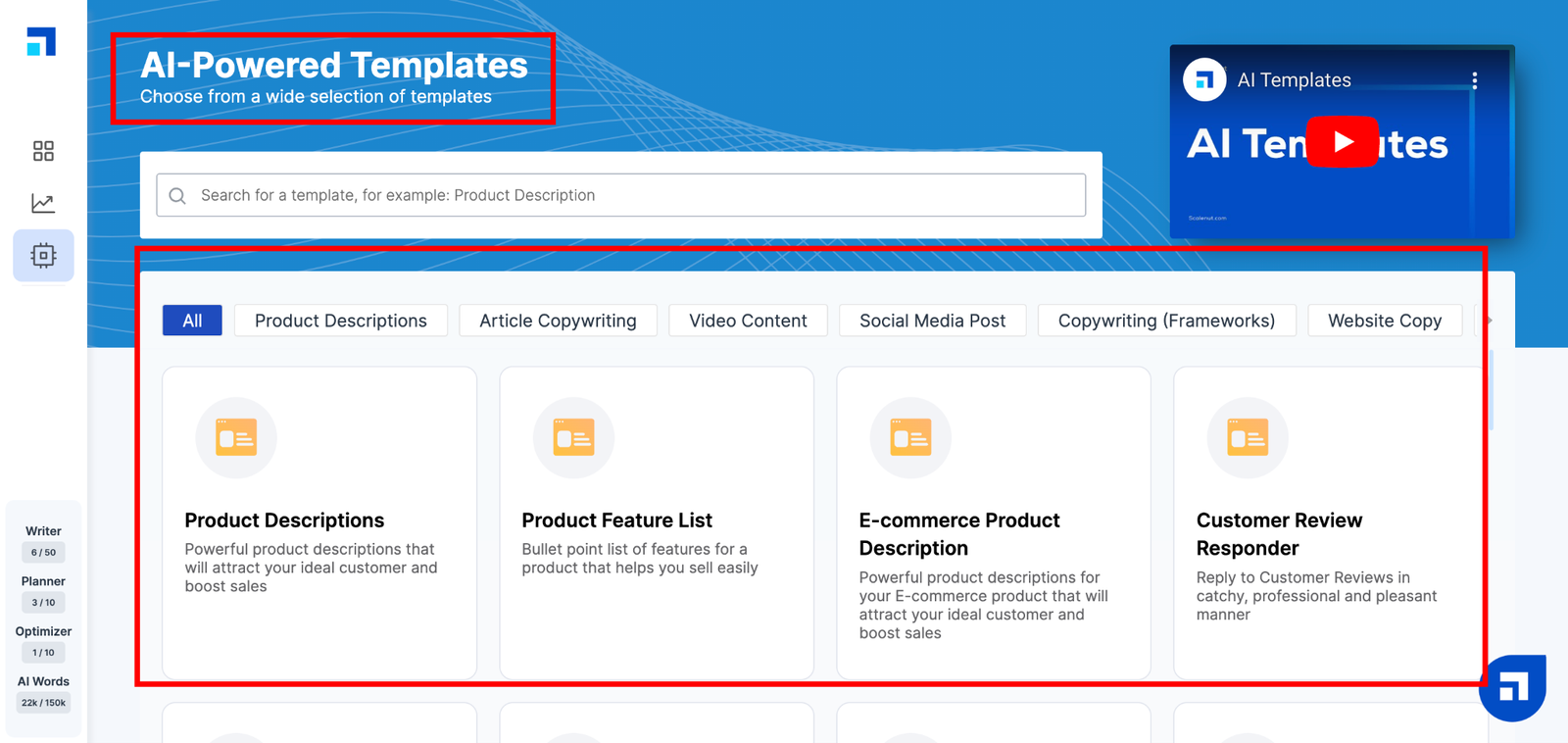 For example, I can use the Meta Description template to write a meta description for my blog post.
By giving the blog title, keyword, and a brief summary of the post, Scalenut will generate a bunch of meta descriptions.
You can leverage Scalenut's templates for writing:
Facebook Ads
Google Ads
Email Copies
Quora Answers
E-commerce product descriptions
And more.
Moreover, Scalenut includes a writing tone feature. This tool allows you to create content in specific tones or styles.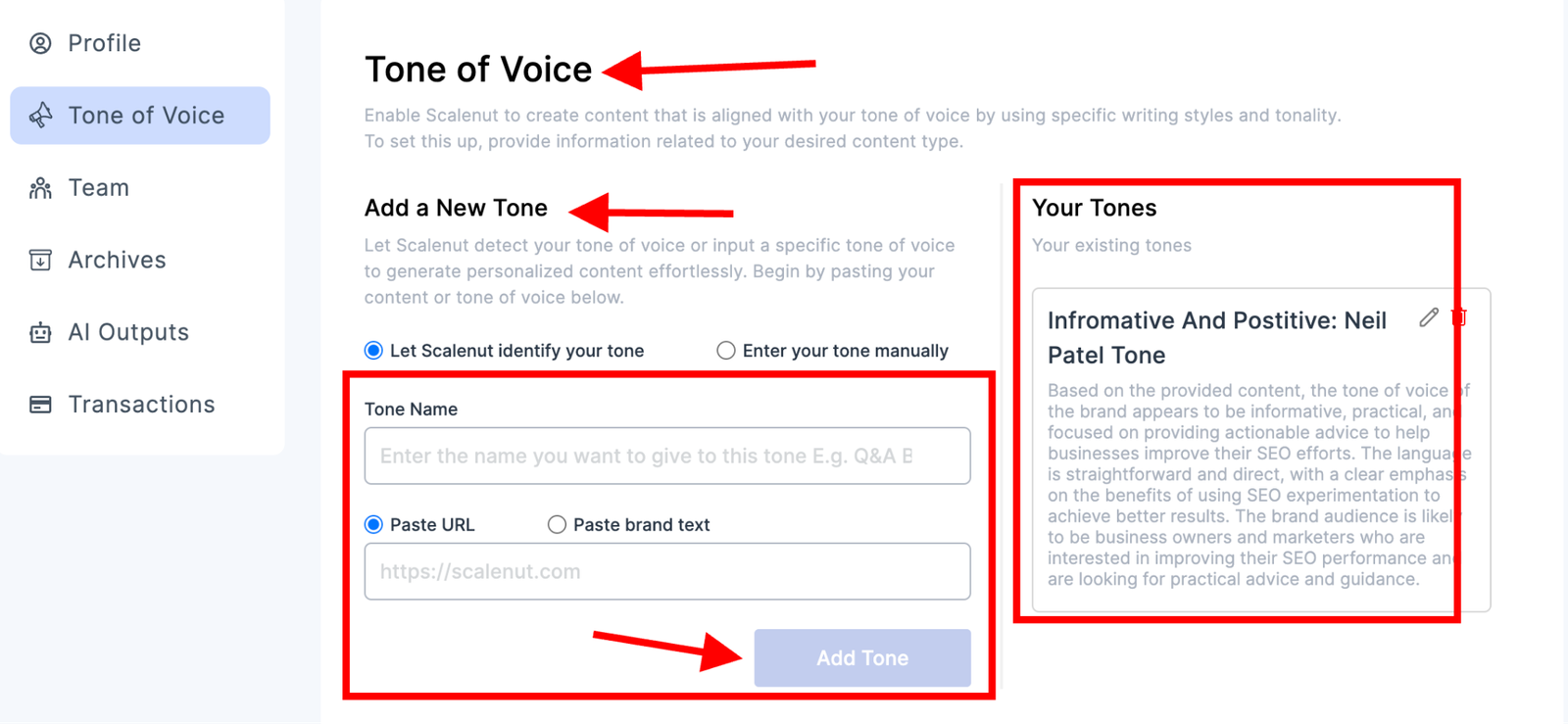 Simply provide the website URL representing the desired tone, and Scalenut will store it.
Later, while crafting your content, you can select from multiple writing tones according to your preferences.
Customer Support
Scalenut ensures dependable and responsive customer support, providing a seamless user experience.
Scalenut offers 24/7 live chat support, guiding users in using the platform effectively and promptly resolving any technical questions.
It's quite rare for me to commend any SaaS company's customer service, but Scalenut excels in providing excellent customer service. I have no issues.
Additionally, Scalenut provides a lot of helpful documents and videos that teach users how to use the tool.
Scalenut Pricing: How Much Does It Cost?
Scalenut offers three pricing plans:
This plan costs $39/month.
100,000 AI Words
Create SEO Articles
(5 Articles/mo)
40+ AI Templates
Cruise Mode
SERP Analysis
NLP Key Terms
SEO Editor (Better than Google Docs for SEO)
Document Sharing
Chrome Extension
Email Support
Live Chat Support
This plan costs $79/month. Everything in essential plan+
Unlimited AI Words*
Create SEO Articles
(30 Articles/mo)
Build Keyword Clusters
(30 Clusters/mo)
Audit & Optimize Pages
(30 Pages/mo)
Unlimited Tone of Voice
Fix-it (Auto-optimizer)
1-click WordPress Publish
Integrations
The Pro plan costs $149/month.
Everything in Growth +
Unlimited AI Words*
Create SEO Articles
(75 Articles/mo)
Build Keyword Clusters
(75 Clusters/mo)
Audit & Optimize Pages
(75 Pages/mo)
Dedicated CS Manager
1 user; add more @ $49/user
With annual billing gives you nearly a 50% discount on each plan. Which means the Essential plan will be priced at $20 per month, the Growth plan at $40 per month, and the Pro plan at $75 per month.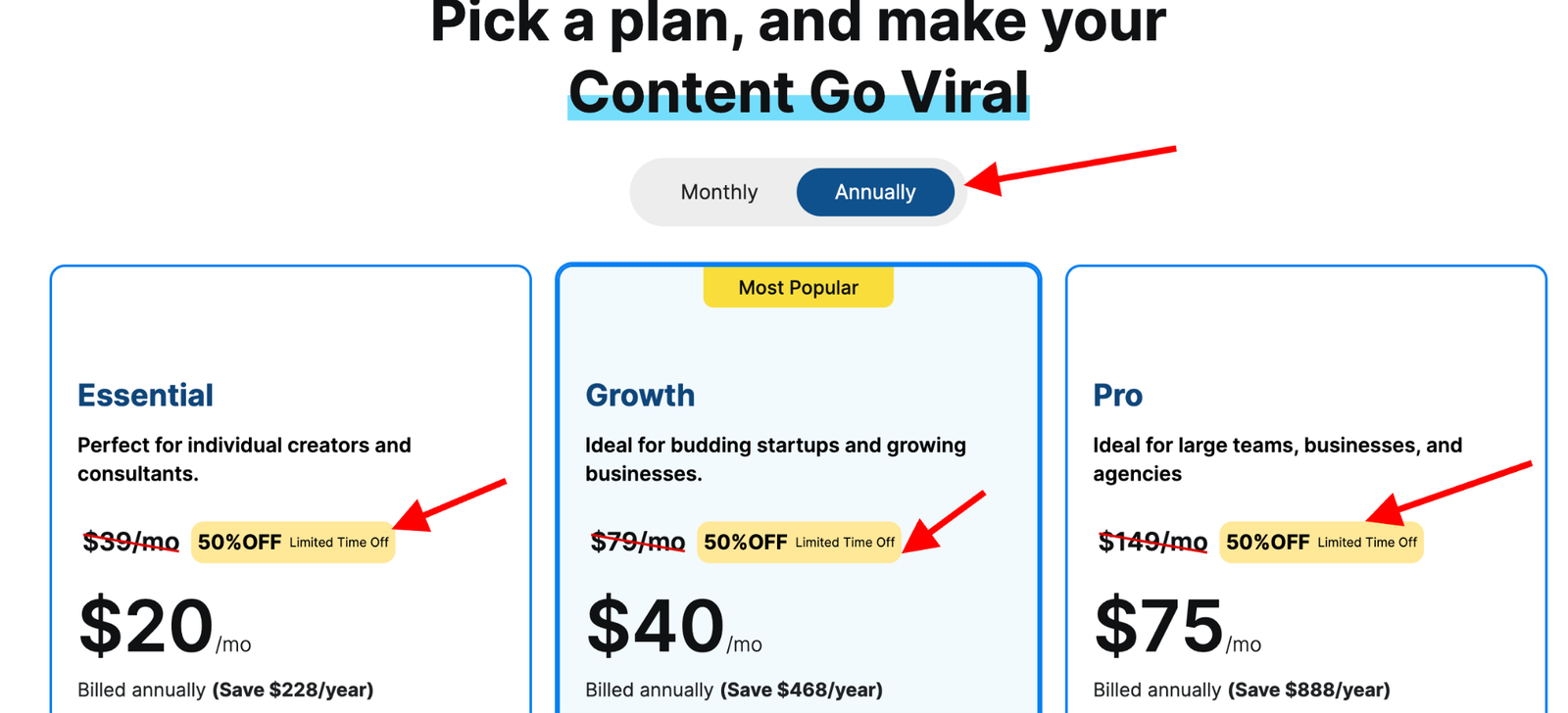 The following features are included in every plan:
Cruise Mode
SEO Score
Competitive Research
Social Listening
Automated Outlines
40+ AI Templates
Does Scalenut Offer a Trial?
Absolutely, Scalenut provides a 7-day free trial that allows you to use the tool before making a commitment to a paid plan. I am confident that you'll find Scalenut to be impressive.
Personally, I use Scalenut extensively in my day-to-day business operations.
If your primary need revolves around creating SEO-optimized content and conducting keyword research, then Scalenut is an excellent choice.
Scalenut might not be the ideal solution for crafting marketing copies, which is a drawback.
Plus, I've found that their fine-tuning model isn't as efficient, and the platform's learning process isn't particularly great.
The Pros and Cons of Scalenut
Every tool has its strengths and weaknesses, just as humans have both positive and negative qualities.
Let's now see the advantages and disadvantages of Scalenut.
The Advantages of Scalenut
Extremely easy-to-use interface
In-built SEO tools such as content optimiser, keyword research
Best-in-class blog post creator
In-built AI templates for different types of content creation
24×7 LIVE chat support
Powerful doc editor
SEMRush integration
WordPress Publisher (Directly push your content from Scalenut editor to your WordPress website)
Content Cluster maker
Copyscape integration for plagiarism checker
Chrome extension so you can use Scalenut in anywhere, such as your emails, docs, and word documents.
The Drawbacks of Scalenut
While Scalenut offers numerous benefits for content creation and SEO optimization, there are drawbacks.
Can't create a table inside Scalenut editor
Output quality is not that great. Scalenut uses cheaper GPT models like curie , ada , and babbage.
AI templates are not efficient; they don't produce highly persuasive content.
Apart from the above drawbacks, I find Scalenut extremely useful, especially for my blog post writing.
If your use case is creating SEO-optimised content, you must go for Scalenut.
Scalenut Alternatives
When comparing Scalenut with other alternatives, such as Surfer SEO, consider your use case and the tool features.
Scalenut stands out by providing a broader range of AI writing tools compared to Surfer SEO's primary focus on SEO optimisation.
Scalability and pricing options may also vary between the two platforms.
In contrast, Jasper differs from Scalenut regarding AI writing capabilities and features. While Scalenut offers a user-friendly interface and customisable templates, Jasper focuses on generating creative content ideas.
Both platforms have their strengths and can complement each other in content creation. Any word, on the other hand, focuses more on social media content generation.
Scalenut vs. Surfer SEO: Quick Comparison
When it comes to optimizing your content for search engines, both Scalenut and Surfer SEO offer useful tools to enhance your SEO game.

Let's take a quick look at the key features and benefits of each platform:
– AI-Powered Content Optimization. Scalenut uses advanced AI technology to analyze your content and provide real-time suggestions for improving its SEO effectiveness.
– Keyword Optimization. It offers keyword recommendations and insights to help you target the right keywords for better search visibility.
– Content Quality. Scalenut assesses factors like readability, engagement, and relevance to ensure your content meets high-quality standards.
– Competitor Analysis. The platform compares your content against top-ranking websites, identifying areas for improvement.
– User-Friendly Interface. Scalenut's user-friendly interface makes it suitable for both beginners and experienced marketers.
Pricing:
The Scalenut base plan starts at $39/month and goes up to $149/month.
– Content Audit. Surfer SEO conducts a detailed analysis of top-ranking pages, suggesting changes to improve your content's relevancy and authority.
– On-Page SEO Recommendations. It provides precise recommendations for optimizing your content's structure, keywords, headings, and more.
– SERP Analysis. Surfer SEO examines the top search results to reveal patterns and correlations, helping you customize your content strategy.
– Backlink Analysis. The platform evaluates backlink profiles to enhance your link-building efforts and improve your site's authority.
– Data-Driven Insights. Surfer SEO's data-driven approach offers in-depth insights so that you can make informed decisions based on the data.
Which One to Choose?
– If you're looking for an AI-driven tool that offers real-time content suggestions and user-friendly features, Scalenut might be your choice.
– On the other hand, if you prefer data-driven insights, in-depth content analysis, and a comprehensive approach to on-page optimization, Surfer SEO could be more useful.
Scalenut vs. Jasper
One of the most popular AI writing tools – Jasper AI. I have already mentioned the key features of Scalenut.

Let's see what Jasper AI offers compared to Scalenut AI:
Brand Voice. Let AI analyze your content's tone of voice like, "Helpful, but not bossy". Then, set rules and formatting so that Jasper writes in a style that sounds like you.
Instant Campaigns. Turn a brief or piece of content into multiple marketing assets. For example, upload a product announcement to generate a blog post, email, and social ad.
Custom Template. Dynamic templates let you generate your own unique template based on a prompt.
Knowledge Assets. Teach Jasper new knowledge by uploading assets like your business bio, product details, audience description, and reference-specific content so it always writes factually.
Pricing: Jasper offers pricing plans starting at $39 per month for the Starter plan, $99 per month for the Team plan, and custom pricing for the Business plan.
Which one to choose?
If you want to write high-quality marketing content, Jasper is for you. But the cost can be an issue. Jasper can help you write blog posts as well. Mainly, Jasper is good for writing marketing copies such as emails, ad copies and sales letters.
Scalenut vs. Anyword
AI-Powered Copywriting: Anyword specializes in generating compelling marketing copy, including ad headlines, social media content, and email subject lines.
Conversion Optimization: The platform's AI suggests copy variations based on your data.
Platform Integration: Anyword integrates with various marketing platforms such as Google Ads, Meta ads, Hubspot marketing, LinkedIn ads to streamline the process of implementing AI-generated copy.
Industry Templates: It offers industry-specific templates and suggestions to tailor the generated copy to different niches.
Pricing: Anyword's pricing starts at $49 per month for the Starter plan, $99 per month for the Data-Driven Team plan, and custom pricing for the Business plan.
Which One to Choose?
If you're looking for a simple AI tool for general content creation and real-time editing, Scalenut might be the better fit.
However, if your focus is primarily on crafting impactful marketing copy and improving conversion rates, Anyword could be a better tool for you.
Scalenut vs Writesonic
Writesonic is another robust AI writing tool that allows you to create various forms of content with ease.
AI-powered content creation spanning ads, product descriptions, social media content, and more.
"Content Brief" input guides the AI in generating specific and targeted content.
Seamlessly integrates with platforms like WordPress, Shopify, and others.
Supports the creation of content in multiple languages.
Provides access to a wide array of tools, including grammar checker and sentence expander.
Pricing:
Writesonic's pricing structure follows a credits-based model, offering greater flexibility.
Basic Plan: Starting at $20/month for unlimited words for 1 user, this plan includes access to most of Writesonic's features.
Business Plan: Priced at $19/month for 200,000 words generation for 1 user, this plan offers additional features, API acces, bulk processing, factual and personalized article writer, priority support and more.
Custom Plan: Customised pricing and features as per your requirements, ideal for larger enterprises.
Who is Scalenut Ideal For?
Scalenut is good for marketers, bloggers, and small to medium-sized businesses looking for scalable content generation. With its AI-powered copywriting tools, Scalenut simplifies content writing and boosts content marketing efforts. Maximise efficiency and effectiveness with Scalenut's powerful AI capabilities.
Is Scalenut Worth the Investment?
100%. If you know how to use AI the right way, Scalenut is worth the investment, as Scalenut's pricing plan is also affordable. If you're planning to double down on your content marketing goal, Scalenut can help you.
What Makes Scalenut Stand Out from its Competitors?
Scalenut stands out through its Cruise Mode, SEO tools like Content Optimizer and Keyword Cluster, user-friendly interface, 24/7 customer service, and Chrome Extension. These unique features set Scalenut apart from other AI writing tools.
Before making a commitment to a paid plan, you can experience Scalenut firsthand with a 7-day free trial!
Should You Choose Scalenut for Your Content Marketing Needs?
If you're aiming for specific content marketing goals, using Scalenut's solution is definitely worthwhile. Their free trial allows you to make a well-informed choice.
Scalenut AI offers an array of tools that help in finding keywords, creating content, and optimizing it for search engines. Moreover, you can easily publish content from the Scalenut dashboard directly to your WordPress blog.
For detailed keyword research, integration with SEMRush is available, and Copyscape integration is offered for plagiarism checks. In a nutshell, Scalenut equips you with a comprehensive toolkit for executing your content marketing strategy.
Conclusion
In this guide, I've shared how I used Scalenut.
I talked about the good and not-so-good things and how much it costs.
I also compared Scalenut to similar tools and reviewed its main features.
Summing up, Scalenut is super easy to use. If you want to make your content faster, Scalenut is your tool.
Why?
Because it helps you find keywords, group topics, write content, and make it better for search engines. Plus, you can edit and post on your WordPress blog right from Scalenut.
You can also do deep keyword research using SEMRush and avoid plagiarism with Copyscape.
You can even make your writing match your brand's style.
So, what else do you need for your content plans? Scalenut has it all.
Ending this post now.
I nearly forgot I'm wrapping it up.
I got carried away.
Any questions?
Drop a comment. I'll answer!
If you want to try Scalenut? Sign up for a free 7-day trial.