Are you looking for the best Pabbly Black Friday deals for 2023?
If so, you're in the right place.
The Pabbly Black Friday sale will be live soon. I will update the dates here once announced.
Deal Date: To be announced
Note: If you see any Pabbly Black Friday deals before the official announcement, be aware these may just be regular Pabbly deals, not specific Black Friday promotions. Once the official Pabbly Black Friday deals go live, I will update the information here. I will share regular Pabbly deals, too.
Pabbly Black Friday Deal 2023 Details
Pabbly offers a suite of software products such as,
Pabbly Connect
Pabbly Subscription Billing
Pabbly Email Marketing
Pabbly Forms
And Pabbly Email Verification
For Black Friday, Pabbly runs a special promotion on their suite plans, you'll get huge discounts when you purchase Pabbly Plus plan (Which includes access to all the Pabbly apps).
The Pabbly Black Friday deal is a great time to get significant savings on this powerful collection of automation, billing, email marketing and form builder tools.
Pabbly Connect Pricing
| Plan | 1-Year Pricing | Lifetime Pricing | Sign Up |
| --- | --- | --- | --- |
| Standard Plan (recommended) | $16/month | $249 | Get Standard |
| Pro Plan | $33/month | $499 | Get Pro |
| The Ultimate | $67/month | $699 | Get Ultimate |
Get Pabbly Connect Lifetime Deal (LTD)
When is the Pabbly Black Friday sale happening?
The exact date for Pabbly's 2023 Black Friday sale has not been announced yet.
The exact date will be updated on the Pabbly website once confirmed.
Usually, the Pabbly Black Friday deal runs for around one week, encompassing both Black Friday and Cyber Monday.
Keep an eye out for the Pabbly Black Friday announcements to take advantage of the savings as soon as the sale goes live.
Exclusive Bonuses on Pabbly Connect Yearly Plans & Lifetime Deals
If you buy Pabbly Connect's annual or lifetime deal, you'll get bonuses worth $28,794 for FREE!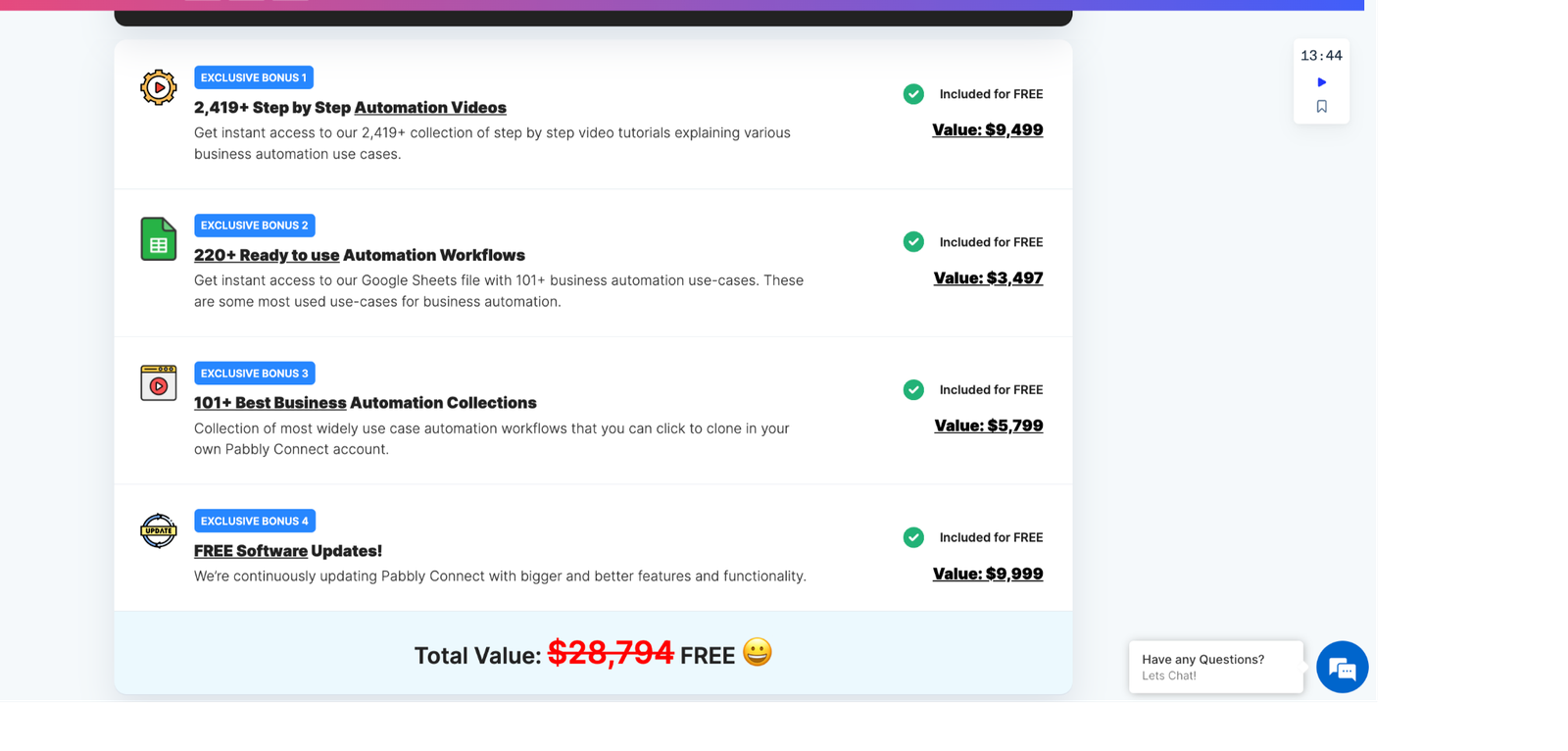 Bonus 1: Access to 2000+ Automation Videos
New to Pabbly Connect? No worries. Dive into our extensive library of automation videos, designed to guide beginners and experts alike. Master the art of automation effortlessly.
Bonus 2: Explore 220+ Ready-to-Use Automation Workflows
Why start from scratch? Benefit from our diverse collection of 220+ pre-designed automation workflows. Simply copy, edit, and save valuable time. Effortless automation at your fingertips.
Bonus 3: Discover 101+ Top Business Automation Solutions
Searching for time-efficient business automation? Explore our curated selection of 101+ business automation solutions. These proven strategies not only save time but also boost your profits significantly.
Bonus 4: Enjoy FREE Software Updates
Say goodbye to outdated software. As a lifetime deal user, you'll receive all the latest software updates, ensuring your automation tools are always cutting-edge and up-to-date.
How to Avail Pabbly Black Friday Deal for 2023?
Do you want to know how to grab the Pabbly Black Friday Deal?
Follow the steps below:
Step 1: Visit the official Pabbly Connect website using this link: https://www.pabbly.com/connect
Step 2: Choose the Pabbly plan you need.
Step 3: On the checkout page, enter your name, email and billing address.
Step 4: Complete the checkout process.
That's it. Once you complete the payment, you'll get access to Pabbly software on your email address.
For customers in India, you can pay securely using RazorPay which supports UPI, net banking, and debit cards.
This makes grabbing the Pabbly Black Friday savings quick and easy!
Pabbly Regular Pricing & Black Friday Pricing
The Pabbly Suite plans usually cost $49 to $199 per month. With the Black Friday coupon codes, you can get up to 50% off on these plans.
Pabbly Connect Regular Pricing & Offer
Pabbly Connect has both lifetime deals and recurring pricing plans.
If you wish to buy Pabbly Connect lifetime deal with 10,000 tasks per month. You can go for that.
Pabbly Connect Lifetime Deal starts at $249.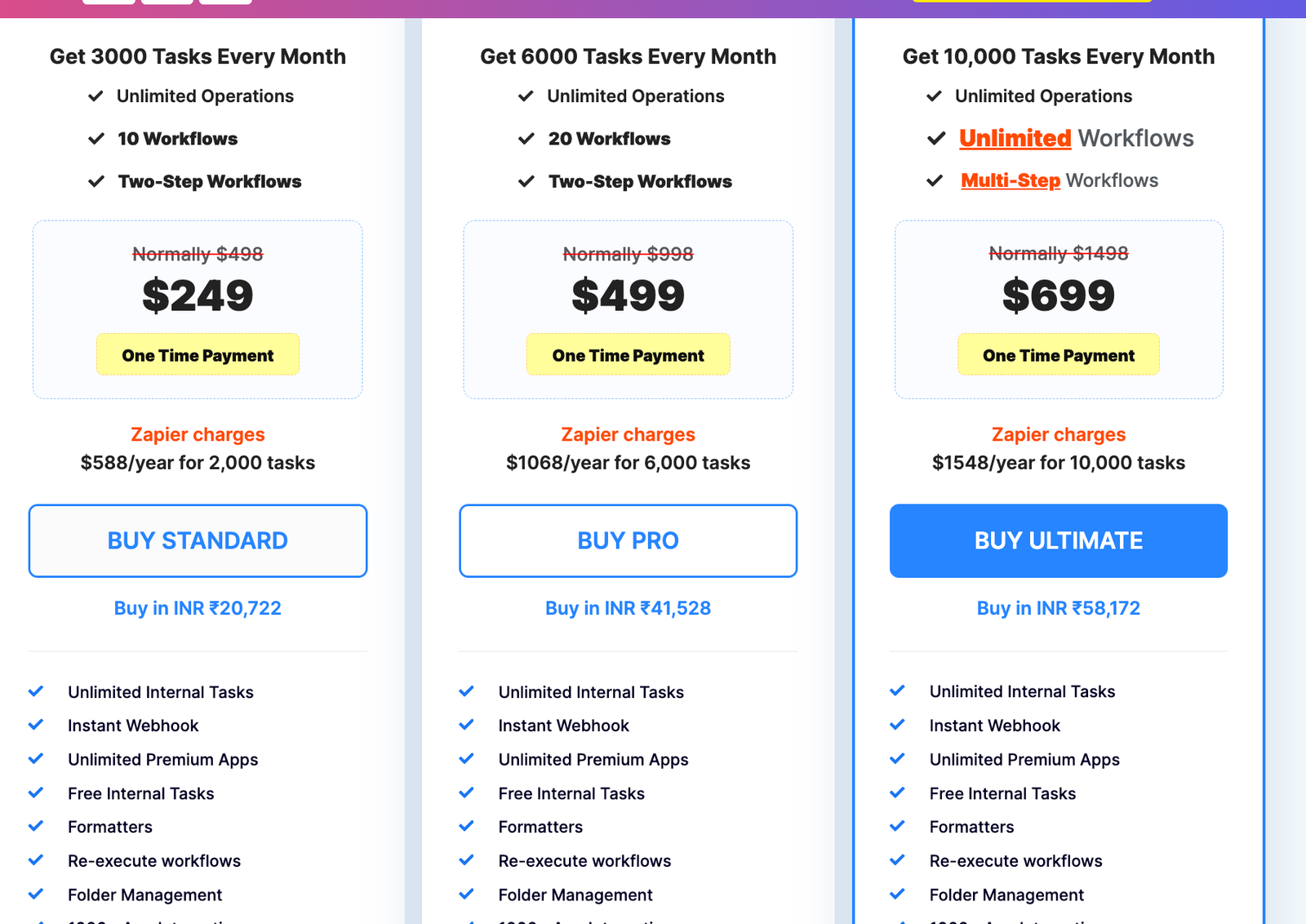 Look at the pricing of Pabbly Connect Lifetime Deal. As you can see in the ULTIMATE plan, you'll get all the features but it will cost $699/one-time fee.
Click Here to Grab Pabbly Connect Lifetime Deal.
Pabbly Plus Regular Pricing:
Benefits of Pabbly Plus
Access to all Pabbly software
You can manage your online business using Pabbly software
Save big on your software bills
You get automation, billing, form builder, email marketing, and verification software
Learn More About Pabbly Plus Plans
Reasons to Go for Pabbly Deals
Cost saving – Get maximum discount on the Pabbly plans
All-in-one Software – Don't need to buy any other software for billing, automation, email marketing, and creating forms.
Enhanced productivity – With seamless workflows between the apps
Pabbly Connect Black Friday Deals
According to the Pabbly community, there are currently no special Black Friday deals planned.
They said the same thing last year as well. However, what ended up happening?
I saw a post from the Pabbly founder that last year they offered an additional 1 year of subscription for free when customers purchased the annual plan.
So you paid for 1 year but got 2 years total.
I'm not sure yet what the special offer will be for Pabbly Connect Black Friday 2023. I will keep this post updated once I know more.
In the meantime, Pabbly Connect does offer lifetime deals year-round. You can learn more about the lifetime pricing here.
Note: You cannot stack multiple lifetime deal codes. Once you get the lifetime deal, you can top up your existing lifetime deal (LTD) plan with monthly/annual subscriptions as needed.
The lifetime deal is perfect if you don't have a high volume of task-consuming use cases.
Even heavy users can start with the lifetime base plan forever, and add top-up plans as per your usage needs.
Black Friday Deals on Pabbly Subscription Billing
I still have not received confirmation from Pabbly about any special Black Friday deals on Pabbly Subscription Billing.
They have been vague when I've asked, just like last year before they surprised customers by offering 2 years of subscription for the price of 1 year on Black Friday.
So it's unclear if they will be running any Black Friday promos this year. I will keep checking and update here if I get any definitive information.
But Pabbly may end up announcing a deal without much advance notice, based on what happened last year.
2-years-for-1 deal last year was a great offer. Let's see what the Pabbly team has in store for us on Black Friday 2023.
Hopefully they will surprise us again with another exciting Black Friday promotion, but we'll have to wait and see.
I'll be keeping an eye out for any announcements and will share the details here as soon as I know more.
Fingers crossed, they come through with another good deal!
What is Pabbly Subscription Billing?
Pabbly Subscription Billing is a recurring billing and subscription management software offered by Pabbly.
Key Features of Pabbly Subscription Billing:
It allows businesses to easily set up and manage recurring billing for subscriptions, memberships or usage-based pricing models.
Key features include automated recurring invoices, flexible billing schedules, subscription management, metered billing, coupons/discounts, payment gateway integrations and more.
It supports popular payment gateways like Stripe, PayPal, Authorize.Net, Razorpay for collecting payments.
Businesses can use it to create and customize subscription plans, catalogues, pricing rules.
It helps streamline operations with automated reminders, failed payment recovery, renewals, cancellations etc.
Analytics and reports provide insights into subscriber metrics like churn rate, LTV, MRR, etc.
It integrates seamlessly with many popular apps, including CRMs, email marketing platforms, etc.
Pabbly Subscription Billing Regular Pricing:
Pabbly Subscription Billing does offer lifetime pricing year-round. You can learn more about the Pabbly Subscription lifetime deal here.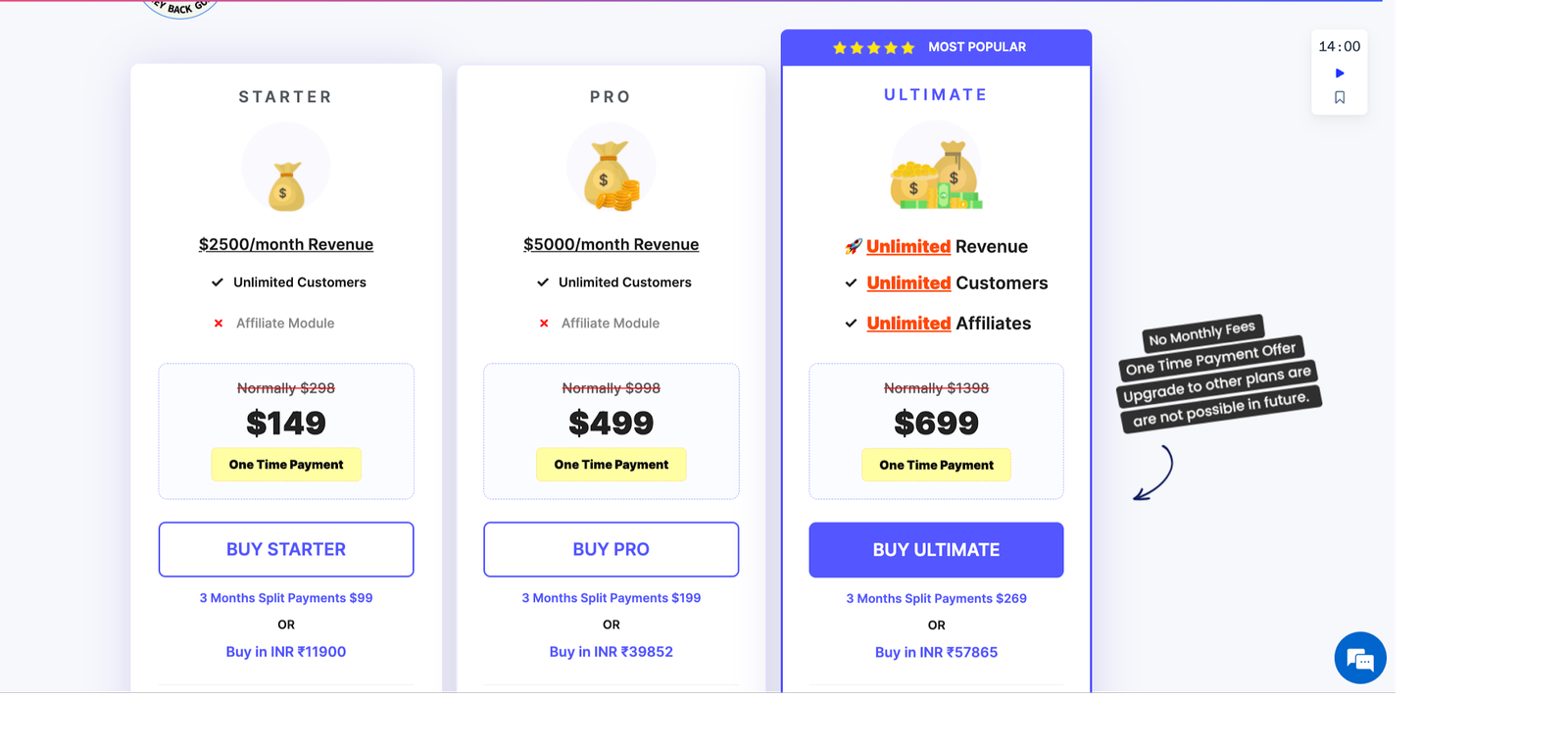 This is the current LTD pricing of Pabbly Subscription Billing. Don't expect this pricing will be reduced.
You may get a special discount on the monthly subscription.
Black Friday Deals on Pabbly Email Marketing
You heard correctly – Pabbly also offers an Email Marketing software solution.
Last Black Friday, Pabbly Email Marketing had the following promotion:
The $49 Pabbly Email Marketing deal last Black Friday garnered a lot of attention, but it wasn't initially clear whether that price was per month, per year, or one-time.
In the end, it turned out to be a very good offer – for $49 per month you could have unlimited subscribers and send unlimited emails. Most email service providers don't run promotions like this.
I'm optimistic to see what Pabbly will offer for Email Marketing this coming Black Friday. This deal at $49 per month for unlimited usage was a rare find last year.
Hopefully, they'll come through with another attractive email marketing promotion for Black Friday 2023.
I'll be sure to update here once I have the confirmed details.
Conclusion about Pabbly Black Friday offers
There you have it! I've covered all the details on Pabbly Black Friday deals and what savings you might expect this year.
While nothing is confirmed yet, Pabbly has offered some great discounts in the past on their suite plans, Pabbly Connect, subscription billing, email marketing, and more.
Stay tuned to this post, as I'll continue to provide updates if I hear any news about 2023 Pabbly Black Friday promotions.
Don't hesitate to reach out if you have any other questions!
Wishing you luck in scoring the best Pabbly deals this holiday shopping season.
Happy savings!
Related Guides:
Pabbly Review: 5 Apps in One Dashboard
Zapier Vs. Pabbly Connect Feature, Price Comparison
Is Pabbly Connect Lifetime Deal Legit? Find Out Here!