Do you want to create converting sales copy?
Are your sales copies not converting?
If yes, then don't worry because in this post I am going to share some implementable strategies and tips that you can apply to your sales copy/landing page and increase your conversions.
Let's do a simple 5th-grade calculation if your copy converts how it can impact your business in a positive term.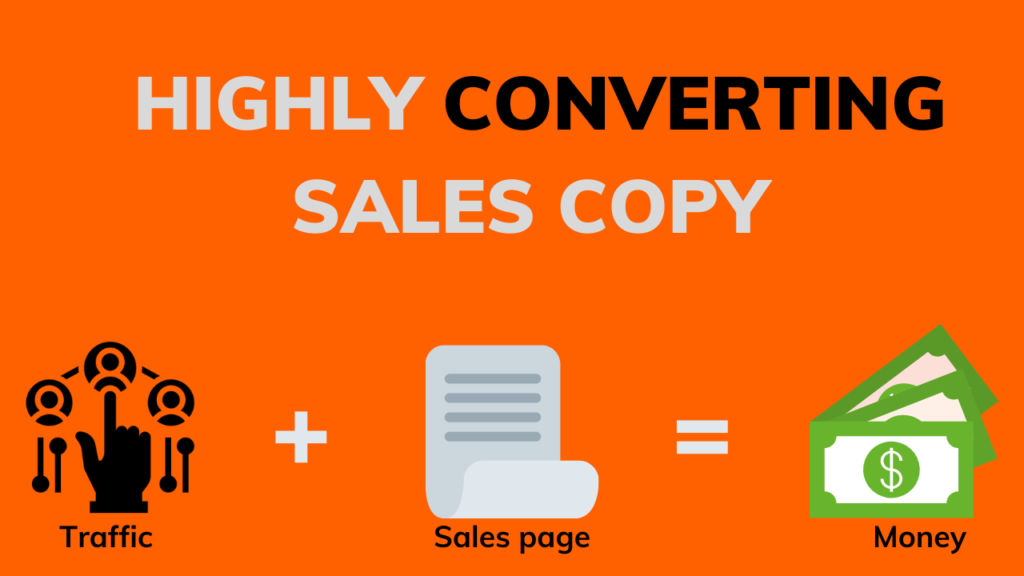 Are you ready?
Yes, I am also excited to show the calculation that I did.
Let's assume you have an Rs. 2000 product and you created a sales page/copy and you drive 100 highly targeted people on that sales page or copy.
And if only 2% to 3% of people convert from those 100 people you did great work. It means Rs. 2000 to Rs. 6000 you make if you drive 100 people on that sales page.
Let's suppose you drive 1000 people on that sales page and 30 people convert. I am assuming 3% conversion (It's the worst conversion rate I'm assuming).
Easily you'll be able to generate Rs. 60,000 and let's assume you spend Rs. 30,000 on traffic still you are in profits.
Sounds interesting?
Yes, that's the power of writing high-converting sales copy. 
But now you might have a question: how to create a high converting sales copy?
For creating "highly converting" sales copy you'll have to understand the basic principles of copywriting.
I will discuss the basics of copywriting in this post. And I will be sharing some insights on how to write a high converting sales page.
Power of Writing A Good Sales Copy
I don't need to talk much about the importance of converting sales pages because I have already shown you how a high converting sales page generates revenue every day for your business.
But another benefit I want to mention here, you can drive unlimited traffic if your sales copy is converting.
Your business will be sustainable because you can predict your income every month, ultimately your business will grow by leaps and bounds.
You'll have more freedom because your business is generating a constant amount of revenue/profits.
You can focus on other businesses as well because you don't need to worry about this business.
These are the benefits you'll be reaping if you create a converting sales copy.
Before I tell you how to write "converting sales copy" you must know what are the qualities a good sales page contains so that you can replicate the exact qualities onto your sales page too.
Qualities of A Converting Sales Copy
Captivating headline – I would say your sales copy headline is the most essential element. If your headline is not curiosity-driven then people won't read your sales page. If your headline tells everything in itself then this is also a problem. Your headline should be curiosity-driven as I said. A headline work is to get the prospect's attention and make them your prospects to come & read your sales copy.
Sub-headline – Your sub-headline supports the promise you made in your headline and propel your prospects to read further. That should be the role of your sub-headline.
Introduction – Your introduction should be brief and punchy. And it also creates curiosity then only your prospects move forward and they will go through your entire sales page. Most importantly your sales copy intro should be 90% about your prospects and 10% about you. Because nobody cares who you are and what you do. If your prospects don't feel like what's in it for me then they won't read further and you may lose money.
Talk About Your Prospects Problem – Make your prospects aware of what are the problems they are facing right now and what would happen if they don't fix that problem immediately. Hook your prospects emotionally about the fears & frustrations they have right now. Elaborate your prospect pain on your sales copy.
Introduce Your Solution – It's time to remove the fears & frustrations of your prospect. You can write in your sales copy how your product/service is able to remove the fears & frustrations (that your prospect is facing, right now) easily? Don't sound like you are trying to sell any kind of product/service. Sound like a problem solver that can solve the problem of prospects immediately.
Pro tip: Never ever try to sell your product/service because nobody likes to be sold. Instead of selling products or services, sell concepts, transformation, and solutions. That's what your prospects want to buy. 
Let me explain what I am talking about, what I want you to understand: people don't buy products or services, people buy solutions for their problems.
And if you can provide a unique solution to your prospect's urgent problem, you're gonna win. 
Remember, urgent > important you need to solve the urgent problem that your prospects immediately want to solve.
If your product or service is solving an important problem then it might take little extra effort for selling your product/service.
In order to sell your product/service like a cake, you need to solve an urgent problem of your prospects.
Next important element of the sales page is…… Any guess, if you know you can comment below!
Social Proof
Yes, never ever forget to add testimonials about your product/service. Testimonials/social proof creates credibility and it helps your prospects to buy your offer immediately.
Let me explain how social proof helps – Whenever you go on Amazon for purchasing a new product you select the product and what's the next thing you do?
You check reviews of the product that you're going to purchase. If you find the positive reviews you immediately buy the product.
Pro tip – If your product/service is new and you don't have any testimonials. So, what you can do is give your product for free and get the testimonial, simple!
Note: Never put any kind of fake testimonials or don't use any kind of testimonials generator tool. It can benefit you in the short-term but in the long-term point of view, you'll lose your customers.
Add bonuses
Bonuses convert your product into no brainer offer. And people love to buy no brainer offer. Stack the value along with your main offer and it can drastically improve your conversion rate.
Example you're selling an Rs. 499 product and you can add video training series and eBooks etc.
Your stacking the value and people would like your offer, I am pretty sure!
And I highly recommend you to use the "bonuses hack" on your sales page that I just said you.
Guarantee
Provide a money-back guarantee. In any case, your prospect does not like your product so money-back guarantee can give them a peace of mind.
It's an important element of your sales page. If you observe the good sales copy you can notice that they offer a money-back guarantee or some kind of FREE trial. Isn't it?
Call-to-action (CTA)
At the end, you want your prospects to take action. Here is the little ninja hack for increasing conversion ratio.
We call it "false close" before you reveal your offer's real price, add the false amount and then you add another false close and at the end, you reveal your offer's final price. The below image is illustrating how the false close looks like. 
Post-script (P.S)
It can be used to entice your offer. You can give extra benefits in the P.S "Post-script" section. P.S is really powerful for enticing your entire offer value.
You can add P.S in the end only. And you can add two P.S as well, but one P.S is more than enough.
You can use P.S for creating urgency. It's a great hack for increasing urgency or fear of missing out (FOMO).
Authority
You can increase your conversion ratio by showing your authority. Like if you ever featured in Media or any famous site that people may know you can mention on your sales page.
You can add the company name (if they allow you to use) that you'd worked with. It can also improve your credibility & brand value.
Now I am going to talk about different kinds of sales triggers that impact your conversions.
What are Sales Triggers?
You can say "Sales triggers" as buying triggers, conversion triggers and marketing triggers as well.
In other words, sales triggers are different kinds of emotion that your prospects feel when he or she sees some kind of images or words that propel them to purchase any product/offer.
Here are different kinds of sales triggers: –
Social proof – This one we have already talked about earlier how it impacts your sales/conversions?
Scarcity – This one is also I have discussed in the "P.S" section. When you create urgency, you can close any sale in a matter of minutes.
Authority – It creates credibility in the eyes of your prospects. This one is also we have discussed earlier.
Reciprocity – Reciprocity is a habit of receiving and giving. Like when you help someone, that person feels like some kind of guilty and they also want to help you or give back. It can improve your sales conversion.
Commitment – Turn your prospects into a paying customer. In this phase, your main motive is to get your prospects to buy your low-ticket offer. By purchasing your low-ticket offer, they have made a kind of small commitment, and in future, they can buy more products from you.
Liking – Some people buy from you only because they love what you do.
Fear – This one is obvious. Fear is the biggest and most important sales trigger, fear of losing or fear of not taking action can convert your prospects into paying customers immediately.
Let's talk about copywriting
This one can be the most important asset for you if you know about copywriting.
In order to write converting copy that sells you need to use copywriting principles.
What's copywriting?
In simple terms a copy/sales page that motivates people to take action or buy the product/service is called copywriting.
I would say copywriting is a skill that anyone can learn if they are willing to learn this skill.
Here are some free courses you can do in order to improve your copywriting skills.
I created an eBook where I have put together some FREE course, resources and books that you can watch and read.
Get your FREE copy today!
The Bottom Line
In this post, I have talked about the importance of converting sales pages and how it can completely change your business. And I have discussed the qualities of a converting sales page and how you can create a high converting sales page/copy?
I have talked about why you need to learn copywriting in order to create high-converting sales copy. 
And I have mentioned different kinds of sales triggers that you can use in your sales page/copy.
I hope you enjoyed this post!
Thank you for reading and I'll see you in the next post. Make sure you check out other value-packed content on this blog. 
Without having a proper sales funnels, you're leaving money on the table. Building funnels with ClickFunnels is expensive. Luckily, for you, there's a better funnel builder which you can use to build sales funnel.