Today, I am going to talk about affiliate marketing. You will get to know each and everything about affiliate marketing. So stay tuned till the end!
Things I'll discuss: –
What's affiliate marketing?
Common terms in affiliate marketing & types of affiliate commissions?
Platforms for affiliate marketers
How to get approval from affiliate networks?
Funnels & promotional strategies
Tools required for affiliate marketing
How much investment is required for starting an affiliate marketing?
Common mistakes you should avoid
Things you must-do if you want to earn a decent amount of money from affiliate marketing
Conclusion
Let's get started…
What's affiliate marketing?
Affiliate marketing is a way to promote the product or service of other people. When anyone buys the product via your unique affiliate link, you'll receive a pre-decided commission.
That's what affiliate marketing is, nothing is complex. In other words, it's another kind of marketing tactic that businesses use to generate extra revenue at no extra cost.
Let's suppose you are promoting an Rs. 3197 product and your commission is 36% on each sale. Which is Rs. 1150.92 on each sale you'll earn if anyone purchases through your unique affiliate link.
The beauty of affiliate marketing is you don't need to create any kind of product or service nor you need to manage customer service, these are all things Merchant will handle.
You just need to do one thing which is the "promotion" and "earn commissions" into your bank account.
I can feel the excitement when affiliate commission credits into the bank account, I cannot explain that feeling in written words if you have experienced that feeling you may know!
Three main elements of affiliate marketing: –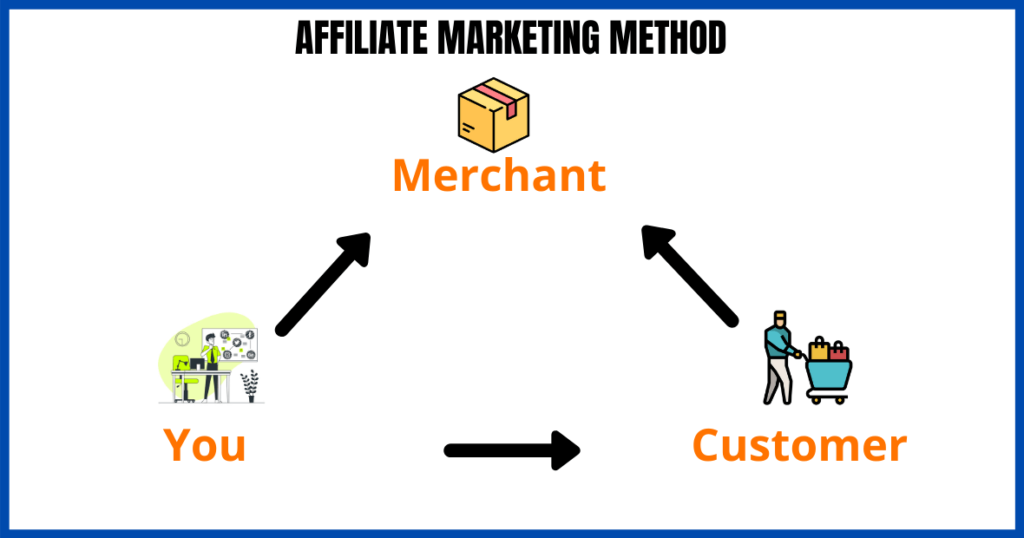 You – Your work is to promote the merchant's product.
Merchant – Those who create the product
Customer – Those who are the end-user of the product.
These are the basic elements of the affiliate marketing business. Without these elements, affiliate business won't exist.
It's a complete win-win situation for everyone, you earn commissions as an affiliate, the merchant gets new customers and customers get what they were looking for.
Common terms in affiliate marketing & types of commissions?
Types of commissions: –

CPS – Commission per sale
CPA – Cost per action
CPL – Cost per lead
CPI – It's not cost per impression; it is the cost per installation
PPC – Pay per call
CTR – Click-through rate
CPD – Cost per download
Hybrid – (Leads & sales)
CPC – Cost per click
1. CPA – In this type of commission you get paid whenever someone comes through your affiliate link on the merchant site and fills the form.
And each time someone gives their information you receive a certain amount of money. Most businesses want leads or phone numbers of their potential customers.
2. CPC – In cost per click. You get paid when someone clicks on your unique link. Nowadays these types of offer rarely any merchant offers because Merchant has to pay for each click and people try to spam for making some quick bucks.
3. CPS – Commission per share. You get paid when someone purchases any product using your affiliate link. You receive a certain amount of commission. In the beginning, I gave you the example of "commission per share" (CPS).
4. CPL – In this, you get paid the number of applications installed for any particular company via you. You'll get paid for each installation that came through you.
What are the major platforms for an affiliate marketer?
For India: –
Vcommission
Amazon associates India
Instamojo – Reseller
For international products: –
ClickBank
JvZoo
Commission Junction (CJ)
ShareASale
There are many individual affiliate networks you can join such as: –
Amazon Associates
Hosting company affiliate
Click funnels affiliate
How to get approval from these networks?
This thing I can say from my personal experience you can effortlessly take approval. Some of the networks don't give approval easily such as ShareASale and CJ. You can get approval when your website has some traffic like 1000 visitors per month.
For Amazon Associates, I'd say that you need 3 qualified sales within 180 days. Your 180 days starts from when you sign up for the Amazon Associates program.
For taking approval you need a website even if you have a website on Blogger.com and it has some traffic you'll be approved by at least individual affiliate networks.
Funnels & promotional strategies
One of the best ways to promote affiliate offers via email marketing and till now I have seen so many people who are making money from email marketing.
It requires some investment however it's worthy.
Promotional methods: –
1. Build an email list – in a targeted niche. Let's suppose Anjali is interested in the health niche. If Anjali narrows down their health niche she is interested in Yoga. I'm giving you an example. You have to target a highly specific niche.
2. Prepare a free gift – Imagine this, I will come to you & ask hey give me your email address. So, you might be like, woho hold down. Who are you? I don't know you? Why should I give you my email address?
We have to create a free gift in exchange for that gift you can collect emails.
Now if I come to you hey! I have this remarkable eBook and I will give you for free you just need to give me your name & email address.
You'd say, yes, I need this eBook & instantly you will give your email address.
Can you see the difference between each scenario? That's how you can use anything strategically.
3. Create an opt-in page – where people can give their email address and in exchange for their email address, you can deliver the gift that you promised.
Now, create a thank you page after submitting their email address your prospects will land on the thank you page.
4. Give a free gift – whenever someone subscribes for your eBook, they will become your email subscriber.
Later you can nurture that subscriber & you can promote any affiliate offer if they are interested in that offer they will purchase and you will earn a certain amount of commission on each sale.
Note: I will let you know how you can create an opt-in page & thank you page, don't worry. I will let you know each & every step.
There are different types of funnels: –
1. Squeeze page funnel
The example I showed you above this type of funnel is called Squeeze page funnel. Where your target is to collect leads or any kind of information. But most people want to collect leads.
2. The membership funnel
You have a site where you provide premium content and in exchange of that content, you charge on a recurring basis.
3. The survey form funnel
The survey form funnel is a marketing strategy that utilizes a series of questions to collect information about a prospect's needs, preferences, and challenges. If you want to get qualified leads for your affiliate business, try Survey Funnel. It works like a charm.
4. The video sales letter funnel
The video sales letter (VSL) funnel is a conversion-focused marketing approach that employs engaging and persuasive video content to promote a product or service. Instead of using traditional text-based sales pages, the VSL funnel captures the audience's attention with dynamic visuals, storytelling, and emotion-driven copy. You can create a custom VSL to promote your products or services.
It can be time-consuming to create VSLs, but it's worth it.
5. The reverse squeeze page funnel 
The reverse squeeze page funnel is a lead generation strategy that prioritizes providing value to the visitor before asking for their contact information. By offering valuable content (e.g., free eBook, a FREE course) upfront, the reverse squeeze page funnel builds trust and credibility with the audience. Once the visitor perceives the value offered, they are more likely to provide their contact information willingly.
There are so many funnels, but today, I am talking about affiliate marketing only. Later I will create content around funnels. I will be discussing everything about the funnel.
Tools required for affiliate marketing?
1. Page builder – You can use Igloo (one-time fee only) or you can use Elementor, ConvertPages these are all tools that charge you on a yearly basis but it's the best and cheapest option available on the entire internet. 
By using the page builder, you can create landing pages, thank you pages, opt-in pages and you'll be able to create many pages.
2. An autoresponder – You can say you'll need an email marketing (ESP) tool as well. By using this tool you'll be able to send automated emails.
3. Hosting & A domain name – Your all the pages will be hosted on your own server. So, a website is a mandatory thing. You need a hosting and a domain that's it.
Apart from these tools you need to provide value first, then anyone would purchase from you.
If you say like this, hey! please buy from me this is my affiliate link, nobody gonna purchase from you, instead of doing this you give value first and then recommend products people would love to buy.
Trust & Value these two things you must need along with tools and yes, a right mindset.
Don't always think about selling, sometimes just provide value and over a period of time, you will be able to build massive trust in the eyes of your prospects.
How much minimum investment is required?
1. Autoresponder cost
2. Page builder cost
3. Hosting & domain cost
4. Budget for ads, from there you will drive highly targeted traffic.
5. You can use organic traffic as well.
Tools & hosting budget depends on which tool you're going to use. The better tool you use, the faster results you will get.
I would say at least you need a 20k budget or maybe less in order to start an affiliate marketing business. Once you generate profits you can reinvest that money.
You can start with zero budget as well, but it requires some time and energy and for producing results it may take some time.
Common mistakes you should avoid
Don't try to sell, recommend the product.
First, build trust, give value then pitch any offer.
Don't promote any low-quality product because in the long-term you may lose the audience trust and a lot of money.
Treat affiliate marketing as a business.
Commit to yourself that you will produce this amount of results in this period of time.
Have patience when you do not get the result just analyse and fix where you made the mistakes and improve it.
Conclusion
Affiliate marketing is a lucrative field and you can make a lot of money from affiliate marketing but when you know the right strategy then you can make an unlimited amount of money.
People cannot make money because they don't invest in tools. If you invest in tools you can produce faster results than others.
This is what I learned from my experience and from here & there. If you implement this knowledge, I am pretty sure you will be able to give value and make money as much as you can from your comfort of home.
If you want to learn pro strategies of affiliate marketing by an expert check out this eBook by Anil Agarwal (Affiliate link)
You might be thinking will it work?
Yes, it will work but the bigger question is, will you help yourself to grow?
"Because knowledge is not power, taking action on that knowledge is power" – Tony Robbins
Want to build funnels? Read a new funnel builder review called FlexiFunnels Review!
Thank you so much. Have fun!
You can watch this video by DigitalDeepak.com for better understanding of affiliate marketing
Looking to do affiliate marketing without a website? Read this guide HERE!