There are so many companies that you can use to host your courses, from WordPress-based plugins to third-party learning management systems like Podia, Teachable, Thinkific, and many more.
In today's guide, I'll share my experience of using Podia learning management system (LMS). I will also tell you why I switched to Podia and not other platforms like Teachable, Thinkific, Kajabi, NewZenler, etc.
What is Podia?
Podia is an all-in-one platform that gives creators everything they need to sell online courses, digital downloads, memberships, and webinars, without worrying about the tech.
Podia was built to make selling digital products/courses easy for anyone who wants to earn a living by creating high-quality educational content.
Podia has made it easy to set up online courses and start making passive income by sharing your knowledge.
Podia includes features such as landing pages, email marketing solution, course hosting systems, and many more features.
Pros of Podia
Beginner-friendly interface – Podia provides an interface that is so simple that anyone without any technical skill can use Podia learning management system (LMS) quickly.
Affordable – Podia plans start at $39/month for unlimited users and courses. There are no hidden charges, unlike other companies.
Direct integration – Podia is directly integrated with many third-party applications and services like Zapier, ActiveCampaign, ConvertKit, Drip, GetResponse, MailerLite, MailChimp, Zoom, Google sheets, Vimeo, Stripe, PayPal, Google Forms, and many more that makes Podia easy to use.
Customer support – Podia provides 24/7 live chat and email support, which makes Podia different from other learning management systems like Teachable, Thinkific, Kajabi, and Newzenler.
In-built Community feature – Podia's in-built community feature helps your users connect with each other and discuss the subject matter.
In-built Landing page builder – Podia has a page editor, which allows you to provide all the details about the course so your users can directly make a purchase decision.
Email marketing – Podia comes with an email marketing solution as well. If you're a beginner, you can use Podia's email solution.
In-built messaging function – If you allow, your customers/users can send messages via chat and get their doubts cleared. I like this feature, and I am using it a lot.
Unlimited courses and users – You can enroll as many users as you want. Podia doesn't limit your growth.
Best-in-class learning experience – Podia pages & videos load super fast no matter what type of browser your users are using.
Cons of Podia
Podia's page editor has limited customization functions.
Podia's in-built email marketing solution is not powerful enough for advanced users, but they provide Zapier & autoresponder integration to make it work with any third-party application or services like ActiveCampaign, MailChimp, etc.
Charges for adding teammates. Podia will charge you $20 per month for each teammate you add.
The community function is too basic. It doesn't have many features.
You can't delay each video lesson. You can delay only sections right now!
No Zapier triggers action in Podia's Mover (basic plan) starting at $39/month.
Podia's Dashboard Walkthrough
Here, I'll give you details about Podia's dashboard. So when you log in to your Podia's account, you'll know exactly what to do and how to set up your courses in minutes.
Yes, you heard it right.
You don't have to spend hours and hours setting up courses. That's the beauty of using Podia. 🙂
Products
In the header section, you'll see Products. Here you can see all of your courses. You can easily edit, share, and embed your courses.
Community
This feature is new. Personally, I don't like it because it lacks the advanced features a community should have. However, it's suitable for beginners.
Email
Podia comes with an in-built email marketing solution. So you don't need to build complex email automation, then Podia's email marketing solution will get your job done.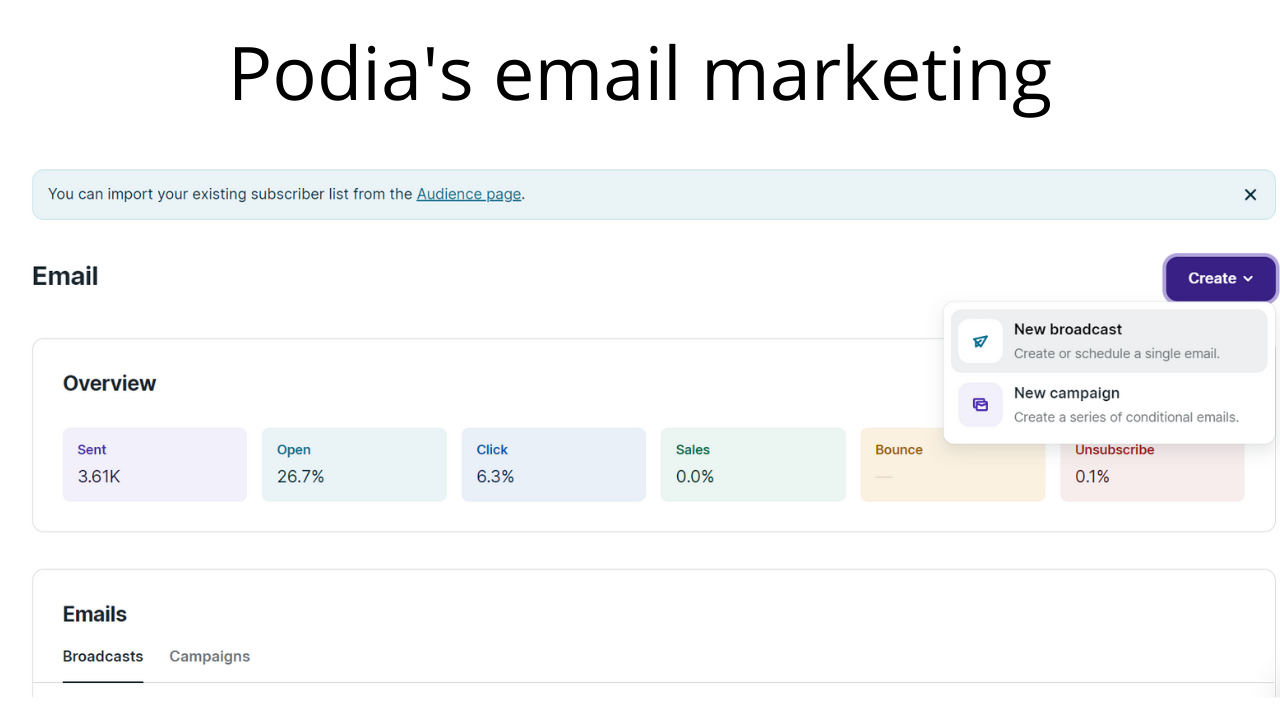 You can send email campaigns and broadcast to your subscribers/customers.
Coupons
You can create coupons to boost the course sale. For example, you can create time-based or evergreen coupons.
Audience
This section can track how many customers and subscribers you have.
Affiliates
This feature is useful. If you want your courses to be prompted via affiliates, you can enable the Affiliate option. So affiliates can promote your courses.
Sales
You can track how much sales you have got via the Podia platform.
Custom Domain
You can connect your own domain with Podia. It's super easy!
Pre-launch courses
Collect email addresses before your online course launches to gauge interest before you build.
Pre-sell courses
Start selling your course before it's ready by setting a start date in the future.
Secure payment portal
Collect payments in 22 currencies without worrying about security. All payments are processed through Stripe or PayPal, with bank-level security.
Bundle products
Entice customers to buy more by bundling your digital downloads together as a package or combine them with online courses and membership plans.
Podia's Support
Support is essential for any business. Podia gives live chat and email support. So if you get stuck anywhere, you ask via live chat or email.
Podia's support is user-friendly and helpful.
Free migrations
If you upgrade to a paid account, we'll move your content from wherever it's hosted or saved to Podia, saving you tons of time and headaches.
Podia's Free Plan: Is It Useful?
Recently podia launched their Free plan, but it's just a marketing gimmick. You get very limited features, and on top of it, they'll charge you 8% commission per sale.
In the free plan, you cannot:
Use your own domain
Use community function
Have draft courses and webinars
Use affiliate system
Podia's FREE plan is good if you want to test the software and see if it is useful or not.
In the Free plan, you get:
Email Marketing
Host 1 downloadable product
1 coaching product
Chat support
Podia Pricing Explained
Podia has three plans: Mover, Shaker, and Earthquake.
Free plan – They will charge you an 8% fee per sale + payment processor fee.
Podia's Mover plan starts at $39/month.
Shaker plan costs $89/month (I'm on this plan right now).
The earthquake plan costs $199/month (Podia's highest plan).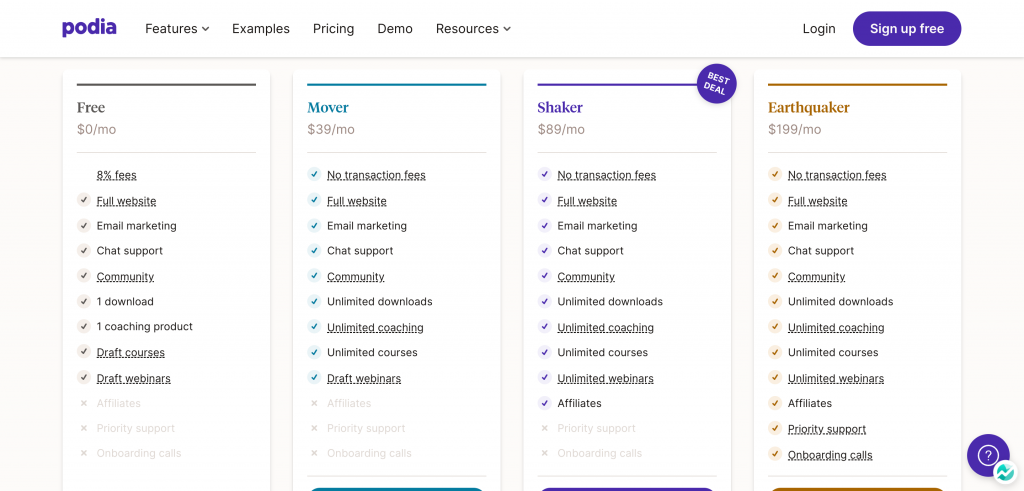 In Podia's Mover plan, you don't get Zapier action. This feature you would need when you want to enroll customers/users automatically in the course.
Zapier action comes with Shaker, and Earthquake plans only.
Earlier, Podia was giving Zapier actions and triggers in the Mover plan.
But in 2021, they made some changes in pricing plans.
And the new Pricing is inspired by Teachable.
Teachable has the same limitation in their base plan.
Right now, I am using Podia's Shaker plan. 🙂 I love it.
You can enroll as many customers and host unlimited courses on Podia's platform. 🙂
Is Podia worth it?
I would say it depends. If you ask me, I would say YES. Podia is worth every penny you spend on it.
Podia is a very stable platform. Comes with unlimited courses and users with a great beginner-friendly user interface.
Podia add-ons/upsells
Podia has only one upsell of adding team members. If you're on the Mover or Shaker plan, you won't be able to add teammates.
If you want to add teammates, you'll have to pay $20 for each teammate. 🙂
I don't think it's a big deal if you're making money from selling your courses.
Podia Features
Community
You can build communities like Facebook groups and Discord. Plus, you can have a free and paid community too. You can have unlimited members in both free and paid communities.
Podia's community features are basic
No mobile application
No notifications
Email Marketing
Podia's email marketing is not that great in automation and function wise, but it's good to send newsletters and broadcast emails. However, Podia is planning to launch an advanced segmentation function that will allow you to send emails to specific users. I am excited about that!
Podia's email deliverability is amazing
Reliable email-sending tool
Flexible email editor
Detailed Email analytics like open rates, clicks, bounce and unsubscribe
Create conditional emails
Coaching and Consultation
You can sell your Zoom workshops, classes and webinars on Podia. You can integrate Podia with Zoom, and directly, you can offer your Zoom workshops and classes.
Affiliate Marketing System
Podia's affiliate marketing system comes in handy if you want your customers to promote your products. All the tracking and payouts report Podia will handle. And from the learning portal, your customers can become your brand's advocate. Plus, you'll pay only when they bring sales.
Host & Sell Courses and Digital Downloads
You can sell courses, ebooks and any kind of digital downloads through Podia.
You can digital downloads like ebooks, worksheets, and notebooks and earn passive income.
Plus, you can offer online courses to create more interaction. You can host unlimited members and unlimited courses in Shaker and Earthquake plans.
No need to worry about video hosting, website etc. From a single platform, you can manage everything.
How is Podia different from Teachable?
Podia and Teachable, both companies, use Wistia to host videos. The major difference is in the user interface, customization functions, and payment integration.
Podia has a better user interface than Teachable.
Podia is not too costly if you use the Mover/Shaker plan.
Podia has more features that you would need as a course creator, and Podia is cheaper than Teachable.
The only thing Podia lacks is more customization functionality. Here Teachable wins the race.
Teachable offers more customization, but there's a learning curve to use Teachable to its full potential.
On the other hand, with Podia, you don't need to learn how to use the platform.
You can easily set up your courses and customize them.
Payment integrations
Podia integrates with Stripe and PayPal. Podia doesn't charge any fees on transactions as Teachable does.
Podia Integrations
Podia has native integration with:
Active Campaign,
GetResposne,
Aweber,
MailerLite,
Drip,
ConvertKit,
MailChimp,
And More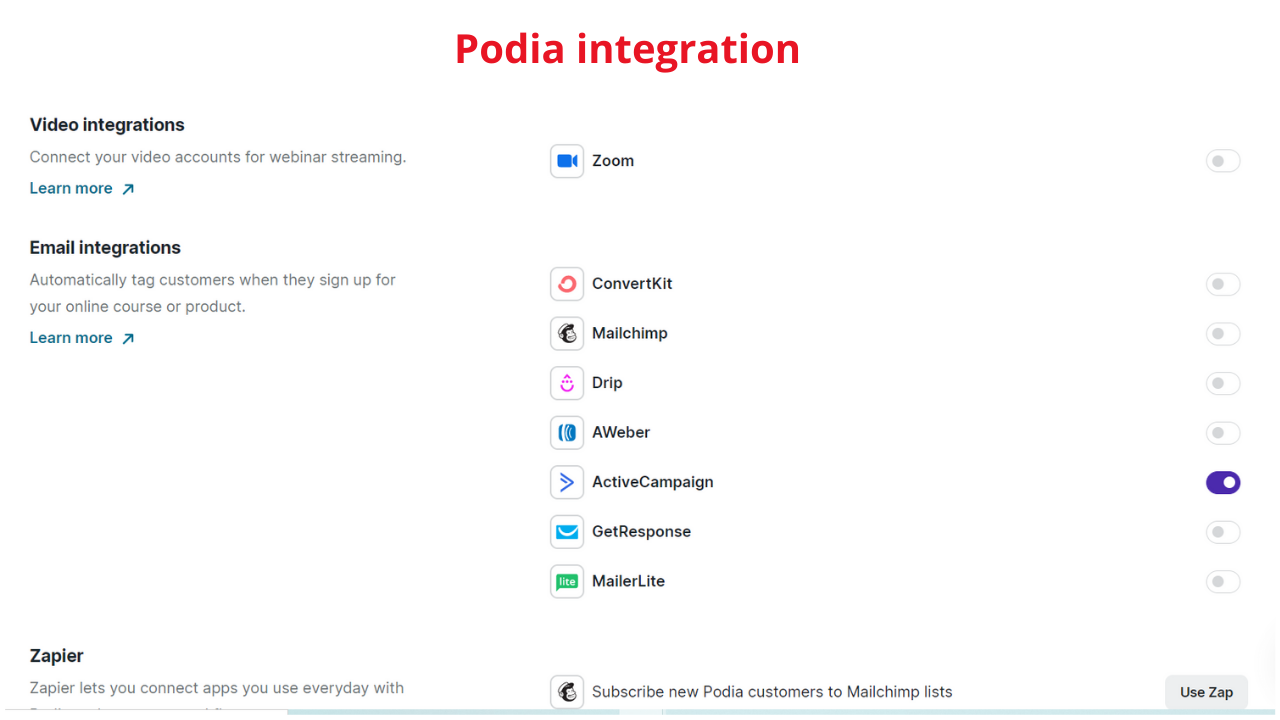 Through Zapier, you can connect Podia to 1000+ apps easily.
For tracking, you can use Google Analytics and Hotjar.
For video hosting, Podia supports Vimeo and YouTube. Plus, Podia has an in-built video hosting system. You can use that too.
Podia integrates with Payment processors like,
You can embed 1900+ apps on Podia like
Spotify,
Google Forms,
Twitter
GitHub Gists
Dribbble
And more!
Free resources and Tools by Podia
Podia has created tons of free information to help you use the platform effectively.
Podia conducts Weekly LIVE Q&A.
Podia has many FREE courses that teach you how to sell your course.
Lots of free guides, blogs, and videos.
Sales page generator
Download (PDF) generator
Email generator
Terms and Conditions generator
Privacy and Policy Generator
Course creation inside Podia
I was able to set up 6+ courses in less than 2 days. And some of the courses contain 45+ & 100+ modules. It's that easy to set up your own course inside Podia.
How to import Existing Customers inside Podia?
We had more than 20,000+ paid customers. We were looking to import all of them into the Podia platform.
But here's the catch, Podia can import up to 2000 users. If you want to import more than that, you have to show the NeverBounce report. NeverBounce is an email verification software.
Plus, Podia each plan limits how many customers they'll import.
For Mover users, they can import up to 5000 users.
For Shaker users they can import up to 15,000 users.
For Earthquake users, Podia allows importing up to 50,000 users.
Frequently Asked Questions About Podia
Is Podia easy to use?
Podia's user interface is very easy to use. Even if you're a non-techie person like me, you can use Podia. It's that simple!
What is Podia used for?
You can use Podia to host courses, sell digital downloads, offer coaching and consulting.
Can I build a website with Podia?
Yes, you can build a website with Podia but do not expect SEO functions. If you want to build a website to drive organic traffic from Google search engines, then do not use Podia. You can use WordPress or other CMS solutions.
Can you sell ebooks on Podia?
Of course, you an sell ebooks, notebooks or any kind of digital downloads. Podia has a dedicated function that will make it easy to sell digital downloads.
Does podia take a percentage of sales?
In the free plan, Podia takes 8% of each sale. However, if you use paid plans then Podia won't charge you any commission.
Why should I choose Podia over Teachable?
If you want something easy to use and affordable, go with Podia. Both Podia and Teachable are great platforms, and every software has its pros and cons.
Is Thinkific better than Podia?
No platforms are good. Functions-wise, Thinkific is better than Podia. But when it comes to pricing, Thinkific is much more expensive than Podia.
Is Podia mobile friendly?
Yes, Podia is mobile-friendly. All your course and sales pages are mobile-friendly,
Can you send emails from Podia?
Podia allows you to send broadcast emails. However, you cannot send targeted emails, plus you can build email automation.
I don't have a product or an audience yet, so why would I sign up for Podia?
First, you can learn how to build your audience from Podia's free resources such as guides, blogs, videos, and free courses.
Meanwhile, you can sign up for Podia's free trial to get the feel of the platform.
What if I try Podia but realize it's not for me?
No problem, you can leave the platform. Podia comes with a FREE plan. So you can easily check whether Podia is a good fit for you or not.
What if I can't figure something out?
You can always reach their support via email and live chat. Podia support is user-friendly, and I am sure they will help you out.
Conclusion – Podia Review
Podia is the best platform to host online courses/digital products. Podia's interface is easy to understand and use.
Podia comes with a Free plan, where you can easily test the features before paying for it.
Podia already has more than 50k creators who are using Podia right now. Podia integrates with top email marketing providers.
Podia has free tools and resources to help you learn Podia easily. In addition, Podia conducts weekly live Q&A sessions where Podia users can ask their queries.
Podia offers an affordable pricing plan. I hope this Podia review guide will help you in making an informed decision about whether Podia is suitable for you or not.
So, what's stopping you from creating your own course on Podia now?
Sign up for Podia's free plan today and test out the platform.