Have you ever spent hours writing a blog post? Presenting ZimmWriter, the ultimate content creation tool that will change your writing process forever.
In this ZimmWriter review, I will talk about the pros and cons of ZimmWriter and give you my final verdict on whether it's worth YOUR money and time…
You'll get to know about the ZimmWriter output quality (super important).
I will also tell you how ZimmWriter bypasses AI detection and compares it to similar software in terms of cost, functionality, and output quality.
Are you ready to speed up your content creation process with ZimmWriter?
Why Should You Trust Me?
I walk the talk. I have tested & used ZimmWriter myself then I created this guide. Check out the screenshot of the payment receipt. So you know, I have tested ZimmWriter myself then written this ZimmWriter review.
Plus, have a look at the content I generated! These are just a glimpse of ZimmWriter output.
If you want to know the absolute genuine review of ZimmWriter. Stay tuned.
What is ZimmWriter?
ZimmWriter is a powerful AI writing tool that allows you to create content with the help of AI.
ZimmWriter provides a simple interface which can easily generate high-quality, SEO-optimized blog posts with just a few clicks.
ZimmWriter also helps you identify and correct grammatical errors, so that your content is error-free.
Plus, ZimmWriter offers bulk blog generation features, making it an ideal choice for content creators and bloggers who need to produce a large volume of quality content.
ZimmWriter is a perfect solution for any marketer or content writer or content writing agencies looking to boost their writing effectiveness.
Key Features of ZimmWriter
ZimmWriter has many key features that make it a standout AI writing tool.
1) Output Quality. ZimmWriter output quality is way better than any other AI writing tools.
2) You can feed AI up to 1000 words to write about any topic. This happens in ZimmWriter only.
3) Background Information. This allows you to direct AI in a context and AI will create content based on the background information you have given.
Initially I was super skeptical about ZimmWriter. I thought, yeah, it would be another AI writing tool. But when I took the trial and started using it, ZimmWriter blew my mind.
I was amazed by the content quality.
ZimmWriter's Output Quality
Let me share the content which ZimmWriter generated!
Output 1: Affiliate Marketing Guide for Beginners
Output 2: How to Develop Self-Discline
Output 3: How to Improve Writing Skills?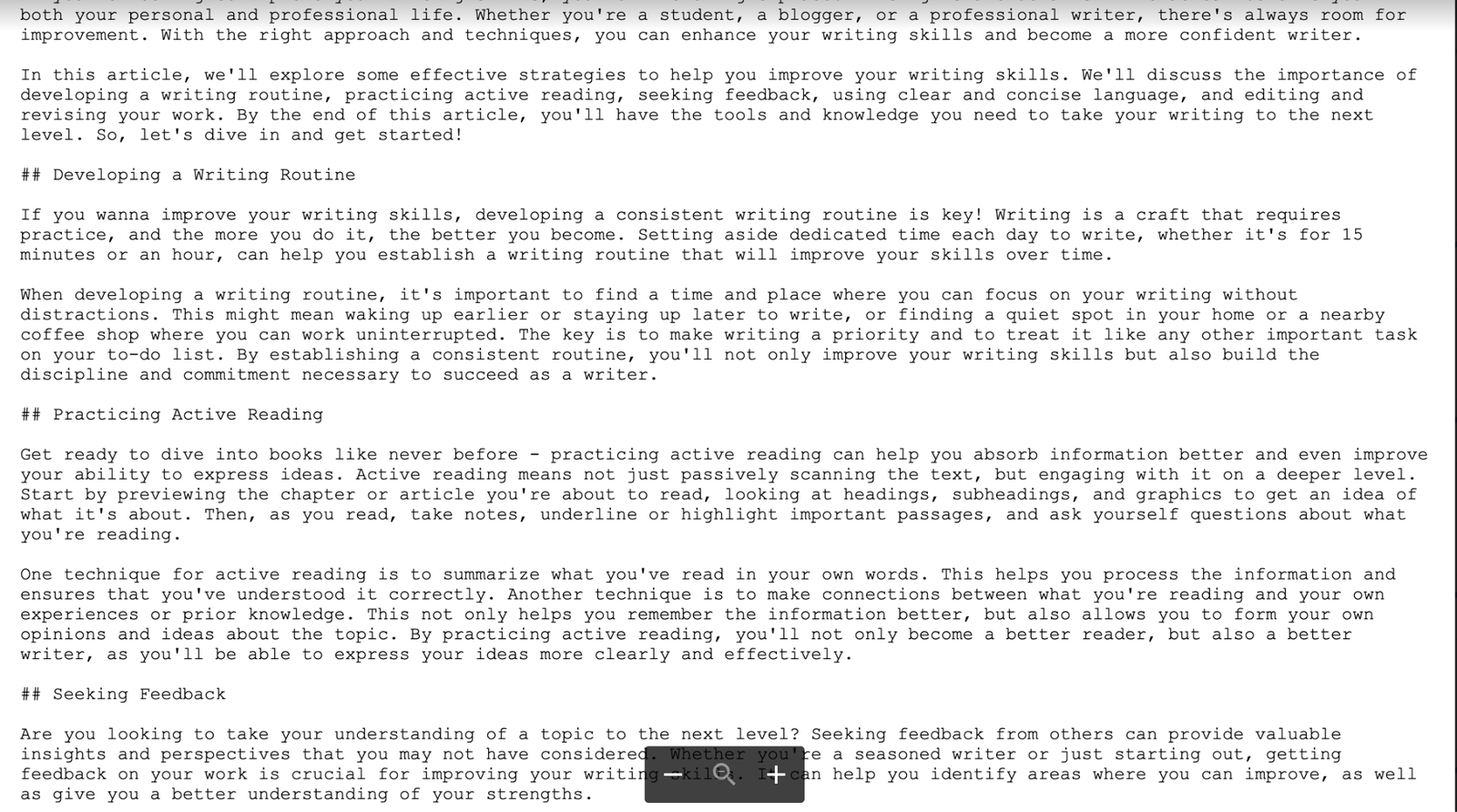 I hope you get the idea of ZimmWriter output quality. You will find redundancy in AI generated articles but overall the quality is better than ChatGPT or other AI writing tools.
ZimmWriter content sounds more human and when you edit and add your personality, nobody can tell your article is produced by AI.
So that's the power of using ZimmWriter! 🙂
I highly recommend you to Try ZimmWriter. It's one of the best AI writing tools.
Let's Explore ZimmWriter's Core Functionalities
ZimmWriter, an AI-powered writing tool, allows you to create content that ranks in Google search. You can create how to post, product review, comparison, listicle and more. I will tell you the DISADVANTGES of ZimmWriter too. Stay tuned with me!
1 Click Blog Writer
ZimmWriter offers a 1 Click Blog Writer feature that allows users to effortlessly generate high-quality blog posts with just a single click.
This time-saving feature provides ready-made blog post templates that you can easily customize, eliminating the need for extensive writing skills. You have the flexibility to choose from a wide range of niches and topics, ensuring that the generated blog posts are relevant to your target audience.
ZimmWriter's 1 Click Blog Writer feature is usefull for both experienced bloggers and beginners, enabling content creation an efficient and seamless process. With this powerful functionality, you can easily create engaging and well-written blog posts to educate and inspire your readers.
SEO Blog Writer
ZimmWriter's SEO Blog Writer is a feature for optimizing your blog content to increase visibility on search engines. With this feature, you can create SEO optimized blog posts. You need to provide the keywords, H2, H3 headings and it will generate the content in a matter of seconds.
It will generate the tables & H2, H3 titles as well, if your content needs.
Bulk Blog Writer
ZimmWriter's Bulk Blog Writer feature is a game-changer for content creators. It allows users to generate multiple blog posts in one go, saving your valuable time and effort.
To generate bluk content, all you have to do is enter the titles of blog posts and AI will do the job. You can set the writing tone, and enable or disable certain elements like FAQs, short pharagraphs and long paragraphs.
Local SEO Buffet
ZimmWriter's Local SEO Buffet feature is designed to help businesses in optimizing their online presence for local search rankings. Through the Local SEO Buffet feature, you can create content for local business listings in bulk.
For example, you provide 15 services across 5 locations.. You would need a total of 75 pages of content… Who has this much time to create 75 pages of content? That's where the Local SEO buffer comes in. ZimmWriter local buffet can create 75 pages of content in one go.
Local SEO becomes much easier with the help of AI writing tools.
Go ahead and optimize your local business listings with the help of ZimmWriter and get more customers.
ZimmWriter's Pros & Cons
Pros:
1 Click Blog Writer
Penny Arcade feature
Cost effective
Lifetime Deal is Also Avaliable
ZimmWriter works with Google docs, Email Frase.io or any web based writing tool
SEO Blog Writer. In just a matter of minutes, you can create different types of articles be it review, information or comparison.
A like-minded community.
Extensive tutorials on how to use ZimmWriter
These are the good things, let's talk about some of the things I don't like about.
Cons:
User interface is not great. It's okish.
ZimmWriter works in Windows only.
You need OpenAI API key to run ZimmWriter
Beginners might find it hard to use ZimmWriter
Apart from the above cons, I don't have any issues. And, ZimmWriter output quality outweighs all the cons.
I really wish ZimmWriter launches the Mac version of ZimmWriter. You can use ZimmWriter on Mac as well, but you have to install Windows on Mac.
ZimmWriter Pricing
ZimmWriter has three plans (including an LTD):
1) Normal Plan – $5.97 per month
Magic Commands
Continue Writing
Rewriting
1-Click Blog Generation
2) Ultimate Plan – $9.97 per month
Magic Commands
Continue Writing
Rewriting
1-Click Blog Generation
SEO Blog Generation
Bulk Blog Generation
Local SEO Buffet
3) The Ultimate Lifetime Deal – $197 (one-time fee)
In this plan, you get the same functions as in the Ultimate plan but you can get it forever by paying $197 one-time fee.
Pricing is affordable. If you're a serious content creator, go for The Ultimate Lifetime Deal.
And, yes, if you're curious about your use case then get the Ultimate monthly plan and test the ZimmWriter.
Please remember apart from ZimmWriter cost, there's OpenAI cost too. That depends on how much you use the software.
I generated 30+ blog posts (Average word count is 1000+) using OpenAI and I got a bill of $1.

Check out the screenshot of $1 Invoice I Paid to OpenAI!
It's super cheap… I used the GPT 3.5 Turbo model to generate the content. If you use the GPT 4 model, it will cost you more.
The more you use it, the more you have to pay.
The Installation Process of ZimmWriter
To get started with ZimmWriter, you need to download and install the software on your Windows computer.
Once that's done, open the unzip file. It contains many files, you'll see a file named "Start."
Click on it, then it will ask you to enter your email address that you used at the time of purchasing the ZimmWriter license on Gumroad.
Next, you have to enter the ZimmWriter license key. Now, you need to set up the OpenAI API key.
And that's all you need to install ZimmWriter. You can customize the settings and keyboard shortcuts according to your needs, ensuring the software works best for you.
All the output will be saved in your commuter folder "Output."

How to Get OpenAI API Key?
ZimmWriter works with OpenAI API. So you need to use your own API key to use ZimmWriter.
Head over to https://openai.com/
If you have an account, you can login else you can sign up.
Since I already have an OpenAI account, I will login.
The OpenAI sign up process is simple, you can sign up using Microsoft, Apple or Google accounts too.
Once you're logged it, you'll see three options:
1. ChatGPT
2. DAAL.E
3. API
We're looking for an API, so click on API. Then it will take you to this https://platform.openai.com/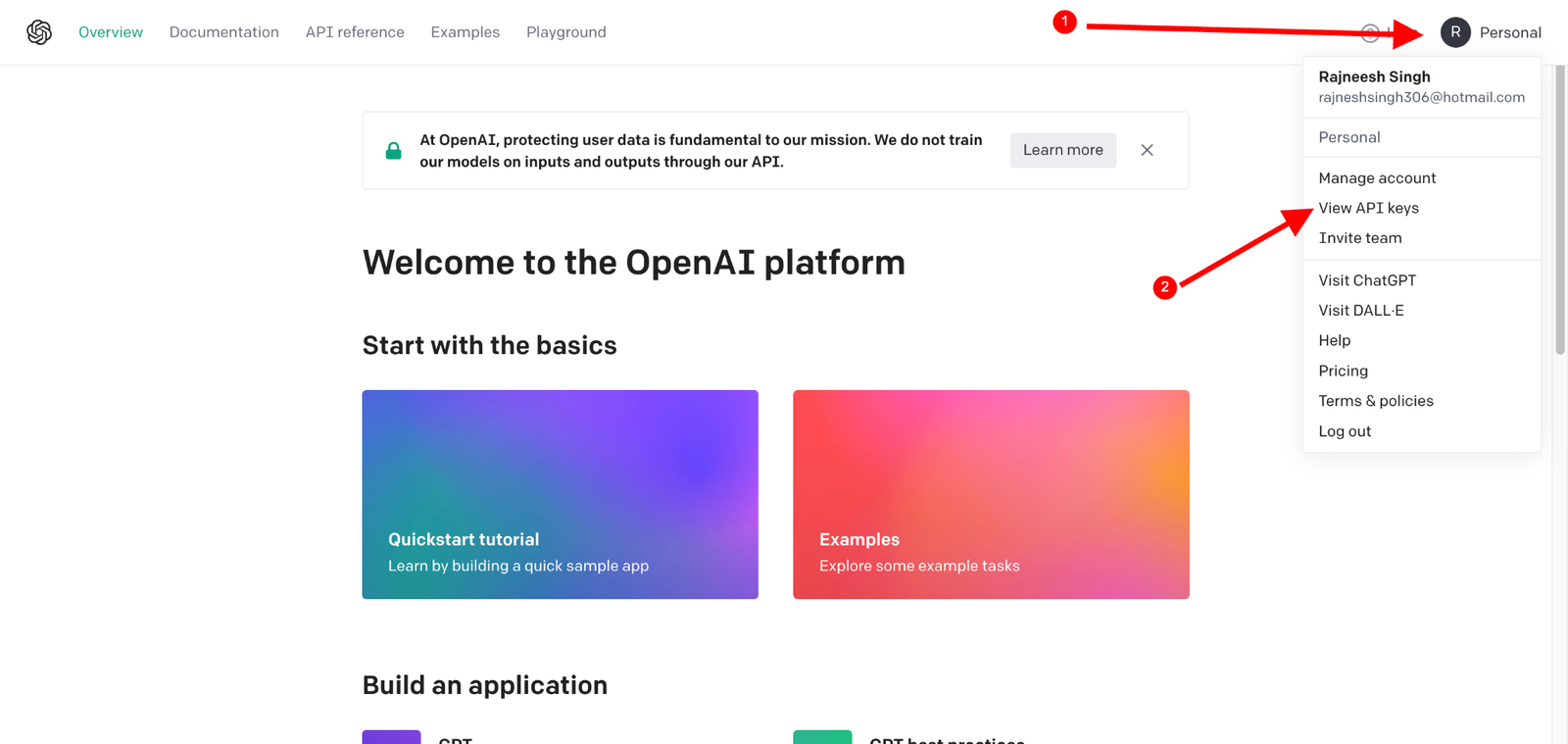 Click on your profile icon at the top right side corner.
You'll get an option to view your API keys. And, you'll be able to see all of your API keys. You can create new API keys as well.

You need to set up a billing method as well then you can create API keys.
That was the process to get the OpenAI API key.
Please save your keys somewhere because once you close the tab, you won't be able to view API keys again. 🙂 You'll have to generate new API keys.
ZimmWriter New Features: URL Scraper and Penny Arcade
ZimmWriter offered 2 new features: the URL Scraper and Penny Arcade. The URL Scraper allows users to conveniently extract URLs from web pages, making research and content creation effortless.
With Penny Arcade, you can generate articles that will cost you pennies. 😉 Therefore the name is Penny Arcade.
How does Penny Arcade work?
You can create content by giving existing articles links. You can enter multiple urls too. And, ZimmWriter will summarise the given article and then it will create a fresh article with zero plagiarism. And, the whole article will cost you in pennies.
Learn ZimmWriter Triggers
Learning ZimmWriter Triggers can speed up your writing process. This powerful tool allows you to create automated triggers in your writing, prompting specific actions or behaviors.
With various trigger options, ZimmWriter offers customization and flexibility for writers. Use ZimmWriter Triggers to generate high-quality content efficiently.
Here are a few ZimmWriter Popular Commands:
Magic Commands (CTRL + 1)
Magic Commands (CTRL + 1) in ZimmWriter allows you to give commands to AI. You can use Magic Commands to create content in Google Docs or Frase editor or your gmail editor.
Just enter your command and ZimmWriter will produce content.
These commands serve as valuable time-saving features that automate common tasks such as creating headers, bullets, and tables.
Continue Writing (CTRL + 2)
Often AI doesn't keep writing about a topic for a long time, in such cases, use CTRL+2 to continue writing. This powerful feature eliminates interruptions and allows you to effortlessly generate content using AI.
Increase your productivity and stay focused and let AI do the heavy lifting on your writing.
Rewriting Content (CTRL + 3)
ZimmWriter's "Rewriting Content" trigger (CTRL + 3) offers a convenient and efficient way to rewrite your content. You can easily make edits, rephrase sentences, and enhance readability of your writing.
Gone are the days of manually rewriting content or searching for synonym replacements. With the "Rewriting Content" trigger, you can save valuable time and focus on creating high-quality, polished content.
What's even better is that you have the option to customize the rewriting options according to your writing style and preferences. This functionality not only boosts productivity but also ensures that you produce top-notch content effortlessly.
Beating AI Detection with ZimmWriter
ZimmWriter, an AI-powered writing software, offers a solution to bypass plagiarism detection tools. Using advanced algorithms and natural language processing (NLP), Zimm generates unique content that can be customized to match users' writing style and requirements. This makes it a valuable tool for bloggers, content creators, and marketers in need of original content.
However, while ZimmWriter has its benefits, it also raises ethical concerns regarding academic integrity and originality.
Steps to Bypass AI Detection
My two cents: If you use any AI writing tool to generate content, there is a pattern in AI generated content. Once AI has done their part, it's time for you to break those patterns and give your content a fresh and human written spin.
You need to edit your content a lot to make your content stand out and helpful for your readers.
Often AI can be repetitive too. It's your job to remove repetitive blocks of text and make it original and valuable.
If you follow the above things, you can easily bypass any AI detection too.
Zimmwriter Vs Competitors: A Comparative Analysis
ZimmWriter stands out among its competitors with its content quality that enables writers to navigate and utilize the platform effortlessly.
In terms of pricing, ZimmWriter offers competitive rates compared to other writing software available in the market.
Cost Comparison
When it comes to cost, ZimmWriter stands out among other writing software options in the market. Its pricing is competitive, offering excellent value for money.
| | | | | | |
| --- | --- | --- | --- | --- | --- |
| Feature / Tool | ZimmWriter | Scalenut | Copy AI | Nichess | Jasper |
| Monthly Pricing | $5.97 per month | $39/mo | $0 | $19/mo | $49/mo |
| | $9.97 per month | $79/m | 49/mo | $39/mo | $125/mo |
| | $197 / one-time | $149/mo | Custom Pricing | $99/mo | Custom Pricing |
| Annual Pricing | No | $20/mo | $36/month | – | $39/mo |
| | – | $40/mo | – | – | $99/mo |
| | – | $75/mo | – | – | – |
| Word Limit | No Limit | *Unlimited Words | No Limit | 100K Words/Mo | *Unlimited |
| Languages | English | English | 24 | 24 | 30+ |
| Support | Group support | Email & Chat | Email & Chat | Email | Email & Chat |
| Integrations | None | WordPress | No | Reddit | Grammarly |
| | – | SemRush | – | – | Copyscape |
| | – | Copyscape | – | – | – |
| Free Trial | No Trial | 7 Days | Free Plan | Yes | 7 Days Trial |
With a range of affordable pricing plans, users can choose the one that best suits their needs and budget. Despite its affordability, ZimmWriter doesn't compromise on quality or customer support.
The cost of ZimmWriter includes a variety of features that are essential for professional writing, making it an ideal choice for marketers, content creators, and anyone in need of high-quality content.
In terms of pricing, ZimmWriter provides a cost-effective and efficient solution for all your writing needs.
ZimmWriter Functionality
When it comes to functionality, ZimmWriter doest't have a fancy user interface like Jasper, Scalenut and CopyAI. However, ZimmWriter does the writing job very well.
ZimmWriter has all the features that an AI writing tool must have.
How to Get a ZimmWriter?
Visit GumRoad and search for ZimmWriter or Click Here
Pick a plan.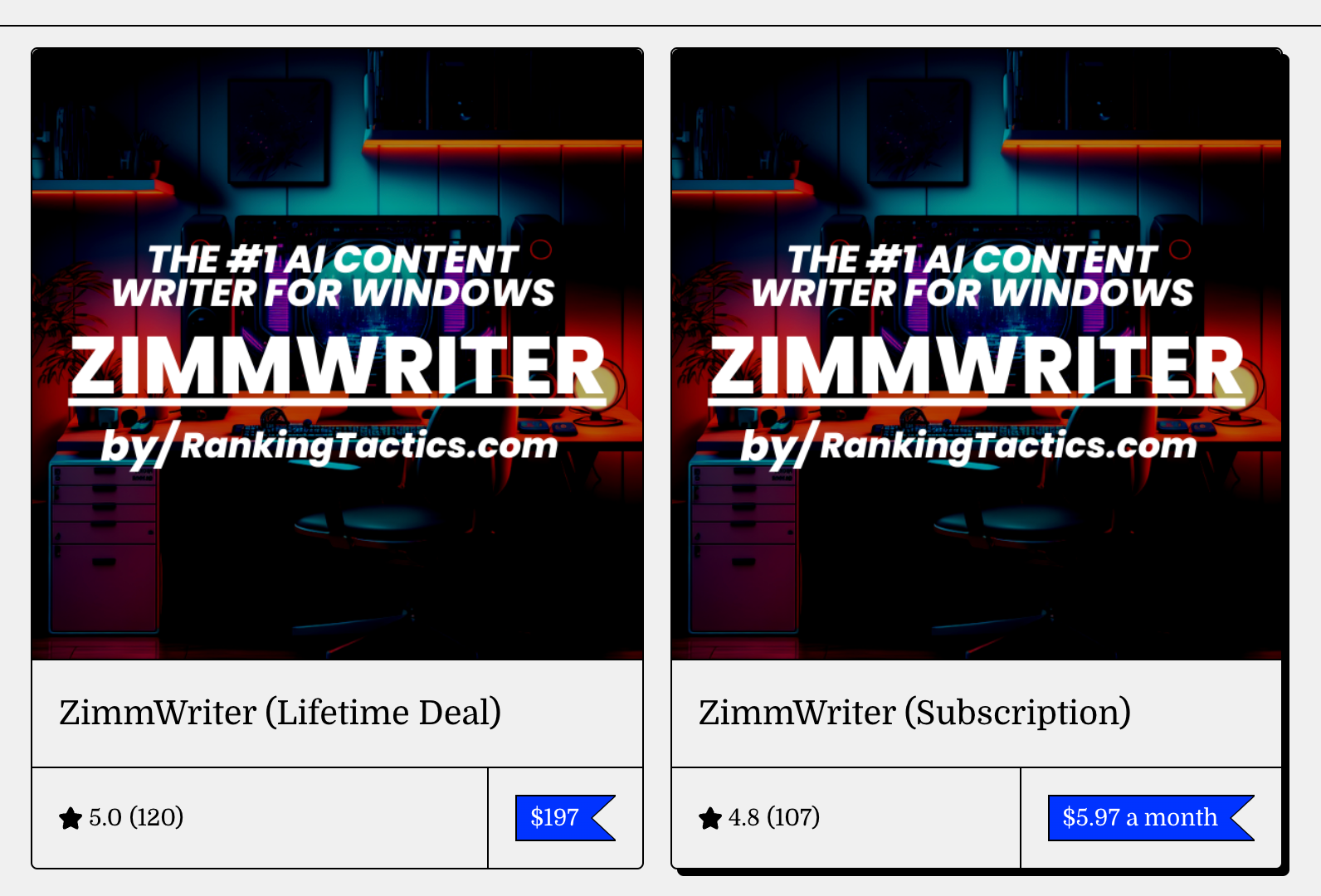 Make the payment using a credit card and you'll get your ZimmWriter license key.
Then, visit the Ranking Tactics website and click on ZimmWriter Help at the top and you will be able to download the app.

Make sure you have OpenAI keys along with a ZimmWriter license key. Enter your registered email id and both keys. You'll be able to access ZimmWriter.
FAQs about ZimmWriter
Is Zimmwriter Suitable For Businesses In All Industries?
ZimmWriter is a powerful platform that is useful for businesses in all industries. With customizable templates and features, you can use ZimmWriter to meet the specific needs of any industry. Whether you're in e-commerce, finance, healthcare, or any other sector, ZimmWriter can help streamline your writing process.
Can ZimmWriter Be Integrated With Other Content Management Systems Or Platforms?
ZimmWriter can't be integrated with other CMS. However, you can export the content into WordPress easily. But you have to do it manually.
ZimmWriter has a bulk importer for WordPress. It's a FREE plug-in.
Conclusion
There is no doubt ZimmWriter is a powerful tool with loads of features to simplify and enhance your content creation process.
With ZimmWriter's powerful writing features and integration with OpenAI API, you can effortlessly create high-quality blog posts, optimize them for SEO, and even generate bulk content.
ZimmWriter Monthly Subscription
If you found this guide helpful, you can support this blog when you purchase ZimmWriter using my affiliate links. Just use the above links and it won't cost you anything extra. 🙂
The new ZimmWriter features, URL Scraper and Penny Arcade, further expand the capabilities of ZimmWriter, allowing you to extract content from websites and create engaging and helpful content.
The keyboard shortcuts and triggers make it convenient to navigate and use the various functionalities of the tool.
In terms of pricing and functionality, ZimmWriter stands out among its competitors.
Whether you're a business owner or a content writer, ZimmWriter is a valuable asset that can significantly improve your writing efficiency and output.