Pabbly Email Builder Review: Features, Pros & Cons and Alternatives
Are you looking for software to build forms or surveys? Today I'll review Pabbly Form Builder.
Pabbly Form Builder is a useful software to create or build forms quickly with its ready-made templates. Pabbly Form Builder provides you with unlimited features with just a small subscription.
You can embed it on multiple websites or landing pages. With the help of Pabbly Form Builder, you can share content, capture leads, and send leads to Google sheets.
In this article, I'll cover everything you need to know about Pabbly Form Builder, including its features, pricing details, and drawbacks.
Let's get started!
What is Pabbly Form Builder?
Pabbly Form Builder is a tool from the Pabbly suite of software. With Pabbly Form Builder, you can easily create various forms on a single dashboard without needing to know any code.
Simply drag and drop the options or choose from pre-made templates to create forms such as contact forms and payment forms.
Pabbly also offers other software such as Pabbly Connect, Pabbly Subscription Billing, Pabbly Email Marketing, and Pabbly Email verification.
What did I like about Pabbly Form Builder?
Easy-to-use interface
Drag and drop editor
Logic-based steps
Collect payments through the form using PayPal or Stripe
Embeddable forms
Email notification as soon as someone fills out the form
Team Members function
Conditional redirect
Detailed analytics
You can export form responses in CSV and PDF format
Visual reports of form responses
Unlimited form submission
Free 7-day trial (No credit card required)
Multiple form themes
It is the only tool that will give you access to unlimited features like API, Data Export, Data Import, External Integrations, Multi-user, notifications, and 100s of templates to use.
So far, I talked about good things about Pabbly Form Builder. Some of the things I don't like about Pabbly form builder.
What do I dislike about Pabbly Form Builder?
Although the interface is user-friendly, but it can be improved.
A limited number of forms you can create
In the trial plan, you can't access Team Feature
Overall, Pabbly Form Builder is good software.
Pabbly Form Builder Pricing Plans
The Pabbly Form Builder has three main subscription plans with a free trial:
This pricing is applicable to annual plan.
Standard plan, which cost $10/month.
Create 1 form
Unlimited form submissions
Pro plan costs $26/month.
Create up to 3 forms
All the features
Ultimate plan costs $70/month.
Create up to 10 forms
Plus, all the features
The good thing I like about Pabbly Form Builder is you can get all the functions. It doesn't matter which plan you are using.
The only disadvantage is you get a limited number of forms. I think the number of forms can be increased.
You can choose any of their plan which is convenient for you just by clicking on the "Buy Now" button, which is shown above in the picture.
For choosing a free form option, just "Sign Up" with your email or google account and enjoy creating the form by choosing a pre-designed template.
Try Pabbly Form Builder for FREE!
Pabbly Form Builder Integrations
Pabbly Form builder has native interactions with,
Google Analytics
Dropbox
Salesforce
Pabbly Form Builder comes with a webhook function, using which you can the app with any third-party software.
You can't try out these integrations during the trial.
Pabbly Customer Support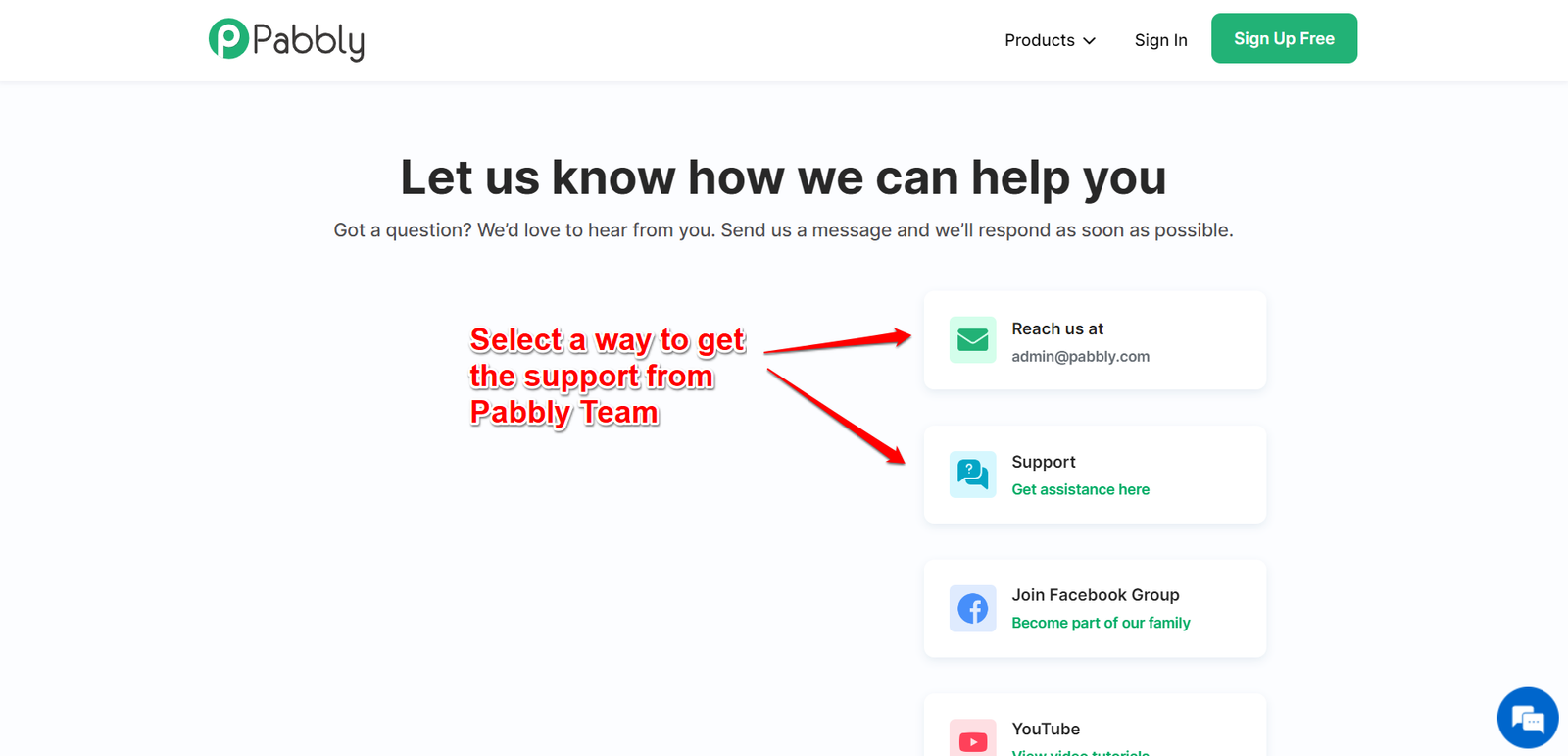 Pabbly offers great customer support services, if you are facing any technical issues or other you can contact their team via email (admin@pabbly.com) or talk to their provided assistance.
You can also directly ask questions or can get help/guidance on the bot chat Pabbly has offered.
Pabbly has a forum too. You can post your questions or search for existing questions and answers.
Pabbly Form Builder Vs Block Survey
Like, Pabbly Form Builder, Block Survey is another software to build forms.
But, If Block survey is also a good software to use, why to go with Pabbly form builder???
Are you thinking the same? Here is a quick comparison between BlockSurvey and Pabbly Form Builder.
| Pabbly Form Builder | Block Survey |
| --- | --- |
| Get Unlimited submissions on even standard forms with a subscription for 10$. | Unlimited submissions only on Enterprise subscription for 99$. |
| Multiple features, including unlimited time offer. | Limited features are available with high pricing |
| Code-free embedding | To embed you need to copy-paste some of the codes |
| No limit on users even on its basic plan starting with $10. | Limited user plan. |
| Drag and drop form editor | Normal Form Editor |
| In-built email notification | You have to connect SMTP server then you'll be able to email notifications |
| No in-built email verification | In-built email verification tool works with SMTP server |
Pabbly form builder provides us with multiple templates to build any form with unlimited, usable features, which are lacking in BlockSurvey.
Which one will you choose…?
I'd go with the software which provides me with maximum features at less price. Depending on your use case, you can choose the right software.
Pabbly Form Builder Functions
Unlimited submission
Third-party integrations
Enable Conditional Logic
View All Form Submissions
Form Auto-Populate
Payments & Subscriptions
Partial Form Submissions
Email Alerts On Form Submissions
Conditional Redirection
Custom branding
Unlimited uploads
Unlimited payment accounts
Share Form Access With Teams
Integrate Multiple Applications
Multi-Page Forms
Pabbly Form Builder Alternatives
If you are looking for some alternatives to Pabbly Form Builder. Here is a list of Pabbly Form Builder's rivals and best substitutes
Cognito Forms
Cognito form is another form builder which offers us many useful features. The form builder helps you in Data Management, Workflow Automation, Data Collection, and integration in receiving online payments with a small subscription.
Cognito Form Builder provides three paid subscriptions and a free one. You can choose any of them according to your need and can access various features.
Formstack
Formstack is available in the market since 2006 and provides an amazing tool for organizations to manage their data, collect their payment, and many more.
Formstack is used by customers worldwide for various tasks, including streamlining the patient intake procedure and automating marketing and sales workflows. It also offers a plugin for WordPress users.
123formbuilder
Without writing a single line of code, anyone and any organization can create an online form using 123FormBuilder.
Any type of form can be created by users, who can then connect the tools they wish to add and collect all the data they require wherever they are needed.
Anyone can construct forms on the platform using the drag-and-drop feature, regardless of their intended use.
Wufoo
Wufoo is a cloud-based form builder which makes every step of creating forms and code free. You can create a registration, payment, survey forms, and many more. It also provides free templates to use, and a demo to help you in building a form with its free option.
Starting is FREE!
Depending on your needs, we provide a variety of plan options, including one that is always free. See our pricing page for more information.
Algolia
Algolia is a search and discovery platform for dynamic experiences driven by AI that aids organizations in maximizing search and discovery speed while alleviating the burden of relevance tuning.
Pabbly Form Builder FAQs
What is Pabbly Form Builder?
Pabbly form builder is online form-creating software, where you can create your form with just a drag-drop option.
Is Pabbly form free?
You can create a Pabbly form for free for 7-days to explore the software, whereas after 7-day you need to buy a subscription for 10$ a month. While exploring the software in the free trial, you can connect 3 SMTPs.
How does form builder work?
After creating an account on Pabbly you need to choose the "Create a Form" option and just by dragging and dropping you can create a form and share it.
Is Pabbly HIPAA compliant?
No, Pabbly is not HIPAA compliant.
Final Thoughts on Pabbly Form Builder?
Overall Pabbly Form Builder is a great software to use, you can embed or integrate it on any website.
It has multiple form pre-designed templates, mobile responsive, and integration features that help you to create a very compelling form.
You can choose a plan which is suitable to you and according to its features, it's reliable and easy to use with its drag-and-drop option.
7-Day Free Trial: Pabbly Form Builder
If you have any questions about Pabbly Form Builder, let me know in the comments below!
Pabbly Form Builder Review