Pabbly Connect is a popular automation tool that allows you to integrate two different applications without you needing to write a single line of code.
However, if you're looking for Pabbly Connect alternatives, you've come to the right website.
In this blog post, I will show the top 5 alternatives, comparing the advantages, and disadvantages of each software and pricing breakdown to help you decide on the best automation tool.
The best Pabbly Connect alternatives – summary
Too Long; Didn't Read (TLDR);
1 – Integrately
Integrately is an automation platform that offers no-code integrations between numerous apps.
It's an easy-to-use automation tool designed to streamline workflows and increase productivity.
Right now, Integrately supports 800+ applications, and they are adding more apps. You can even task Integrately team to build the automation for you.
Using this tool, you can quickly automate mundane tasks like sending leads from Facebook ads to Google Sheets. When someone enrolls in the course, send the course access.
These are the most simple use cases. You can build advanced workflows like refund automation, reply to Google reviews automatically, etc.
Advantages and disadvantages
Advantages:
Visual automation builder
Millions of pre-built automations
No coding skills required
Reliable customer support
Easy-to-use software
Disadvantages:
Limited app library compared to rivals
Features are limited to specific plans
Integrately Pricing
Integrately Starter plan costs $29.99/month for 2K tasks, and some features are limited.
The professional plan costs $49/month, and you get 10K tasks and all the features. You can create up to 50 automation (workflows) in the professional plan.
Integrately offers a Growth plan, which costs $124/month, and you get 30k tasks/month and all the features.
Integrately Business plan costs $299/month. You'll get 150K tasks every month, a dedicated account manager, and live chat support.
These plans are exclusive of taxes. On all the plans, an 18% tax is applicable.
You can get 20% OFF, if you buy the annual plan. Integrately a 14-day free trial; no credit card is required.
2 – KonnectzIT
KonnectzIT is a simple and affordable automation tool that enables users to create workflows between various apps so that they can automate repetitive tasks.
KonnectzIT was launched in 2021, and they ran LTD campaigns on AppSumo and different LTD marketplaces.
KonnectzIT LTD (Lifetime Deal) is still available on AppSumo. And this deal is stackable. You buy up to 10 codes.
KonnectzIT dashboard is very easy to use, and KonnectzIT supports 6 languages. You can use the KonnectzIT tool in different languages.
Advantages and disadvantages
Advantages:
User-friendly interface
Robust app library with 800+ integrations
In-built apps by KonnectzIT
Supports multiple languages
Affordable pricing plans
LTD is available on AppSumo
Disadvantages:
No LIVE chat support
KonnectzIT needs a lot of improvement to compete with Zapier and Pabbly Connect
KonnectzIT Pricing
KonnectzIT offers a free plan with 100 tasks per month. KonnectzIT paid plan starts at $12/month and goes up to $50/month.
If you buy the annual plan, you get 20% off. In the Pro plan, you get 10K monthly tasks and all the features.
The Team plan offers 15K tasks/month with all the features. You can invite your teammates as well.
Then, the Agency plan offers 50K tasks per month, and you get 5 sub accounts too.
3 – Make.com
Make.com is another automation platform like Zapier and Pabbly Connect, which allows you to connect different applications without coding.
If you have heard of Integromat, then Make.com is the rebranded version of Integromat.
Make.com (Formerly Integromat) has been in the market for quite some time. According to CrunchBase.com, Make.com was founded in 2012.
Advantages and disadvantages
Advantages:
Intuitive drag-and-drop interface
Strong integration library with 1400+ apps
Affordable pricing plans
Make offers white label option too
Make Academy to learn how to use the software
Disadvantages:
No LIVE chat support
Learning curve to use the software effectively
Make.com Pricing
Make.com also offers a free plan with limited features and 1000 Ops/month.
Note:
Operations (Ops) is like Tasks. Make.com uses different terminology. So do not get confused.
Scenario is workflows. You will see the Scenario term on Make.com.
Make.com offers 4 different pricing plans:
Core – This plan costs $10.59/month and offers 10,000 Ops/month.
Pro – It costs $18.82/month. It offers 10,000 Ops per month and some additional features such as full-text execution log search, operations usage flexibility, custom variables, priority scenario execution, scenario inputs, etc.
Teams – This plan costs $34.12/month and offers 10K tasks per month, and you get extra features like high-priority scenario execution, teams, and team roles, create and share scenario templates, etc.
Enterprise – To know the price, you have to contact Make.com, and in this plan, you get a dedicated account manager, two-factor authentication and 24×7 customer service, custom functions, and more.
IFTTT (If This Then That) is an automation tool that creates applets to connect different services based on triggers and actions.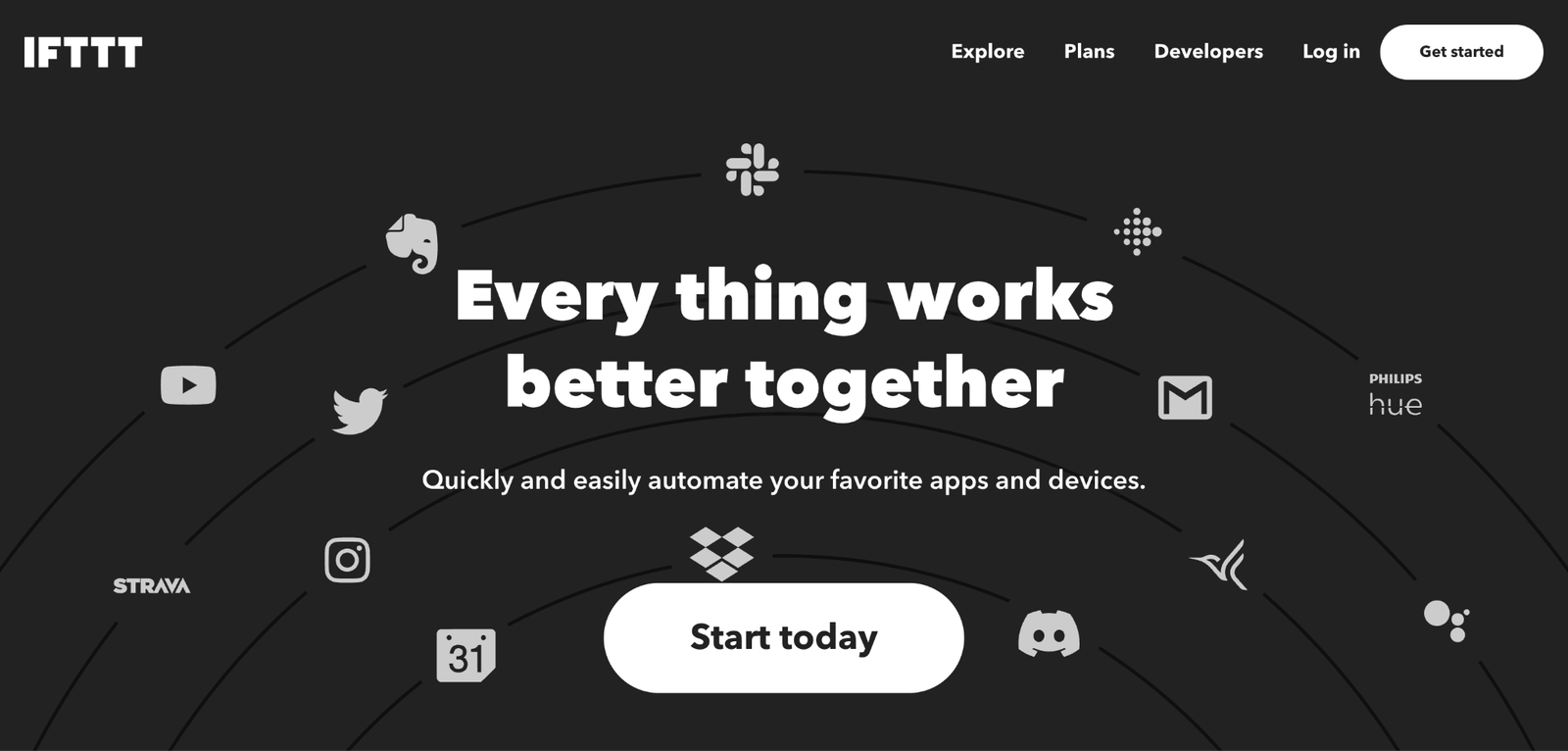 According to Wikipedia, IFTTT was founded on 14 December 2010.
You can create cool automation with IFTTT. For example, you can update your Android phone wallpaper with NASA's image of the day!
You can do a lot more productive things with IFTTT.
Advantages and disadvantages
Advantages:
Mobile app available for Android & IOS devices
Easy to use software
Generous free plan available
Useful pre-built automation
IFTTT AI help you create blog posts, social media content and summarize your existing content
Affordable pricing plans
Simple sign up process
Disadvantages:
User interface can be confusing for beginners
Little to no support with free plan
Limited apps integrations
IFTTT Pricing
IFTTT offers a free plan and two paid plans.
NOTE:
Applets are like workflows.
Standard applets speed is like task execution time.
IFTTT free plan comes with the following features:
Limited Applets
Standard Applet speeds
DIY or use published Applets
Unlimited Applet runs F
free mobile app access
Simple no-code integrations
IFTTT Pro plan costs $2.57/month, and you get customer support, 20 applets, multi-action applets, exclusive triggers, and action and more features.
IFTTT Pro + plan costs $5/month, and you get unlimited applets, AI services, developer tools, prioritized support, and everything in the Pro plan.
IFTTT offers a 7-day trial on paid plans.
5 – Zapier
Zapier is a well-known and most-used automation platform that enables users to connect various applications and automate tasks by creating Zaps.
Zapier has a customer base of 100k. It has the largest app library with over 5000+ integrations.
With Zapier, you can automate,
Sales outreach,
Lead flow,
To-do list,
Online course delivery
And more
Advantages and disadvantages
Advantages:
5000+ supported apps
Powerful automation capabilities
Ability to create custom apps
Free plan with 100 tasks per month
Extensive library of tutorials, help articles, and more
Disadvantages:
Certain features are available in higher plans only
Higher pricing compared to some alternatives
No live chat support
Zapier Pricing
Zapier paid plan starts at $29.99/month, and you get 750 tasks per month.
If you go for the Professional plan, it will cost you $73/month for 2000 tasks/month.
Zapier pricing is super expensive; if you go with the annual plan, you get 33% off.
Zapier offers a free plan as well with 100 tasks. It's good to test the software.
Finding the Best Pabbly Connect Alternative for Your Business
Each of these Pabbly Connect alternatives offers unique advantages and disadvantages.
Before committing, identify your specific business requirements and budget.
My top three picks are as follows:
By comparing the features, pricing, and capabilities of every platform, you can choose the automation tool that best suits your needs.
Remember that automation tools are designed to automate mundane tasks, saving you time and increasing productivity.
Thanks for reading! Let me know if you have any questions in the comments below. I will answer.