The business world is evolving by leaps and bounds, and automation has become essential for staying ahead of the competition.
In this guide, I will review KonnectzIT, a new no-code integration/automation software that can help you automate mundane tasks and improve your productivity.
I'll discuss KonnectzIT features, pricing, pros, and cons and compare it to its competitors, Pabbly Connect and Zapier.
By the end of this guide, you'll know whether Konneczit is good for your business or not.
What is KonnectzIT?
KonnectzIT is an intuitive, no-code automation platform that can connect various software applications without you needing to code. With its drag-and-drop interface and 800+ integration library, KonnectzIT makes it easy for anyone to set up, manage, and scale their automated workflows.
Is KonnectzIT a Reliable Automation Tool?
Absolutely! KonnectzIT has been in the market since 2021. KonnectzIT earned a reputation as a reliable automation tool. KonnectzIT offers robust features, seamless integration, and responsive support.
KonnectzIT visual builder, webhook feature, and ability to handle both simple and complex tasks make it a good choice for businesses of all sizes.
KonnectzIT LTD went LIVE on Appsumo on August 21st, 2021. The lifetime deal is still available but with limited features. I will talk about it in a moment.
KonnectzIT Pricing
KonnectzIT offers various four pricing plans:
1. Free – $0.00 per month, and you get 100 tasks every month with unlimited workflows.
2. Pro – $12/month, and this plan costs 10K tasks every month and unlimited workflows.
3. Team – This plan costs $15/month, and you get 15K tasks/month, unlimited workflows, and the ability to invite up to 2 team members.
4. Agency – It costs $50/month and comes with 50K tasks/month, 5 subaccounts, and unlimited workflows.
If you buy KonnectzIT annual plan, you'll get 20% OFF on all the plans.
KonnectzIT Lifetime Deal
KonnectzIT lifetime deal is still available, like Pabbly Connect, but the LTD limits have been reduced.
You can buy a KonnectzIT lifetime deal from Appsumo. This deal is stackable. You buy up to 10 codes.
KonnectzIT LTD Pricing:


Features included in all plans:
Top-up tasks and operations
Unlimited Konnectz
Multi-step workflows
5-minute interval
Formatters
Filters and conditions
Schedule and delay
Webhooks apps
Premium apps
Folders
KonnectzIT offers LTD on their website too. However, the lifetime deal on their website is cheaper than AppSumo LTD.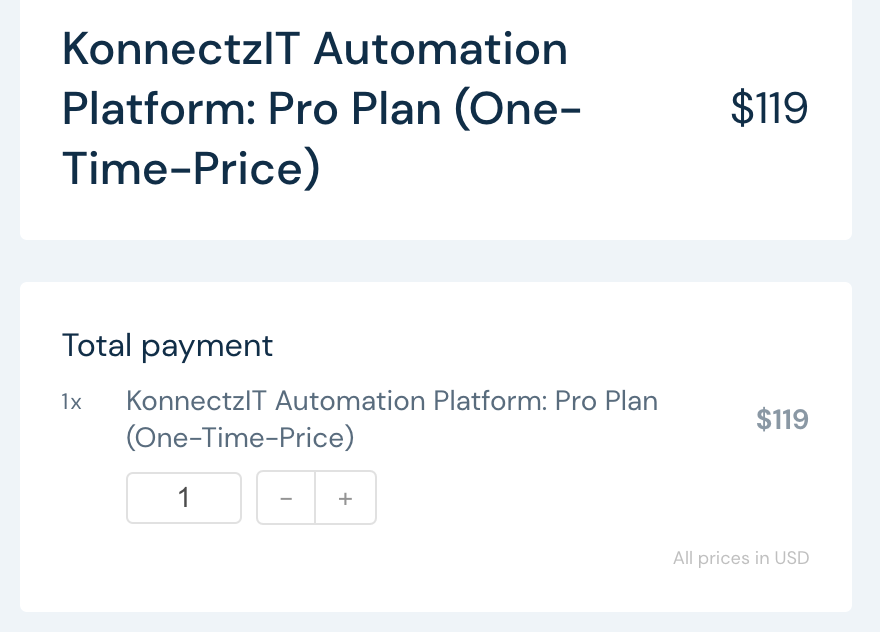 You get all the features that you'll get in the AppSumo deal. In addition, you'll end up saving $10 on each code.
If you have a use case that consumes fewer tasks, KonnectzIT LTD can be helpful.
Pros and Cons of Using KonnectzIT
Pros:
User-friendly, no-code platform, and visual editor
800+ apps integration
Handles both simple and complex tasks
Lifetime deal available
Affordable pricing plans
Cons:
Founders are not rapidly improving the platform
Limited integrations compared to its rivals
KonnectzIT Founder
Vijaya Kumar Channalli & Rakesh Mahesh are the co-founders of KonnectzIT.
Vijaya Kumar C. is the CEO of KonnectzIT. Unfortunately, I couldn't find the second co-founder's LinkedIn profile.
Rakesh, co-founder and COO of KonnectzIT.
Features of KonnectzIT
Visual Editor
This makes it extremely easy to set up any kind of automation. Even if you have never built a workflow, with Visual Editor, you can connect two or more apps without coding.
Complex Workflows
KonnectzIT offers in-built apps such as routers, conditions, scheduler, etc. These apps will help you in building advanced workflows.
Integration Library
Now, KonnectzIT integrates with 800+ apps. So there's a strong chance your favorite app or software might be supported with KonnectzIT.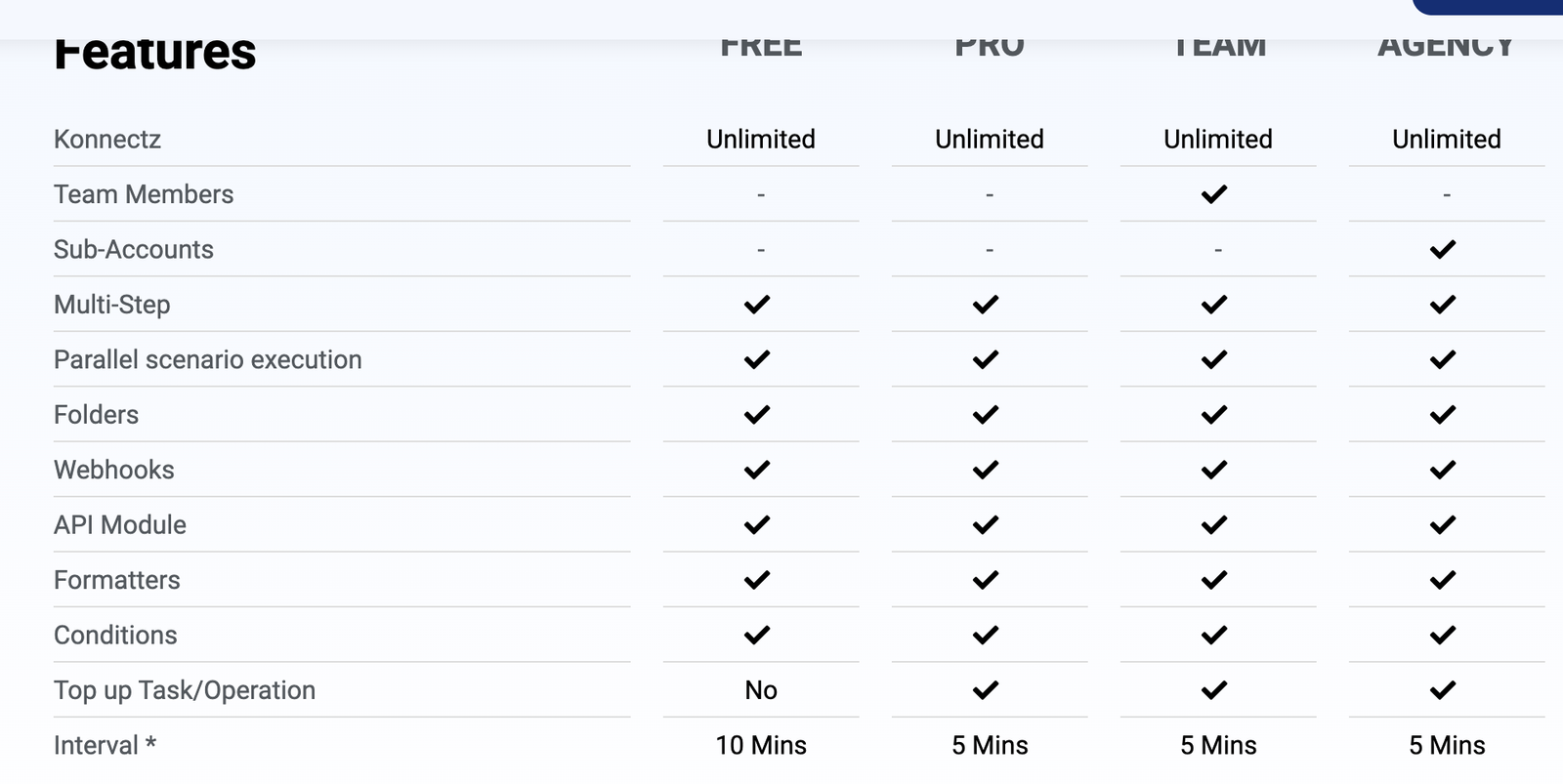 Automation Volume
KonnectzIT can Handle a high volume of tasks without compromising performance.
Webhook Feature
You can connect to external applications using webhooks. These webhooks send data from one app to another app.
Unlimited Workflows
KonnectzIT, every plan comes with unlimited workflows. So you can set up as many workflows as you want. But ensure you have enough tasks to execute those tasks.
History
Log of the all activities of your workflow made to help you find errors or tweak the workflow.
Multi-Language
KonnectzIT supports six languages such as;
English
Dutch
Chinese
German
French
Spanish
You can access KonnectzIT in the above languages. To change the language, go to your "Account," select the language and update the changes.
I selected French, and now my dashboard is in the French language.
How to Sign Up on KonnectzIT?
KonnectzIT offers a FREE plan with 100 tasks per month limit, and you can use all the functions.
To sign up, visit the pricing page.
Click on the "Try Free" button. Next, enter your email, solve the captcha, and click "Continue."
Now, create a password. Type in the password and confirm your password by entering again.
Then a verification email will be sent to your email. You have to confirm that email.
Once your email is verified, your account is created. Now you can access KonnectzIT using the email and the password you created.
Sign up process is simple. After that, you can explore the software, and if you like it, then buy the paid plans or Lifetime deal.
I love the KonnectzIT user interface. It's very easy to use. Give it a try!
KonnectzIT Vs. Pabbly Connect
I have prepared a small comparison chart. This will give you a great idea about both tools at a glance.
| Features | KonnectzIT | Pabbly Connect |
| --- | --- | --- |
| Pricing | The basic plan starts at $12/month | Basic plan starts at $19/month |
| Support | Chat & Email | Email, forum support |
| Ease of use | Simple to use | Simple user interface |
| Free plan | Yes | YES |
| Limitations | No (except team feature) | NO |
| Apps | 800+ apps | 1000+ apps |
| Tasks | $12/month for 10K tasks | $19/month for 12k tasks but it consumes 2x less tasks |
| Money back policy | NO | Yes, 30-day |
KonnectzIT Vs. Zapier
Zapier is the most popular automation tool that has been around for more than a decade. However, compared to Zapier, KonnectzIT is very new.
| Features | KonnectzIT | Zapier |
| --- | --- | --- |
| Pricing | The basic plan starts at $12/month | Base plan costs $29.99/month |
| Support | Chat & Email | Email |
| Ease of use | Simple and intuitive user interface | Easy to use tool. |
| Free plan | YES, 100 tasks/month | Yes! 100 tasks/m |
| Limitations | No (except team feature) | Many features you can access in the higher plan only. |
| Apps | 800+ apps | 5000+ apps |
| Tasks | $12/month for 10K tasks | At $133.50/m, you get 5k tasks every month. |
| Lifetime Deal | YES | NO |
My Final Thoughts on KonnectzIT
KonnectzIT is still a new tool that needs a lot of improvement; then, it can give tough competition to its competitors like Zapier and Pabbly Connect.
If you're a small business owner or solopreneur looking to automate your day-to-day tasks, then KonnectzIT might be good software.
But again, it depends on your requirements. So figure out your business needs first, then check whether KonnectzIT can fulfill those requirements.
YES, buy the tool if it cannot, then skip it!
Many business owners buy the tool without understanding their use case. Don't make that mistake!
If you have any questions, drop them in the comments below. I will answer!
If you're looking for an affordable yet better automation tool than KonnectzIT, I would recommend you Pabbly Connect.