Are you looking for Make.com review? I have reviewed every aspect of Make.com (Formerly Integromat) in this guide, from features to pricing and supported apps.
I even compared it with similar tools like Zapier.
This will help you determine whether Make.com is the best solution for your needs.
What is Make.com?
Make.com is a no-code automation tool designed to connect apps and build automated workflows.
Make.com offers many features, such as custom apps, execution log storage, and 300+ Make API endpoints. This will allow you to automate things quickly.
Is Make.com a Good & reliable automation tool?
Make.com (Formerly Integromat) is not a new tool. They have been in the market for more than a decade.
Make.com has established itself as a reliable automation tool, offering a variety of features and benefits to optimize your business processes.
Can Make.com fulfill your specific business needs? Let's dive into the pros and cons to find out.
Can Make fulfill your use case?
It depends on what you want to automate and whether the required apps are available on Make.com. You can build cool automation, but every tool or software has pros and cons.
Make.com Pros
User-Friendly Interface and Visuals. From sign up to login to the software. Everything is simple and non-techie-friendly. I loved the Make.com user interface.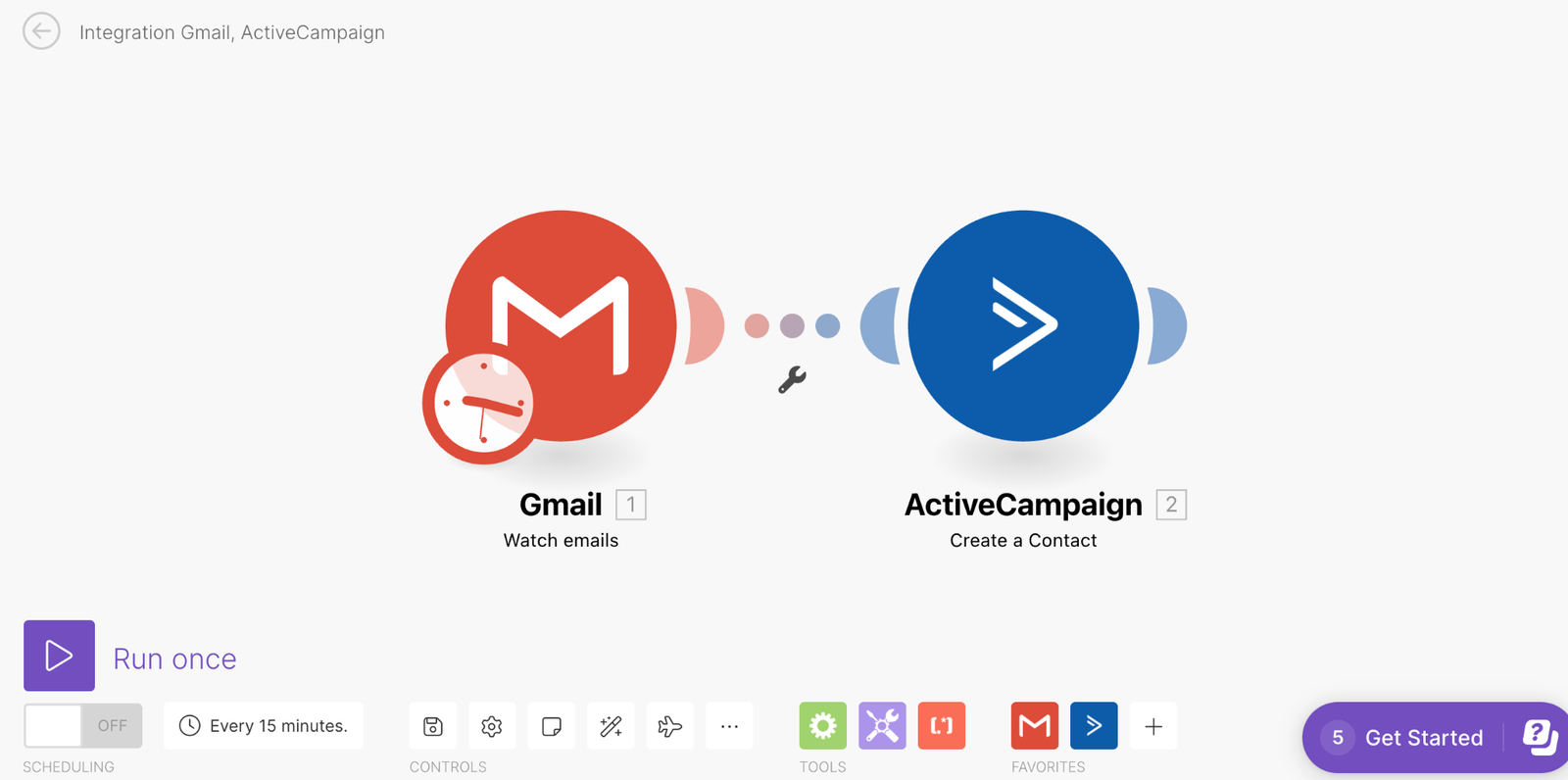 1000s of Ready-Made App Integrations. Choose the app, and Make.com will show you all the potential automation. You can search the template by app or name in the Templates library.
Get started with checklists and tutorials. As soon as you sign up on the platform. They will provide you with simple checklists and other helpful resources. So you can use the platform effectively. Then, you'll find video tutorials and help docs at each automation step.
1400+ supported apps. Make.com integrates with a good number of apps. Probably, your favorite is integrated with Make.com. Many automation tools are available, but not every tool integrates with 1000+ apps.
Connections. You can manage all the connected apps with Make.com in one place.
Webhooks. Through webhooks, you can send data from third-party apps to Make.com.
Cons of Make.com
Migration process can be complex for non-techie users
No LIVE chat support
Terminologies are different than most automation tools
Expensive pricing if you want full features, you'll have to spend more.
Overall, Make.com is a good tool. However, if you want a more affordable and easy-to-use tool, I recommend Pabbly Connect.
At least you can give it a try and see if it works for you or not.
Make.com Customer Services
Currently, Make.com offers support through email.
You have to fill out a simple form with your name, email ID and, describe the problem you're facing, and send the request.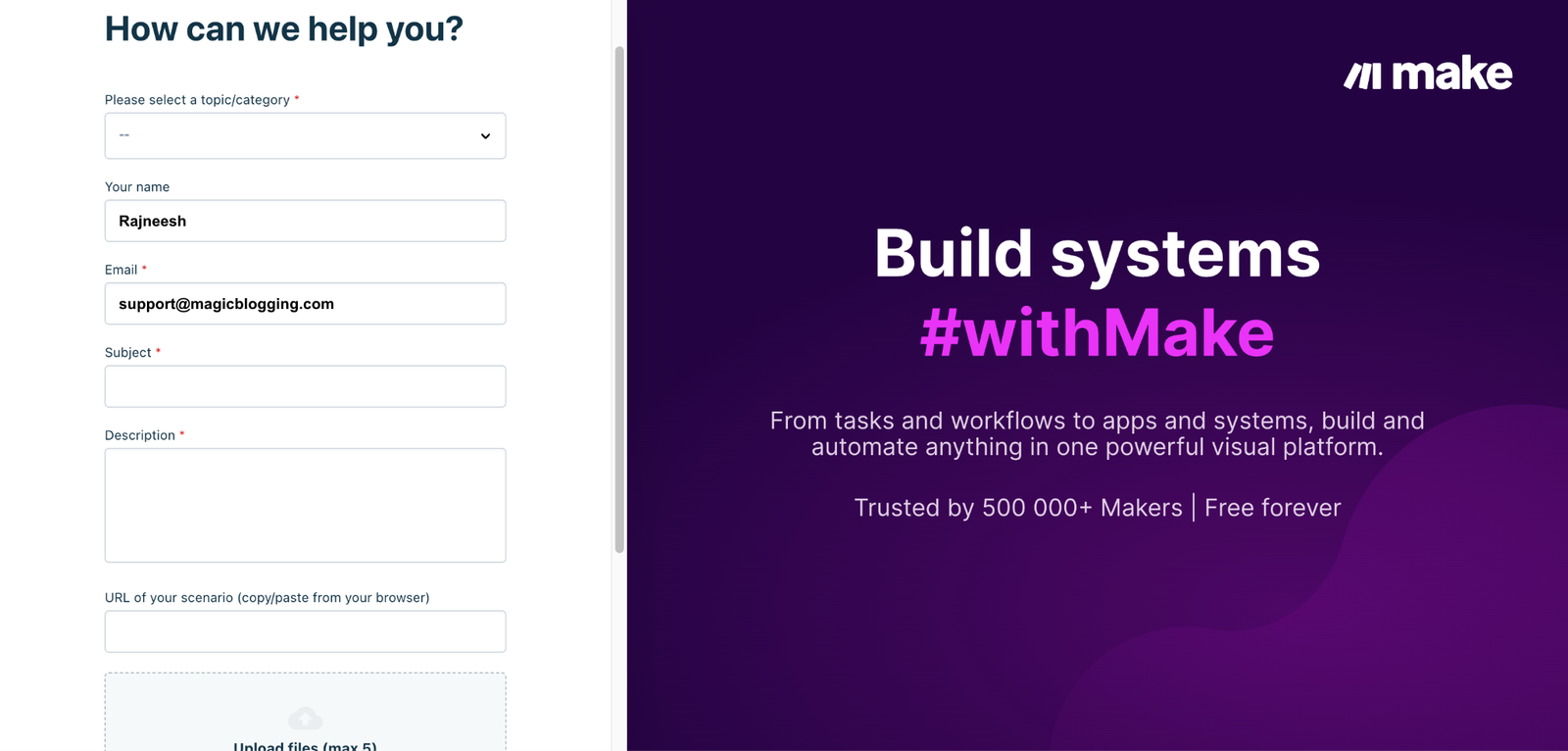 Make team will contact you.
Make.com Pricing
Make.com has a total of 5 plans, including a free plan.
1. Free – Get 1000 Ops/month and some basic features.
2. Core – It costs $10.53/month and gives 10K Ops/month and unlimited active scenarios (workflows), a minimum 1-minute interval between scheduled scenario executions, and access to 300+ Make API endpoints
3. Pro (Most Popular) – It costs $18.82/month, and it also offers 10K Ops/month plus some extra features such as:
Full-text execution log search
Operations usage flexibility
Custom variables
Priority scenario execution
Scenario Inputs
Plus, everything in the Core plan
4. Teams – It will cost you $34.12/m, offers 10K Ops/month, and you get high-priority scenario execution, teams and team roles, create and share scenario templates, and everything in the Pro plan.
5. Enterprise – It's Make.com's highest plan; to know the pricing, contact their sales team. Enterprise plan offers the following things:
Access to enterprise apps
Information security compliance support
Company single sign-on (SSO) access control
Operations overage protection
Two-factor authentication
Custom functions
Dedicated customer success manager
24/7 Customer support and defined response times
Which plan should you choose?
It boils down to your needs. If I had to choose, I would go with the Pro plan, which seems the most value-for-money plan.
And if I buy the annual plan, I will get some extra discount.
Make.com better alternatives
1. Pabbly Connect. It's a new tool compared to Make.com but growing rapidly. Pabbly Connect integrates with 1000+ applications, and pricing plans are affordable too.
2. Integrately. It's another automation tool launched in 2021. Integrately user interface is similar to Make.com, with over 800+ integrations.
3. Zapier. One of the oldest platforms like Make.com, and you can connect over 5000+ applications with Zapier.
These are the best automation software in the market. In addition, the above software is better than Make.com in terms of pricing and ease of use.
Before you commit to Make.com, give these tools a try. You might find the perfect platform that fulfills your exact use case.
Make vs. Zapier
A detailed comparison between Make.com and Zapier, evaluating their strengths, weaknesses, and unique offerings. I will use a table to display the comparison!
| Differences | Make.com | Zapier |
| --- | --- | --- |
| Terminology | Scenario, Ops, connections | Zaps (workflows), tasks, integrations |
| Apps | 1400+ | 5000+ |
| Pricing | The base plan starts $10.33/month | The base plan costs $29.99/month |
| Ease of use | Make.com offers visual builder | Zapier has a normal editor |
| Support | Via Email | Email |
| Affiliate Program | YES | No |
Final Thoughts on Make.com
If you're someone who can understand technical things, then Make.com is a good automation platform.
Make.com terminologies are different from other automation tools. So it will take some time to get used to new terminologies.
However, if you're looking for a simpler and more affordable automation tool that you can use with little to no training, then Pabbly Connect is the right option.
I wrote an in-depth review of Pabbly Connect. You can read!
Make.com & Pabbly Connect both platforms offer a free plan.
You can sign up and choose which software is easy to use and fulfills your use case.
Sign Up for Pabbly Connect Free Account.
If you have any questions, let me know in the comments below. I will answer!
FAQs About Make.com
Is Integromat cheaper than Zapier?
Make.com (Formerly Integromat) pricing is more affordable than Zapier. Make.com's basic plan starts at $10.53/month for 10,000 tasks, and Zapier's Basic plan costs $29.99/month for 750 tasks per month.
What is Make.com used for?
Make.com is a no-code automation platform that allows you to connect different software. For example, if you want to send leads from Google Sheets to your CRM, you can do this with the help of Make.com.
Who is the owner of Make.com?
Ondřej Gazda (CEO) and Patrik Šimek (CTO) are co-founders of Make.com.
Is Make.com (Integromat) Free to use?
Make.com has a free plan with limited features and tasks. However, if you want to use full software, then you will need to buy a paid plan.
What is the new name for Integromat?
Make.com is the new name of Integromat Way easier to remember and pronounce!
Is Integromat any good?
Integromat is an okay software. It depends on your use case. Make.com (Integromat) is good for you if you're a technical user. Make.com terminology is also different; instead of tasks, they use Ops. Instead of workflows, they use scenarios.
What is the difference between Make.com and Zapier?
Find the difference between Make.com and Zapier. I will tell you the key differences:
1. Pricing – Experience remarkable savings with Make.com's significantly more affordable plans compared to Zapier.
2. Supported apps – Zapier boasts an impressive library of 5000+ app integrations, leaving competitors in the dust.
3. User interface – With its intuitive design and easily digestible terminology, Zapier offers a welcoming experience for beginners.
Above all, my best automation tool is Pabbly Connect. It's affordable, easy to use, and integrates with all the major apps.