If you run any kind of online business, I am sure you have found a lot of mundane tasks. Because I have been there…
Those tasks are boring, time-consuming, and do not add too much value to your business.
What if you could automate those tasks?
In this Integrately review, I'll discuss its features, pricing, and alternatives.
And don't worry, you do not need to have any kind of coding skills to automate your business operations.
What is Integrately?
Integrately is an automation platform just like Zapier to help you connect your favorite apps and automate tasks without any code.
With its user-friendly interface, powerful features, and 1000+ app integrations, Integrately is suitable for businesses of all sizes looking to automate mundane tasks and increase productivity.
Integrately Features
Integrately has many features, I will share the most important features.
Scheduler, Iterator, AutoRetry
Integrately offers a feature called scheduler, which allows you to set triggers at specific intervals.
Use the case of Scheduler, for example, if you want to fetch data for your ad spent every day at 12:00 AM, you can set a Scheduler that triggers every day at 12:00 AM and fetches my ad insights into a Google sheet.
The Iterator feature enables you to divides a collection of data (an array) into different values, so it can be processed one by one until the last value is reached. After the Iterator steps, each value can be passed to other action steps.
AutoRetry, as the name says it all. AutoRetry feature ensures the automation continues despite temporary failures. Automation can fail anytime for different reasons. Usually, it doesn't, but even if it does, AutoRetry will try to execute those failed tasks after a while.
Multiple Steps
Integrately allows you to create multi-step automation workflows.
For example, if you have multiple bump offers on the checkout page, you can use a multi-step workflow, so you can deliver exactly what you're promising in bump offers.
There are many use cases of multi-step workflows, like if the number is on WhatsApp, then do this or that.
Right now, you might not understand the use cases of these functions, but as you build more and more workflows, you'll start to understand the usage of each function.
Webhooks
Integrately offers webhooks too. It allows you to trigger automation based on events from other applications.
You might be thinking, "what is a webhook?"
Webhook is a way to transfer data from one application to another app. There's a URL you have to insert in the app that will send data.
For example, If I want to send data from RazorPay to Integrately webhook. So I'll enter the webhook inside RazorPay, and whenever a payment arrives, that data will be sent to Integrately.
Check conditions (IF/Filters)
You can set up conditional logic in your workflows using IF statements and filters to ensure tasks are executed based on specific criteria.
For example, If the payment status is "Success," then proceed. If the payment status is "Failed," send the data in failed payments Google sheet.
Branching using if else (Paths/Routers)
Integrately's branching feature allows you to build dynamic workflows with multiple paths based on conditional logic, ensuring a smooth and efficient automation process.
A simple example,
If the phone number starts with 91 → Path A;
Starts with 0 → Path B
And if it starts with +91 → Path C.
You can create different paths based on the type of data you'll get and what you want to do with it.
Integrately Pros and Cons
Pros
User-friendly interface
Integrates with 1000+ apps
Powerful features for advanced workflows
24×7 LIVE chat support
Pre-made automation templates
Each step of the automation contains help videos and doc
Horizontal automation builder. If you select any app, it will give you a potential list of pre-made automation workflows.
Easy-to-use platform
Cons
Pricing can be expensive for small businesses
No lifetime deal is available
Certain apps are not available such as Systeme IO, Podia and many more. Figure out your use case then choose the platform.
Integrately Pricing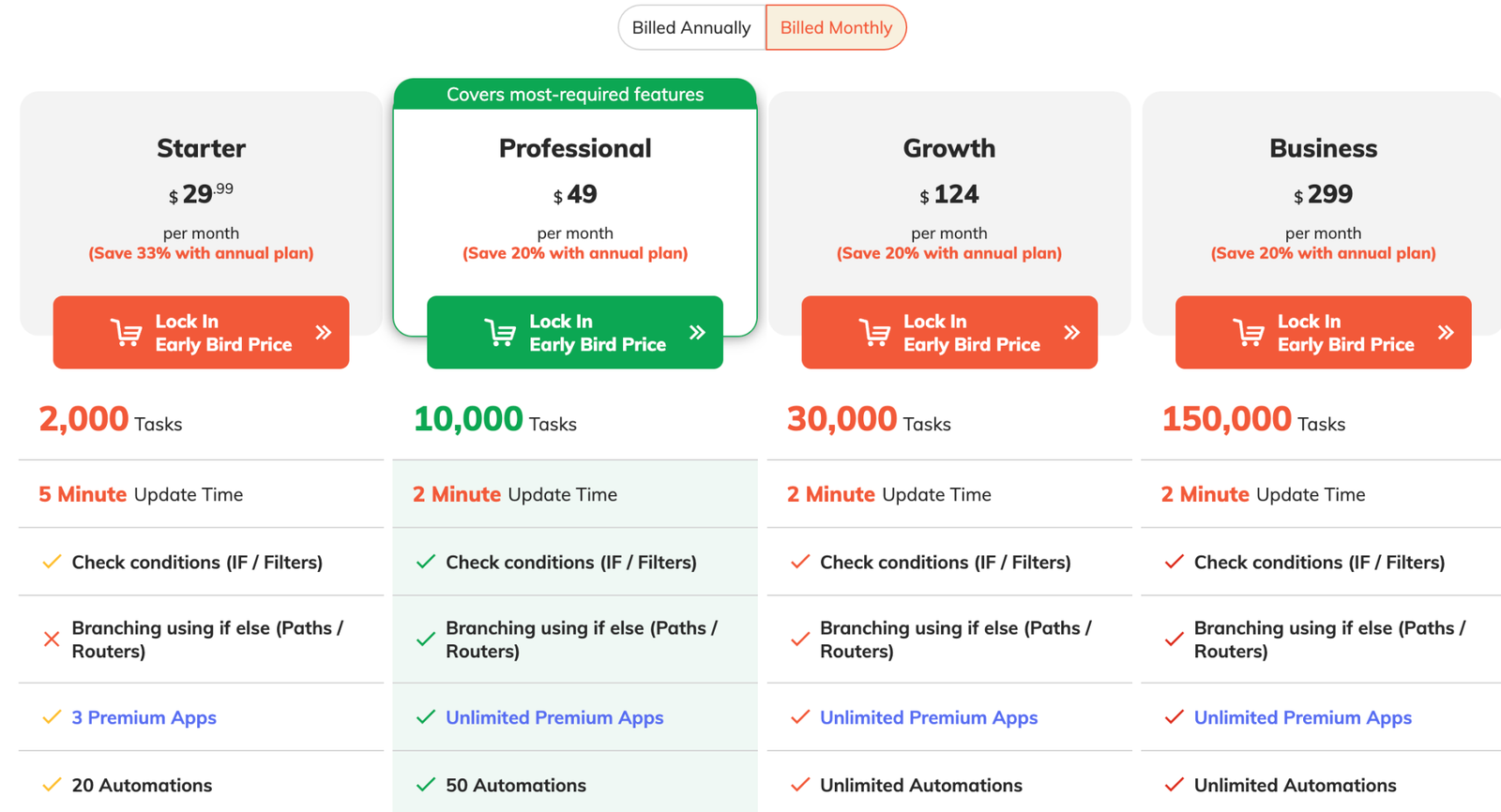 Integrately offers 4 pricing plans:
Starter – This is base plan starts at $29.99 (almost $30) per month. The Starter plan comes with limited functions such as 2000 tasks/month, no branching (IF/Else paths) feature, and comes with 3 premium apps.
Professional – This plan is priced at $49/month when billed monthly. In this plan, you get 10,000 tasks every month and 50 automation, unlimited premium apps, and all the functions.
Growth – This plan offers 30,000 tasks per month and all the functions of the professional plan and costs $124/month. You get "folder permissions" feature too. You get unlimited automation, a dedicated account manager, and LIVE chat support.
Business – This plan is no different than Growth and other plans of Integrately. It costs $200/month and offers 150,000 tasks every month and all the features of growth plan.
Taxes will be added to these plans at the time of checkout.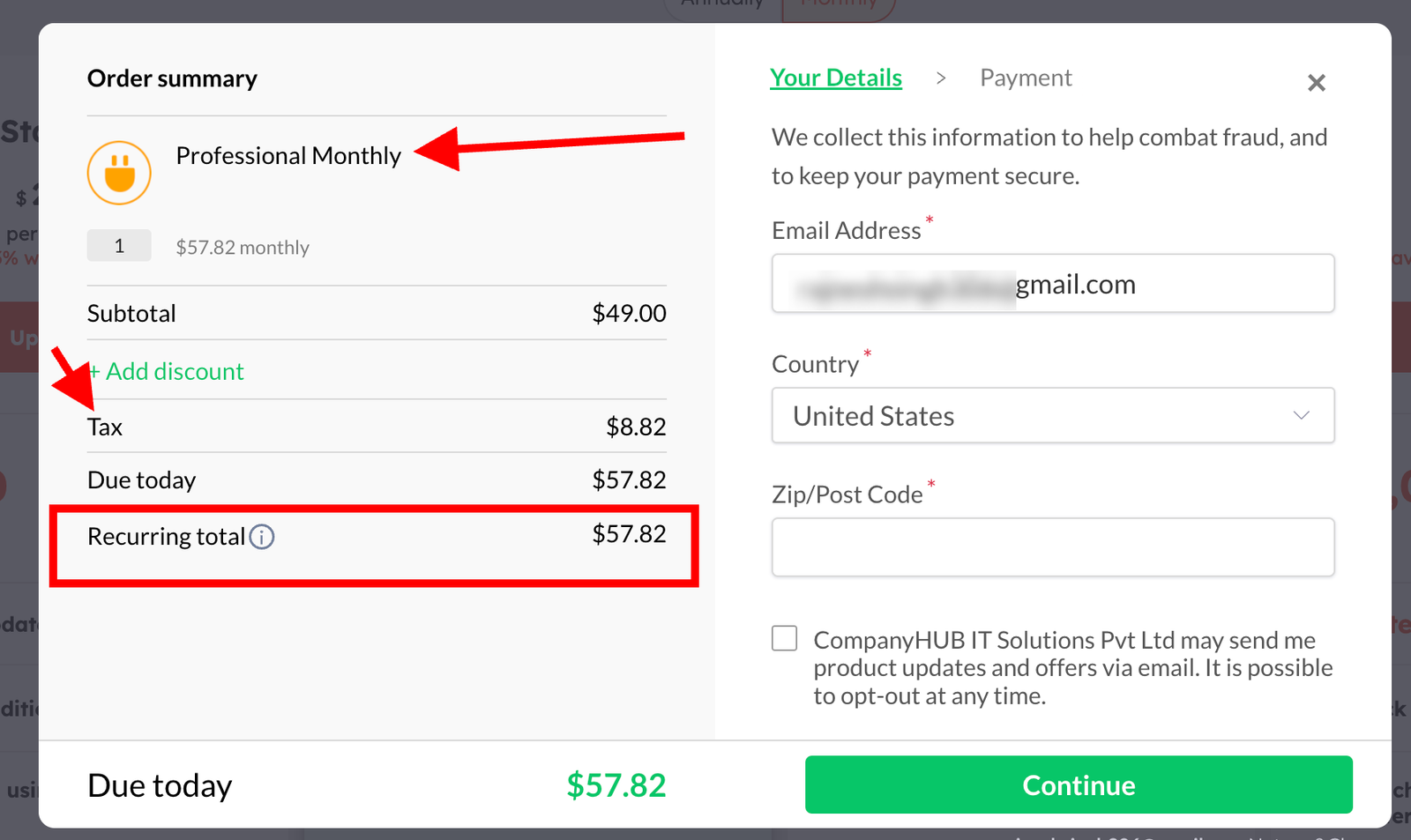 At the time of checkout, expect an 18% tax on every plan. For example, the Professional monthly plan will cost $57.82 instead of $49 per month.

So don't get disappointed when buying Integrately plans.
In this sense, Pabbly Connect plans are much more affordable and are value to money. Read my in-depth Pabbly Connect review.
Integrately offers a 14-Day Free Trial too. Sign Up For That!
How Does Integrately Work?
Integrately allows you to connect various apps and create automated workflows by defining triggers, actions, and conditions.
Integrately provides a visual builder, which allows you to build and manage workflows effortlessly.
As in the image, you can see the automation steps. Either you can choose from pre-built workflows or create your own. Then connect your accounts and set up the action.
Integrately Apps
Integrately offers a wide range of integrations with popular apps, such as Slack, Google Sheets, Trello, and more.
While it may not have as many native integrations as some competitors.
Right now, Integrately connects with 1000+ applications. The numbers are increasing rapidly.
Integrately Support
Integrately provides quick support through email, chat, and an extensive knowledge base, ensuring users have access to the help they need.
You can contact Integrately support anytime through Chat.
Is Integrately Trustworthy?
Integrately has been in the market since 2020. Integrately is a reliable and secure platform trusted by 10,000+ businesses worldwide to manage and automate their day-to-day boring tasks.
Integrately won Golden Kitty Award in 2021 by ProductHunt. On the ProductHunt platform, it has gotten 240+ ratings.
Integrately has improved a lot since its launch. Integrately team, continually adding new apps, providing support, and making it super easy to integrate third-party apps.
Yes, Integrately is a trustworthy platform.
Who is the founder of Integrately
Integrately was founded by Abhishek A Agrawal. You can see the founder's LinkedIn profile.
Abhishek A Agrawal (Integrately founder) name is mentioned on CrunchBase.com as well.
Integrately Alternatives
Some popular alternatives to Integrately are,
Zapier. It's the most popular no-code integration platform in the world.
Make (Formerly Integromat). Make has been in the market for quite a some time, but Make.com is hard to use and not beginner friendly.
Pabbly Connect. Pabbly Connect is growing by leaps and bounds. It's disrupting Zapier's market share.
Integrately Vs. Zapier
Integrately and Zapier offer powerful automation features; Integrately stands out with its interactive, user-friendly interface and competitive pricing.
| Features | Integrately | Zapier |
| --- | --- | --- |
| Pricing | $29.99/m for 2K tasks | $29.99/m for 750 tasks |
| Support | LIVE Chat & Email Support | Email Support |
| Apps | 1000+ | 5000+ |
| Ease of use | Simple & intuitive user interface | Easy to use interface. |
| Limitations | Some features are not available in the base plan. It has similar limitations to Zapier. | 3 premium apps are included in the base plan, and certain features are not available. |
| Tasks (Professional plan) | At $49/m, you get 10k tasks every month. | At $133.50/m, you get 5k tasks every month. |
| Customer Base | 10,000+ | 120,000+ |
A small comparison between Zapier and Integrately.
Integrately Lifetime Deal?
Currently, Integrately does not offer a lifetime deal. When Integrately was launched in 2020. They offered LTD.
Do you want to know what kind of LTD they were offering? Check the screenshot below.
NOTE: The LTD is not available anymore. But Integrately alternative Pabbly Connect is still offering LTD. Check out Pabbly Connect LTD.
Integrately provides a range of subscription plans. The "Starter plan" starts at almost $30 per month for 2K tasks/month.
Integrately comes with a 14-day free trial. Before you invest, try the software.
Conclusion
Integrately is an excellent integration & automation platform for businesses looking to automate their tasks.
With a user-friendly interface, powerful features, and a wide range of integrations, Integrately offers a strong alternative to other automation tools on the market, special tools like Zapier.
Although there is no lifetime deal available, Integrately competitive pricing structure ensures that businesses of all sizes can benefit from the platform.
If you're considering an automation solution, Integrately is undoubtedly worth a closer look.
There's only drawback with Integrately is their pricing. Integrately similar tools like Pabbly Connect pricing plans are affordable and comes with no limitations.
If you're looking for something affordable and easy-to-use, I would highly recommend you check out Pabbly Connect.