Don't you wish you had an assistant to prod you each time you were at a loss for words?
Usually, this feeling arises when you have a creative slowdown and don't know what to do.
Needless to say, it can hamper your ability to create quality content and bring your productivity to an all-time low.
The best solution for this issue is using AI-powered content-generating tools that can give you ideas and speed up your writing.
While there are many AI content writing tools in the marketplace, InstaCopy is the new kid on the block and is immensely feature-rich.
It helps generate short and long-form content quickly, which helps save time and produces excellent results.
Of course, you would need to fine tune the AI generated content and then you can publish the content.
What's more? InstaCopy gives a free trial to explore all the features of the tool and take a test drive before you actually pay for it.
Let's find out what all InstaCopy has to offer and should you use InstaCopy over other AI writing tools like Jasper, Frase, Scalenut and many more?
You'll find the answer. Stay tuned!
What Is InstaCopy?
InstaCopy is an AI-based content-generating tool that provides outputs that seem to be coming from a human.
It can churn ad copies, blog posts, Quora answers, and do much more for you, along with giving you ideas for YouTube videos and headlines. Yes, you heard it right!
As InstaCopy produces plagiarism-free content, you need not think twice before using it.
You only have to provide keywords and inputs to the generator, and it will do the rest of the job for you.
With InstaCopy tool, you can reduce your writing work to a great extent and simplify your task of creating content whether it is long-form & short form.
Who is InstaCopy for?
InstaCopy is the best tool for,
Writers
Content marketers
Content creators
And possibly anyone who wants to simplify their task of creating content.
For instance, InstaCopy can help YouTubers come up with ideas for their videos with its video ideas generator and create an outline for the scripts with the outline generator.
It can also help an avid social media lover write creative tweets that can drive likes and shares.
The tool's product name ideas generator can also be the best friend of a CEO who is looking for interesting names for his new SaaS tool or a coaching program.
So, as you can see, InstaCopy has something for almost everyone!
InstaCopy functions
Short and long-form content generator
As you already saw, InstaCopy helps generate both long form and short form content instantly by accepting inputs from your end.
InstaCopy has the following generators for short-form content templates:
Facebook Ad Headline Generator
Reddit Ad Headline Generator
Quora Ad Headline Generator
Google Ad Headline Generator
Headline from summary Generator
Ad copy from product description
Quora Answer Generator
Explain it to a child
Review Generator
Youtube Video Script Outline
YouTube video ideas generator
Tweet Generator
Headline Generator
Blog post Outline
Persuasive Bullet points generator
Attention, Interest, Desire, Action (AIDA) copy generator
Before & After (BAB) copy generator
Problem-Agitate-Solve (PAS) copy generator
Blog title ideas generator
Product name ideas generator
SEO meta description generator
So, as you can see, InstaCopy arms you with all that you possibly need to meet your content needs as a marketer who doesn't have a big team of writers. It can be your perfect writing assistant!
Apart from getting ideas for short-form content, InstaCopy is capable enough to generate full-fledged blog articles as well!
Ideally, the length of long-form content pieces is more than 1000 words, and it can take longer to create them if you work from scratch.
If you have a tool to write it for you in a few seconds, it can take away a lot of burden off your shoulders as a writer.
However, the idea here is not to replace human writers but to ease their work.
You can use AI-generated content as a base for your content to create more polished content that resonates with your target audience.
The blog content generator comes with the Content Writer Plan and is highly useful for bloggers and content creators.
Easy-to-use
Providing inputs to each generator is easy. You just have to enter the details asked and mention the number of outputs you want. You can ask for a maximum of 4 outputs in one go.
The tool will take over from there and provide you with the desired outputs.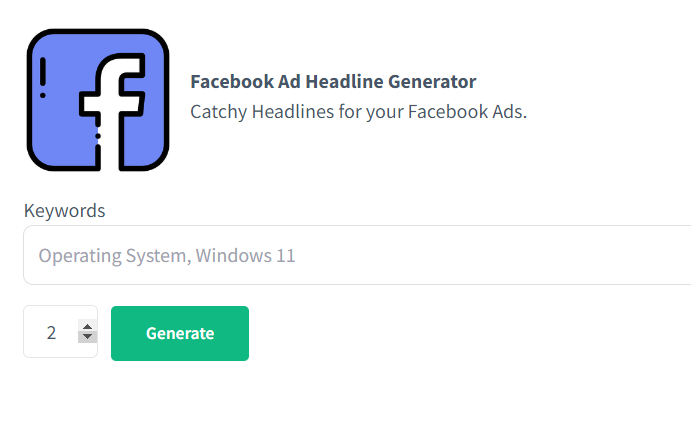 It is possible to copy and save outputs generated by clicking on the respective icons next to them.
The best part about the tool is that you can rate the output generated so that the learning never ceases and the tool can improve itself over time.
InstaCopy Pricing Plans
InstaCopy has three plans at present – One free and two paid.
Free Plan – The free plan is ideal for testing and lets you generate 25 copies per month. It lets you test all the short form generators of InstaCopy.
Copywriter Plan – This plan costs $39 per month and gives unlimited access to short-form generators.
With Copywriter I remember, I wrote a blog post Copywriting for Beginners. You can read this blog post if you want to learn the basics of copywriting.
Content Writer – This plan costs $49 per month. It offers both short-form and long-form content generators and lets you generate unlimited words per month.
You can choose the plan that meets your needs.
For instance, if you are a marketer, the copywriter plan will be enough, and if you want to produce long-form content, you can choose the content writer plan.
How Useful Is InstaCopy?
InstaCopy is successful in giving you the much-needed nudge to create content that can convert. It is that simple to state how useful the tool is!
If you are a small business with a humble marketing team, you can count on this tool to provide you with a solid base to build your content.
It drastically helps reduce the time taken to complete a content piece and increases the productivity of a business which is the requirement of every business.
InstaCopy Use Cases
Let's now move to the use cases of InstaCopy.
Social Media
If you are the social media manager of your company, you can turn to InstaCopy to get help to generate content for Quora answers, get ideas for YouTube videos, create outlines for video scripts, and generate tweets.
In short, you have the complete package to help meet your social media content requirement.
Website and Blogs
If you have a website and want to create content for blogs, you can use the tool to create full-blown blog posts, generate creative headlines and write relevant SEO titles and meta descriptions for blog posts.
For busy copywriters, the tool can be a savior as it lets you generate sales copies based on copywriting formulas such as BAB (Before-After-Bridge), PAS (Problem-Agitate-Solve), AIDA (Attention-Interest-Desire-Action).
Using the tool reduces the time taken to craft copies around the frameworks and makes the lives of copywriters simpler.
Online Ads
Ads experts seeking help with ad headlines can use the tool without a second thought.
There are dedicated generators for Google, Facebook, Reddit, and Quora ads that keep the platform in mind while generating outputs.
After all, you can't get any benefit out of ads when the headlines are not catchy enough, which is why it is good to seek help.
Product
Small business owners and CEOs of startups can get some help with brainstorming their product's name with the Product Name Ideas generator.
Plus, it is possible to create templates for reviews using the Review Generator and send them over to happy customers to get their opinion about the product.
You also have 'Explain it to a child' to water-down technical content so that the target audience can understand what you are trying to convey.
Additionally, there is a Persuasive Bullet Points generator to grab the attention of potential customers to your offering.
InstaCopy's Learning Curve
InstaCopy has a short learning curve and is user-friendly even if you are not an experienced content writer.
Like you already saw, this tool is for everyone who wants to create content even if they don't know about the intricacies of content writing.
In short, you can use it regardless of your area of professional expertise.
InstaCopy Pros & Cons
As you have already seen, the tool is immensely helpful in creating both long-form and short-form content, but along with the pros, it does have cons too.
Let's take a look at the pros before we proceed to the cons –
Pros
There's a free plan to test the tool.
The content generated is 100% plagiarism-free.
The interface is extremely user-friendly.
There are generators for both short-form and long-form content.
Cons
There are no options to integrate the tool with other writing tools.
It doesn't provide readability and content score reports.
Currently, it supports only English.
The output quality is not that great. However, with editing, you can make it useful.
InstaCopy Alternatives
After knowing InstaCopy well, it is now time to look at other tools that it competes with. The following are the top InstaCopy alternatives,
1. Jasper.ai
Jasper is a leading AI content-generating tool that is a great alternative to InstaCopy. It is a popular tool and often the first choice of content writers.
However, there is a cap on the number of words you can generate, which is not the case with InstaCopp lets you create unlimited copies.
Pricing – The paid plan starts at $40 per month for up to 5 users.
2. Frase
Frase is a content platform powered by AI that creates SEO-optimized content that ranks well on search engines.
It does that by finding the right keywords and questions that people ask. It has all features you need to create detailed and relevant content.
Overall, it is the best bet when searching for a tool that can help you rank on Google.
Pricing – Frase's basic plan of the tool starts at $45 per month for 1 user.
3. Copy.ai
Copy.ai is an AI writing assistant that is great for digital marketers or just about anyone wanting to create content instantly.
It has an intuitive interface, and you need no technical skill to use the tool.
Another outstanding feature of this tool is that it supports multiple languages.
Pricing – The paid plan starts at $49 per month.
Closing Thoughts on InstaCopy
Is InstaCopy capable of defeating content written by humans? Actually not!
At the end of the day, InstaCopy is a tool that runs with AI, and you can't expect it to be as precise as human-generated content.
However, it can give tough competition to all the leading AI content generation tools that are currently available.
You can always sign up for a free trial and test the tool before you opt for the paid plan.
Add it to your toolset to propel your content creation process and enjoy the end result.
If you have any questions, let me know in the comments below.