Are you looking to promote FlexiFunnels?
But not sure whether FlexiFunnels is a good product to promote or not?
Yes. Keep on reading!
In this guide, I will share everything about the FlexiFunnels affiliate program.
What is FlexiFunnels Affiliate Program?
FlexiFunnels is India's first all-in-one funnel builder software. I am sure you have heard of ClickFunnels. FlexiFunnels is a great alternative to ClickFunnels and is better in some aspects.
In a nutshell, FlexiFunnels is much more affordable than ClickFunnels and loaded with various functions.
FlexiFunnels has an affiliate program where you can earn up to 40% recurring commission on each sale. YES, you heard it right.
For example, if a user is signed for the software through your affiliate link. Whatever the amount the user will pay to FlexiFunnels, you can earn up to 40% of each transaction. Isn't it awesome?
On top of it, you don't have to provide service, manage support and collect payments. All you have to do is market the software and earn hefty commissions on each sale.
Next, I will discuss FlexiFunnels affiliate commission structure.
Commission Structure
FlexiFunnels has one plan right now: FlexiFunnles annual plan that costs ₹25000 + 18% GST.
FlexiFunnels is offering a flat 40% commission on each sale that will come through your affiliate link.
You have a chance to earn a whopping ₹10,000 on each sale. Sounds cool? If you're excited to promote FlexiFunnles, I highly recommend you try out the software first and then promote it.
In that way, you will be able to share your unique experience with your users, and people would love to use your affiliate link to purchase FlexiFunnels.
Sign up for FlexiFunnels Here
Should You Promote FlexiFunnels?
It depends. If you have a loyal audience, who can benefit from FlexiFunnels software. You can promote FlexiFunnels.
FlexiFunnels is an excellent software with great customer service and affordable pricing options.
If you want to try out FlexiFunnels, click the button below.
How to Become a FlexiFunnels Affiliate?
FlexiFunnels doesn't accept everyone in their affiliate program. However, if you're a customer of FlexiFunnels, you'll be automatically enrolled in FlexiFunnels affiliate program.
And, you'll earn a 25% commission on each sale. As you bring more sales, your commission will be increased.
Step 1: Click here, and you'll see the below page.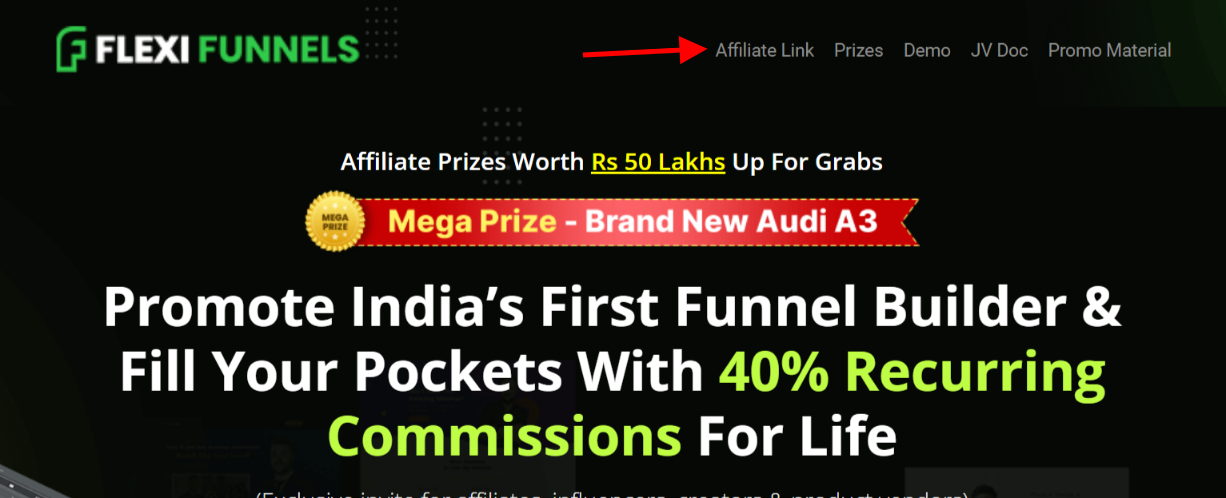 Step 2: Click on the "Affiliate link" option at the top.
Step 3: If you already have an account. You can log in or click Sign up.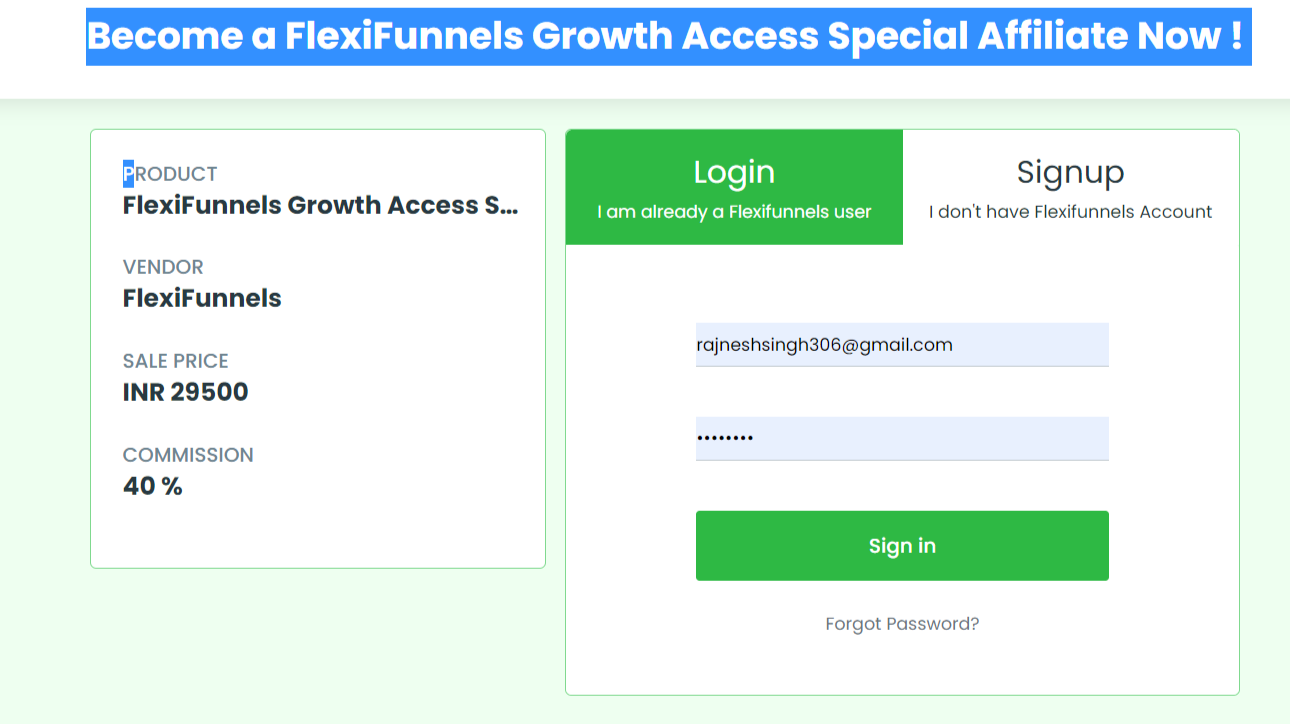 Step 4: Enter the basic details like name, email, company name and create a password. If you don't have a company, enter your name.
Step 5: Once you have filled in all the details. Click create an account.
Step 6: Now, you can log in to your affiliate account, and you'll see this kind of dashboard (see the screenshot below).
Step 7: Once you're approved. You'll get a unique affiliate link. When somebody uses your affiliate link and buys the product. You get a whopping 40% recurring commission.

FlexiFunnels Affiliate Program is best for,
If you have an email list
If you have a blog with decent traffic
If you have niche-based followers on social media channels such as YouTube, Facebook or Instagram.
Then you can apply for FlexiFunnels Affiliate Program.
How Much Can You Earn as a FlexiFunnels Affiliate?
There is a saying, The Sky's the Limit. The more you promote, the more money you will make.
I have revealed how much commission you will make on each sale as a FlexiFunnels affiliate.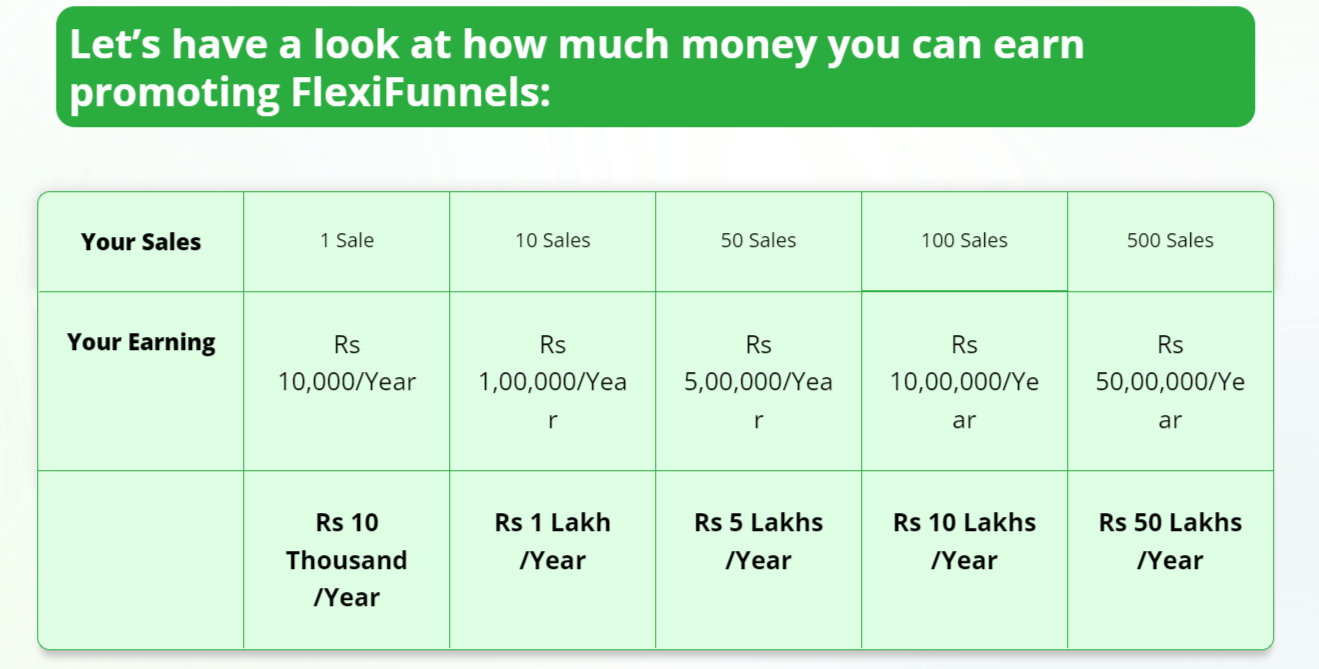 The beauty of affiliate marketing is that you can promote any product. If some product converts higher and gives you more commissions, you can promote that product.
The best part is you don't have to fulfill or manage customers. But you must have a solid strategy to promote affiliate offers.
FlexiFunnels Affiliate Program Resources
Here I am listing all the resources that FlexiFunnels has given.
FlexiFunnels Special Launch Prizes
All the best for your promotions. I would highly recommend you to use FlexiFunnels and then start promoting.
It will help you in creating promotional strategies, and you'll be able to promote FlexiFunnels effectively.
However, it is not mandatory that you need to use the product to promote it.
FlexiFunnels Demo
Who can use FlexiFunnels?
– Coaches. If you're a coach or consultant, FlexiFunnels will save you time and money. Now, you can manage your entire business from one platform. No need to use 10 different tools. Plus, if you're doing business in India. FlexiFunnels integrate with Indian payment gateways.
– Funnel builder expert. Instead of using ClickFunnels, use FlexiFunnels to build your funnels. FlexiFunnels is better, faster, easy to use, affordable to build funnels, and has tons of integration with third-party software.
– Facebook & Google ads expert. To run ads, you need opt-in/sales pages. Use FlexiFunnels to build pages and funnels. As ad costs are rising every year. You must have a solid sales funnel to get the most out of ad spend.
– Bloggers. You can create membership areas and sales pages/funnels to get more leads and convert those leads into paying customers.
– Affiliate Marketers. You can build your affiliate funnel with the help of FlexiFunnels. FlexiFunnels pages load blazing fast.
If you fall into any of the above categories, FlexiFunnels is for you.
About FlexiFunnels Founder
Famous funnel expert Saurabh Bhatnagar is the founder of FlexiFunnels.
He has added a lot of training inside FlexiFunnels that can help even a total newbie become an online expert & start making huge profits.
Online Trainings are included for Traffic, Marketing, Copywriting, Course creation, Course marketing, Lead Generation, Email Marketing, Social Media/Digital Marketing Agency & more.
They have even included training on how to get clients and how to approach & close them.
Saurabh Bhatnagar has created thousands of success stories of his students making a killing online because of his training, courses & events.
FlexiFunnels founder is a genuine and down-to-earth person.
He is an excellent marketer with real-world experience launching software and coaching programs.
Now, you are getting an opportunity to get all of his training material for absolutely free, along with the group guidance from him.
Plus, you are getting "FlexiFunnels" that takes care of your every single online business requirement. With this, you will be all set for making huge profits online.
8 Strategies to promote FlexiFunnels
1. Promote through your YouTube channel. If you have a YouTube channel, you can create a video on reviewing FlexiFunnels software. You can share your experience of using FlexiFunnels.
If you don't have a niche-specific YouTube channel. Don't get discouraged; you can use other promotional strategies to promote affiliate offers.
2. Write a case study. If you're planning to promote an affiliate product. You must be using that product. You can write about the results you got using the product.
For example, if you built a funnel using FlexiFunnels and that funnel generated ₹1,00,000 in profits. You can write detailed steps on how you achieved X number of profits or revenue.
3. Write an eBook. People love to read eBooks. You can write steps or simply share your experience of using FlexiFunnels.
For example, you can write an ebook on:
How to run your entire online business from one platform?
How to sell and provide funnel-building services?
You can choose any topic in which you have some level of experience. Then write about it.
You can use FREE tools like Google Docs to create your eBook. Then design it using free tools like Canva or VistaCreate.
4. Provide bonuses. You can incentivize your audience if they sign up for FlexiFunnels using your affiliate link. They will receive cool bonuses from your side. Bonuses can be a FREE course on how to get clients, eBooks, Sales funnel templates or 1-on-1 guidance from your side.
Provide something as a bonus that can complement the affiliate offer.
5. Promote it through your blog. You can write product reviews and informative articles on FlexiFunnnels. You can compare different tools with FlexiFunnels. To do that, you must have a blog up and running.
If you don't have a blog but are thinking of starting one. Read how much time it takes to make $500 per month from a new blog.
You can do affiliate marketing without a website as well.
And, if you already have a blog and your readers will find FlexiFunnels useful, write about FlexiFunnels on your blog.
To write about it, you must have first-hand experience with using FlexiFunnels. So you can write well. If you wish, you can sign up for FlexiFunnels here.
6. Do interviews with the product founder. You can interview the product founder if you have a niche-specific audience on any platform. It can boost your credibility, plus you may get good sales.
7. Paid ads. You can use paid media like Google ads or Facebook ads to drive traffic in your affiliate funnel. But, it requires some investment.
If you know how to use paid ads to promote affiliate offers, then go for it. Otherwise, you can try organic methods to generate sales. It will take more time and effort, but you won't regret it.
These are some of the ways to promote FlexiFunnels. You can use the same strategy to promote any software/affiliate offers.
Final Thoughts – FlexiFunnels Affiliate Program
I hope you liked the FlexiFunnels affiliate program review.
In a nutshell, FlexiFunnels offer you a flat ₹10,000 per sale. It will be a recurring commission.
And, if you have an audience related to digital marketing, you can promote FlexiFunnels software. Who knows, you can make a few lakhs rupees in profits.
In this guide, I discussed:
FlexiFunnels commission structure
How to become an affiliate of FlexiFunnels?
Strategies to promote FlexiFunnels
I hope you enjoyed this blog post.
If you have any questions regarding the FexiFunnels affiliate program, you can ask in the comments below. I will reply.
Recommend blog posts to read:
FlexiFunnels reviews: Should You Use it?
Thank you!