Are you looking for the Frase.io review? YES. Then the only Frase review you need to read to decide whether Frase is suitable for you or not. 
I'll share my experience of using Frase.io in content creation. I used Frase for creating this piece of content. Plus, You'll know my exact process with Frase.
I'll present you with everything to make an informed decision about Frase.io.
Sounds good? Keep on reading.
NOTE: You can go through the entire blog post or jump from section to section using the "Table of contents."
Let's get started!
Frase.io Review
Summary
I tested Frase and found that if you're a content marketer, blogger, SEO professional, or anyone who wants to create SEO-optimized content that ranks on Google. You must use Frase.io. Frase will make the research, writing, and optimization process easier.
And the team behind Frase.io is terrific. They keep releasing new updates and will delight you with new features.
I love Frase.io. It saved me hundreds of hours from manual research and blog post outlining. 
What's Frase.io?
Frase is an all-in-one AI Content tool that helps SEO and Content Teams research, write, and optimize better SEO content, faster. With the recent Frase.io update, you can write content using Frase AI writer.
Frase will not only help you with content research and optimization, but it will help you in writing the content. Yup, you heard that right.
Frase.io has 4 key components:
Research
Write
Optimize
Content analytics
I'll talk more about these components later in this post. For now, let's discuss what problem Frase.io SOLVES.
Biggest Hurdle with Content Marketing
Let's face it – Content marketing is not easy. It consumes a hell lot of time.
To create a single piece of content, you have to do many tasks such as:
Research,
Content outlining,
Writing,
Editing,
Publishing,
And promotion.
Writing is the easiest part. But, before you sit to write, you must have all the facts and an outline for the content.
17.3% of content marketers don't work with a content brief. Source: ContentKapow
When I started, I was also writing without a content brief or content outline, and I was like, Man, it's too hard to create long-form blog posts.
Initially, I was unaware of the content briefing process.
Fortunately, I learned content briefing through trial and error. Still, research was the most time-consuming and tedious work.
My research process without Frase.io:
I put in a targeted keyword on Google and got the results
Then manually open each website
Copy their "Title and meta description" and paste them into a Google doc
Research the related questions manually from Google, Quora, and Reddit
Check the top five competitors' table of contents using a Chrome extension
Finally, I created the outline for the blog post
Still a lot of things I end up missing
Even when writing, I had to Google and look for information.
But,
Frase eliminates all these issues. You don't need to juggle between multiple Google docs and use any kind of Chrome extension to open multiple websites.
With Frase.io, you can create multiple pages in a single Frase document.
For example, I want to write a blog post on productivity. One page I can create for content research, another one for content creation and optimization.
Frase editor is advanced like Google docs. For example, in the Frase editor, you can write your entire blog post, add images, links, tables, and videos.
Once you're done writing, copy it from the Frase editor and paste it into your CMS like WordPress or whatever platform you use.
Frase is a powerful tool that will make you a rockstar content marketer.
Things I Like about Frase.io ❤️️
1. Frase.io has a minimalistic and clutter-free dashboard. When you log in to Frase.io, you'll gain clarity. You will understand every function and how to use them. It's super easy. Anyone can start using Frase without watching any training. Frase is simple to use.
2. Frase analyzes the top 20 results and provides you with the titles, meta descriptions, H2, H3 headlines, and FAQs. This makes it easy to see what competitors have already covered and what not.
3. Frase allows you to create multiple pages in a single doc. Which is amazing. You can have one page for research and another one for writing. If you want, you can add more pages.
4. Frase.io content analytics. You can see which page ranks at the top and which page is decaying.
5. Frase outline builder. An outline is a foundational step for every blog post. You can easily create a high-quality content outline based on your competitor's outline. Frase has a feature called "Outline builder."
6. Optimize function. This allows you to find content gaps and keywords that your competitor's blog post contains, but your article does not contain those keywords.
7. Frase has an AI writer. Frase AI will write content. Frase has many AI writing templates such as Paragraph rewriter, summary bullets, explain why, blog introduction writer, and more.
8. Reliable software. Frase.io is constantly releasing new updates and is getting better every day.
Things I Dislike about Frase.io 😠
1. Pricing. Frase pricing might not be affordable for beginner bloggers and affiliate marketers.
2. Frase AI writing tool is new. It needs a lot of improvement
3. No live chat support
4. Frase doesn't offer a FREE trial
5. You can't use Frase AI writer unlimited times if you don't have the Frase SEO add-on.
6. Frase Starter plan doesn't offer unlimited documents. You can create 30 docs per month with the Starter plan.
Let's talk about Frase pricing plans.
Frase Pricing: How Much Does It Cost? 💰
Frase pricing is straightforward. Currently, Frase offers 3 plans:
1. Solo plan starts at $14.99/month 
1 seat user
4 docs per month 
4000 AI-generated words per month
1 seat user
2. Basic Plan starts at $44.99/month
30 docs per month
1 seat user
4000 words of AI-generated content per month
3. Team plan costs $114.99/month 
3 user seats ($25/month extra for additional seats)
Unlimited document credits 
Generate up to 4,000 words per month
Included in every Frase.io plan: 
Frase automated content briefs 
Content scoring 
Frase automated content briefs 
Content scoring 
Content editor 
You can share documents easily 
Project status indicator 
Team project folders
Google search console (GSC) integration 
Custom templates 
Outline builder 
Which Frase which plan is right for you?
If you are running a small blog or just starting out then Frase Solo plan would be right for you. But that plan allows only 4 docs per month. If you want more docs then Frase basic plan is a good option.
On the contrary, you should opt for the Frase Team plan if your usage is for more than 30 documents/month. 
Frase SEO add-on
With the Frase SEO add-on:
You get access to keyword search volume
SERP data enrichment
And unlimited access to Frase AI writer.
Frase SEO add-on will cost you $35/month.
Should you get a Frase SEO add-on?
If you want to see the top 20 sites' domain authority, your targeted keyword volume, and the backlink profile of your competitor's site. You can get the Frase SEO add-on. 
On top of that, you'll get unlimited access to Frase AI Writer. 
Frase.io: Is it Worth It? 🤔
Frase.io is worth every penny you spend on it. Frase saves me hours and hours from manual research, outline creation, and optimization.
Now I can use the same time to update my older blog posts and focus on other high-value tasks.
So if you don't want to waste hours doing manual research for your next content idea, you should use Frase.
Frase will semi-automate your research process. As a result, you can get content research done quickly. Ultimately, this will boost your content production.
Is there a free trial for Frase?
Frase doesn't offer any FREE trial. Instead, they offer a $1 trial. And Frase offers a 5-day money-back guarantee on paid plans.
You can choose any plan if you don't find Frase beneficial. Simply ask for a refund within 5 days of your purchase.
To grab a $1 Frase Trial, you must sign up for Frase Demo.
What if you miss the Frase 5-day refund window?
In that case, you have to use the software until your last billing. You won't get a refund. However, Frase software is excellent. You will fall in love with Frase and the number of features they're giving.
How to get a refund?
To receive a refund, you must first cancel the account from the dashboard, navigate to the Account → Subscription page, and click "Cancel Full Subscription."
Then contact the Frase team within 5 days. If everything is okay, you should get a refund.
Even if you don't get a refund, you can use the software. It's awesome!
How to Sign Up for Frase?
Here I will teach you the basic process of signing up for Frase.
Step 1: Click here. It will take you to the pricing page.
Step 2: Choose the plan and click on the "Get Started" button.
Step 3: You'll have to put in basic details like name, and email, set a password, and click the sign-up button.
Alternatively, you can sign up using a Google account.
Step 4: Frase will ask you some questions. Answer them.
Step 5: Choose the plan. If you use my special link to get 60% OFF for the first month. For example, you sign up for the Frase Starter plan which costs $45/month. When you use my special link, Frase starter plan will cost you $18 for the first month. Just use any link to sign up for Frase from this blog.
Step 6: Complete the payment, and you'll see the dashboard like this. (See the screenshot).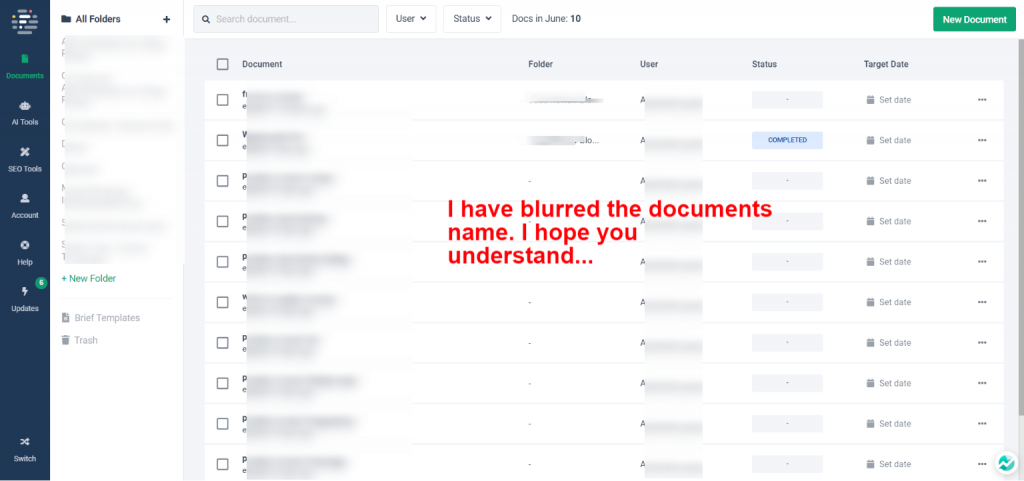 That's it.
How Does Frase.io Work❓
Frase uses a proprietary AI technology to scrap SERP top 20 results. Then, Frase shows you the key components that you must have in your article.
For example,
Frase will show you the average word account, headers, links, and images in the 20 results.
You can even paste the competitor's outline, FAQs, People Also Ask, Quora, and Reddit questions in the Frase editor.
You can exactly look into each heading of your competitor's website and what they have written.
These are powerful features that Frase offers you to write epic content.
To put it in simple words, Frase collects data from all the sources and puts it together for you.
How to use Frase?
Open the Frase doc,
Type in your targeted keyword, choose the country and hit enter.
Frase will start analyzing the top 20 results and show you.
One feature that I like about Frase is "People Also Ask Questions." Without Frase, I used to copy and paste in my Google docs.
With the help of Frase, I can get all the questions in the Frase editor with a single click.
Answering "People Also Ask Questions" in your article can boost your rankings. Plus, Google is more likely to show your answers in the "People Also Ask" section.
Frase.io Dashboard Overview
I'll walk you through the Frase dashboard. When you log in to your Frase.io account. 
You'll see a button in the center of your dashboard to create a document. Once you have created a few documents, you'll see your docs.
As you can see in my Frase account, I have many docs.
At the top of the Frase dashboard, you can:
search documents,
see account users,
filter out docs based on their status
see the number of docs in the current month
then there is create document button
On the left-hand side,
There is a plus icon for creating folders.
Beneath folders, you'll find "brief templates" and trash option.
There is another panel on the left-hand side where you can access Frase different tools, such as:
Documents
AI Tools
SEO tools
Frase account information
Help
Latest updates
At the bottom, you'll see a "Switch" icon. You'll see more options that are related to analytics, such as:
Assistants. Frase has a website crawler. Using that, you can create an assistant (like a chatbot) that will be visible on your blog posts. That assistant will guide your reader throughout the blog post.
Knowledge. You can see crawled websites and the database you have created so far. You can create a new database from the knowledge section. Frase can crawl the website using the Google search console too.
Analytics. In this section, you can train your assistant (Chatbot) with the database of custom answers.
That was a quick overview of Frase's dashboard. There are many features Frase offers, but I'll not get into that. Probably, I create a training for that.
My Process with Frase
I have a simple process with Frase. It starts with keyword research. Once you have that, you're ready to use Frase.
Step 1: Create a Frase doc and type in your targeted keyword; choose the country.
Step 2: Let the Frase analyze the top 20 results of your given keyword.
Step 3: Frase will present the top 20 results with average word count, headers, links, images, titles, outline, and FAQs.
Step 4: Choose the content template. Frase has different content templates for different types of blog posts. For example, if you're writing a list-based article, choose that template.
Step 5: I start creating the blog outline by comparing different sites. I just add the relevant headers in my Frase editor.
Step 6: I included all the "People Also Ask Questions" and other essential questions.
Step 7: I organize and format the outline with different H2 and H3 tags.
Step 8: I create another page in the same doc for writing. I paste the blog outline and start writing.
That was my simple process with Frase. I told you, Frase is simple yet powerful software. 🙂
Frase Free Tools 😍
Here's the complete list of FREE tools offered by Frase: 
AI content generator
Introduction generator
Outline generator
Paraphrasing tool
Paragraph rewriter
Blog title generator
Description generator
People Also Ask
Product description
Slogan generator
Summary generator
Value Proposition
Sentence writer
You can try all these tools for FREE.
Frase AI Writer Output Quality
There are many AI writing tools out there. Some of them produce good quality content, and some of them are just useless.
I tested the Frase AI writer. The output quality is not usable. It doesn't write about what you're asking. Frase AI starts writing something else.
For that reason, I don't use it. Maybe it is because of the topics I try to write on using AI. AI writing tools use GPT-4 technology. 
GPT-4 technology knows the topics that happened before 2021. 
Frase AI writer output quality can be improved. Let's see what Frase's team does to provide high-quality AI-written content.
Frase Content Templates
Frase Content templates or Brief templates will give you a structure for your blog post. Frase has given all the types of blog post templates you can write for.
Here's the list of Content Templates Frase provides:
Content Brief Template
Best Post Template
Listicle Template
Alternatives Template
How to template
Beginners guide template
What's template
Service page template
Pillar page template
Content Refresh Template
Comparison Template
Product Review Template
No matter what type of content you create, you can use these templates to speed up research and writing.
Frase Customer Service
Right now, Frase offers email support only. No chat support. Plus, Frase has a community on Facebook called Frase Insiders.
The community is active. You can ask questions, request new features, and have fun.
Frase's usual response time is around 24 hours, but they respond earlier.
Frase Integrations
Frase integrates with,
Google Search Console
Google docs add-on
WordPress plug-in
Frase has an API too. You can use the API to integrate Frase with different applications. Frase API is paid. However, you get 2,000 free trial credits. As their API is in BETA.
For regular users, API is not needed. If you really want to use Frase with a different application. You can use the Frase API.
Frase.io Reviews
I am impressed with Frase.io. I highly recommend you to use Frase. You'll feel the power of using Frase when it comes to content creation.
Have a look at what others have to say about Frase.io:

Frase Live Demo
Frase IO offers a LIVE demo every Tuesday and Thursday at 11:00am EST. Click the button below to sign up for Frase DEMO. LIVE Q&A happens every Monday, Wednesday, and Friday at 1am EST.
It's a special link you won't find on Frase's website. Use my special link to sign up for Frase.io, you'll get 60% OFF for the first month. 🙂
Frase Crash Course
Frase has a course on how to use Frase effectively. These videos are short and to the point. You can quickly complete this course in one sitting. 
You can learn all the nitty-gritty of the Frase platform through this course. 
To get the best out of this FREE course, you can sign up for Frase.io's 5-day trial and test the tool.  
Frase Blog
Frase publishes a new article every week. These articles are in-depth and to the point. You can learn SEO strategies, implement them on your website, and see your rankings skyrocketing. 
Who Should Use Frase?
Frase is suitable for,
Bloggers
Affiliate marketers (who drive traffic through Google SEO)
Content managers
Freelance writers
SEO professionals
Content editor
Anyone can use Frase.io to write SEO-optimized articles that rank on Google.
I have used Frase, and the article I wrote using Frase is ranking on Google.
Frequently Asked Questions About Frase.io?
Of course, you should use Frase. You can automate a lot of mundane search-related tasks. Don't want to save time? Do not use Frase. Keep on doing manual research and waste your precious time.
Frase offered a lifetime deal on Appsumo in 2021. But now they have monthly charges. Click here to see Frase.io pricing.
Click here to see my 9-step process of using Frase. All you have to do is find keywords and enter them in Frase Doc and create your blog outline. Then expand on the outline.
Both tools use AI but in different ways. Jarvis (Jasper) is purely a content writing tool. On the other hand, Frase is an on-page SEO tool. Both tools serve different purposes. I wrote a review on Jarvis (Jasper). Click here to read.
Here are a few alternatives to Frase:
Outranking. It's a close competitor of Frase.io. Outranking also provides similar features. Outranking also had a lifetime deal.
MarketMuse. This is another alternative of Frase.io. MarketMuse is a good software. But I love using Frase.io.
ClearScope. They provide premium services. ClearScope pricing is quite expensive.
Frase.io Review – Conclusion
Frase is an amazing on-page SEO tool. I have been using Frase for more than 3 months. Frase is a gem. A great team behind Frase.io, and they constantly push new updates.
In this article, I talked about Frase pricing, pros and cons, features, and my exact 9-step process of using Frase.
If you're a blogger, freelance writer, content manager, editor, and affiliate marketer. You must use Frase to create SEO-optimized articles without spending hours on research.
The most time-consuming part of content creation is research.
Thankfully, I've got Frase. I LOVE this tool. It saves me a lot of time. I can effortlessly create a blog outline and write the content.
If you want to do the same, try Frase.io today and see the magic of Frase.
If you have any questions, let me know in the comments. I'll answer.