Today, I will share everything about FlexiFunnels.
What is FlexiFunnels? FlexiFunnels launch date?
If you're interested in knowing everything about FlexiFunnels, stay tuned with me.
What is FlexiFunnels?
FlexiFunnels is a funnel builder software created by Saurabh Bhatnagar.
You don't have to pay in dollars for funnel-building software like ClickFunnels, Unbounce or Landingi.
I can't wait to show the power of FlexiFunnels.
With FlexiFunnels, you can:
Create high-quality landing pages that open at a real quick lightning-fast speed
Create high-converting checkout pages to collect payments
Manages all your integrations in one place
Host your courses within the platform if you are a course creator
Create funnels and sequences like upsells, down sells, etc
I will talk more about FlexiFunnels functions later in this guide.
FlexiFunnels Launch Date
FlexiFunnels will launch on 15th August 2022 (India's Independence Day).
Say goodbye to all technical limitations holding you back from running a successful online business. Now, you have FlexiFunnels. All-in-one funnel builder created in India.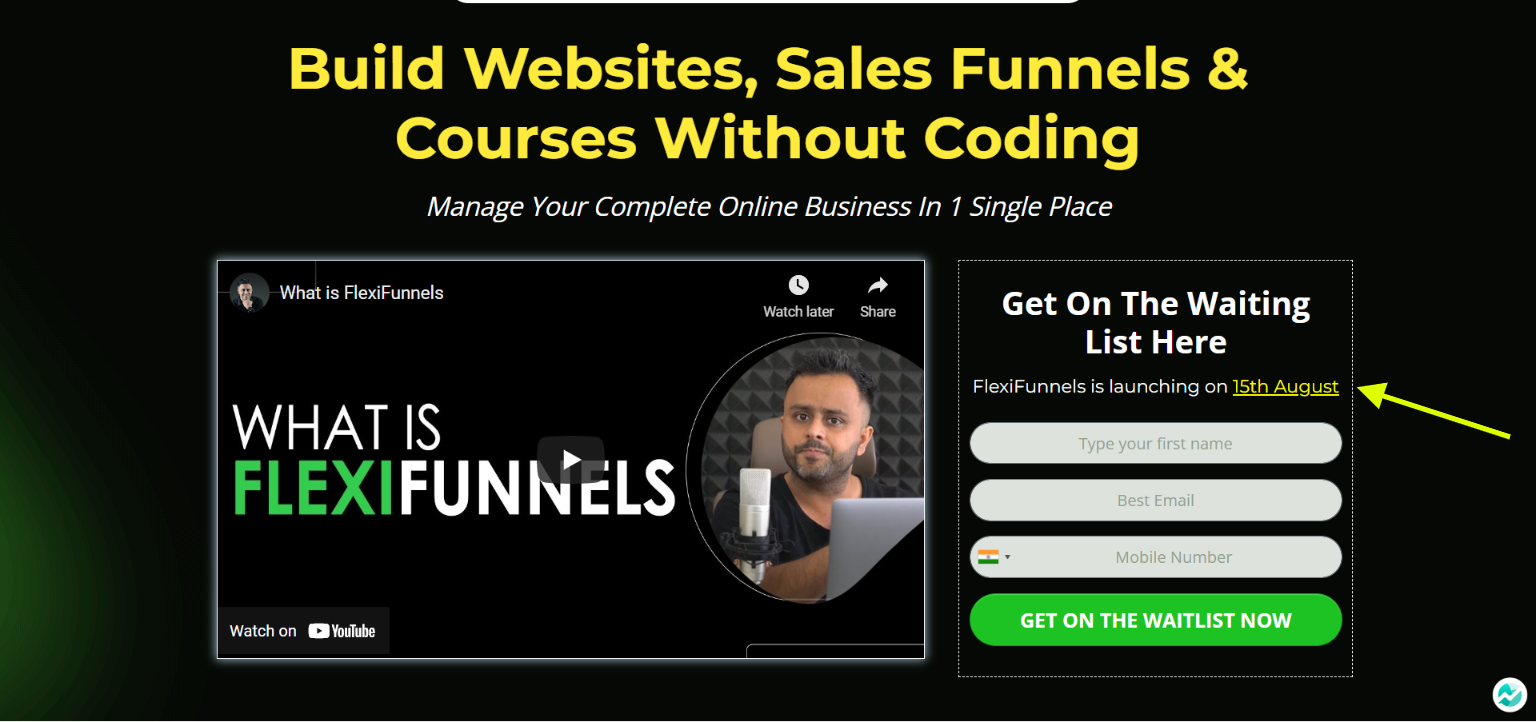 When you join FlexiFunnels during the special launch, you will get a lifetime discount on your FlexiFunnels subscription.
It's a massive opportunity to secure your discount for life.
FlexiFunnels launch will be closed on 4th September 2022. Therefore, you have limited time to secure the special launch offer.
Are you thinking about FlexiFunnels pricing? Next, I will discuss FlexiFunnels pricing.
One thing I can assure you FlexiFunnels is way more affordable than other funnel builders in the marketplace.
FlexiFunnels Pricing: How Much Does It Cost?
During the launch offer, you can get FlexiFunnels at ₹25000 INR + GST ($397) per year.
The total amount you'll invest in FlexiFunnels is ₹29500 per year (Inclusive of GST).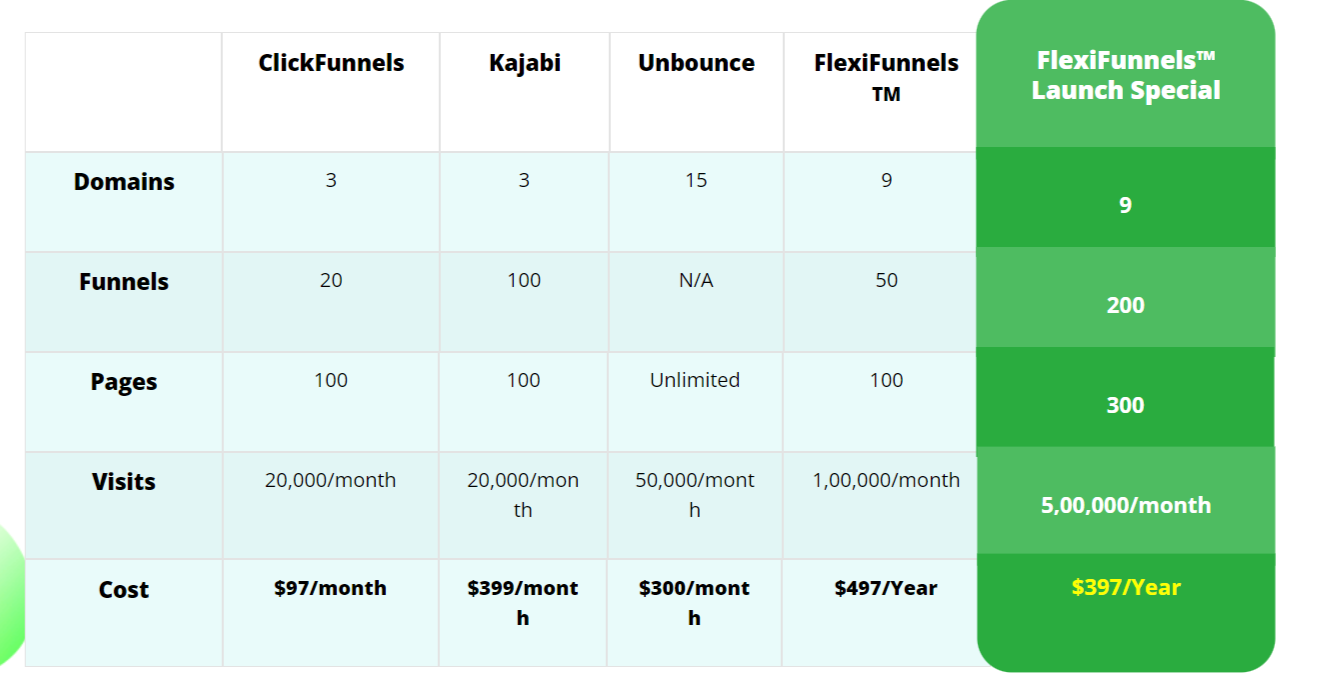 On a monthly basis, if you see, it comes down to ₹2460/month, which is way more affordable than any other funnel builder.
Can you invest ₹2460/month in a software that does the work of 10 software?
I don't know about you, but I would love to grab the software.
Personally, I am tired of paying software charges in dollars and using different integration tools like Pabbly Connect or Zapier to connect all the software and manage them.
Luckily, we have got FlexiFunnels. It removes all the tech hassle from running a successful online business.
You'll get a discount for life on your FlexiFunnels subscription.
FlexiFunnels Functions
A brief overview of all the features that come with FlexiFunnels:
Drag & Drop Landing Page Builder
Super Fast Hosting & Accelerated Page Delivery
DDOS Protected Pages
Done For You Funnels & Pages
Fully Mobile Responsive Pages
Pre-Built Sections
Integrated Payment Gateway Integrations
Integrated Webinar & Autoresponder Integrations
Converting Checkout Pages
Bump Offers
Subscription Payments
Coupons
Advanced Funnel Logics
Host & Sell Your Courses Inside FlexiFunnels
Piracy Protected Courses
Drip-Feed Course Content
Bundle Course Sales
Digital Assets – Deliver quick products like eBooks, PDFs, etc automatically
Domain Mapping – Subdomain & Main Domain
Advanced Analytics
Conversion Analytic Data of all the pages
Detailed Reporting Dashboard
Leads, Sales & Failed Payments Data With Advanced Search Filters
Live Chat Support
In a nutshell, FlexiFunnels replaces three major software:
– Landing page builders like Unbounce, Landingi and SwipePages
– Funnel builders like ClickFunnels and Systeme io
– Learning management platforms like Teachable and Podia
Buying these three software separately can cost you at least $230 – $500 per month. Yeah, you heard it right.
For example,
– Unbounce basic plan starts at $90/month
– ClickFunnels basic plan costs $97/month
– Teachable basic plan costs $39/month
I am just talking about the basic plans. If you go with higher plans, you'll have to pay more.
One thing I forgot, in order to connect all three software, you would need an integration software that connects all the applications, which will cost you an additional $30-$150/month.
The list can go on and on.
It's better you grab FlexiFunnels and save at least $3000 per year on software.
FlexiFunnels Reviews
I have already written an in-depth review of FlexiFunnels. You can read it.
Here are the reviews of FlexiFunnels: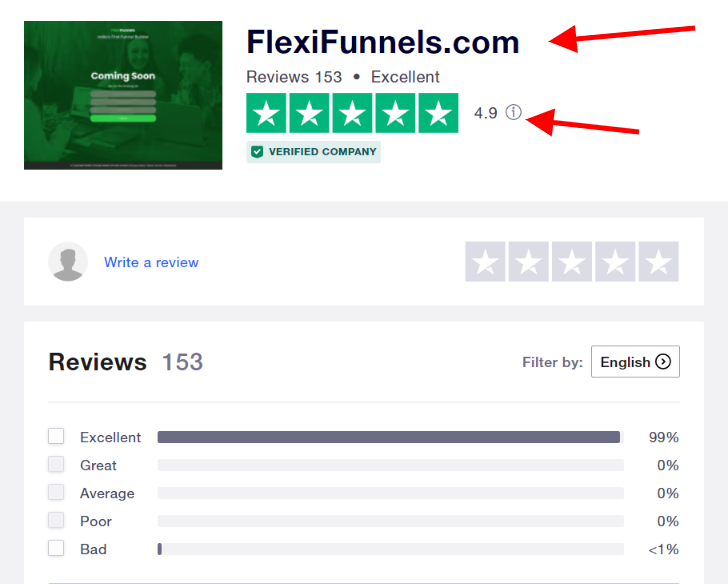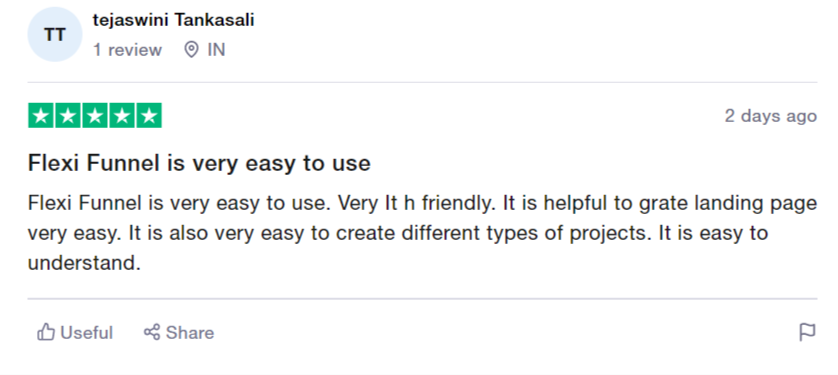 Founder of FlexiFunnels
Famous funnel expert Saurabh Bhatnagar is the founder of FlexiFunnels.
He has added a lot of trainings inside FlexiFunnels that can help even a total newbie become an online expert & start making huge profits
Online tainings are included for Traffic, Marketing, Copywriting, Course creation, Course marketing, Lead Generation, Email Marketing, Social Media/Digital Marketing Agency & more.
They have even included training on how to get clients and how to approach & close them.
Saurabh Bhatnagar has created thousands of success stories of his students making a killing online because of his trainings, courses & events.
No, you are getting an opportunity to get all of his training material for absolutely free along with the group guidance from him.
Plus you are getting "FlexiFunnels" that takes care of your every single online business requirement. With this, you will be all set for making huge profits online.
FlexiFunnels Tutorial
Here is the tutorial of FlexiFunnels. FlexiFunnels has created a lot of tutorials on how to use the software effectively.
Once you've signed up for the software, you can access all the FlexiFunnels tutorials and training.
FAQs About FlexiFunnels
What is FlexiFunnels?
FlexiFunnels is an all-in-one software that can run your entire online business.
FlexiFunnels is India's first funnel builder, replacing the need for separate landing page builders, funnel builders and learning management systems.
FlexiFunnels offer everything in one place at an affordable price.
FlexiFunnels Reviews
I wrote a detailed article reviewing FlexiFunnles. You can read it and make an informed decision whether FlexiFunnels is for you or not.
FlexiFunnels launch date
FlexiFunnels will launch on Monday, 15th of August 2022 (Independence Day). If you join FlexiFunnels during launch, you'll get a massive discount.
FlexiFunnels launch will end on 5th September 2022.
Is FlexiFunnels Genuine?
Yes, FlexiFunnels is 100% safe and genuine software. I have personally used FlexiFunnels software.
FlexiFunnels Pricing
Right now, FlexiFunnels has a yearly plan which costs ₹29500/year inclusive of 18% GST (₹4500).
Grab FlexiFunnels Special Launch Offer
Final Thoughts
Running an online business is tough if you're juggling with multiple software to manage your business.
You spend more time learning the software and more money on the software.
You can overcome this problem by joining FlexiFunnels.
If you have any questions, let me know in the comments below. I will answer.