Are you looking for Swipe Pages Review? Yes. You're at the right place. I have been using SwipePages for my clients for almost a year now.
In today's Swipe Pages review, I will share everything about Swipe Pages. So you can make an informed decision.
Today, you'll get to know:
Things that make Swipe Pages different from other landing builders
My experience of using Swipe Pages
Is Swipe Pages right for you?
And I'll answer other important questions.
Let's get started.
Swipe Pages Review – Final Verdict
Summary
I have used many landing page builders over the years. However, Swipe Pages beats all of them in terms of page speed. 
The pages I built in Swipe Pages load SUPER fast. In today's time, page speed matters a lot for every business. Swipe Pages is a reliable, affordable, and easy-to-use landing page builder. 
If you want to build pages that are mobile optimized and load incredibly fast yet at an affordable price? Swipe Pages is for YOU. You can try the software first; if you feel it's mind-blowing, upgrade to a paid plan. 
What is Swipe Pages?
Swipe Pages is a drag-and-drop landing page and e-commerce page builder.
You might be thinking… What's new in that? There are a lot of drag-and-drop landing page builders in the market.
However, Swipe Pages is WAY better than those landing page builders in many ways:
The pages I built using Swipe Pages load blazing fast. Swipe Pages allows you to create AMP-optimized pages too.
Swipe Pages is not expensive like Instapage and Unbounce. Swipe Pages plans are affordable. And one of the most easy-to-use landing page builders out there.
Things I Like About Swipe Pages
Beginner-friendly user interface. Anybody can start creating APM-optimized or SMART pages that load extremely fast on all devices. 
Built-in hosting. If you use Swipe Pages, you don't have to worry about buying hosting. As a result, you can scale your traffic and business without any tech hassle. 
Swipe Pages seamlessly integrates with major autoresponders and integration tools such as Pabbly and Zapier, allowing you to connect Swipe Pages with more than 5000 software.
Live chat support. Got stuck while creating pages? Talk to support, and they will help you out. 
Swipe Pages offers in-built analytics. For example, that shows how many people visited your page and how many of them converted. You can use third-party tracking codes also to track the pages and conversions. 
27+ blocks to create beautiful yet blazing fast pages. Swipe Pages is a mature tool that offers almost everything you need to build high-converting, fast, beautiful pages in minutes. 
Swipe Pages automatically creates Desktop, Laptop, Tablet and Mobile optimized pages. You save extra time. 
Publish your pages on your custom domain. Currently, you can publish your pages on your root domain using Cloudflare. However, if you use a subdomain, you don't have to use Cloudflare. 
Have so many pages? Use folders to organize your pages. 
In-built A/B testing function. This is useful if you're generating leads. You can optimize your page for higher conversion with the A/B test. 
Team function. You can invite your team to build pages for you without needing to share the account login id. There are four roles, admin, manager, author, and viewer.
Things I Don't Like About Swipe Pages
1. Hard cache issue.
If a page loads fast, it stores the cache in the user's browser. So when you make changes on the page, it won't reflect in the first load.
Users will have to refresh the page once again, and then new changes will appear.
This is applicable only when a user has already visited your page and landed on the same page again.
With SMART pages, you will not see such types of issues. However, when you create AMP pages, then the cache issue occurs.
2. You don't get a detailed report of site visitors.
Swipe Pages offers basic analytics. But, that's not enough to optimize your pages. You better use Google analytics and other tracking software.
3. Can't create funnels
Right now, Swipe Pages don't offer funnels. You can't create funnels using Swipe Pages.
However, there's good news. The Swipe Pages team is working on funnels, and soon Funnels will be live inside Swipe Pages.
I will update the post when the Swipe Pages launches the funnel function.
4. Starter plan only offers AMP Pages (Why is it bad?)
Earlier I explained the cache issue with AMP. Plus, some functions or tracking codes might not work if you use AMP, while Smart pages support everything.
5. No Global Widgets in Marketer plan
Global Widget is a time saver. For example, you create a block and save it as a Global Widget. You use the same block on other pages.
When you make any changes in the saved block, those changes will reflect on all the pages where you used Global Widget blocks. Hence, you don't have to update all the pages manually.
6. No WordPress integration
Swipe Pages doesn't integrate with WordPress. Therefore, you can't publish pages on your WordPress website. Nevertheless, WordPress integration is in the Swipe Pages roadmap.
I am sure; soon Swipe Pages will have WordPress integration.
7. No integration with Google Sheets
Swipe Pages doesn't have native integration with Google Sheets. In that case, you can use automation tools like Pabbly Connect to send leads from Swipe Pages to Google Sheets or any other software like your CRM or autoresponder. 
Swipe Pages Review Video
Swipe Pages BEST Features
1. Mobile Pages 
Swipe Pages allows you to build especially mobile pages. That is entirely different from other mobile-friendly pages. Have a look at the Swipe Pages mobile pages.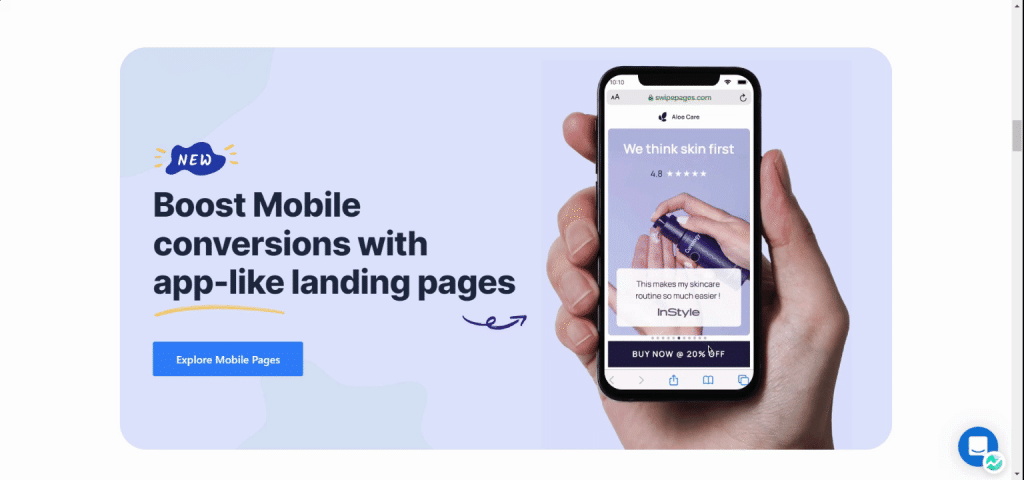 2. AMP Pages 
AMP stands for Accelerated Mobile Pages. If you build AMP landing pages, it will be incredibly fast on mobile devices.
3. The pages built on Swipe Pages load quickly
Swipe Pages supports AMP, but even if you create standard SMART pages in Swipe Pages that page will load quickly. It may be because they used light coding. That makes their page load faster.
4. Drag and drop page editor
Swipe Pages editor is 100% beginner friendly. Even when designing pages, you'll feel how light the software is. Everything loads quickly.
My Experience with Swipe Pages
In the past, I have used many landing page builders like Elementor, IglooApp, ClickFunnels, and Unbounce but Swipe Pages is different from other page builders.
First of all, Swipe Pages is easy to use.
Swipe Pages has affordable pricing plans.
Overall I am delighted with Swipe Pages. One of the best yet affordable drag and drop page builders in the market.
A lot of functions. So far, I have driven 300,000+ paid traffic on the pages built by Swipe Pages. Here are screenshots:
You know when you're running paid ads. You can't use cheap or unreliable page builders. You must use pages that load fast on all devices to get the highest return on investment (ROI).
After driving 300K+ visitors, I never saw a downtime.
(No Credit Card Required)
Swipe Pages Speed Test
Let's do a page speed test. I am using Google Pagespeed Insights. One of the pages I built for my client.
Awesome, right?
Now let me show you Desktop speed.
Page speed might vary depending on the number of elements you're using. For example, if you use fewer videos and images, you should get an 80+ page speed score on the mobile device.
Swipe Pages Pricing: How Much Does It Cost?
Swipe Pages offer three plans:
1. Starter – $39/month
NOTE: When billed annually Swipe Pages Starter plan will cost $29/month
AMP pages
Unlimited Conversions
1 Custom Domain
20,000 Unique Visits
Unlimited Landing Pages
Free Hosting with SSL
Conversion Optimized Templates
Multi-Step Forms
Analytics & Conversion Tracking
Zapier Integration
Direct Integrations
Lead Notification
Lead Magnet Delivery
Live Chat & Email Support
2. Marketer – $89/month
NOTE: When billed annually Swipe Pages Marketer plan will cost $58/month
5 Custom Domains
50,000 Unique Visits
5 Sub-Accounts
5 Team Members
Server Side A/B Testing
Dynamic Text Replacement
Smart Pages
Server Side A/B Testing
Plus everything in the Starter Plan.
3. Agency – $199/month
Note: When billed annually Swipe Pages Agency plan will cost $119/month
Unlimited Custom Domains
500,000 Unique Visits
Unlimited Sub-Accounts
Unlimited Team Members
50 Global Blocks
1-hr CRO Consultation
1-1 Onboarding
Design Guidance
Priority Phone Support
Plus everything in the Starter and the Marketer plan.
SwipePages plans are way more affordable than ClickFunnels, Instapage, and Unbounce.
Unbounce offers the ability to create AMP pages. You don't need to spend $100 – $200/month on that.
Swipe Pages basic plan has AMP pages that will load blazing fast on mobile devices.
Even the Swipe Pages SMART pages load quickly. I will share the results of the speed test I did.
Swipe Pages Customer Service
Swipe Pages offers live chat and email support. With the Agency plan, you get Phone support too.
Swipe Pages usually response time is 2-3 hours in working hours. Overall, Swipe Pages support is good. You won't face any issues.
Swipe Pages for eCommerce
If you're running an e-commerce store. You can use Swipe Pages to build the store.
You can edit the business information, currency, and invoice details from store settings. In addition, you can collect payments using Stripe/PayPal/RazorPay (India). These are the supported payment gateways.
Once you're done, it's time to create products. First, enter the four basic details about the product: Product name, description, price, and image.
That's all you need to do to set up an e-commerce store using Swipe Pages. I know these are basic functions. Who knows, in the future, they will add more features.
Swipe Pages Payment Integration
Currently, Swipe Pages integrates with Stripe, PayPal, and RazorPay for e-commerce only.
Does Swipe Pages Offer Free Trial?
Yes. Swipe Pages offers a 14-day FREE Trial. No credit card is required. Try the software first, then upgrade to any paid plans.
Start Swipe Pages 14-Day Free Trial. 
Swipe Pages Integrations
Swipe Pages integrate with Zapier and Integromat. With the help of Zapier/Integromat automation tool, you can connect Swipe Pages with over 3000+ software.
Swipe Pages has direct integration with the following software:
MailChimp Autoresponder
Constant Contact
HubSpot
Zoho
Campaign Monitor
ConvertKit
Sales Flare
SendFox
Moosend
Aweber
Engageway
ActiveCampaign
Encharge
You can even integrate apps/software through webhooks.
Who Should Use Swipe Pages?
Anyone can use Swipe Pages to build ultra-fast landing/product pages.
Swipe Pages is perfect for,
Bloggers
Coaches and Consultants
Agencies
Affiliate Marketers
Funnel Builders
Facebook ads experts
Swipe Pages Reviews
I have been using Swipe Pages for the past one and a half years, and it is working great. Very few downtimes I saw with Swipe Pages.
Overall it's a great software that will get your job done without needing you to spend hundreds of dollars on expensive landing page software.
Have a look at what people have to say about Swipe Pages:
Swipe Pages Alternatives
I will not recommend famous tools like ClickFunnels, Instapage, or Unbounce. Instead, I will tell you the affordable yet decent landing page builders.
Here they are:
1. IglooApp (Works with self-hosted WordPress site)
2. Elementor (Requires a self-hosted WordPress site)
3. Landingi
4. Systeme.io (more than a page builder)
Swipe Pages Frequently Asked Questions (FAQs):
Swipe pages lifetime deal
Swipe Pages offered a lifetime deal on AppSumo in 2020. But now they don't provide any lifetime deal. Instead, you can buy their recurring plan. It's affordable and the best landing page builder.
Swipe pages vs. Leadpages
1. The first difference comes in pricing. LeadPages basic plan starts at $49/month. On the other hand, Swipe Page's basic plan starts at $39/month.
2. LeadPages doesn't offer AMP pages, but Swipe Pages offers AMP pages.
3. In the basic plan, LeadPages doesn't offer live chat support, but Swipe Pages every plan comes with Live Chat + Email support.
4. Swipe Pages offer a 14-Day Free Trial (No Credit Card Required), but LeadPages offer a 14-Day Free Trial but asks for Credit Card information.
These are the critical differences between Swipe Pages and LeadPages.
How do you use Swipe Pages?
Swipe Pages is easy to use. It's like the normal page builders.
On the left-hand side, you have all the elements and drop them onto your landing page one by one, design each element, and publish the page. Simple, right?
If you get stuck at any place, Swipe Pages offers live chat + email support. In addition, they have a help center where you can find helpful resources anytime.
Conclusion: Swipe Pages Review
I hope you enjoyed this blog post. Today I talked about Swipe Page's pros, cons, pricing plans, integrations, and core features of Swipe Pages.
If you're still on the fence about Swipe Pages, I highly recommend you sign for a 14-Day FREE trial and test the software itself.
I am sure you'll love this landing page builder. But, don't forget you can build mobile-first pages with Swipe Pages. Unfortunately, at this time, no landing page builder offers this functionality.
On top of it, you can build AMP pages that load extremely fast on mobile devices that can boost your conversion rates.
If you have any questions, let me know in the comments. I will answer.