Are you considering the course hosting platforms Podia and Thinkific?
In this guide, I will compare the features and specifications of both platforms and give you my opinion on which one you should choose.
About Podia
Podia is an all-in-one platform designed for selling online courses, coaching services, digital products, and membership subscriptions.
Podia offers creators an intuitive storefront that effectively monetizes their expertise.
With numerous features such as online courses, digital downloads, affiliate tracking, email marketing, and membership subscriptions, Podia provides a feature-loaded course hosting platform for coaches and creators. Read More…
About Thinkific
Thinkific is a leading online course platform that enables creators to easily create, sell, and deliver their courses.
Thinkific offers user-friendly course creation tools, allows customization of branding options, and provides interactive tools.
Thinkific LMS is used by big brands like Keap, Shopify, and Later. Small creators and businesses also use Thinkific to power their online coaching business.
Podia Vs. Thinkific TL;DR (too long; didn't read)
Podia provides a free plan that includes an 8% per transaction fee. On the other hand, Thinkific also offers a free plan without any transaction fees.
| Features | Podia | Thinkific |
| --- | --- | --- |
| Recommendation | Ideal for small creators or individuals looking for a user-friendly learning management system (LMS). | Ideal for advanced users who prioritize customization options and seamless integration with third-party applications. |
| Pricing | Starts at $39/month | Starts at $49 a month |
| Transaction fees | 8% transaction fee on a FREE plan. 0% transaction fee on paid plans. | Thinkific offers a 0% transaction fee on all plans. |
| Payment Processor | Stripe & PayPal | Stripe & PayPal |
| Built-in Affiliate Program | Yes (Included in Shaker plan) | Yes |
| Custom Domain | Yes | Yes |
| Email Marketing | Available | Available in Grow plan |
| Digital Downloads | You can sell digital downloads like ebooks, PDFs, & templates | Available |
| Mobile App | NO | YES (In Start & Grow Plan) |
| Community | Yes | Yes |
| Webinars & coaching | Allows selling webinars & coaching | Yes, but included in the Start plan |
| Customization options | Limited | Available in Start plan |
| Discounts | 17% off on yearly plans | 25% off on annual plans |
| Support | Email & Chat Support | Email & Chat Support |
| Courses & Students | Unlimited | Unlimited |
| Manual student enrollment | Yes | Yes |
| Third-party Integrations | Fewer integrations | A lot of integrations |
| | Try Podia | Try Thinkific |
Podia Vs. Thinkific: Pricing
For small creators & starters, pricing is a big factor when choosing any tool. Let's see the pricing plans of both platforms.
Podia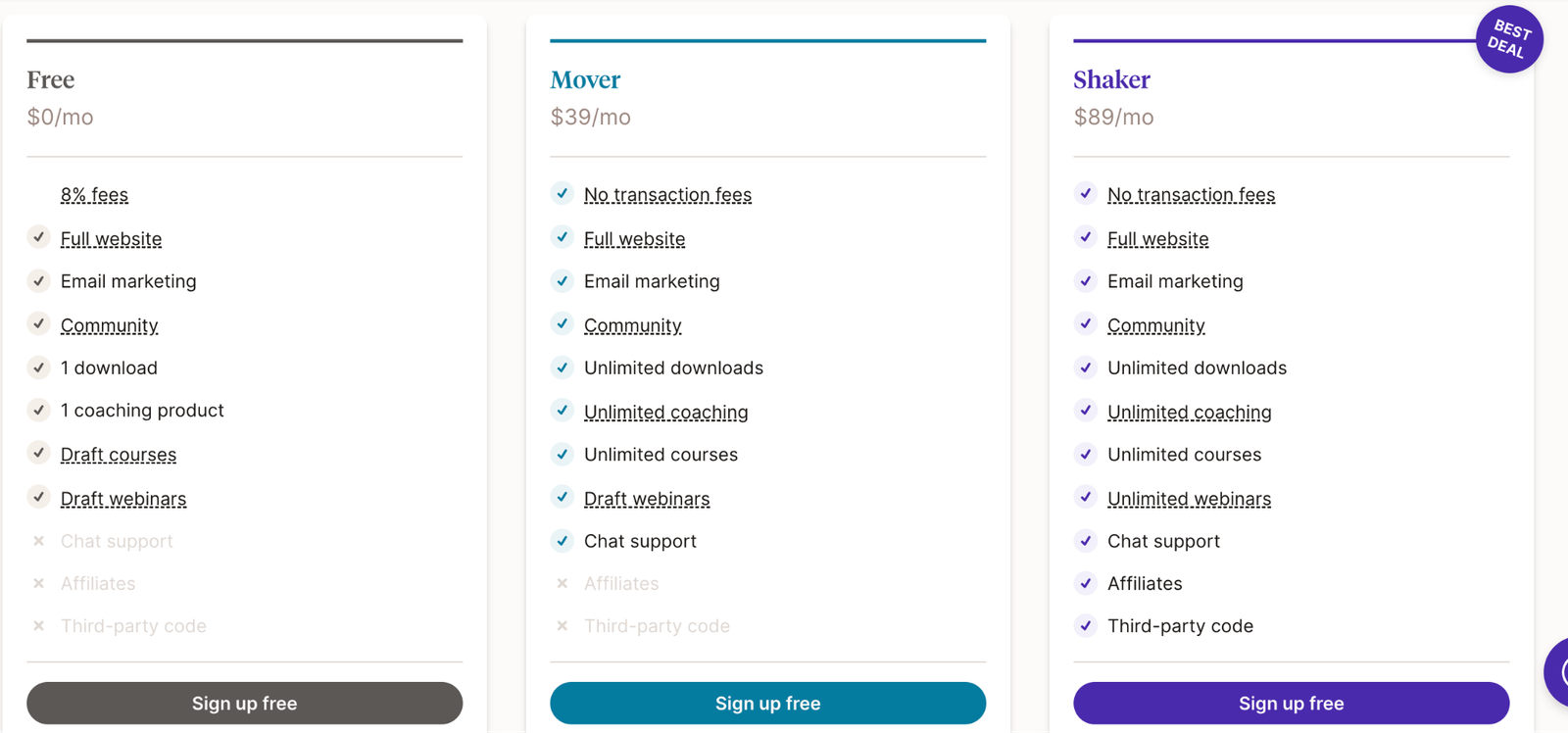 Podia has one free plan and two paid plans. In the free plan, Podia charges an 8% transaction fee. Here is a quick overview of Podia's paid plans:
Free Plan: $0/month
Full website
Email marketing
Community
1 download
1 coaching product
Mover Plan: $39 a month
No transaction fees
Full website
Email marketing
Community
Unlimited downloads
Unlimited coaching
Unlimited courses
Chat support
Shaker Plan: $89 a month
Includes everything in the Mover Plan
Affiliates
Third-party code
Unlimited webinars
Podia offers a 17% discount on yearly plans.
Thinkific
Thinkific offers four plans including a FREE plan.
Thinkific offers 0% transaction fees for all plans, even in the free plan.
Thinkific pricing plans feel like they push you to buy their higher plans. Let's see what Thinkific offers in each plan:
Free Plan: $0/month (Forever free)
1 course
1 community
2 spaces per community
1 administrator
Unlimited Students
0% transaction fee
Email (30 days) and chatbot
Drag-and-drop website builder
Quizzes and Surveys
Thinkific Academy Course
Basic: $49 a month
Unlimited Courses
1 community
5 spaces per community
1 administrator
Unlimited Students
0% transaction fee
Email and live chat support
Custom domain
Coupons & discounts
Affiliate selling
Start: $99 a month
Assignments
Bundles and add on packages
Memberships & payment plans
Live lessons
Advanced course-building options
Advanced website code editing
10 spaces per community
Plus everything in the BASIC plan
Grow: $199 a month
3 communities
20 spaces per community
2 administrators
Phone and priority email support
Remove Thinkific branding
Bulk student emailer
Bulk enrollments
API access
Plus everything in the START plan
You can get 25% OFF on Thinkific's annual plan.
Thinkific Plus
This is their premium plan for enterprise-level customers.
What's included with Thinkific Plus?
Unlimited courses, students, admins, and partners
Dedicated Customer Success team
Single Sign On (SSO)
Enterprise API access
Advanced security features
You have to fill up and form to know the pricing of Thinkific Plus.
Podia Vs. Thinkific – Pros and Cons
Both Podia and Thinkific are popular platforms and offer similar features but have some differences that may make one more useful for your specific needs.
Pros of Podia
1. User-friendly interface. Podia is known for its intuitive and easy-to-use interface, making it great for beginners.
2. All-in-one platform. Podia provides features for creating and selling online courses, digital downloads, email marketing, and membership sites, all in one place.
4. Integrated email marketing. Podia offers a built-in email marketing feature to communicate with your students and newsletter subscribers.
5. No transaction fees. Podia does not charge any transaction fees on paid plans allowing you to keep more of your earnings.
6. Free migration. If you buy Podia's annual plan, they will migrate your courses and students from whatever existing platform you're using.
7. Instant messaging option. You can offer your students a messaging option inside their learning platform. They can clear doubts instantly.
8. Simple pricing. Podia doesn't confuse you with tons of pricing options.
9. Sell Coaching & Consulting. You can collect and provide your calendar right inside Podia. You can sell unlimited coaching
10. Podia issues course completion certificates to students.
Pros of Thinkific
1. Course customization. Thinkific offers extensive customization options, allowing you to create unique and visually appealing courses.
2. Diverse content options. You can deliver various types of content, like videos, quizzes, surveys, and more.
3. Advanced marketing tools. Thinkific provides robust marketing features, such as advanced email automation with your autoresponder, upselling, and affiliate marketing.
4. Community-building features. Thinkific offers community and engagement tools to create interaction among students.
5. Reliable and scalable. Thinkific has a strong infrastructure and can handle many students and courses.
6. Web notifications. You can send notifications when users login in to their portal.
7. Advanced CSS/HTML editing. Want to customize anything as per your requirements? Thinkific allows you to do that.
8. Course compliance tools. With *Prerequisite Lessons* and *video completion* you can prevent students from skipping the course without covering important content.
9. Create and host unlimited courses and students.
10. Sell LIVE events on Thinkific.
Cons of Podia
1. Limited customization options. Podia offers basic customization options; it doesn't provide as much flexibility in course & page design compared to other platforms.
2. Extra Charges to Add Team Members. Additional team members can be added for just $20 per user per month (or $240/year on our annual plans).
Cons of Thinkific
1. Learning curve. Thinkific's interface can be overwhelming for beginners, requiring some time to learn and navigate.
2. Limited features. Thinkific indirectly tries to move you to higher tier pricing plans by limiting basic functions like Zapier actions, email marketing, etc.
3. Expensive pricing plans. Thinkific Basic plan costs $49 a month, while Podia Base plan costs $39 per month.
4. Limited Students Per Group. You can host up to 50 Students Per group in the Basic plan. However, in the Grow plan, they offer unlimited students per group.
5. Emailing. You can send bulk emails if you're in the Grow Plan.
6. Remove Thinkific branding. You can do this if you are on the Grow or higher plan.
7. Bulk import and enroll students. You get this function in the Grow or higher plan. Again such a basic function but Thinkific has limited these functions.
8. Thinkific Analytics. Get insights into your student engagement and breakdowns of your business metrics. You get this feature in the Grow or higher plan. 🙂
9. Standard API & webhooks. The same issue, you can use webhooks and API if you're on the Grow or higher plan.
I should STOP now. You see, there are too many limitations even on the basic functions.
Podia Vs. Thinkific Customer Service
Customer service is super important when setting up online courses on a new platform. It can save you tons of time and frustration.
Let's compare who provides better customer service.
Podia
Podia offers email support & chat support.
Podia support hours: 9 AM to 6 PM Eastern Time (ET) Monday-Friday and 9 AM-5 PM ET on weekends.
Podia's support is user-friendly. They solve your issues quickly.
There are three ways Podia offer support:

1. Chat support
2. Email Support
3. Help Center
Thinkific
Thinkific has different levels of support depending on the plan you're using.
For example, you're on the Basic plan. For those users, they offer support between Mon to Fri 6 am – 5 pm PT.
You can contact Thinkific support either through Chat or email.
If you're on the Grow or higher plan, you can directly chat or book a call with their support team.
For FREE users, they provide support for the first 30 days. Afterward, they offer self-support materials in Help Center & an automated chatbot.
Winner: Both platform support is equal. So it's a tie.
Podia Vs. Thinkific Integrations
Let's talk about third-party integrations of both platforms. I will discuss some limitations if you use Zapier to connect with third-party applications.
Podia
Podia has native integration with the following Email Service Providers (ESPs):
MailChimp
Aweber
ActiveCampaign
GetResponse
Drip
ConvertKit
MailerLite
Payment Process Integrations:
Analytics Platforms Integrations:
Webinar Platforms Integrations
Scheduling Tools Integrations
SavvyCal
Calendly
Youcanbook.me
Acuity Scheduling
Advertising Platforms Integrations
Facebook Ads
Google Ads
Pinterest Ads
Third-party Snippets
Plus, you can embed contents from over 1900+ sites. And if your third party doesn't have native integration with Podia.
Don't worry. For those users, Zapier comes in. You know, earlier, I mentioned Zapier's limitations.
What Podia & other platforms have done is they offer you a Zapier trigger option in the Basic plan but don't offer Zapier action.
YOU know, to complete an automated workflow, you need trigger and action.
They provide Zapier action in higher plans.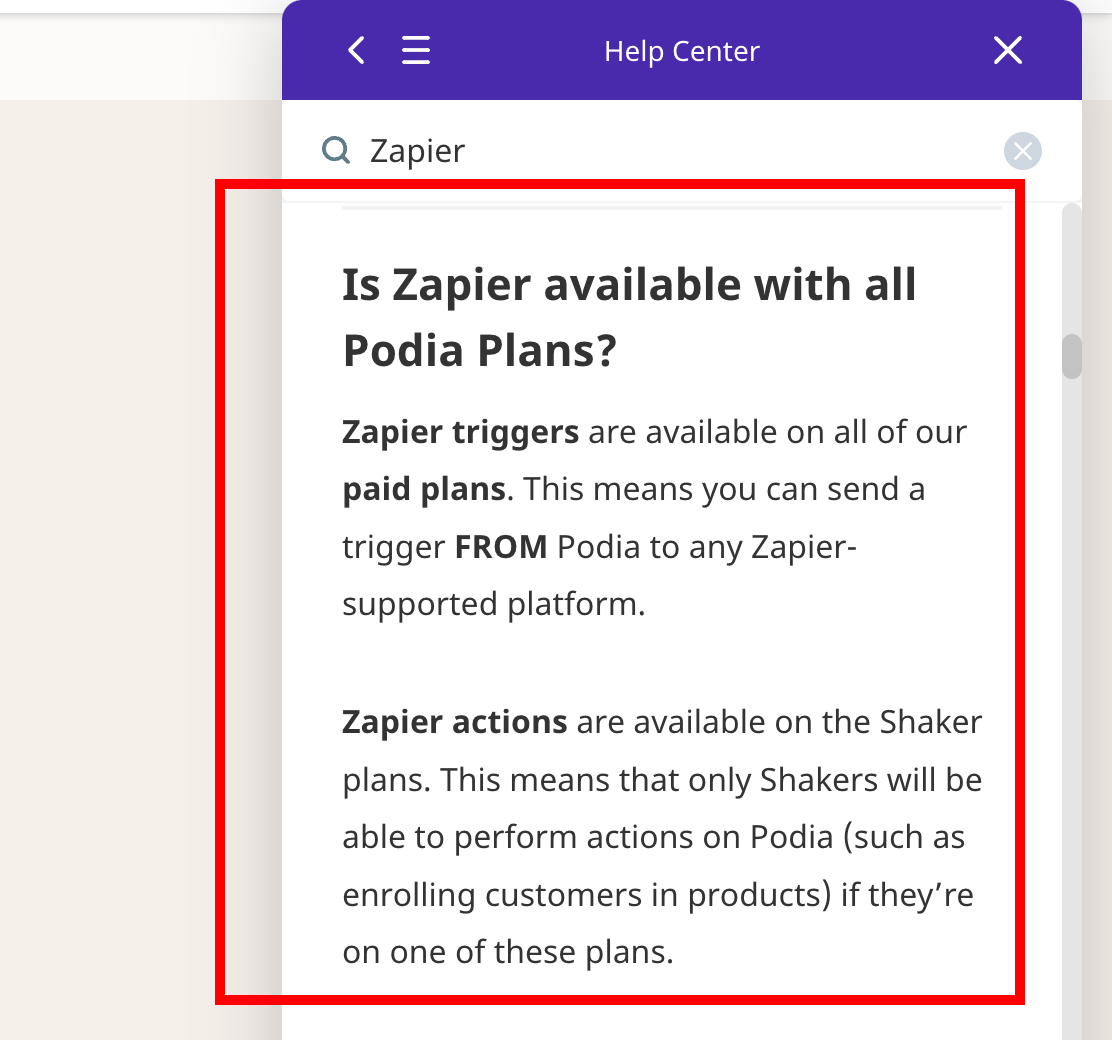 Podia copied this kind of indirect upselling strategy from Teachable.
Thinkific
Thinkific has more native third-party integrations than Podia.
Thinkific Email Service Providers Integrations:
ActiveCampaign
ConstantContact
Aweber
MailChimp
ConvertKit
Keap
Other Integrations:
Zoom
Shopify
Google Analytics
Facebook Pixel
Google Tag Manager
Lessonspace
Intercom
Highways.io
Accredible
Thinkific also has Zapier integration.
Thinkific has imposed the same limitations as Podia. Zapier trigger is available in all plans, but Zapier action is included in higher plans. In-direct upselling strategy.
I mean, Zapier integration is a basic integration. Why do these platforms make it available in higher plans?
Winner: Thinikifc is the winner here because it has more native integrations than Podia.
Podia Vs. Thinkific – Which is Best?
Finding the perfect answer to this question is challenging, but don't worry, I am here to help you. The choice ultimately depends on your budget and specific requirements.
For example, If you want an in-built email marketing solution in a learning management system (LMS), Podia would be a great choice. It offers great functions for a reasonable price.
On the other hand, if you're just starting out and looking for a FREE LMS, Thinkific would be a good option. While Thinkific primarily focuses on hosting courses, it provides a solid foundation for your educational endeavors.
When comparing the two, it's worth noting that Podia is an all-in-one software that offers solutions to various aspects of your coaching business. Their highest plan is priced at $89/month.
In contrast, Thinkific's highest plan, called "Grow," costs $199/month.
Although it may seem more expensive at first glance, it comes with additional benefits such as:
phone support,
the removal of Thinkific branding,
bulk student emailer,
bulk enrollments,
API access,
the ability to create multiple communities,
and a mobile app.
If you find these functions valuable, then Thinkific would be the right choice for you.
However, if you're searching for an affordable yet top-quality option, Podia is a perfect fit.
Let me share another example with you: I recently assisted a client in finding an LMS that was both cost-effective and user-friendly.
Based on their requirements, I recommended Podia.
It not only provides simplicity and affordability but also includes all the essential features for running a successful coaching business.
Plus, opting for an annual plan with Podia can save you even more money.
So, it's crucial to find out your specific needs from an LMS and choose the tool that aligns best with your goals.
I hope you found this information useful in your decision-making process.
Final Thoughts on Podia Vs. Thinkific
Podia and Thinkific are two of the top course hosting platforms, each with its own unique advantages and drawbacks. In this guide, I have compared the key aspects of both Podia and Thinkific.
Plus, I have addressed the commonly asked question, "Podia Vs. Thinkific – Which is Best?"
Go through this guide to make an informed decision.
Choosing a platform is easy. It's about how you utilize the tool/software to maximize its potential and grow your business.
Through my years of experience, I have realized that simple tools are often better.
They allow you to quickly USE the tool's full potential, rather than spending hours and hours just learning how to use it.
In your spare time, you can focus on the most important aspects, such as generating revenue and providing excellent customer service to grow your business even faster.
If I had to choose between Podia and Thinkific, I would go with Podia.
Here's why: Podia is affordable, user-friendly, and has all the necessary functions for running a coaching and consulting business.
I always prefer tools that are easy to use because they save a lot of time and allow me to concentrate on what truly matters.
Many tools come with numerous features, which means spending a significant amount of time learning about and using them.
Personally, I don't want to dedicate the next 10 hours solely to learning a tool.
Instead, I would rather opt for something simple and get started quickly.
If you have any questions, please let me know in the comments below, and I will be happy to provide answers.
FAQs
Is Thinkific Better than Podia?
In certain aspects, Thinkific outperforms Podia. For instance, in the free plan, Podia imposes an 8% transaction fee, whereas Thinkific does not charge any transaction fees, even in their plan.
Furthermore, Thinkific's Basic plan includes crucial features such as Zapier triggers and actions, as well as an affiliate program, whereas Podia includes these features in its higher-tier plan.
What is Podia Best for?
Podia is the optimal choice for hosting online courses, digital downloads, and coaching services. With Podia, you can get up and running within minutes.
You don't need to spend time learning all the intricate details of Podia in order to use it effectively.
Thanks to its intuitive user interface, you can harness the full potential of the platform right from day one.
Is Thinkific a Good LMS?
Certainly! Thinkific is indeed a reliable learning management system (LMS). However, before making a decision, it's important to carefully evaluate your specific requirements.
Keep in mind that each platform comes with its own set of advantages and disadvantages.
Once you have a clear understanding of your needs, choosing the right LMS becomes a much simpler task.
Can I build a Website with Podia?
Podia is a learning management system (LMS) provider that allows you to create basic web pages. However, if you require more advanced and professional websites, Podia may not be the ideal choice.
In such cases, I recommend you to explore dedicated page builders like Landingi and SwipePages, or leverage content management systems like WordPress with plugins such as Elementor, Divi, and ThriveThemes to create professional-looking pages.
Does Podia Take a Percentage?
Yes! if you use Podia's FREE plan, they'll take an 8% per transaction. However, the Podia free plan has too many limitations. It's good to test the software before you buy. On Podia's paid plans, they don't take any transaction fee.
Can I Sell Services on Podia?
Yes, you can sell coaching services. You can conduct LIVE workshops by integrating ZOOM with Podia. Plus, you can sell digital courses and digital downloads such as eBooks, Templates, etc.
Does Podia Offer Landing Page Builder?
YES. Podia offers a basic website builder. If you're looking to create professional pages, I wouldn't recommend Podia for that. You can use page builders like SwipePages, Elementor, and Landingi to create professional-looking landing pages.
What Is The Advantage of Thinkific?
Thinkific charges a 0% transaction fee even on their free plans. Plus, you can host unlimited students and courses.
On top of that, Thinkific offers multiple pricing plans for different use cases.
The BEST thing about Thinkific is that they do give essential features in the BASIC plan too.
What Is The Best Platform for Virtual Teaching
FreshLearn, New Zenler, Uteach.io & Podia are the BEST platforms for virtual teaching.
What Percentage of Sales Does Thinkific Take?
Thinkific takes a 0% transaction fee. This is applicable to every plan (including the free plan).