Are you a coach or consultant looking to host and manage your online courses?
Deciding which LMS is right for you can be challenging with so many options available. That's where this guide comes in.
I've compiled a list of the top 9 learning management systems in India to assist you in making an informed decision.
This guide will provide you with an overview of each platform's features, pros and cons, as well as pricing plans.
Whether you're seeking a simple platform or one that offers advanced features, I've got you covered.
Stay tuned to discover the LMS platforms in India that are perfect for your needs.
Systeme.io
If you're searching for a reliable and cost-effective learning management system in India. Systeme.io is an excellent choice.
It offers a range of features, including funnel creation, email marketing, eCommerce store, affiliate management, and more.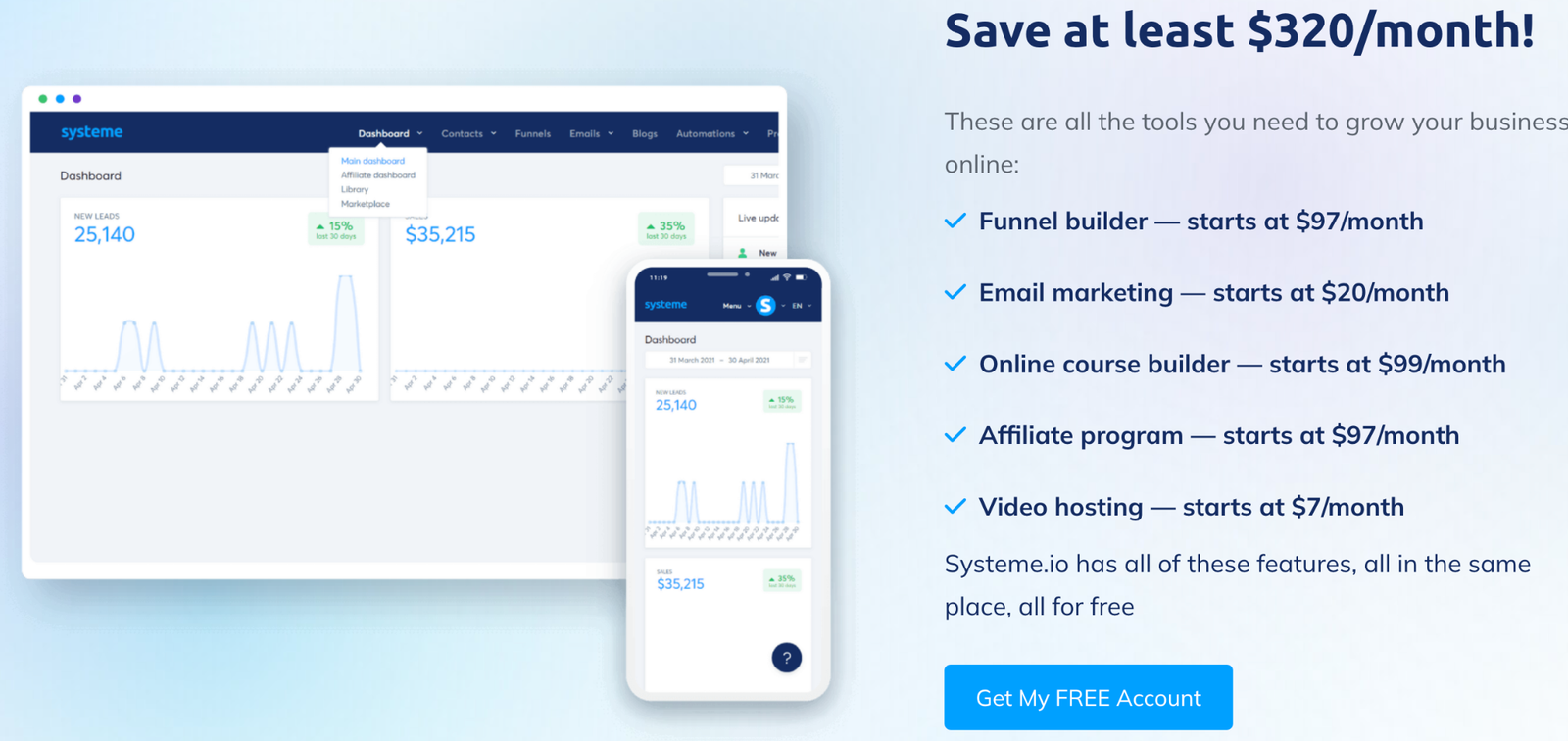 Landing Page & Funnel Builder. Consider the platform's interface's ease of use and intuitiveness, as it can help reduce the learning curve for both you and your learners.
Email Autoresponder. Systeme.io provides a built-in email autoresponder with advanced tag-based automation and high email deliverability rates.
Course Hosting. Host videos on Systeme.io servers or embed them. Utilize gamification tools like quizzes, surveys, and progress trackers to evaluate learner understanding and track progress.
Affiliate Management. Incentivize customers to promote your product or service by offering a fixed percentage of commission.
Community. Engage with your members through Systeme.io's community features, eliminating the need for a separate Facebook community.
Guide: Systeme.io Review
Pros and Cons
Like any LMS, Systeme.io has its pros and cons, so it's crucial to weigh your options carefully.
Systeme.io Pros
1. Simple user interface. Provides a streamlined and user-friendly experience for educators and learners.
2. All-in-one Platform. All course content, assessments, and communication are conveniently located in one dashboard.
3. Loads of features. Offers all the major tools required for coaching or consulting businesses at an affordable price.
Systeme.io Cons
1. No mobile application.
2. No live chat support.
3. Webinar function limited to high-tier plans.
Despite these drawbacks, Systeme.io is value-for-money software. Now, let's discuss Systeme.io's pricing plans.
Systeme.io Pricing Plans
Systeme.io offers 4 plans, including a free option. Here, I'll focus on the paid plans:
1. Start Plan – $27/month or $228/year (30% savings with annual plan).
2. Webinar Plan – $47/month or $396/year (30% savings with annual plan).
3. Unlimited Plan – $97/month or $828/year (30% savings with annual plan).
All plans include;
unlimited emails,
file storage,
students,
no transaction fees,
affiliate programs,
and online support.
Systeme.io integrates with major payment gateways such as Stripe (International), PayPal (International), RazorPay (India), and Flutterwave (South Africa).
With Systeme.io, you can save both time and money.
Get started with Systeme.io for FREE!
FlexiFunnels
Let's explore FlexiFunnels, another popular learning management system in India.
FlexiFunnels offers a variety of features, including landing pages, affiliate tracking, course hosting, native integration with major payment gateways, and more.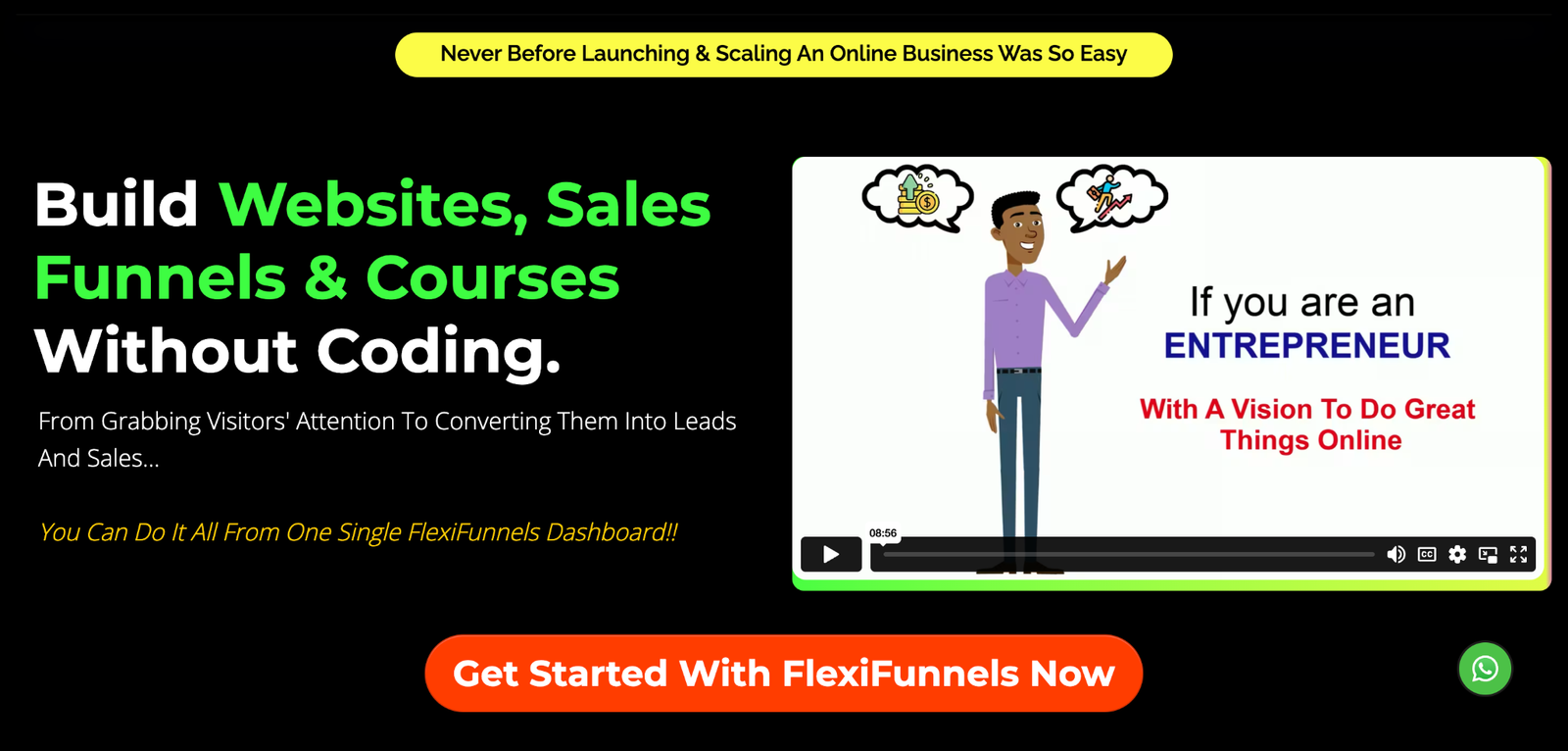 FlexiFunnels Features
1. Detailed Reporting. FlexiFunnels provides a comprehensive analytics report, allowing you to optimize your sales pages and increase your sales based on data insights.
2. User Experience. FlexiFunnels prioritizes user experience by offering mobile-first design, training modules, and gamification options to keep learners engaged and motivated.
3. Funnels Logic. Creating upsells and downsells is effortless with FlexiFunnels' intuitive logic system.
Guide: FlexiFunnels Review
4. In-built Page & Website Builder. Build your entire website, including SEO-friendly pages, sales pages, opt-in pages, and checkout pages, using FlexiFunnels' in-built page and website builder. Organize all your pages within one platform.
FlexiFunnels Pros and Cons
Every platform has its advantages and drawbacks. My job is to provide you with all the information so you can make an informed decision.
Pros
– Fast support through chat and email.
– Simple-to-use platform.
– Amazing page speed.
– Robust platform.
– Mobile-friendly pages.
– In-depth training on funnel optimization.
– 300+ Done-for-you landing pages in multiple niches.
– Subuser access.
Cons
– Unable to upload video files on FlexiFunnels' server.
– No in-built email marketing tool.
– No monthly pricing plans.
– Course hosting user interface can be improved.
– Limited to hosting a certain number of course members.
FlexiFunnels Pricing Plans
FlexiFunnels offers 2 annual plans:
1. Professional Plan ($397/year or Rs. 29,500)
– Up to 100,000 unique visitors per month.
– Create up to 100 pages.
– 50 Funnels.
– Up to 10,000 course members.
2. Premium Plan ($697/year or Rs. 55,460)
– Up to 300,000 unique visitors per month.
– Create up to 300 pages.
– 200 Funnels.
– Up to 50,000 course members.
Both plans include several features such as,
unlimited access to templates,
unlimited products,
sub-user access,
HelloBar with timer,
cart abandonment email,
coupons,
OTT level video streaming for course videos,
course video piracy protection,
converting checkout pages,
superfast CDN hosting,
advanced analytics,
data and reports,
advanced integrations,
automatic SSL,
3-minutes live chat support,
and 3 complimentary 1-on-1 live success calls.
Before making a purchase decision, you can even book a demo call to explore FlexiFunnels further.
Click here to explore FlexiFunnels!
FreshLearn
FreshLearn is one of the best feature-rich learning management systems in India, offering a comprehensive platform to manage your entire coaching business.
Despite being a newer tool compared to New Zenler, Graphy, and Systeme.io, FreshLearn provides all the necessary features you would expect from an LMS.
FreshLearn Features
1. Courses. Design, upload, and launch your courses effortlessly with FreshLearn. It offers a user-friendly platform that enables you to create and deliver on-demand courses at scale without dealing with complex technology or compromising user experience.
2. Cohorts. Make a significant impact on your students with cohort-based courses. Students can ask questions, complete assignments, and achieve their desired results quickly.
3. Masterclass. Go beyond traditional classrooms and create expert masterclasses tailored to your learners' needs and interests. FreshLearn allows you to provide interactive experiences that engage and captivate learners.
4. Digital Downloads. Sell templates, ebooks, or other downloadable products easily through FreshLearn.
5. Community. FreshLearn offers a built-in community feature, allowing you to create paid or free communities for members to enroll and engage. Build your own community without relying on third-party tools like Facebook groups.
6. Gamification. Motivate learners with reward points, badges, quizzes, and challenges, making the learning experience enjoyable.
7. Email Campaigns. Connect with your audience, promote products, and share valuable content using FreshLearn's basic email autoresponder.
8. Affiliate Tracking. Start your affiliate marketing program with FreshLearn to boost course sales and expand your reach. Recruit passionate learners who can promote your courses and earn commissions on every sale.
FreshLearn offers many other features, which you can explore on their website.
FreshLearn Pros and Cons
Consider the following pros and cons when evaluating FreshLearn as an LMS option:
Pros:
– Easy-to-use interface with a smooth onboarding process and no learning curve.
– All features are simple and easy to use, without unnecessary complexities.
– Multiple pricing plans to choose from.
– No transaction fees.
– Ability to host unlimited learners and courses.
– 24/7 live chat and call support.
– Customizable Video Player.
– Website Builder.
– Bulk enroll users.
Cons:
– Some integrations like Zoom and MailChimp are not available.
– Mobile app access is included only in the No Brainer plan.
– FreshLearn branding cannot be removed in the Pro plan.
– Basic email autoresponder functionality.
Overall, FreshLearn is a user-friendly tool that provides all the necessary features, allowing you to start using the platform without the need for extensive tutorials or documentation.
FreshLearn Pricing Plans
FreshLearn offers three pricing plans:
1. Free plan – $0/month
– No Transaction Fee.
– Website Builder.
– Unlimited Digital Products.
– Payments Integration.
– Custom Branding.
– Video Hosting.
– Sales Page Builder.
– Checkout Pages.
– Blogging CMS.
– Testimonials.
– Link In Bio.
– 25 Enrollments (Paid or Free).
– 1 Administrator.
– 24/7 live chat and call support.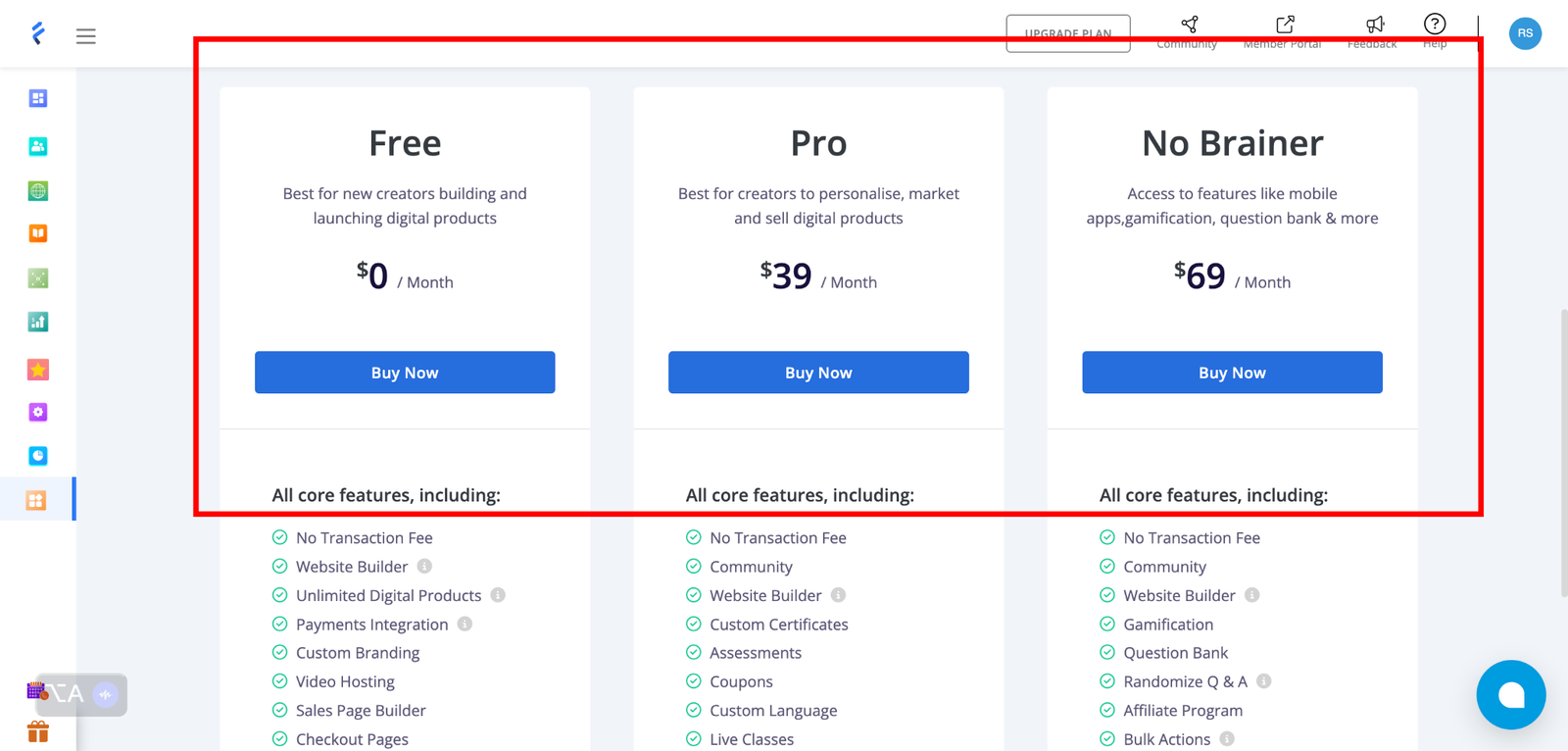 – Includes all Free plan features.
– Community.
– Website Builder.
– Custom Certificates.
– Coupons.
– Custom Language.
– Live Classes.
– Drip Content.
– White Label Domain.
– Unlimited Enrollments.
– Integrations.
3. No Brainer – $69/month
Includes all Pro plan features.
No Transaction Fee.
Community.
Website Builder.
Gamification.
Question Bank.
Randomize Q & A.
Affiliate Program.
Bulk Actions.
Customizable Video Player.
Advanced Integrations.
Custom Themes.
Unlimited Enrollments.
3 Administrators.
Remove FreshLearn branding.
Creator Success Manager.
24/7 live chat and call support.
FreshLearn also offers annual plans that provide additional discounts. For example, with the No Brainer annual plan, you can save $240 each year.
You can sign up for a FREE FreshLearn plan to test all the features before upgrading.
New Zenler
New Zenler is an all-in-one learning management system that has transformed the world of course creation and digital education.
It offers a range of tools like course management, marketing automation, and sales funnels, making it effortless for coaches to create, market, and sell their courses.
Guide: New Zenler Review
Here are some key features offered by New Zenler:
1. Online Courses. You can upload various content types such as videos, audio, PDFs, interactive lessons with PPTs, downloads, live classes, and more. The platform also allows you to create bundles and set drip schedules for course delivery. You can choose from pre-designed certificate templates or bring your own design.
2. Marketing Funnels. New Zenler addresses the challenge of sales and marketing by providing diverse marketing funnel options. Whether it's lead magnets, video series funnels, webinars, auto webinars, surveys, or virtual summit funnels, you can easily create them without needing design, technical, or marketing expertise. The pre-designed and highly converting funnel pages streamline your sales and marketing efforts.
3. Powerful Automation. New Zenler's powerful automation feature enables you to send and schedule emails directly from your website. You can set up personalized email sequences and actions based on user interactions within your site, course, or funnel. Utilize drip emails triggered by specific events to engage your audience effectively. The built-in email service, Zenler Mail, ensures reliable email delivery.
4. Quizzes and Surveys. Create various types of quizzes and surveys, including graded quizzes and timed quizzes, to assess learner progress and gather feedback.
5. Membership Site. Design your membership area using the page designer and set tiered pricing for different access levels.
6. Community. Integrate a dynamic social network-style community directly within your website. Users can connect, discuss courses or membership sites, follow topics, ask questions, participate in discussions, and engage with content. This feature fosters collaboration, boosts student engagement, and creates a sense of community among learners.
Pros of New Zenler
– User-friendly interface.
– Rich course creation tools.
– Robust marketing automation.
– Integrated website builder.
– Analytics and reporting.
– Interactive learning environment.
Cons of New Zenler
– Learning curve for some instructors.
– Limited third-party integrations.
– Pricing structure may not be suitable for everyone.
Pricing Plans
New Zenler offers two pricing tiers:
1. Pro – $647/year or $67/month. This plan includes features like no transaction fees, unlimited courses, unlimited students, 25,000 leads, 100,000/month emails, 100 marketing funnels, live classes, webinars, advanced page editing, priority support, and more.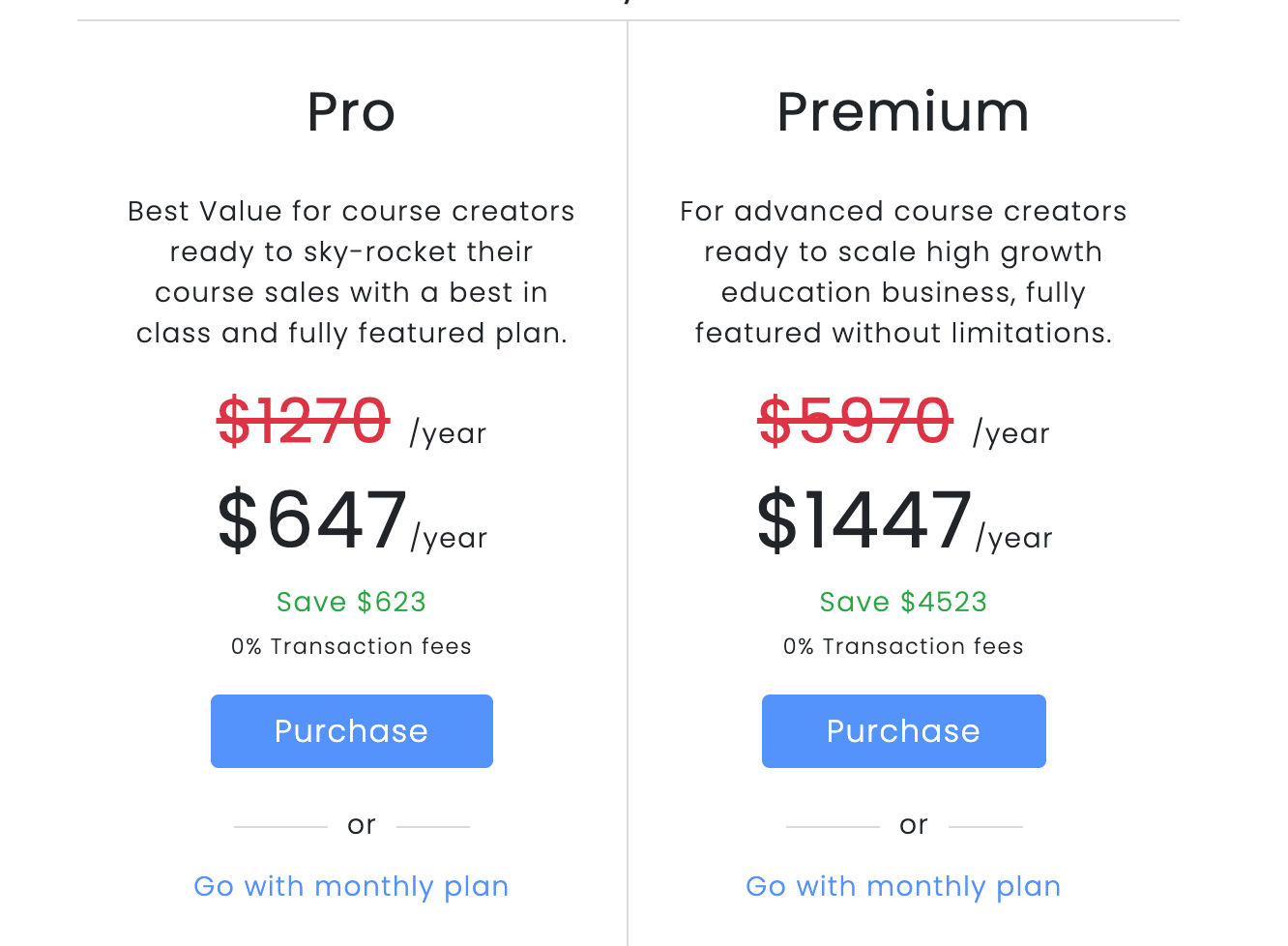 2. Premium – $1,447/year or $197/month. The premium plan offers unlimited leads, 500,000/month emails, unlimited marketing funnels, multiple sites, single sign-on/API, and increased limits for site admins, instructors/course admins, assistants, and support.
You can try New Zenler for free through a special invitation link. Regular sign-up is not available without the invitation.
New Zenler provides powerful features that simplify course creation, marketing, and engagement.
While there may be a learning curve and limitations in third-party integrations, the platform's user-friendly interface, marketing automation, and analytics capabilities make it a valuable tool for online course creators.
Graphy
Graphy (formerly known as Spayee) is a learning management system (LMS) that has been in the business for over three years. It offers a range of features and pricing plans.
Let's explore the features of Graphy.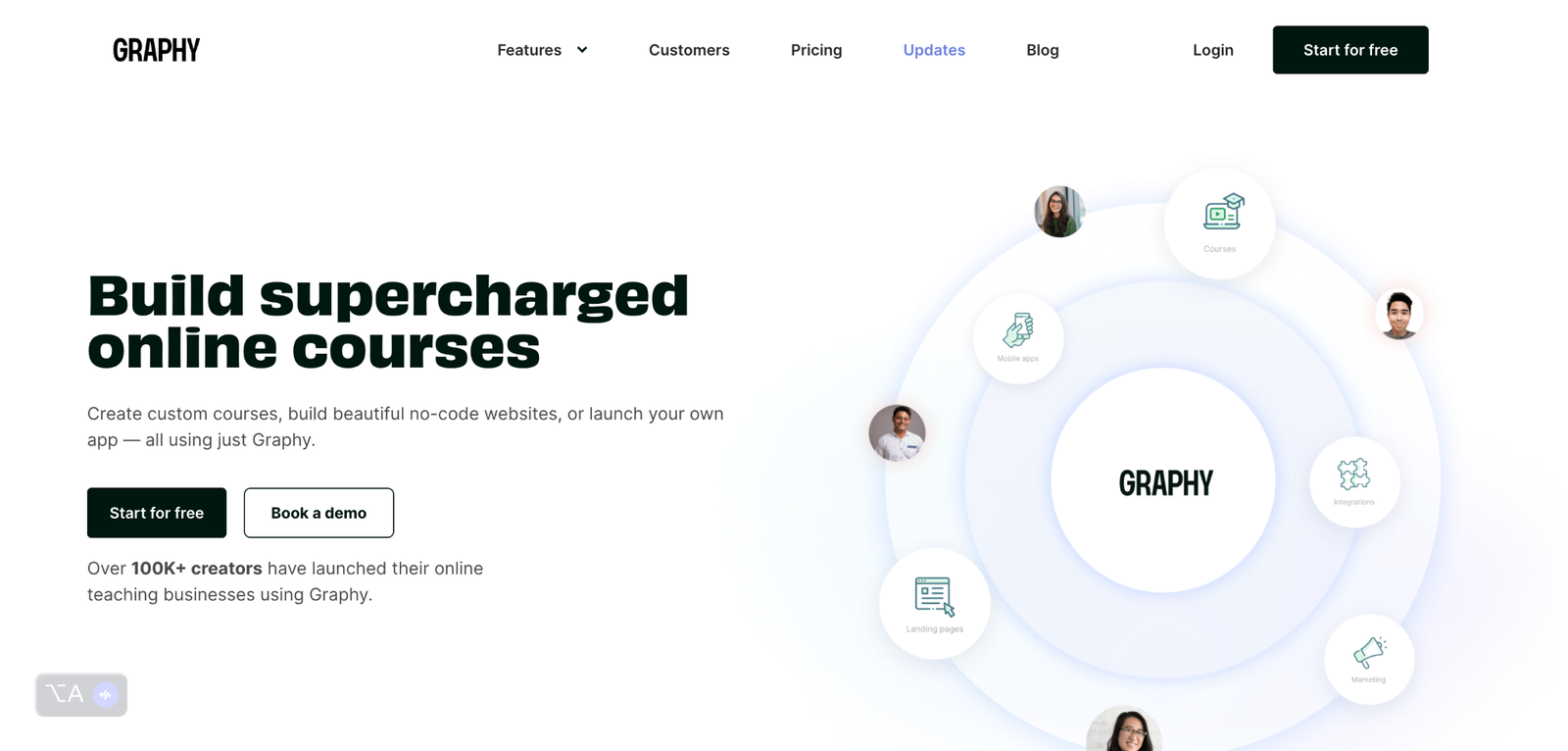 Graphy Features
1. Multimedia Courses. Create highly interactive online courses without technical difficulties, providing a seamless learning experience for your users.
2. Membership Model. Launch your own membership program where you can charge a fixed monthly fee and offer exclusive content to your users, providing a stable income stream.
3. Integrated Payment Gateways. Graphy integrates with major payment gateways such as RazorPay, Instamojo, Stripe, and PayPal, allowing you to collect payments conveniently.
4. Marketing and Sales Tools. Graphy provides in-app notifications, a built-in affiliate tracking system, SEO-friendly platform, coupons and promotions, event and source tagging, and push notifications through the Graphy app for enhanced marketing and sales efforts.
5. Community and Engagement. Engage with your students through the built-in forum, allowing them to discuss ideas and seek community help. Interact with the community to establish a deeper connection with your audience.
Pros of Graphy
– Smooth learning experience for users.
– Ability to build course sales pages and websites.
– In-built affiliate tracking system.
– Host live classes.
– Integrations with Zapier and Pabbly Connect.
– Integrations with major payment gateways.
– Affordable pricing options.
– Mobile app for learners.
– Marketing tools and community features.
– 100% secured platform.
– Time-based course access and certification.
– Host unlimited learners and courses.
– Live chat support.
Cons of Graphy
– Limit of 500 users in a live class.
– Mobile app not included in the revenue-sharing plan.
– No in-built email marketing software.
– User interface could be improved.
– Inability to manually enroll users in the revenue-sharing plan.
Pricing Plans
Graphy offers two pricing plans:
1. Revenue Sharing Plan – In this plan, Graphy charges a 10% fee on each transaction for your courses.
The plan includes features such as;
hosting and teaching unlimited learners,
certificates,
Integrates with major payment gateways
in-built affiliate marketing tracking,
hosting up to 500 participants in live sessions,
global selling with country-specific pricing,
discounts and promotions,
email support,
unlimited courses and live sessions,
real-time reporting,
conversion tracking,
and SSL certificate security.
2. Paid Plan – This plan requires a yearly fee of ₹19,999 plus taxes.
It includes features like;
custom domain,
Android and iOS app,
collect payments with Razorpay,
host up to three live sessions simultaneously,
unlimited admins, instructors, and team members,
integrations with Zoom, Zoho CRM, Single Sign-On, email services, Zapier, Mailchimp, and more.
Before committing to a paid plan, you have the option to try the Graphy revenue-sharing plan to see if it meets your needs.
To get started with Graphy, you can visit their website and explore their features.
Podia
Podia is an all-in-one platform for creators and online entrepreneurs to sell digital products, courses, and memberships.
Podia provides a user-friendly interface that makes creating and selling online courses, coaching services, and digital downloads easy.
With Podia, you can effortlessly upload and organize digital content, set pricing and access levels, and provide an amazing learning experience.
Podia is one of the best learning management systems.
Features
Let's explore some of the key features offered by Podia:
1. Course Creation. Podia offers a robust course creation feature that allows users to create and structure their online courses easily. You can upload various content formats, such as videos, audio files, PDFs, quizzes, and more. The platform provides a user-friendly editor that simplifies organizing and designing your course curriculum.
2. Membership Sites. With Podia, you can create and manage membership sites that provide exclusive content and benefits to your subscribers. You have full control over the membership levels, pricing, and access to various resources. Podia supports drip content and locked content features, allowing you to deliver content gradually or restrict access to specific modules or resources.
3. Digital Downloads. If you have digital products like ebooks, templates, guides, or any other downloadable files, Podia makes selling and delivering them to your audience super easy. You can upload your files directly to the platform, set the price, and allow customers to purchase and download them securely.
4. Email Marketing. Podia has an integrated email marketing tool that enables you to build and nurture your email list. You can create & send personalized email campaigns and automate your email sequences.
6. Affiliate Marketing. Podia offers an affiliate marketing feature that allows you to set up an affiliate program for your products. You can invite affiliates to promote your courses or digital products and reward them with a commission for each sale they generate. The platform provides tools to track affiliate performance and manage payouts seamlessly.
Guide: Podia Reveiw
Guide: Podia vs. Teachable
7. Integrated Payments. Podia integrates with popular payment gateways like Stripe and PayPal, enabling you to accept payments from customers worldwide. It supports one-time payments, subscriptions, payment plans, and even pre-orders. The platform ensures secure transactions and provides analytics to track revenue and sales metrics.
8. Analytics and Reporting. Podia provides detailed analytics and reporting features to help you track the performance of your courses, memberships, and digital products. You can monitor sales, revenue, customer engagement, and conversion rates. These insights enable you to make data-driven decisions and optimize your offerings for better results.
Podia is a great learning management system for creators and entrepreneurs to monetize their expertise.
Whether you're launching online courses, selling digital products, or running a membership site, Podia provides the necessary tools and support to build a successful online business.
Pros and Cons
Pros:
User-friendly interface. You don't have to go through boring tutorials to use the platform. Everything is simple and easy to use. You can set up your whole course in minutes.
Pricing plans. You get top features at an affordable price.
Free plan. You get a free plan with an 8% transaction per sale. This plan is great for starters.
Live chat support.
Upload files up to 5 GB
Host unlimited courses and students
Podia uses one of the best video hosting providers, Wistia.
Give community access to your students
Cons:
No 24×7 LIVE chat support
Basic email marketing functions
Limited customization option when designing your sales pages, and website on Podia
Some features, such as Zapier action, is limited to the Shaker plan
Let's talk about Podia's pricing plans!
Pricing Plans
Podia has three pricing plans:
1. Free – No charges
This plan offers:
8% fees
Full website
Email marketing
Community
1 download
1 coaching product
Draft courses
Draft webinars
In this plan, you get:
No transaction fees
Full website
Email marketing
Community
Unlimited downloads
Unlimited coaching
Unlimited courses
Draft webinars
Chat support
3. Shaker – $89/month
In this plan, you get:
Affiliates
Third-party code
Plus, all the features of Mover plan
Free migration when you sign up for an annual plan.
If you pay yearly, you can save 17% on monthly plans.
Before you commit to a paid plan, I recommend you to sign up for Podia's Free plan then make a decision.
I have already shared all the key information about Podia.
Click Here to Sign Up For Podia's Free Plan
Uteach.io
If you're looking for a reliable learning management system, Uteach.io is worth considering.
Uteach offers course hosting, LIVE classes, marketing tools, website builder, quizzes and certificates, CRM & Email autoresponder.
Get everything you need to sell your expertise online.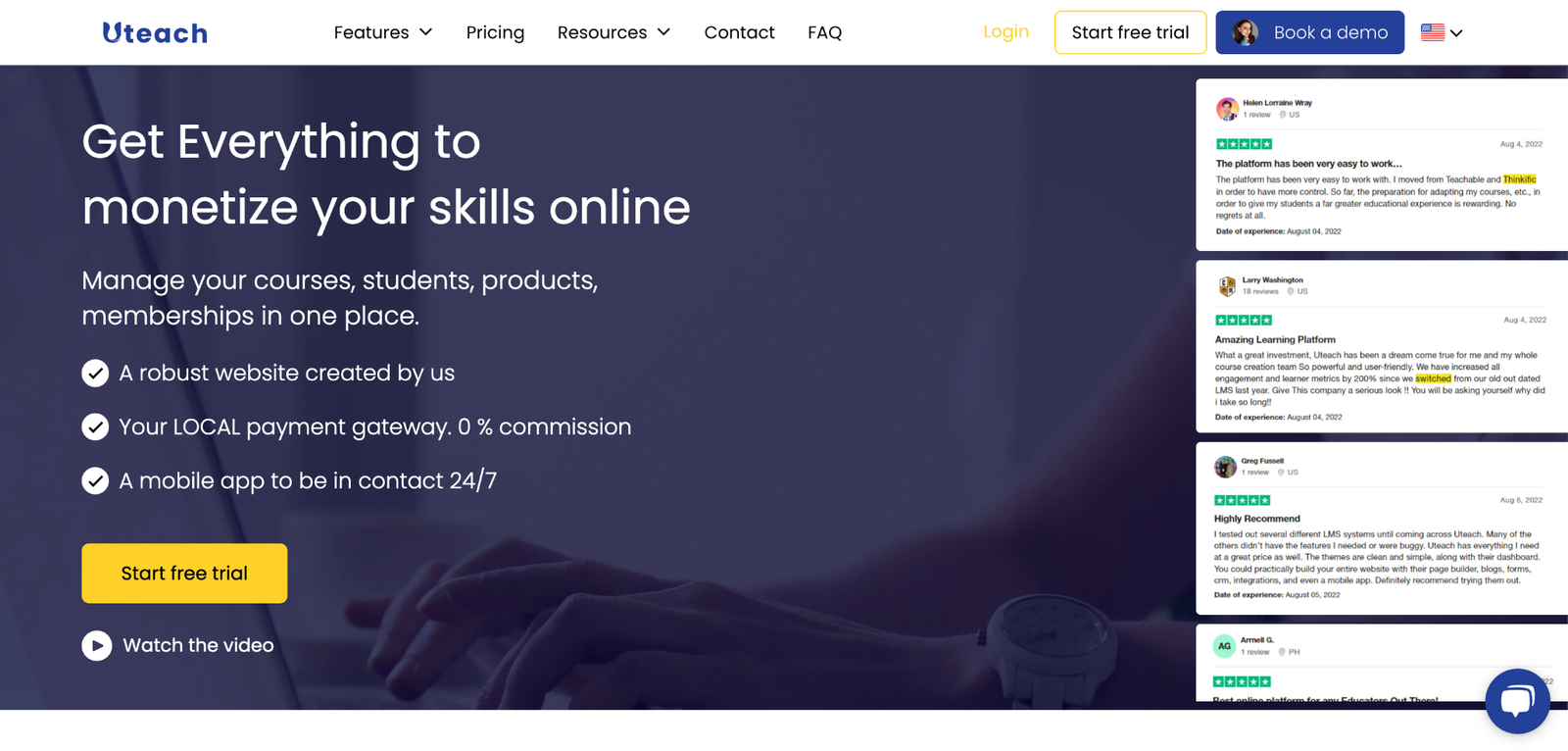 Uteach.io Features
Here are some of the key features you can expect from Uteach.io:
Create Courses. You can upload or embed unlimited videos. Easily add downloadables, quizzes & certificates. You can even limit the course access for 6 months, 1 year, or whatever duration you set.
Marketing Tools. You can set automated email reminders. Plus, add your tracking scripts like Google Analytics code, Facebook Pixel etc.
LIVE classes. You can create and host LIVE classes by integrating Zoom, InSpace, and Jitsy with Uteach.io.
Quizzes and Certificates. You can give automatic access to certificates when a user completes your course. Plus, you can create quizzes for different use cases. You can either do manual or automated answer checking.
Website Builder. You can choose from ready-made templates or create your own from scratch. Create a simple, inclusive, navigable, and responsive website with Uteach.io.
And there are other features like affiliates, mobile apps, blogs, automated emails and more.
Let's talk about Uteach.io Pros and Cons.
Uteach.io Pros and Cons
Pros
Host unlimited courses, students and files
Payment gateway integrations
Mobile app
Affiliate tracking
Live sessions with Zoom
Automated quizzes
Multilingual user interface (Customize your site in your native language)
Built-in CRM
Email/LIVE chat support
White labeling option
Coupons
Drip feed course lessons
Ready-made website templates
Easy to use and simple user interface
Cons
Pricing is a bit expensive
There's no in-built email autoresponder
In the Starter plan, a lot of key features are not given
Let's look at the pricing plans of Uteach.io.
Uteach.io Pricing Plans
Uteach.io offers 3 pricing tiers:
1. Starter – $39/month
This plan includes:
1 admin/author
Unlimited storage
Unlimited courses
Unlimited students
No transaction fees
Site builder (Unlimited pages)
Ready-made templates
Payment gateways
Starter integrations
Free SSL certificate
Blog
Automated Emails
Multilingual UIinfo
Coupons
Drip Feed courses
Custom domain
Forms
Products
Coaching (add-on)
2. Expert – $99/month
In the Expert plan, you get all the features of the Starter plan + additional functions:
5 admins/authors
Automated quizzes
Bundle courses
Membership
Live sessions
Completion certificates
Affiliate
Manual student enrollment
White labeling
Direct integrations
Mobile App
Built-in CRM
1 Welcome Call with a Uteach Expert
Email/Live chat support
3. Business – $249/month
In this plan, you get,
20 admins/authors
Priority support
Personal manager
And everything in the Expert plan.
All the plans come with a 14-day FREE trial.
With an annual plan, you can save;
$120 on the Starter plan
$240 on the Expert plan
$600 on the Business plan
Start a 14-Day Free Trial of Uteach.io
Learnyst
Now, let's discuss Learnyst, one of India's top 10 learning management systems.
Learnyst offers a variety of features, like course creation, student management, and marketing tools.
Features
Learnyst has a user-friendly interface with various customization features that allow educators to design their courses according to their needs.
Unlimited landing pages. Learnyst allows you to create and host unlimited landing pages for your course area.
Quizzes and Questions Pool. You can increase course interaction and completion rate by adding quizzes in your course.
Communities. Your customers can access discussion forums and courses from one platform. You can build deeper connections by regularly interacting in communities.
Refer and Earn. Learnyst offers an in-built affiliate tracking option. So your customers/students can promote your courses and earn commissions.
Learnyst offers a suite of features, making it a great choice for educators looking to create and deliver engaging online courses.
Pros and Cons
Pros
Encrypted courses
LIVE classes with Zoom
Sell subscription plans
Integration with Indian and international payment gateways
Discussion forums & communities
Newsfeed – content blog
Use your custom domain
Cons
Pricing might be expensive for beginners
Sub admins feature is included in the Professional and Premium plan
They offer important features from Professional plan
Pricing Plans
Learnyst comes with 4 pricing options. Let's see what you get in each plan and their pricing.
1. Free plan – ₹0/month
In this plan, you get basic functions:
Unlimited Landing Pages
Payment Gateway Integration
Youtube & Vimeo Integration
Quizzes & Tests 1 Question Pool
Secured Hosting (SSL Support)
Mobile Responsive UI
Bulk Learner Import
Export User Data
2. Essential – ₹3,499/month
You get the following things:
Custom Domain
Unlimited Landing Pages
Payment Gateway Integration
Encrypted Courses
Live Lessons (With Zoom)
Subscription Plans
Quiz & Question Pool Communities
Newsfeed – Content Blog
Discussion Forums & Bookmarks
Refer & Earn
Email Support
3. Professional – ₹8,999/month
In this plan, you'll get:
Content Dripping
Advanced Quiz Features
Categories & Tags
Custom Fields
Custom Language Editor
Coupon Codes
Zapier & Pabbly Integration
Advanced Reports
5 Sub Admins
Chat & Email Support
4. Premium – ₹14,999/month
This plan offers:
Screen Recording Restriction
Essay Evaluation
Remove Powered by Learnyst
Product Segmentation
25 Sub Admins Custom Admin Roles
Priority Support & Phone Support
Affiliates
You can get mobile apps by paying an additional ₹6000/month.
You'll get branded app
Marketing tools like push notifications
Fully secured
100% scaleable
Data Ownership
There are some add-ons, such as:
1. Anti-piracy check
2. Certificates
3. Learner verifications
4. Watchtime restrictions
5. Zoom
6. Search
For each add-on, you'll have to pay a monthly or fixed fee.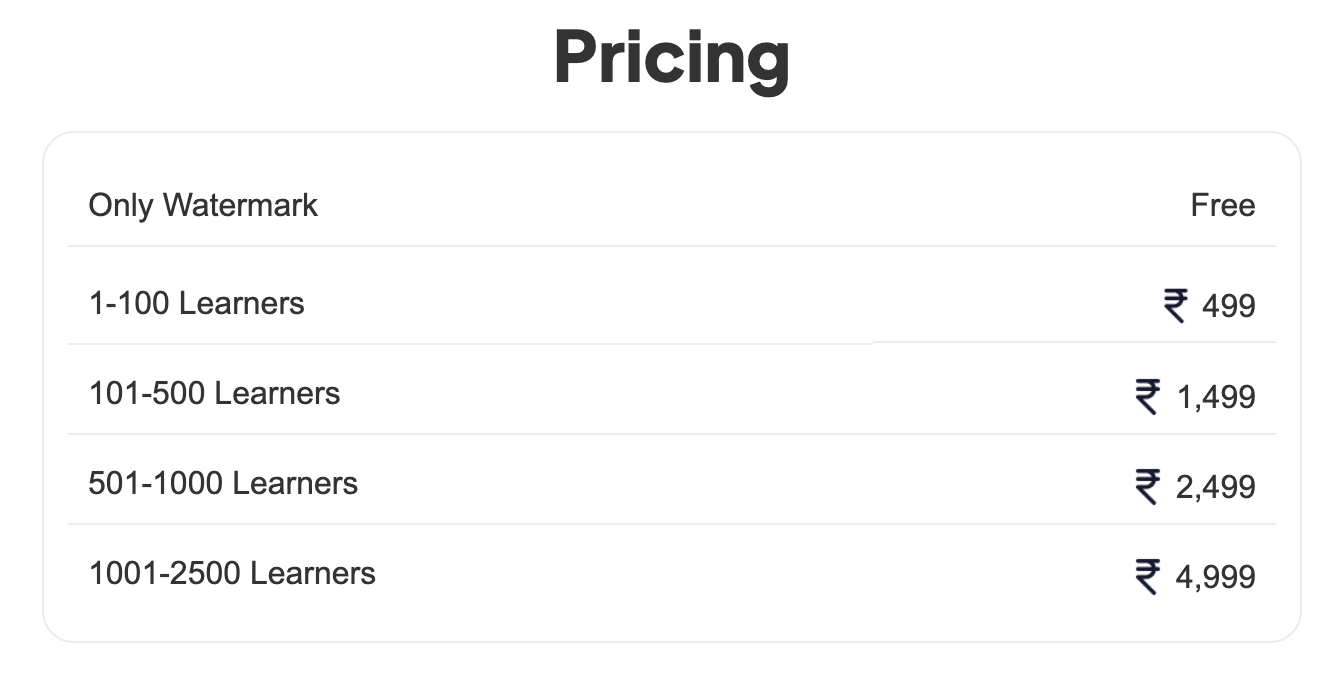 For example, Anti-piracy check will cost anywhere between ₹499 – 4,999, depending on your usage.
TalentLMS
TalentLMS is a full-fledged course hosting platform. TalentLMS was founded in 2012, according to CrunchBase. They have been in the business for more than a decade.
Founder name: Thanos Papangelis
Headquarters Regions: San Francisco Bay Area, West Coast, Western US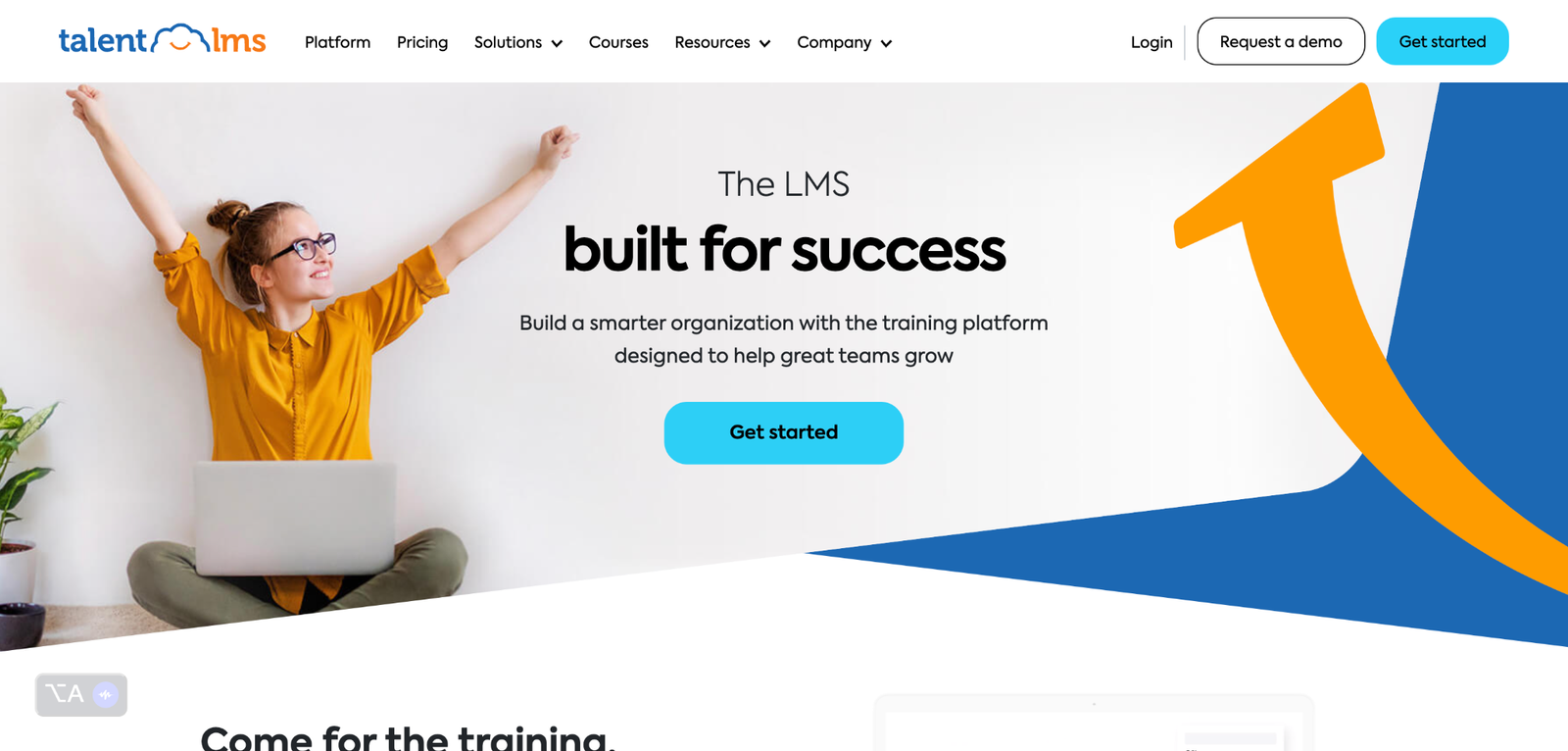 Features
TalentLMS doesn't offer loads of functions, unlike other LMS. You can do a few things with this tool.
Create courses easily.
Host LIVE classes.
Add tests and quizzes.
TalentLMS is a highly customizable platform. You can customize using HTML, CSS, and Javascript.
In-depth reports. Track training from every angle with real-time, scheduled, and custom reports, dynamic dashboards, training infographics, and exportable Excel sheets.
Automate tasks. Put pesky admin tasks on autopilot. Send automatic emails, auto-assign and remove courses, set expiration dates, arrange course sequencing, deactivate inactive users, and more.
Sub-accounts. Create unlimited sub-accounts to match your organization's structure and manage them all from one place. Customize each sub-account to tailor for different teams, departments, and audiences.
Pros and Cons
Pros:
Robust platform
Simple and easy-to-use interface
Gamification options
Certifications
Create assignments
In-built forum, calendar, and private message options
Detailed reporting
Integration with major tools like Zapier, Zoom, Shopify, and more.
Cons:
Expensive pricing plans
Can't host unlimited students
Features are limited to higher plans
For the white-labeled mobile app, you'll have to pay additional fees
Pricing Plans
TalentLMS has 5 pricing plans. Let's look at what you'll get in each plan:
1. Starter – $89/month
Host up to 40 users.
Unlimited courses.
Custom homepage.
2. Basic – $189/month
You can host up to 100 active users
1 sub-account
Single sign-on support
Custom domain + SSL
Plus, everything in the starter plan
3. Plus – $369/month
Host up to 500 users
3 sub-accounts
Custom reports
Plus, everything in the Basic plan
4. Premium – $569/month
Host up to 1000 users
Priority email support
Account manager
Automation
LIVE chat support
Plus, everything in the Plus plan
5. Enterprise – contact them for pricing
Flexible user limit
Unlimited sub-accounts
Plus, all the features of the Premium plan
TalentLMS offers a FREE plan. You can have up to 5 users and 10 courses.
TalentLMS all the plans include:
Unlimited storage
Webinar integrations
Custom user permissions
Salesforce integration
eCommerce
Gamification
White labeling
SCORM 1.2/Tin Can/cmi5
Native mobile app
Frequently Asked Questions
What is the most widely used LMS?
Teachable, Moodle, Thinkific, Kajabi, and ClassPlus are the most widely used LMS platforms.
What is the cost of an LMS in India?
Basic LMS plans start at ₹2,500 – ₹20,000 per month. Pricing may vary depending on the features you require.
Which LMS system is the best to use, and why?
Systeme.io is the best LMS because it offers all the necessary features to run a coaching business, including a landing page builder, funnels, email campaigns, opt-in pages, automated webinars, and more. It eliminates the need for separate autoresponders, community apps, and landing page builders.
How do I choose an LMS platform?
1. Identify your needs and goals.
2. Research and compare available LMS options.
3. Consider the cost and implementation process.
Is Zoom an LMS?
No, Zoom is not an LMS. It is a video conferencing and live streaming software.
What is the most effective feature of an LMS?
When selecting an LMS, the video streaming feature is crucial. Lagging videos can significantly impact the learning experience of your users. Choose an LMS that offers the best user experience and platform stability to ensure smooth video playback.
Conclusion
Congratulations! You have just explored the top 9 LMS platforms in India.
Each platform has its own unique features, pros, and cons, as well as pricing plans tailored to different needs and budgets.
Systeme.io is renowned for its all-in-one platform that encompasses email marketing, funnel building, and course creation.
FlexiFunnels specializes in sales funnels and lead generation.
TalentLMS is ideal for corporate training and e-learning, while Learnyst is perfect for educators looking to sell their courses online.
Graphy offers revenue-sharing plans, and New Zenler provides advanced features for course creators.
FreshLearn is a simple and user-friendly platform suitable for beginners, while Uteach.io caters specifically to schools and universities.
Lastly, Podia is an affordable platform that offers various features for course creation, membership sites, and digital downloads.
Choosing the right LMS platform can be overwhelming, but with this list, you can make an informed decision.
Consider your budget, required features, and the type of content you want to host.
With the right LMS platform, you can create and sell your content online while building an additional income stream.
My top picks for exceptional Learning Management Systems (LMS) are as follows:
1) Systeme.io – This LMS stands out with its straightforward and budget-friendly pricing structure, while still providing a rich set of features. It also seamlessly integrates with RazorPay for convenient payment processing.
Get Your Free Systeme.io Account
2) FreshLearn.com – If you're looking for affordability without compromising on essential functionalities for selling online courses and coaching services, FreshLearn.com is an ideal choice. Their pricing plans are competitive, and they provide all the necessary tools you need.
3) Podia – When it comes to delivering the best learning experience, Podia takes the lead. With its robust platform, it caters particularly well to expert course creators who value a top-notch user experience.
4) New Zenler – Another standout LMS, New Zenler offers many features and tools to support your e-learning journey. With tailored Razorpay Integration for Indian users, this platform goes the extra mile. Additionally, New Zenler provides a mobile app for learners, enabling targeted push notifications and more.
Get Started for FREE with New Zenler
Each of these LMS options offers unique advantages, ensuring a tailored solution for your needs and preferences.