Are you tired of getting junk emails in your email list? And junk emails increase your bounce rate and hurt your email deliverability rate.
YES! Then it's time to start using email verification tools.
Today, I am going to review Pabbly email verification. You'll get to know the price, features, and alternatives.
Let's get started!
What is Pabbly Email Verification?
Pabbly Email Verification is software that enables you to verify the validity and accuracy of email addresses automatically.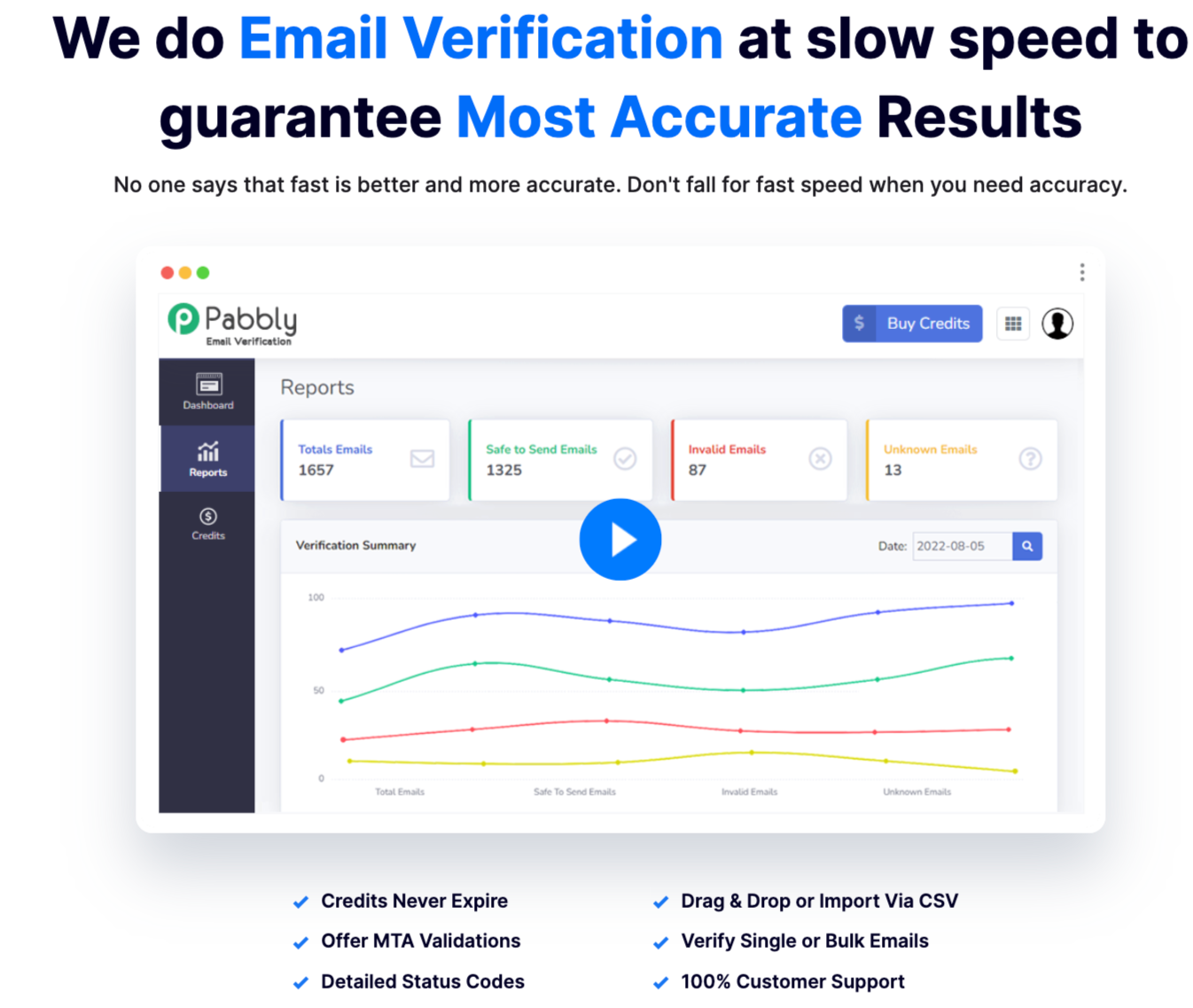 Pabbly email verification can be used to clean up and maintain email lists, reducing the number of bounced or undeliverable emails, and it will increase email deliverability and sender score.
NOTE: Pabbly is a suite of products such as
Pabbly Connect (Zapier alternative)
Pabbly Subscription Billing (Thrivecart alternative)
Pabbly Email Verification is one of the products from Pabbly suite.
Pabbly Email Verification Pros
Affordable pricing
Get 100 credits for FREE
Trusted software
Credits never expire
You can verify emails manually
GDPR Compliant
Customs plans are also available
Easy-to-use, simple user interface
Simple reporting dashboard
Pabbly Email Verification Cons
Can't verify email addresses in real-time
You can upload only CSV files to verify your emails in bulk
The verification process can take up to 24-48 hours, depending on the list size
Despite some disadvantages, still, Pabbly Email Verification is good.
How Does Pabbly Email Verification Work?
Almost every email verification tool works on the same framework.
Email verification tools check for typos and syntax errors, check the email address against a list of known domains, and verify that the email address is associated with a valid mailbox.
Some Email Verification Service providers also check for disposable email addresses, role-based email addresses, and catch-all email servers, which are often used to reduce the number of invalid or fake email addresses in a list.
Pabbly Email Verification Pricing
Pabbly Email Verification uses the "Pay as you go" model. Which means you pay for what you use.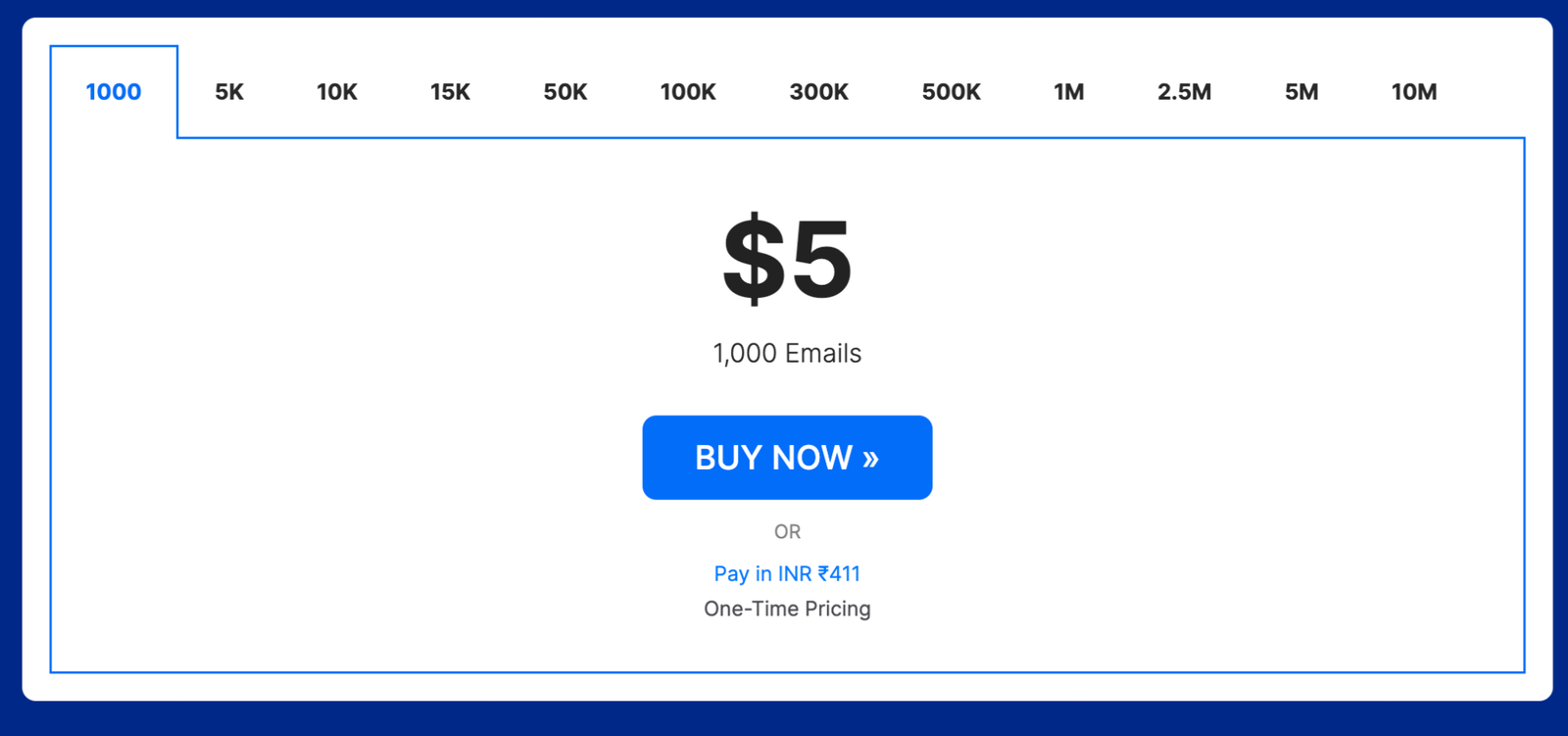 The lowest plan costs $5 for 1000 emails.
Here are all the pricing plans:
$15 for 5,000 emails
$25 for 10,000 emails
$37 for 15,000 emails
$84 for 50,000 emails
$165 for 100k emails
$389 for 300k emails
$479 for 500k emails
$599 for 1 Million emails
$1199 for 2.5 Million emails
$1799 for 5 million emails
$2999 for 10 million emails
Pabbly Email Verification has a 98% success rate, and they have verified 1.9 Billion emails.
You can't doubt the quality of service and the pricing is affordable too.
Explore Pabbly Email Verification
Pabbly Email Verification Support
You get the email and LIVE chat support. To check the support quality, I asked them how Pabbly Email Verification is better than NeverBounce.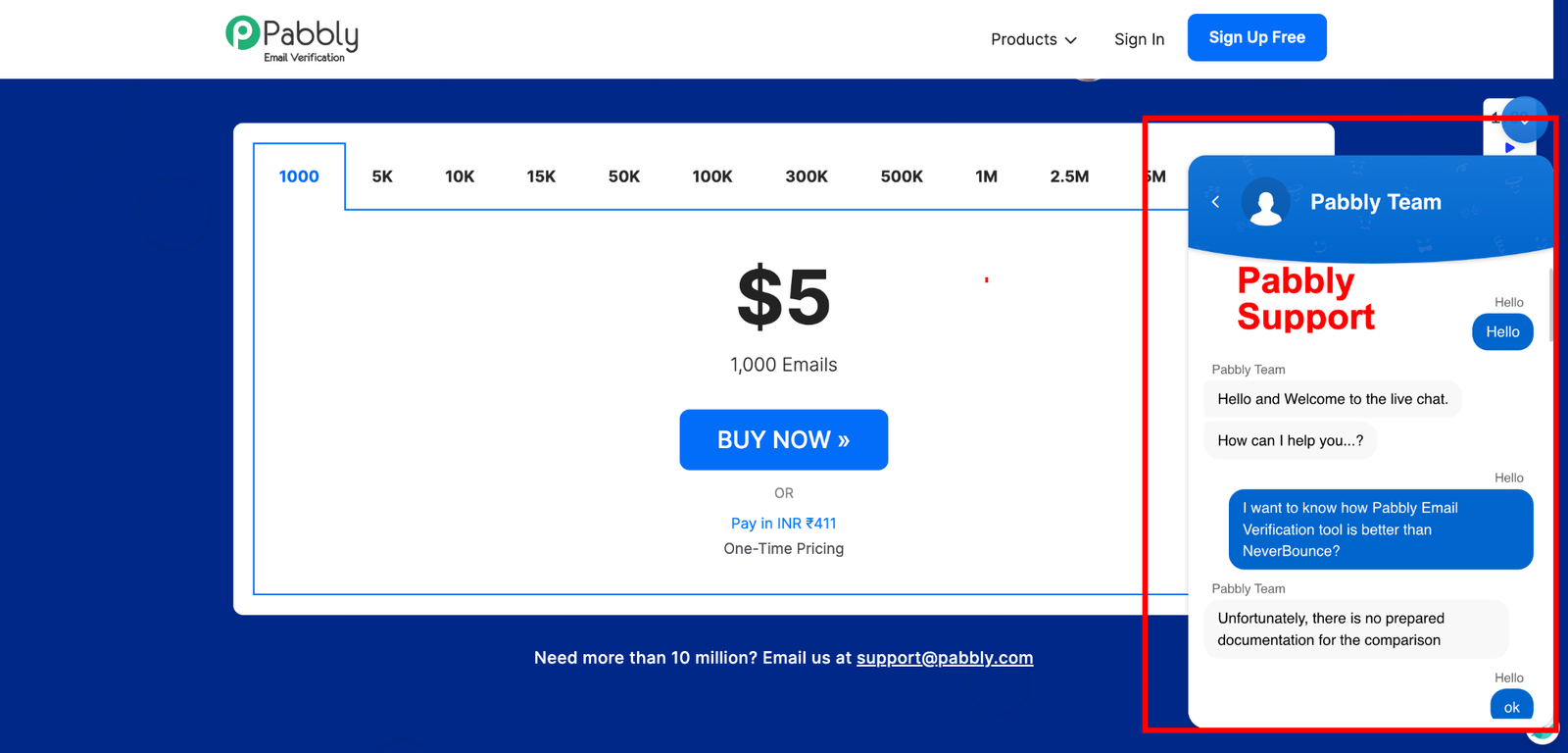 Within 60 seconds, I received a response from the Pabbly team. And they gave me 100 credits for FREE.
*1 credit can verify 1 email address.
Support-wise, you won't face any issues with Pabbly team.
Benefits of Email Verification Tool
Improves email deliverability – By verifying that email addresses are valid and accurate, you'll have a very lower email bounce rate, and it will improve the deliverability of your email campaigns. This means that more of your emails will reach the inbox of your recipients rather than being marked as spam or rejected by the recipient's email server.
Reducing bounce rates – An email verification tool can help to identify and remove invalid or inactive email addresses from your list, reducing the number of bounced emails and improving your sender's reputation.
Save Time & Money – Email verification tools can help you save time and money by automating the process of cleaning and maintaining email lists rather than having to check each address individually manually.
Keeping your email list clean – Email verification tools can help to keep your email list clean by removing invalid, inactive, or duplicate email addresses, which reduces the chances of your email campaigns being marked as spam or rejected.
Verifying role-based or non-personal email addresses – Email verification tools can help identify role-based email addresses such as info@, support@, or admin@ and non-personal email addresses such as gmail.com, yahoo.com, etc.
Pabbly Email Verification Alternatives
ZeroBounce
ZeroBounce is an email validation service and alternative to Pabbly Email Verification. ZeroBounce can improve your email list quality by identifying invalid, inactive, or fake email addresses.
ZeroBounce uses a combination of advanced algorithms and real-time email validation to verify the authenticity of email addresses and can also detect and flag potential spam traps, temporary or disposable email addresses, and more.
NeverBounce
NeverBounce is another email validation service that helps businesses and organizations improve the quality of their email lists.
The interface of NeverBounce is simpler and more user-friendly, and the pricing plans are affordable too.
NeverBounce also offers real-time email verification through API, or you can use no-code integration platforms like Pabbly Connect or Zapier.
Xverify
Xverify is an email verification service that can help you identify fake and junk emails. Xverify plan starts at $10 for 1,000 – 5,000 emails.
Xverifiy offers pricing in three currencies, USD, EUR, and GBP. If you verify 10,000 emails, it might take 30 minutes.
Emailable
Emailable has the best reporting dashboard, and they use Pay as you go plan. You have to buy credits, and then you can use Emailable. Emailable pricing starts at $35 for 5,000 credits.
Emailable integrates with major Autorepsonders like ActiveCampaign, Aweber, ConstantContact, and automation tools like Zapier. So you can automate the email validation process!
1 credit can verify 1 email address.
Reoon Email Verification
Reoon is a new email validation tool. They are running a lifetime deal on Appsumo. The deal starts at a $79 one-time purchase. Reoon Email Verifier LTD is available on Appsumo. Check Reoon Lifetime Deal on Appsumo.
Reoon Email Verifier has an API as well. It can verify emails in real-time.
Final Thoughts on Pabbly Email Verification
There are many email verification providers in the market. But most of them aren't affordable. Pabbly Email Verification is affordable and reliable software.
If you want to clean your list every 3-6 months, then Pabbly Email Verification is the best and most affordable solution.
However, if you want to verify emails in real-time through API, then you can use NeverBounce, Reoon Email Verification, or ZeroBounce. They have an API, through which you can connect your data sources with them and verify the emails.