This post is for those who want to automate their online course delivery and wants to run their business on complete automation. 
Alert
Pabbly Connect Lifetime deal is LIVE. Ensure you grab the offer right now! You'll thank me later. 🙂 Click the button below to grab the offer.
In this post, my motive is to introduce an Automation software called Pabbly Connect that you can use to automate your online business without a single line of coding or technical knowledge.
I am going to review Pabbly connect automation software. You will get to know each & everything about Pabbly connect software. I'll also show you how to automate your boring tasks by using Pabbly connect.
Pabbly connect quick overview
Pabbly connect allows you to automate the workflows and send data from one application to another application.
Let me give you an example.
You have an online course, when someone purchases that course then they should get an access email. Right?
Now, there are different scenarios. Let's have a look.
If you are using Teachable as your Learning Management System (LMS).
Let's suppose you collect the payment via PayPal (international users), RazorPay & Instamojo (for Indian users only)
In this case, Teachable does not have any direct integration with the above payment gateways.
The question is how would you send data (customer name and email) from your payment gateway to inside a Teachable account? So that customer can get instant access details of their course.
I mean you can easily do this manually.
But, when thousands of students enroll in the course, you cannot give manual access to each and every customer manually, right? It should be on automation.
But, the question is how you will send data automatically? Especially when you do not know anything about coding.
That is where Pabbly connect comes in the picture.
Having said that, Pabbly connects allow you to send data from one application to another without coding.
You get the idea. Correct?
Pabbly connect is like Zapier. Both software Pabbly connect and Zapier does the same work.
However, Pabbly connect is a cost-effective software to automate your mundane tasks and allows you to run your business on automation.
Zapier on the other hand is a bit expensive. My choice will be Pabbly Connect because I am using both software and I found Pabbly is a winner in everything.
You know the biggest issue of any online business is cost & quality work. That's what Pabby does. It's a cost-effective software and provides you the quality work.
In the next section, you will get to know about Pabbly Connect useful features. If you know the features, you can use the tool in the best possible ways.
Pabbly connect Best Features
1. You can create unlimited Workflows
2. Formatters
3. Instant Triggers
4. Filters
5. Multi-step Calls
6. Path Routers
7. 5 Minute Interval
8. Unlimited Premium Apps
9. Non-techie friendly user interface (UX)
10. Pabbly Connect pricing is way cheaper than Zapier.
How Pabbly connect works?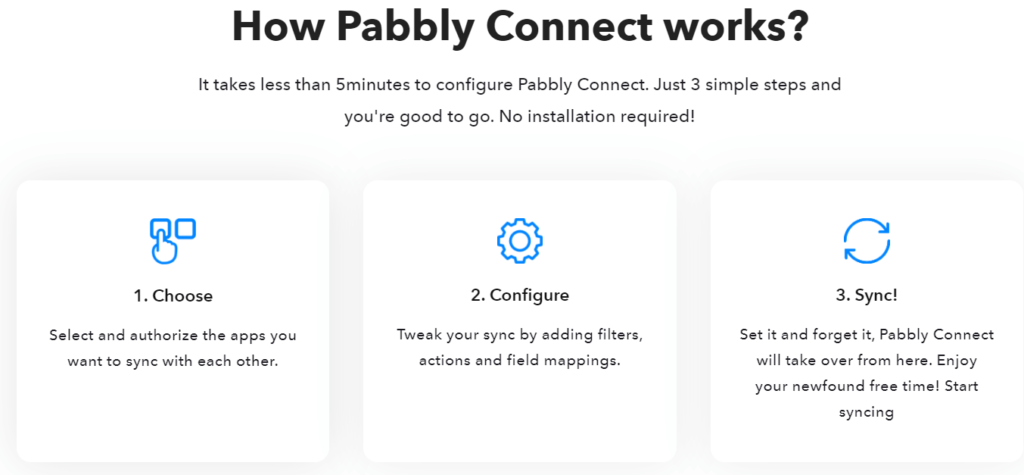 Step 1: Choose your favourite app and Authorize the account with your Pabbly connect.
Step 2: Select the Data that you want to Send inside another application.
Step 3: Select the app where you want to post the data.
Note: In case, if Pabbly connect doesn't have direct integration with your favourite apps, then you can use webhooks.
I'll not go in detail how to use webhooks to send data from one application to another app but it's is really easy.
Step 4: Save your workflow and toggle on.
That's it. You're done. This workflow will do all the mundane tasks for you & your business without human interference. Isn't it amazing?
You are sleeping and Pabbly Connect is working for you day in & day out.
Okay, let's talk about Pabbly connect integrations.
Pabbly connect integrations
At this time, Pabbly Connect integrates with more than 380 applications.
Cool, isn't it?
Pabbly connect supports all the major applications like Google Sheets, Trello, RazorPay, Instamojo, ActiveCampaign, and much more.
I cannot name all the applications here. However, you can give it a try to Pabbly connect for FREE. I am 100% sure you won't regret it. Pabbly connect is the best automation tool out there.
Click here to see the list of applications that integrate with Pabbly connect.
Please note this, if your favourite app is not available in that list. Do not worry still you can Automate your tasks by using webhooks.
Pabbly connect alternatives
At this time there are many automation tools available but none of them is as useful like Pabbly connect.
Zapier is the best option. However, it costs you too much. Not everyone can afford that much money.
So, Pabbly connect is the great alternative of Zapier.
Actually, I have tried many options before using Pabbly Connect but none of them was useful for me. I ended up buying Pabbly connect.
Pabbly connect is a cost-effective and secure platform.
Pabbly connect Review – My experience
Pabbly Connect is a great software for small businesses like me or those who are just starting their online business.
Have a look at what other people say about Pabbly connect.
So far, I have told you many things about Pabbly Connect.
I personally used Pabbly Connect and I have to say, it is incredible software at an affordable price.
I do not have enough words to say about Pabbly Connect & how useful Pabbly Connect is.
Pabbly Connect saved me hundreds of hours of doing the manual tasks without costing much.
I am super happy with the service that Pabbly Connect is giving at such an affordable price.
Pabbly connect pricing
Warning: You will be shocked if I tell you the pricing.
As you see the pricing of Zapier, you can see which one is best, of course, Pabbly Connect is a winner.
Why spend more money when you can get things done in a cost-effective way by using Pabbly connect.
Pabbly connect FAQs
Frequently asked questions regarding Pabbly connect.
Q: From where I can purchase Pabbly connect?
Answer: Click here to Purchase Pabbly connect.
Q: Which Plan I should choose?
Answer: You can choose plans according to your task usages.
If your monthly task usage is 100000 tasks then you can purchase their Yearly plan. On the other hand, If your monthly task usage is less than 50000 then I'd recommend you to go with Pabbly connect Rookie plan.
Click here to see the pricing.
Q: Can Pabbly connect integrates with my Favorite app?
Answer: Yes, you just need to have a webhook of that application. In the case of Pabbly connect doesn't have native integration with your favourite app.
Q: Is Pabbly connect easy to use? I am not a technical guy.
Answer: Yes, Pabbly connect is built for non-technical users like me & you. No need to do any kind of coding.
However, if you want to Automate your tasks and want to save time you can take my service. I'll set-up your Automation workflow for FREE but for that, you need to purchase Pabbly connect by clicking here. Contact me at support@magicblogging.com for more details.
Q: Is there any cons of Pabbly connect?
Answer: So far there are no cons of Pabbly connect. It has only one issue: Pabbly connect doesn't have an "Autosave" option. Each time when you make changes in the workflow you need to save it.
However, as per me, it's not a big issue because once you set up an automated workflow you don't need to make changes again & again.
Q: Can You Cancel Pabbly connect subscription?
Answer: Yes, you can cancel Pabbly connect subscription anytime.
Q: Can You upgrade Pabbly subscription?
Answer: Yes, you can anytime upgrade or downgrade your Pabbly connect plan according to your business requirements.
Q: Zapier Vs Pabbly Which one is better?
Answer: Both tools are amazing. If you're looking for a reliable & cost-effective way to Automate your mundane tasks. I highly recommend you to go with Pabbly connect.
I am using both software. It does all the work that Zapier does.
Q: Does Pabbly Provide the Money Back Guarantee?
Answer: Yes, Pabbly connect has the 7 days money back.
In case, you don't like Pabbly connect. You can ask for a refund within 7 days of your purchase.
Attention
Pabbly lifetime deal is LIVE right now. Ensure you grab the LTD.
Click here to get Pabbly Lifetime deal.
Cheers,
Rajneesh
Want to make Passive Income?