Are you looking for easy-to-use, drag and drop page builders for building WordPress websites?
Are you confused about choosing Elementor Pro for your business?
Do you want to know if Elementor is the right page builder plugin for you?
If you answered yes to any of the questions above, you are at the right place.
In this Elementor review guide, we will talk about the different aspects you should consider before deciding to buy the Elementor page builder plugin for your business.
In order to decide if a page builder is good for you or not, you need to go through a detailed discussion about its pricing, the features it offers, its pros and cons, etc.
Let's get started.
What is Elementor?
It is a simple drag-and-drop plugin for WordPress.
It's used widely for page building.
Not enough information?
Let's dive a bit deeper and understand its functionality:
With Elementor, you can create unique looking pages and posts
You'll get a 100% separate user interface for your work on the pages and posts
You don't need any skills related to coding like HTML/CSS/PHP
All the outcomes will be clearly visible to you on the front end
You can bring reality to your imagined layout, for content and pages, irrespective of the WordPress theme limitations
It is compatible with almost all WordPress themes
It is used to create attractive and impressive layouts/pages/designs.
You don't need to be a professional, with tons of experience in your back, to build high converting, supremely professional websites, with this easy-to-use page building plugin.
Not only that, it's also very cost effective and simple to use.
This is the reason over 3 million sites are using Elementor on their websites.
These numbers are breathtaking and also give us the idea of why Elementor has taken the internet by storm.
Let's see another staggering extension of Elementor.
The Mighty Elementor Pro?
Elementor Pro is a further exclusive extension of Elementor.
It enables you with far better professional tools that will boost your workflow and can give versatility to your pages and post.
It adds on all the extra features in the free version, to make it a complete end-to-end agile site builder.
Some highlights of Elementor Pro are:
50+ Pro Widgets
300+ Pro Templates
10+ Full Website Template Kits
Theme Builder
Visual Form Builder
WooCommerce Builder
Pop-ups Creator
Regular Updates
Dynamic Content
Motion Effects and Animations
Live Custom CSS
24*7 technical support, and a lot more.
Isn't all this great?
If we talk about pricing, there are multiple cost-effective options for you to choose from.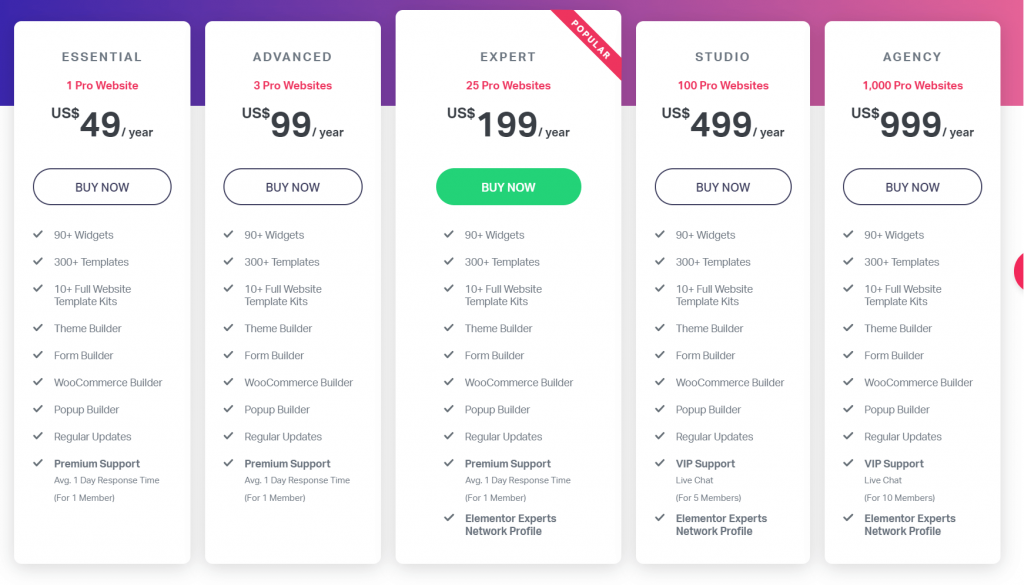 Licenses for Elementor Pro range from:
USD 49 per year for 1 site to
USD 99 per year for 3 sites, and
USD 199 per year for 25 sites.
You might be thinking, is Elementor pro worth it?
Is spending your valuable money a great investment for you?
Let's find out now.
Benefits of using Elementor Pro
Here are the greatest benefits that Elementor Pro offers through its features:
300+ more page templates – You can choose your own favourite template from multiple options available. This saves a lot of your time, while still allowing you to create a beautiful website in minutes
50+ more content modules/elements – So many versatile elements allow you to enhance the functionality of your site.
WooCommerce builder – Now you can customize your WooCommerce product pages, shop pages, cart pages, etc, with this WooCommerce builder, and a lot of widgets that it provides
Theme builder – Set the design for header, footer, blog posts, pages, archive pages, 404 page, etc, just once, and see the change across all your sites in no time.
Pop-up builder – You can add and integrate pop ups with special discounts/offer or option forms, to increase your subscriber base, leads, and sales.
Visual form builder – Create beautiful looking forms, that capture the data you need from your leads, and push them into various email marketing apps, and CRMs to add them into your sales cycle.
You can add custom CSS to any of the Elementor block
You can create global widgets and then use them throughout your site
And these are still not all.
The benefits and customizations that Elementor provides are endless, but we have highlighted the major ones here so that you can decide if Elementor pro is worth buying or not.
In our opinion, It's a simple and smooth DIY solution to all your website development problems.
You don't any professional coding skills
You don't need to hire some professional web designer
You don't need to waste your valuable money
It's a win-win situation for you.
But how to use this amazing site builder?
Using Elementor Pro
Now we are about to enter the most technical part of our discussion today.
Elementor Pro can be called an advanced plugin for WordPress, with tremendous features to offer.
Once you install and activate it just like any other plugin, you are good to roll.
You can tweak some of the basic settings, only if you want to, although it's not mandatory to do so.
If you want to edit your first page with Elementor Pro, you just need to click the 'Pages' section on your WordPress menu, hover over the Page's name, and press 'Edit with Elementor'.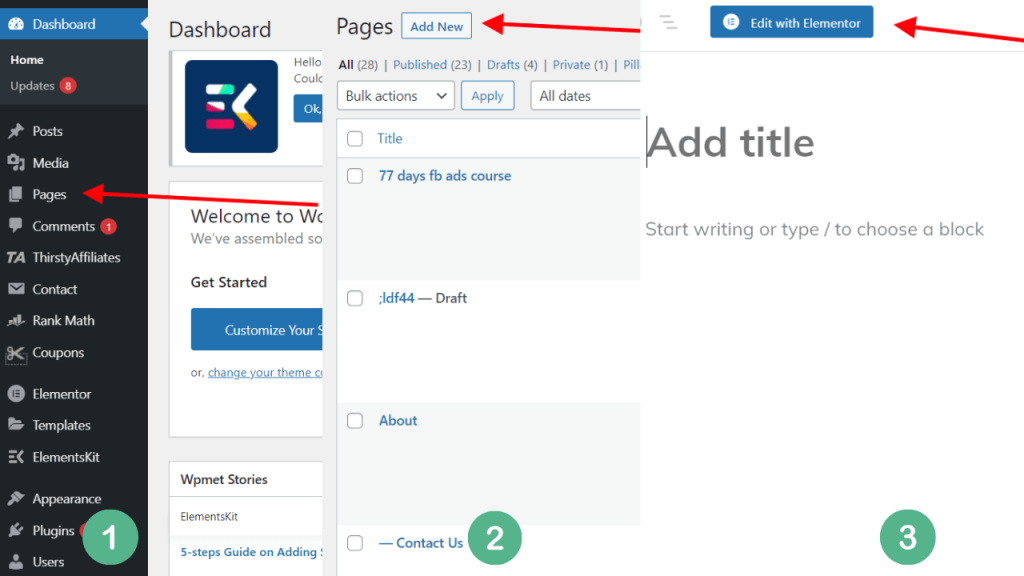 Once you click that, the Elementor Pro user interface will open up, with so many features/options available to you, aligned beautifully towards the left sidebar of the screen.
Let's get deeper into some of the sections available on the user interface.
The main section of the interface is the canvas. It will cover the majority of the part on your screen and is the area where you'll build your page using the drag-and-drop editor. You can put all the content blocks and make amendments on them, according to your needs in this section.
After this canvas section, the next majority section is the content block section. It is located on the left-hand side of your screen and contains all the content blocks/elements/widgets which you can use. There are a lot of content blocks available in the Elementor Pro which can help you to create pages just like you imagined.
You can also access the basic settings of your Elementor where you can change the fonts, colours, spacing, and other basic aspects. This can be done by pressing the option button on the left top corner of the interface.
Apart from all these basics aspects of the interface, there are other options available for you as well, like:
Viewing the revision history
Accessing the globe settings of the page you are working on
Switching onto the tablet, mobile, and desktop devices to see the previews on the respective screen sizes
Publishing the crafted page
Now you know all the basic elements of the Elementor Pro user interface. Let's understand the basic structure in order to start using the plugin.
Elementor Pro has 'n' number of sections in it. You don't have a limit to it. You can add as many sections as you want as per your requirement.
Inside the section, you can add as many columns as you want.
Inside every column, you can add as many elements as you want. These are what you'll work at the most.
For each section, column, and element, you can set up the margin, padding, border, etc
To kick start designing your page, you can either use a pre-made template or even start with a blank section as well.
In that blank section, you can add columns, and then you can house in those columns with content blocks by a simple drag-and-drop feature from the sidebar.
You can adjust every single content element individual according to your preference.
You'll have three editing options available to you which are visible on the sidebar.
You can work on each content block using all these options individually, until your entire page is completed and is looking just the way you imagined.
Once you get to know all the hierarchy and are fully aware about the content blocks, it will be easy, fun and fairly intuitive to use Elementor Pro.
Once you are clear with the basics, you can explore all the advance features as well, like:
Setting up different transitions between different sections
Using the on hover elements and customising it according to your preference; the appearance of the content element will change based on the position of the cursor
Inspecting the Z-index of elements in order to put stuff back and bring it forward
Despite all these features is Elementor Pro suitable for you?
Elementor Pro is suitable for who?
To be honest, Elementor Pro is one of the perfect DIY tools for you if you want to create creative web pages without hiring anyone and without any prior coding knowledge, CSS or HTML knowledge.
If you are not a web designer and you want to take the matter into your own hands, Elementor Pro is the best you got out there in the market.
If you are a digital marketer who wants a website for their business Elementor Pro got your back
If you are a WordPress developer and need an effective solution to all your development needs, Elementor Pro is what you are looking for
If you are new into blogging and are tight on budget but still want to develop a website on your own, Elementor Pro got you covered
Whatever you want, Elementor Pro is one of the easiest and effective solutions to all your web development requirements.
Now that we are done discussing all the stuff related to Elementor Pro, lets move ahead to the pros and cons of using Elementor Pro.
Pros of using Elementor Pro
It's highly easy to use
You'll save a lot of your crucial time because of the drag and drop feature integrated in it
It has a wide range of exceptional features which are unmatchable in today's market
You can build custom layouts and designs for every single page on your website
You don't need to rely on the custom theme features; you have Elementor providing you creative freedom to design the site the way you want it
You'll get real-time preview with inline text editing
All the mobile, desktop, tablet views can be styled separately, hence allowing the site to be responsive to all screen sizes
Nothing is outside your control parameters, you can manage all the padding, borders, colors, sizes, margins, etc, of every individual element
It will be a lot easier for you to create complex dividers and backgrounds
You can make use of video tutorials if you get stuck with something. There is a great community of people supporting and using Elementor worldwide.
You can also join the facebook community of Elementor to get all the advice, tips and support from the pros
It works great with almost every other theme available for the WordPress
Cons of using Elementor Pro
If you're a beginner at web designing, you might need to spend a few days to learning the basics and advance features
You can face issues with 3rd party add-ons
Elementor doesn't provide white labelling solution by default. Though there are other plugins using which you can do so, and that too for free
Final Verdict on Elementor Pro
Our Elementor ratings are 8 on 10.
Why?
Because it's one of the finest drag-and-drop plugins for WordPress used for creating creative pages.
It outshines its competitors because anyone can use it, if you don't have any prior coding knowledge, still you can operate on it seamlessly.
Its pro version will enable you to access each and every feature they have on the platform, along with the customer support for a year. So even if you get stuck somewhere, you can ask for help from the experts.
But we can't ignore some of the flaws of this powerful site builder. (which is the reason for 2 point deduction).
But if you are looking to buy Elementor Pro, we recommend you go for it, and that you will not regret your decision for the amount that you'll be paying for it.
If you buy Elementor Pro from me. I'll give you my DFY templates that you can import inside Elementor and start customizing it.
If you want to grab these bonuses. All you need is buy Elementor from here and send me your payment receipt at support@magicblogging.com
I'll send your bonuses within 24 hours.
Looking for page builders with in-built hosting? Check out the FlexiFunnels review.
Cheers,
Rajneesh Singh