Are you looking for an honest review of VidJack? This is the only post you'll need to read.
In this post, you'll get to know about Vidjack:
Features,
OTOs,
Pros and Cons
Integration
And dashboard overview
Are you ready to know an honest review of Vidjack? YES!
Overview of VidJack Reloaded Software
Vendor: Ifiok Nkem
Product: Vidjack Reloaded
Product Category: Interactive Video Builder
Front-End Offer: $297 (One-time fee)
Any Upsells & OTOs: NO
Discount/Coupon: Vid50
Refund: 30-Day Money-Back Policy
Support: Chat & Email
Operating System: Web App (Works on any device)
User interface: Beginner Friendly
Final thoughts: Highly Recommended
What Is VidJack?
VidJack is a web-based software that allows you to create interactive videos for your business or clients.
With VidJack, you can add clickable pop-ups and forms in your videos, either for lead generation, Q&A, and Quizzes, or send viewers to sales pages right from your video.
VidJack reloaded in a nutshell.
Creating such kinds of videos is quick and easy with VidJack. You don't need any special skills.
Simply use the embed code on your website, and Vidjack is activated on your website.
VidJack Pros and Cons
Pros:
Easy-to-use software
Powerful analytics to track the performance of your videos.
Add opt-in forms and CTAs to your videos
Lifetime deal at an affordable price
Works on all devices
No need to download any application
Support is extremely helpful and user-friendly
You get additional tools like Thumbnail creator and Text-to-speech
You get stock videos, music, and images too
You can invite your team members to help you create interactive videos
Custom domain
10+ elements to use in the videos
Cons:
No built-in video editing capabilities.
Vidjack player takes some time to load
I couldn't find many cons about Vidjack. I highly recommend Vidjack to anyone who wants to use interactive videos in their marketing campaigns to generate extra leads and engage prospects and turn them into customers.
VidJack Features
VidJack has a lot of functions. I will talk about key functions.
Abandon Video Leads
Whenever someone tries to pause the video, it will ask viewers to fill out a form to receive the video in their email.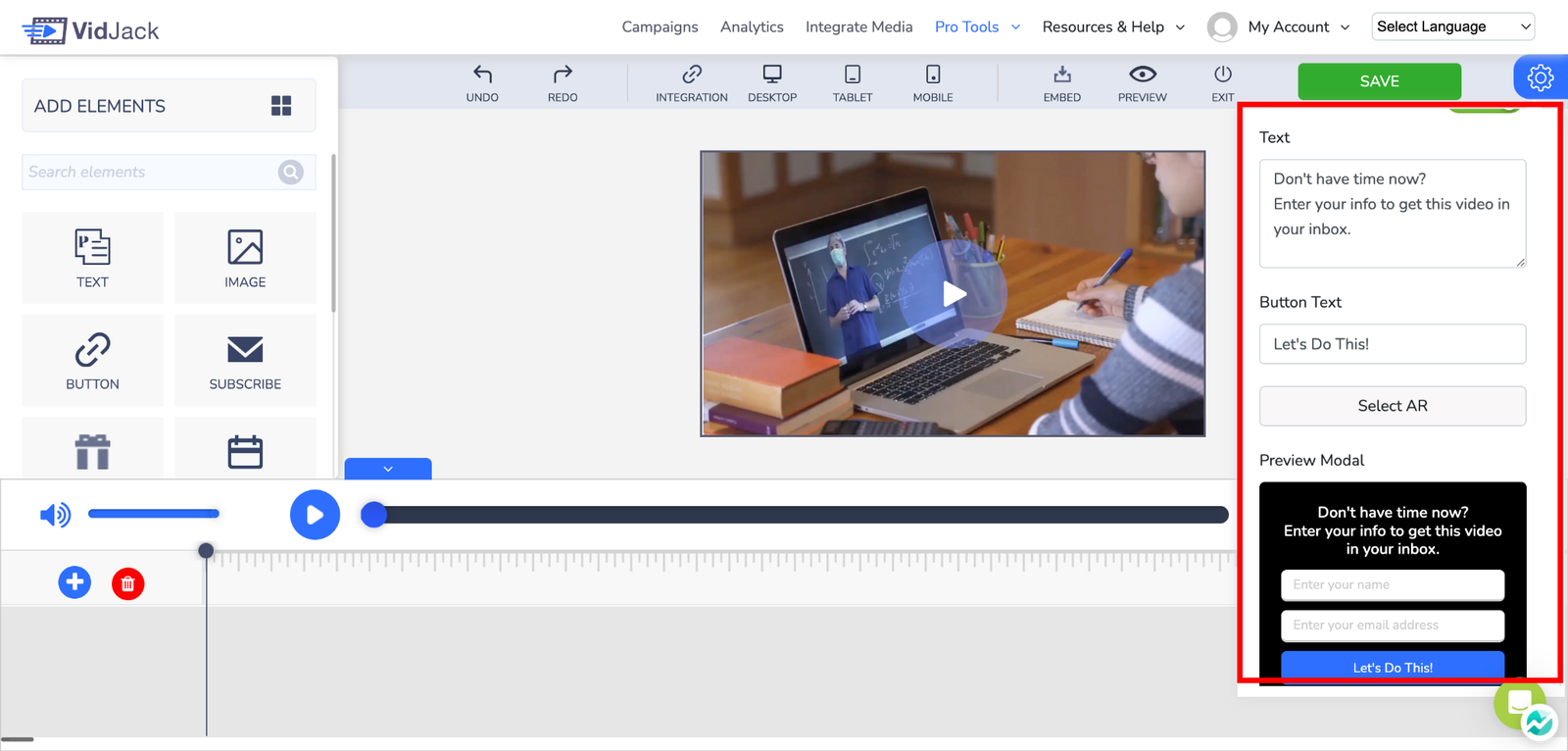 Viewers will see an opt-in form when they try to pause the video and leave it.
This function is useful if the video is longer and viewers want to watch the video later.
Super useful function!
10+ Interactive elements
These elements are:
Text
Image
Button
Subscribe
Product
Quiz
Timer
Reward
Share
Video
Embed
Map
You can add these elements to your video! Imagine people seeing the video in a video. Isn't it cool?
How about rewarding users if they watch the video at a certain time? That's possible, too, with the VidJack reward function.
Quizzes
If you're asking questions in the video, you can use the Quiz feature to engage your viewers.

You can instantly reveal the answer. And this Quiz element is 100% customizable.
You can change the background color, options, font style, and options.
Customizable Video Player
You can easily change the video player's color, icon, and player style.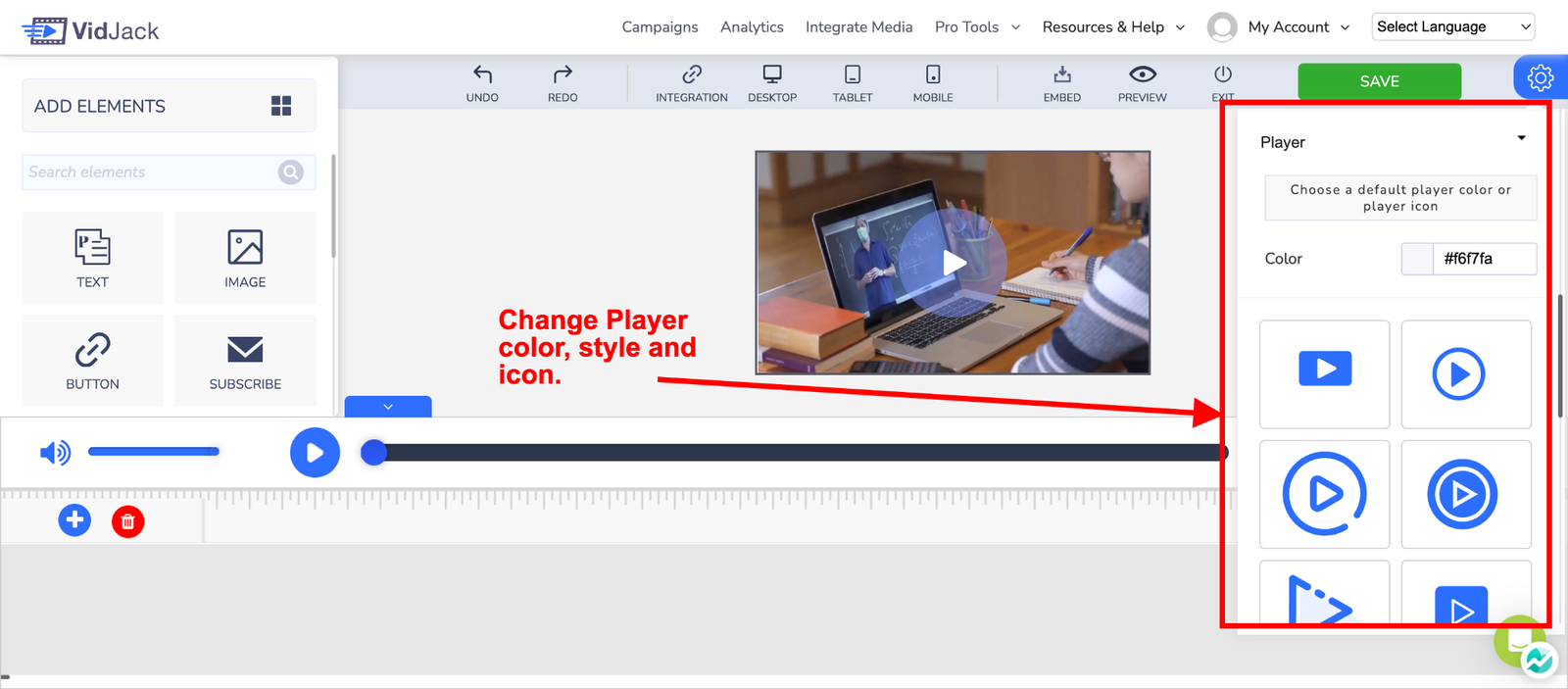 Click on the "Gear" icon located at the top right side. Go to the Player option. From here, you can change the player color, icon, and player style!
Add tracking pixels
Do you want to remarket those who watched the video? You can add tracking pixels too. Set the time to load the tracking pixel.
Custom Domain
It's super easy to connect your custom domain with VidJack.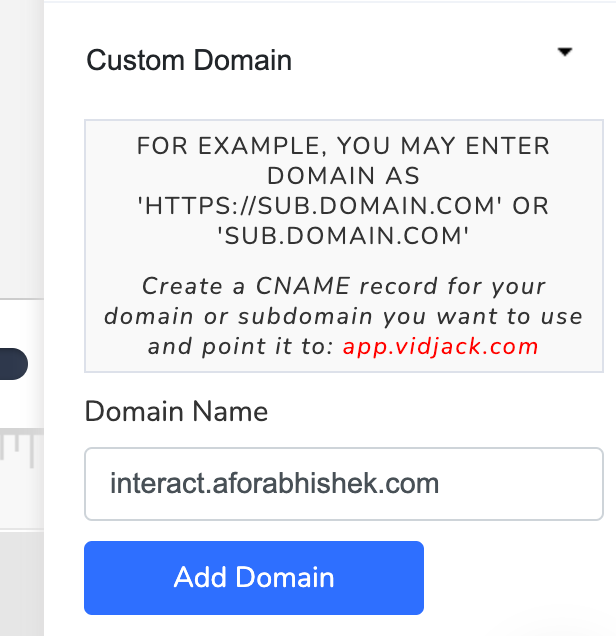 To connect a domain or subdomain, you have to create a CNAME record in your Domain DNS and point it to app.vidjack.com.
And then, enter the domain and click on add domain. Now you can access the app through the custom domain. And in 24-48 hours, a free SSL will be added to the domain name you pointed to app.vidjack.com.
Simulate Your Videos like LIVE
To use this function, Go to settings and toggle on Simulated Live.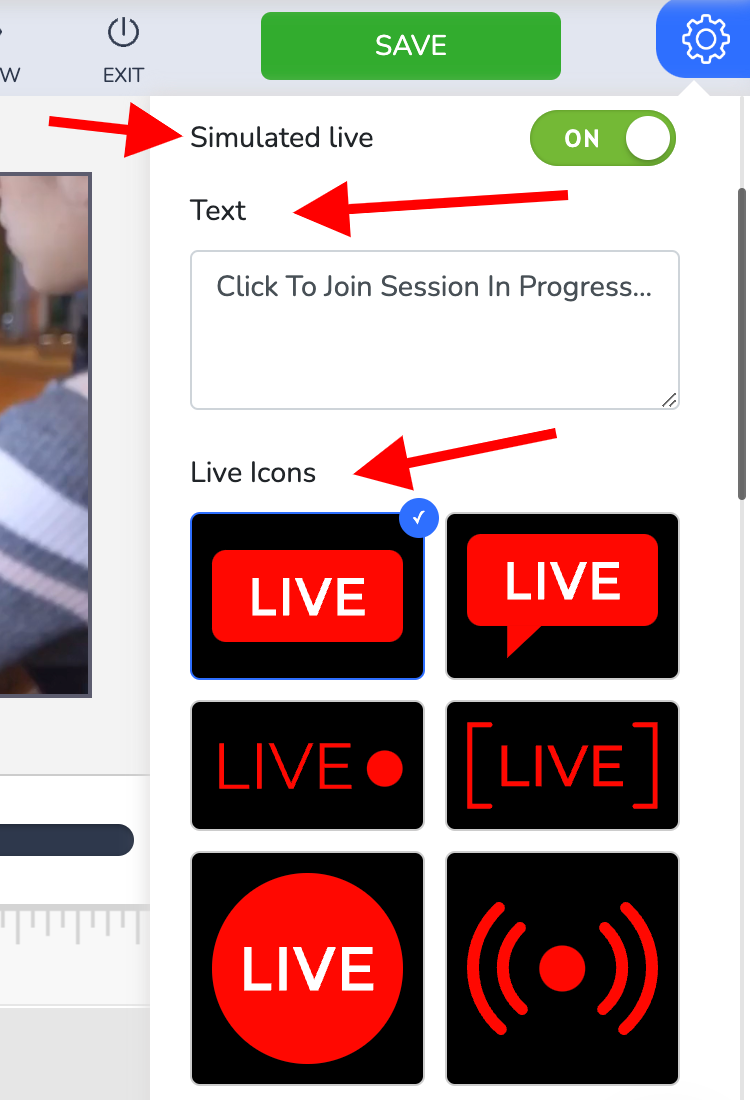 Then you would see this kind of interface. You can customize the text and change the LIVE icon. So that it feels like it's LIVE.
But I wouldn't recommend anyone to use this function. It's not ethical. It's like you're making a fool of someone!
Embed Your Video on Any Website
You can either publish the video on your custom domain or simply embed the video on any website or landing page builder. It will work.
Click on the Embed button
Then you'll get two options!
Depending on your requirements, you can either embed the video or simply share the URL. In my case, I have connected a custom domain with Vidjack, so I can share the URL without worrying about third-party branding.
Make sure SSL certificate is given to your connected domain. Then you can share the URL easily.
Else it will give a warning like this whenever someone tries to open the URL.
Team Vidjack will activate the SSL. You can contact them through chat or email to get your SSL activated.
Mobile-friendly Video Player
Initially, I thought there was no chance this interactive video player would work on mobile devices. But I was wrong! The interactive video player works seamlessly on mobile devices too.
This is super important because most audience access content through the mobile device.
Detailed Analytics of Campaigns
To see analytics, click on "Analytics" located at the top bar. VidJack will show you a detailed report of your interactive video campaign.
You can see,
Total campaigns
Total views
Total response
Date
Then there is a view graph and traffic source graphic.
Then we have "Engagement summary."
You'll see the following data:
Average engagement
Watch time (Minutes)
Average view duration
Average percentage watched.
Then we have top countries, locations, and devices.
Vidjack analytics is powerful. It gives you a detailed report of your campaigns.
What's VidJack Pro Tools
Pro Tools are basic software provided by Vidjack. Pro Tools include:
Text to Speech
You can convert any text into voice. There are 28 languages in which you can text into speech.
All you have to do is, enter the text. Choose the language and generate the audio.
You can even translate the text into 20+ languages.
Video Stock Explorer
You can download stock footage. There's a search bar that can help you find the right stock footage.
These stock footage are high-quality and can improve your video quality.
I tried to search for footage related to public speaking, and I got so many stock footage. It's amazing!
Image Stock Explorer
I tried to search for video-related stock images. And I got these images.
You can easily download the image. And you get so many images related to the topic. Maybe in certain categories, you might not find a lot of images.
However, you're not paying for these stock images. Not a bad option to get stock images for FREE!
Background music
You get 200 pieces of background music. You can play any music and download it.
Thumbnail Creator
You have to first create the account, and then you can access the tool.

VidJack Pricing: How Much Does It Cost?
Currently, Vidjack is priced at $297 (one-time fee). You'll get:
Unlimited Projects, Videos, Storage & Bandwidth
No 'powered by' b=Branding
'Done for you" Interactive Video Agency Kit & Client Acquisition Pack
Unlimited Team Members
Background Music Explorer
Image Stock Explorer
Premium Stock Explorer
Custom Domains
Agency & Commercial Rights Included
And 7 bonuses
Earlier, there were many OTOs for the same functions. You could get more functions if you upgrade to more OTOs.
But Vidjack has changed the price. They provide all the important functions at a one-time fee of $297.
And don't forget to use Vid50 to get $50 OFF. The effective price after applying the coupon would be $247.
VidJack Upsells, and OTO's
Vidjack used to have multiple OTOs, but not anymore. You can get all the functions of Vidjack by paying a one-time fee of $297.
Use the coupon VID50 to get $50 OFF instantly.
Get a $50 discount & 7 bonuses
VidJack Use Cases & Demo
Vidjack use case is simple to make the video more interactive, and through that interaction, you can generate leads or convert more prospects into customers.
Instead of using normal video, you can use interactive videos to increase your video engagement and skyrocket your leads and sales.
Vidjack Demo
VidJack Integrations
VidJack integrates with major autoresponders & webinar platforms such as:
ConvertKit
Sendlane
Mailchimp
Aweber
MooSend
Campaign Monitor
GetResponse
WebinarJam
And more
Through webhook or custom forms, you can send data to any software.
And Vidjack already has native integration with major autoresponders and webinar platforms.
VidJack Dashboard Overview
VidJack is very easy-to-use software. Without watching any tutorials, you can start using the software.
As soon as you log in, you'll see an interface like this.
At the top of the dashboard, you can see multiple options such as:
Campaigns,
Analytics
Integrate media
Pro Tools
Resources & help
My Account
Select Language
Then you see the "Media space" indicator and this month's bandwidth.
Below that, you can see the campaigns.
When you click on three horizontal dots, you can rename, embed, and duplicate the campaign. With the help of the last two options, you can see the subscriber and stats of a campaign.
Then you have some other options, such as:
The pencil icon allows you to edit the campaign.
Eye icon allows you to view the final campaign
Then there's a share button and a delete button.
To create a new campaign, click on "Create button" at the top right side or + icon in the main.

Give a Title to your campaign. Then upload the video or use it from YouTube or Vimeo.
Vidjack has an in-built screen recording function too. Then click on create.
Now you can add interactive elements to your video. Whatever elements you want to add, just drag them into the video screen and set the time when this element will appear.
As you can see in the screenshot, from the left-hand side, you can add new elements.
When you click on the "Gear icon" located at the top right side. You get different settings to customize the video.
Once you're done, click on the Save button. Now you can easily embed or share the interactive video.
Final Verdict on Vidjack Review
In my experience, Vidjack is an excellent interactive video builder. The support is good, and it has all the functions.
You get Pro Tools that make video creation much easier. Pricing is also affordable. You don't have to pay a recurring fee.
Just pay a one-time fee and access everything. No Upsells and OTOs etc.
Interactive videos can 10x your current video engagement. More engagement builds trust and ultimately increases your leads and sales.