For beginners, copywriting can be a daunting task. After all, you're trying to write something that will persuade people to take a specific action, whether it's to purchase a product or subscribe to a service. But with a bit of practice and some helpful tips, you can start churning out persuasive copy like a pro.
And, I'll share must-read copywriting books that every beginner copywriter should read and apply their learnings.
After all, learning is not doing. 🙂
Let's get started!
What is Copywriting?
Copywriting is the process of writing effective and persuasive advertising copy. The goal of good copywriting is to get people to take action, whether that means buying a product or service, signing up for a subscription, or contacting your business.
What is the Job of a Copywriter?
Copywriters are responsible for creating all the advertising and marketing copy for a business. This includes everything from sales page to email, website copy, and more. In addition, copywriters must be able to write persuasive copy that will convince people to take action. If you can do this much, you're a pro copywriter.
Can You Become a Copywriter with No Experience?
Yes, you can become a copywriter with no experience. However, it will likely take some time to develop the skills necessary to write effective copy. Many resources are available to help you learn the ropes, including copywriting books and online courses.
Develop a copywriting mindset
To become a successful copywriter, you must develop a copywriting mindset. This means focusing on your writing, practicing regularly, and analyzing your work to see how you can hone your writing skills.
Three critical elements to developing a copywriting mindset:
1. Practice: Write regularly and get feedback from others. If you don't write regularly, you'll have a hard time creating high-converting copies.
2. Focus: Stay focused on your writing goals and understand what you're trying to achieve. If you want to write a copy that converts, you must commit to copywriting. Fall in love with copywriting because your written words will turn into cash if done correctly. Everyone loves cash! Why not learn a skill that will make you a decent amount of cash. Huh?
3. Analyze: Look at your work carefully to see how you can improve your skills. For example, Copywriting is directly responsible for business revenue. To measure your copy skills, look at the conversion rates of the written copy.
In summary, your copy skills are judged by how much business revenue your copy generates. Therefore, the more revenue your copy generates, the better it is.
Components of Great Copywriting

There are three main components of great copywriting: persuasion, understanding your audience, and using the right tone.
Persuasion
Copywriters must be able to persuade their readers to take a specific action. This means writing a copy that is engaging and persuasive. To achieve this, you must understand your audience and what motivates them.
Understanding your audience
Copywriters need to understand their audience to write effective copy. This means knowing your audience's needs, wants, and desires. It also means understanding their language and the tone that resonates with them.
Using the right tone
Copywriters must also use the right tone when writing copy. The tone should be appropriate for the audience and the medium. For example, the tone of a website copy should be different from the tone of an email blast. Having the right copy tone is essential for creating a compelling and persuasive message.
Bonus: Use the correct format
So many people get wrong here. It doesn't matter how great your copy is if the copy format is not appropriate for the audience and the medium. Your copy won't perform.
Your copy success depends on the medium where your copy is presented. And, Make sure your copy is readable too.
High-converting Sales Copy Elements
There are a few critical elements of high-converting sales copy: headline, sub-headline, opening sentence, CTA (call to action), and proof. In this section, we'll take a closer look at each of these components.
Headline
Your headline is the most essential part of your sales copy. It's the first thing people see, so it must be strong and engaging. A headline's objective is to entice readers to read the subheadline, then the next sentence, and so on.
How to write attention-grabbing headlines?
1. Use numbers: People love lists, so use numbers in your headlines to intrigue people.
2. Use adjectives: Adjectives help to create a sense of urgency and excitement.
3. Ask a question: A question is a great way to arouse people's interests and get them to read the rest of your copy.
4. Use strong verbs: Verbs are a great way to create a sense of action.
5. Keep it brief: Your headline should be concise and to the point.
Subheading – Shocking Statement
The subheadline is the second most crucial part of your sales copy. It's used to expand on the headline and give more information about the product or service.
Body copy
The opening sentence is important because it's the first thing people read after the headline and subheading. It should be strong and engaging to get people to read the rest of your copy.
A good opening sentence should:
1. Hook readers: The first line should evoke readers' interest and entice them to learn more about the product or service.
2. State the benefits: The opening sentence should state the product or service's benefit. I will talk more about the benefits later in this post.
3. Be concise: The opening sentence should be brief and to the point.
Proof
Proof is one of the most crucial elements of a high-converting sales copy. It's used to show that the product or service is legitimate and worth buying. You can use a few types of proof in your sales copy: social proof, customer reviews, expert endorsements, and statistics.
Provide the solution
Your copy should elevate the prospect's pain and give the solution. Paint a picture of how a prospect's life can be changed with the product or service you're offering.
Use Bullets
Break up your copy with bullets to make it easier to read. For example, you can use bullets to list the product or service's benefits.
Use bullets to clear your prospect's fears and show the value of your product or service.
Curiosity-driven bullets are a great way to present information in an easy-to-read format. They help break up the body copy and make it easier for readers to scan.
Establish Authority
You may demonstrate authority by leveraging testimonials, social proof, expert endorsements, and evidence. These are all excellent methods to demonstrate that you have a degree of expertise in your field and the thing you're providing is genuine.
Remove Risk – Add a guarantee
Include a guarantee in your sales copy to put your customers' minds at ease and increase the likelihood of a sale. Often, people are hesitant to buy something without assurance that they won't lose money.
Summaries your offer
At the end of your copy, summarize your offer. This is the part where you tell people what are the things they will receive when they buy your product or service.
Give them a final Call to Action.
Tell the readers precisely what to do next. Give them a call to action that's clear, concise, and easy to follow. There are different types of calls to action, but the most common ones are:
Buy now
Subscribe today
Contact us for more information
Download this report now
Click here to enroll
Sign up today
Create urgency in your copy.
Use words that convey urgency, such as "now," "today," and "immediately."
How to write converting copies?
Copywriting is not just about writing. It's about assembling different elements that educate and motivate readers to take a specific action.
Writing a copy that converts is a science. Anyone can learn it and write their next million-dollar copy.
I have laid down 6 steps to write your next winning copy in this section.
I get that it will take some time and practice to achieve mastery in each element, but it's worth it.
The more copies you write, the better it is. Your copy skills will improve by leaps and bounds.
Step 1: Research about your prospects
Knowing your prospects can make or break your copy.
No matter how good your copy and offer are, if you present in front of the wrong audience, your copy is bound to fail.
Know your prospects better than your competitors. You can use Quora and Amazon Reviews to know what your prospect language is and their doubts and problems.
Before you type anything, you must check what's working for your competitors.
What headlines are they using?
What's the tone of the copy?
What's the offer?
How does their website look like?
Are they using short-form or long-form copy?
Based on that, start crafting your copy structure.
Step 2: Start building your swipe file
You might be thinking, what's a swipe file?
A swipe file is a collection of high-performing ads, sales copies, emails, and other pieces of content that you can access effortlessly for inspiration.
A swipe file can be a great way to get the creative juices flowing when you're feeling stuck.
You can use tools like EverNote or NimbusNote to store all the screenshots and ads that you see.
Personally, I use NimbusNotes. It has a mobile application too.
When scrolling through Facebook, if I see an ad that captures my attention. I take a screenshot and upload it in my Swipe File.
Step 3: Write in Conversational Tone
Writing copy is way different from essays and academic writing. When writing for the web, try to use You and I; create personalization. Your reader will feel you're speaking to them directly.
The best part is, writing in a conversational tone is easy, and anyone can learn with little practice.
Here's how you can write in a conversational tone?
Start by using contractions, like "don't" instead of "do not," and avoid using long, complex words.
Write as if you're speaking to a friend, and use short, simple sentences.
If you find yourself using the same word or phrase multiple times in a row, find a different way to say it.
Be sure to use positive language, and avoid sounding negative or condescending.
Here are some examples:
Step 4: Use Stories whenever required
Stories work well when you want to connect with your audience emotionally.
They can help to make a dry or complex subject more relatable and interesting.
As with all persuasive techniques, use stories sparingly and only when they genuinely support your argument.
Step 5: Know the Difference between Features and Benefits
When selling a product or service using written words, it's essential to be clear about the features and benefits of what you're offering.
Many people use the terms interchangeably, but they mean different things.
A feature is a specific attribute of a product or service. It's something that exists objectively and can be described. For example, a feature of a car might be that it has four doors.
On the other hand, a benefit is what the feature does for the consumer. It's what the product or service delivers to customers.
For example, if a vehicle has four doors, it can accommodate more than two individuals. As a result, your prospects may have extra time with their families. 🙂
Step 6: Develop an Editing Process
An editing process is vital for any writer/copywriter. The editing process helps to ensure that the content or copy is clear, concise, and typo-free.
The following steps can help you in editing:
1. Read the content out loud. This can help to catch errors and ensure that the copy flows smoothly.
2. Use a grammar checker tool like Grammarly. This can help to catch spelling and grammar mistakes.
3. Have someone else read the copy. This can help to catch errors that you may have missed.
4. Proofread the copy again. This can help to ensure that all errors have been corrected.
Now, you have six steps to write your copy. And, my favorite part is coming. You're going to see copywriting examples!
Copywriting examples
Copywriting is everywhere. You can't open a website, an email, or even watch a commercial on TV without reading some form of copy.
Here are some of the copy examples for you:
This website is selling a digital course that teaches you how to teach your child to read. 🙂 Take a look at the page!
This site is selling a course on personal finance. You see the whole copy here!
This site teaches how to do organic gardening. You can check out the copy here
These copies are written by highly-skilled copywriters and they charge $5,000 – $10,000 to write a single piece of copy.
You can study these sales pages and get the feel of the high-converting sales pages.
What are 5 must-read copywriting books?
I have included modern-day copywriters' books with classic copywriting books in this list.
As your copy skills improve, you can start reading class books too.
1) Copywriting Secrets by Jim Edwards PC
It's a must-read book for beginner copywriters. On Amazon, Copywriting Secrets got 899 ratings with 4.7 stars.
2) The Copywriter's Handbook: A Step-by-Step Guide to Writing Copy That Sells (4th Edition)
Written by Rober W. Bly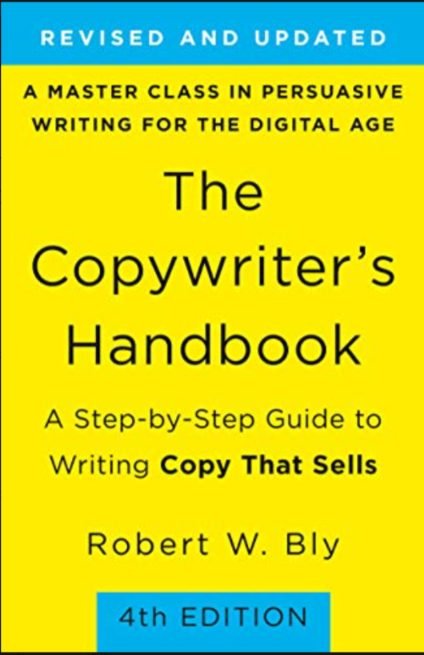 This book got 527 ratings with 4.7 stars.
3) How to Write Copy That Sells: The Step-By-Step System for More Sales, to More Customers, More Often
Written by Ray Edwards.
On Amazon, this book has 546 ratings with 4.6 stars.
4) The Adweek Copywriting Handbook: The Ultimate Guide to Writing Powerful Advertising and Marketing Copy from One of America's Top Copywriters
Written by Joseph Sugarman
This is a class copywriting book. It has 577 ratings on Amazon with 4.7 stars out of 5.
5) The Boron Letters by Gary Halbert
The book is updated by Gary's Halbert son Bond Halbert. This is another class copywriting book. You must read it. 🙂
The Boron Letters got 647 ratings on Amazon with 4.6 stars out of 5.
Best Copywriting Power Words
It's crucial to utilize strong words when writing persuasive copy. These are terms that have a significant impact on your audience and may help you attract their attention.
The following are some of the most impactful power words:
1. New
2. Now
3. Free
4. You (Most important)
5. Amazing
6. Incredible
7. Urgent
8. Threatening
9. Powerful
10. Critical
12. Mind-blowing
13. Captivating
14. Compelling
15. Seductive
16. Dazzling
17. Enticing
18. Irresistible
19. Inspiring
20. Motivating
21. Persuasive
22. Transformative
23. Life-changing
24. Game-changing
25. Earth-shattering
26. Jaw-dropping
There are more than 500 power words; you can read them HERE!
Best Copywriting Exercises
Exercise #1: Hand-copy successful sales letters and ads.
Yes, you heard it right. Take a pen and notebook and hand copy the best sales letters word by word. It works! This exercise trains your subconscious to write high-converting copy.
This single exercise made me a better copywriter. I know it sounds like a lot of work, but if you want to become a highly-skilled copywriter, you must hand copy the best sales copies and ads.
Initially, you will feel resistance; however, it will soon become your habit when you continue to do this copywriting exercise.
Exercise #2: Break down successful copies.
Take a best-performing sales letter and analyze the different components. Think about how the writer used different words and sentences to capture attention and motivate readers to take specific actions.
Exercise #3: Write daily
If you can't write daily, you'll have a hard time writing sales copy too. However, anyone can become a better writer with deliberate practice.
Write at least 500 words daily. You can write on any topic. The goal here is to develop a writing habit. 🙂
And yes, don't forget to analyze and improve your written content.
Exercise #4: Read daily
Great writers are great readers. Without reading, you can't become a better writer. I know this sounds harsh, but it's reality.
Read 2-3 pages daily. But, just like writing, you gotta develop a reading habit.
You can start off reading copywriting books. Eventually, you can read on any topic.
Nobody can stop you from becoming a skilled copywriter when you consistently follow these simple yet potent copywriting exercises.
You don't have to be great to be a copywriter. All you have to do is write a copy that motivates the user to take action. That's it.
Tools Copywriters Use
You don't need dozens of tools to be a copywriter. You just need two essential tools.
Google docs or any other word processor that works for you.
Grammar checker. Grammarly is the coolest spelling and grammar checker I've ever used. I would recommend you to use the same.
Be ready to use these two tools again and again. As your maximum time will be spent with a word processor and grammar and spell checker tools like Grammarly. 🙂
What Skills Do You Need to Be a Copywriter?
Copywriting is a unique field that requires a variety of skills.
Here are some of the most important ones:
1. Strong writing skills. This may seem obvious, but copywriters need to write well to create compelling copy or content.
2. Knowledge of marketing and advertising. Copywriters must understand the marketing principles and audience psychology to create copy that converts.
4. Creative thinking. Copywriters constantly have to come up with new and exciting ideas and angles for the copy.
5. Attention to detail. Copywriters need to be precise and accurate in their work to ensure that the copy resonates with the target audience.
6. Research skills. Copywriters often need to research to understand their target audience and the product they are marketing.
Copywriters must possess a wide range of skills. These are just a few of the traits that copywriters need to have.
Make sure you practice writing and work on these skills if you want to be a copywriter.
You can become a successful copywriter with hard work and dedication. You don't need to join any expensive course to learn how to write a copy.
Don't run after shiny object syndrome. I have been there, that is why I am warning you. Do repeat the mistakes I made.
Frequently Asked Questions (FAQs):
Is copywriting easy to learn?
The answer to this question is "no." Copywriting is not easy to learn, but it's definitely worth the effort. Copywriting is one of the most important skills a marketer can learn. You can become rich if you learn this skill. Don't you want to be rich?
What is Copywriting?
Copywriting is the art & science of writing persuasive copy. It's the process of creating compelling content that encourages people to take action. Copywriters use their words to capture attention, generate leads, and sell products and services.
Can you learn copywriting by yourself?
Yes, you can definitely teach copywriting to yourself. However, it will take a lot of hard work and dedication.
There are a lot of great resources available online in the form of books, blogs, videos, free and paid courses. So why not leverage the available resources?
To measure your copywriting skills, drive targeted traffic on your written copies.
If you generate qualified leads or sales, that means you're heading in the right direction. 🙂 You don't need to invest in expensive copywriting courses.
Should beginner copywriters work for free?
Yes, you should work for free. It's a great way to gain experience and hone your copy skills.
Plus, you can learn a lot from working with experienced professionals. For example, you can start charging for your services once you've gained some experience.
Best Copywriting Books for Beginners
In this article, I have shared modern-day copywriting books with a few class books.
1) Copywriting Secrets by Jim Edwards PC
2) The Copywriter's Handbook: A Step-by-Step Guide to Writing Copy That Sells (4th Edition) by Robert W. Bly
3) How to Write Copy That Sells: The Step-By-Step System for More Sales, to More Customers, More Often by Ray Edwards
4) The Adweek Copywriting Handbook: The Ultimate Guide to Writing Powerful Advertising and Marketing Copy by Joseph Sugarman
5) The Boron Letters by Gary Halbert
The last two books are classical copywriting books. 😉
Conclusion
Copywriting is an old occupation that requires a variety of talents. Make sure you read and write every day so you can consistently produce a high-converting copy.
You may achieve professional copywriter status with dedication and hard work in 2 months if you do the work.
The most incredible way to hone your COPY skills is to keep writing, practicing, and experimenting with various styles and formats.
Read as many books and articles on copywriting as you can, and take online courses to learn more about the craft.
You can also join writing groups or forums to exchange ideas with other writers.
Finally, always be willing to learn and hone your copy skills.
I hope you found this Copywriting for Beginners guide helpful.
Please leave a comment if you have any queries. I'll respond.
Click HERE to READ my latest article on sales!