So you have come across a new email marketing software called Campaign Refinery (CR)…
Now, you want to know whether Campaign Refinery is the right email marketing for you or not. Then read this Campaign Refinery review!
In this review, I have shared everything about Campaign Refinery.
Final Verdict

In our test, Campaign Refinery automation was above average. However, Campaign Refinery's email deliverability is better than ActiveCampaign. You can expect higher email open rates with Campaign Refinery. Try Campaign Refinery for FREE!
What is Campaign Refinery
Campaign Refinery is an email service provider that allows you to send broadcast emails and build email marketing automation without worrying about technical hassles.
Campaign Refinery is similar to other ESPs such as ActiveCampaign and ConvertKit; it provides a hassle-free solution for businesses/entrepreneurs to manage their email marketing campaigns.
Things I like about Campaign Refinery
Beginner-friendly user interface
High email deliverability rate
Free 14-day trial
Automatically removes junk/bounced emails
Unlimited contacts you can store
30 days money back guarantee
Advanced automation & contacts segmentation functions
Features are not limited to higher plans
Pay based on the number of credits you use
Customizable email header and footer
Easily set up re-engagement rules and unsubscribe contacts that haven't opened or clicked an email.
Can create different audience segments for high email deliverability
Things I don't like about Campaign Refinery
Can't send unlimited emails
Pricing plans can be expensive
Can't upload tags in bulk
DNS set-up is hard (not beginner friendly)
Pricing of Campaign Refinery
Campaign Refinery offers three plans:
1) Campaign Refinery Business
This plan costs $99 per month / $990 per year
In CR Business plan, You'll get:
Unlimited Contact Support
Powerful Marketing Automation
Drip Campaigns Included
Evergreen Flash Sale Technology
Custom Audience Builder
Includes Up To 50,000 Credits Per Month
Simple overage cost of $1.00 CPM
This plan costs $299 per month / $2990 per year
With CR Growth plan; You'll get:
Everything in Business, plus:
Includes Up To 200,000 Credits Per Month
Simple overage cost of $0.80 CPM
No 'Powered by' footer
3) Campaign Refinery Enterprise
This plan costs $1000 per month / $10,000 per year
In CR Enterprise plan, You'll get:
Everything in Growth, plus:
Includes Up To 1,000,000 Credits Per Month
Simple overage cost of $0.60 CPM
Deliverability strategy consultations
Pricing is simple. If you lock in for a yearly plan, you get extra months.
Explore Campaign Refinery Pricing
Campaign Refinery Credits:
1 Send = 1 Credit
1 Clean = 5 Credits
"Included" Credits Are Use It or Lose It
Bulk Credit Purchases Don't Expire
CPM = Cost Per 1,000 Credits
Any Overages Charged Once Per Day
Cleans Contacts Every 180 Days Or Less
Is Campaign Refinery Worth it?
If you're looking for an email service provider that offers a high email deliverability rate, Campaign Refinery is for YOU!
Campaign Refinery has all the necessary functions like email broadcast, automation, tags and goals function.
Campaign Refinery is worth every penny if you know how to use email marketing effectively!
Campaign Refinery 14-Day Free Trial?
Click Here, and you'll see the Campaign Refinery pricing plans. Choose the basic plan and click on start the trial.
Then, you'll have to enter contact details, such as:
Name
Email
Phone number
And billing address.
You'll be able to see the plan details.
Accept the terms and conditions, and click the "Continue" button.
Then it will ask you for credit card details. Don't worry; Campaign Refinery will charge only when your trial ends.
You'll receive an email with a temporary password. Something like this:
Login and change the password.
Congrats! You can now use Campaign Refinery for 14 days at no cost and see if it works for your business or not.
NOTE: In the free plan, you get 25,000 credits. I explained to you 1 credit = 1 email send.
It means you can send up to 25,000 emails.
Features of Campaign Refinery
Powerful Broadcasts
I tried sending emails to a cold list of 183 subscribers and I got 15.3% open rates. I broadcasted in the middle of the night else the open rates could be higher.
Then I resent the emails to those who did not open the first email. Again I got 11.9% open rates.
Unlimited Contacts
Unlike most other platforms, Campaign Refinery only charges you based on activity, not subscribers count. The more emails you send, the more you'll have to pay. 🙂
Dead Simple Editor
Campaign Refinery makes everything super easy so you can spend your time on important things.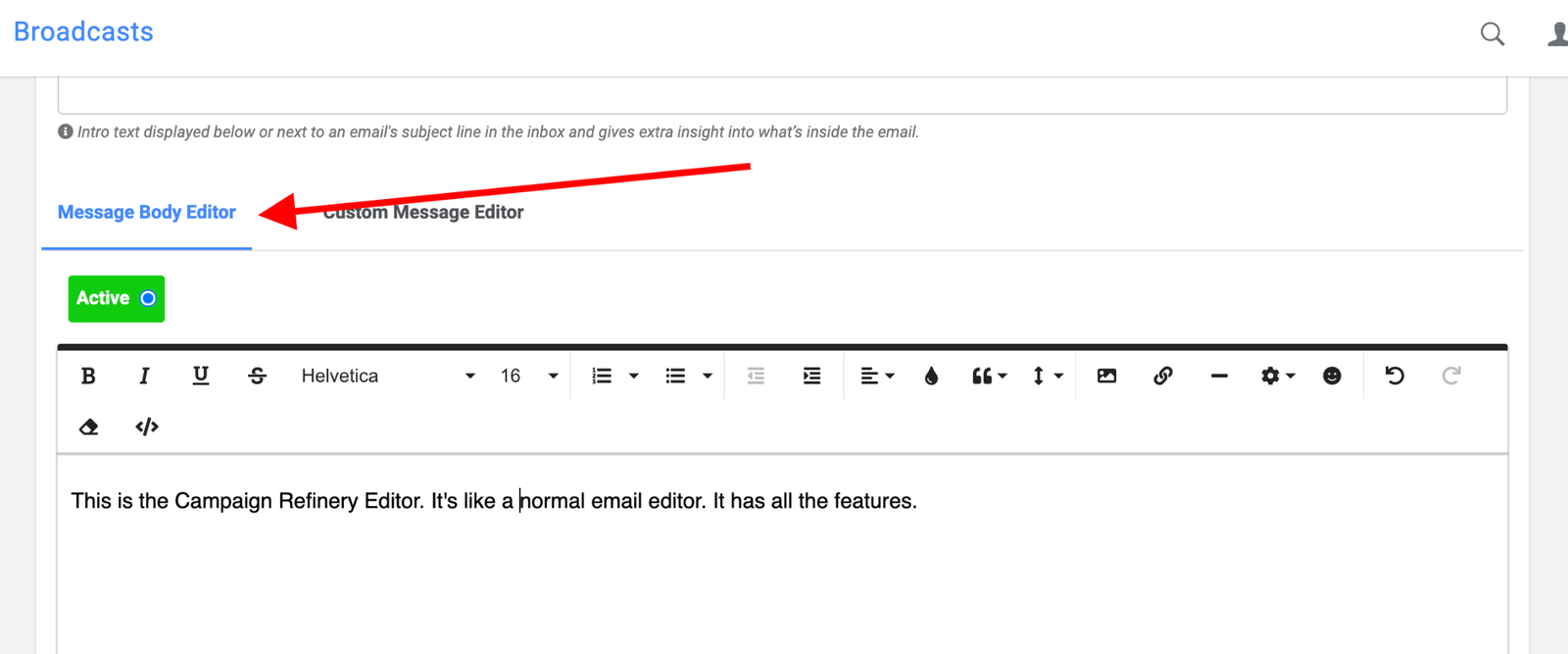 Branch & Rule Builder
You can build complicated rules or branch logic for conditional campaigns effortlessly.
From Global settings, you can create rules.
You can create branches under automated campaigns.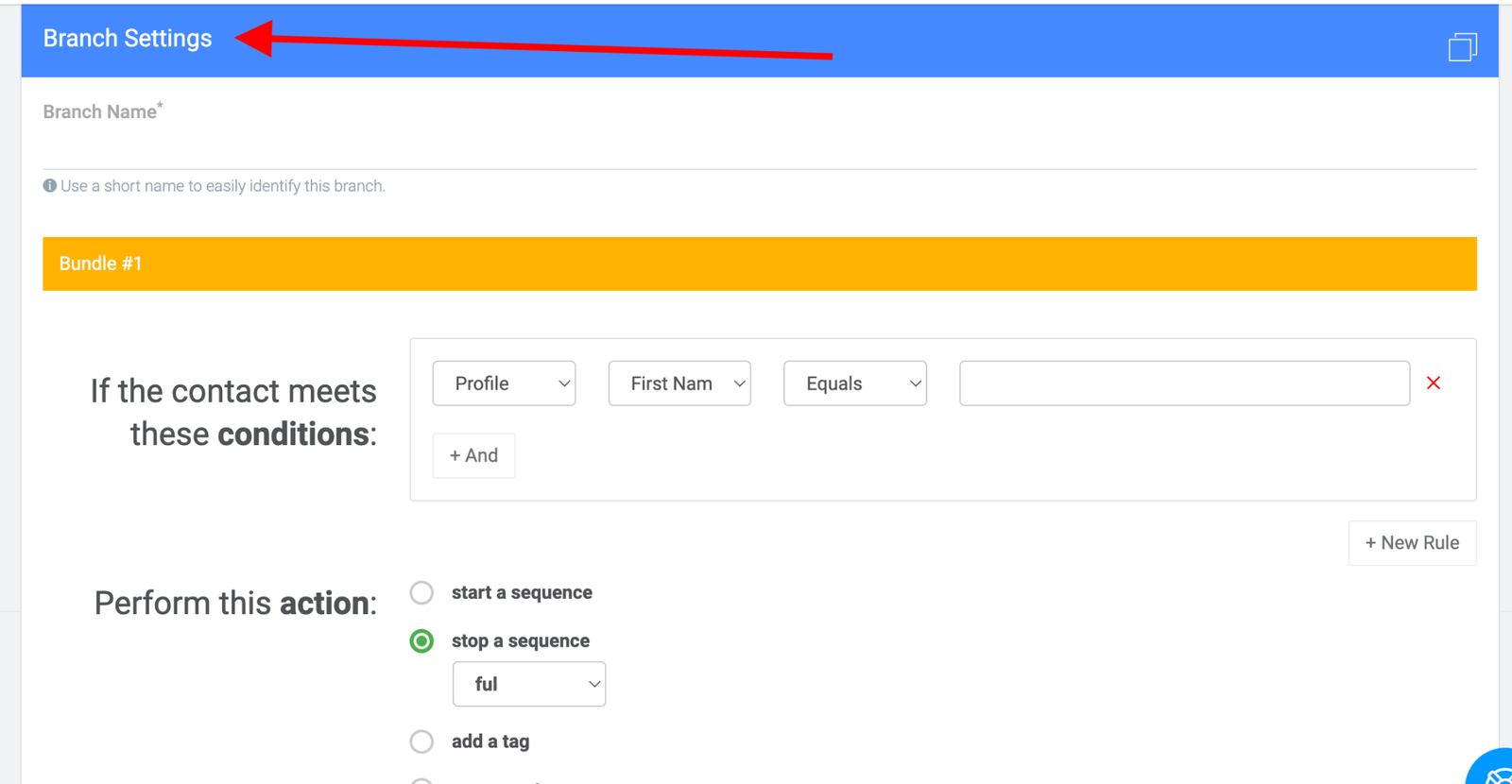 Through branches, you can perform different actions if the contact meets the condition.
For example, if someone clicks on the link, you can trigger an email campaign or add a tag. Super useful feature.
Evergreen Flash Sales
Deliver the perfect offer with genuine scarcity and watch your conversions bloom.
Campaign Library
Need some inspiration, so you aren't staring at a blank screen? Click, edit, and deploy.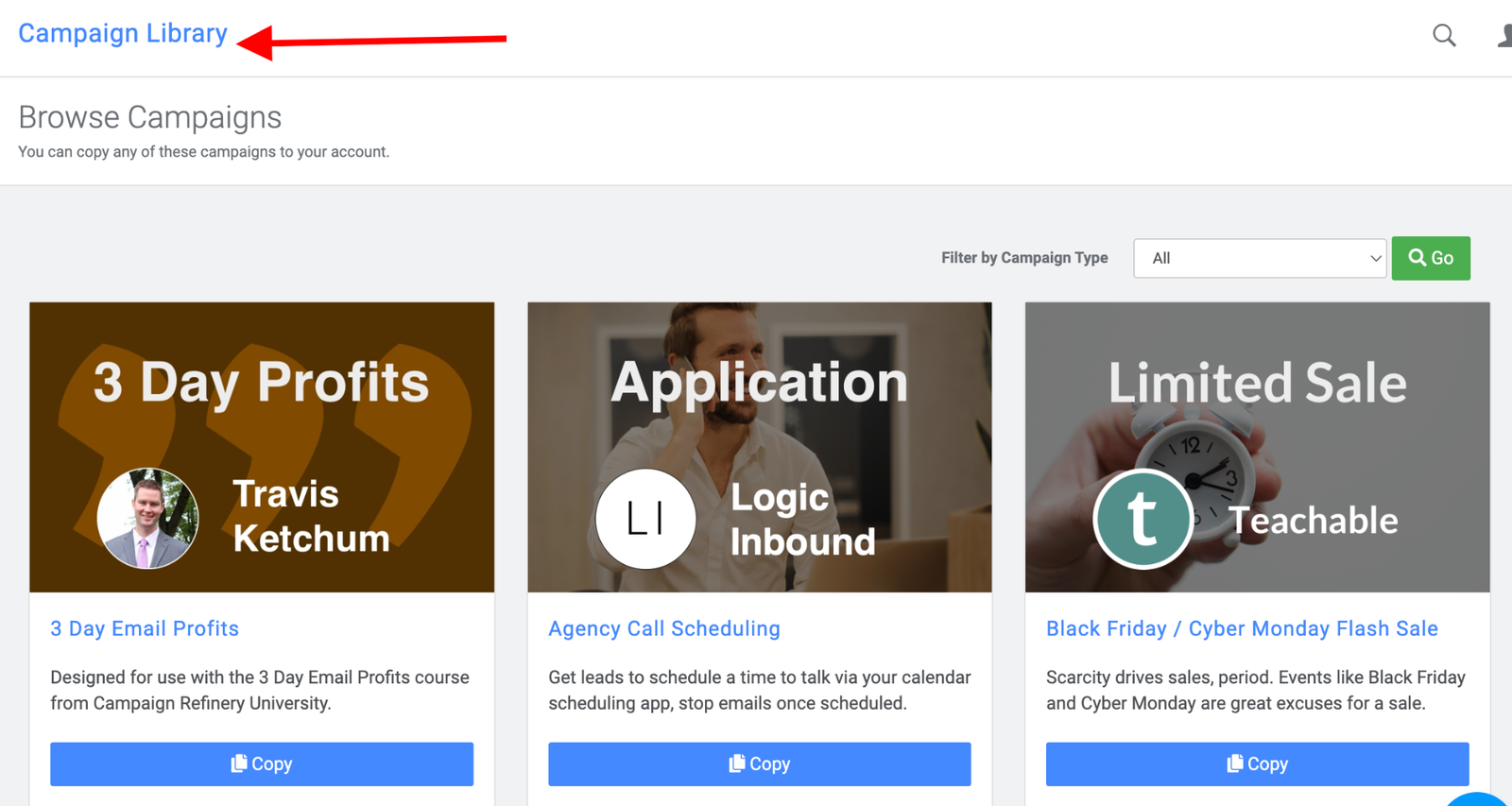 Smart Goal Triggers
Want to stop messaging customers who have already converted? Done and done.
Tag-Based System
Old-fashioned lists have gone the way of the dodo bird. Build audiences, not lists.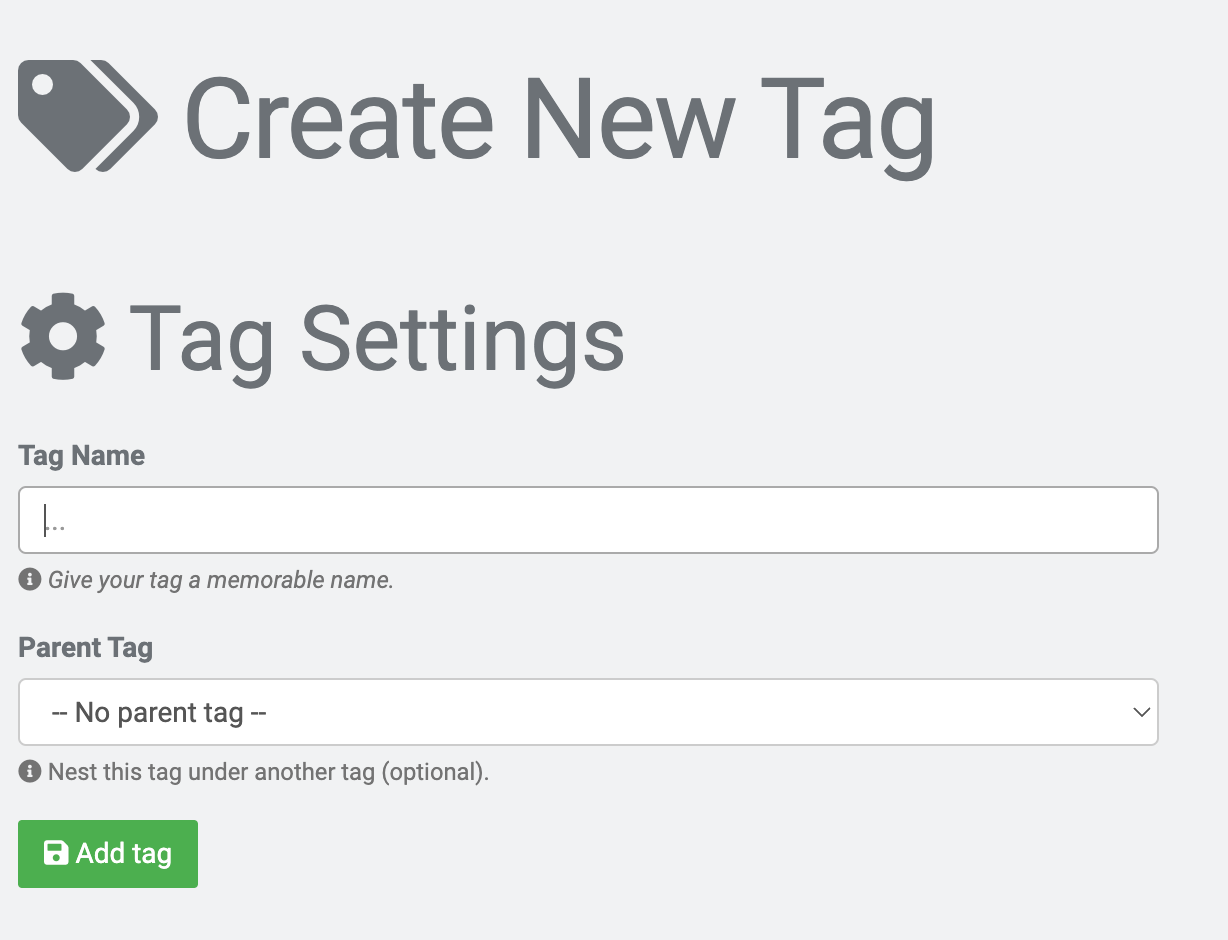 Detailed Reporting
At the campaign level, you can see all the important metrics such as:
open rates,
mailbox performance,
click rate,
unsubscribe rate,
and complaint rate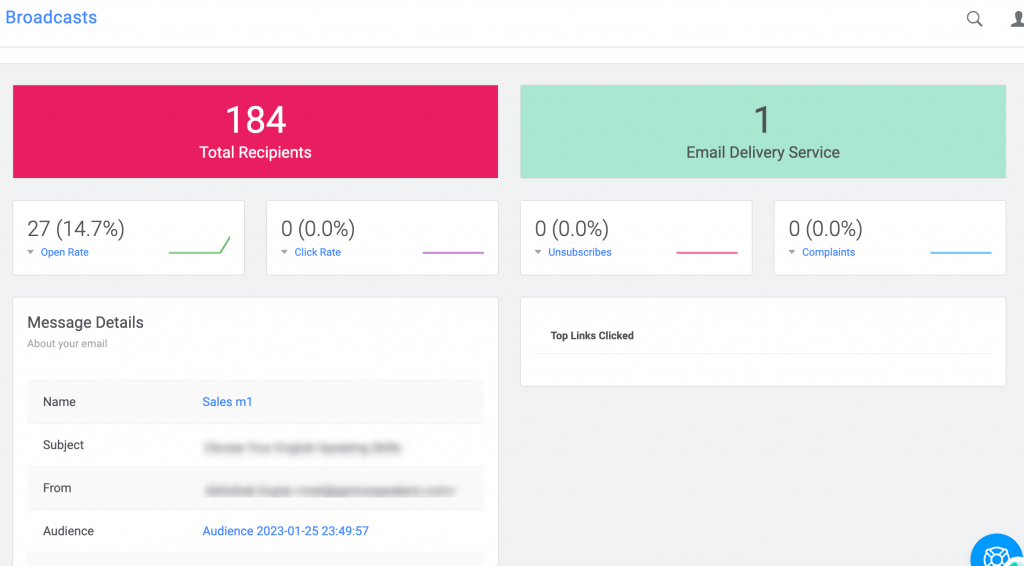 Campaign Refinery Email Deliverability
How Campaign Refinery offers a high email deliverability rate? It's simple. They send emails to active customers and clean the list every 30 and 180 days.
All of this increases the email deliverability rate. Email deliverability is a complex subject. There are so many components that can affect email deliverability rate.
Example: I had a list of 192 users. When I uploaded a cold email list on Campaign Refinery, it uploaded only 183 users.

I sent a broadcast and got 15.3% open rates with a cold email list. Which is great.
As you can see, I sent the two broadcast campaigns. The open rates are really good!
Automation Features of Campaign Refinery
Campaign Refinery automation is not as advanced as Active Campaign, but CR automation can get your job done easily.
Campaign Refinery offers:
These are important things required to build email automation.
Inside Campaign Refinery, automation is named as "Campaigns."
Under Campaigns, you can see all of your campaigns. Plus, CR offers ready-made automation templates. You can copy and use it in your account.
Under one campaign, you can create different sequences.
You can easily see the status and events and manage your sequence.
Plus, you can see the forms, branches, automation, goals, links, and suppression.
To create a new campaign,
Name it
Give a campaign description
Choose the campaign type
Select the sending domain,
Then save these details.
Customer Support of Campaign Refinery
Campaign Refinery provides email support. Their usual response time is a few hours.
Overall, the support is good. You won't face any issues. Campaign Refinery is easy-to-use software.
Campaign Refinery Integration
You can integrate Campaign Refinery through Zapier. Campaign Refinery has native integration with Clickbank and Klaviyo.
Campaign Refinery has an API as well. So you can integrate CR with any third-party software, even without Zapier, if you know how to code or hire someone to do it for you!
With the help of Zapier, you can connect Campaign Refinery with 5000+ applications.
Dashboard Overview: Campaign Refinery
On the left-hand side, you can see all the functions. Campaign Refinery dashboard is simple and easy to use.
In the main dashboard, you'll see contact stats, email delivery service stats and activity stream.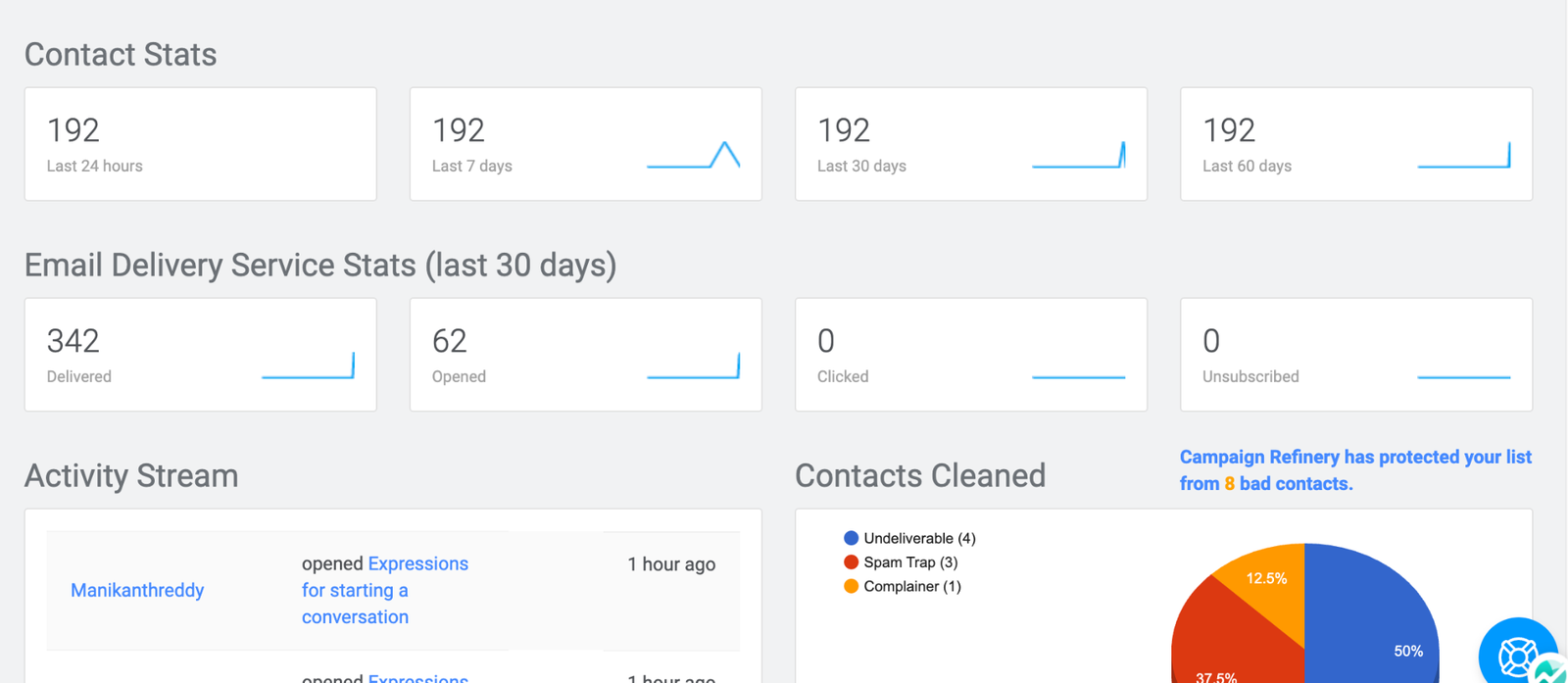 At the top right-hand side, you can see the profile icon. And update the contact details & reactivate the contact's every detail.
On the left-hand side, you see all the options:
Dashboard
You can see the contacts stats and email deliverability stats
Broadcast
From here, you can create new broadcast campaigns. Campaign Refinery allows you to create segmented broadcast campaigns, too and this can give higher open rates.
Campaigns
Under campaigns, you can build email automation & sequences. You can create campaigns from scratch or use pre-built automation templates.
Contacts
From the "Contacts" section, you can search, import, and segment contacts. You manage the tags, custom fields and clean your list.
You can import contacts through CSV.file or Infusionsoft (Keap). If you have multiple fields, you can create a custom field and apply tags when importing the contacts.
Depending on your list size, Campaign Refinery will take time to upload your contacts. In my case, the list size was 192. It took 5+ minutes to upload the contacts.
Imagine if your list size is 10,000, it can take a lot of time. 🙂
Settings
In this section, you can see the API key, set up email header and footer, global settings, domain setup and manage DNS settings.
Logs
Your automation queue logs. If you wish, you can clear the logs.
Campaign Refinery user interface is beginner friendly, and you get all the advanced automation functions. Everything is so easy to use you don't even need any tutorial to use Campaign Refinery. It's that simple!
Campaign Refinery Vs. ActiveCampaign

ActiveCampaign and Campaign Refinery are both email service providers (ESPs) that allow you to send broadcast emails and create email marketing automation. Here are some key differences between the two software.
| Features | ActiveCampaign | Campaign Refinery |
| --- | --- | --- |
| Unlimited emails | YES! | No (Works on Credit system) |
| Pricing plans | Starts at $9/month | Starts at $99/month |
| Automation | YES | YES |
| Email List Cleaner | No | YES |
| Email Deliverability | 86.38% | 98% |
| Automation Templates | YES | YES! |
| Free Trial | YES (14-Day Trial) | YES |
| Support | Email & Chat | Email only |
| Customer base | 100K+ | No information |
| Charges based on | Number of contacts | Number of emails |
| Integration | Zapier & API | Zapier & API |
Active Campaign is way better than Campaign Refinery in terms of automation, functions, and pricing plans are affordable than Campaign Refinery.
Explore ActiveCampaign Pricing
Learn more about Campaign Refinery Pricing Plans
Campaign Refinery Alternatives
1. ActiveCampaign – It's the most popular email service provider and has 100K+ customers in 70+ countries. ActiveCampaign is known for its advanced automation functions.
2. ConvertKit – An ESP that is popular among bloggers and creators known for its simple automation and tagging features. ConvertKit & ActiveCampaign pricing plans are almost similar.
3. MailerLite – Can't invest in email marketing software right away? MailerLite offers you a free plan, and you can store up to 1000 subscribers and send 12,000 emails/month at no cost.
4. GetResponse – This email service provider is known for their high email deliverability, advanced automation and webinar functions. GetRespons pricing is similar to ActiveCampaign & ConvertKit.
Understand your business needs, then select any autoresponder. Most email marketing software offers a free trial. You can sign up and try it out yourself.
Final Thoughts on Campaign Refinery Review
Campaign Refinery is a reliable email service provider that offers a high email deliverability rate, making it a good option for businesses looking to improve their email open rates.
Campaign Refinery is an easy-to-use software that automatically removes junk/bounced emails and can store unlimited contacts.
Campaign Refinery offers a 14-day free trial and a 30-day money-back guarantee on paid plans.
Although the Campaign Refinery automation feature may be subpar, the email deliverability rate is better than ActiveCampaign.
Campaign Refinery pricing plans are expensive, but with the added benefits, it is worth it if you know how to use email marketing effectively.
In a nutshell, Campaign Refinery is a great option for anyone who wants a high email deliverability rate and automation functions.
Campaign Refinery is worth trying out with the 14-day free trial.