The impact of AI on business and innovation is undeniable and well-known. Most businesses, over 90%, use video content to market their products. But they are not leveraging the advantages of AI.
AI voice generators can save you thousands of $$$ by not paying voice artists. You can take benefit from digital voices that sound just like real and natural human voices.
Whether you want to create a video in an accent or language, you're not a native speaker, or you just want to convert your already recorded voice to another language, AI voice generators are here to shoulder you.
These modern tools use text-to-speech (TTS) technology to create digital voices with the best possible accents and styles. Let's discover some best Ai voice generators and their amazing features.
What Are the Best AI Voice Generators?
1. MicMonster
Overview
MicMonster is a super easy text-to-speech generator tool that is trusted by more than 75,000 users across the globe. It helps you generate both masculine and feminine voices in many different characters.
MicMonster currently offers a 50% discount on its annual and lifetime plan. It has a user-friendly and simplified system that even lets you generate and download a 300-word voice in many accents and languages without signing up for MicMonster. But you need to sign up to customize and adjust its speed, tone, and style.
Top Features
MicMonster creates the most natural-sounding speech in more than 600 voices.
If you need to target a specific country, you can choose from its 140 languages to get the best possible results.
Its advanced editor allows you to customize the voice tone and emotion with different styles and effects.
MicMonster enables you to use the multi-voice feature to assign different voices to different sections of your script. It helps create more dynamic and diverse audio content.
Pricing
MicMonster has four pricing plans with different features and price ranges.
Free plan: Requires no credit card.
Pro max Quarterly: Costs $39 for 3 months.
Pro Max Annual: Charges $119 for one year.
Pro Max LTD: Provides you lifetime access for only $799.
Try MicMonster for FREE! (No Sign Up Required)
Pros
Lets you download your voices in MP3 or WAV.
Provides a free trial to test its features.
It shows you a preview before finalizing your speech.
Cons
Comparatively more pricey
2. Play.ht
Overview
If you need different accents and a wide range of languages for generating realistic voices for your video footage, Play.ht is second to none. More than 7000 users have used Play.ht so far.
It lets you create realistic voices for your audiobooks, video components, video games, and animations.
Top Features
Play .ht supports more than 900 different voices in 142 languages so that you face no issue delivering your content to a worldwide audience.
If you don't like any specific part of your voiceover, Play .ht lets you particularly change the style or set a different tone for that part.
Play.ht has a wide range of voices and styles to make a voice according to your choice.
Pricing
Personal: It costs $14.25 per month with 240,000 Words and unlimited downloads.
Professional: It unlocks at $29.25 per month with 600,000 Words, premium voices, and multiple customization options.
Growth: It starts at $74.25 per month and gives you 2,400,000 Words with access to every available feature.
Business: It's for big companies and teams that need more than 6,000,000 Words and easily afford $149.25/month or $1791 per annum.
Try Play.ht for FREE (One of the best AI voice generators)
Pros and Cons
Pros
Sharp and quick to generate voices ready for instant downloads in MP3.
Provides revisions until your satisfaction.
Free trial is available to generate and change the speed of the audio.
Cons
First result might not be perfect.
A bit complicated and time-consuming when generating dialogue.
3. Murf.ai
Overview
Murf.ai is a well-known and the best overall AI voice generator due to its multiple customization options to create human-like voices.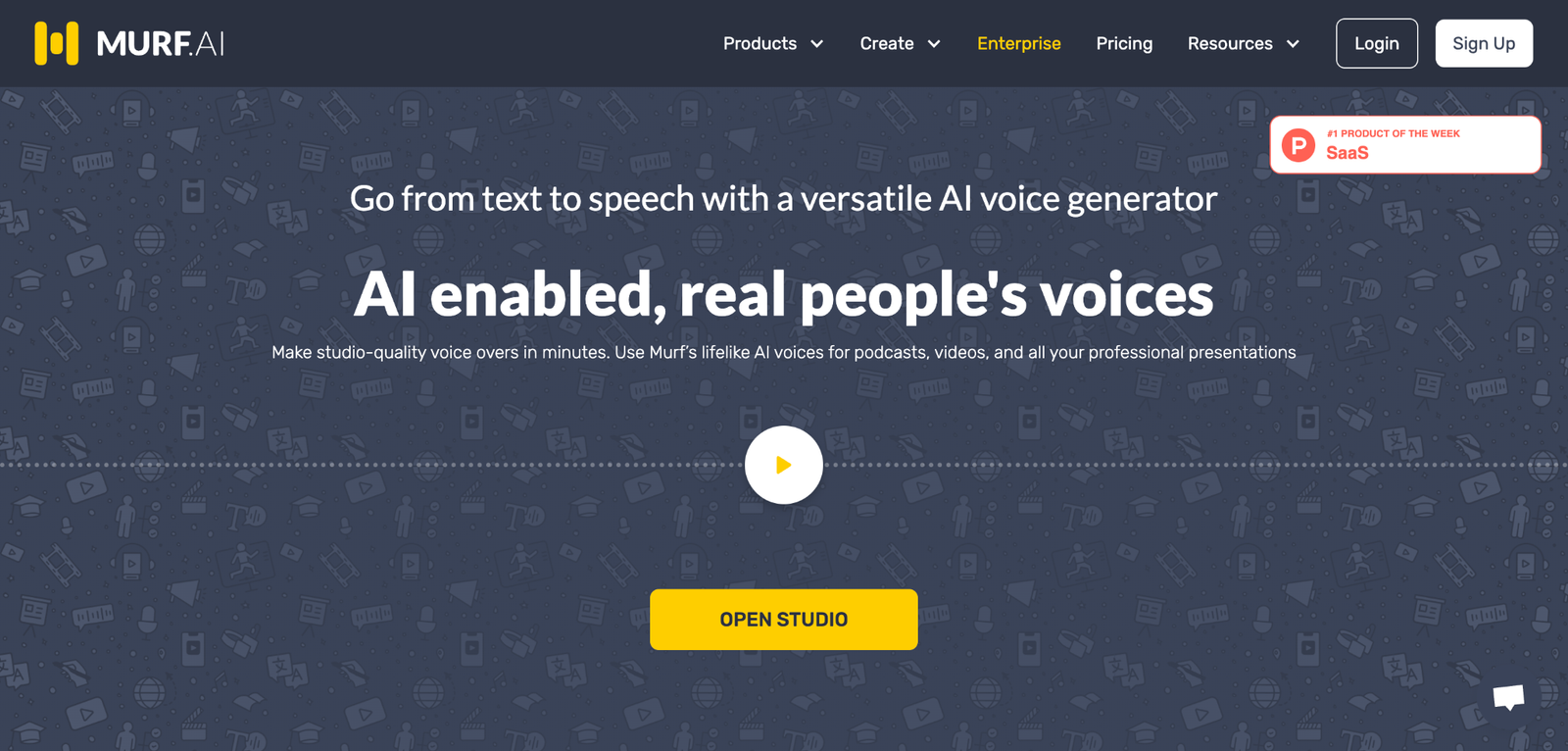 With Murf.ai, you can change and improve the voices with different built-in sound effects to create amazing voices that please every ear.
Top Features
It has both Text-to-speech options and voice-over videos that help you easily generate high-quality voices for your films. It supports 20 languages and 130+ voice effects.
The easy customization options of Murf.ai help you change the sound effects and dialects within seconds to produce AI voice speech.
It lets you adjust pitch, tone, and speed to create natural-sounding voices with the best possible style effects.
Pricing
Free plan: You can only voice over for 10 minutes and can not download the transcript.
Basic plan: It unlocks at $19 per month with one user and some essential features.
Pro plan: It starts at $26 per month and includes multiple hours of voice generation and transcription each month.
Enterprise Plan: This plan unlocks at $59 per month with 5 users and includes every feature with up to 144 hours of voice generation per annum.
Pros and Cons
Pros
Can change your recorded voice.
Easy and simple to use.
The quality of the voices is up to mark for the price.
You can delete and add unnecessary words and pauses.
Cons
No download option in the free plan.
Some words containing similar spelling may sometime require phonetic spelling for the correct pronunciation.
4. Speechify
Overview
With 20M+ downloads, Speechify is a text-to-speech app that lets you listen to any text with natural-sounding voices.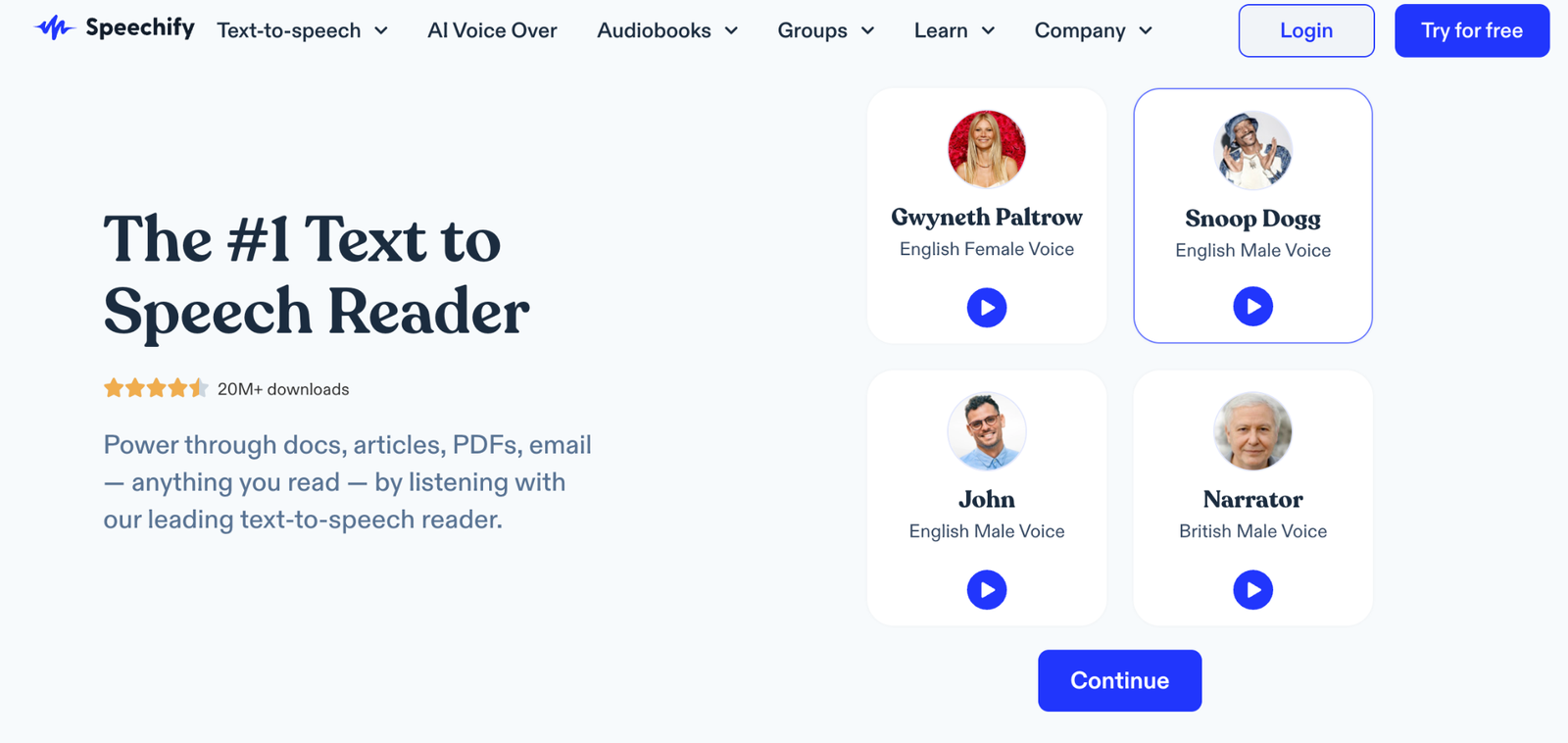 Speechify offers an AI voice-over generator to help content creators create high-quality voice-overs for all their personal or commercial projects.
You can use Speechify to create voiceovers for podcasts, videos, e-learning, audiobooks, phone systems, sales scripts, and more.
Top Features
The text-to-speech feature of Speechify can transcribe anything for you, no matter if it's a PDF, email, document, or article.
It produces natural-sounding voiceovers with 30+ high-quality voices in more than 15 languages and accents.
Speechify also has a unique feature to add background audio to suit any project. To make your speech sound more like a human, it fine-tunes every word, sentence, or paragraph with voice inflections.
Pricing
Speechify provides a Free Plan with limited features.
The Paid Plan costs you $49 per month or $239 per year. You save 60% if you pay annually.
But Its Pricing Plans are quite confusing and variable.
Pros and Cons
Pros
Lets you export audio in OGG, MP3, or WAV formats.
5x Fast listening speed
Speechify syncs your content across devices.
Cons
Desktop app has 150,000 words cap
Hard to cancel the trial and avoid charges
Unclear and variable pricing
5. Speechelo
Overview
Whether you're a salesperson, coach, or educator who provides content to your customers using video content, Speechelo is a perfect option for sales, training, and educational videos.
It generates vices in more than 30 voices in 24 different languages.
Top Features
The top feature of Speechelo is to customize breathing sounds and pauses to create better effects and high-quality voice.
Speechelo is a super easy and quick tool to generate speech within 10 seconds. It has no monthly or yearly subscriptions. Just buy it once and use it forever.
You can download the transcript or voice in MP3, WAV, and AAC formats after passing your speech from its built-in proofreading feature to ensure it's up to the mark.
Pricing
Speechelo has a one-time payment of just $47 with a money-back guarantee for 60 days.
Pros and Cons
Pros
Money back guarantee for 60 days
Provides different tones, including joyful, serious, and normal.
Beginners-friendly with easy and clear control options.
Cons
No trial
Limited language and voice effects!
Conclusion
After all, it's up to your needs and budget to decide which tool to choose for your content creation. But I would suggest you use Murf for personal use, Play.ht for generating voices for blogs, articles, or short stories, and MicMonster for animations and short film voices.
While if you don't need advanced features and want to keep yourself away from monthly billing hassle, Speechelo is perfect for you with its one-time payment option.
And MicMonster also comes with a one-time price but it will cost you around $800. However, after that, you won't have to pay monthly fees.